Hilton Kuala Lumpur Hotel is a magnificent option for a staycation. The time and money you save by not traveling out of the city can be used within the excellent facilities of the hotel itself. From delicious dining to nighttime entertainment, gorgeous pool facilities to relaxing spa treatments, Hilton Kuala Lumpur Hotel has quality options for making a weekend in KL seem like a furlough in paradise.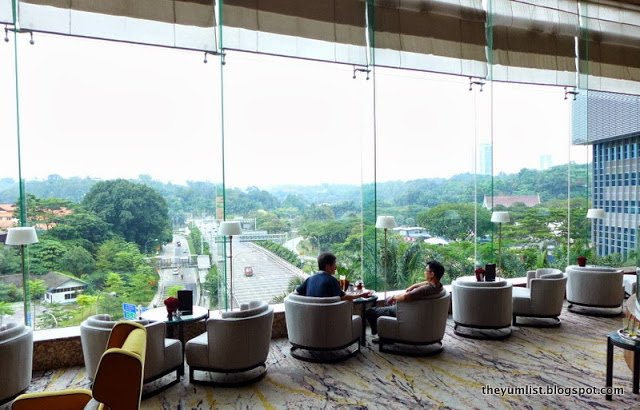 Lobby
Friday Afternoon Check-In
Sailing out of work as early as possible, we arrived late afternoon to Hilton Kuala Lumpur Hotel. We drove, but could have just as easily (perhaps even more conveniently depending on traffic) taken the train directly to KL Sentral. A flat rate parking fee of RM10 for the entire weekend was a welcome benefit.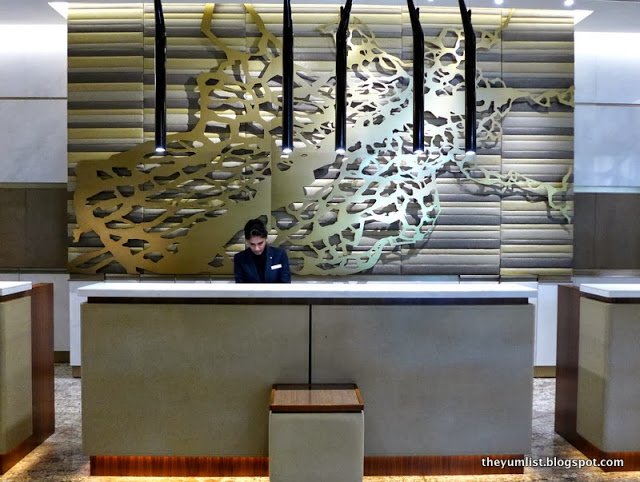 Reception
Drinks in the Club Lounge
Our swift check-in left us bag-free and with keys within minutes. So… instead of heading straight up to the room, we made a direct route for the Club Lounge. A comfortable salon offered sweeping views of the city and we smiled smugly as we peered down at the wet traffic congestion below – so glad we'd opted not to partake in the Friday afternoon scramble. 5:30 – 8:30pm sees a generous free flow of nibbles and beverages and, a glass of red wine was just the remedy to a long workweek. Hubby commented numerous times on the quality of the food too. Sushi, cheeses, salads and bit size pieces of yum tooted his horn. (I was wisely abstaining – saving space for our dinner at Graze).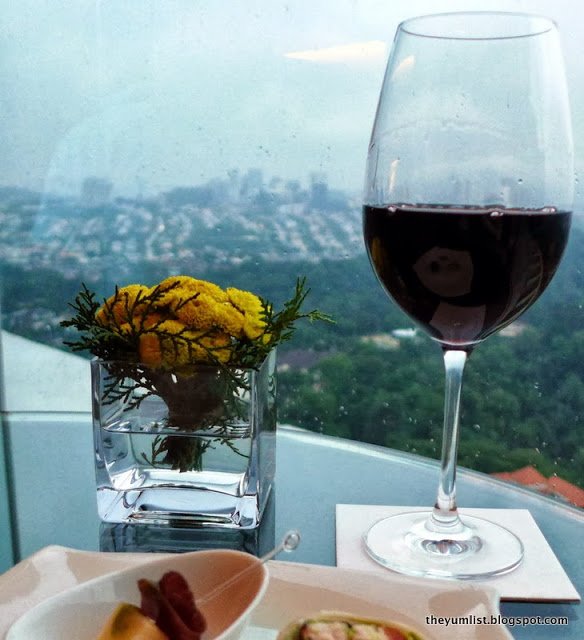 Cocktail Hours in Club Lounge
Dinner at Graze
Graze is one of our favourite hotel restaurants in the city so we'd been looking forward to a return all week. Serving modern European cuisine with a strong focus on the fresh, simple ingredients of the Mediterranean, Graze is a surprisingly affordable brasserie considering the location, professional service and quality of food offered.
There's a feel of Europe here. An intimate setting buzzes with energy. It's sophisticated, yet friendly, lively, yet cultivated. Staff and customers seem genuinely cheerful to be here. The menu is short and everything is good! Specials of the day make the most of the best produce from the morning market, while staples such as Boullabaise and Veal Shank Osso Bucco are worth returning for. Be sure to finish the evening with a traditional Italian coffee served with freshly rolled Sicilian Cannoli.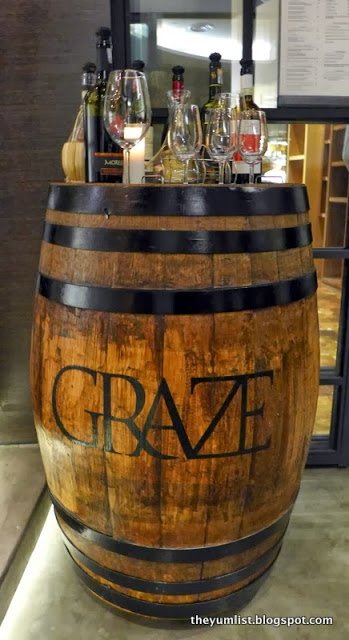 Graze
Retire to the Room
A heavy workweek combined with delicious food and a little alcoholic indulgence meant we were ready to call it a day not long after dinner.

Rooms are contemporary in design with clean lines and calming neutral tones. Soft lamps gently illuminate in the evening, while windows invite bright natural light during the day. Separate living, bathroom and sleeping areas gift with a spaciousness not often afforded in city hotels.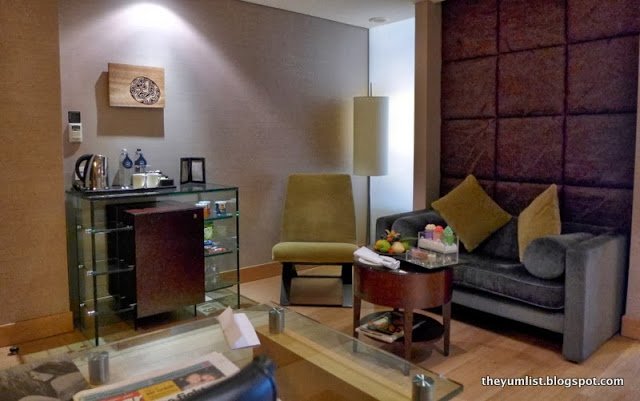 Lounge in Room
The lounge features a TV of its own, desk with multiple international plugs, ergonomic desk chair and, mini bar with tea and coffee making facilities. A sofa, armless chair and coffee table make it an easy spot for a few minutes of TV or reading if you're partner wishes to retire early in the bedroom.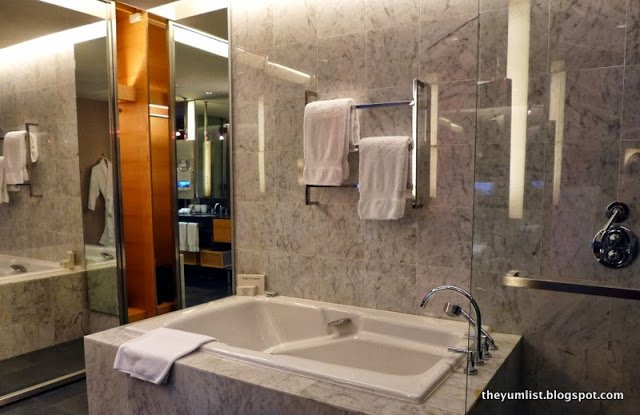 Bathtub
The marble bathroom with partitioned bathtub, shower and toilet, is fitted with dark grey floors and lifted with shiny pale marble wall tiles. Made private or open with opaque sliding doors, the bathroom holds sufficient cupboard space to keep bags stashed tidily out of sight and stores other conveniences such as a hair dryer, ironing board and safe. Quality bath products, a tub big enough for two and, a TV screen with adjustable sound, makes further time in this room a pleasant thought.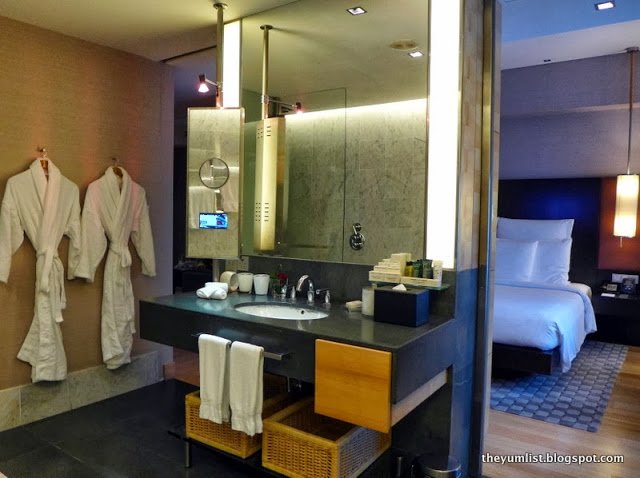 Bathroom
A good night's rest is assured with the comfy king size bed dressed with simple white linens and feather down pillows. A dark chestnut and maroon headboard and side tables frame the whiteness. Hanging fine chain metal lamps and a grey day bed continue the modern look. A potted orchid adds a breath of nature and another flat screen TV encourages yet more leisure.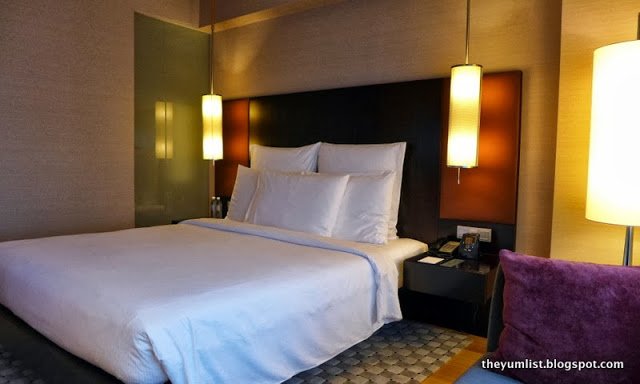 Bedroom
Saturday Morning Fitness
Waking from a sound night's sleep, a perfect day for me begins with a vigorous workout. The Hilton Kuala Lumpur Hotel's gym is a relatively small space compared to some of the giant chains out there, yet it cleverly dons the feeling of ampleness through the use of double story windows, frosted glass and, an abundance of mirrors.  A well laid out floor provides enough equipment to cater for peak hours and, allows you to skip from machine to machine in the down times.

Star Trac cardio machines, individual weight stations and a range of free weights, outfit newbies to the experienced, with all that's needed for sudorific labour. A small aerobic floor provisioned with mats, balls and a few steps presents a space to do your own thing or remove yourself from the main buzz for a stretch and cool down. Upbeat music, loud enough to motivate but not intrusive enough to interfere with your own personal headsets, enlivens the scene.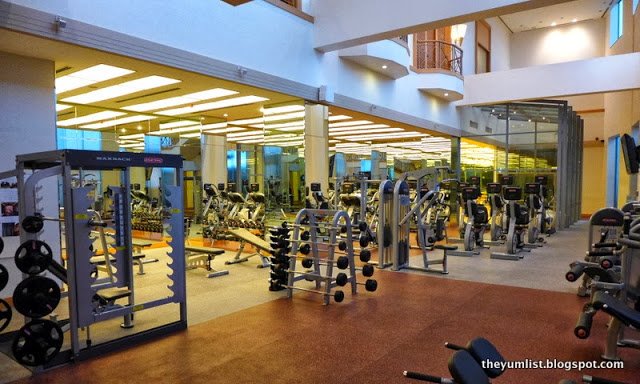 Gym
A sweaty session and brisk shower later and, it was time for breakfast.

Breakfast on the Club Floor
Staying on a Club Floor gives the choice of either eating breakfast in the Club Lounge (a smaller spread but quieter environment) or downstairs at the newly refurbished Vasco's (for seemingly endless food options). We chose the calmer location but found more than sufficient dishes and eggs made a-la-minute to satisfy our morning pangs. A leisurely read of the newspaper with free pouring coffee, tea and juice made us both very happy.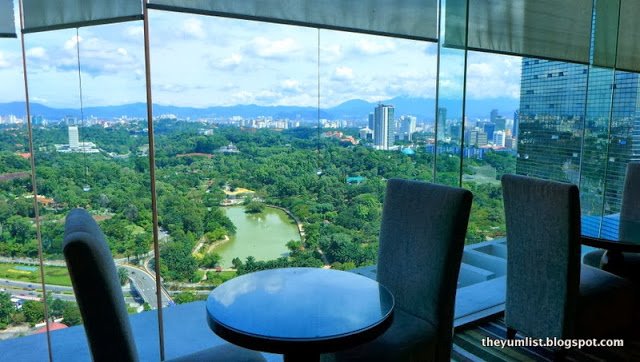 View from Club Lounge
Spa
Satisfied that I'd worked out and eaten well, a spa treatment continued our luxury respite. A Deep Tissue Massage followed by a Deep Cleansing Facial were carried out by highly skilled therapists. Hubby couldn't resist taking advantage of the facilities and made full use of the Jacuzzi, sauna and steam room while I lingered in the lounge with a magazine and pot of tea.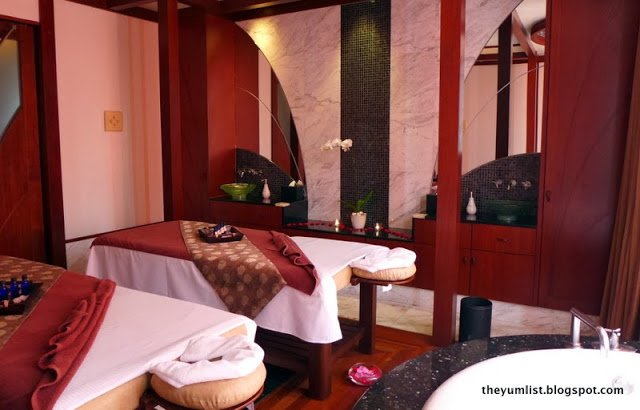 Couples' Treatment Room – The Spa
Buffet Lunch at Vasco's
All of that kneading and pounding worked up our appetites again so we headed to Vasco's, Hilton Kuala Lumpur Hotel's all day dining restaurant.
The great explorer Vasco de Gama is the inspiration for the name of the buffet restaurant and, the namesake's devotion to traversing new territory is carried through both in design and cuisine in the all day feasting concept.  A complete renovation has turned the space into a "modernist take on the urban park theme."

White curvilinear pods hold interactive cooking stations and a wonderful spread of international dishes. The smorgasbord winds across the dining area leading guests on an adventure around cuisines of the world – Western, Chinese, Indian, Japanese, Italian and Malay.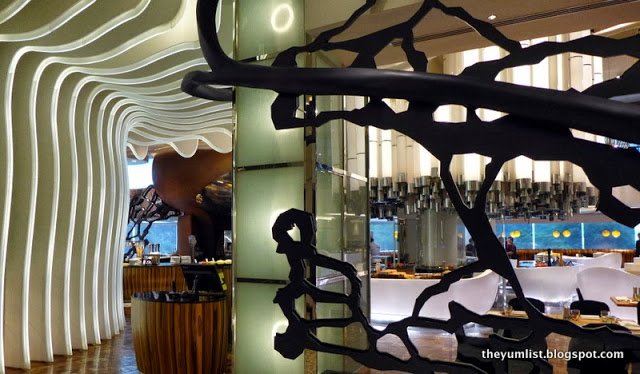 Vasco's – All Day Dining Restaurant
Shopping at Mid Valley Mega Mall
Refueled from lunch we thought a pinch of shopping was in order. Hilton Kuala Lumpur Hotel's free shuttle service had us in Mid Valley Mega Mall in minutes. From there the options are endless. Once one of the biggest malls in Asia, visitors are spoiled for choice. Dining, entertainment and a seemingly interminable number of boutiques and department stores provide hours, if not days of diversion.
Exhausting ourselves we returned to the hotel and freshened up for dinner.

Dinner and Drinks at Chambers Bar and Grill
A fine place to begin or end a night is with a beverage at Chambers Bar. We adored restaurant manager Maurizio's Malaysian Mule (RM35) cocktail. Vodka, brown sugar, ginger beer and lime juice are poured over a glass full of fresh lemon, lime, orange and ginger slices, stirred with a long lean stick of lemon grass (making the perfect swivel stick) and adorned with a gooseberry. Ideal for Malaysia's warm climate, it's fresh and energizing.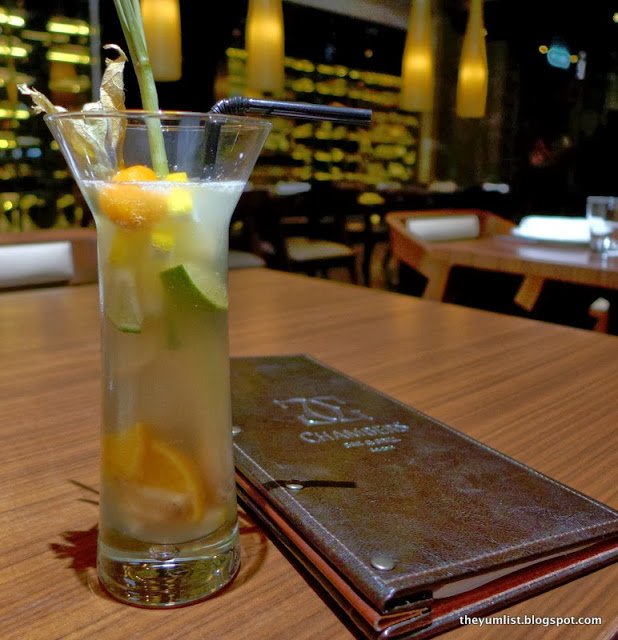 Malaysian Mule
Inside Chambers Grill you'll find no woks, saucepans, fry pans or skillets. All meat, poultry, seafood and vegetables are grilled one way or another. Whether it's on lava stones, hot charcoal or on the traditional 'robatayaki' style charcoal pyre upright in a sandpit, customers are guaranteed food cooked with the most fundamental of techniques, maximizing the flavour and tenderness of quality produce.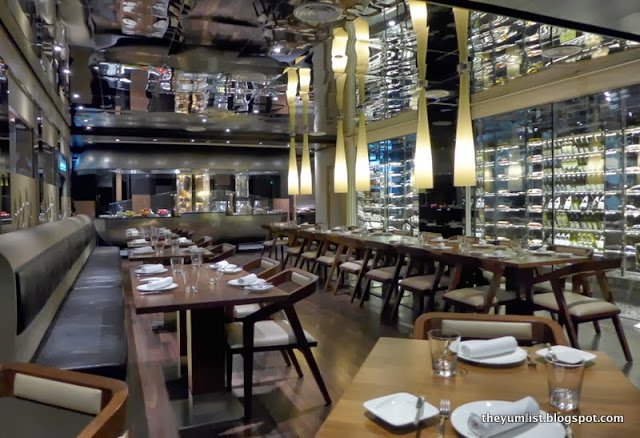 Chambers Grill
Skewers are the restaurant's specialty and a fine range of beef, lamb, chicken, seafood and vegetables brandishing charred flesh and a subtle smokiness are perfect for sharing. Although skewers are the signature reason to visit, traditionalists who just want a big slab of meat are catered for too. Black Angus Prime Rib, T-Bones and Wagyu Ribeye are on the menu. Side dishes are ordered separately and a fine selection of wine, beer, spirits and cocktails completes the party.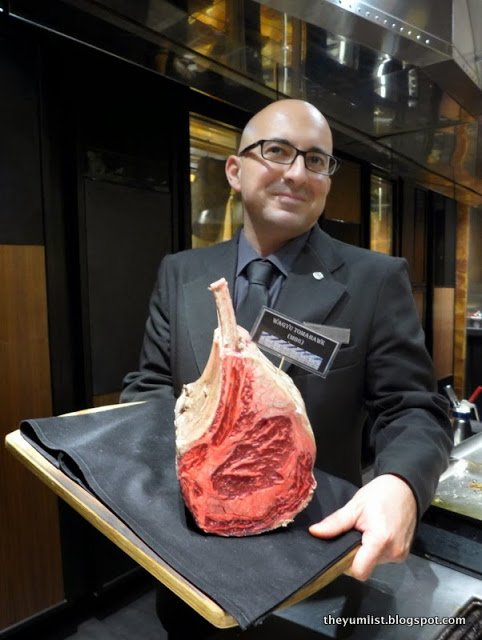 Tomahawk Steak
The pattern of depletion and repletion seemed to be working well, so a dance off in the hotel's nightclub followed.

Party at Zeta Bar
Beer, wine, cocktails and liquors are all aplenty and the angling of all seating towards the stage makes it almost impossible not to become involved in the energy of the performers. A whirl on the dance floor to the tunes of a live international band at Zeta Bar burned those extra calories from dinner and readied us for a good night's sleep.
A Run in the Park
A little sleep-in was in order after the late night and thanks to the heavy blackout blinds in our room, our snoozing was undisturbed. Looking at the drizzle outside, I changed my original plan of a jog through Lake Gardens (which is just across the road accessible by a pedestrian bridge) to a workout in the gym. The park however is a great spot for a run or wander.

Breakfast at Vasco's
Up for a bit more of a buzz, we chose Vasco's over the Club Lounge for Sunday morning nourishment. Just as with the lunch buffet, we were wowed by the sheer number of dishes one could choose from. Free-flowing coffee and tea perked us up and, vege and cheese packed omelettes and plentiful healthy options broadened our smiles.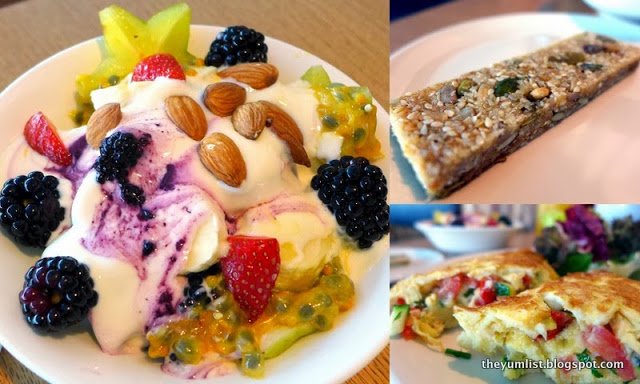 Breakfast at Vasco's
Lounge by the Pool
Grey skies opening up to bright blue ones and slightly weary bodies from a great night out were clear signals that a lounge by the pool was needed. The enormous lagoon style pool meanders 120 metres along the 8th floor, winding around palms and other tropical plants. Sandstone coloured tiling and fountains spurting into the aquamarine pond, further add to the landscape, making you feel far removed from the daily routine.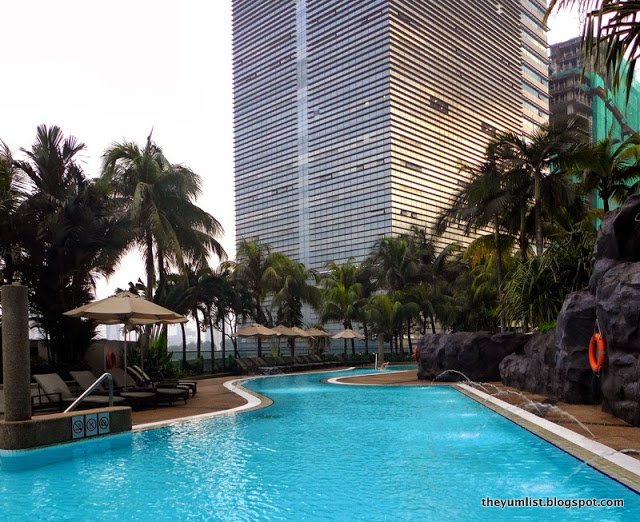 Pool
Although check-out time was drawing near, we felt unhurried as we packed up our bags and left them at reception. We'd decided to make the most of our day by finishing with a late lunch at the Hilton Kuala Lumpur Hotel's iconic Japanese restaurant.

Japanese Lunch at Iketeru
Iketeru boasts a magnificently serene ambience, especially when visited at night. It is accessed via the 8th floor of the hotel through a natural stone path lined with bamboo and lanterns. Manmade cascades drop into ponds, which spill over and wind around the edge of the restaurant. If weather permits a table outside is rather romantic in the evening. During the heat of the day, a table window with a cool view of the lagoon-like scene is most enticing.

Nigiri Sushi
Teppanyaki, sushi and sashimi have all earned the restaurant a reputation for some of the best Japanese cuisine in Kuala Lumpur. With the help of our very knowledgeable waiter, we ordered a sampling of all three. Astoundingly fresh and with obvious meticulous attention to detail, hubby and I both concur that this is amongst the finest Japanese cuisine we have tasted.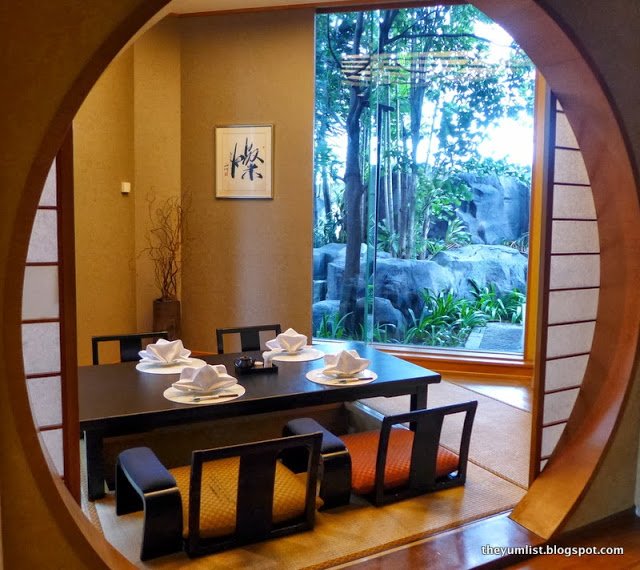 Iketeru
Promise to Return
A weekend full of relaxation, activity and deliciousness left us feeling as though we had truly vacationed. The best part though, was that we didn't waste money or a minute on travel. The Hilton Kuala Lumpur Hotel's line up of food, beverage, entertainment and relaxation facilities makes it one of the most enjoyable staycation options in town.

Reason to visit: convenient location, Hilton signature service, excellent food and beverage outlets, city and park views, entertainment and relaxation facilities all within the hotel

Hilton Kuala Lumpur Hotel
3 Jalan Stesen Sentral
Kuala Lumpur
50470 Malaysia
+6 03 2264 2264