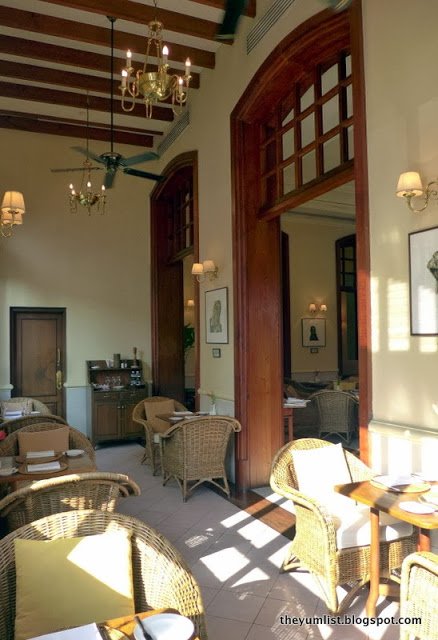 The Strand Cafe
The Strand, Afternoon Tea, Yangon, Myanmar
Ask any traveler who has visited Yangon to tell their "must visits" in the city and The Strand hotel is often one of the first few names to their lips. Lucky to have some expat buddies in local residence to assist with their top recommendations too, we narrowed down our search for the best in the city further, with a tip to experience the afternoon tea.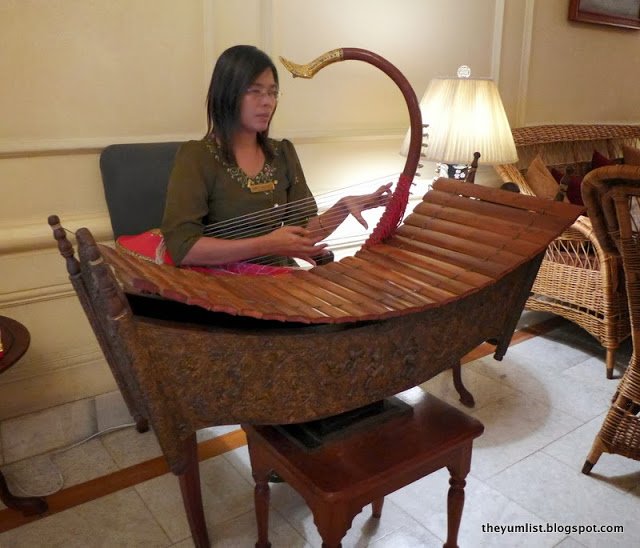 Harpist
The Strand Café is the scene for the sweet affair. Wicker chairs, cushioned with dark beige pillows, cover the tiled floor. Wooden tables are brightened with floral arrangements and potted plants add a splash of greenery. Warm lighting softly brightens the room and brass fans hang from lofty ceilings circulating the air. Grand white pillars mark the entrance and a crystal chandelier further enhances the colonial ambience. The harp skillfully strummed by a Burmese musician gently chimes in the background. It's a feeling of elegance and grace.

Two afternoon teas are available for the devouring.
Classic Afternoon Tea


The Classic Afternoon Tea remembers the country's colonial past
with a tiered tray of scones, sandwiches and pastries.
Classic Afternoon Tea
Fluffy white scones with house-made jam and whipped cream bedeck the lower platter.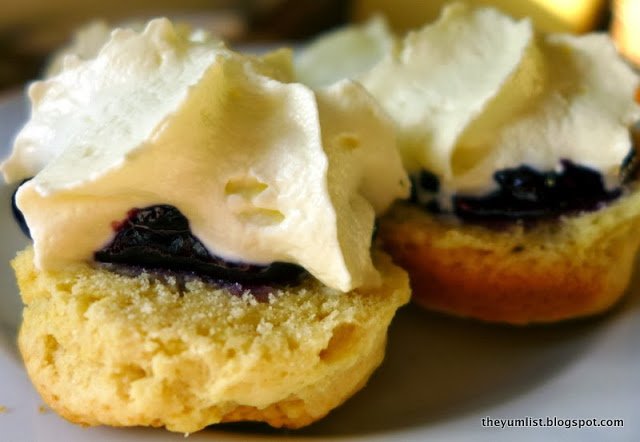 Scones, Jam and Cream
Pastries including Fresh Fruit Tartlets with Vanilla Cream; Chocolate Jaffa Torte; Lemon Curd Meringue Pie and; a local infusion of Myanmar Jasmine Jellies brighten the middle row. The Lemon Meringue Pie and Fruit Tartlet are both very worthy of the calories. Chocolate lovers with appreciate the dense cake with its thick layers of chocolaty fondant lining the tower and, the jelly is light and softly sweetened.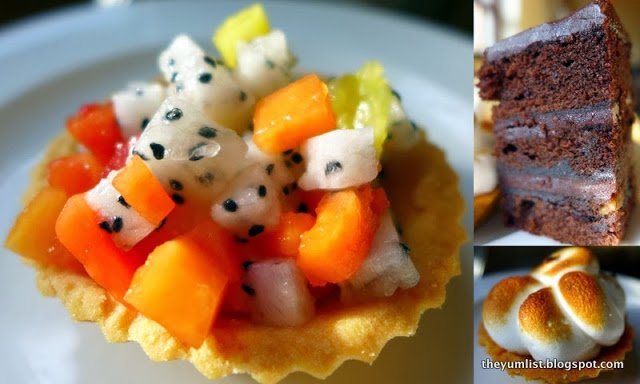 Fruit Tart, Chocolate Jaffa Tort, Lemon Meringue Pie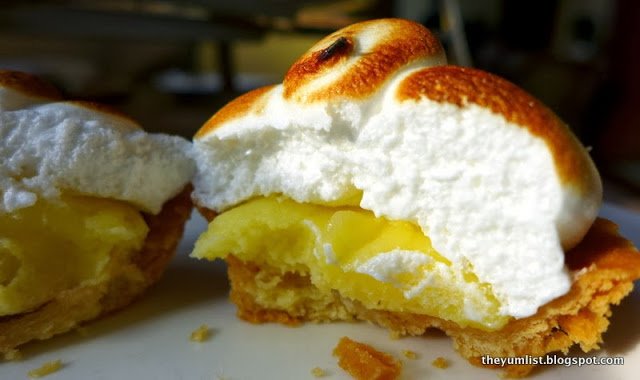 Lemon Meringue Pie
Before overindulging in these sugary numbers though, it's recommended to nibble on a few savouries to first fill the tummy with a healthier base. Petite Chicken Brioche with herb mayonnaise is far from petite. Boldly puffed it's stuffed with a creamy filling and a great place to start.Bay of Bengal Shrimp Pinwheels with toasted sesame  are airy and delicious. Cucumber Cubism on white bread with sour cream and caviar turn the humble classic into a luxury item and; Five Spices Smoked Butterfish leaves the mouth with a hint of heat.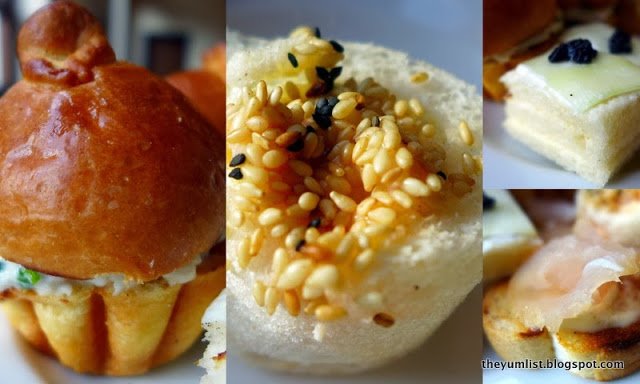 Assortment of Sandwiches
Myanmar Heritage Tea
The Myanmar Heritage Tea proposes a set of local hot and cold items and is a wonderful way to sample some local delicacies without the perils of possible upset tummies from street side versions.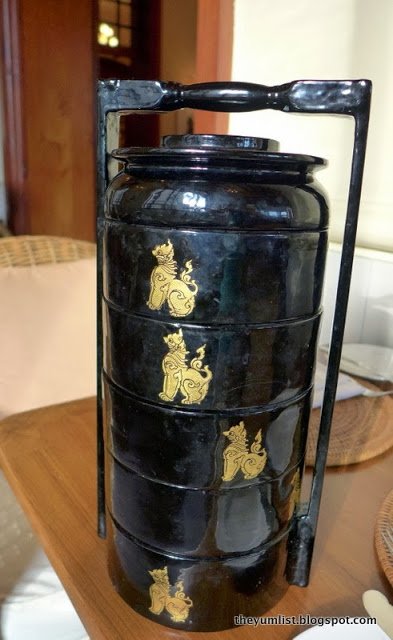 Myanmar Heritage Afternoon Tea
Presented in a tiffin tray, sweet and savoury treats all merit sampling. Laphet is a must try. Pickled tea leaves are mixed with a host of finely shredded local vegetables, seeds, nuts, soybeans, garlic and herbs. The Nga Baung Gyaw too are interesting snacks. Battered and deep-fried, vegetables are chaperoned with a spicy tamarind sauce from Mon state. Although the set comes with coffee or tea, both of these would be just as well escorted with an icy cold Myanmar beer.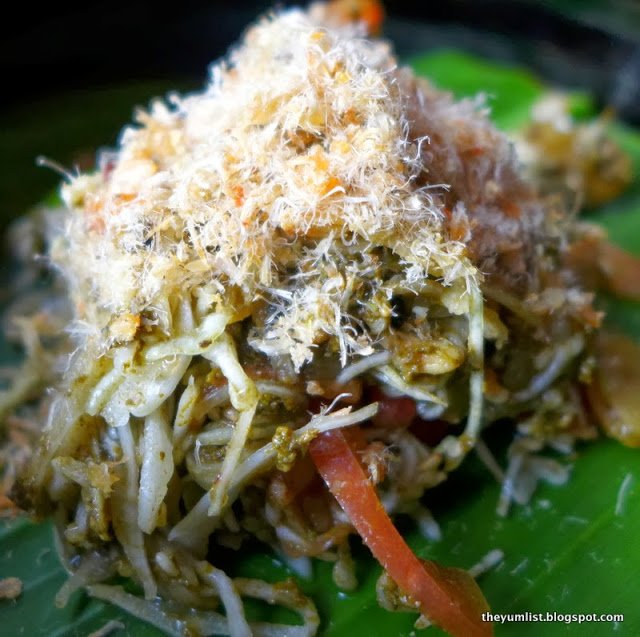 Laphet – pickled tea leaf salad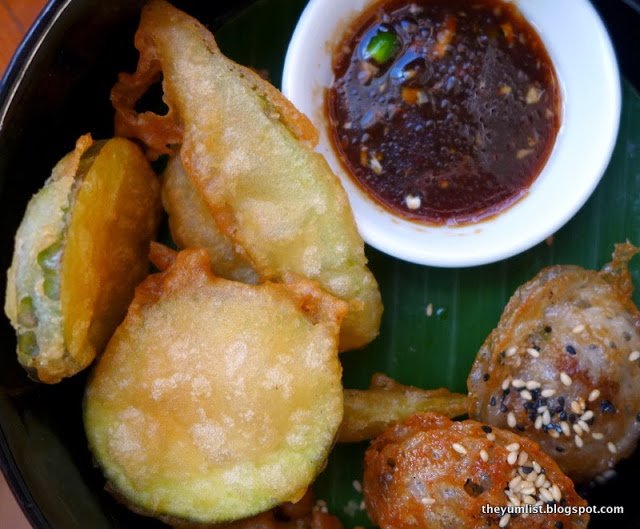 Nga Baung Gyaw – Deep fried veges with tamarind sauce
On the sweeter side, Banana, Sago and Potato (proving that vegetables can be just as delicious sweet as they are savoury) Puddings are dense plump cubes. Pineapple Agar, Shwe Kyi Sanwin Makin (a cake made from semolina), and Mout Lonn Yay Bor (sticky rice flour dumplings stuffed with jaggery – cane juice sugar) too are not the overwhelming saccharine treats that I was expecting. Gently sugared, the desserts allow the flavours of the other ingredients to shine through.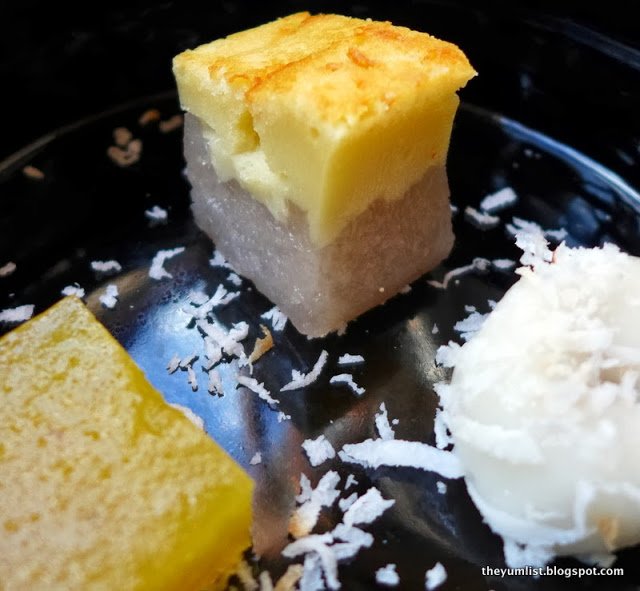 Pineapple Agar, Sago Pudding, Mout Lonn Yay Bor (sticky rice flour dumplings stuffed with jaggery) (Left to Right)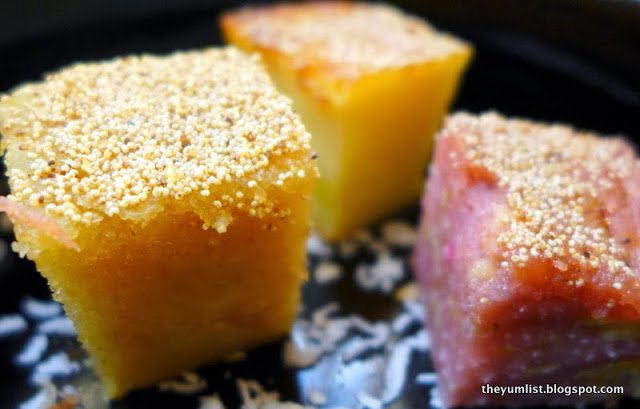 Local Puddings
A selection of Darjeeling, Earl Grey, English breakfast, jasmine, Myanmar green or Shan state teas can be enjoyed with either afternoon tea set. Alternatively, coffee lovers can choose from freshly brewed organic Myanmar coffee, cappuccino or espresso.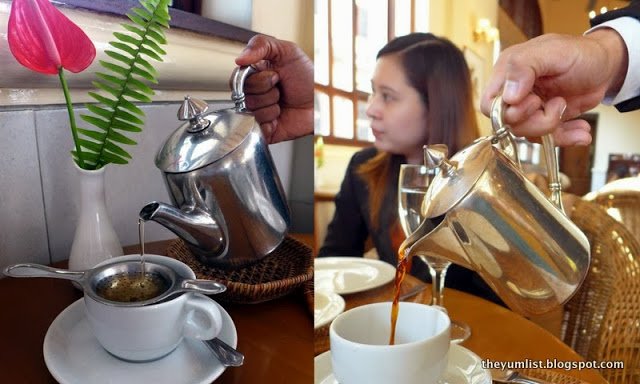 Local Green Tea and Organic Coffee
Both the Classic and Myanmar Heritage Afternoon Teas are priced at $19USD and available from 3pm – 6pm daily.

On a side note: The Bar at The Strand has the most unbelievable Happy Hours in the city. Running every Friday afternoon ALL drinks are half price from 5 – 11pm. The signature Strand Sour has to be tried. Made with local Mandalay Rum, brown sugar, lime and Angostura Bitters, it's a refreshing beverage with a grand kick!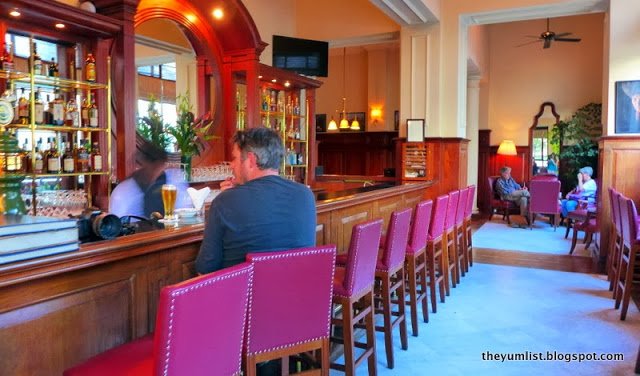 The Bar, The Strand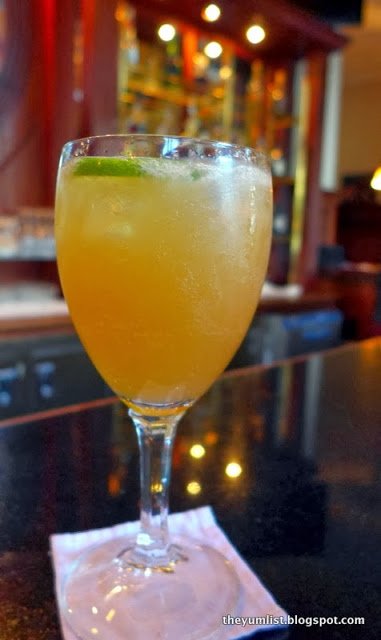 Strand Sour
Reason to visit: elegant setting, both the Classic and Myanmar Heritage Afternoon Teas, a safe way to try local treats without worrying about tummy sensibilities, Happy Hours!

The Strand
92 Strand Road
Yangon, Mynamar
+951 243 377
Open daily 10am -11pm