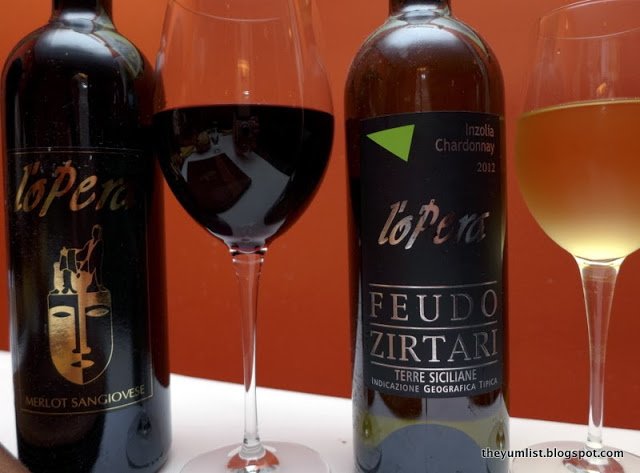 L'Opera House Wine
L'Opera, Italian Restaurant and Bar, Yangon, Myanmar
Enchanting and Romantic, Bliss on the Lake
The ambassador (from country of withheld name) speaks with much enthusiasm (and almost a dribble) as he lists his favourite places to eat in Yangon. L'Opera is first off his lips and with much gusto he encourages us to make it our first dinner date in the city.

He speaks of a garden by the lake, candlelit romance and, the best Italian food he has eaten in Asia. So with intrigue (come on, really… the best Italian in all of Asia?) and hope for a gorgeous setting at least, we keenly reserve a table at L'Opera, Italian Restaurant and Bar.

The colonial bungalow housing the restaurant sits on verdant gardens aside the tranquil Inya Lake. A classic guitarist strums soft tunes stringing romance through the warm night air. A choice of various indoor rooms, divided but open-doored, give a feeling of intimacy. An outdoor patio and garden area offer al fresco seating options.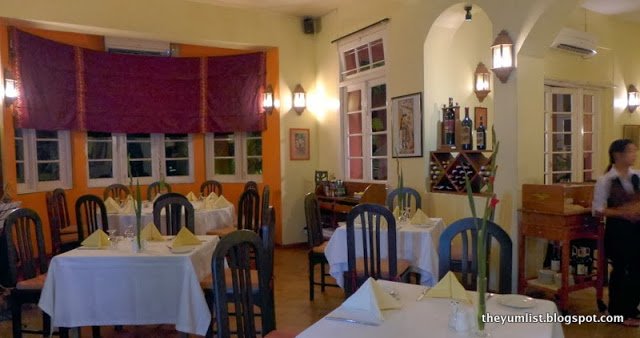 L'Opera, Italian Restaurant and Bar
We're greeted by a vivacious host, Lisa Fideli. She seems to move with grace, passion and a spirited ambition to ensure everyone in the house is having a deliciously good time. Quickly ushered to our seats we have a generous basket of house made bread on our table, and L'Opera house wine in our hands within seconds.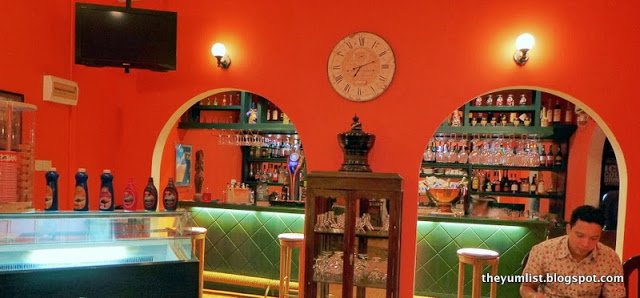 L'Opera
Ciabatta, focaccia, rustic crusty bread slices, rolls and bread sticks spill over the top. It's all so delicious, especially with the mushrooms, tomato and olive paste dips on the side, we have to force self restraint so as not to fill ourselves with these yeasty delights.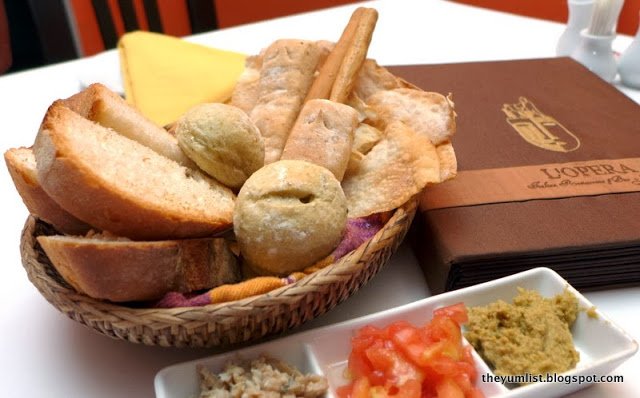 Bread Basket
Italian wines dominate the drinks list with house pouring beginning at $5 per glass. A surprisingly excellent range of Italian reds, whites and prosecco complete the compilation starting at $24 a bottle and heading all the way up to something for special occasions such as the Masseto – Tenuta dell'Ornellaia- Antinori-Super Tuscany 2008 for $1, 200 per bottle. International beers, spirits and liqueurs further plump up the assortment.

The house wine is specially sourced and labeled for L'Opera. A blend of merlot and sangiovese is deep ruby red in colour, with a rich intensity on the nose. It's smooth and harmonious on the palate and very easy drinking. Light tannins make it perfect for red meat and fatty cheese dishes. The white is a young 2012 blend of inzolia and chardonnay. It too has a plush aroma, and starts smoothly in the mouth with a dry yet fruity finish. It's perfect for fish and delicate meats.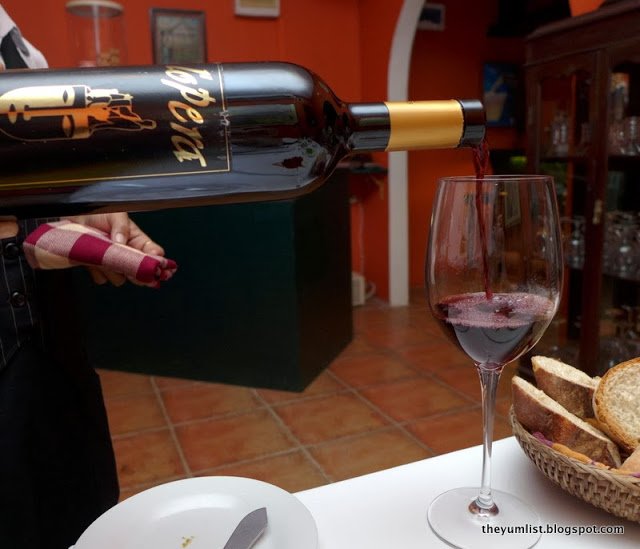 House Red Wine
The food menu is extensive. Tomato, basil, rosemary and garlic as well as high quality dairy, meat and extra virgin olive oil form the base of the meals and capture the essence of the Italian, keep-things-simple-and-fresh, spirit.

Appetizers
We begin with a classic, Melanzane all Parmigiana ($15USD). Strips of eggplant are layered with tomato sauce, Parmesan and mozzarella and baked in the oven. A hearty, homey dish, it's fabulous sprinkled with freshly grated Parmesan making the flavours reach every corner of the mouth.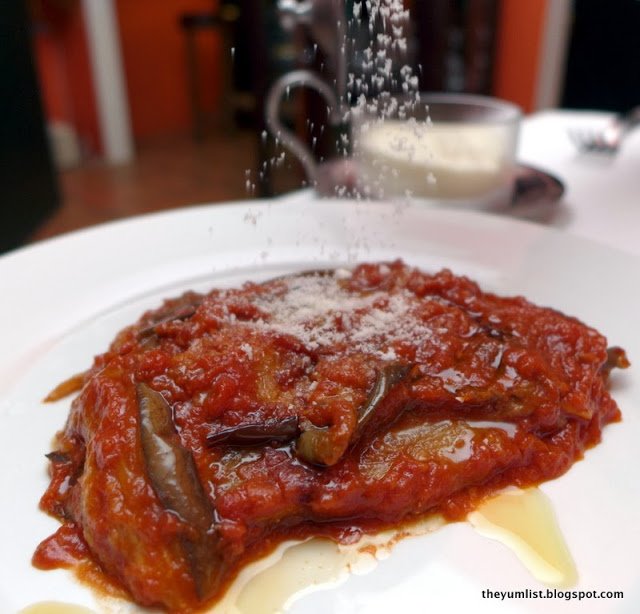 Melanzane all Parmigiana
Scamorza con Speck ($15) extols the fine selection of cold cuts and cheeses that L'Opera imports from Italy. Meat and dairy merge in a mouthwatering marriage. Served on a piping hot dish the stringy melted cheese looks and tastes decadent. Hubby's swift with his fork, so I have to move quickly to make sure I get another scoop.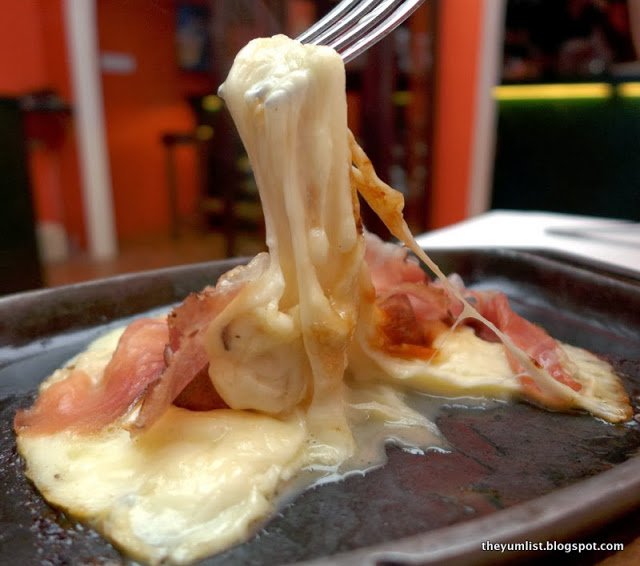 Scamorza con Speck
Deep-fried squids and shrimps come crisp, with a giant slice of local lemon and tartare sauce, as Fritto di Calamari e Gamberi all Gastone ($14). These crunchy bite size pieces could be munched on all night accompanied with many pints of local Myanmar beer (which is great by the way!).
Fritto di Calamari e Gamberi all Gastone
Carpaccio di Manzo con Noci ($17) brings delicately thin slices of raw beef tenderloin marinated with lime and extra virgin olive oil and topped with Parmesan cheese flakes and walnuts. The lime lifts the flavour of the beef and a sprinkling of capers give a zing.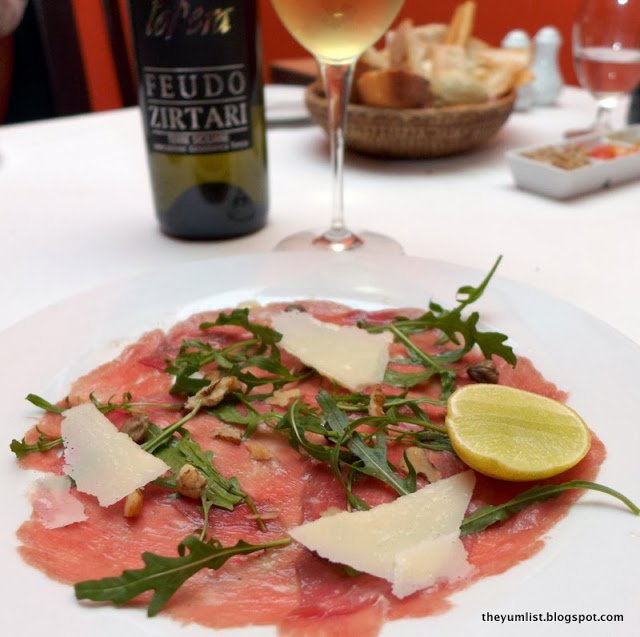 Carpaccio di Manzo con Noci
We're overjoyed with all of the starters, but the Scamorza con Speck has us already making plans to return.

Salads
Thinking we better try to balance out our meal with a little green, we order the Insalate Caprese ($9). Seductive rounds of soft buffalo mozzarella dominate the plate. Thick slices of rich red tomatoes, Italian basil and plump green olives drizzled with olive oil are at their best when all wrapped up together in one parcel. Decadent.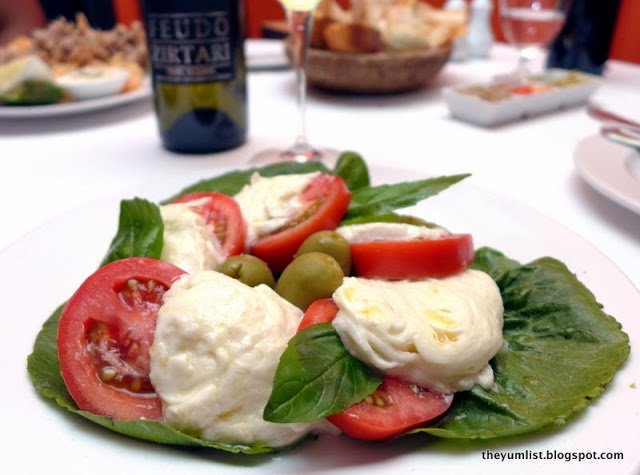 Insalate Caprese
Pasta
All pasta is handmade in house so of course it's in our order. We're sharing so we're each given individual dinner plates. They're hot. A detail we appreciate.

Spaghetti Puttanesca ($9) is a pile of al dente strings of pasta generously covered with a rich tomato sauce.  Black olive slices, green herbs, anchovies, capers and chunks of garlic season the sauce making it uncomplicatedly delicious.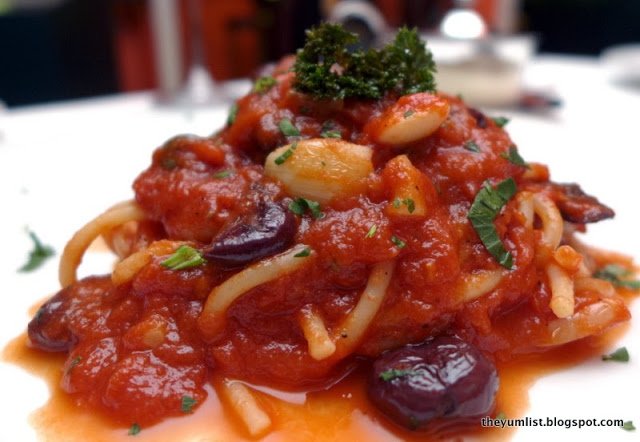 Spaghetti Puttanesca
Spaghetti Carbonara ($11) again proves that simple combinations are best. Cured pork cheek (guanciale), bacon (pancetta), eggs and Parmesan cheese fully coat the pasta, but don't leave a pond of sauce on the plate. Creamy, smoky, firm and lifted with a speckle of black pepper, it's perfectly balanced.
Bucatini all'Amatriciana ($11) is made with the thick spaghetti with a hole down the length like slim straws that make you want to suck the sauce up through the tubes. Seasoned with pancetta and guanciale, it's another supremely rich and satisfying combo.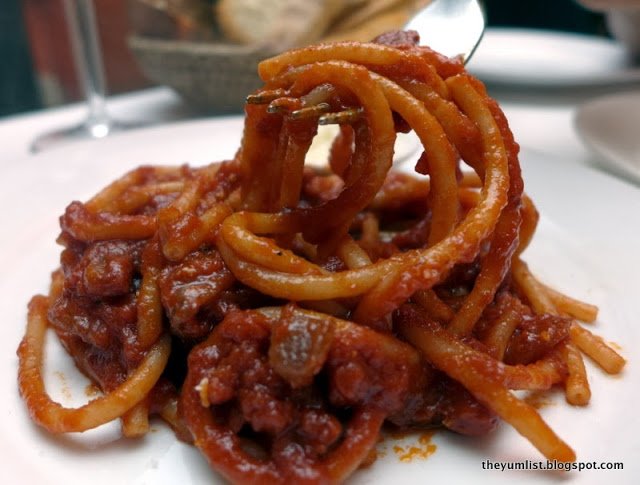 Bucatini all'Amatriciana
Agnolotti con Emulsione di Spinaci ($10) is one of our favourites. Filled pasta parcels are plump and bathing in a creamy spinach sauce. The fourth pasta dish we've tried, it's testimony as to how good it all is, as this too is polished off with barely a drop of sauce left on the plate.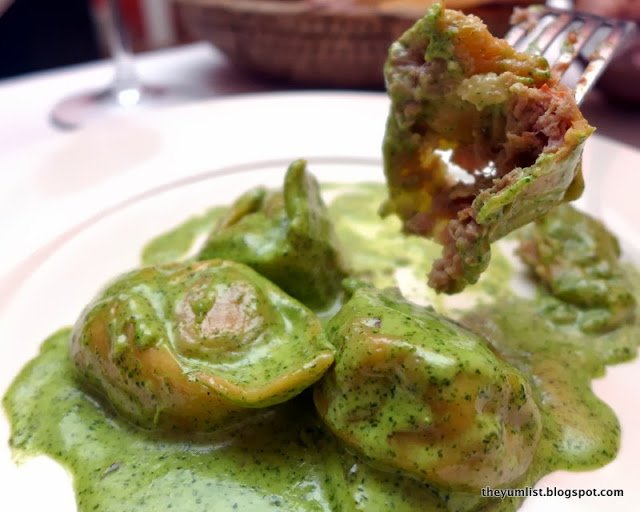 Agnolotti con Emulsione di Spinaci
Pizza
Pizza al Crudo di Parma ($13) comes smoking hot direct from the wood-fired oven from the garden out back. A super thin crust is round but showing imperfections, proudly highlighting that it's made by hand, not some mass-produced cookie cutter factory product. Topped with mozzarella cheese and Parma ham, after one slice we decide we're taking it home, as something this good cannot be wasted just because tummies are near exploding.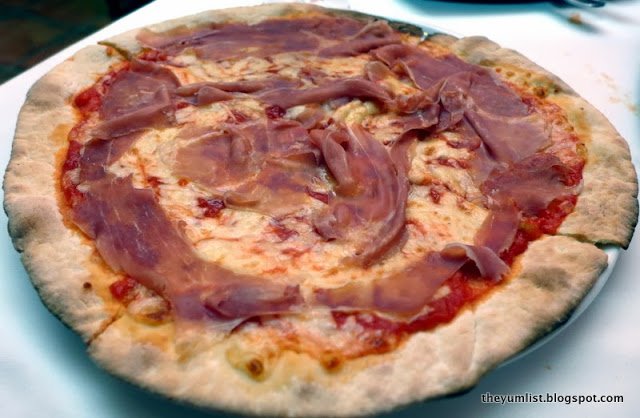 Pizza al Crudo di Parma
Main Courses
Determined to try dishes across the entire menu and, egged on by our gracious host, we move onto some mains.

Straccetti alla Rughetta ($26) is a mound of thin slices of beef fillet sautéed with a white wine sauce and rocket salad. Fresh green leaves give a bitterness, freshening the palate and helping to cut through the rich protein.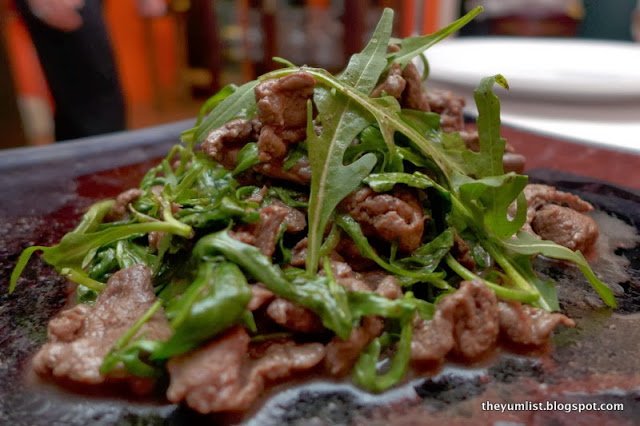 Straccetti alla Rughetta
Ossobuco alla Milanese ($29) literally falls off our fork. In fact this stewed veal shank is so tender it needs to be pushed onto the top of the fork with the knife to get it to our mouths. A subtly flavoured saffron risotto is the perfect accompaniment, supporting the dish in texture but not overpowering it in taste.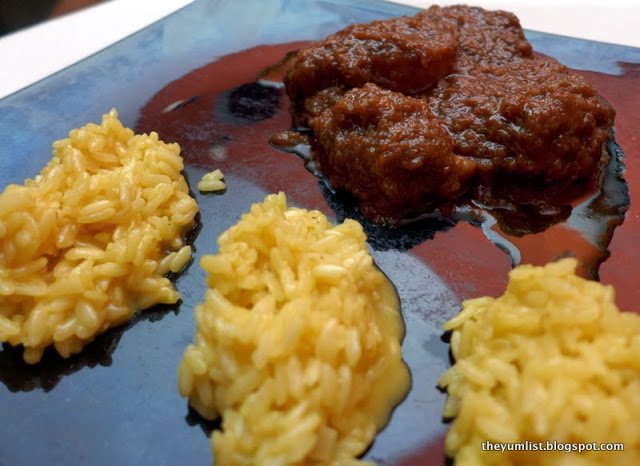 Ossobuco alla Milanese
Desserts
When it's time to think about sweets, a waiter brings a tray of treats making us tremble in our seats. Filled with cakes, puddings and custards it's hard to choose just one. Being overwhelmed by choice, we revert to the classics.

Tiramisu ($6) must be made with Savoiardi fingers and is drowned in coffee. A whipped mascarpone mousse puffs around the entire biscuit and a sprinkling of cocoa finishes the masterpiece.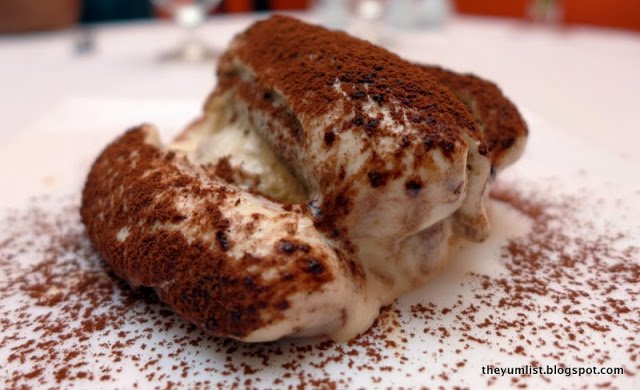 Tiramisu
A traditional Italian fresh baked cream, Panna Cotta ($6), comes with a wild berry sauce. Before I have even begun to take photos of the Tiramisu, hubby invades the dining space with his mmms, murmuring to himself about how this is the best dish of the night (the same words he also muttered following starter, salad, pasta, pizza and main courses!).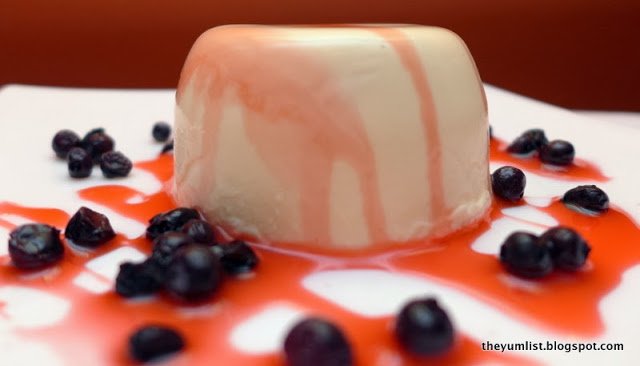 Panna Cotta
The finale of Lime Sorbet is spattered with black pepper. It cleanses the palate and aids digestion. And, even though we claim there's not a globule of space remaining, we both somehow manage to drain the icy joy.

Celebrating the essence of Italian cuisine, L'Opera serves up rustic, homey dishes made from the freshest of ingredients and a whole lot of passion. Food, ambience and a good selection of wines make it a consistent favourite amongst expats in Yangon and, have even awarded it a reputation across borders as serving some of the most scrumptious Italian cuisine in Asia.

Reason to visit: gorgeous romantic setting by the lake, excellent service, a delicious range of rustic Italian dishes, wide selection of well chosen Italian wines

L'Opera
Italian Restaurant and Bar
62D, U Htun Nyein Street
Mayangon township
+95 1 665 516
+95 1 660 976
+95 9421 034 875
Open daily: 11am – 2pm. 6pm – 10:30pm