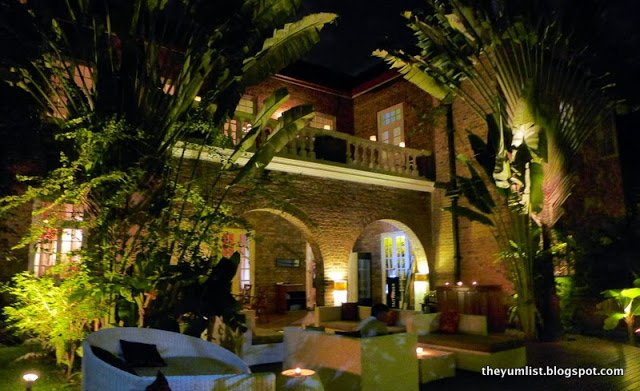 Le Planteur
Le Planteur Restaurant and Lounge, Yangon, Mynamar
An entire hectare of landscaped gardens is the setting for one of the best-reputed restaurants in Yangon, Le Planteur.

A red brick manor houses the fine dining restaurant. Rich wooden floors and furniture are brightened with pale walls and French windows. White clothed tables are dressed with simple floral arrangements and shiny crystal glasses. A touch of glam is given with elegant chandeliers and verdant views from the windows offer a connection with nature.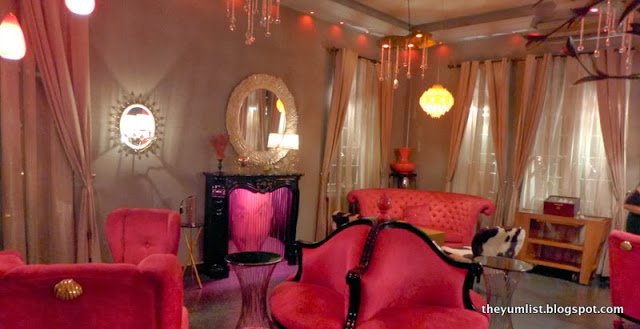 Lounge Area
Stunning Garden Setting
During the 'winter' months (November to March when the weather is dryer and slightly cooler) a magical garden is the stage for candlelit tables. Sheltering the scene, trees gently illuminated with up-lighting and fire-y torches decorate the yard just as well as any painting or piece of artwork could. International chill music with a touch of jazz hums from a quality stereo system seemingly working together with the flora and fauna rather than in defiance to it.

Enormous Chinese style umbrellas shield the outdoor bar that is also softly lit with glowing shelving and tea lights. A mixologist shakes, blends and stirs from behind the counter, making palates reflexively salivate in anticipation of a strong wet cocktail. Evenings celebrate the beauty of the tropics with dining on the lawn under the stars. This is a place made for lingering. So plan to settle in, with imbibement of your choosing, and luxuriate in the splendor of the setting.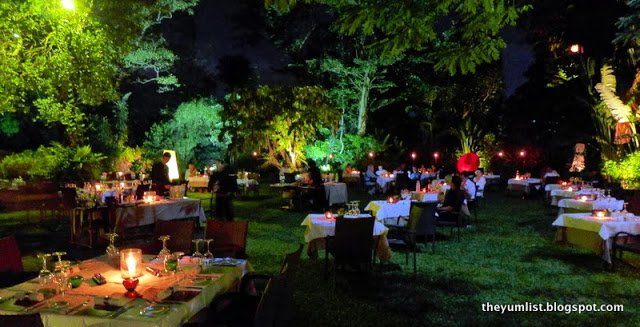 Garden Setting
Gracious Hosts
Le Planteur's graceful hostess, Lucia Eppiser, greets everyone in person. She floats elegantly around tables checking on guests with her mellifluous accent, ensuring glasses are filled and tummies contented. Service has a flow to it. Dishes are cleared, a short interlude bestows pause to digest and for conversation to continue, before drinks are topped up and the next course appears.
Michelin starred Chef Felix Eppiser is the man partnering Lucia in providing guests with one of the most enchanting dining experiences in the city. With a Swiss background he brings a modern European influence to the country, yet celebrates regional Indochine cuisine through sourcing quality local products wherever possible.

A Bubbly Welcome
The best way to open the experience of such a gorgeous setting is with a flute of bubbly – Francois Montant Brut ($9USD per glass). This very agreeable wine whets the appetite, but also harmonizes wonderfully with the amuse bouche.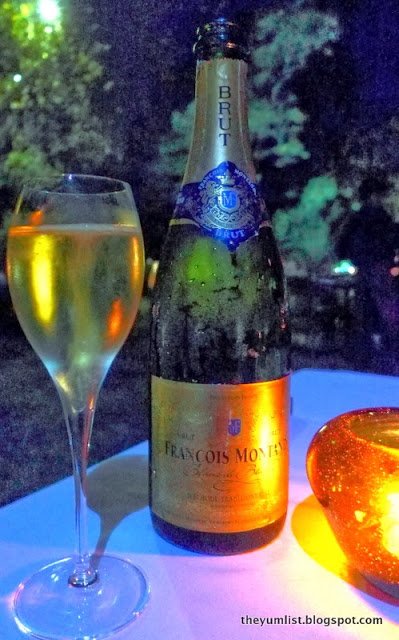 Francois Montant Brut
Smartly presented, the Amuse Bouche arrives on long rectangular platter with a mother of pearl spoon and knife to gracefully dispose of the offering. The plate begins at one end with a sprinkle of seasoned salt and, a mélange of finely chopped feta, tomato, black olive and cucumber follows a line of slim crostini to a glass shooter. Velvety potato mousseline supports stewed lamb and gives a savoury introduction to the meal.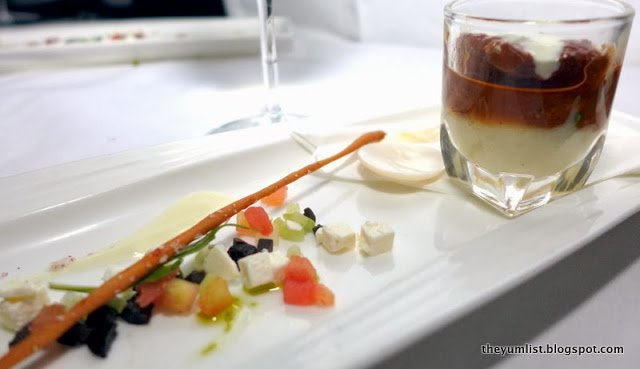 Amuse Bouche – Potato Mousseline and Lamb Stew
A huge basket of crusty European style bread makes you want to throw any notion of "gluten free" out the window and gobble each one. Walnut, baguette, whole grain and sourdough breads are so good, you won't stop at just one piece. And… there's nothing but French butter for spreading of course.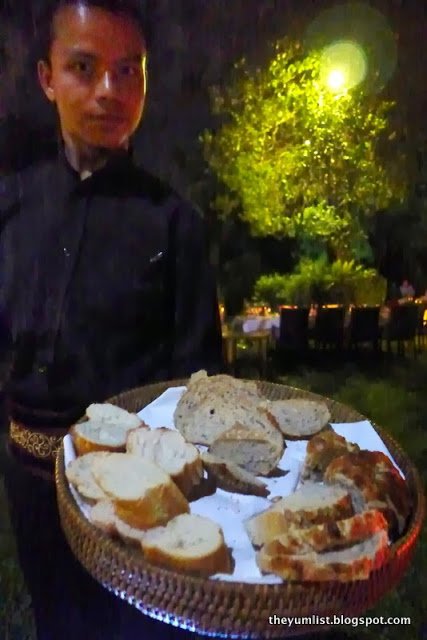 Gorgeous Selection of Warm Bread
Also complimentary is a platter of tiny tasters: thin wafers of zucchini rolled around cream cheese; fish kebobs threaded on lemon grass sticks bathing in a sweet chili jam; petite triangle pasties and; an artistic twist on bruschetta, are just a hint at the thoughtfulness gone into the finer details.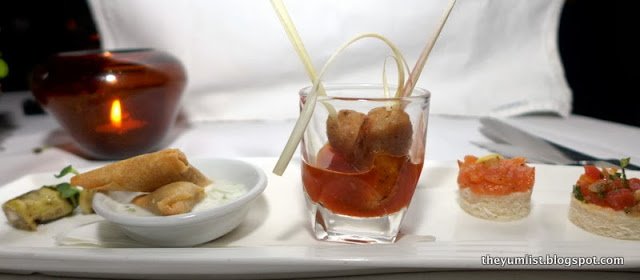 Platter of Tiny Tasters
The wine list is surprisingly comprehensive, with French wines, divided by region, dominating the menu. Starting from $26 per bottle up to $855 per bottle with a couple of finer wines such as Chateau Angelus 2010 and Chateau la Mission Haut Brion 2000 available upon request, there seems something for all budgets. The house wines are sufficiently simple to be pleasantly sipped alone, but also complex enough to quite capably accompany food.

Starter
A dry white wine, Sancerre "Les Lorys Goulaine" 2011 ($8USD) is an agreeable match to our starters. With minerals and cut grass on the nose, it smells like spring. A mouthful of citrus is well controlled and a finish of young blooms leaves the palate desiring more.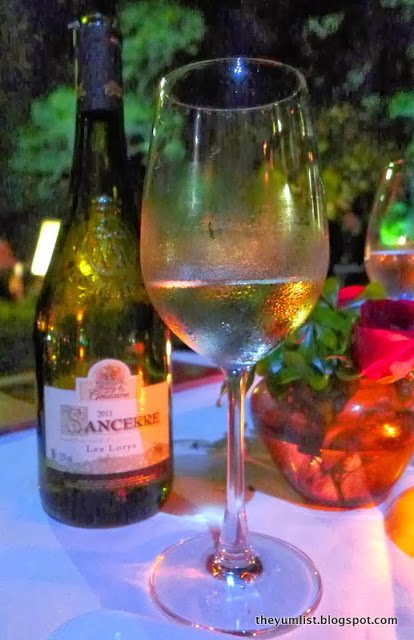 Sancerre "Les Lorys Goulaine" 2011
Sashimi of Red Tuna with Tartar, Papaya, Ginger and Lemon ($19) is best eaten with a squeeze of lime and a dipping in the wasabi liquid and salt sprinkles. Micro greens and tiny tomato cubes decorate the plate. But there's more – the rest is not just garnish. A cylinder of thin crisp pastry encloses more rosy fish and is bedded by grated carrot and a side streak of tamarind sauce.  A shot glass of sashimi is layered with deep fried onion strips, mini leaves, wasabi mayonnaise, shredded rocket and alfalfa sprouts. The trio of presentations create contrast both in colour and texture.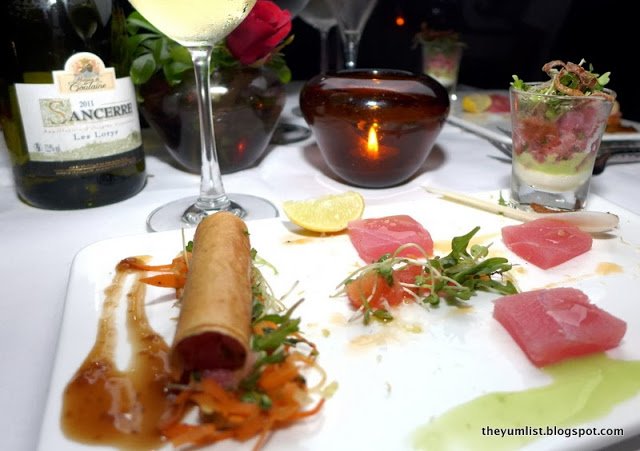 Sashimi of Red Tuna with Tartar, Papaya, Ginger and Lemon
Truffle Filled Ravioli and Creamy Truffle Foam "Le Planteur" ($19USD) is so decadently delicious
that we wipe up every last drop of sauce with spongy slices of bread. Deep fried onion rings add intensity in flavour and mini crunches between the teeth. Greens and sprouts top the dish providing just enough bitterness to cut through the rich creamy sauce. The white wine too serves to cleanse the palate between bites, but this only causes a lust to fill the mouth all over again with the pasta's velvety richness.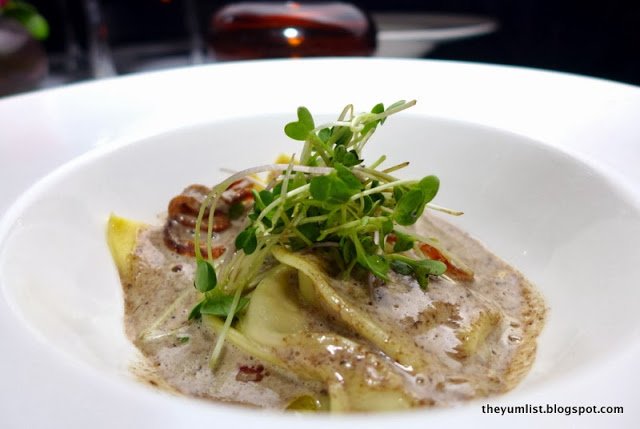 Truffle Filled Ravioli and Creamy Truffle Foam "Le Planteur"
Main
A change of wines leads us into the main course. A red Chateau Fonfroide 2011 ($7USD) is deep ruby in hue with ripe plum on the nose. It's smooth and easy drinking and, its light tannin peppery finish plays superbly with the lamb.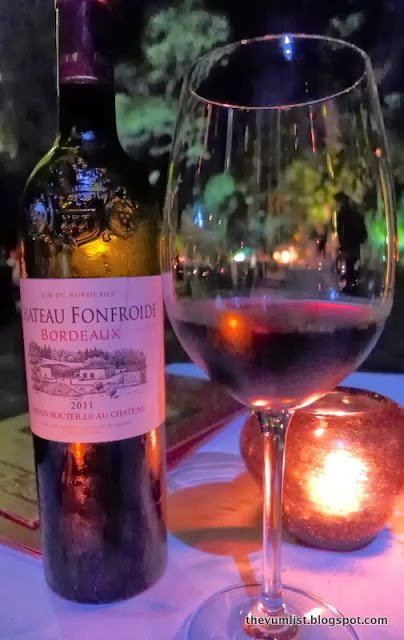 Chateau Fonfroide 2011
Two perfect rounds of pink flesh, so tender a butter knife cuts through them, are the centre of the Prime Lamb Fillet with Pepper, Tomatoes and Tzatiki Sauce ($43USD). Three sprigs of verdant asparagus and caramelized garlic (dangerous – make sure your dinner partner is just as enamored with the pungent bombs as you are!) side the meat.  A thick swipe of mashed potato streaks the plate providing variance in firmness to a barely cooked pumpkin crescent. A crisp bread round holds baked eggplant and a ratatouille style combo of tri-coloured capsicum. A base of pumpkin mash leaks onto the plate in an artistic streak linking the vege tower to the protein wheels.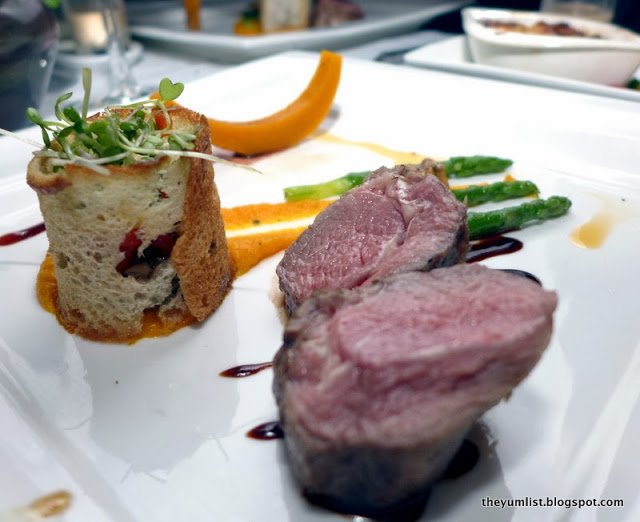 Prime Lamb Fillet with Pepper, Tomatoes and Tzatiki Sauce
A creamy pepper sauce is the daintiest version I've ever experienced. Accustomed to the robust black pepper versions found across Malaysia, this lighter creamier style happily surprises. The yoghurt tzatiki topped with chive slices freshens the lamb much like a mint sauce might. Both sauces provide distinctly different experiences – the pepper-cream a luscious richness and, the tatziki a lightening freshness.
A portion of potato gratin weighed in on the lush side of the seesaw between light and heavy and, the blanched vegetables balanced with a clean crispness.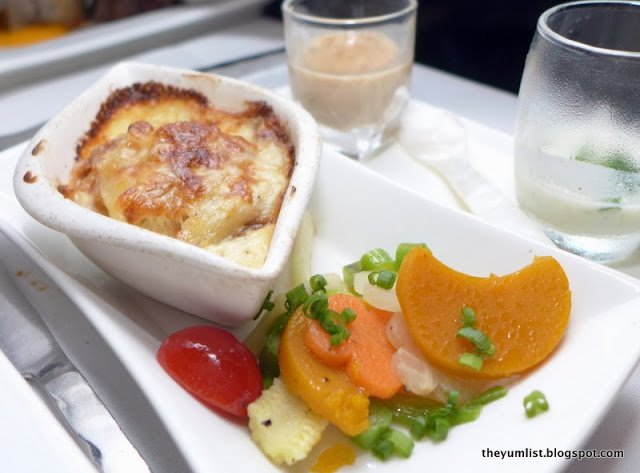 Potato Gratin and Seasonal Vegetables, Pepper and Tzatiki Sauces
Dessert
Portions appear deceptively small. Deception lies in the fact that they are artfully spread across a number of plates, so while the eye is swindled, the stomach certainly is not, and by dessert time, our tummies are giving signals to, "please slow down."

Chocolate Fondant with Framboisines and Joghurt Ice cream ($15) however, has no intention of allowing us to just nibble. Cherries are drenched in alcohol. Tart passionfruit sauce deserves bottling and taking home and, dense bitter chocolate cake is lip-smackingly good. Pineapple sorbet and crunchy dark chocolate biscuit, presented on a mini shovel, literally dares you to spade the whole thing in your mouth. We're too full to consider ordering anything else, but I'd highly recommend a syrupy dessert wine to balance out the bitter chocolate and liquor drenched cherries.  A botrytis Semillon or a sticky shiraz should do the trick.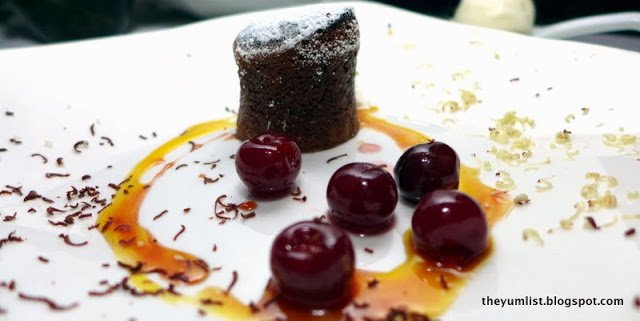 Chocolate Fondant with Framboisines and Joghurt Ice cream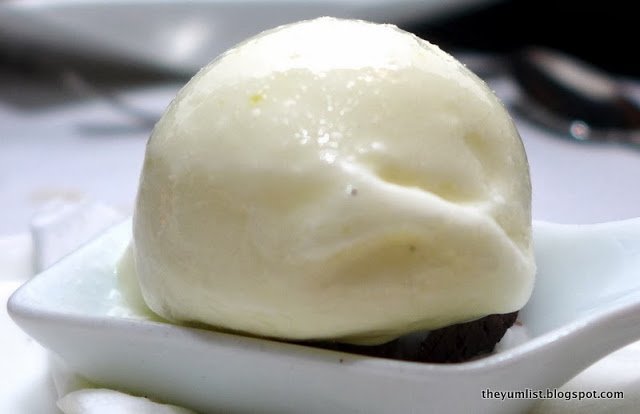 Pineapple Sorbet on Chocolate Biscuit
A final courtesy platter of tiny temptations is perfect for coffee and small enough to fool you into tasting them all. A shooter of Panna Cotta with a rich berry sauce, teeny biscuits and, a light spongy brownie, all have the potential of a compound effect in sending you over the edge into a state of sugary euphoria.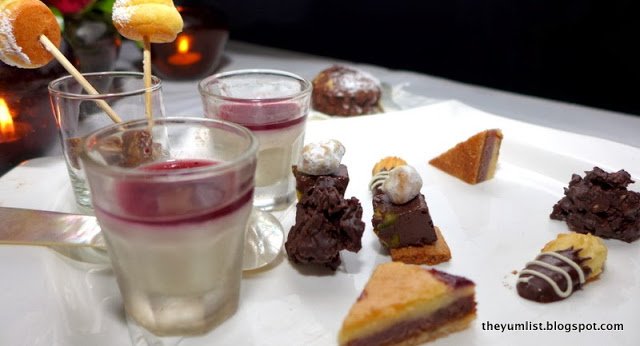 Complimentary Platter of Panna Cotta and Home Made Bite Size Biscuits
All dishes are clearly thought out to provide a careful gracefulness in the balance of texture and taste. The garden setting is stunning and service superb. I imagine a visit to Le Planteur is equal in desirability as a viewing of the great Shwe Dagon Pagoda for some. Elegance for the eyes, ears and stomach might even rival the grand temple for return visits.

Reason to visit: some of the best fine dining in Yangon, enchanting garden setting, flawless service

Le Planteur Restaurant and Lounge
22 Kaba Aye Pagoda
Bahan District
Yangon, Myanmar
+951 541 997
Open daily 12 noon – 2pm and 6pm – 11pm