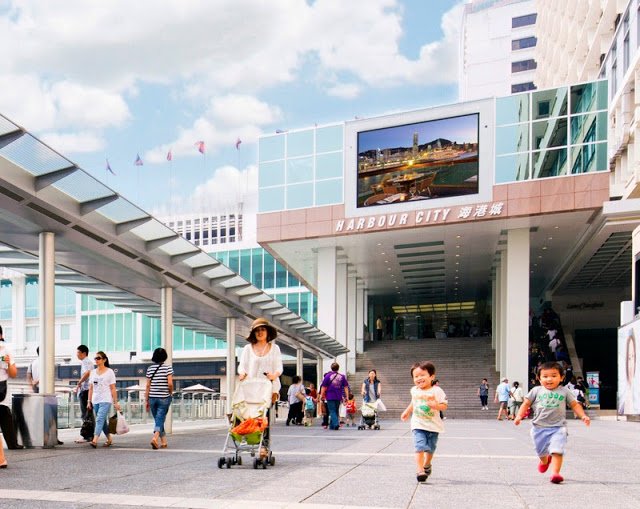 Harbour City
A Nibble Through the Culinary Highlights of Harbour City, a Shopping Paradise on Victoria Harbour
Words by Araceli Barrera Arismendi
Photos by The Yum List (Monica Tindall)

With only two days in Harbour City, Hong Kong, I was on a special mission to seize every minute of what this traveller's wonderland had to offer.

As the taxi pulled up in front of the Prince Hotel, one of the three comfortable hotels situated in the shopping complex, the bellboy greeted me eagerly, "Welcome To Harbour City!" I stepped out of the taxicab anxiously waiting to twirl around to take a 360 Degree mental snapshot of everything around me.

I could sense the elegance of designer outlets such as Louis Vuitton and Prada. I could hear the sounds of electronics and gadgets from all angles. I could see the multitude of avid shoppers from all walks of life entering and exiting outlets of their desire. I could TASTE the abundance of colorful and flavorful cuisines and beverages.

Described as the largest and most diverse shopping mall in Hong Kong, this tourist attraction offers something special and memorable for even the most selective individuals. With over 450 shops, 50 food and beverage outlets, two cinemas, three hotels and the Star Ferry pier with breathtaking views of the harbor, it is no wonder this is Hong Kong's most popular mall and shopping paradise.

The Yum List team recently had the opportunity to experience a culinary journey of some of the best foodie destinations in the mall and to catch the incredible light show, also known as the Symphony of Lights. Along the harbour front, this presentation of lights perfectly captures the spirit and energy of Hong Kong.

The Yum List culinary tour of Harbour City included: 1) Vi Cool, led by Michelin-starred Spanish chef Sergi Arola; 2) Pierre Herme Paris, better known as "Dior of Desserts"; 3) C'est La B, Hong Kong's most talked about cakes and dessert outlet; 4) Laduree, first outlet in Hong Kong offering a collection of macarons, chocolates and teas; and 5) Fook Ming Tong Tea Shop, a traditional shop operated by knowledgeable and educated tea experts.

1st Stop
VI COOL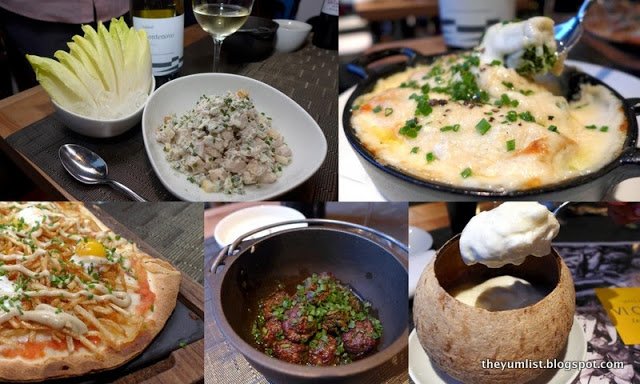 Vi Cool – Scrumptious Tapas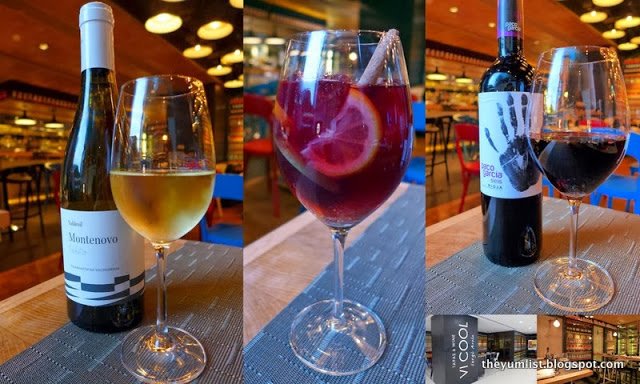 Vi Cool – Spanish Wines and Sangria
The name alone sparks curiosity. "Vi" is the first syllable of vino, which means wine in Spanish and "Cool", is for the ambiance and fresh ingredients the restaurant demonstrates. VI COOL is led by the driving force Sergi Arola, renowned Michelin-starred Spanish chef, carefully designed the outlet's setting and menu knowing exactly what he wanted for his guests.

Our team knew we were going to indulge in traditional and modern delicious Spanish cuisine while feeling at home in a Mediterranean Spanish villa setting. We started with two house-pouring Spanish wines and their signature sangria.

The Paco Garcia Seis Rioja quenched our thirst and made a divine beginning. Various berries like strawberries, raspberries and blueberries were at the forefront with a bunch of wild fruits giving of an aroma of spring. Montenovo Godello White Wine, a light white wine very popular in the northern region of Spain, sends fruits such as pears and pineapples to the back of your mouth. Both wines make excellent choices for any of the dishes on the menu.

Vi Cool's Signature Sangria was absolutely the best sangria we've had in a long time. The kitchen team prepares this fresh, typical Spanish beverage with oranges, lemons and apples and, has it soaked in Spanish red wine for 48 hours until it's finished to perfection. This explains the satisfying freshness of this popular cold drink.

Just as the drinks were so fulfilling, so were the small tapas dishes. Our favorites were the Fried Meatballs with Chimichurri, served with goat cheese fondue, the Endive and Roquefort Cheese Salad with smoked chicken and walnuts and, the Potato Chips COCA pizza.

The latter was the most interesting. Described as a pizza on the Vi Cool menu, this Mediterranean style signature dish is actually a flatbread that can be topped with almost anything. It's very popular all over Spain, especially in the Catalan region. The coca pizza had quail eggs, white truffle butter and burrata cheese that melted in your mouth with explosions of mozzarella and cream proving this dish to be one of Vi Cool's favorites.

The Yum List team agreed that Vi Cool, with its new and authentic Spanish tapas carefully created by Chef Arola, is definitely one of the restaurants you can't miss when in the Harbour City area.

After our savory filling, it was time for our team to explore some sweeties – macarons. We were off to our 2nd stop.

2nd Stop
Pierre Herme Paris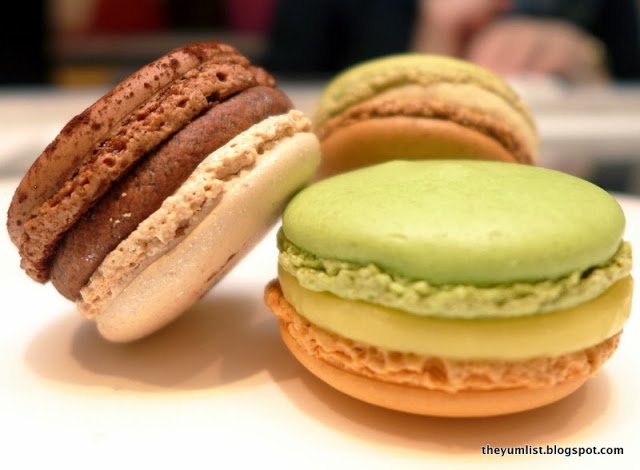 Pierre Hermé Paris
The "Picasso of Pastries," a name appointed by Vogue Magazine USA, this boutique offers an array of chocolates and macarons including signature favorites and seasonal specialties. Founded 15 years ago in Japan, the French pastry outlet is the second shop in Hong Kong most recently opened in Harbour City. This place screams chic, sophistication and of course, scrumptious and colorful French thin cookies.
It was my first experience with macarons so I was ready to sample as many flavors as my taste buds could accept. The shell and texture were so smooth and crispy with an outstanding first bite; the chewiness and the inside of the interior were simply delightful. We sampled so many I'd lost count by the end of our visit. Below are a few of The Yum List favorites.

Signature Ispahan Macaron: This particular cookie was created when Mr. Pierre Herme went to Bulgaria in the early 90s and was sampling Middle Eastern and Turkish sweets made with rose water. He went back to France to study this ingredient and several experiments and creations later, the Ispahan macaron was born. Containing rose, raspberry and the special ingredient litchi, the trio of flavors erupts pure goodness and sweet juice.

Infiniment Chocolate Porcelana Macaron: Pure Origin Venezuela and Porcelana Dark Chocolate. This Chocolate Marcaron is for the cacao lover in you. This piece of heaven was stylish and struck happiness to my heart. The aromas of dark chocolates with a pinch of salt melt in your mouth and leave a pleasant and lingering after taste.

Veloute Banane (Yogurt Banana): This particular creation was developed to recreate a real yogurt flavor. The acidity from the creamy ganache and sweetness from the banana combines a rewarding explosion of savors. If your taste buds crave yogurt products, this flawless cookie allows you to literally take a big bite into the milky and creamy delight.

Pierre Herme Paris Hong Kong specializes in macarons as well as a variety of chocolates, cakes, jams, and coffee. Fascinated with the shop's appearance and impressed by how the chef constantly revisits old recipes and designs new ones based on continuous research of fresh ingredients and concoctions, The Yum List foodies were on natural food high.

With no time to hang around and, saving some room in our stomachs, our team was ready to venture to Canton Road, Tsim Sha Tsui to learn about the charming C' est La B' café-bar founded by the talented Bonnae Gokson.

3rd Stop
C'est La B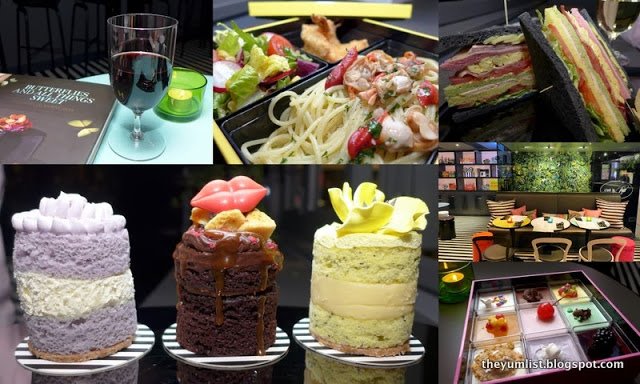 C'est La B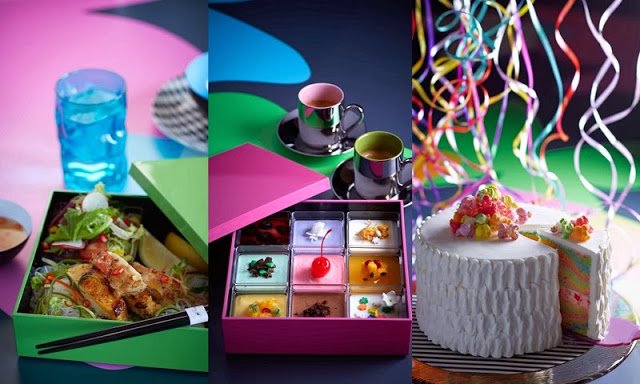 C'est La B
Considered to be the most talked about venue for cakes and desserts, The Yum List group stepped inside the fun, funky and artistic outlet and appreciated the character and charm this place had to offer.

Sofa pillows striped, printed and different shapes transformed the medium size café and delivered a bold and colorful statement. Circular tabletops in bright solid hues with round mismatched stools added more pizazz and color to this appealing room. The black and white striped flooring; unique lighting, butterfly paintings and delicate and unusual decorations make this outlet best suited for sipping a glass of red, and savoring a delectable sweet.

When we finally made our way to our seats, the waiter started to share a few specialties from the menu. He mentioned the shop's famous bento boxes that are especially imported from Japan and promise to make the guests beg for more. He served us the Saigon Box which contains ginger lemongrass chicken with cold Vietnamese rice noodles, salad greens and fried chicken. Too we tried the Osaka Box with spaghetti vongole, dashi and sake drizzles, salad greens and fried prawns. Serving sizes were gracious and quality of the food was spot-on.

Ms. Gokson, the store's owner, pays close attention to precision and detail in every item on the menu, from bento boxes to sandwiches, to her well-known signature sweets. It was evident in the way the food was beautifully presented in the bento boxes, but became even more apparent when the waiter brought us the Rainbow Club. So nicely put together, the sandwich pleasantly surprised us with its kaleidoscope of ingredients and multi-hued slices of bread.

After about 45 minutes chowing down on these unique savory dishes, dessert was on its way. At this point it would have been a glutinous sin to continue on eating, as we had tasted so much already, so we had to politely decline the sweet ending. Instead, we graciously admired the gorgeous offerings and marveled at the amount of incoming traffic!

A steady flow of customers came in and out of the store, picking up cakes and desserts as if there was no tomorrow! C'est La B is known for its beautiful creations and we could see that it was no secret in Hong Kong that this brand is the name for cakes in the city. Ms. Gokson promises her guests that each of her cakes is a work of art and especially made with the best elements from around the world.

Unfortunately it was that time again to express our gratitude and pack up to head to our next stop, the Symphony of Lights!

4th Stop
Light Show
View of Hong Kong Skyline from Harbour City Rooftop Carpark
After three stops and bellies that were about to explode, it was time to see the spectacular light show and take a short culinary and digestive break! We raced to the other side of the massive mall en route to Victoria Harbour to a little known viewing spot – Harbour City's rooftop car park. And… there it was, right before our very own eyes, the Symphony of Lights. The colored lights, laser beams, searchlights and music, blew our minds. The dazzling buildings on both sides of the harbor powered energy to your soul and showcased Hong Kong's culture and character. With two more stops to go in our tour of Harbour City, we turned off our cameras and dashed to the next outlet, Laduree.

5th Stop
Laduree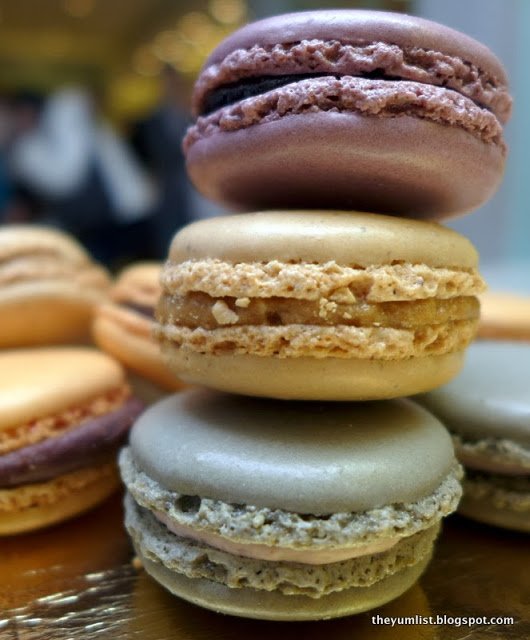 Ladurée – gorgeous macarons
This is the very first outlet in Hong Kong and a discovery that is both rewarding for the city and boutique alike. The aromas catch your attention when entering the shop with its sweet smells of macarons, chocolates, confectionary, teas, and a selection of perfumed candles and home fragrances.
An assortment of macarons displayed at the front of the store instantly catches your attention. Enclosed in a clear, hickory and bluish-grey marble neo-classical counter, the well-designed French inspired confections lured us in.

The sales lady approached us with a silver platter of multi-colored treats. Innovative and creative, the flavors were distinctive and exclusive. The mint, liquorice, pistachio, lemon and strawberry-candy-marshmallow, name a few of the mini pastries that melted in our mouths leaving an ever-lasting impression. Crisp but not crumbly shells and creamy generous feelings proved another high-quality macaron label that Harbour City should be proud of.
Sweetly over-satisfied, we dreamily strolled to our last Harbour City stop, Fook Ming Tong Tea Shop.

Final Stop
Fook Ming Tong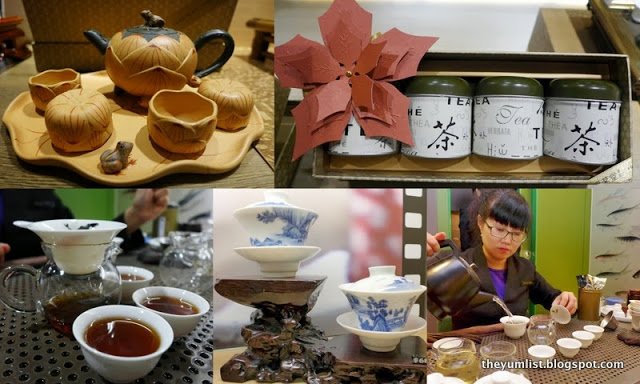 Fook Ming Tong – high end tea
You can't come to China without experiencing quality and top-notch teas at Fook Ming Tong Teashop. The group of tea experts has an extensive knowledge of the history and can explain every detail of the tea process. Founded in 1987 by Thomas Lee, a passionate tea aficionado, the store aims to provide premium quality Chinese tea in Hong Kong. In addition to a range of leaves, the special teashop carries accessories, tea sets, greeting cards and charmingly designed gift items.
Trying Chinese teas is very similar to wine tasting. Every tea has its own story. From not fermented to heavily fermented, each tea is maintained to its best standard by using low temperature cabinets to store the leaves.

When it was ready for us to drink some hot tea, we tried the unfermented green tea. This tea maintains its original color and fragrance and, is light and fresh. We also drank the fermented black tea, which is a reddish color, with peppery acidic notes. Our bodies really did appreciate the warmness of the liquid, which eased our digestion. Rich in antioxidants, there are so many health benefits of Chinese tea such as reducing stress and aiding circulation. After a few more sips and attention to the knowledgeable expert who shared with us a wealth of information teach about Chinese brews, The Yum List was ready to call it a night.

The Yum List team ended the night overjoyed with the tour of Harbor City organized by the Promotions and Marketing team. Every outlet was exceptional. We search for outlets that offer the best of the best, but we also appreciate and respect the hospitality, knowledge and passion in the people we meet. Every employee at the outlets we visited exhibited these characteristics, making our culinary tour extraordinary.

Reasons to Visit: incredible collection of labels found in the biggest shopping mall in Hong Kong, endless number of dining and entertainment options, a great place from which to view the Symphony of Lights

Harbour City
Kowloon, Hong Kong
www.harbourcity.com