View from Harbour View Room
Kowloon Shangri–La, Hong Kong
A stay at Kowloon Shangri-La is dazzling from arrival to departure. Shimmering lobby chandeliers light up the entrance. Glittery Victoria Harbour and Hong Kong skyline scenes jewel the evenings. Gleaming marble floors reflect a location of luxury and, the beaming smiles on service staff impress with their willingness to assist. Everything seems to shine more brightly at the Kowloon Shangri-La.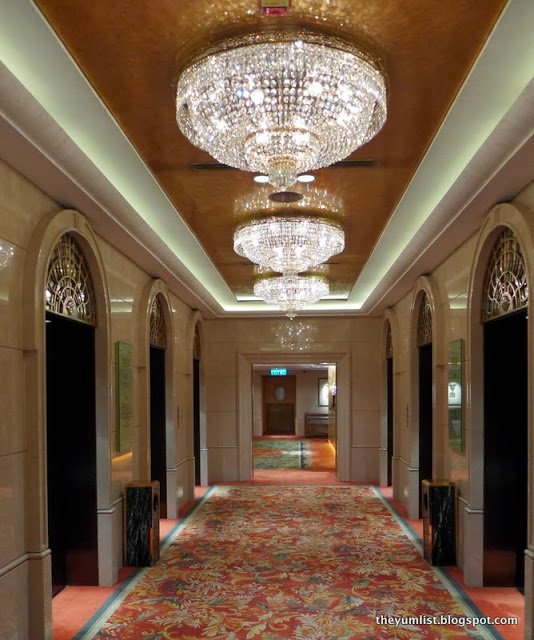 Elevator Lobby
Rooms
Hong Kong is not known for its large hotel rooms, but Shangri-La defies the stereotype and provides spaces that are decadently grand for the island. Floor to ceiling windows enhance the feeling of ampleness and, harbour-facing rooms fill the eyes with sweeping water views.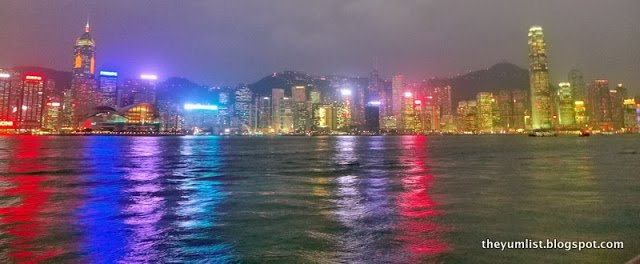 Hong Kong at Dusk
The entrance is dramatic. As guests place their room card into the power key hold, blackout curtains are automatically drawn open, uncloaking a postcard perfect panorama of Victoria Harbour and the Hong Kong city skyline.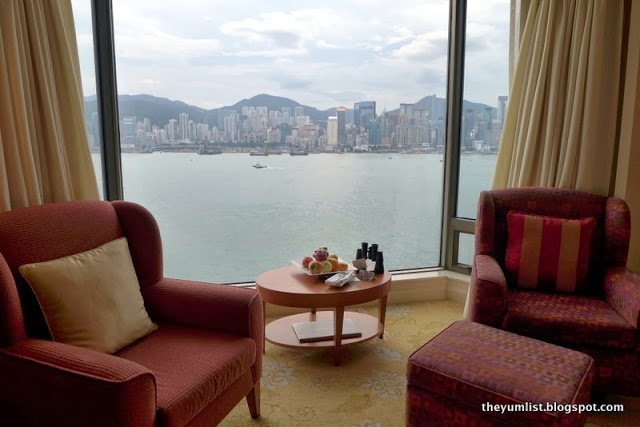 Sitting Area Club Room
A neutral palette paints the rooms. Splashes of contemporary art adorn the walls, while furniture is modern but timeless in style. Clever cabinet design reveals a well-stocked mini-bar and tea and coffee making facilities (we love the espresso machine) on one side, and with the slide of a panel, a wardrobe with robes, slippers, shoehorns and iron, on the other.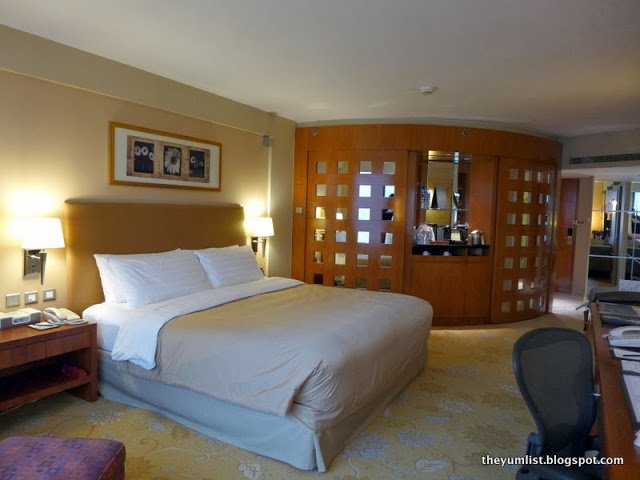 Horizon Club Room
Luxuriously smooth sheets dress the beds and, personal customization is made possible with a menu of pillows. Marble bathrooms are fit with separate shower and bathtub. An adjustable television screen faces the toilet and bath, encouraging you to take your time with grooming. A clock, scales and potted plants give a comfortable, homey feel.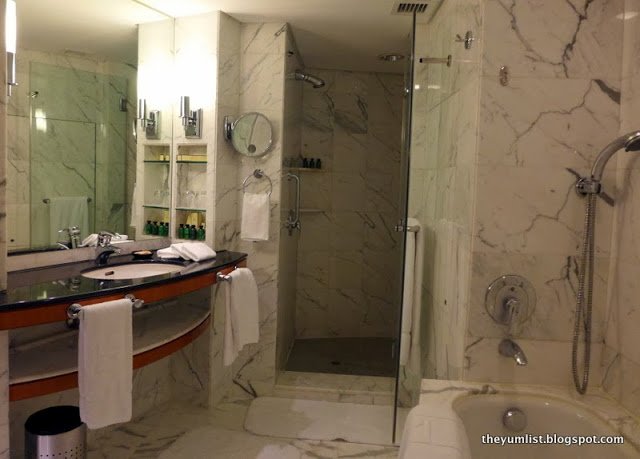 Horizon Club Room Bathroom
Shangri-La's success however is in the details. They go way beyond expectations in providing the customary services of a five star hotel. Besides the high-speed Internet connection and in-room safe, rooms are gifted with binoculars, treats from the bakery in the evening, an umbrella, shoe shine service, scales and even a running route around the waterfront marked on a hanging necklace map. Fresh orchids adorn the room, a stand of magazines provide current reading material and even a printer (handy for printing boarding passes and itineraries) is provided!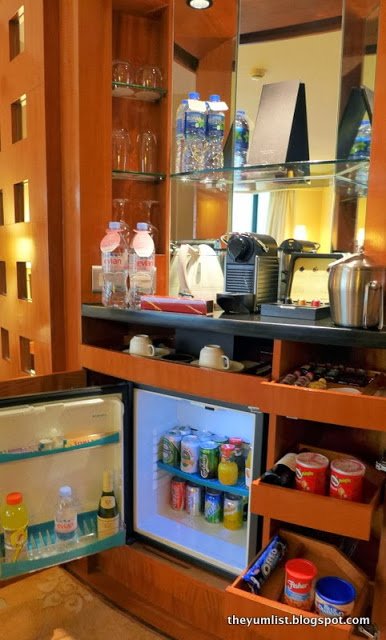 Mini-Bar and Tea and Coffee Making Facilities – note the personal espresso machine 🙂
Food and Beverage
Breakfast is either taken at Café Kool or, if staying in a clubroom, at the Horizon Club. Just browsing the lush offerings leaves you believing that you won't need to eat again until the following day. Many healthy options, such as luxurious bowls of berries and yoghurt, tickled my fancy, while hubby reveled in the thick slices of bacon and made-to-order eggs.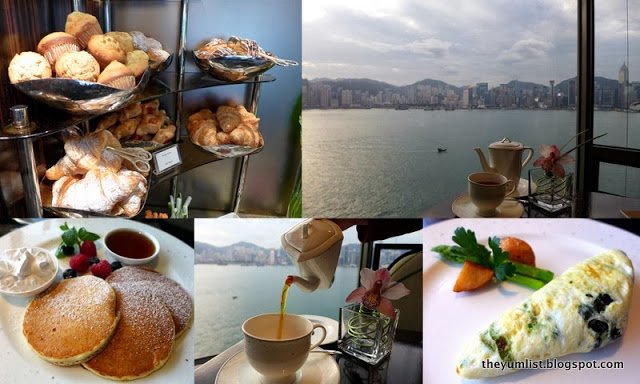 Breakfast
Shang Palace
, with its two Michelin Stars and Cantonese cuisine, must be visited, even if you are staying at the Kowloon Shangri-La or not. Executive Chef Mok Kit Keung works passionately, constantly refining and perfecting his dishes to delight guests with traditional Chinese recipes, with individual, western-style plating. His Barbecued Pork Loin Glazed with Honey Sauce has been nicknamed the "King of Char Siew" by local media and should definitely be on your order.
Stay a while longer and too you'll be tempted by the delicate décor of Nadaman, Kowloon Shangri-La's Japanese restaurant, and or the sensuous setting for Italian at Angelini. The Lobby Lounge offers all day snacks and drinks, while the Tapas Bar is a popular haunt in the evenings for new world wines and international tapas.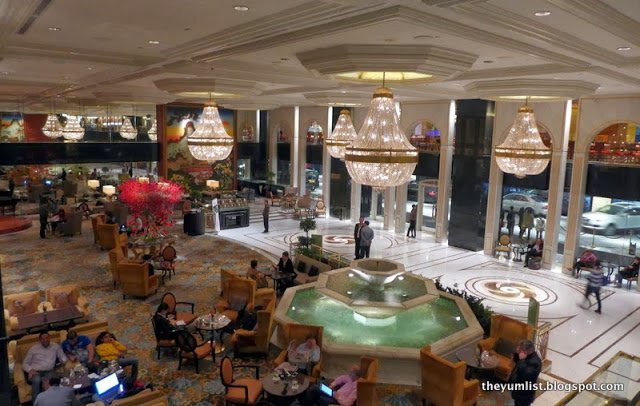 Lobby Lounge
Horizon Club
The Kowloon Shangri-La's executive lounge, the Horizon Club, is well worth the few extra dollars for the upgrade. Tasteful furniture is spread across the room in alcoves of giant bay windows looking out over the harbour. It's a spectacular sight at anytime of day, but early evening, as the sun is setting and the Hong Kong skyline is illuminating, is a special kind of magic. Cocktails, beer and wine are served at this time alongside a buffet of nibbles. In reality, what is meant to be a light pre-dinner bite could easily be made into a substantial meal, tapas style.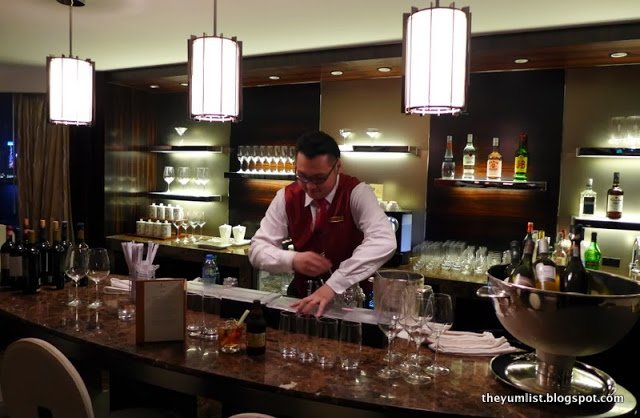 Horizon Club Bar
Throughout the day unlimited non-alcoholic beverages, including fresh juices, carbonated drinks and tea and coffee, are provided. A light selection of fresh and dried fruit is complemented by bite size sweets and savouries. Something special is a line-up of jars highlighting local Chinese goodies such as sour plums and dried apricots.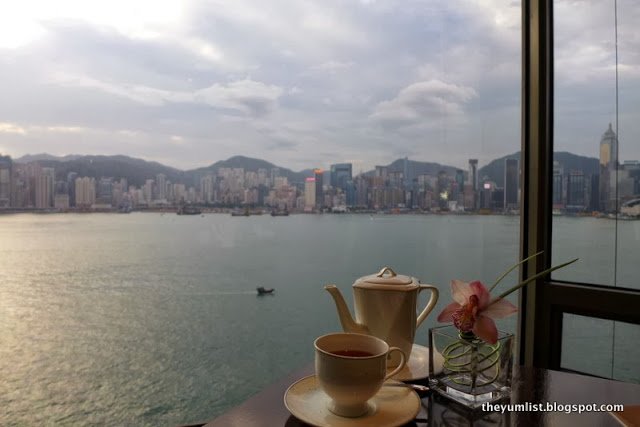 Breakfast at the Horizon Club
A luscious spread of nourishment is prettily arranged to start the day: fresh, dried and poached fruits; yoghurt; cereals; freshly baked breads and pastries; cold cuts; cheeses; hot items and; dim sum. Western and Asian plates are ordered a la carte. My Egg White Omelette with Cheese and Spinach was perfectly prepared, with very little oil making it slightly golden on the outside, but cooked through. A simple adornment of fresh asparagus, potato chunks and a sprig of fresh herbs sided the dish. Hubby was in bliss with his order of fluffy pancakes with syrup, cream and fresh fruits.

Location
If the views from Kowloon Shangri-La don't permanently mesmerize you, you might consider leaving sometime for exploration of the adjacent Tsim Sha Tsui East, Kowloon's famous entertainment and shopping district. Temple Street Market too is minutes away and an irresistible stop for bargain hunters. A casual meander along the waterfront (connected by a pedestrian bridge directly to the hotel) delivers a fresh breeze and an eye-full of the remarkable city skyline. Just down the bay are museums, galleries and Hong Kong's largest shopping mall, Harbour City.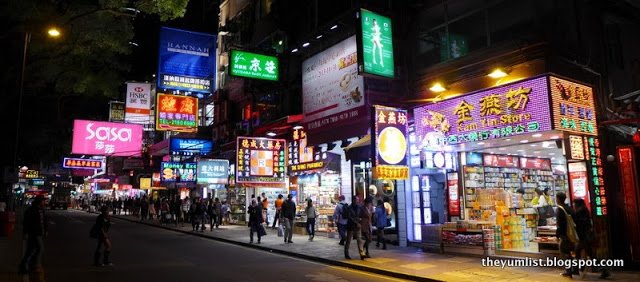 Nearby Shopping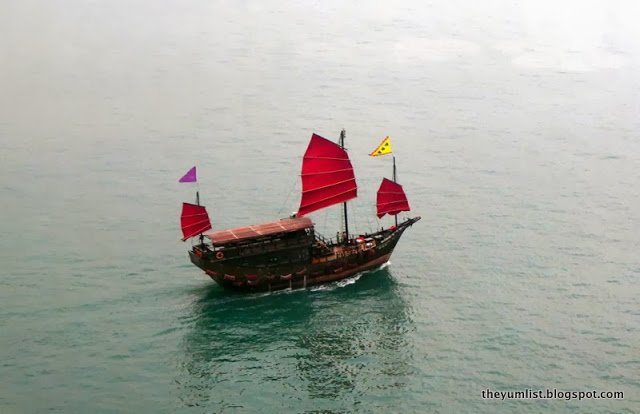 Boat on Victoria Harbour
Corporate Social Responsibility
One of the reasons I'm so loyal to the Shangri-La brand is their effort in terms of corporate social responsibility. Each hotel's work is individualized to the local area and Kowloon Shangri-La provides a special focus with their Embrace, Care for People Project. They work closely with the Ebenezer School for multi-disabled students and the Home for the Visually Impaired providing funds, training and employment. I too admire their courageous stand against shark's fin and endeavours to take other endangered species of all menus.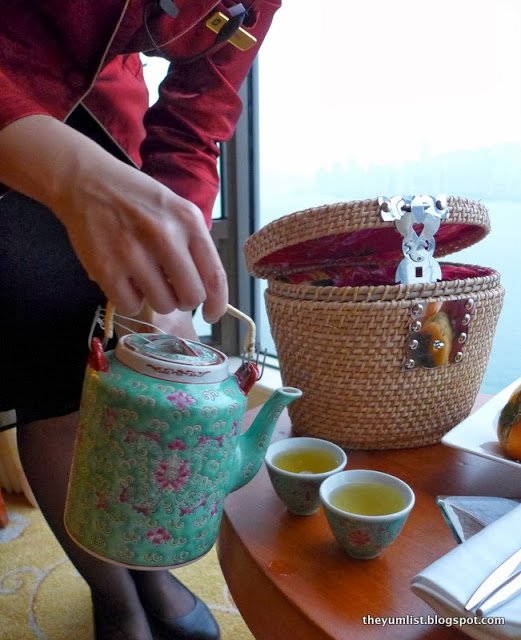 Welcome Tea
Service
Facilities, activities and location aside, what makes Shangri-La special has always been the people. I don't know what marvelous memory training they employ, but staff address guests by name and even remembered our favoured drink choices after our first night. When asking for directions around the hotel, we were never just told verbally, but were personally accompanied to our desired location. As for advice on transport and sights to see in the area, it felt like we were talking to old friends who couldn't do enough for us to make our stay a pleasant one.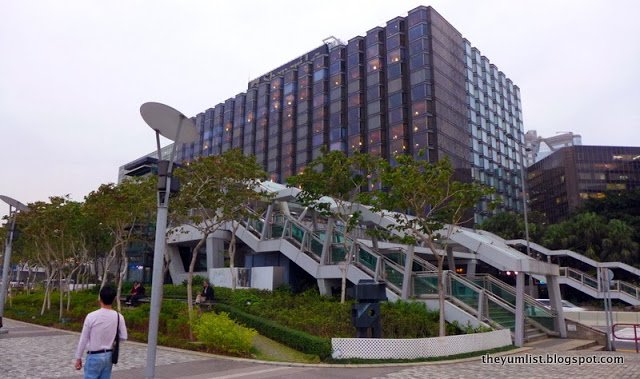 Kowloon Shangri-La
Reason to visit: trademark service, convenient location, spectacular views, excellent food and beverage options

Shangri –La Hotel Kowloon
64 Mody Road
Tsim Sha Tsui East
Kowloon, Hong Kong
+852 2721 2111