Hip Vibe in Coffs Harbour
Coffs Harbour, once a tranquil beach holiday destination for families and popular settlement for retirees, is picking up the pace with an influx of hip cafes and markets making a welcome hubbub on the food and beverage scene. The town is now gaining a reputation for its gourmet goodies alongside its amiable climate and pristine natural playgrounds. With a common theme of sourcing local produce, organic where possible, and sustainable, responsible business practices, The Yum List is overjoyed to report back on some of the:
 Hippest Cafes, Coolest Markets and Socially Responsible Business in Coffs Harbour
Artisti Di Espresso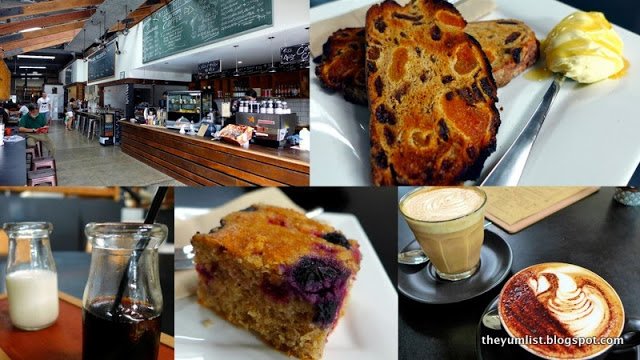 Artisti Di Espresso
We like the team at this industrial-feel cafe not only because they're local, but for their extreme passion when it comes to all things coffee. You're guaranteed a cuppa just as you like it (all you have to do it ask), but Artisti Di Espresso also roast and supply beans (blends and single origins) and, run professional and home barista courses too. It's a one-stop shop for coffee lovers.
Artisti Di Espresso
37 Vernon Street
Coffs Harbour, NSW 2450
Australia
+61 0422 094 123
[email protected]
www.artisti.com.au
Monday – Friday 8am – 3pm
Saturday 7am – 2pm
Depot Cafe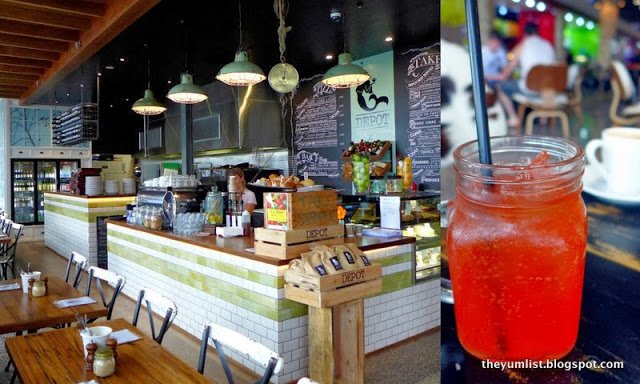 Depot
Depot Cafe has one of the funkiest designs we've seen in a food court. Occupying prime space by the floor to ceiling windows it's flooded with natural light which enhances the merry feel of the interior. Crates, blackboard menus and, filament exposed hanging lightbulbs give it a trendy touch of vintage. Depot makes The Yum List for going well above the norm in terms of dining hall outlet expectations. We're also not complaining about the fact that they're licensed, meaning a beer or glass of wine with lunch is a very pleasant and possible option.
Depot Cafe
Upstairs Level 2
Coffs Central Food Court
Coffs Harbour, NSW 2450
Australia
+61 02 6651 1812
www.facebook.com/depotcafecoffs
Open 7:30am – 5pm Mon – Fri (Thurs 6:30pm)
8:30am – 4pm Saturday
8:30am – 2pm Sunday
Old John's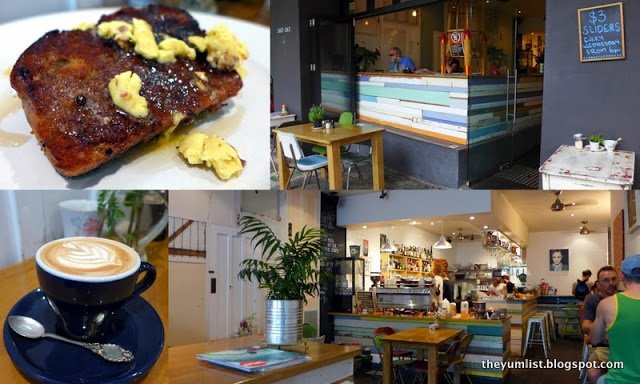 Old John's
Recycled wood, mismatched crockery and cutlery and, toe-tapping tunes from the past mark Old John's, one of the hippest cafes on the Coffs' Jetty strip. Brewing a smooth, mild Five Senses coffee and, using local produce, organic where viable, we'd be happy to eat here more than once on a visit to the area. Cafe favourites with a little extra, such as the Banana Bread (pictured above) smothered with a toffee butter and lavender honey, keep a return date high on our agenda.
Old John's
360 Harbour Drive
Coffs Harbour Jetty, NSW 2450
Australia
[email protected]
facebook.com/oldjohns
+61 02 6699 2909
Monday – Tuesday 7am – 4pm
Wednesday – Saturday 7 am – 12 am
Sunday 7am – 10pm
Surf Club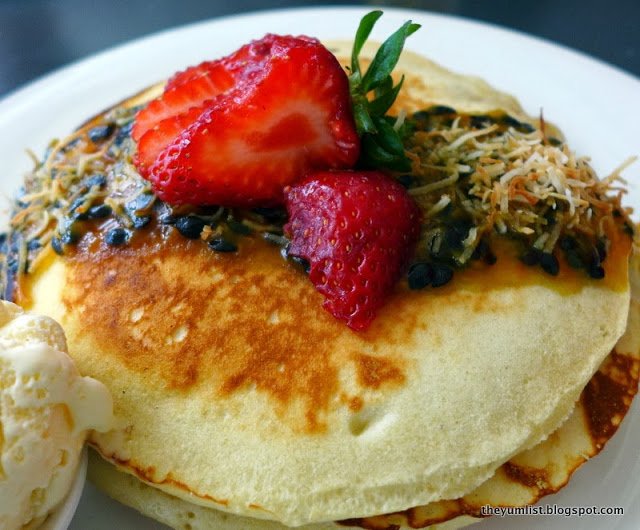 Passionfruit and Coconut Pancakes – Surf Club
The Surf Club offers meals with a beach view and a fresh sea breeze. Lots of local, free-range and organic ingredients make us happy, and their breakfasts are some of the most scrumptious in the town. Early birds are rewarded with $10 brekkie specials between 7 and 8:30am. Check out their Specials of the Day as we've never been disappointed. Pictured above are Passionfruit and Coconut Pancakes, but we also tried and were very pleased with an enormous slice of super moist carrot cake, giant slices of fruit toast with cinnamon butter and, good standard cups of coffee.
Surf Club Restaurant and Bar
Surf Club Road, Park Beach
Coffs Harbour, NSW, 2450
Australia
+61 02 6652 9870
 Morfish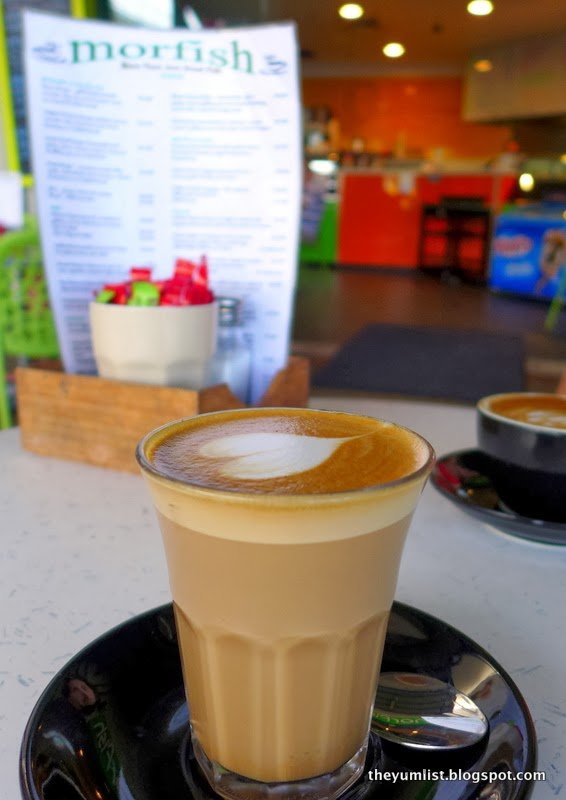 Morfish – Mum's favourite coffee spot in Coffs
Morfish had a good chance of making it to The Yum List before we even visited. It's my mum's favourite cafe in Coffs Harbour. Resident for nearly 15 years, she has most locations sussed out in terms of quality and value for money, so when this exacting mamma said Morfish merited a visit, we knew we wouldn't be disappointed. Coffee is excellent and is certainly up there with the best we consumed this holiday. Perfectly balanced and expertly prepared, beans, machine and barista seem to be a winning combo. Food too is more reasonably priced than most cafes in the area. Hubby woofed down a Bacon and Egg Burger and, at only $6.50, would have ordered another if we hadn't teased him about his Aussie tummy. Reliable, consistent, delicious and well-priced, Morfish warrants a drop-in during any trip to Coffs.
Morfish
Shop 59
Park Beach Plaza
Coffs Harbour, NSW, 2450
Australia
+61 02 6652 8588
Open 7am – 5:30pm
It's not just cafes that grabbed our attention this visit, but vendors placing high importance on sourcing their wares locally too. From street markets to supermarkets it seems locavores are driving the trade.
Fresco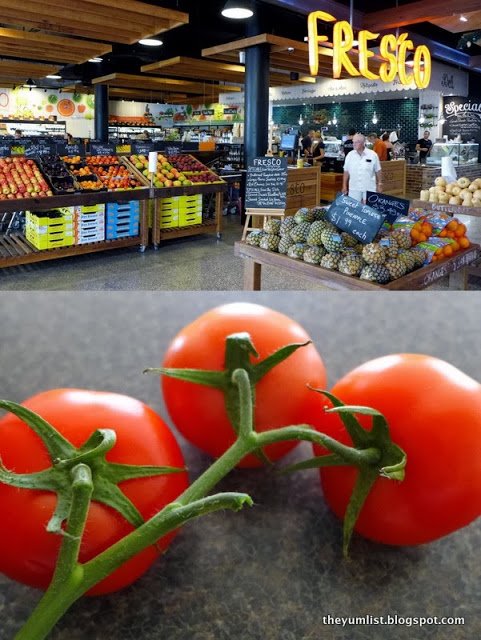 Fresco
Fresco is a relatively new fresh produce outlet in the recently renovated Coffs Central Shopping Centre. A colourful display of fruits and vegetables makes us want to cook at home and, samples from the deli easily persuade us to take more than just a few items away. Shelves are lined with gourmet items and, local delights such as free-range eggs, organic dairy, and fruit picked and delivered on the same day by local farmers, are on every shopping list.

Fresco
Ground floor
Coffs Central Shopping Centre
Harbour Drive
Coffs Harbour, NSW 2450
Australia
coffscentralshopping.com.au/new_shops_fresco
+61 02 6652 8882
K'Pane Artisan Bakery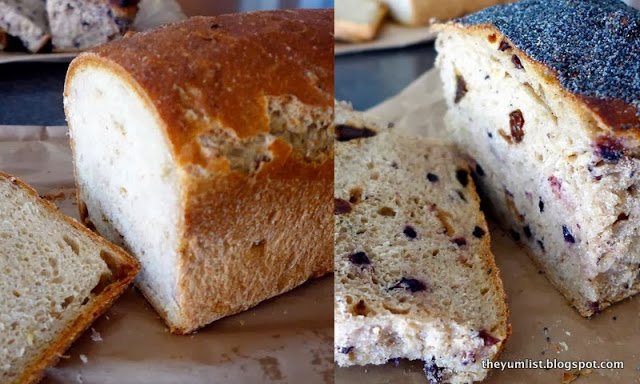 K'Pane Artisan Bakery
A mouthwatering glass display of sweet treats and, shelves stacked high with organic, sourdough, artisan breads keeps the crowds hovering around the corner lot of K'Pane Artisan Bakery. Bread here is something you can really bite into. Full of flavour, once you've eaten this style of bread you'll find it difficult to go back to any commercially produced items ever again. Pastries overflow with luscious fillings and, gourmet pie ingredients will make you ponder for more than a few moments, merrily salivating while you decide which recipe you'll treat yourself to today.
K'Pane Artisan Bakery
Shop 2 Coffs Central
Harbour Drive
Coffs Harbour, NSW 2450
Australia
+61 02 6651 9978
www.kpane.com
Red Sparrow Tea Company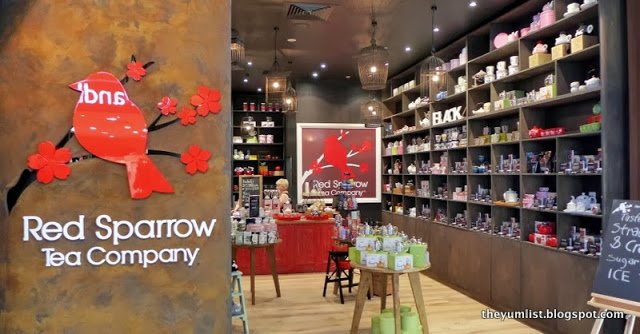 Red Sparrow Tea Company
Red Sparrow Tea Company is another local business to be proud of. Sourcing and blending her own teas, the owner has an eye for design and a palate for pleasure. Loose-leaf teas and gorgeous teaware will tempt even the most avid coffee consumers into admitting that tea can be just as delicious.
Red Sparrow Tea Company
Coffs Central Shopping Centre
Harbour Drive
Coffs Harbour, NSW 2450
Australia
+61 02 6652 5774
www.resparrowteacompany.com.au
The Butchers Bullevard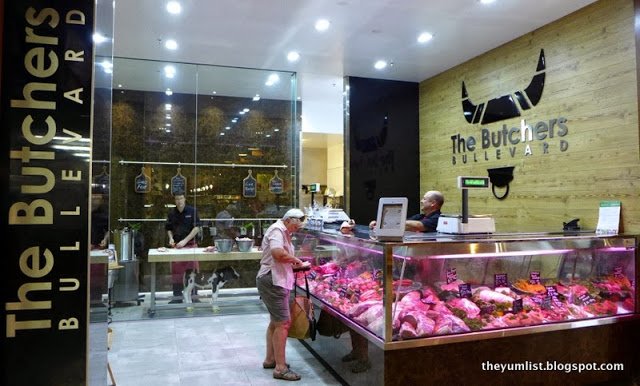 The Butchers Bullevard
Local and grass-fed, meat from this butcher will lighten a carnivore's conscious knowing that most flesh for sale is not factory farmed. The outlet is chicly designed too. Meat shopping is a pleasure at The Butchers Bullevard.
The Butchers Bullevard
Ground Floor
Coffs Central Shopping Centre
Harbour Drive, Coffs Harbour
NSW 2450, Australia
www.thebutchersbullevard.com.au/home
+61 02 6652 3394
Thursday Morning Coffs Market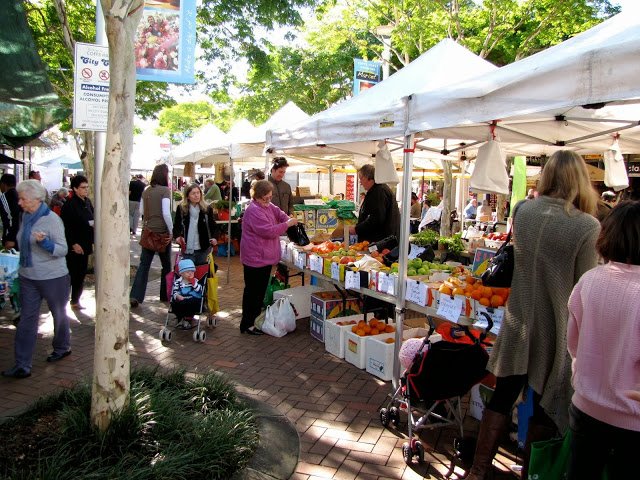 Thursday Morning Coffs Market
Mum's Home Cooking, K'Pane artisan organic bread, fresh local produce, and Artisti Di Espresso locally roasted coffee beans are all found on a Thursday morning at the Coffs Habour local produce market. A pleasant climate and cerulean blue skies in the subtropics of Coffs Harbour, friendly vendors and the chance to be a locavore for a day make this market a must-stop on your visit around the Northern NSW coast. Get there early, around 8 – 9 am, to enjoy the best offerings – especially those of Mum's Home Cooking whose luscious goodies are snapped up without delay. Her typically Aussie slices will leave the sweet tooth in you more than satisfied but your taste buds wickedly salivating for more.
Coffs Thursday Local Produce Market
Harbour Drive
(known by the locals as the Palm Centre)
Coffs Harbour, NSW 2450
Australia
Every Thursday morning from 8am
Further Afield
The hip has reached (or in the case of Bellingen spread from) the areas surrounding Coffs too.
Bellingen
Black Bear Cafe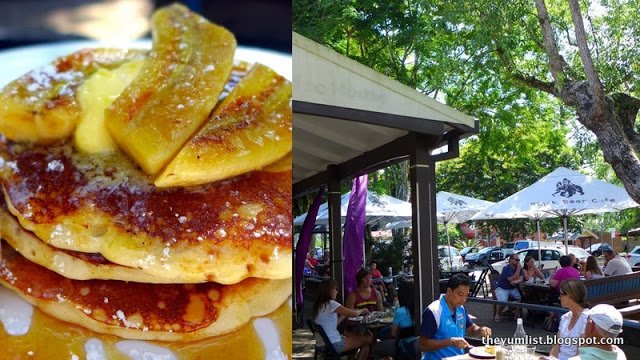 Black Bear Cafe
Bellingen is the queen of 'hip,' with the whole town's focus on living a sustainable lifestyle, it goes without saying that cafes here are green and groovy. One of our favourites is Black Bear Cafe. Excellent coffee, shady al fresco tables and, an interesting menu emphasizing whole foods keeps the whole community happy.
Black Bear Cafe
7F Church St Bellingen
NSW 2454, Australia
+61 02 6655 1947
Cafe Treeo Sawtell
Lined with giant trees begging to be climbed, the main street of Sawtell is an appealing, shady strip. Cafe Treeo is, without doubt, the most popular on the drag due to its comfortable gourmet menu and all-day brekkies. Coffee is good too. It's worth the 15-minute drive south from Coffs for a change of scenery and a yummy bite to eat.
 
Cafe Treeo Sawtell
18 First Avenue
Sawtell, NSW 2452
Australia
+61 02 6653 1099
fb.com/CafeTreeo
Open 7 days from 7 am for breakfast and lunch
North Sapphire
Beachstone Cafe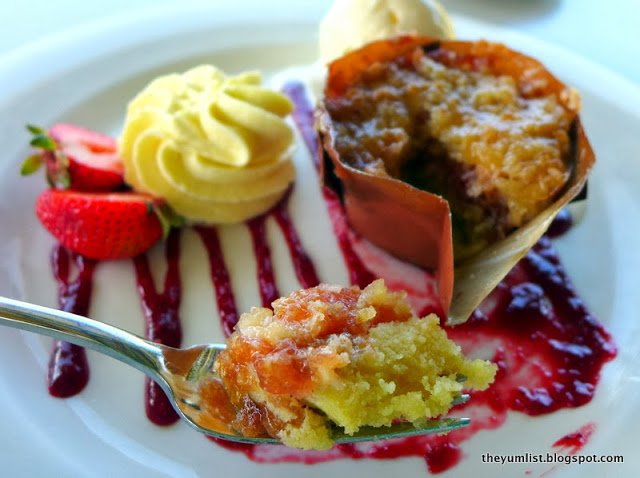 Apple and Rhubarb Gluten Free Tart – Beachstone Cafe
Beachstone Cafe, about 15 minutes to the north of Coffs Harbour, is an excellent location for families with children. A free-standing building is surrounded by a shady verandah and opens up to rolling green grass and a large children's playground. The young ones can run and play while the adults enjoy some modern Australian cafe food. The beach too is just a stroll over the sanddune so a digestive walk either before or after a meal is an easy activity. While the food is a little more pricey than other hip cafes in the region, consider the extra couple of bucks as payment for the inbuilt babysitter (attractive playground) and green sunny outlook.
Beachstone Cafe
Beach front North Sapphire Road
(Off Split Solitary Road)
North Sapphire, NSW 2450
Australia
+61 02 6653 6188
[email protected]
www.beachstonecafe.com.au
Do let us know your favourite finds…