Day 1 – Arrival, Rooms and Night Market Fun
We hear our greeter in the arrivals hall before we even spotour sign. "Ms. Tindall," he calls from the crowd as he rushes to relieve us of our luggage. He's well dressed and speaks eloquent English, informing us of the estimated travel time (40 minutes via a brand new highway) to The Landis Taipei and today's temperature (12 °C).
Transfers
He escorts us to our waiting limousine transfer. It's the latest Mercedes-Benz 350 Series. The driver is uniformed with suit, top hat and gloves. After our frigid and squished Air Asia flight, I sink contentedly into the warm leather seats. Our luxury vehicle is decked out with modern comforts. Individual temperature regulation, window shade control and, seat adjustment are at the touch of a button. Mineral water and refresher towels are very welcome after the flight. High speed WiFi and today's Wall Street Journal quickly reconnect me to the world. We feel safe in our driver's hands. Soft T-Pop tunes strum the music player as he expertly but gently navigates the route.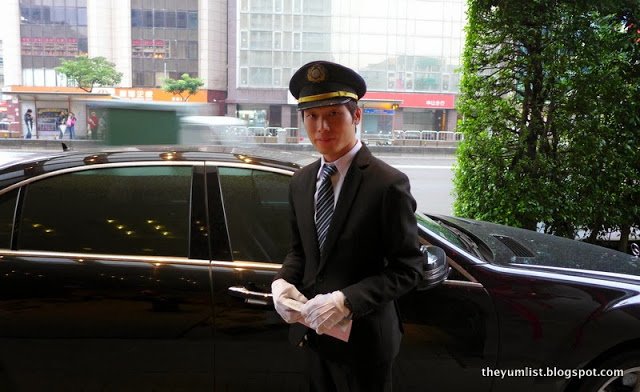 Limo Transfer
Transfers are seamless. Our driver has messaged ahead and suited staff at The Landis Taipei usher us into the hotel, addressing us by name, and directly up to our room where check-in takes place. How nice! No waiting in line in the lobby. From the second we leave the airport arrivals' hall to the moment we check out of The Landis Taipei we feel cared for.
Lobby
Rooms
Our accommodation, a Deluxe Room, is divided into separate living, sleeping and bathing areas. The lounge celebrates the clean elegance of Art Deco design. Cool metallic colours hue the walls, borders and furniture. Stacked geometric forms shape the coffee table and, reflective fabric upholsters the coach and armchair. Even the ceiling has an angular wave composition. I eye the espresso machine with a smile, while hubby grabs the TV remote already scheming (I believe) the hours of sports he'll get to watch tonight when I'm sleeping (the bedroom is apart with its own TV so no complaints from me).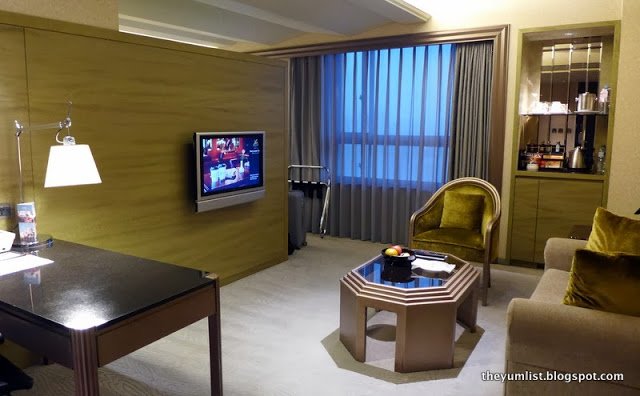 Deluxe Room Living Area
I plug in my laptop and am impressed with the speed of the Internet, personalized stationery and, streamlined practicality of the desk and office chair. A chuckle comes from the bathroom. Hubby has discovered the fully automated toilet with heated seat incorporated, sensor controlled flushing and, self-regulating lowering and lifting of the lid. He gives it a go and I hear a cheer of approval as he appreciates the warm seat in this cool winter weather.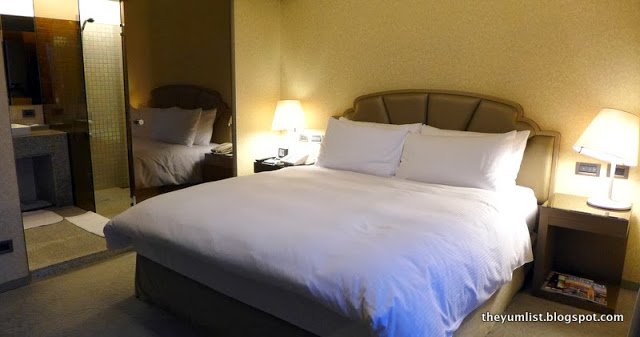 Deluxe Room Bedroom
The Art Deco glam element is echoed in the bathroom with shiny mirrors, tinted glass, rectangular basins and metallic tile walls. A sliding door detaches the bathroom from the bedroom and another divides the vanity and toilet from the shower and bathtub. Minerals bath products, featuring salt from the Dead Sea, smell glorious and as I rub the body lotion into my hands, I get a kick out of the simple pleasure an agreeable scent can enkindle.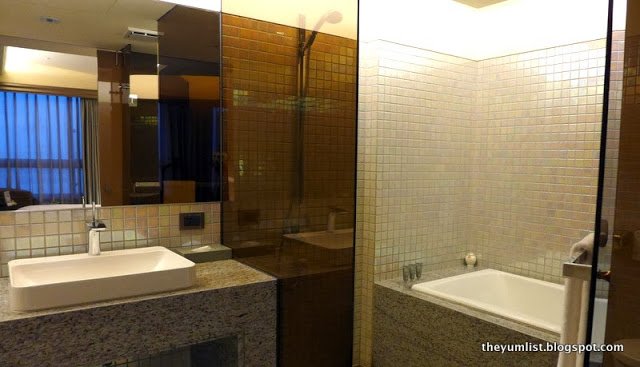 Deluxe Room Bathroom
Besides the Deluxe Room, which is a very generous 43 square metres, three other types of rooms supply a range of options for different budgets and needs. The Superior Room contains either a queen-size bed or twin beds in around 26 square meters of space. An Executive Suite features a king-size or twin beds in a sizable 53 square metres and, for those desiring an even greater expanse, the Corner Suite houses a king-size bed in 56 square metres of living area.
Location
Popular with Japanese tourists and business travelers, The Landis Taipei is surrounded by massage and reflexology parlours and is only minutes from a well-known Buddist temple famous for its fortune-tellers. The metro station is just down the road too and connects the hotel to, well, just about everywhere! The CBD, zoo, hot springs, mountains and seashore are effortlessly reached via public transport. We're impressed with the trains' cleanliness, safety and efficiency. All signs and maps are both in Chinese characters and English alphabet, and the local Taiwanese are extremely polite and helpful, making using the system a joy.
The Shilon Tourist Night Market is a few stops away from the The Landis Taipei and on just about every blogger's "must visit" list, so we go check it out. Stinky tofu, oodles of noodles, milk tea and, Chinese pizza – we try it all and walk 'til we can no longer. We're 100% satisfied with our street adventure but glad for the warm, cozy haven of The Landis Taipei we return to. While we've been out, turn down service has left some handmade chocolates on our pillow and we nibble them with a hot cup of tea before hitting the sack.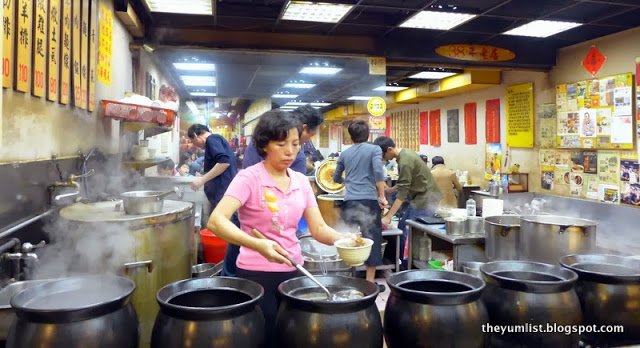 Shilin Tourist Night Market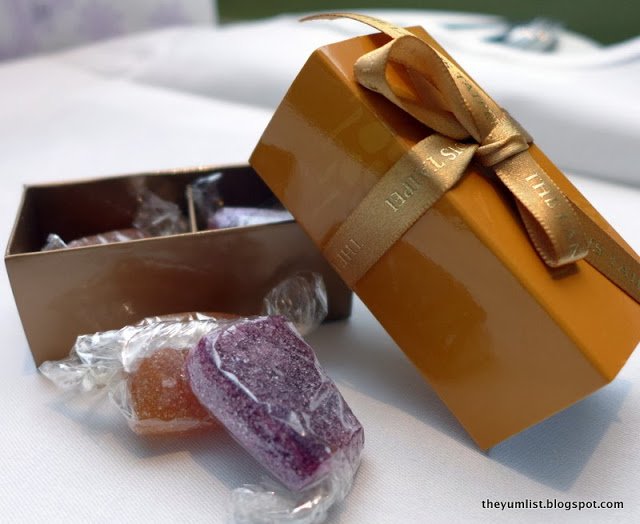 Turn Down Service – sweets on my pillow
Day 2 – Fitness, Tapei 101 and Paris 1930
The bed linen is lush and the bed supportive but soft. Double windows sound proof the room and we wake up late, refreshed and ready to start the day.
Breakfast
La Brasserie, is The Landis Taipei's all day dining restaurant. It's filled with rich wooden furniture warmly lit by frosted glass lampshades. Black and white tiles mosaic the floor, and waitresses dressed in French maid uniforms add a quirky burst of character to the French bistro scene. The buffet spread is compact with some Asian and Western options and, a live cooking station has chefs preparing custom-ordered eggs.
La Brasserie
Facilities
After a leisurely read of the paper we decide it's time to counterbalance some of the culinary delights we've devoured and hit the gym. Positioned  on the rooftop, it mirrors the art deco theme of the rest of the property with ceiling, light fixtures and even the roof building structure itself presenting bold geometric lines. Treadmills and cross-trainers are hooked up to TV screens making the cardio part of our workout pass quickly. A range of free weights and machines are more than we need to get some strength work in too.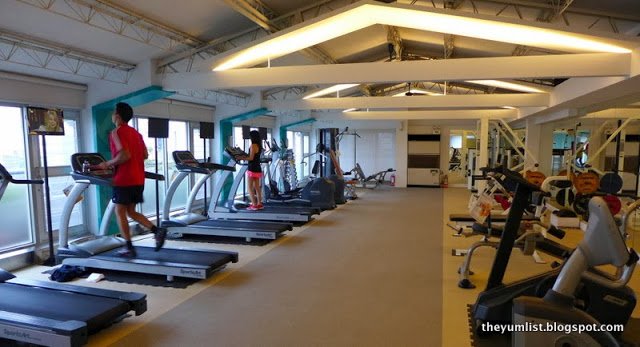 Gymansium
Sightseeing
Taking advantage of the convenience of the MRT we head out for the rest of the day to Taipei 101. Umbrellas are provided by the hotel and maps, guidance and suggestions too so we feel well equipped to seize the day. We hit the pavement with full gusto, see, explore, fill our tummies with noodles, dumplings and pineapple tarts and return exhausted to The Landis Taipei. Again we've had a wonderful time on the streets but are grateful for the comforts of the hotel. We snazz ourselves up and amble down to Paris 1930, the hotel's French fine dining restaurant for an elegant evening.
Fine Dining
A leader in fine dining in Taipei, Paris 1930 is often the host of Michelin starred chefs and cultural culinary exchanges. French Art Deco flair paints the room. Geometric chocolate and cream stripes pattern the carpeted floor while, maroon, white and grey curtains dress the windows. Seating is inviting with large chairs in cubist shapes upholstered in slightly reflective metallic tones and, a pianist and violinist charm guests with their live performance. Our experience with their dinner set menu is a first rate example of the service, style and quality that has come to be expected of this restaurant.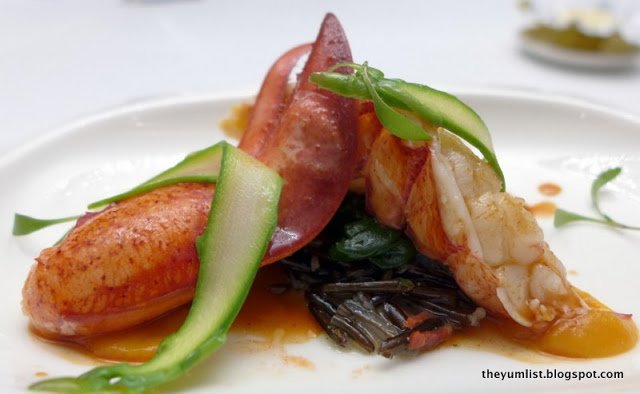 Boston Lobster, Paris 1930
Feeling sleepy, we decide to take dessert in our room and drop by Liz bakery before retiring. Shelves of housemade bread and desserts make decisions difficult but we end up with a light mousse-like caramel cheesecake which goes nicely with the hot tea we brew.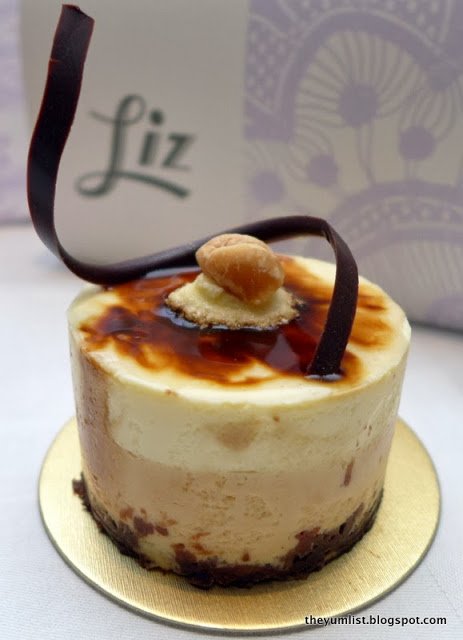 Caramel Cheesecake, Liz Bakery
Once more we we've lapped up a complete day, making the most of the city and the hotel. Our heads hit soft pillows and night is filled with peace and rest.
Day 3 – Hangzhou Cuisine, Relaxation in the Spa and French Culinary Delights
We wake to drizzle and biting temperatures and decide the weather is a perfect excuse to indulge a little more in the hotel facilities and dining. We make reservations for lunch at Tien Hsiang Lo, the hotel's Chinese restaurant, and an appointment in the Jurlique DAY SPA for later afternoon.
Traditional Chinese Cuisine
Cheerful orchestra tunes compose an upbeat, almost regal atmosphere as we enter the polished Tien Hsiang Lo restaurant at The Landis Taipei. Large jade green ceramic pots hold tall plants marking the entryway. Carved wooden panels decorate room dividers and, dark wood chairs surround white-linened tables. A wall length painting of Chinese calligraphy chicly adorns the scene and, a feeling of refinement and decorum pervades the air.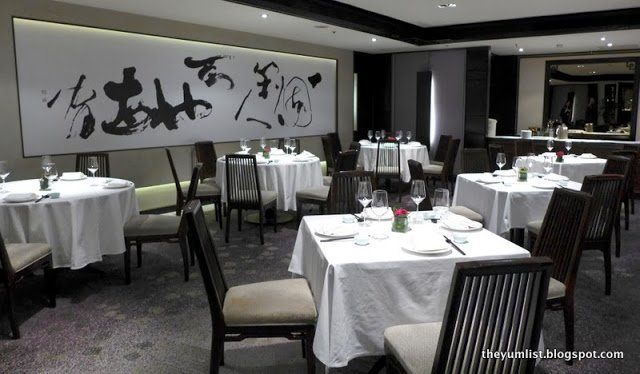 Tien Hsiang Lo
Traditional Hangzhou-style cuisine (an area renowned for its romantic folklore surrounding many of its dishes) is served aside modern Chinese creations in this elegant dining restaurant. We try a number of items but would quickly return for: Stir Fried Shrimps with "Long-Ching" Tea Leaves; General Tso's Chicken; Slowly Braised Pork Belly "Don-Po" Style; and the heavenly Sweet Fermented Rice Soup with Sesame Rice Ball and Osmanthus. We take our time to slowly appreciate this meal and read the accompanying stories of each dish, so by the time we finish the spa is ready for us.
Spa
Located on the top floor, the spa lounge benefits from natural light and a rooftop relaxation area with greenery and fresh breezes. Utilizing the renowned Jurlique skin care range, facials in the Jurlique DAY SPA are a restorative gift. Hubby tries a massage and leaves with a dreamy smile on his face. I sign up for an anti-aging facial and come out feeling hydrated and fresh. The products are light and fresh and we're so fond of them we purchase some for use at home.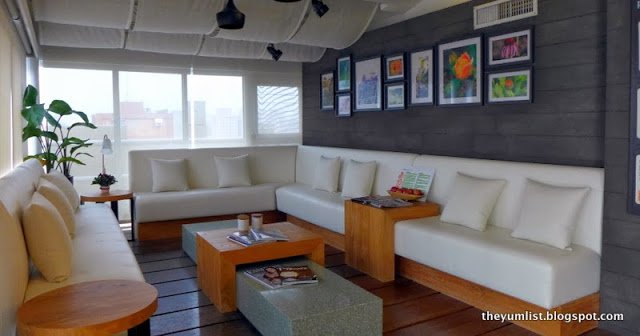 Jurlique Day Spa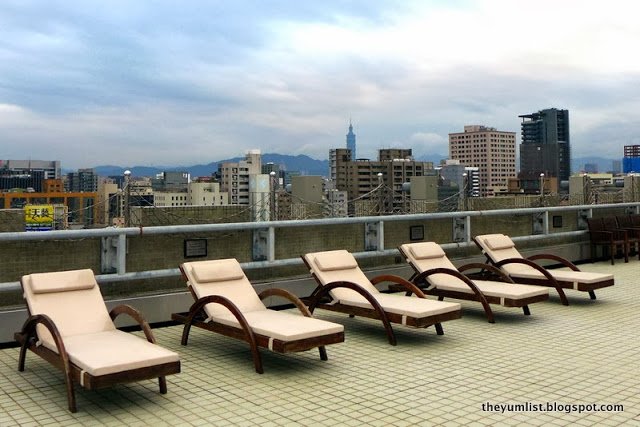 Day Beds on the Rooftop
The morning's drizzle has turned to a heavy shower, so without much deliberation we agree that the hotel's La Brasserie, with its wine specials and bistro style French menu, is looking like a great option for dinner.
It's filled with rich wooden furniture and chocolate leather lounges, warmly lit by frosted glass lampshades. Black and white tiles mosaic the floor and, speakers croon jolly movie soundtracks. Gold trimmings, mirrors and lots of glass contribute to the classy but snug ambience. Wait staff in French maid's uniforms, add a quirky burst of character to the French bistro scene. It's an ideal spot for a chilly winter day.
French Bistro
La Brasserie is an ideal location for passing a pleasant evening so we order very reasonably priced house wine and settle in. Salad Nicoise; Classic Beef Tea Consomme; Baked Salmon in Puff Pastry with Dill and Lemon Butter Sauce and; Souffle wow us with their generous portions. Meals are value for money and the service is excellent. Another night is well spent at The Landis Taipei.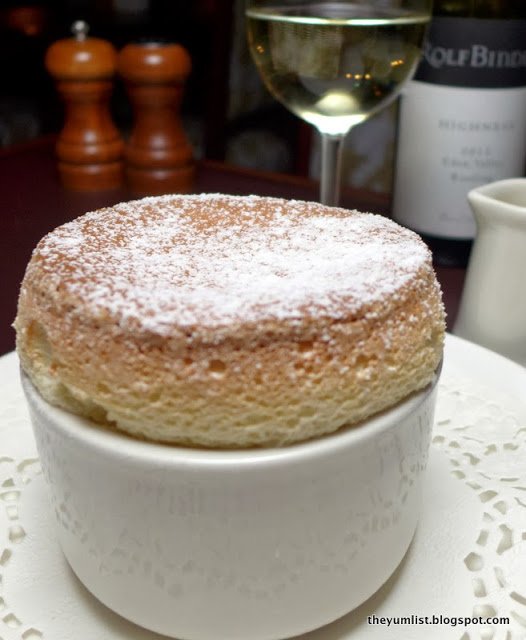 Souffle, La Brasserie
We depart the hotel tomorrow, but have relished in its facilities, dining, service and stylish Art Deco design. The Yum List has no hesitation in recommending The Landis Taipei as a premier choice of stay when visiting the lovely capital city of Taiwan.
Reason to visit: French Art Deco design; heartfelt service; minutes walk to the nearest MRT station which connects you to the rest of Taipei in safe, clean efficient ease.
The Landis Taipei
41, Se.2, Min-Chuan East Road
Taipei 104
Taiwan
taipei.landishotelsresorts.com
+886 2 2597 1234
+886 2 2598 3455