Words by Kristin Cosgrove
Photos by The Yum List
Amour is in the air at the MO Grill! Chef Reto Weber of the Mandarin Oriental Grill has created a five-course candlelight set menu sure to sweep any lover off their feet. The dishes are playful and pretty, like any good valentine should be, and are as tantalizing to the taste buds as they are to the eye.
If you've never been to the MO Grill, the ambiance is whimsical yet refined; the lush greenery of KLCC Park is just outside the window, and the fire in the wall-mounted fireplace exudes coziness.  The white linens and comfy chairs set an intimate and comfortable mood. Add fabulous food to the equation and you've got a recipe for a night of foolproof romance.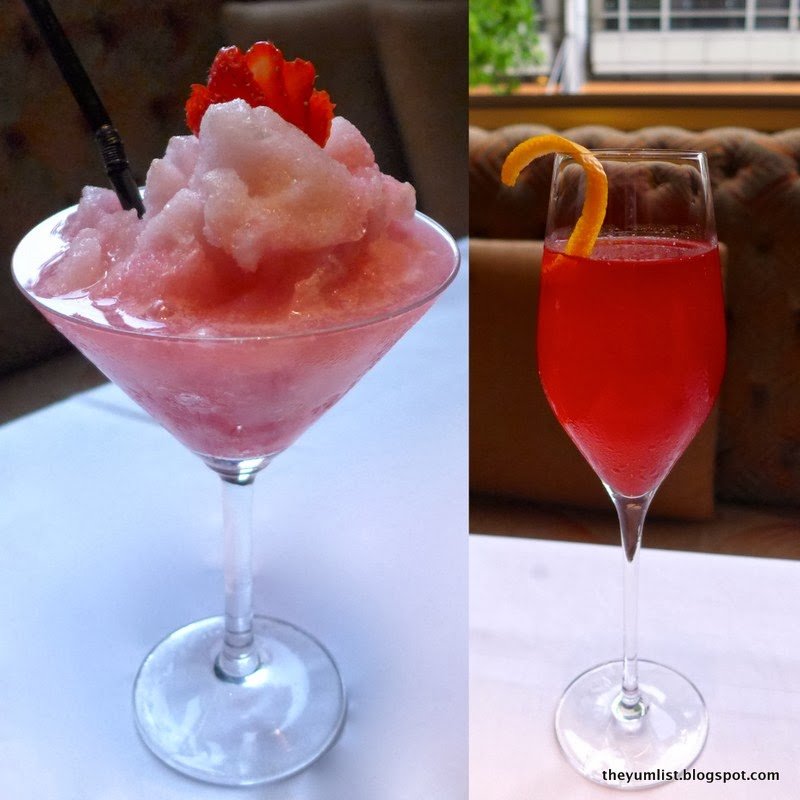 Cocktails from the MO Bar
Lobster Delicacy of Razor Clams and Caviar with Sour Cream serves as the amuse bouche. The razor clams are fresh and firm with a delicate flavor while tiny bursts of the caviar teases the tongue.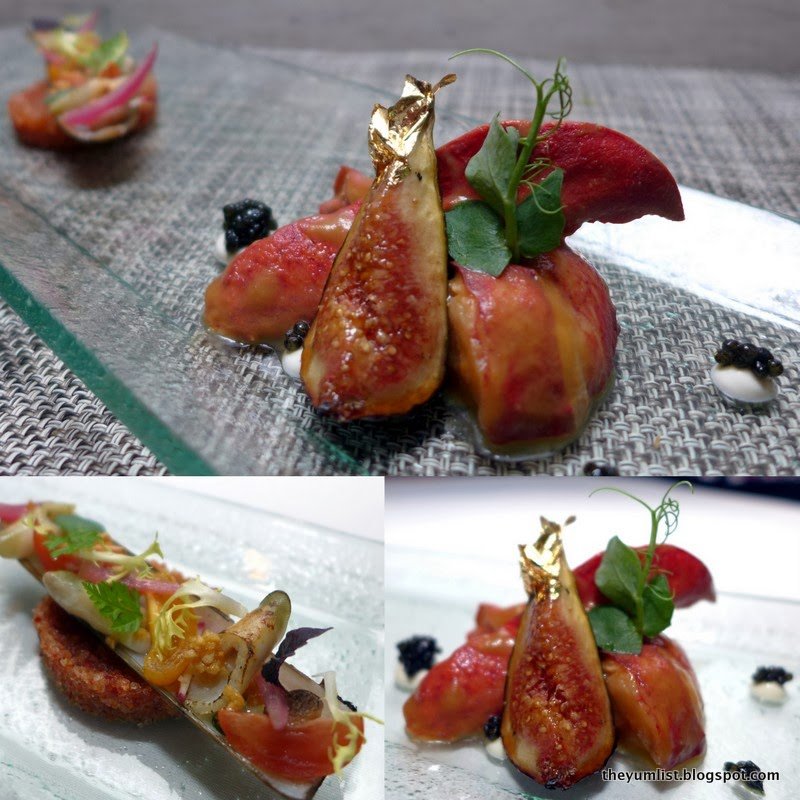 Lobster Delicacy of Razor Clams and Caviar with Sour Cream
I am head over heels for the Roasted French Foie Gras. It is perfectly seared, with a 12-year-old balsamic drizzle. Fresh greens give some crunch while candied flower blossoms add a hint of bitterness to this beautiful plate. Tiny apple beignets are a sweet complement to the foie gras.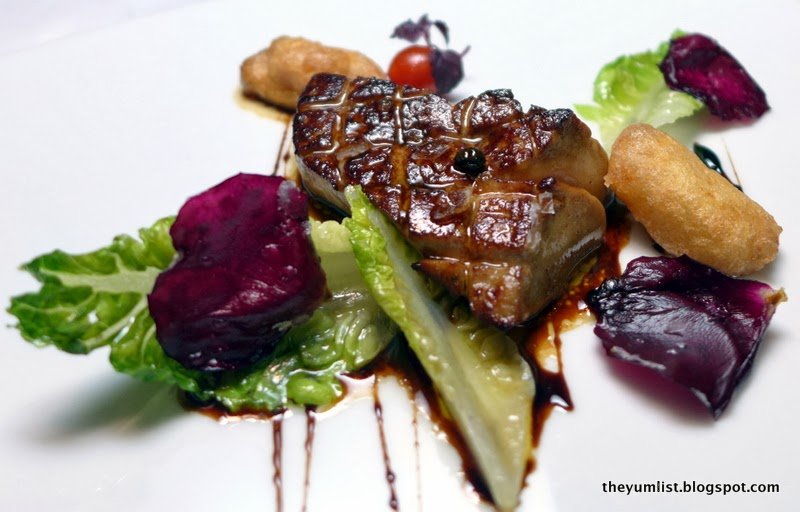 Roasted French Foie Gras
A palate cleanser that could double as a dessert, Hearts of Ice, has me swooning. Sweet Raspberry Champagne Sorbet sits atop shredded pomelo, a refreshing respite for excited taste buds.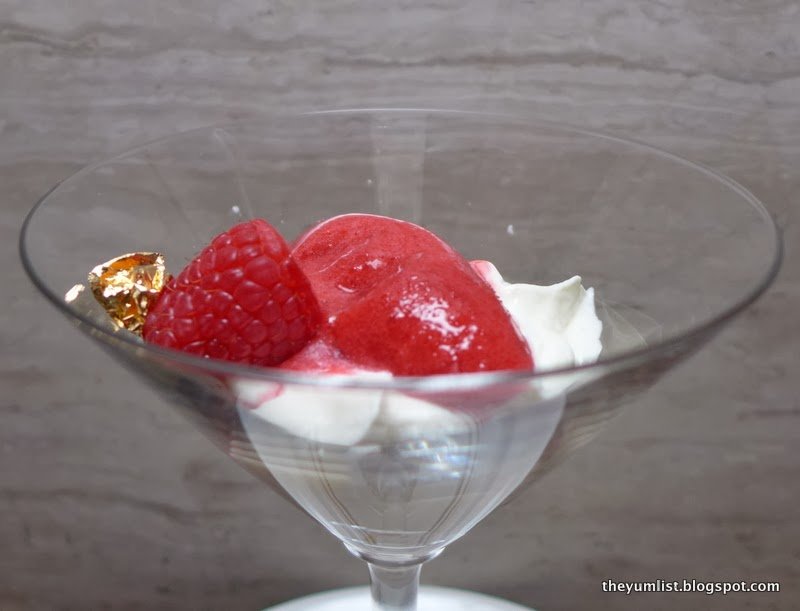 Hearts of Ice
The main course, a Line Caught French Sea Bass, is a work of art on a plate. The fish is a generous cut, much thicker than its Asian cousin, with a mild flavor. The skin is seared to crunchy perfection and the meat is moist, flaky and evenly cooked, a difficult task to achieve with such a thick slice of fish.  The plate is adorned with a chewy and delicious ricotta gnocchi and baby squash, and splashed with a carrot and champagne sauce. The color and flavor combinations are winners.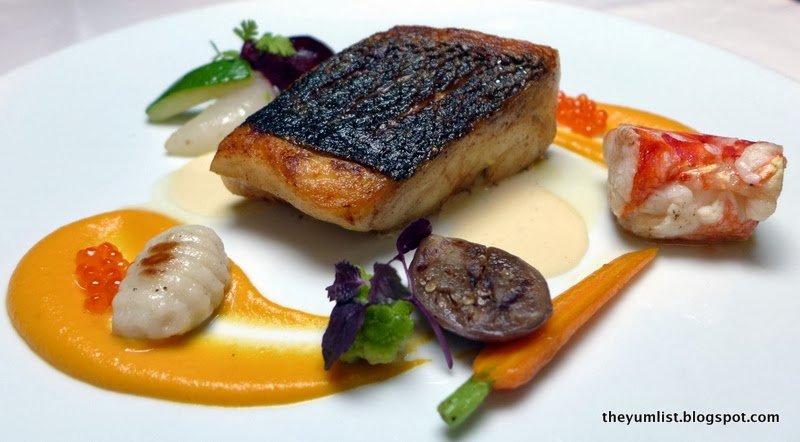 Line Caught French Sea Bass
An alluring threesome comprised of Iced Baby Lavender Soufflé, Passion Fruit Glaze and Nougat Crème Brulee is a tempting dessert that does not disappoint. The crème brulee is a favorite, with a sweet crust underneath and embellished with a dainty chocolate heart and a single tart raspberry.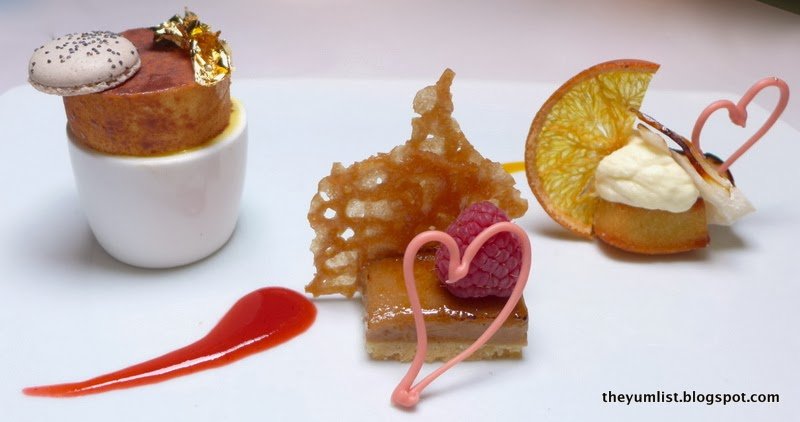 Iced Baby Lavender Soufflé, Passion Fruit Glaze and Nougat Crème Brulee
"Hearts of Love" is the title for the grand finale, a chocolate sculpture of two swans "swimming" in a plate of blue sugar. On a miniature bridge of chocolate sits an array of sweets including a macaron, some candies and beautiful chocolates morsels.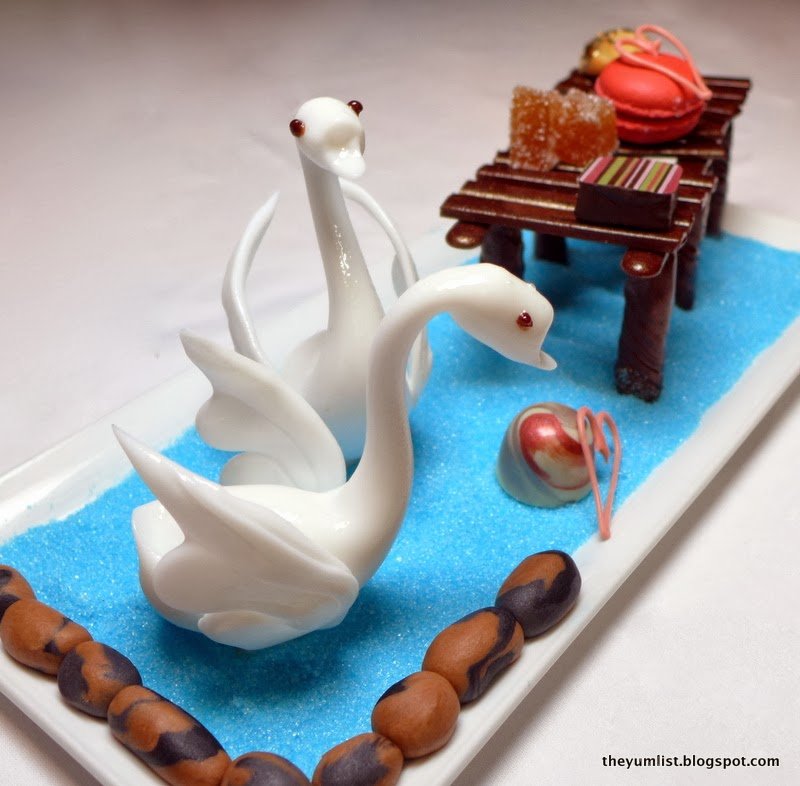 "Hearts of Love"
The Mandarin Oriental Grill Valentine's Set Menu is priced per couple at RM698++. Combine the dinner with five corresponding wines for RM898++.  A complimentary box of chocolate lip-stick is a fun takeaway.
Reason to Visit: Whimsical, romantic atmosphere, extremely fresh ingredients, French Sea Bass, beautifully plated fine fare.
MO Grill
Mandarin Oriental, Kuala Lumpur
50088 Kuala Lumpur City Centre
Malaysia
+60 (3) 2380 8888
Lunch: 12pm – 2:30pm; Dinner: 7pm to 10:30pm