While real estate agents scream location, location, location, food writers often shout ambience, ambience, ambience. Fisherman's Cove at Starhill Gallery, deserves an enormous holler for its outstanding performance in this arena.
Feast Village (Starhill Gallery's luxury dining precinct) itself is often considered one of the sites to see in Kuala Lumpur. Uniquely designed, there has been no detail left out in this gathering of restaurants.
From flooring to walls, lighting to furniture, each outlet is unique and worthy of more than a few gigabytes of space on your camera.The semi-open space of Fisherman's Cove is cozied with low bamboo ceilings and transparent fishing sails along one wall with a fish tank forming the other. Solid timber tables and chairs are elegantly, yet simply set with curvaceous wine glasses, white cloth napkins and silver cutlery. Cane fishing traps and straw fishermen's hats act as adornment in this enchanting boathouse and, a small open kitchen allows diners a peak into the busy-ness of food preparation.
Fisherman's CoveThe most romantic seats in the house though are upstairs. Bamboo mats lower the roof and, lanterns gently illuminate the tables with a warm glow. Bamboo poles scaffold the upper floor forming private booths. It has such an atmosphere of late-evening-in-a-village-by-the-sea that you almost smell the ocean as you dine. I imagine the fog rolling in to the coast, boats bobbing up vand down in choppy disharmony and, hear a foghorn faintly sound her warning from afar. Ambience, mood, character – Fisherman's Cove has it for sure.
Cozy Spot for an Intimate Dinner
We're just seated, yet warm moist towels and water are on our table without us even noticing their placement. Soon after a waiter appears with menus, serves us water and asks if we'd like lemon before adding a slice. We place our wine orders and appreciate their speedy arrival.
My choice, Hunter's 2012 Sauvignon Blanc from Marlborough is pale straw in hue with tropical fruit on the nose and a lovely crisp complexity in the palate. Hubby's Benchmark Grant Burge 2012 Chardonnay from South Australia is creamy in the mouth, with a medium body and a crisp finish. Aromas of stone fruit and melon tease the nose and, it too is a good choice for seafood.
Lightly toasted bread with balsamic vinegar and olive oil for dipping provide something to nibble on while we decide on our order. The bread is light with a thin crisp crust coated with cornmeal. Tiny pieces of sun-dried tomato add interest and the texture inside is light and fluffy.
We begin the meal with a Symphony of Appetizers chosen by the chef. The Hot Prawn Cocktail (RM32) is coated with a warm, sweet and tangy mayonnaise. It brings a smile to both of our mouths. Caramelized walnuts add a crunchy candied appeal. Hokkaido Scallop Gratin (RM54) has the potential for danger on a date. The wonderfully cheesy salty gratin tempts us to uncouthly wipe up the last drops from the plate. Fortunately we've been married long enough to know that the other would want to do the same thing. So there is no uncomfortable moment of bad mannered embarrassment. Pacific Oyster Thermidor and Cheesy Mornay (RM48) brings plump molluscs with a tasty creamy cheese topping and has hubby gooing and gaaing in delight. The last bite sees a dominant saltiness of Teriyaki Sea Eel (RM28) flawlessly balanced with sticky sushi rice and tiny cubes of succulent mango. (*Prices quoted are for full portions, the pictures shown are just sampling size as we had an assortment.)
Service is spot on. Water is topped. Plates are cleared. Waiters enter and leave unobtrusively. When help is sought, they're tableside. When privacy is desired, they disappear. Timing between plates is perfect.
Fisherman's Cove Seafood Soup (RM38) comes out hot and smelling delicious. It's their signature soup and brimming with fresh fish, shells and crustaceans. Enoki mushrooms, cherry tomatoes and garden fresh herbs add contrasting colour to the rich orange broth and white seafood. Before I've even dipped my spoon, hubby is blabbering of childhood beach memories and mumbling words such as "awesome," "rock and roll," and "incredible baby" in full Latin accent (he does this when he's truly happy). I scoop. Sipping at first. Then hurriedly slurp as I discover what hubby is rambling about. The broth is light and delicate, not the robust brew I was expecting from the aroma. Fish flakes upon hitting the tongue and the mussels melt. I know this broth is going to disappear fast and I want my share. Half way through I further hitch up my napkin, as it's getting messy, but I don't slow down.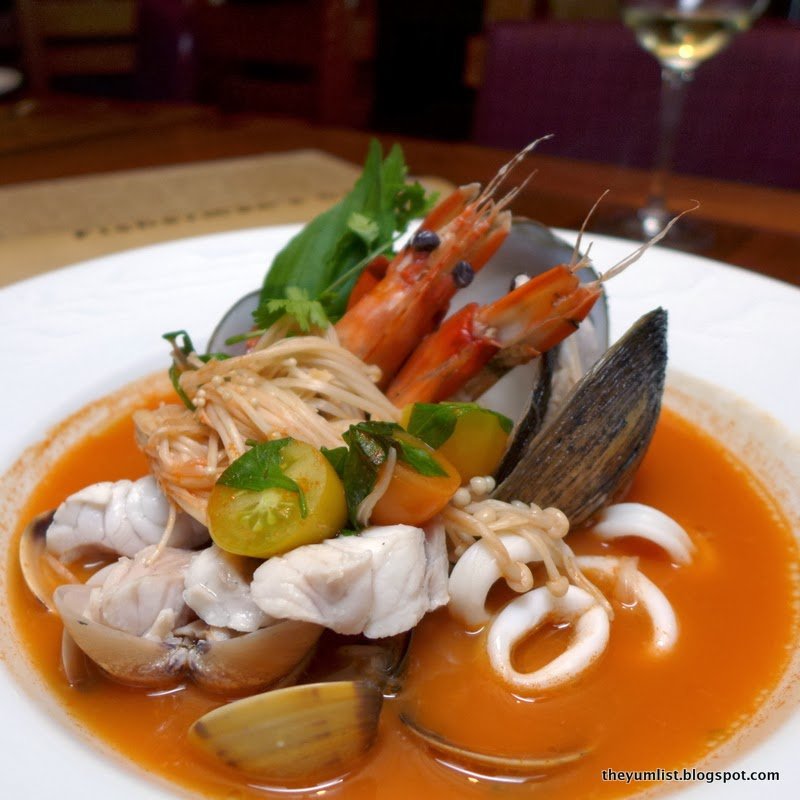 Fisherman's Cove Signature Seafood Soup
Today we're exceptionally lucky as it's a Tuesday. Tuesday and Thursday is fresh fish delivery day, so we've ordered the Catch of the Day (although with live fish tanks lining the walls you're pretty much guaranteed freshness any day of the week). Chef prepares coral garouper in two styles. One is a simple pan fry in a cream butter sauce with a bowl of steamed veges on the side. The other is steamed with their popular Spicy Nyonya sauce. Roasted eggplant, choy sum and arcs of pumpkin are too lightly rolled in the spice. It's a wonderfully aromatic dish. Lemongrass, ginger flower, pickled onion, calamansi and chilli padi provide the base for what hubby is now associating with the word, "volcano." As he clears his nostrils, I heed the warning and scrape the sauce from the flesh before putting it in my mouth. Chilli leaves my tongue tingling, but we both go back for more until there is no more. We're pleasantly satisfied, feeling energized in a way that usually only seafood and vegetables can accomplish.
Warm moist refresher towels make a welcomed return appearance as we settle back into our seats and await sweets. Warm Chocolate Lava Pudding (RM22) needs 12 minutes for baking. As we break the freshly baked dome we see why. The hot chocolate liquid oozes from the centre and spills onto the plate. A ring of chocolate biscuit crumbs surrounds the eruption and a pastry cup of vanilla gelato balances on top. It's warm and gooey and we love the contrast of ice cold cream mixed with the chocolate
sauce.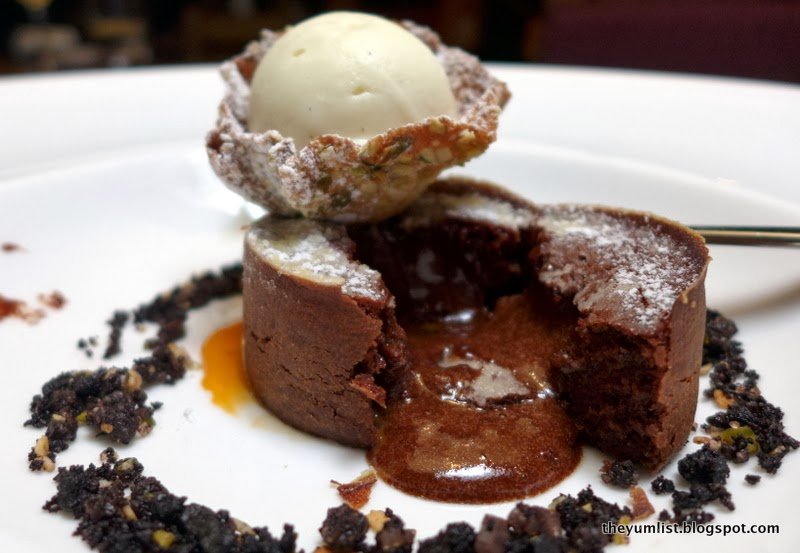 Warm Chocolate Lava Pudding
Hubby predictably ordered the Lime and Ginger Crème Brûlée (RM22).  A strip of orange fruits and chocolate soil leads up to the crème brûlée, which I hear crack with hubby's spoon already hitting the surface. It's rich and creamy but the lime and ginger break the heaviness bringing a lighter feeling to the ending. Lucky I had my spoonful early on as I have literally turned away for a second to ask the waiter for coffee and hubby has picked up the brûlée pot and is enthusiastically gouging out the last blob.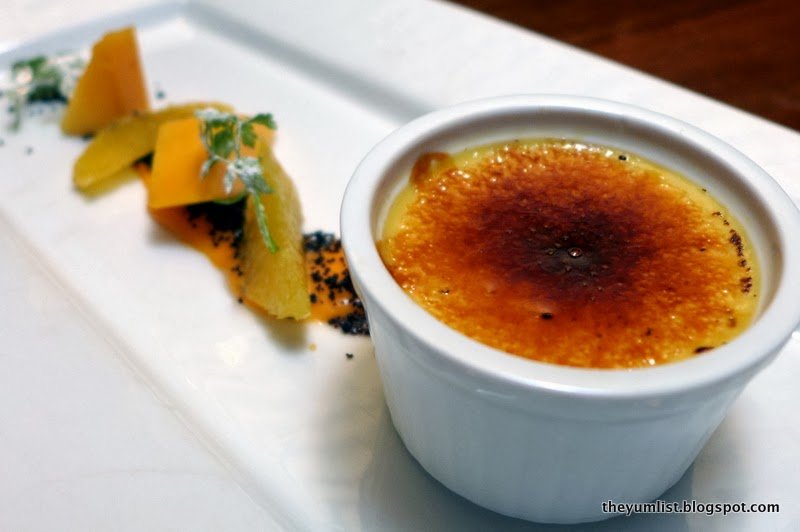 Lime and Ginger Creme Brulee
Latte for me and tea for hubby completes the meal, but our night is not done. We're in good humour and still have space for a drink or two more. Starhill has a lot to offer, so we wonder off to find some liquid pleasure.
Reason to visit: charming ambience (for a romantic date be sure to book the cozy tables upstairs); fresh high quality seafood; excellent service.
Fisherman's Cove
LG 10, Feast Floor
Starhill Gallery
181 Jalan Bukit Bintang
55100 Kuala Lumpur
Malaysia
+6 03 2782 3848