Traditional Hangzhou-style Cuisine
Cheerful orchestra tunes compose an upbeat, almost regal atmosphere as we enter the polished Tien Hsiang Lo restaurant at The Landis Taipei. Large jade green ceramic pots hold tall plants marking the entryway. Carved wooden panels decorate room dividers and, dark wood chairs surround white-linened tables. A wall length painting of Chinese calligraphy chicly adorns the scene and, a feeling of refinement and decorum pervades the air.
Traditional Hangzhou-style cuisine (an area renowned for its romantic folklore surrounding many of its dishes) is served aside modern Chinese creations in this elegant dining restaurant, Tien Hsiang Lo. We're here to sample a set menu with a couple of a la carte items thrown into the mix too.
A traditional starter of Fresh Tomato in Home Made Plum Sauce begins the meal.  Rich red tomato chunks sit in a bowl of sweet and sour plum sauce. It's ideal for opening the appetite and one of the signatures of the restaurant.
Served at the same time, juicy slices of chicken meat are made tender with a rice wine in the aptly named, Drunken Chicken. The dark meat of the leg and the wing contains a gelatinous material, making it the most sought after part of the chicken. It is believed that this gel goes straight to your cheeks, plumping up the skin and making you look younger. I have a double helping.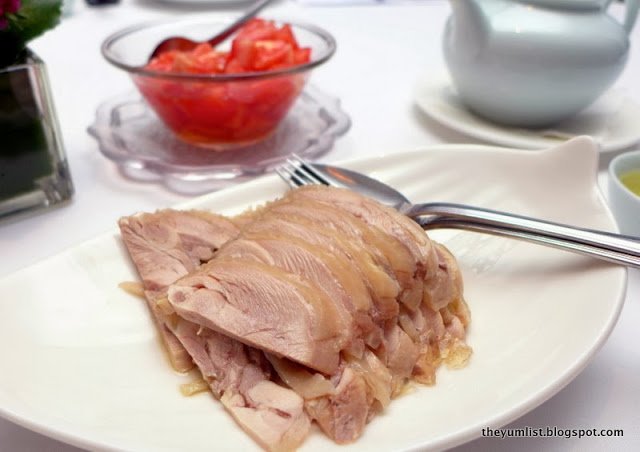 Fresh Tomato in Home Made Plum Sauce and Drunken Chicken
We note the quick, professional service of the wait staff. Plates are cleared and water and tea refilled at lightning speed. It's done so unobtrusively though that we name it, "the invisible service."
Stir-Fried River Shrimps with "Long-Ching" Tea Leaves are supple, yet springy. Devoid of the saltiness of ocean prawns, vinegar and tea leaves are used to flavour the crustaceans. While maintaining the texture of seafood, the taste is refreshingly different.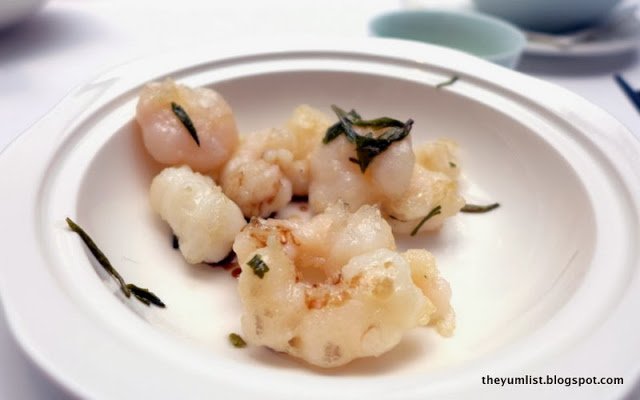 Stir-Fried River Shrimps with "Long-Ching" Tea Leaves
Madame Sung Fish Soup comes with a story. About 800 years ago, an elderly lady prepared a fish soup with ginger, pepper, wine and vinegar to nurse her brother-in-law back to health from a bad cold. The soup was so delicious that her patient not only regained his appetite, but fully recovered. The story of the soup spread throughout the town and, when a visiting emperor heard about this recipe he asked Madame Sung to make it for him. Delighted with the dish, he showered her with gifts and she opened her own soup shop, which turned into a thriving business. At Tien Hsiang Lo the soup is presented in a black clay pot with a candle burning underneath keeping it piping hot. It's mild in flavour but packed with texture. Fish, peas, mushrooms and ham are chopped into tiny slices in this thick soup.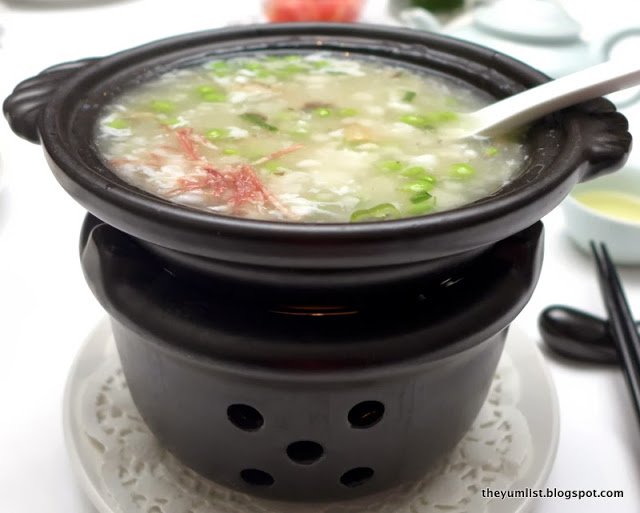 Madame Sung Fish Soup
General Tso's Chicken is deep fried so it has a very fine layer of crispness on the outside but is juicy within. It's sticky and sweet. Stir-fried with chili and soy sauce, it's quite an addictive meal. The red pepper is subtly spicy, leaving a delightful tingle on the tongue after swallowing.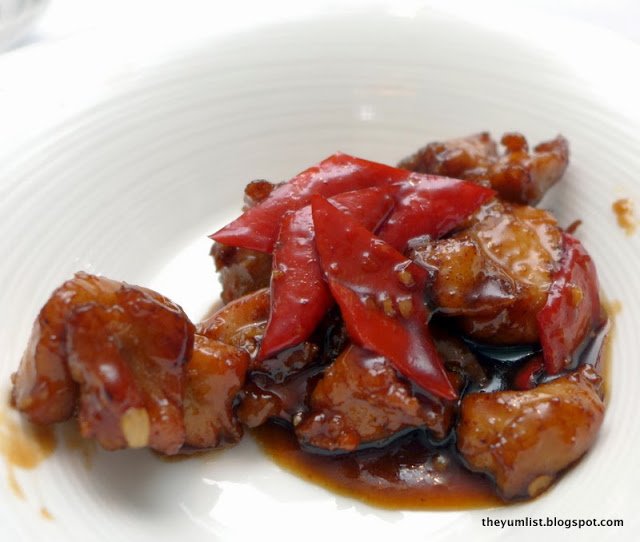 General Tso's Chicken
Braised Tofu with Dry Shredded Scallop and Shepherd's Purse is an elegant dish. Petite cubes of velvety curd soak in a thick clear liquid filled with finely chopped green leaves. Flavourful strips of shellfish and tiny pieces of crabmeat add a hint of the sea. Hubby polishes it off before I've even finished taking photos.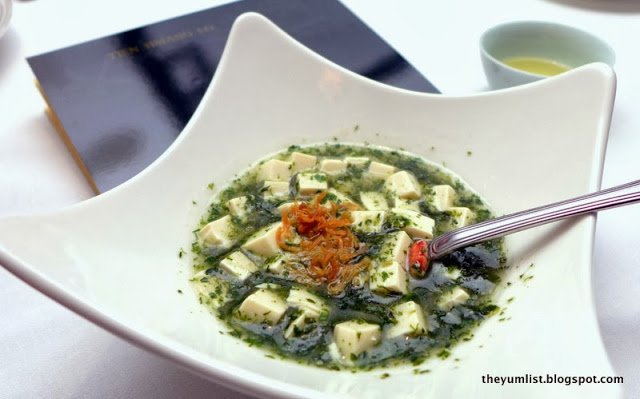 Braised Tofu with Dry Shredded Scallop and Shepherd's Purse
Slowly Braised Pork "Don-Po" Style Served with Steamed Rice also has a tale to accompany it. Don-Po was a famous scholar who helped build a dike around West Lake in the 900's to regulate the water flow. Grateful for his contribution to the city and consequent improvement of irrigation on farms, the local farmers inundated him with pork. Being a connoisseur in the art of cooking, Don-Po braised the pork with his special brown sauce and shared it with all those who helped construct the dike. The dish was so loved by the townsfolk that they named it "Don-Po Pork" and the recipe has since withstood the test of time.
Thick slices of pork belly, about half fat and half meat, are used in Tien Hsiang Lo's version. Shaohsing wine, soya sauce, ginger, scallions and a pinch of sugar, season the meat. The broth is full-flavoured and goes well with the plump short-grained rice that is steamed and served on the side. This dish is so popular that guests demanded it be made available for them to take home. With a one-day advance order, customers can now take it away in a vacuum pack. It's often gifted to "add more pleasure to the table," and is especially popular during Chinese New Year.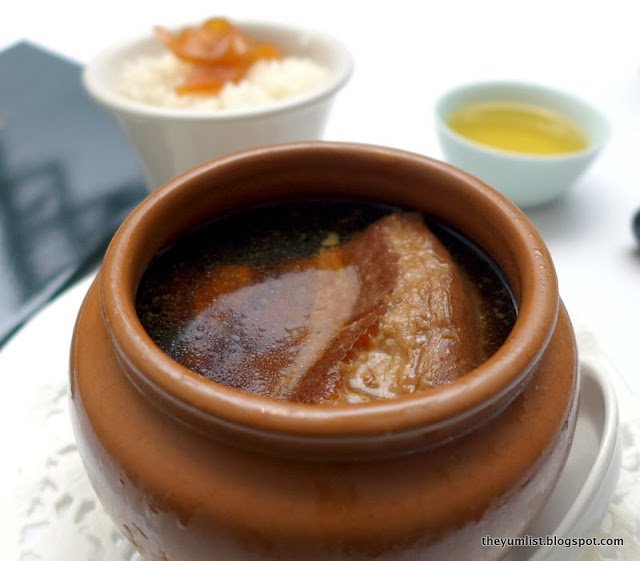 Slowly Braised Pork "Don-Po" Style Served with Steamed Rice
A sweet wine aroma precedes the arrival of the final dish, Sweet Fermented Rice Soup with Sesame Rice Ball and Osmanthus (a regional shrub popular both as a tea and in cooking). It's a mix of smooth textures in differing intensity from elastic, sticky and gooey requiring a couple of squishes in the mouth to swallow, to a soft mush that disappears almost immediately. It's lightly sweet, hot and warms up the
body. The star of the show though is the large glutinous rice ball with its glimmering white coat. Biting into the orb results in a marvelous salty sweet sesame paste oozing from the centre, warming the soul and cheering the palate. It's a pleasurable finale to a well thought out line up of dishes.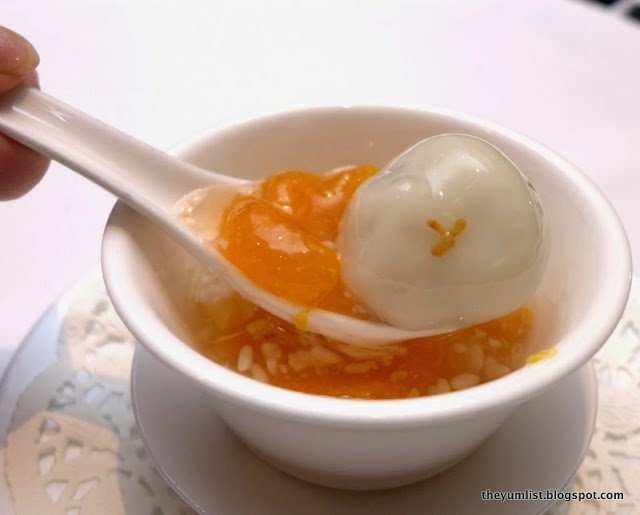 Sweet Fermented Rice Soup with Sesame Rice Ball and Osmanthus
Reason to visit:  Stir Fried Shrimps with "Long-Ching" Tea Leaves; General Tso's Chicken; Slowly Braised Pork Belly "Don-Po" Style; Sweet Fermented Rice Soup with Sesame Rice Ball and Osmanthus

Tien Hsiang Lo
The Landis Taipei
41, Se.2, Min-Chuan East Road
Taipei 104
Taiwan
taipei.landishotelsresorts.com
+886 2 2597 1234
+886 2 2598 3455
 Open daily 12:00 – 14:30 and 18:00 – 22:00
Average expense: NT$1200 – 18000 per person