Woo Bar at the W Taipei is one of the most happening bars in the city. Chic lounge during the day and hip club at night, it's "the scene to be seen."
Funky cherry-red lounges cover the floor while tall Chinese dark wood bar stools line the stretched marble counter. A glossy cerise splash-back backdrops the bar and, chill music becomes more upbeat as the hour latens.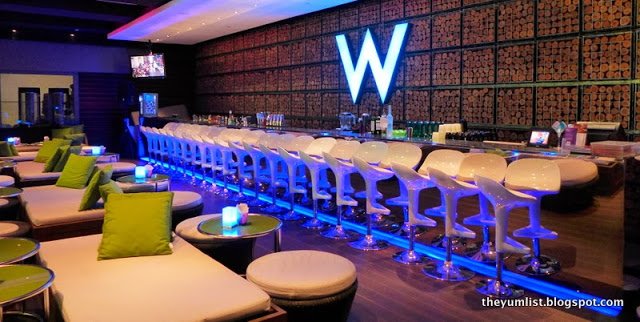 Wet Bar
Woo Bar opens up to Wet Pool and Wet Bar via double story glass walls. An outdoor wooden deck lined with leafy potted plants is specked with low white plastic bubble lounges that illuminate in the evenings. A pool is the centrepiece during the hotter summer weather, but when the air turns nippy it's covered and made into a skating rink. As night darkens the sky, the area is lit with changing colour projections creating a stylish roller-disco effect. You just know this place is going to be fun!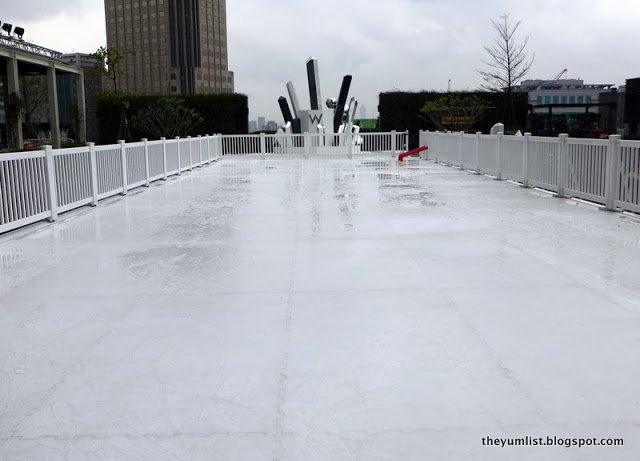 Roller Skating Rink
The menu is extensive featuring wine, champagne, spirits, beers and cocktails. We're here though for the sunset specials afforded to SPG subscribers. Platinum and Gold Members are treated daily (5 – 7pm) to selected free cocktails, wine by the glass, bottom shelf spirits, and some non-alcoholic beverages.
Feeling chilly, we sample their wintry cocktails.
 
First up is the Saffron Apple and Spiced Mojito. It's presented in a pewter mug piled high with crushed ice and, tastes just like liquid apple pie. W infused saffron rum, cinnamon and vanilla infused apple liqueur, mint leaves, apple, brown sugar and lime juice are shaken together to make this winter special. Pleasantly sweet, with a hint of Christmassy spice, it's a refreshing seasonal drink.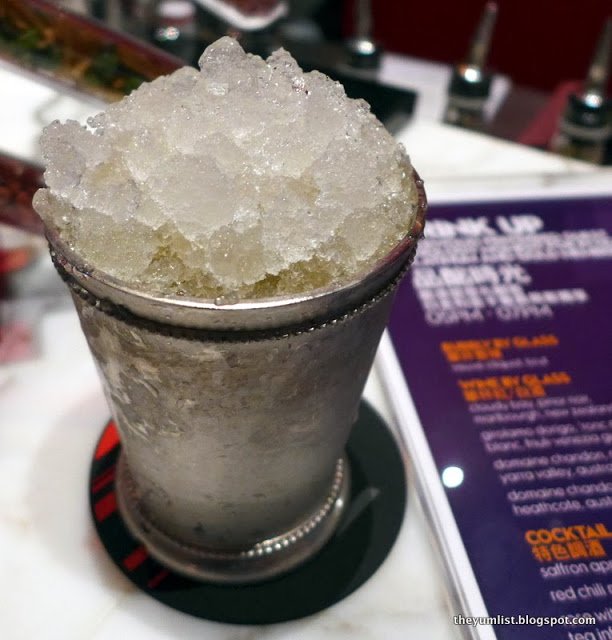 Saffron Apple and Spiced Mojito
Red Chili Mango-tini is a cheery daffodil yellow. A martini glass holds sweet ripe mango juice and a large red chili acts as a stirrer. Muddled cilantro floats to the top adding colour and a South American flavour. Belvedere Pomarancza vodka, Noilly Prat vermouth, chili, coriander, mango puree, lemon juice and sugar syrup are combined in this cocktail. The initial taste is of sweet fruit. It's only at the end that your tongue is left with a light tingle from the chili. Hubby and I agree on a second round of these.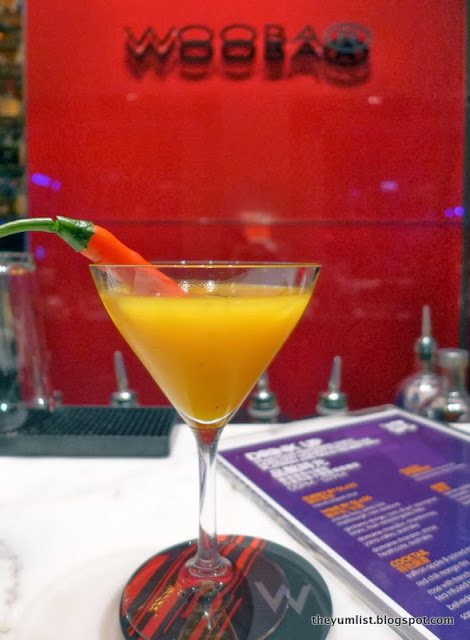 Red Chili Mango-tini
A pewter cocktail glass holds the Rose with French Vanilla Black Tea Infused Teasmo. Soft aromatic rose tickles both the nose and the palate, which combines beautifully with the slightly bitter tea ending. This one has more of kick than it tastes, so get up slowly from that bar stool.
Rose with French Vanilla Black Tea Infused Teasmo
Regular events with international DJs bring in the crowds to Woo Bar, especially over Thursday, Friday and Saturday evenings and, daily drink specials offer value for money. Check out their
website
for current information on the latest events and beverage offers.
 
Reason to visit: stylish modern design, hip atmosphere, daily drink specials
 
Woo Bar 
W Taipei
10 Zhongxiao East Road
Sec. 5 Xinyi District
Taipei 110
Taiwan
+886 2 7703 8887