The Yum List recently visited Taipei and enjoyed a wonderful stay at the French Art Deco style hotel, The Landis Taipei. We had a chance to meet the new chef of Paris 1930 and discovered a little of his background and what new inspirations he brings with him to the restaurant.
What do you do and how did you get into the industry? 
Arriving at the end of the school cycle in France, when you have to choose your next studies which will lead you to your professional path, I was a year younger than the rest of the students, probably too young and didn't know what to do. A member of my family, seeing me cook cakes for pleasure at home asked me why I wouldn't give cooking a shot. The day I visited the culinary school and put my feet for the first time in a professional kitchen, I knew that was it.
What's the best thing about working in Paris 1930? 
Being back to creativity and pushing further my limits. While I was running what is probably the most famous restaurant in Bangkok, as the concept and demand were completely different, I had to put them both on the side.


What's your favoured food and wine pairing? 
The simplicity of a sushi combined with a nice tea and the Thai Somtam, which is a spicy papaya salad accompanied by a white draft beer like Hoegaarden. Sure wouldn't be my favorites if they weren't twined in my memories with a nice environment and great company.


A life in the day of a chef is…
everyday there's a new adventure and discovery.


What do you do for fun?
Martial arts. That's what brought me to Asia at first. I first came to spent six months in Wudangshan in China for Kung fu purpose. I loved my time here so much that I decided to stay and took a position to open the Waldorf Astoria in Shanghai. I haven't left Asia since.


What's something you'd like guests to know about the cuisine at Paris 1930?
They will have to come over to see for themselves what I am expressing in my dishes.


How do you select your ingredients and why?
I always choose the best of what I can get and it all depends on the country regulation. Here in Taiwan, there are a lot of restrictions regarding imported products, going from seeds and root vegetables to meat and herbs. Not able to import a product that you already know the quality and consistency, you have to do a lot of survey and tasting to choose a product to replace it. Upsetting at first, it became quickly an interesting challenge, pushing me to step out of my comfort zone and discover new products and cooking techniques.


What can guests look forward to in the upcoming months?
As I just took over the restaurant, there will be quite few changes regarding the concept and food proposed in the restaurant. Starting mid February, we will release my first "a la carte/ tasting" menu, offer a menu pairing and a cocktail menu, which weren't proposed before.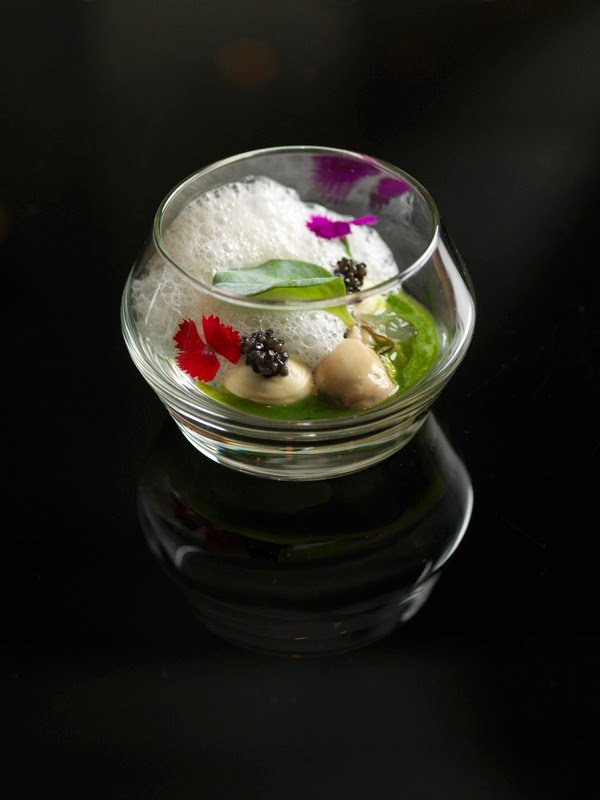 Gillardeau Oyster: Freshly Shucked and Creamed, Lemon and Ossetra Caviar
Diamonds: Truffle & Litchi, Duck Consommé