Araceli Barrera Arismendi and Monica Tindall
*** Sadly, La Mexicana is now closed.
¡Viva México! I get the urge to throw a grito (cry) with excitement when I enter the grounds of La Mexicana. This place represents the beauty and grace of the Mexican culture in the presentation of platters from the detailed hand picked decorations to the menu mastermind, La Señora Carmela De Ponte. Born in Mexico City, Sra. Carmela settles for only the best ingredients and is constantly revamping and thinking of new dishes to spice up the kitchen and of course, the bellies and hearts of her customers. Introducing 20 new antojitos and botanas (snacks), The Yum List team had only enough stomach room to sample the first 13 succulent and flavorful new additions to La Mexicana's colorful menu.
NEW Antojitos and Botanas
1. Queso Fundido con Hongos (RM28): Melted Cheese with Mushrooms! This goodness literally drips from the spoon as you anxiously scoop a spoonful to relish with a flour tortilla.  Flavorful, smoky and FANTASTIC! This is a perfect starter to accompany with a nice and refreshing Michelada. Michelada is a popular cerveza (beer) in Mexico made with beer, lime juice and assorted sauces. Bring me the fresh squeezed lime, Tobasco, and Corona. I'm ready for a Michelada!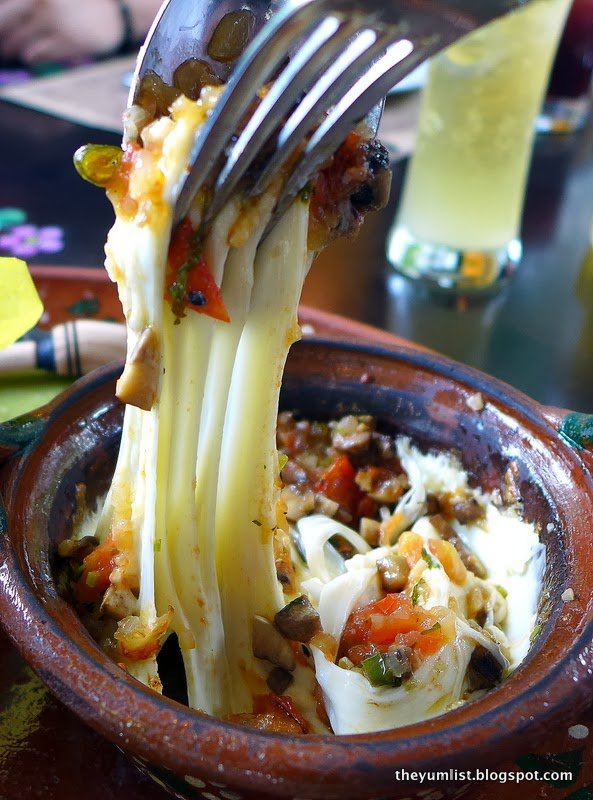 Queso Fundido con Hongos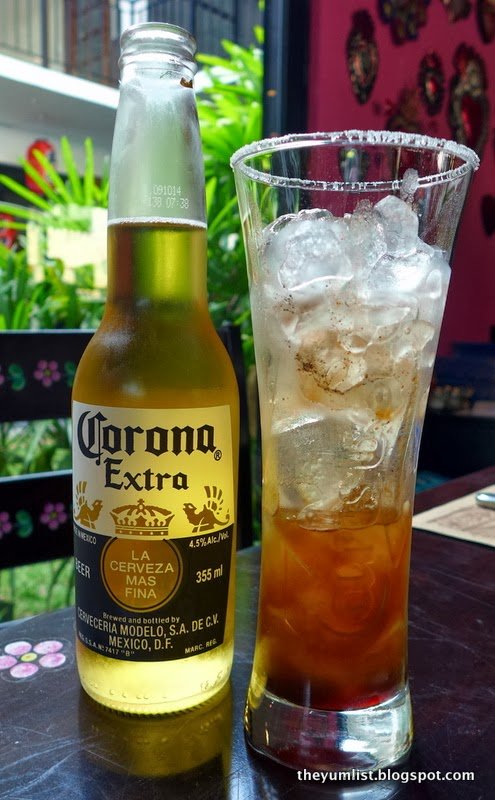 Michelada
2. Tamalchile (RM24): A tamal, a traditional dish that has been dated back to ancient Azteca and Maya times, is made with corn dough and can be stuffed with meats, cheeses, fruits or vegetables. The Tamal Chile at La Mexicana is filled with jalapeño chili and chicharron prensado (stewed pork crackling). Biting into the tamalchili while tasting the savory spices and succulent stewed pork vanish in my mouth, took me back to one of my family's tradition of making tamales right before Christmas time.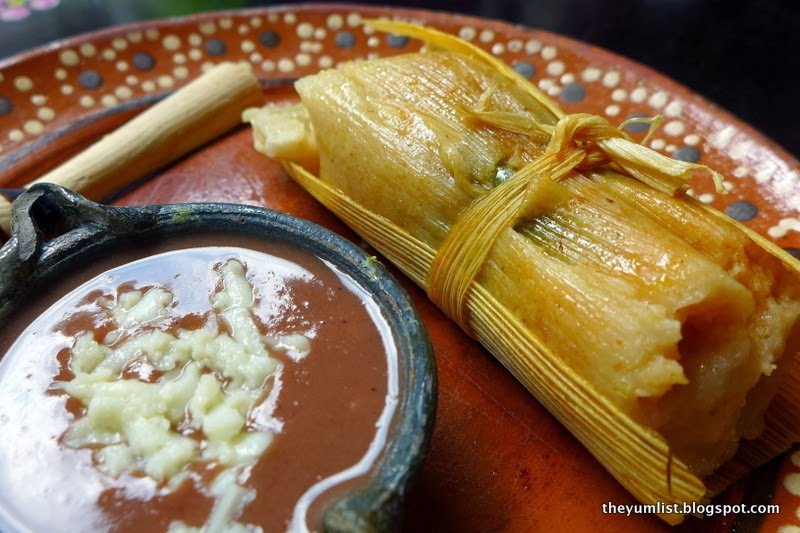 Tamalchile
3. Ceviche Verde (RM28):  If you're looking for something healthy and refreshing, look no further than the Ceviche Verde.  Made with shrimp, mango, cucumber and serrano chilis, this salad is perfect for a warm summer day. So far this dish has been a top order since La Mexicana added it to their menu.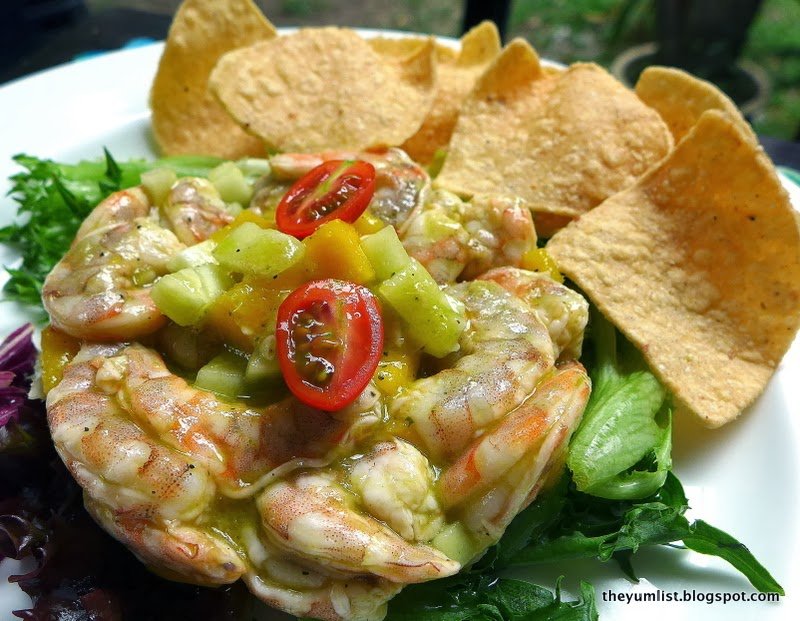 Ceviche Verde
4. Tortas Ahogadas (RM25): The English name translates to Drowned Cake. Two homemade bread rolls stuffed with refried beans, carnitas, and fresh cheese are literally drowning in a traditional chili sauce. The warm, spicy sauce softens the bread and the deliciousness of the ingredients melts in your mouth.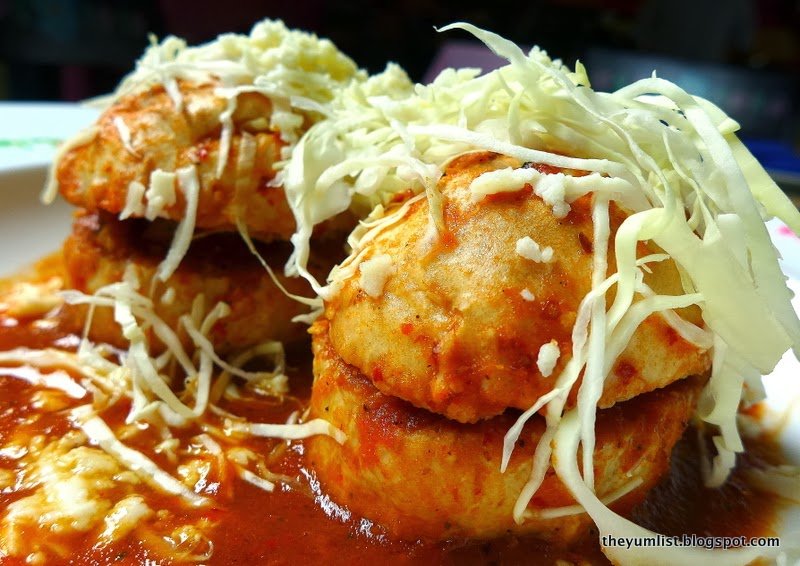 Tortas Ahogadas
5. and 6. Tacos de Alambre (beef or chicken) (RM 22): Tacos are the best food invention ever! Roll corn tortillas in anything you please and add some picante (spicy sauce) on top, and you have a finger licking good bite! These tacos may appear as "fajita tacos" which is a term used in Tex-Mex cuisine but in Mexican cuisine, they are described as Tacos de Alambre (grilled meat). Satisfying to the belly, one can order two sets of the Tacos de Alambre, and still have room for more. Addictive!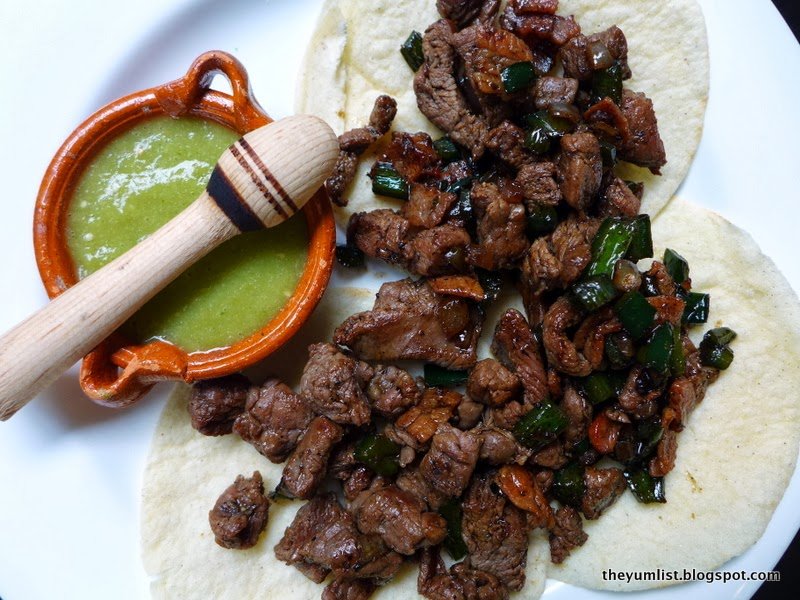 Tacos de Alambre (Beef)
Tacos de Alambre (Chicken)
7. Tacos Carmela (RM24):  Oh these were our favorites! The refried bean spread at the bottom of the tortilla along with shrimp and fish coated with Carmela's chili chipotle secret sauce, make these tacos unbeatable. Juices spill out and your tongue dares not to let anything fall back onto the plate. Whatever Chef Carmela mixed together to make her secret sauce is magical. A must order!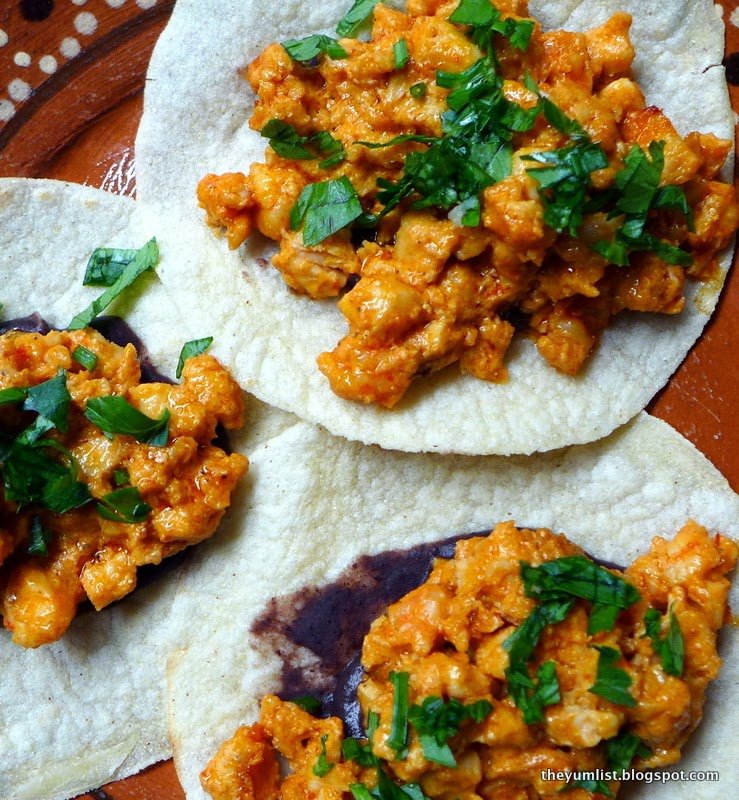 Tacos Carmela
Vegetarian Options
8. Enchiladas Rojas (RM22): Sauteed zucchini and fresh corn drenched in chili sauce, these enchiladas can best be described in one word SUPERB. Full of robust flavor, this platter is comfort food at its finest!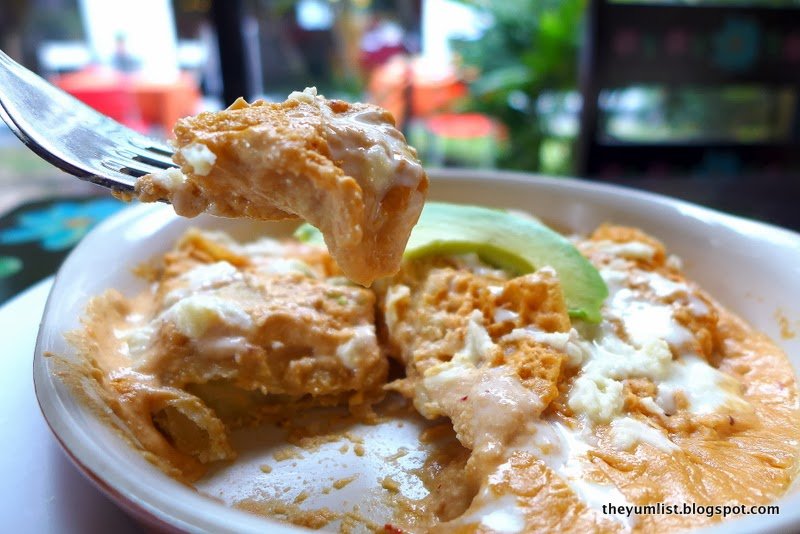 Enchiladas Rojas
 9. Sopa de Hongos (RM28): Looking for healthy and vegetarian? The mushroom soup's vegetarian broth was not too salty or not too flat, it was a perfect balance of flavors. In addition to the mushrooms, this healthy delight contains cactus leaves, which can boost your antioxidant levels. Not to mention, there is a touch of tequila in the broth to give it that extra kick!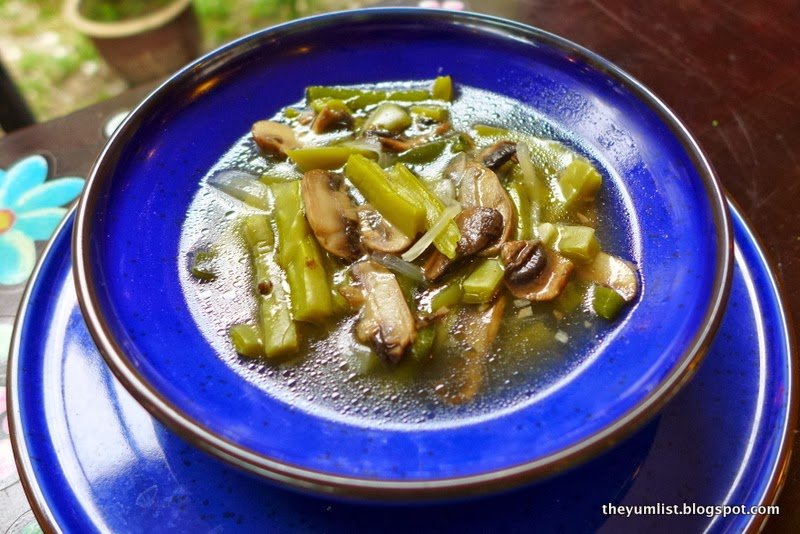 Sopa de Hongos
10. Ensalada de Nopales (RM40): Just like the Sopa de Hongos, this salad screams NUTRICIOUS and DELICIOUS! The nopales (fresh cactus leaves) are imported all the way from Mexico. A bit tart but savory and soft when cooked, nopales are rich in many vitamins, and are good sources of vitamin C. So if you're feeling under the weather, head over to La Mexicana and order this salad along with the Sopa de Hongos.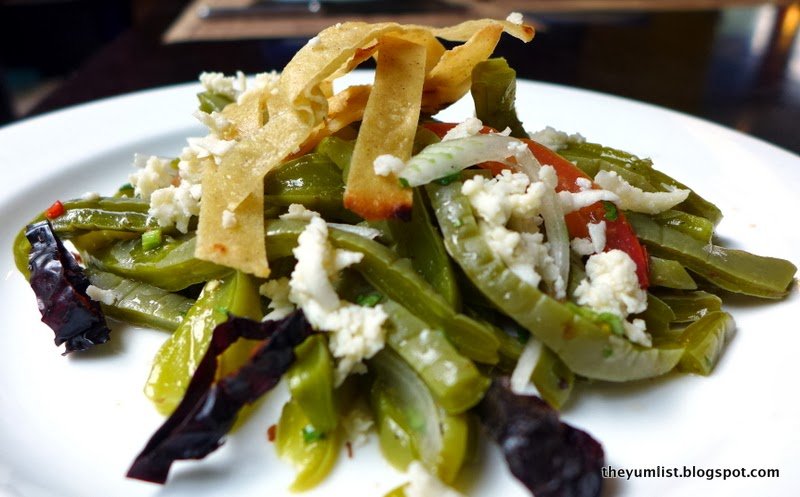 Ensalada de Nopales
11. Peneques (RM24): Chef Carmela shared that growing up she and her family would enjoy this soup at her grandma's house. Simple but yet cheesy and flavorful, this soup contains two-corn dough pockets stuffed with cheese in a vegetable broth.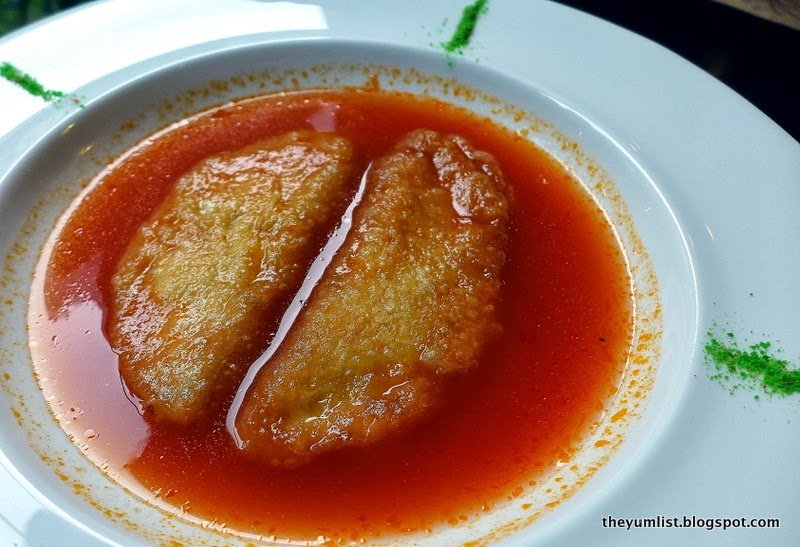 Peneques
2 New Desserts:  Both desserts are delectable! My personal favorite was the Pastel Azteca. You can't go wrong with chocolate cake and vanilla ice cream. Thinking we would be too full to eat it, we ended up licking the plate clean. The latter dessert, Chongos Zamoranos, is a milk-based dessert and is quite refreshing and sweet. We loved the cinnamon flavors.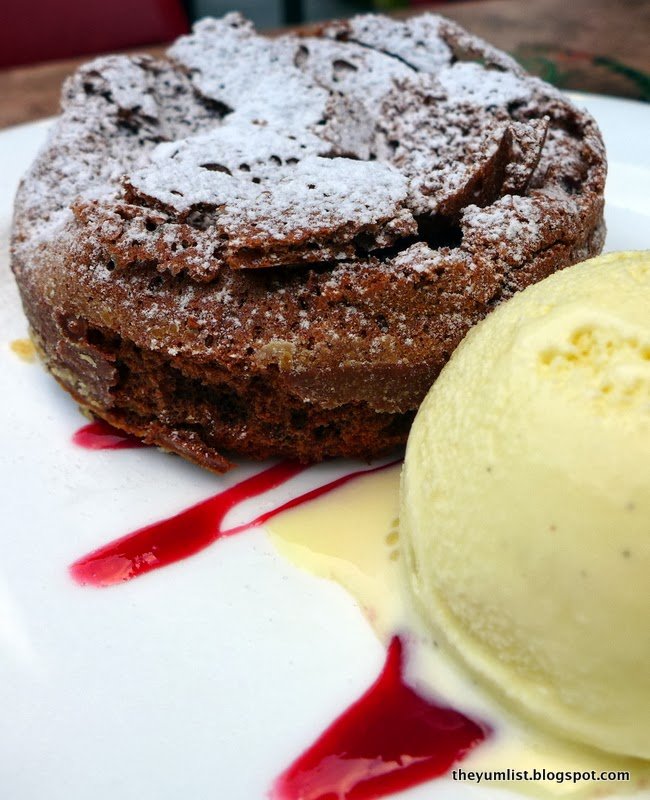 Pastel Azteca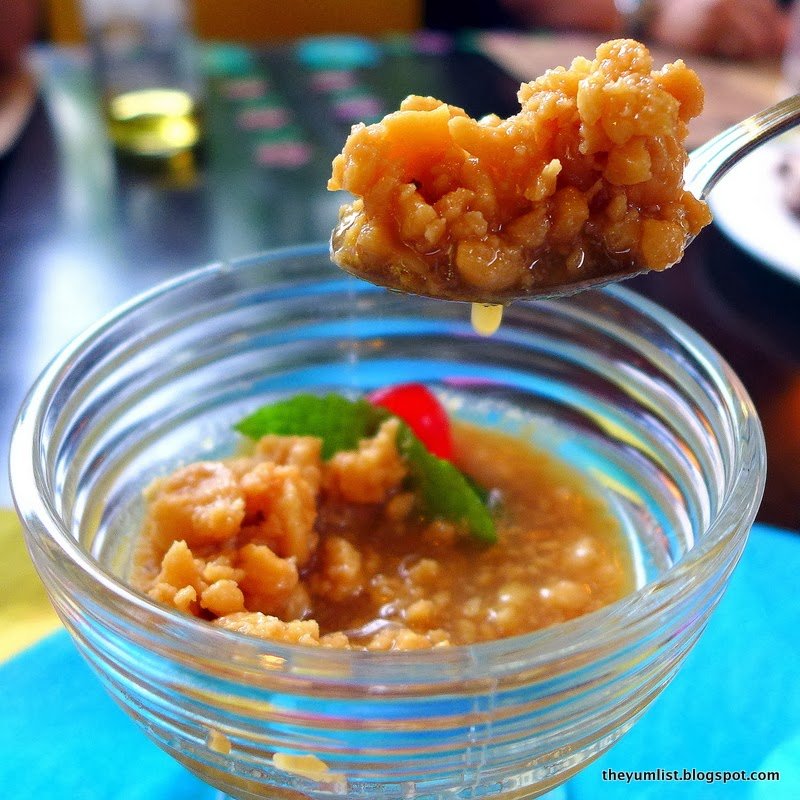 Chongos Zamoranos
Stuffed like a turkey and barely able to breathe, I began to reminisce about the very first time I came to La Mexicana. Born and raised in Texas, ancestors from Mexico, Spain and Native Indians, I have a warm and close connection to my Spanish roots. The second I heard from The Yum List about the opening of an authentic Mexican restaurant in 2012, I had to give it a try. I have been impressed with La Mexicana from the minute I took my first bite of Camarones con Ajo (Garlic Shrimp) to the time I left a couple of weeks ago to sample their new plates. Considering that Mexico is located almost 10,000 miles from Malaysia, you would never know the difference when you're sipping a cold michelada or biting into a tamalchile all the while taking in the designs and bright colors of the restaurant. I am proud to say that I have witnessed a neighborhood restaurant expand into a glorious and delightful Mexican gem in Kuala Lumpur, Malaysia. The Yum List team look forward to many more tastings and creations by the culinary genius, la Sra. Carmela.
Reasons to Visit: new tapas dishes; true experience of Mexican cuisine in Malaysia; good selection of meat free dishes.
La Mexicana
The Terrace at Hock Choon
Jalan Nibong (off Jalan Ampang)
Ampang, 50450 Kuala Lumpur
Malaysia
+6 03 425 35251