In search for some of the best dining in Bali, our quest ended with a stunning conclusion at Sakala Bali. On the beachfront directly across from the Chedi Sakala resort, Sakala Bali proffers palm-lined Indian Ocean views from both its chilled indoor setting and its al fresco sky deck. Contemporary in design, its lofty ceilings and use of clean lines and glass gives a modern lux feel. But, even though the location is splendid, it's the incredibly delicious cuisine that is prepared with meticulous attention to detail that holds the ultimate seduction.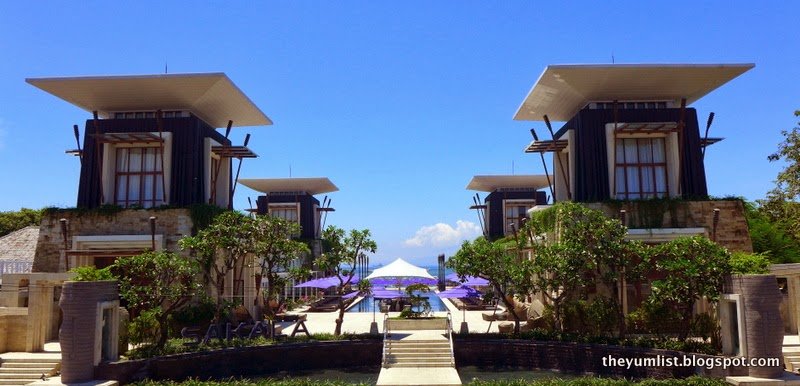 Sakala Bali
During the heat of the day, the air-conditioned surrounds of the indoor dining area are most sought after. However, as the sun begins to lower and relaxes its hold on the heat of the day, the sky deck is the place to be. Low round tables and couches encourage relaxed lounging and the multi-coloured sky at sundown deserves an icy cocktail to deepen contemplation of the beautiful scene.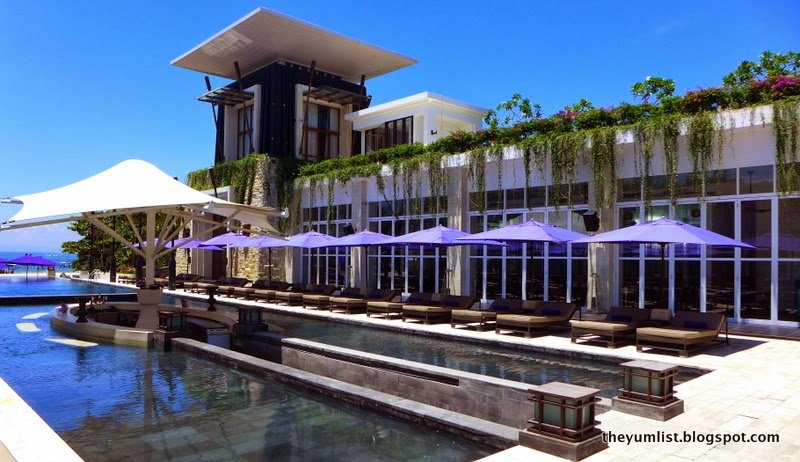 Pool and Bar
Decorative floral patterns inscribed in shiny sable flooring are reflected in bronze lamps hung with tassels of fine copper beads from concentric rings on the ceiling. During the day these are pretty furnishings, but at night, light shines through the holes, forming an intricate lacework marking on the roof. Walls carry through the motif of the floor and lamps in black threads on frosted glass.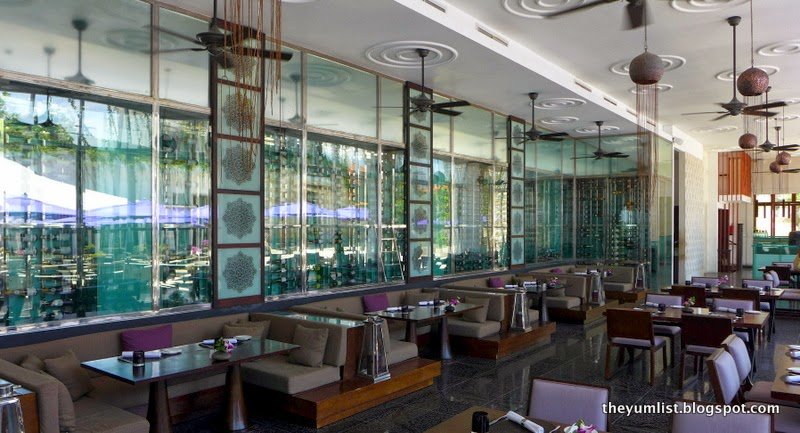 Dining Area with Walk In Wine Cellar in Backgroud
A walk-in wine cellar runs the entire length of the main dining area and is something I wouldn't mind getting lost in. Splashes of purple in cushions and orchids reflect lavender umbrellas, which border the pool, viewed from the double story glass walls. Sakala Bali is the land of milk and honey, not only in attractiveness of décor, but ever so in terms of food.
Frederic Boulay leads the team at Sakala Bali in selecting fresh local and imported ingredients and incorporating them into innovative French creations. He believes in knowing his local suppliers well and likes to personally select many of the products for his kitchen. Hailing from Quebec Canada, Chef Frederic has many years in the kitchen starting at the tender age of 12 under the guidance of his father, who is a renowned chef in his homeland. After many international years of experience, Bali is his current home and Sakala Bali his pet project.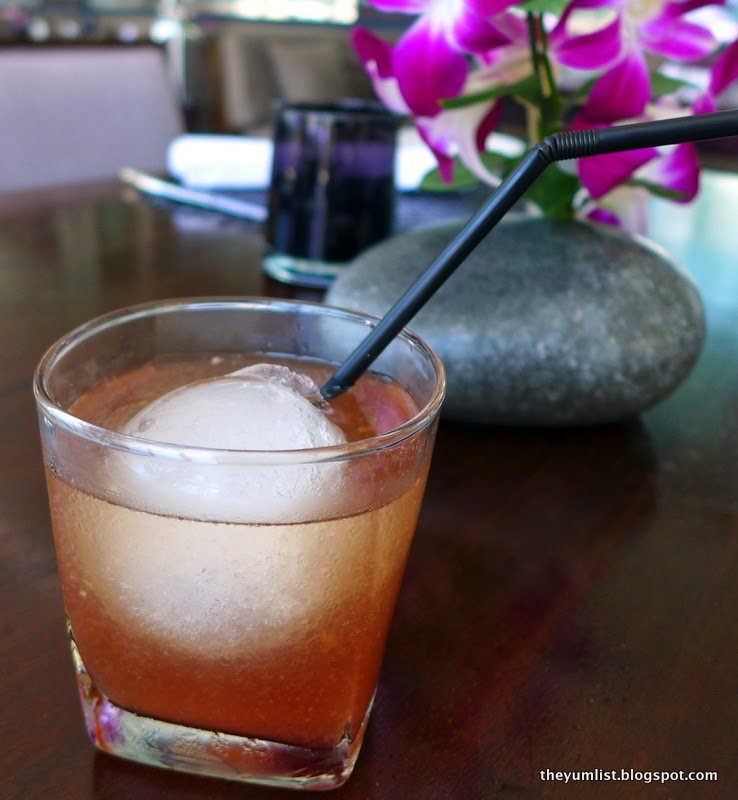 Jalisco Sling
For refreshments, a page of Signature (IDR150) and Classic Twisted (IDR180) cocktails make choosing easy. The Chili Chocolate, with chili infused vodka, cacao and chocolate sauce comes highly recommended. The Aztec inspired creation takes my fancy and, although I've had it as an aperitif, it would make a fine dessert. Bitter chocolate fills my cheeks and there's a final spicy strike on the roof of my mouth and back of the tongue. Hubby's got a hankering for Tequila so the Jalisco Sling is soon on the table. Tequila Blanco, gin, cherry herring, ginger and lemon juice, are topped up with club soda forming an invigorating beginning.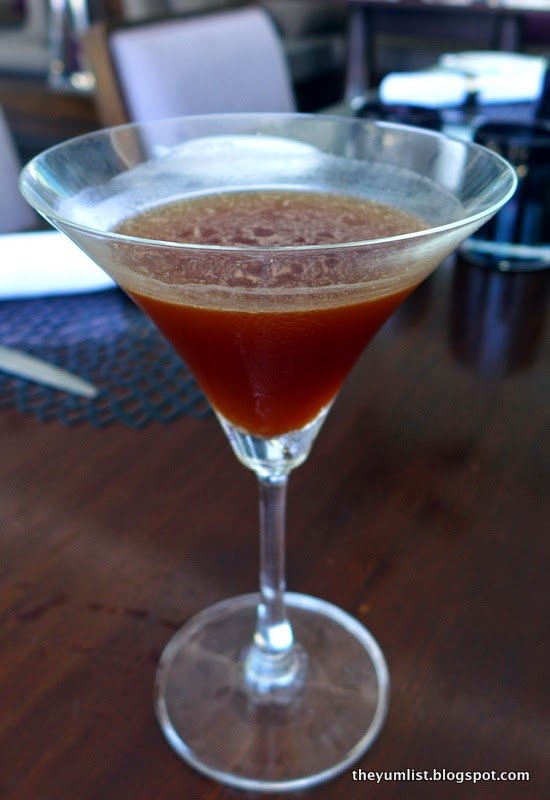 Chocolate Chili
A wooden box of warm, mixed breads  – black rice, mixed nuts, rye and epi – is a tasty tease as we browse the lunch menu.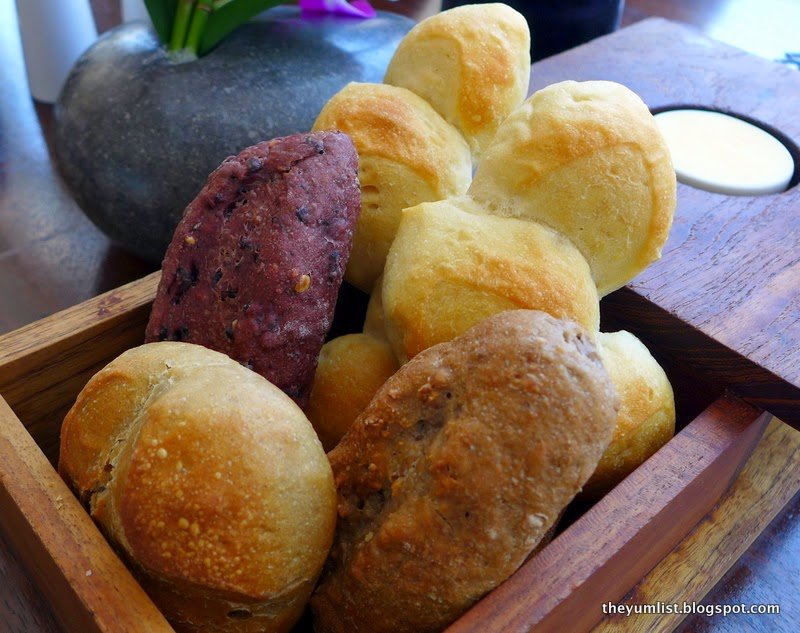 Warm Bread
Marinated artichokes and feta cheese have caught my attention in the Farmhouse "Gourmandes" Salad (IDR118). It's supported by fresh mozzarella, garden vegetables, watercress, basil and dressed with virgin olive oil and aged balsamic vinegar. A white platter in the shape of a flat boat holds a mosaic of multi-coloured goodness and I adore my healthy start. (Note: Most salads can be made vegetarian simply by notifying the waiter. This Farmhouse salad's original recipe is with ham.)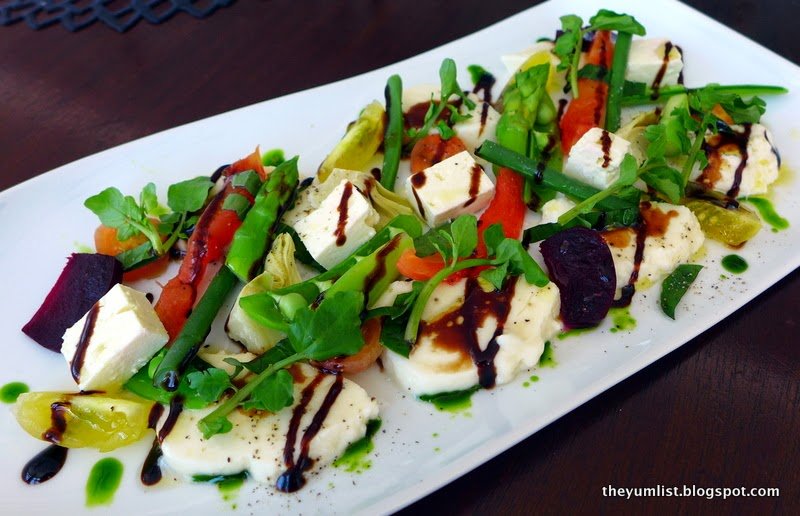 Farmhouse Salad
Rustic Flat Bread Pizzas (IDR138) come in three flavours. Hubby chooses the Greek version for its feta cheese, mozzarella, black and green olives, sweet pepper, watercress, sun dried and vine-ripened tomatoes with fresh herbs. A wooden block holds the starter, which is definitely a gourmet account of the common and ever-so-popular pizza. It too is ranked as a first-rate start.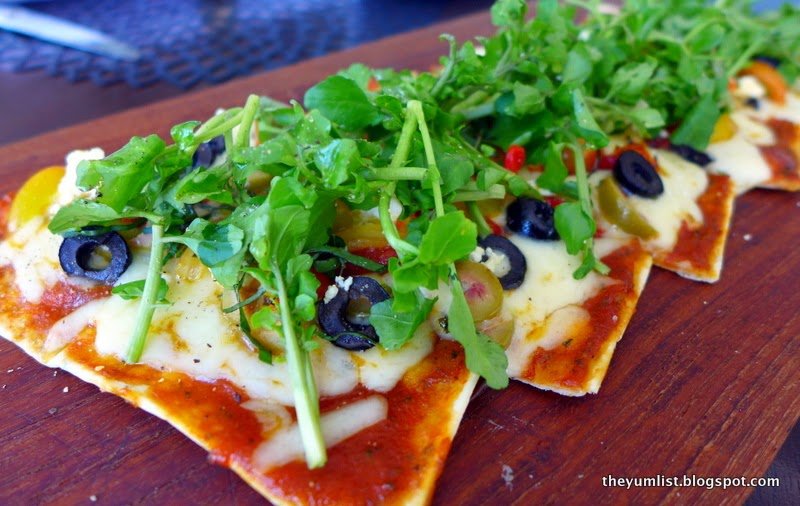 Greek Rustic Flat Bread Pizza
Our cocktails have kept us satisfied throughout our starters, but now we're ready for wine and that splendid wine cellar is seriously calling our names. For a stand alone restaurant the wine-by-the-glass list is solid. A number of red, whites and sparkling are for sale in single portions. A sauvignon blanc from Monkey Bay shares the stereotypical New Zealand traits of the grape. Ripe tropical fruit aromas and a fresh, lively palate are well suited to the midday heat.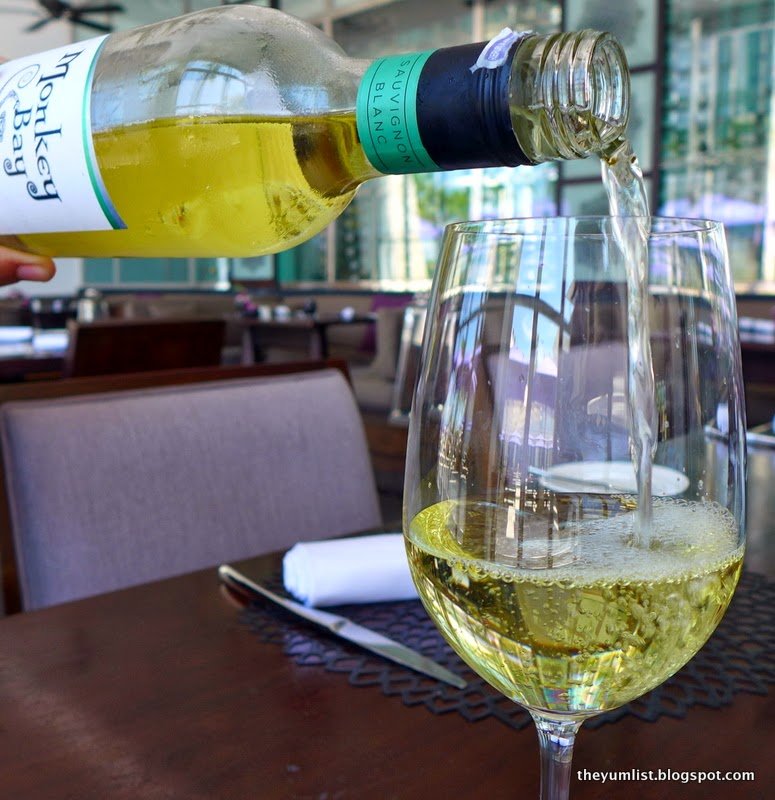 Monkey Bay Sauvignon Blanc
My main, Sweet Potato Gnocchi (IDR158), had me salivating just reading its description. It's hand-rolled, pan fried and served with mixed vegetables, sour cream, shaved Parmesan Reggiano, black truffle and red wine vinaigrette. I haven't had gnocchi this fancy or this soft… ever! Beautifully embellished with sticks of fresh vegetables and a giant blob of sour cream, this is a truly delectable depiction.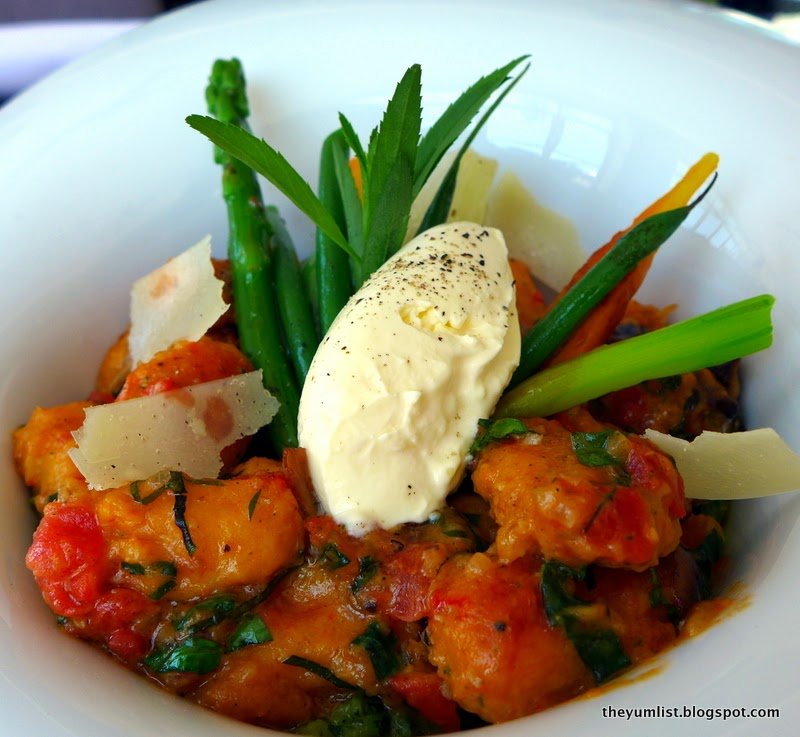 Sweet Potato Gnocchi
Although cautioned in advance to go easy on the ordering as our host has big plans for our dessert tasting, hubby ignores the warning and orders Half a Young Chicken (IDR158). The slow roasted breast and leg is served with ratatouille, garlic and potato croquette. Organic mixed greens brighten the plate and a rich black truffle and red wine vinaigrette bestows a rich drizzle. Hubby's plate is cleaned. Maybe that means more dessert for me?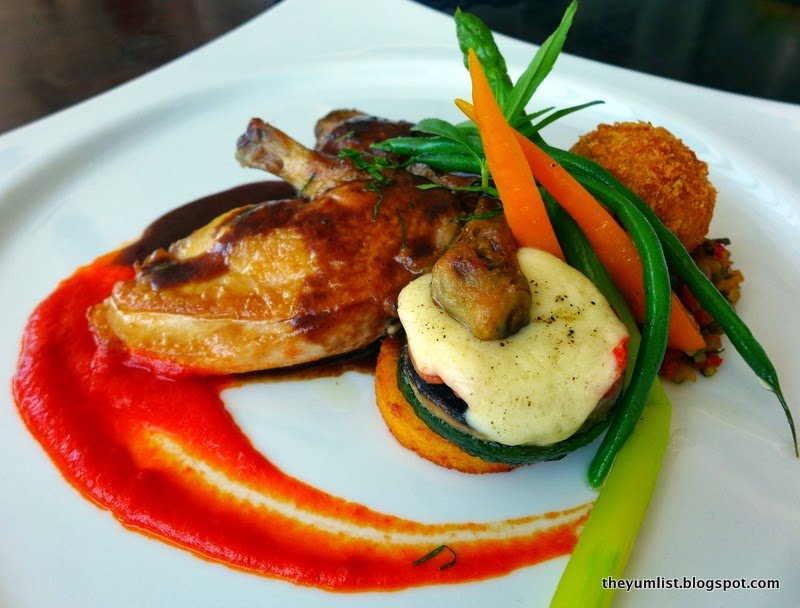 Half Young Chicken
Tasmanian Salmon is also highly recommended, as is the Smoked Salmon starter. Our hosts are dining on these specialties and, knowing that they have eaten here nearly every day for lunch and dinner for the last month, the fact that they have chosen these two courses is significant.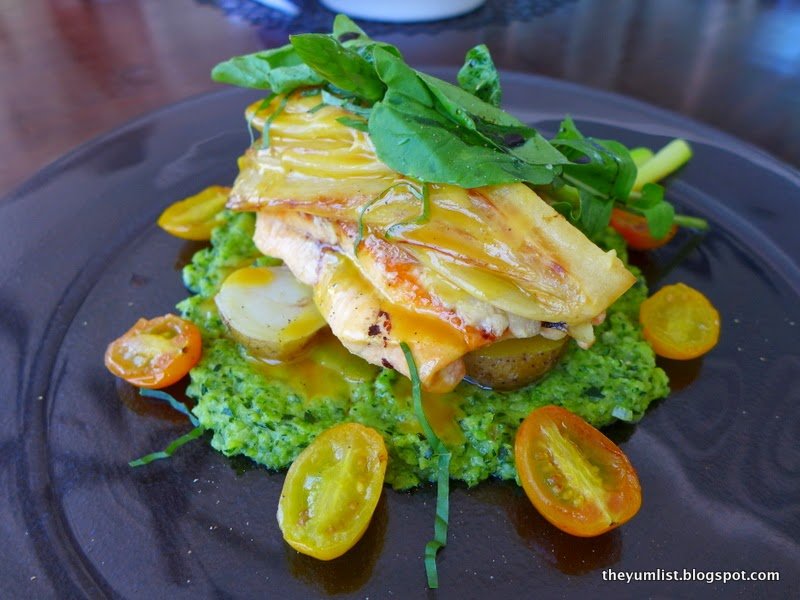 Tasmanian Salmon
Desserts (IDR58) are definitely not after thoughts. Each is uniquely designed and presented. Chef Boulay comes out as we're sampling four suggestions and is clearly delighted with his inventions. The Chef de Cuisine arrives soon after and backs up chef's love of his sweets. He proudly declares, "We have the best desserts in Bali!" And… we are soon to find out, that they possibly do!
Bounty is an impressive bar based with joconde biscuit. It's layered with a hazelnut and Valhrona chocolate crispy paste, a thin strip of banana cream, Valrhona chocolate ganache and, finally peaked with coconut mousse that is wrapped in a sheer coconut jelly. A side stripe of banana paste serves to further bring out the key flavours – coconut, chocolate and banana. Brittle wafers wedge the limits of the dessert and, shaved coconut adds more texture. Finally a long arc of dried banana crowns the top. It is magnificent!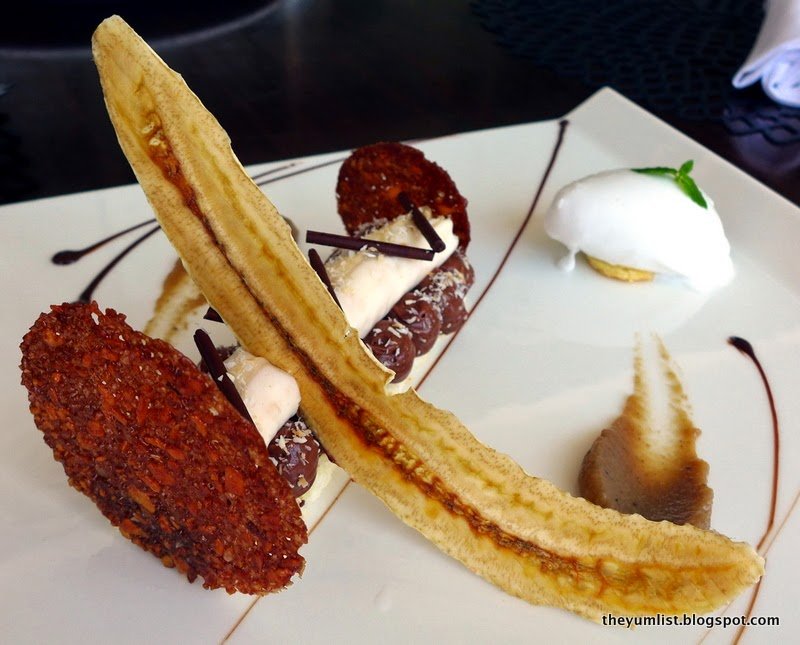 Bounty
Oasis celebrates local fruits with fresh mangosteen, mango, snake fruit, coconut and mandarin segments. Snake fruit and mango sorbets, coconut mousse and, organic honey and yoghurt 'spherification' (airy balls that melt in the mouth), impart a molecular complexity.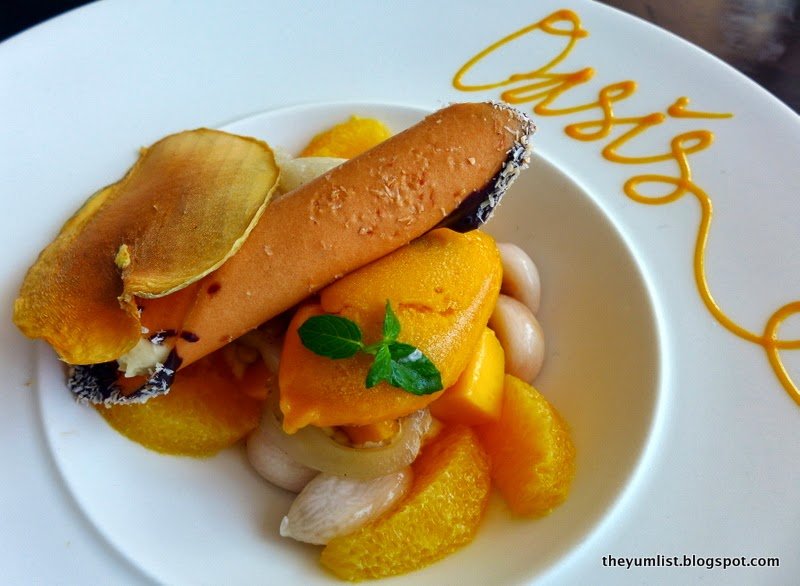 Oasis
Cognac epitomizes the divinity of mixing chocolate and liquor. Premium Cognac is infused in a hazelnut and chocolate parfait. A delicate white chocolate liquid is sprayed on top, which hardens upon contact with the chilled dessert. Caramelized hazelnuts top the delicacy and, frangible honey almond disks surround the cylinder. It's heaven in a spoonful.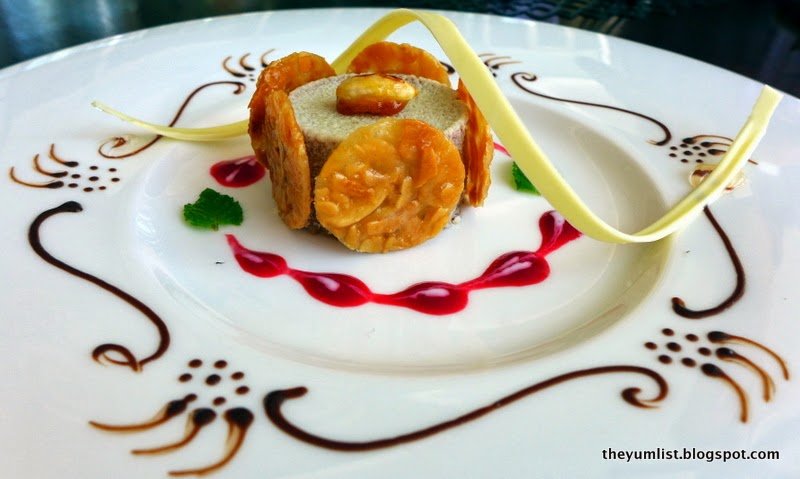 Cognac
Spectacular is not a strong enough adjective to describe the Distinction. A circular tower of rounds form a 'leaning tower of Pisa.' A thick luscious lemon curd is layered with almond paste, pistachio pain de Gênes, meringue flambé, sable Breton, Grillottes cherry sauce and, raspberry sorbet. It's striking in presentation but even more so in taste.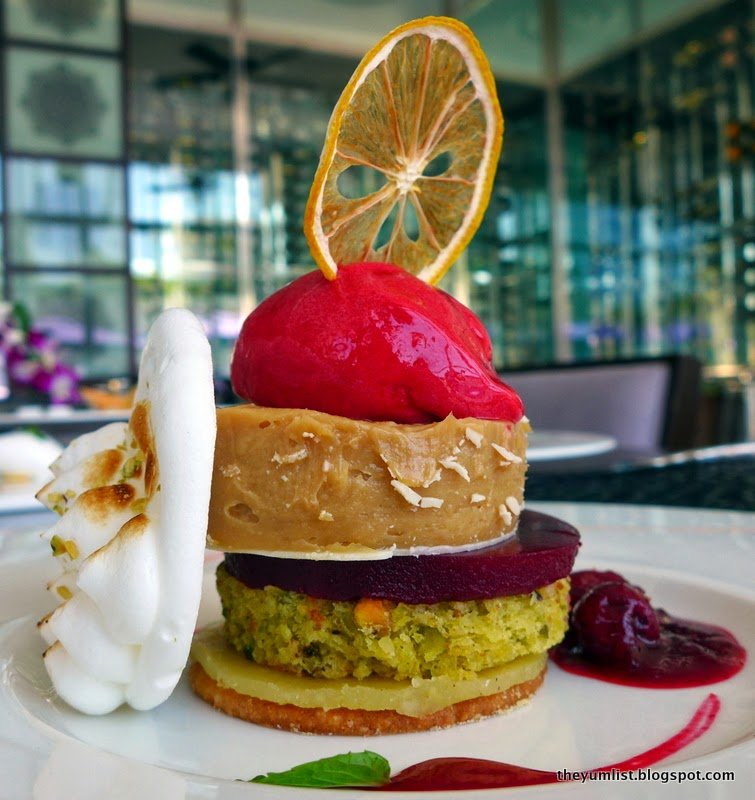 Distinction
Make sure you get an intense calorie-burning workout in before visiting Sakala Bali. The mains are superbly delicious and I recommend trying ALL of the desserts. This is a restaurant that should be on every visitor's 'must dine' list.
Reason to visit: chic seaside ambience; great cocktails; exquisite cuisine; Cognac; Bounty; Chocolate (not shown in this post but in one to come); Distinction.
Sakala Bali
The Chedi Sakala
Jalan Pratama 95
Tanjung Benoa
Nusa Dua, Bali 80363
Indonesia
+62 361 774 499
Lunch: 12 noon – 5pm
Dinner: 6pm – 10pm
Dress: smart casual
* Prices are subject to 21% service charge and government
tax.