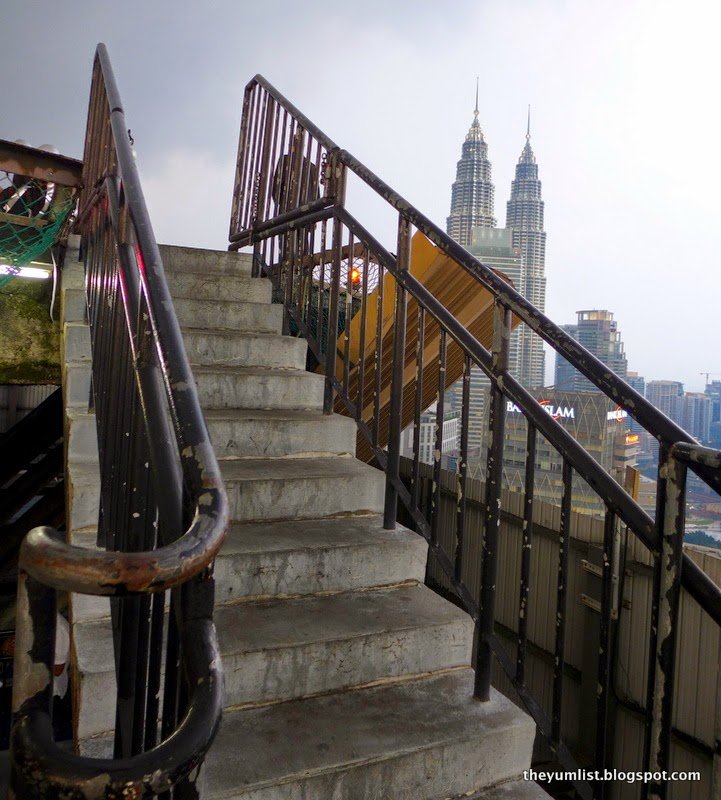 Where Do These Steps Lead?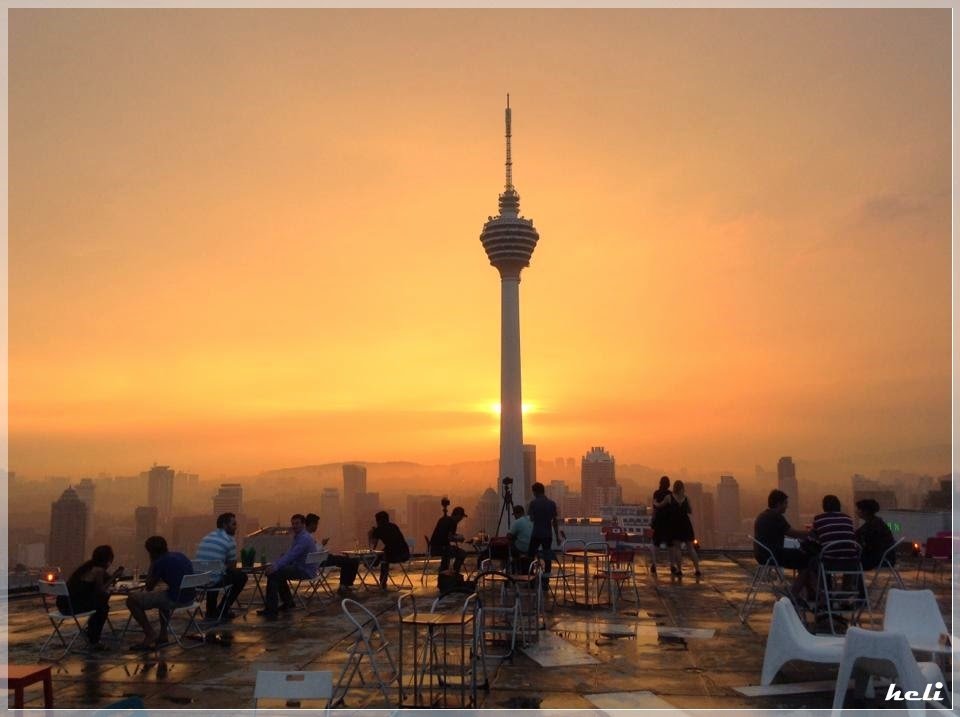 Heli Lounge Bar
Heli Lounge Bar
Words by Araceli Barrera Arismendi
Photos by The Yum List (Monica Tindall)
Immersed in an expatriate bubble in Kuala Lumpur, Malaysia, where people from all over the world mix and mingle and participate in small and quick conversations about where to dine, drink, or take visitors, the word on the street echoes boisterously, Heli Lounge Bar, the place to be for a mind blowing treat!
After a few visits to this masterpiece of a venue with friends and family, the Heli Lounge Bar brings excitement and a new dimension of entertainment to the capital city of Kuala Lumpur. Convinced that this magical rooftop provides one of the best 360-degree views of the city, The Yum List team and I quickly booked a review in order for us to properly share the entire Heli Lounge Bar experience from the breathtaking sights, to the delicious cocktails, and tasty main selections, with fellow foodie fanatics.
We set out to the Menara KH building on Jalan Sultan Ismail at exactly 6:30pm, just in time, we hoped, for an incredible sunset. We crossed our fingers and our legs and, chanted positive words that the weather would be in our favor, but unfortunately, dark clouds and thundering sounds filled the gray skies.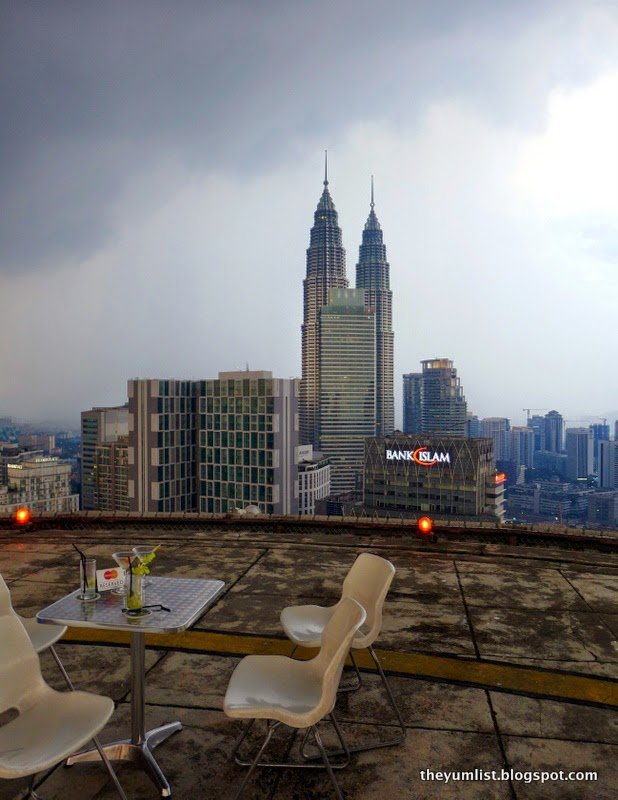 View of Twin Towers from Heli Lounge Bar
The place is great with or without the sun though, so we had not even an inkling of disappointment, as we continued our journey through the doorway and on the elevator up to the 34th floor. Black and white checkered tiles, various aircraft embellishments and dim lights describe the mystery and uniqueness of the aviation themed bar. Creativity and eccentricity sparkle in every crevice with the reuse of distinctive materials used as seating areas, cocktail tables and wall decorations.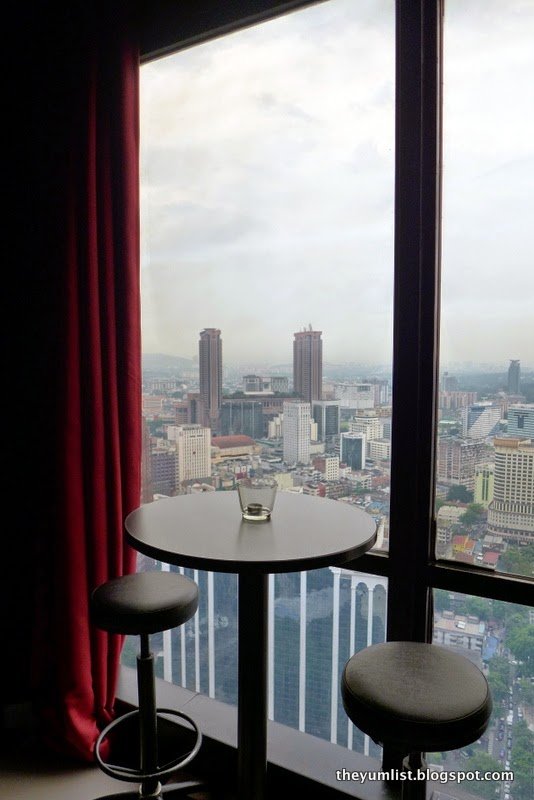 Table for Two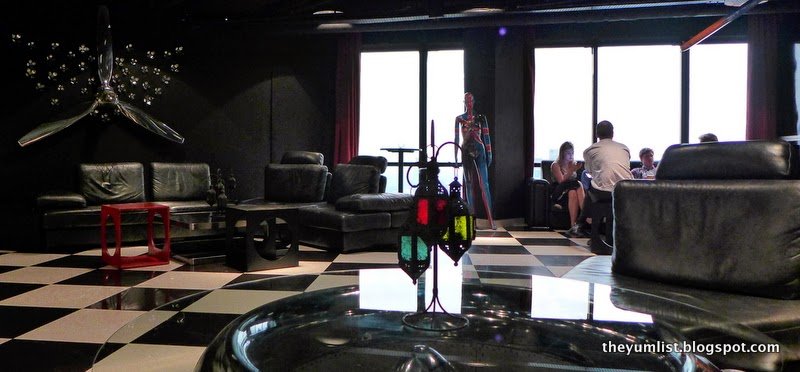 Heli Lounge Bar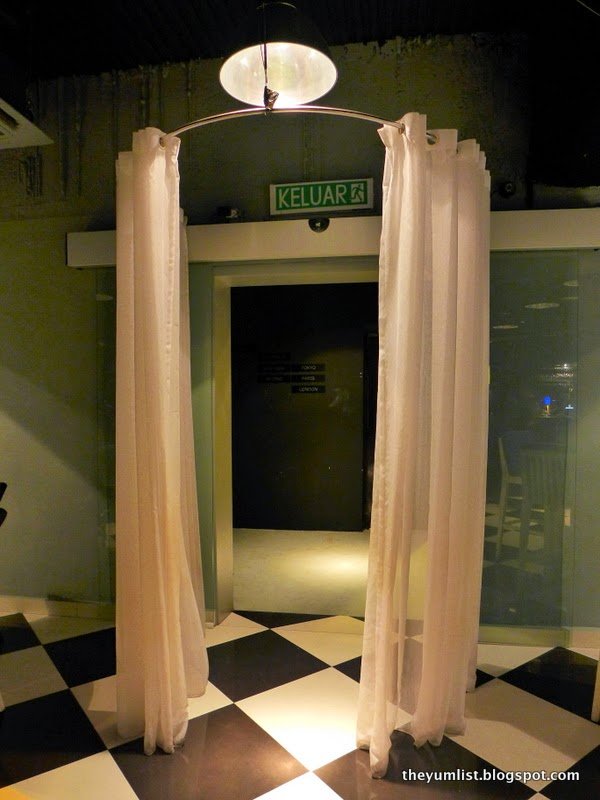 Where Does This Lead?
Feeling funky and fresh, we strutted our way up to the helipad where all the hype, laughter, chatter and positive energy dance around the buildings and concrete structures. Climbing two steep flights of stairs, we finally landed by foot on the gigantic and circular helipad.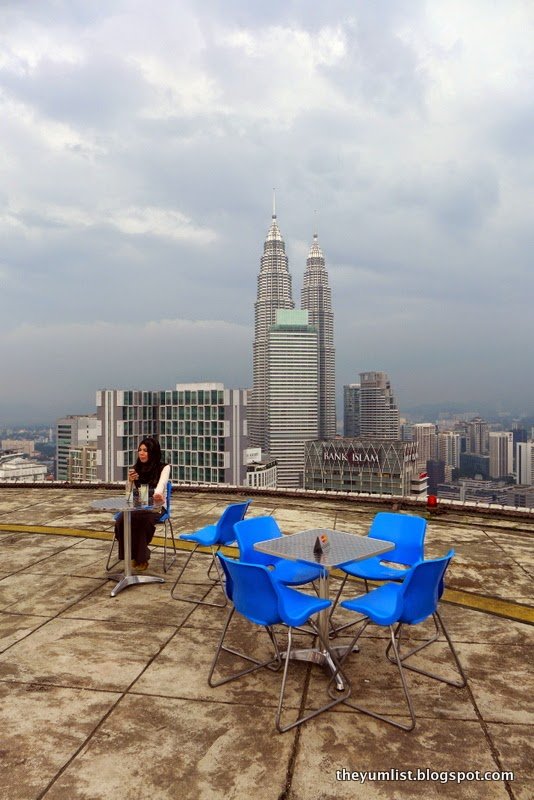 Twin Towers View from Heli Lounge Bar
Right before our eyes, the beauty and gracious concrete jungle, including the KL Tower and iconic Petronas Twin Towers, stood out against the early evening sky. A typical landing area for helicopters became a platform for people to socialize, all the while sipping their favorite beverage and admiring the spectacular 360-degree landscape.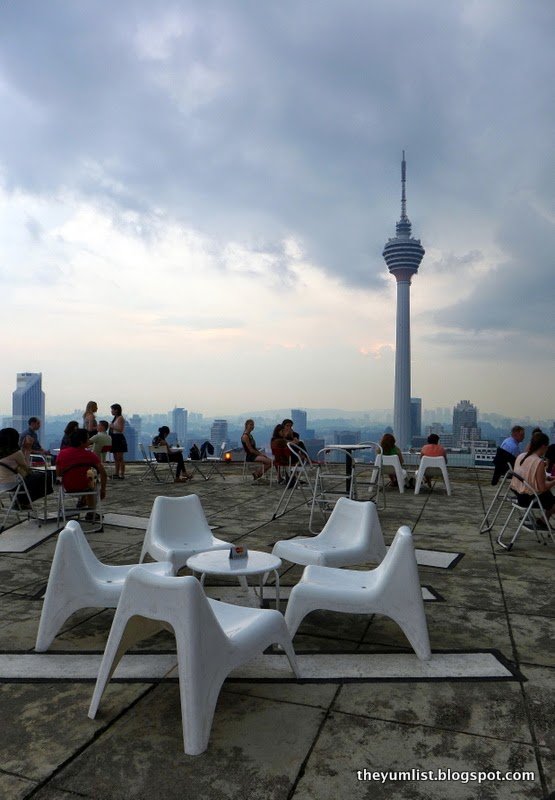 KL Tower View
Casual and simple sitting areas with different foldable chairs and portable tables supply the rooftop helipad area with a friendly and laid back vibe. Monica (The Yum List) flashed hysterically from all angles capturing the priceless scene, and finally we sat down with the towers behind us to begin sampling some specialty cocktails.
Specialty 'Gasoline' Cocktails (RM25 per glass)
Dine in the air
Ingredients: Rum, Angostura Bitters, and Celery
Comment: Refreshing and dreamy, Dine in the Air pleasantly surprised our taste buds with crisp chunks of celery. Not overwhelmed with syrup, this drink made an ever-lasting impression.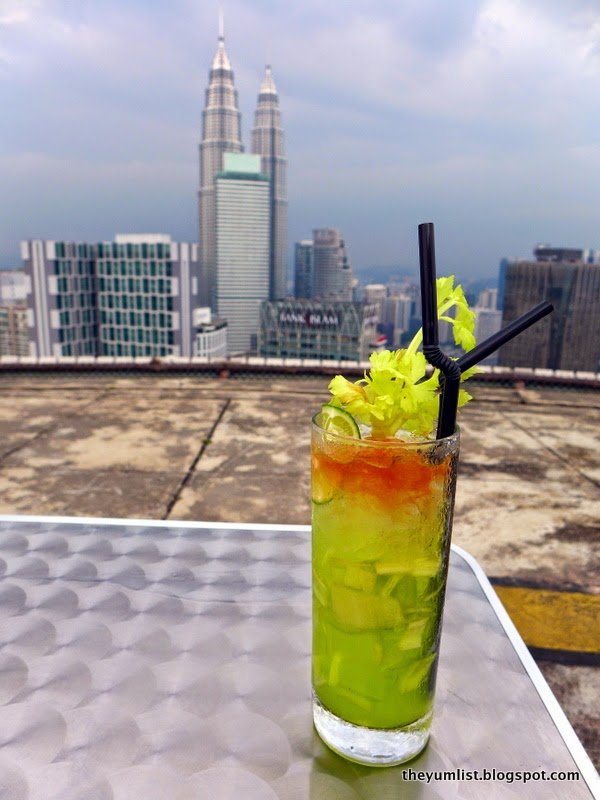 Dine in the Air
Star Kiss
Ingredients: Vodka, Vanilla Syrup and Pineapple
Comment: Served in a cold, crisp martini glass, this cocktail looks sweet and lady like. The mix of the vodka and pineapple blended so well together making this cocktail a delight.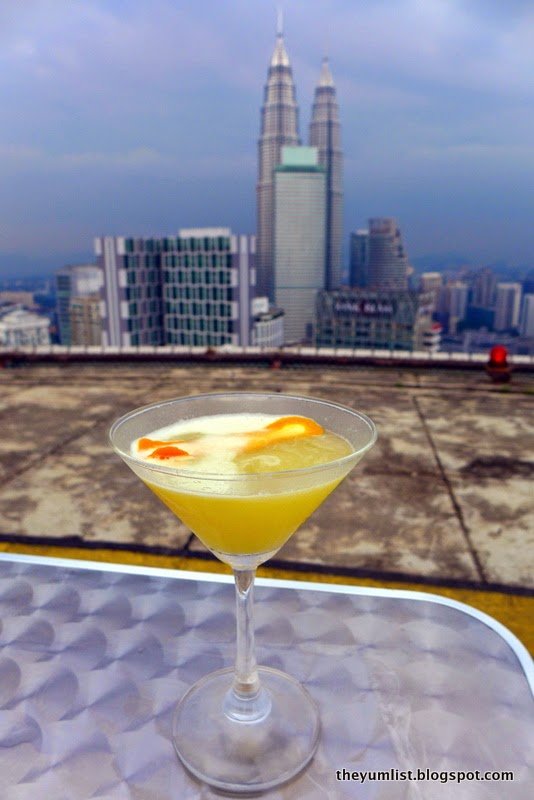 Star Kiss
Chopper
Ingredients: Vodka, Apply Syrup, and Green Tea
Comment: My first beverage that contained green tea and vodka, this specialty drink diffused my palate and exhibited ingredients for a perfect summer day.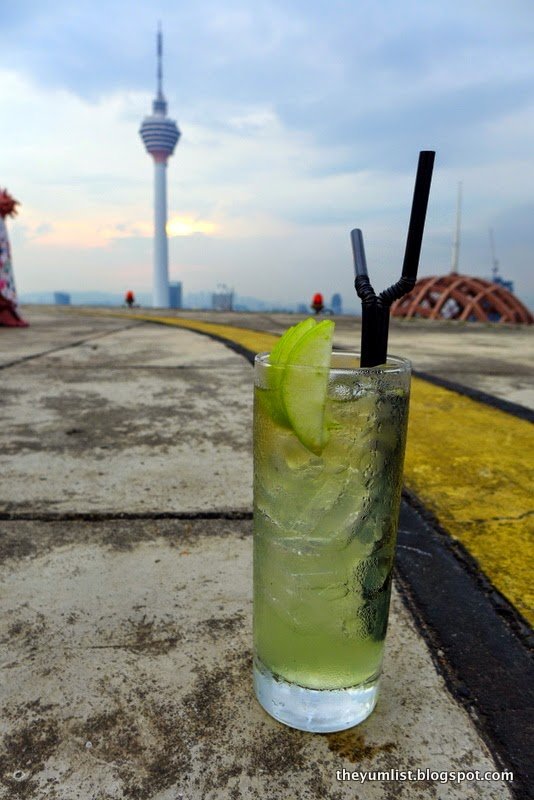 Chopper
Hellusion
Ingredients: Vodka, Coconut Rum, Triple Sec, Pineapple and Lemon Juice
Comment: BLUE in appearance, the coconut rum and the vodka partner up and the splash of pineapple and lemon juice spice this invigorating drink. If you're looking for FUN and a Thirst Quencher, try this concoction.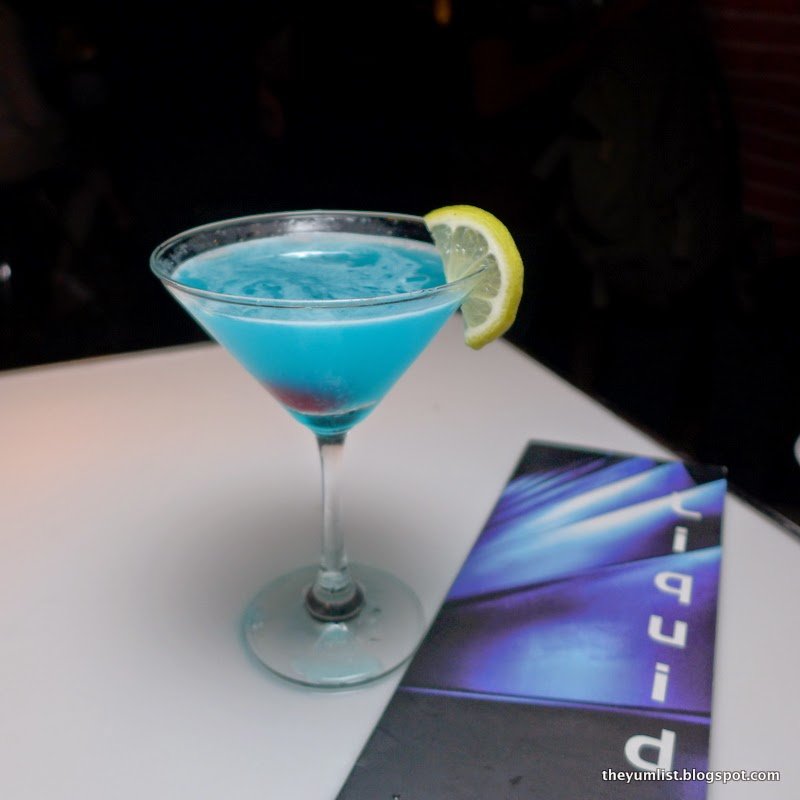 Hellusion
Fizzy 747
Ingredients: Vodka, Mint, Ginger Ale and Lime Wedges
Comment: Heli Lounge mixologists take pride in making the authentic Cuban drink. Light, tangy and trendy, the mojito is made well with just the right ingredients and serving of mint.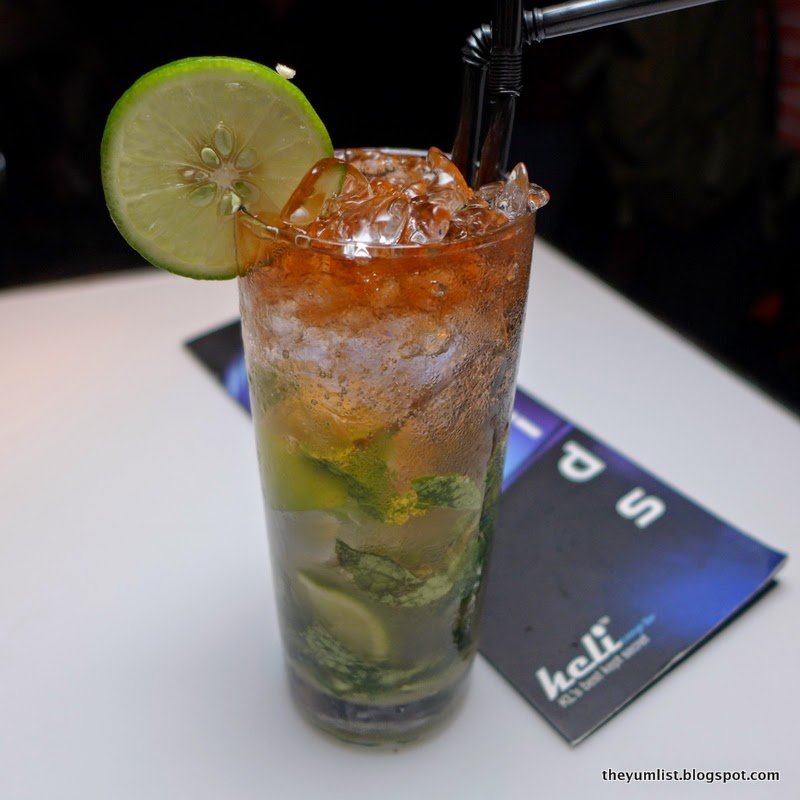 Fizzy 547
Thurz – On every Thursday complimentary drinks for the fairer gender!
White Skirt and Red Baron – sweet concoctions that can disappear all too quickly.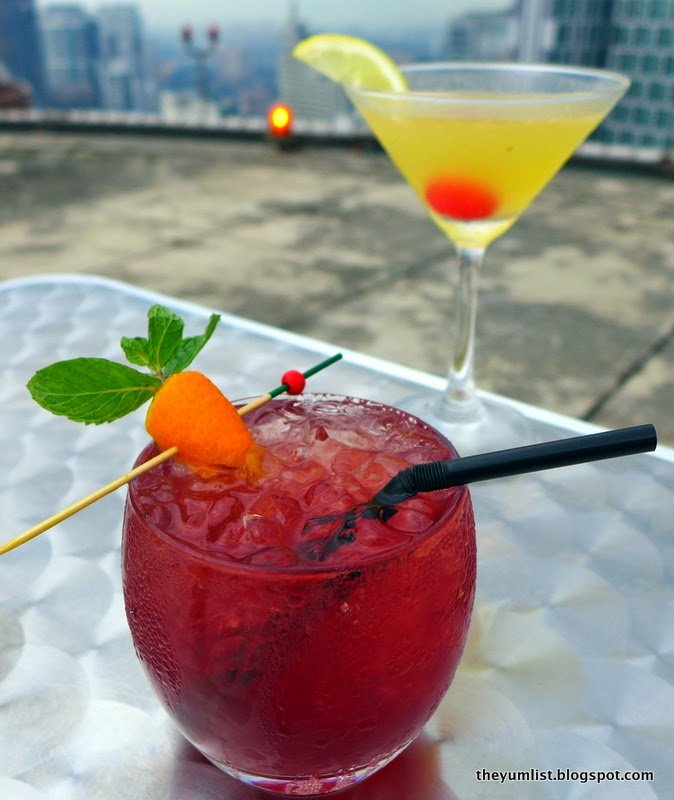 Ladies' Night Drinks – Red Baron and White Skirt
The Heli Cuisine
It's was our first time to try out the Heli Lounge cuisine and, thinking we were going to have the typical greasy meals that you usually order at a bar, to our revelation, the food executed and delivered pure deliciousness. The mastermind behind the menu's creations, Ms. Bavani, demonstrated humbleness and passion for cooking. She joined the Heli Lounge team when it first opened a couple of years ago previously experimenting in her very own kitchen with fine ingredients. You can order anything from Pastas, Hamburgers and Hotdogs, Steaks, Fish and Desserts. She proudly expresses that NONE of the food items contain MSG (monosodium glutamate). We began chowing down guilt free!
Starters
Heli Wings – RM19.90
Comment: Buffalo wings served with celery, the salty and spicy meat goes well with a nice, cold beer.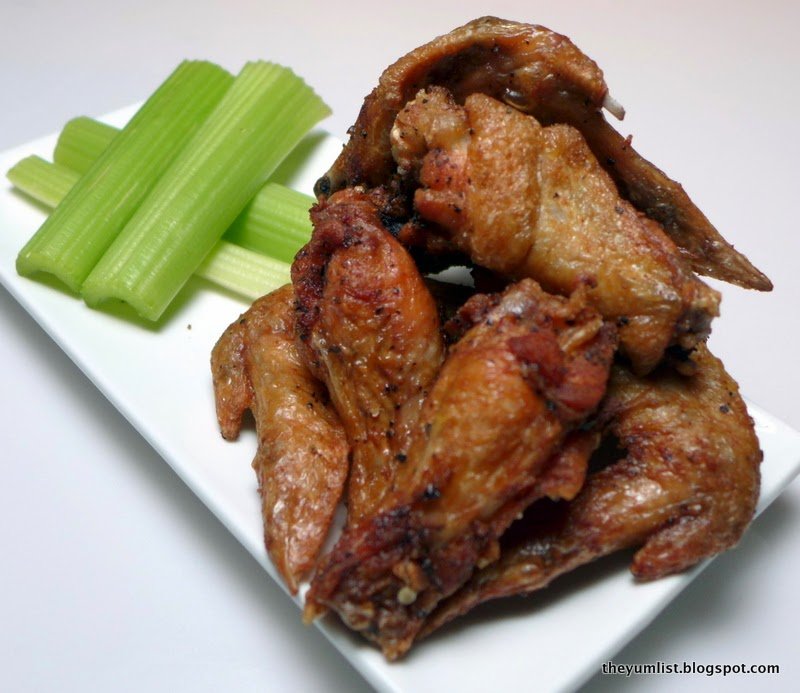 Heli Wings
Cheesy Jalapeno Wontons – RM9.90
Comment: OH, these screamed EXCELLENCE! Sweet, salty, cheesy and creamy inside a fried wonton wrapper, simply delightful!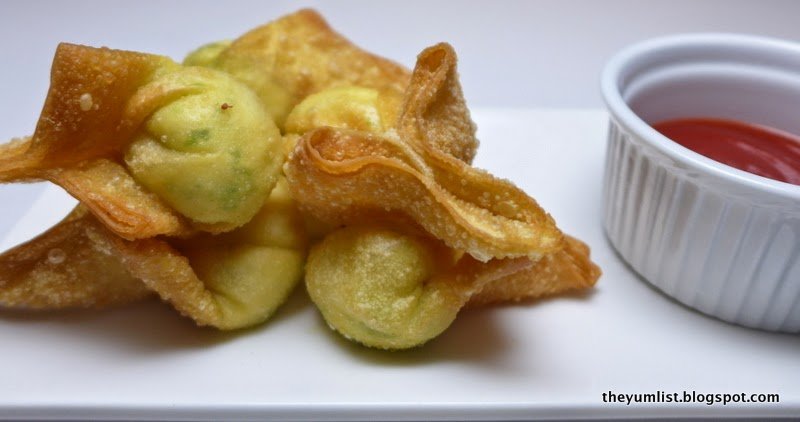 Cheesy Jalapeno Wontons
Mains
Mushroom Chicken – RM30.90
Ingredients: Grilled chicken topped with sautéed mushrooms
Wine Pairing: House Red Wine – Shiraz 2012- Hardy Mill Cellars
Comment: The house red wine matched with the grilled chicken describes the perfect partner. The fruity and full-bodied wine with the sautéed mushrooms and grilled chicken plays with your senses and delivers a sensible and satisfied feeling.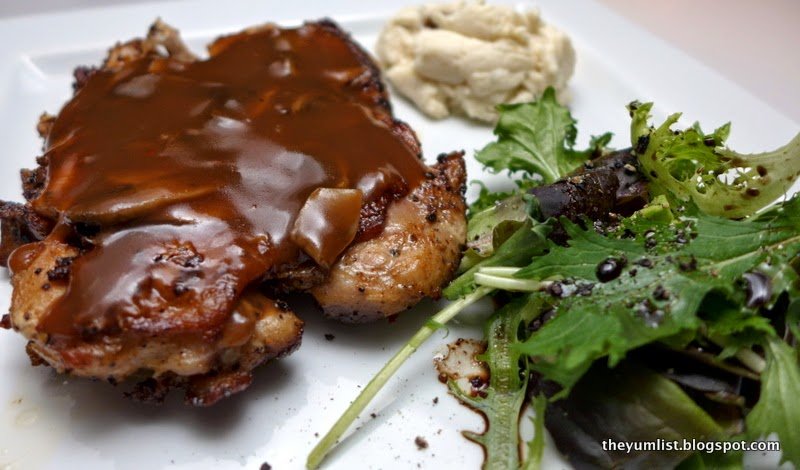 Mushroom Chicken
Grilled Salmon – RM34.90
Ingredients: Grilled Salmon fillet served with fries and veggies
Wine Pairing: House White Wine- Chardonnay 2012- Mill Cellars
Comment: Baked in the oven with its natural oils, the fish tastes flavorful, buttery and peppery. Along with the house white wine, this meal fulfills your savory buds and supports a healthy eating lifestyle.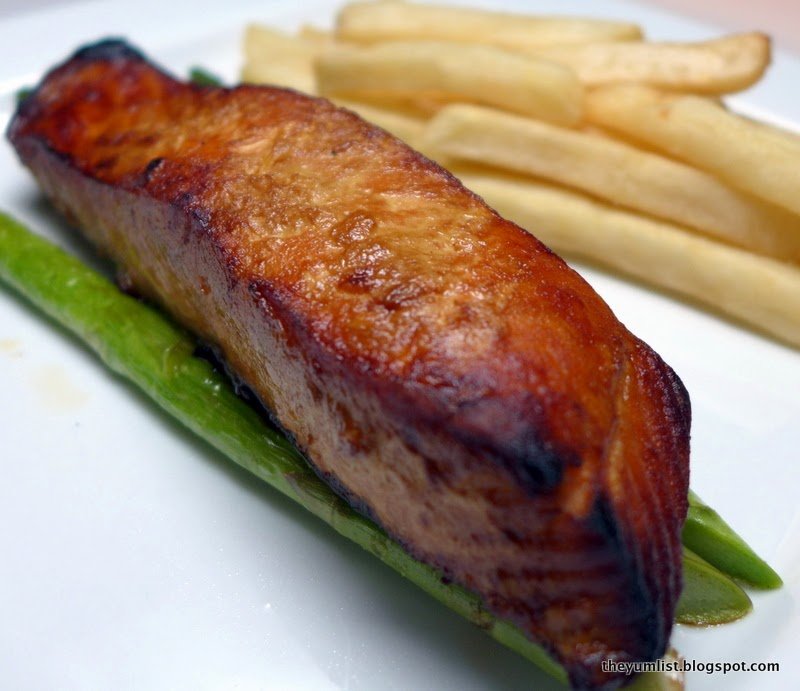 Grilled Salmon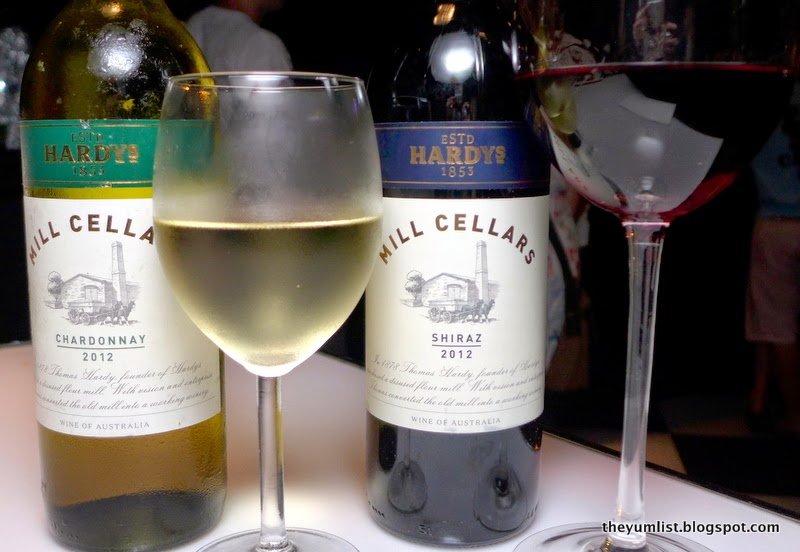 House Pouring Wine
Dessert
Triple Chocolate Ice Cream Cake (Slice)
Comment: A chocolate lovers dream! This classic flavor wins all ice-cream hearts with its creaminess, sweetness and deliciousness.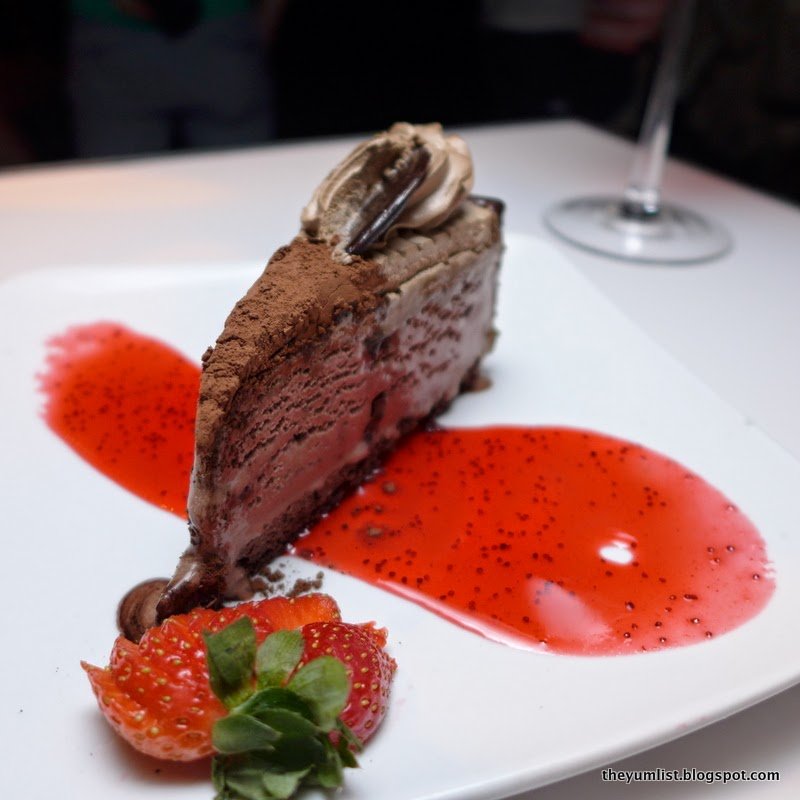 Triple Chocolate Ice Cream Cake
The Heli Lounge perfectly captures the views and stimulates the senses with their refreshing potions and mouthwatering bites. We weren't able to seize the sunset views due to the weather, but from previous visits, their sunsets and dazzling night twinkles will absolutely blow your mind!
Reasons to visit: 360 degree views of Kuala Lumpur; magical sunsets, specialty cocktails (favourites – Dine in the Air & Star Kiss); simple yet meals.
Heli Lounge Bar
34th Floor Menara KH
Jalan Sultan Ismail
Kuala Lumpur
Malaysia
+6 03 2110 5034
Thurz – Thursday – free drinks for the ladies
DJ – spins house and funky beats Wednesdays- Saturdays
Live Music on the Helipad Saturday evenings!