Words: Han Sen Hau
Photos: Monica Tindall
Afternoon tea parties might not share the Mad Hatter's penchant for whimsy but they've definitely inherited Disney's adaptation's riot of colours, be it through coquettish pastries or florid accoutrements. Though THIRTY8 evinces a flourish of colours in its vibrant assortment of saccharine treats, much of the restaurant is not dominated by a prismatic flamboyance espoused by these sugary offerings, opting instead for a more refined and streamlined appearance.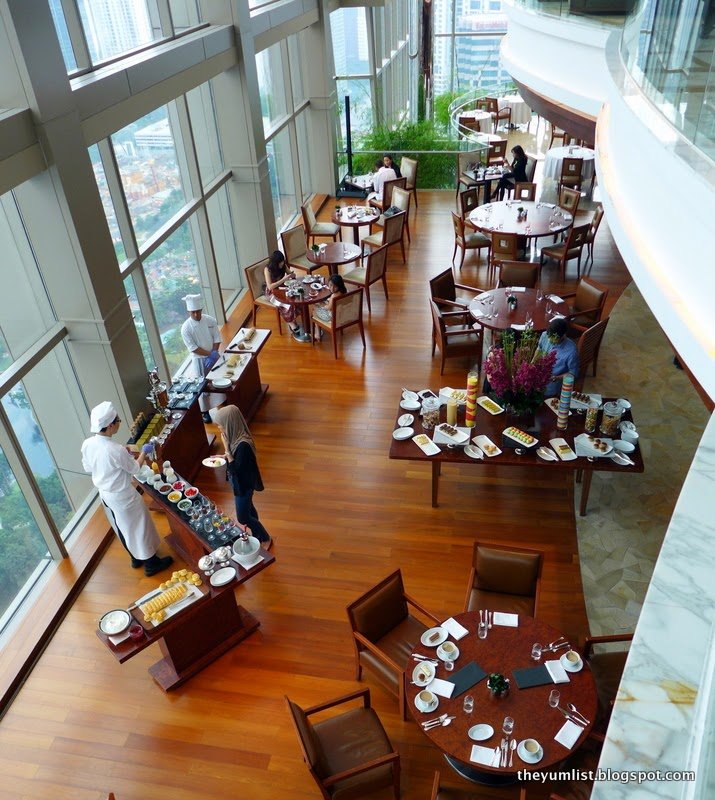 THIRTY8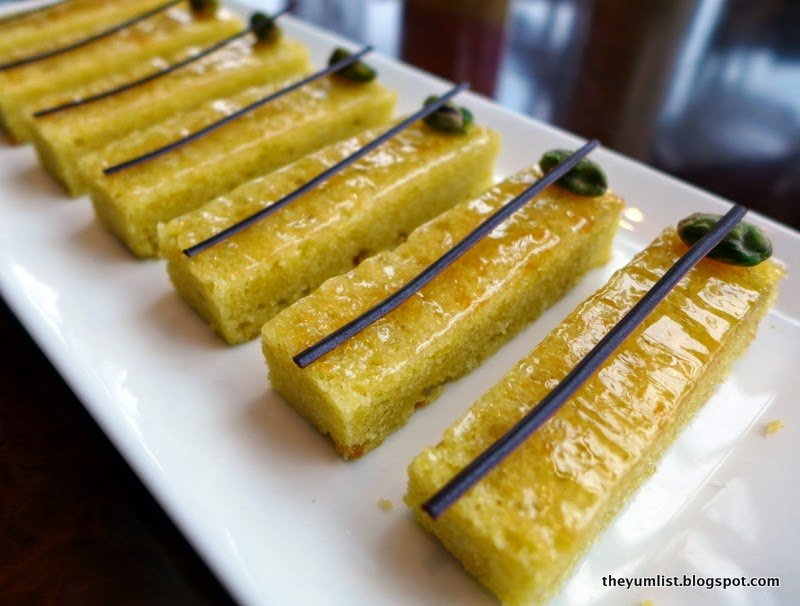 Lemon Slice
The walk from the hotel's entrance to THIRTY8 itself feels ceremonious, passing an imposing staircase in a sea of reflective marble, zooming up to the thirty-ninth floor in an elevator that opens up to an unobstructed view of the Petronas Twin Towers, before descending glass stairs to the dining area engulfed in natural sunlight thanks to an uninterrupted sequence of two-tiered windows wrapping the restaurant. The "Grand" Hyatt, is not an overstatement, and its claim to grandiose is backed by a "because we can" design aesthetic that embraces prodigious ornamental motifs whilst retaining a clean, swanky simplicity, evident in the incorporation of unembellished colossal columns and capacious spaces.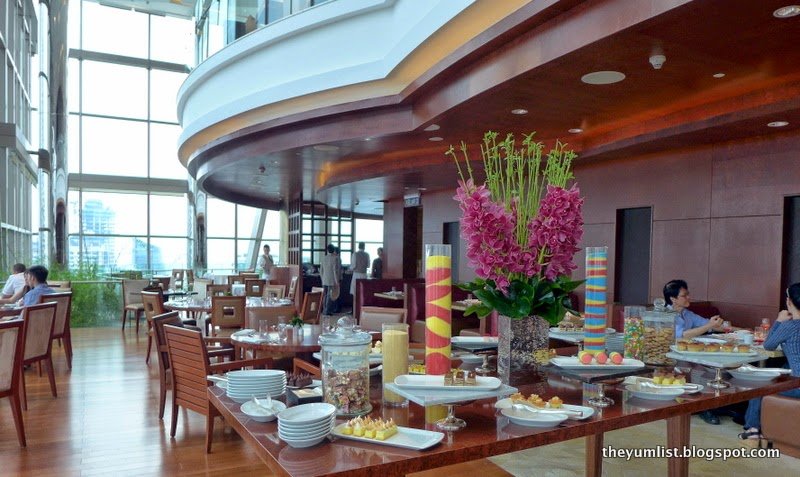 Get High on Sugar, THIRTY8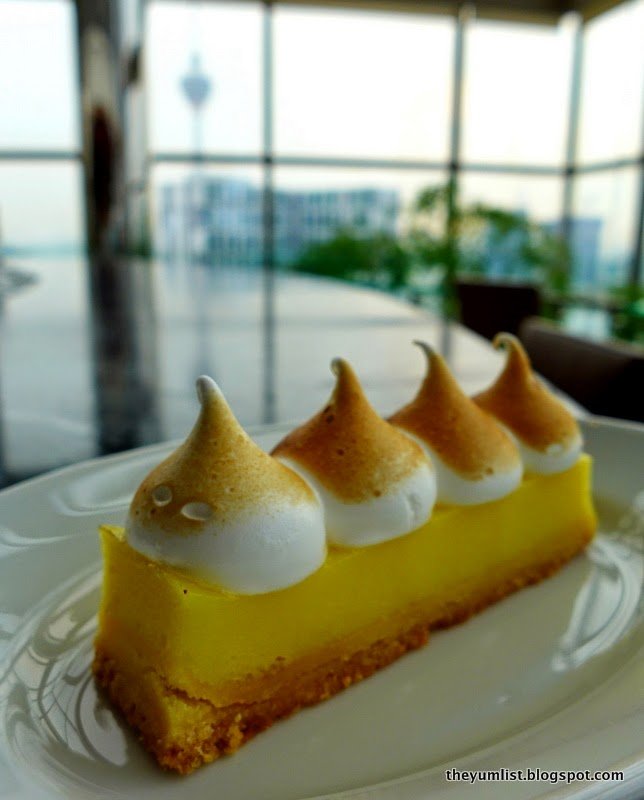 Lemon Meringue – with KL Tower in the background
I'm here today to experience THIRTY8's High On Sugar afternoon tea promotion (RM88++ per person) and as I settle at my seat, I become cognizant of the sense of infinite space generated by the large windows. There are no Imperial-era silk draperies filtering warm sunlight, no Savonnerie carpets blanketing the floor, no Regency crystal chandeliers gleaming from the ceiling and thank goodness for the lack of such sumptuous garnishments, for they are all compensated by the simple use of windows which, I imagine, allows patrons to luxuriate in the incandescence of a city at dusk as they clink glasses of champagne with their loved ones. The restaurant ostensibly doubles as an observation deck, and I highly recommend the place simply for the sweeping views it affords its patrons.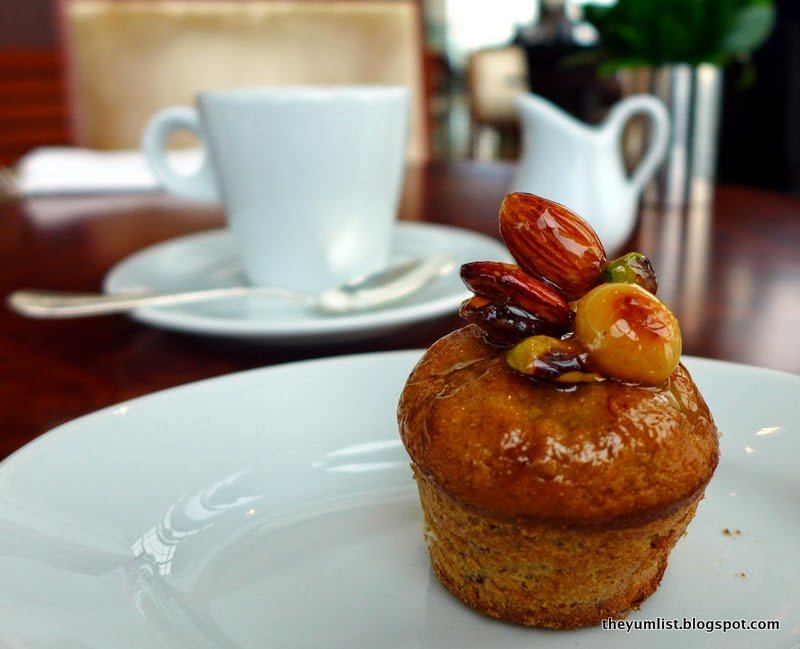 Banana Nut Muffin
The variety of desserts displayed salaciously on sideboards is impressive, and I begin by indulging myself with a thick and luscious slice of the Flourless Chocolate Cake, which is an intensely satisfying experience. The Lemon Meringue is a little too sweet for my liking, though the texture is heavenly and evokes memories of the numerous pies I've had over Thanksgiving while a student in the US. Anything powerful enough to conjure such mouth-watering imagery from my past gets a thumbs-up from me.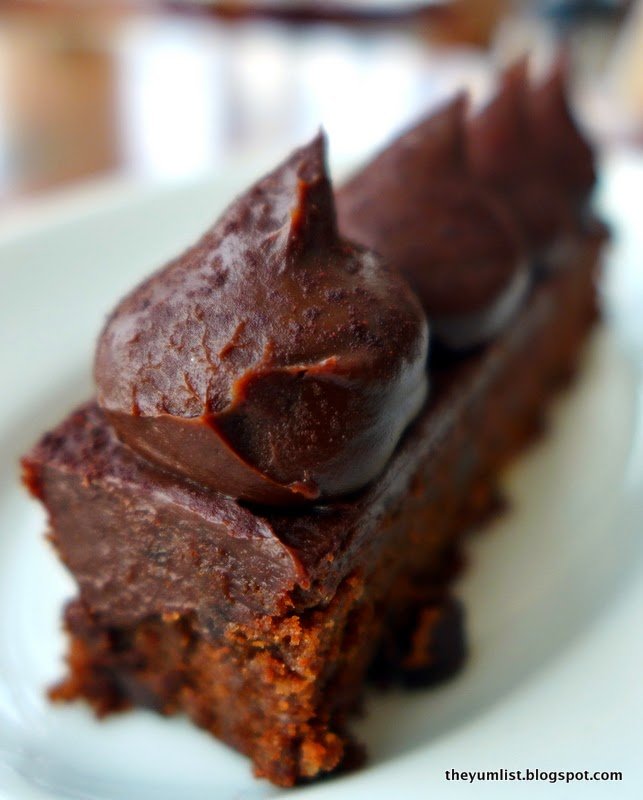 Flourless Chocolate Cake
The macarons are a visual delight, and the strawberry jam that comes with the scones tickles the tongue with a salubrious zest. The Opera slice also deserves special mention for its well-balanced flavour (I'm getting notes of hazelnut at each bite) and meticulous presentation. The intricate layers make it seem heavy, but the slice is marvellously airy and pampers the palate with a taste that never cloys. The Cheesecake trumps the rest of the delightful morsels with a texture that betrays its consistency: it's incredibly dense, and yet it evanesces precipitately, teasing and tempting the hedonist in me to savour another voluptuous slice…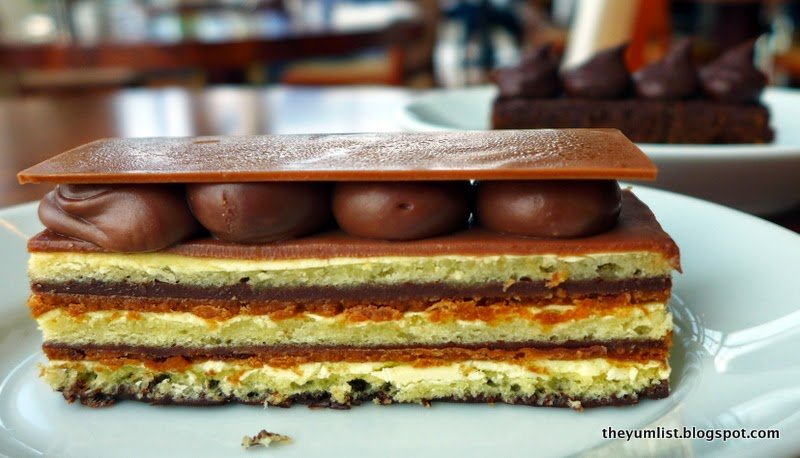 Opera Cake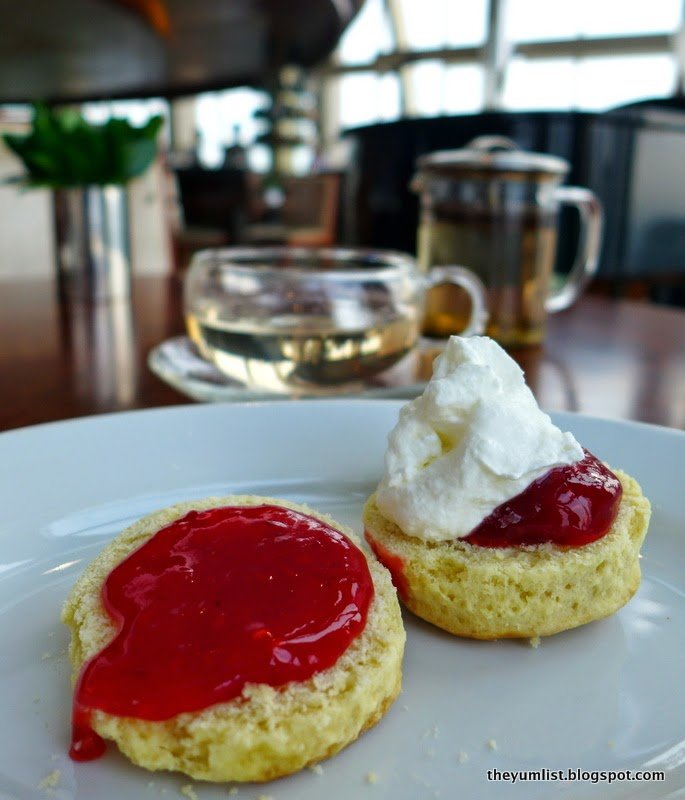 Scones with Jam and Cream
But I need to slow down a little… I'm simply a teacake away from ejecting off my seat. Although the flavoured coffees seem inviting, I dread at what the additional buzz would do to me so I opt for the caffeine-free JING Hibiscus tea instead. The herbal infusion and the faint fragrance of hibiscus is exactly what I need, having gorged on so much cream and sugar. Incidentally, I enjoy the tea as it is, allowing its lightweight bouquet to tranquilise me, a soothing interlude before the final treacly treat.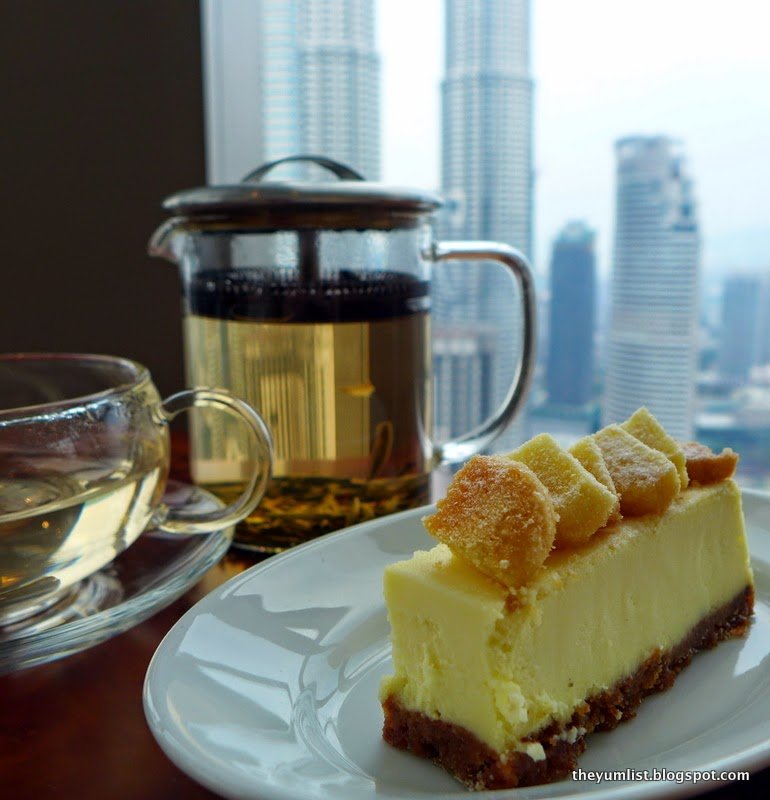 Cheesecake and Jing Tea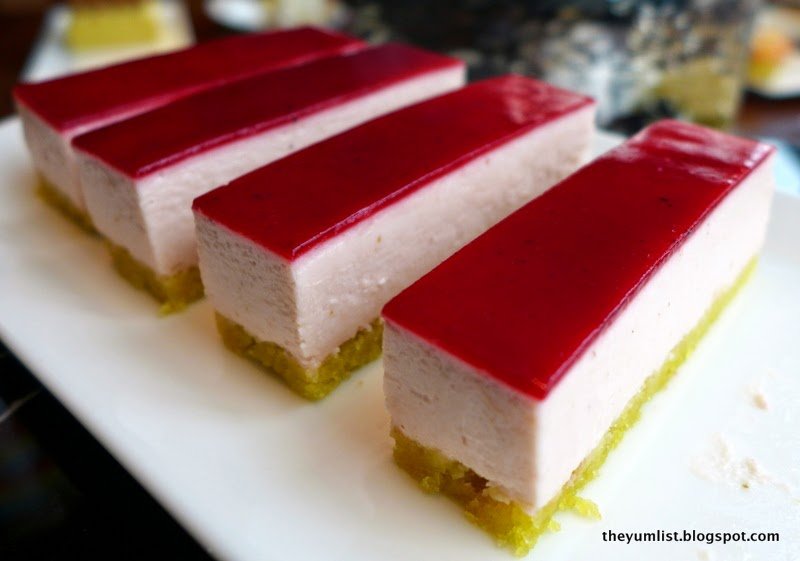 Endless Array of Desserts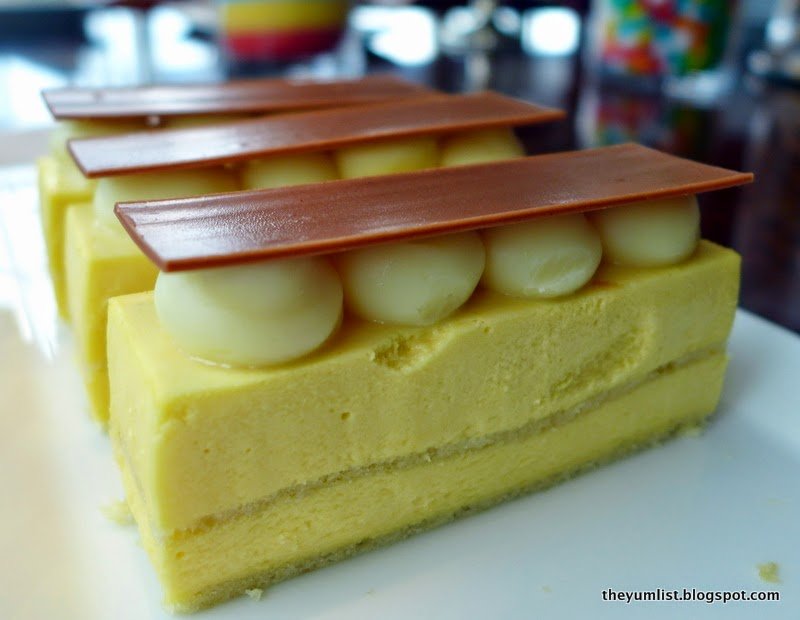 And there's more…
My last confection of the day ends with a fruity concoction, Strawberry Soup doused in liquid nitrogen. The dessert comes in four other options: Melted Chocolate Cake topped with Gold Leaf, Raspberry Lemonade with Mint Leaf, Mango Compote with Chocolate Cigar, and Iced Coffee with Chantilly Cream and Popping Candy. The dessert is served in a wine glass and simply watching my waiter decanting liquid nitrogen to enshroud the syrupy mixture with a wispy vapour is entertainment enough. I feel like an easily impressed child who's just been given a toy kaleidoscope at a circus: everything's so swirly and colourful.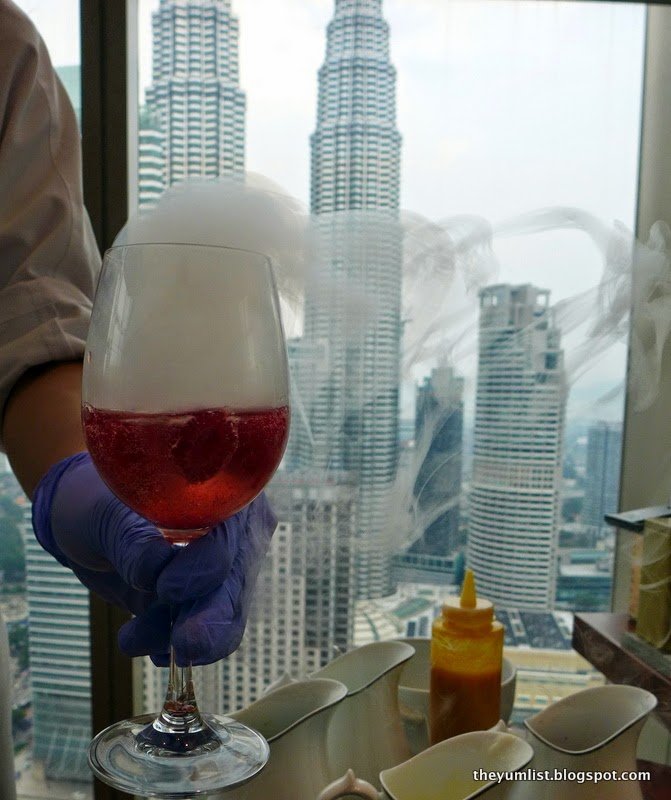 Liquid Nitrogen Strawberry Soup
A visit to the Grand Hyatt Kuala Lumpur's signature restaurant, THIRTY8, is an opportunity not to be missed with its panoramic vistas and scrumptious delicacies. As I exit this vitrified chamber, I find myself incredibly chirpy, uncertain if the cause of my sudden exuberance is attributed to the wonderful experience I've had, or the excess of sugar flowing in my veins. Notwithstanding, come up to the thirty-eighth floor of the Grand Hyatt sometime soon, and feast like the gods of antiquity in an empyrean tower nestled in the heart of KLCC.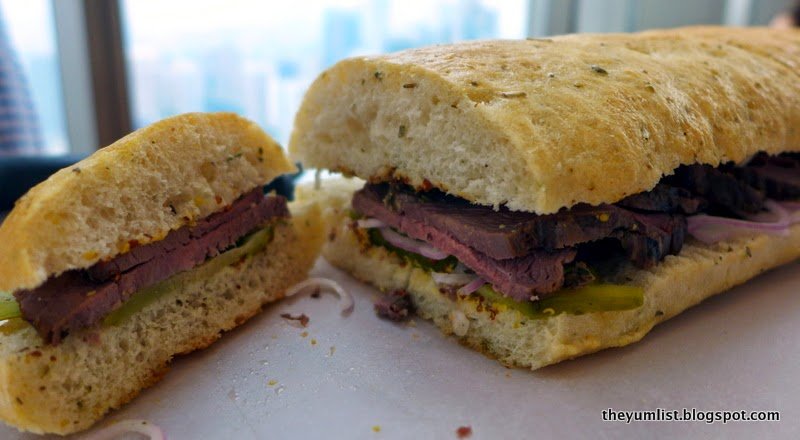 Roast Beef Sandwich – a little something savoury to break up the sweets
THIRTY8's High On Sugar afternoon tea promotion is priced at RM88++ per person.
Reasons to visit: Spectacular views of the city that's unrivalled by many; brilliant execution of space and a triumph in interior design; never out of options with the choice of desserts.
THIRTY8
Grand Hyatt Kuala Lumpur
12 Jalan Pinang
50450 Kuala Lumpur
+603 2182 1234