The Man With Six Signatures
Bold New Reinventions at Makan Kitchen,
DoubleTree by Hilton
Images courtesy of Makan Kitchen
Sitting with the Executive Chef in one of my favourite, relaxed buffet spaces in town, it is clearly evident the mans' passion for food. Whether discussing his own bold creations, or lesser-known but quirky street-food places in Kuala Lumpur, the Chef is a great conversationalist, and really knows his stuff.
It was great to be invited back to Makan Kitchen to try their latest creations, and of course, re-experience their delightful buffet offerings. Set high in DoubleTree by Hilton, overlooking busy Jalan Ampang and Jalan Tun Razak, it's a lovely eclectic spot to enjoy dinner with friends, or perhaps a productive business meeting with great food. For me, it's the new friends and the conversation, which comes in only second to the splendid food on offer.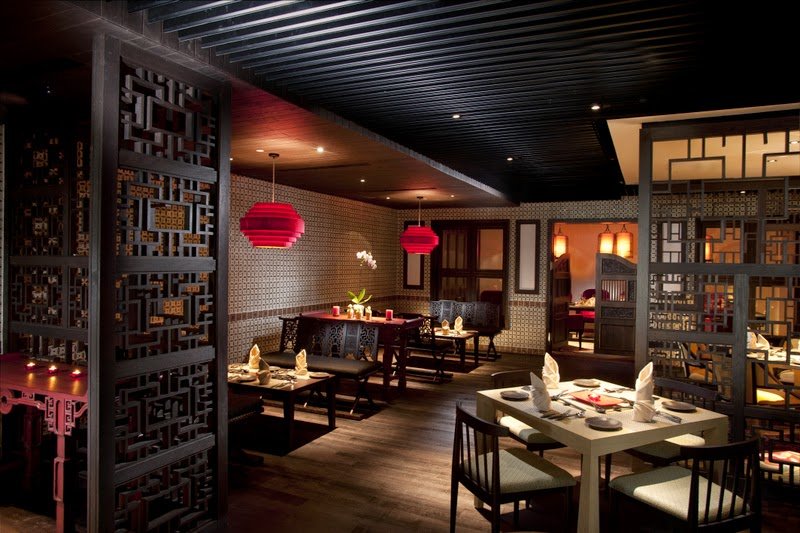 Makan Kitchen's Awesome Ambience
Makan Kitchen's Chef has created six bold new reinventions, celebrating the traditions of all cultures Malaysian. Familiarity with a twist, it wasn't hard to recognize most of the new items, but a couple needed explaining. You will see them in hawker centres, in neighbourhood restaurants, and even at night markets, but I assure you that you will never have experienced them at this level of intricacy, flavour, and presentation.
Otak-otak is a popular dish available just about anywhere. In fact, I can't recall going to a food court or night market and not seeing it on the open grill, awaiting eager attention by hungry passers-by. But, forget the mundane fish paste that makes up the street version; at Makan Kitchen quality is the rule. Served inside bamboo rods (rather than bamboo leaves), Makan Kitchen's otak-otak uses fresh mackerel, combined with a delicious assortment of spices, and succulent Alaskan king crab meat, all steam-baked. Usually I glance over otak-otak, but the wafting aromas (and my intense curiousity) got the better of me. This was one delicious dish.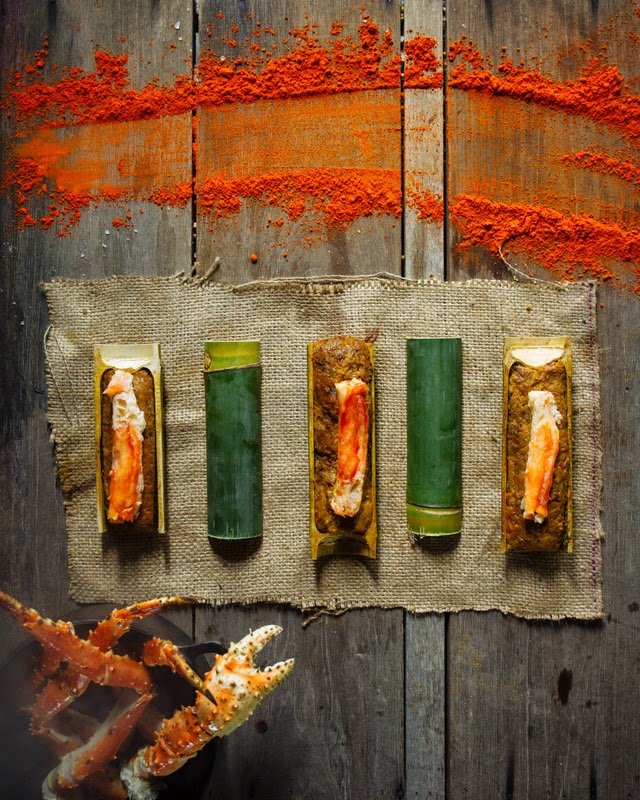 Otak-otak with Alaskan King Crab meat
Another twist was the tandoori prawns – jumbo tiger prawns cooked in the tandoori oven, after being marinated in a special mix of toasted spices, mustard oil, and homemade yoghurt. The simple flavours of tandoori, lifted by the marination, create an exciting taste combination for any palate. My dinner companion went back for seconds, and thirds, as he enjoyed the fleshy prawns.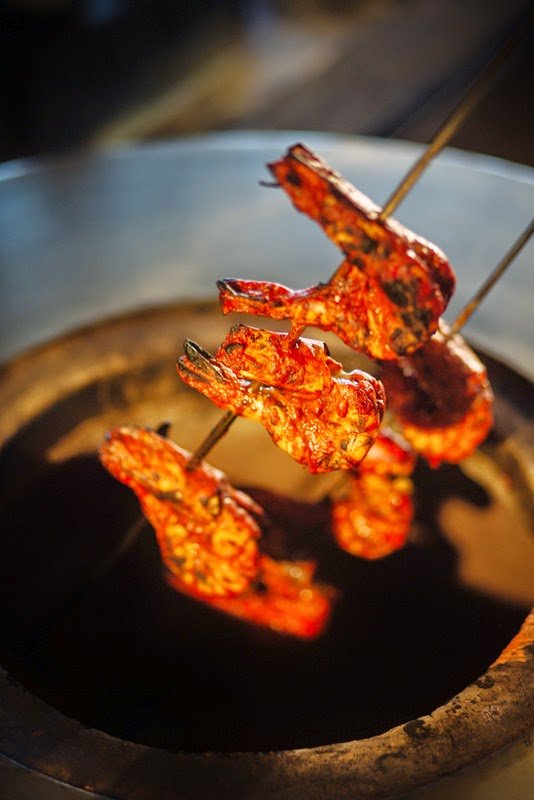 Freshly baked tandoori prawns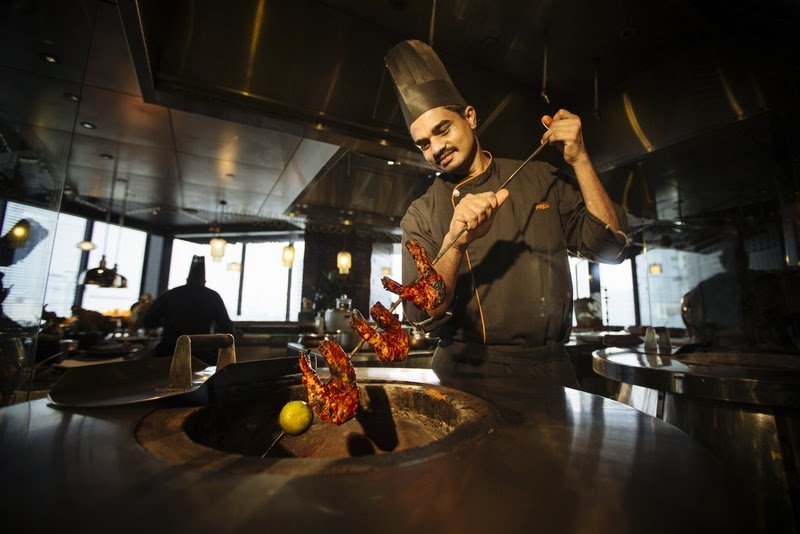 Taking the delicious prawns out of the oven
I on the other hand made a bee-line for the Long Rib Beef Rendang. Sitting at the table, with Chef asking how it tasted, words failed me. Now, a few days later, the words are in my head. Simply sumptuous! Extremely tender, clearly slow cooked for maximum attention, beef-that-slides-off-the-bone; need I say more? A delightful light rending flavour and texture infused into the beef, and served with an almost western-fusion plating. Yes, I only needed to eat this dish tonight to be a very happy man.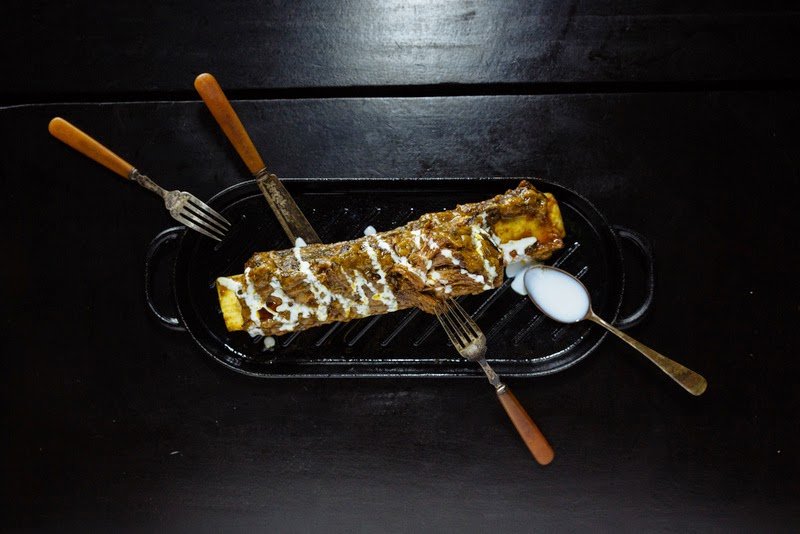 Long Rib Beef Rendang – sublime!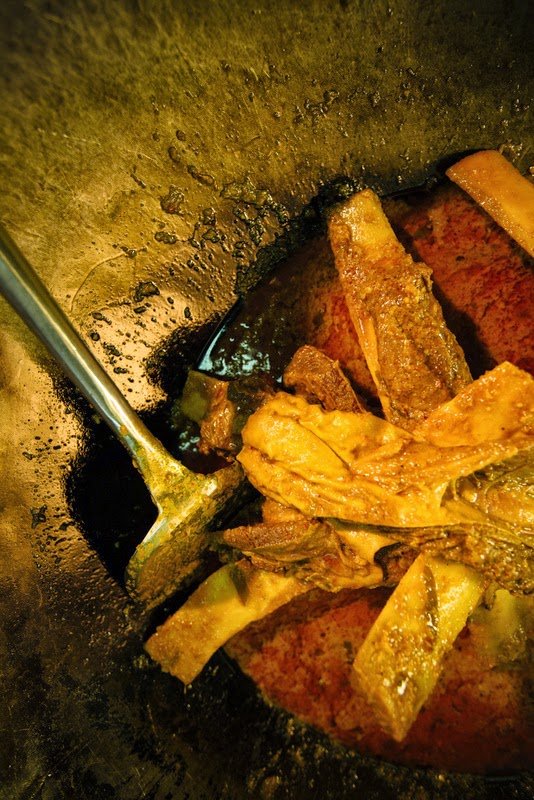 In preparation – Long Rib Beef Rendang
Now, a quick teaser for everyone; are you familiar with "Pansoh Manok"? Nor was I, but thanks to my host for the speedy introduction. A popular Sarawakian dish, not often found on the mainland, except in the homes of friends, Pansoh Manok is a delightful chicken dish, cooked, and served in, giant bamboo. Utterly delicious, and a treat for the taste buds. Tender chicken pieces, spices, and a slurpy gravy make this dish instantly appealing. But delve further, and enjoy the theatrics of how it is served too.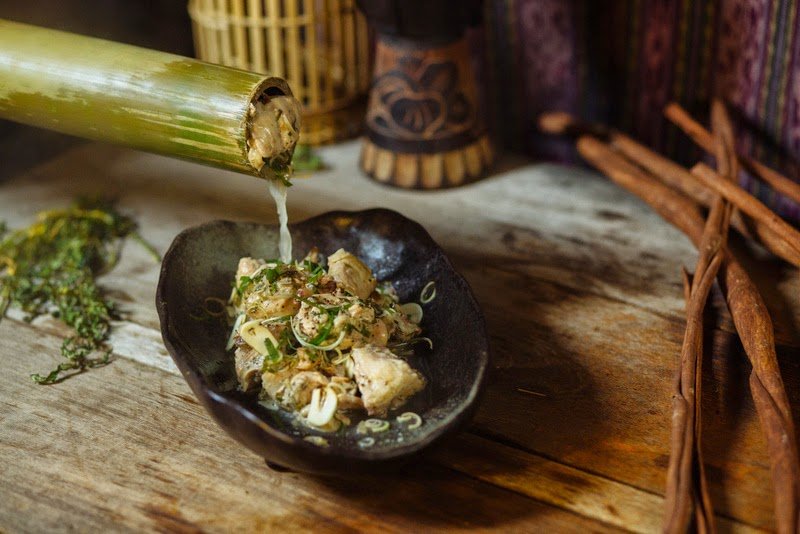 Pansoh Manok anyone?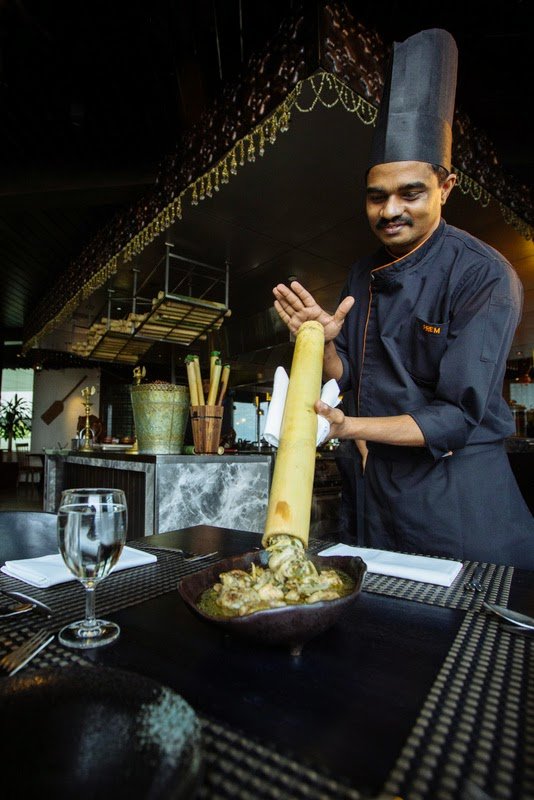 Just got to love how they serve this dish!
Next in the lineup are Peking Duck Rolls. The traditional Chinese dish of serving roasted duck skin, spring onion, cucumber juliennes, and a drizzling of sweet sauce, is made even more perfect with the tableside slicing and service, direct from the "duck trolley". Bringing back memoirs of living in Nanjing where this was the norm, it was a great sensation to get the Peking Duck carved in front of my eyes, and then to devour every succulent bite.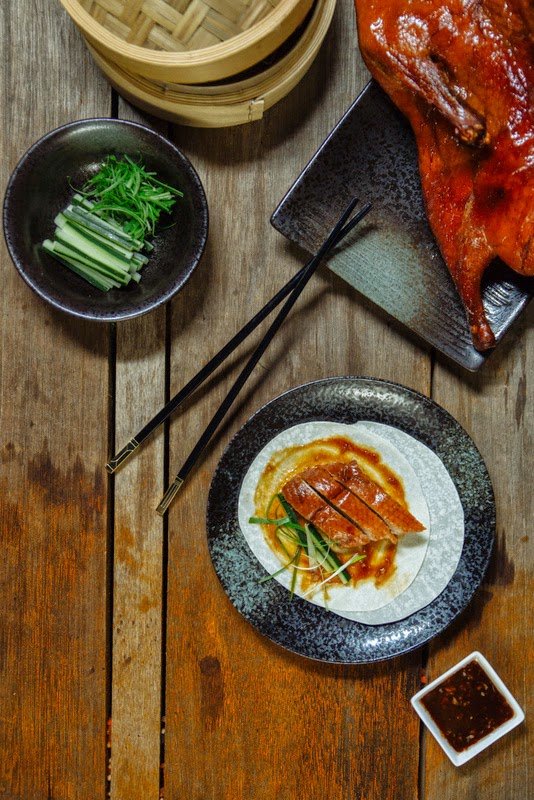 Peking Duck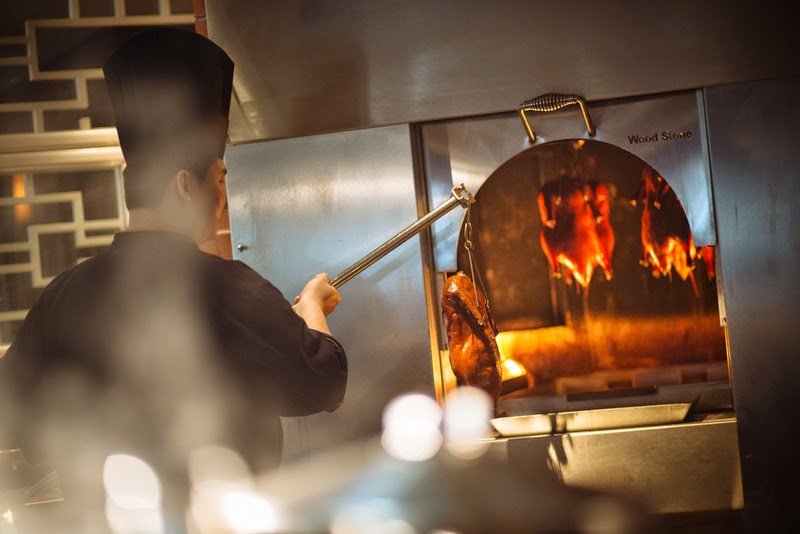 Fresh from the oven – yuuuuuuum!
The final signature creation was the Braised Spicy Venison Ribs. A creation straight from the kitchen, with hidden inspiration from Chef's travels, the venison is braised until tender, slow cooked for eight hours in a selection of aromatic herbs. Not for the faint of heart, this dish packs a rich flavour punch, but for venison lovers, it's a great twist on the flavour.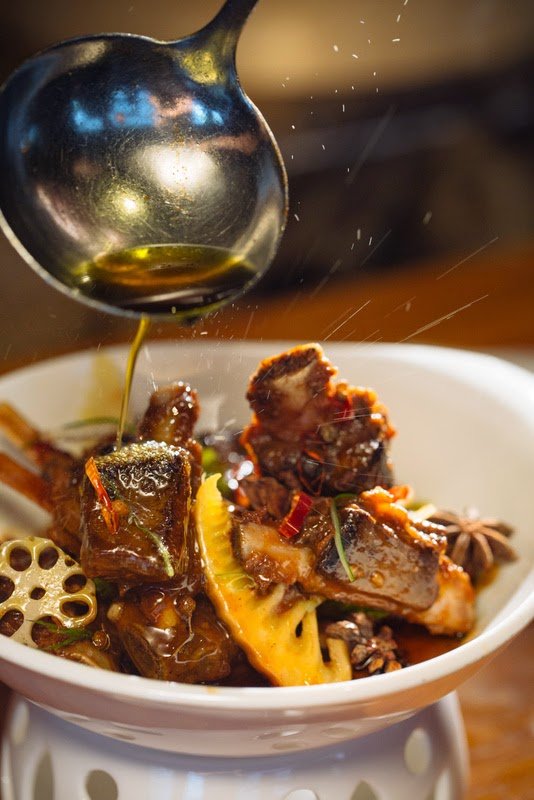 Braised Spicy Venison Ribs
Reasons to visit:
These six signature reinventions are well worth a visit. And remember these six are in addition to their tremendous buffet spread covering Chinese, Indian, and Malay cuisine – with even a touch of western in there too. Personally, great flavours, great environment, and a place I love coming back to.
The 'Taste of Malaysia' experience is priced at RM108++ per person for dinner, daily. Lunch at Makan Kitchen is offered Monday to Friday at RM68++ per person. Malaysian High Tea, with over 60 favourites is available Saturday lunch for RM62++ per person or Sunday for RM68++ per person.


Makan Kitchen
Doubletree by Hilton Kuala Lumpur
The Intermark
348 Jalan Tun Razak
50400 Kuala Lumpur
Malaysia
+6 03 2172 7272
KL.DoubleTreebyHilton.com