Words by Araceli Barrera Arismendi
Photos by The Yum List
As a Southerner from the USA, specifically from the Lone Star state of Texas, my inner conversation shouted from the top of its lungs, "Yee-Haw!" a yell that means pure wholehearted happiness! When The Yum List team invited me to review Killer Gourmet Burger, better known as KGB, in Bangsar, I did not even blink an eye when replying YES, I'll DO IT!
Born and raised in Texas where BBQ Brisket, Chicken Fried Steak and Tacos are a few of the special gastronomic bites, the hamburger is also considered an iconic Texas creation. Texans seriously pride themselves on having invented this American sandwich and so, growing up hamburger night was a weekly family occurrence. So with a deep appreciation for the savory and juicy sandwich, my digestion, cholesterol, and fat intake stepped aside, and my heart and nostalgic brain cells took the lead! I anxiously waited for the sinful Sunday lunch experience to occur so that I could take a walk down memory lane through every bite of the killer burger.
The afternoon finally arrived. We stepped into the small and simple shop with mirrors walls and a few tables and chairs. As we entered, the chalkboard menu with various beef, chicken and vegetable burgers caught our attention as did the kitchen and hostesses in their red short sleeve shirts working enthusiastically in the kitchen. I felt as if we were about to dine in an American, "fast food" burger joint. Steven and Jo (KGB owners and former accountants) dreamt of owning their own restaurant specializing in one type of food – the good ol' American burger and, through much experimentation and research, have successfully made this aspiration a reality.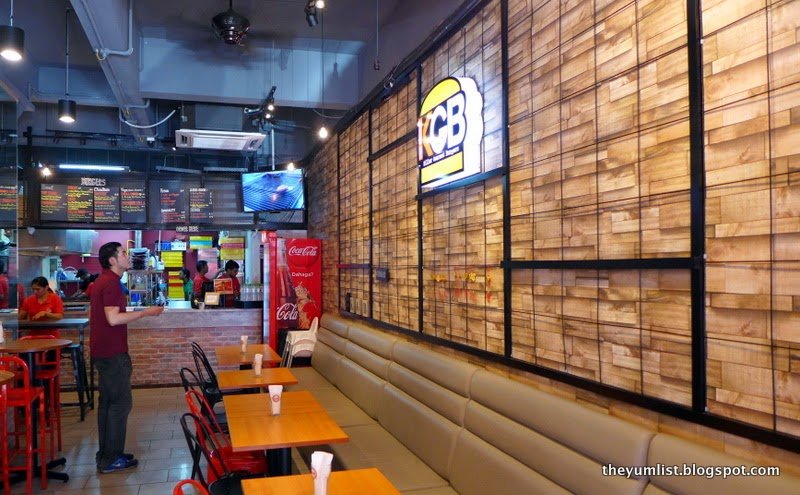 KGB Killer Gourmet Burgers
The young couple have perfected their burger creations from the detail of the KGB tattooed buns, to the fresh vegetables and unique ingredients, to the patties made from Australian 100% grass-fed beef. Less fat, less cholesterol, less calories, and may I mention, better for the environment, KGB earns major points for providing their customers with a cleaner and better patty compared to the chemically injected meat that many hamburgers are made with.
We sat down at the front of the shop near the open-air al fresco seating area feeling the sun and warmth on our backs. Jo brought us fresh lemonade and passion fruit juice served in a clear package using a straw to puncture and begin drinking. Both flavors quenched our thirsts and our first burger landed on the table, their number one seller, the KGB Spiked.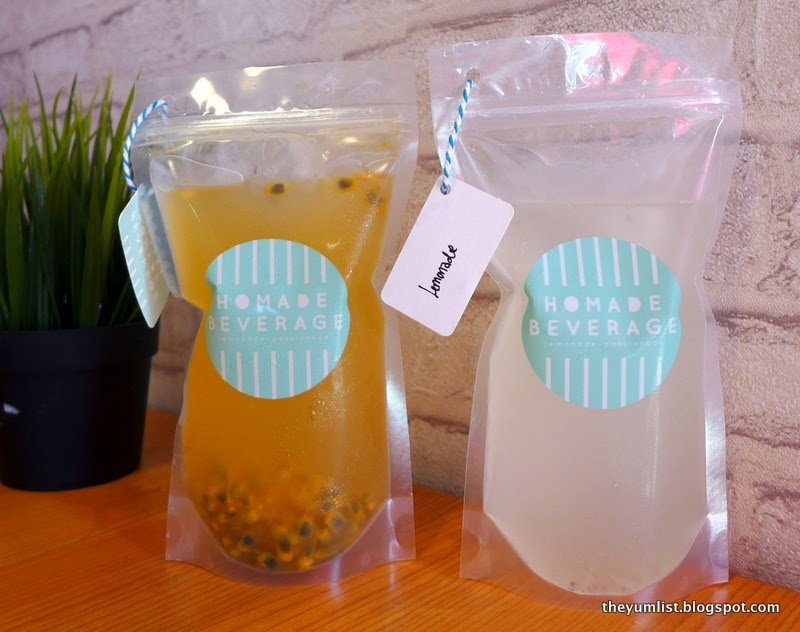 Home Made Passionade and Lemonade
Made with crust seared grass-fed beef, sharp cheddar, crispy beef bacon and KGB spicy sauce, my mouth and taste buds entered a constellation of flavors. Juices spilled continuously down the sides of my mouth and the entire team moaned a "Mmmm" after the first glorious bite. The secret sauce mixed with the bacon and cheese tasted so flavorful and smoky – all inside a buttery, toasted and crispy bread.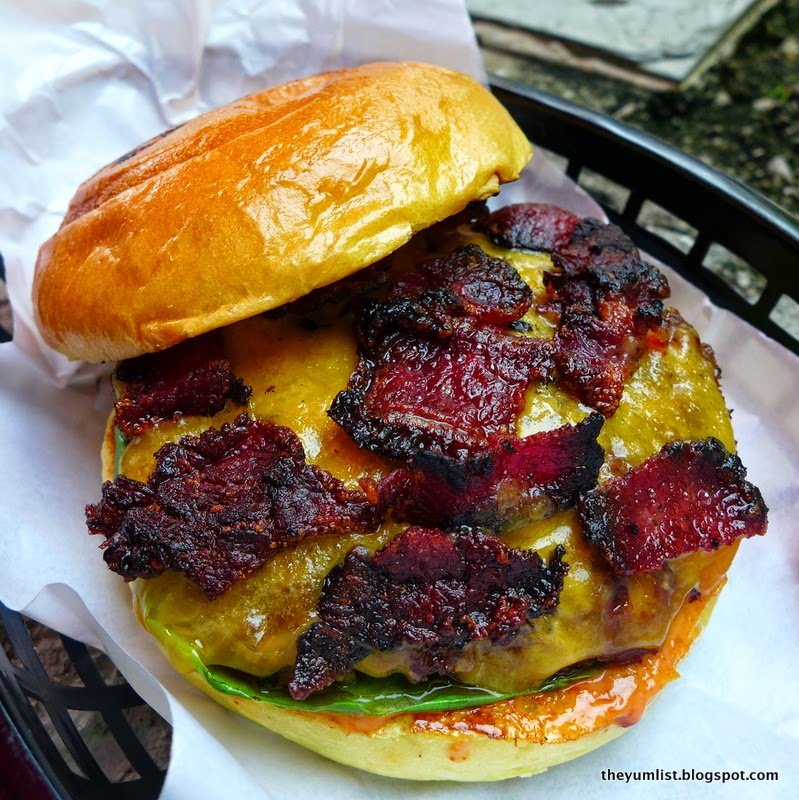 KGB Spiked Diner Burger
Next, arrived the thicker, juicier, smoky flame-grilled flavors, the Bash and the Truffe'd Swiss Mushroom. The Bash exploded with texture and savors. Grilled grass-fed beef, beef bacon relish, Provolone cheese, caramelized onions and maple cornflakes describes the scrumptious goodness. In order to take charge of the Bash, unless you have mouth the size of a bulldog, you have to push the layers down before attempting to stuff your face. We loved the flakes and the crunchiness the Bash supplies to the burger lover.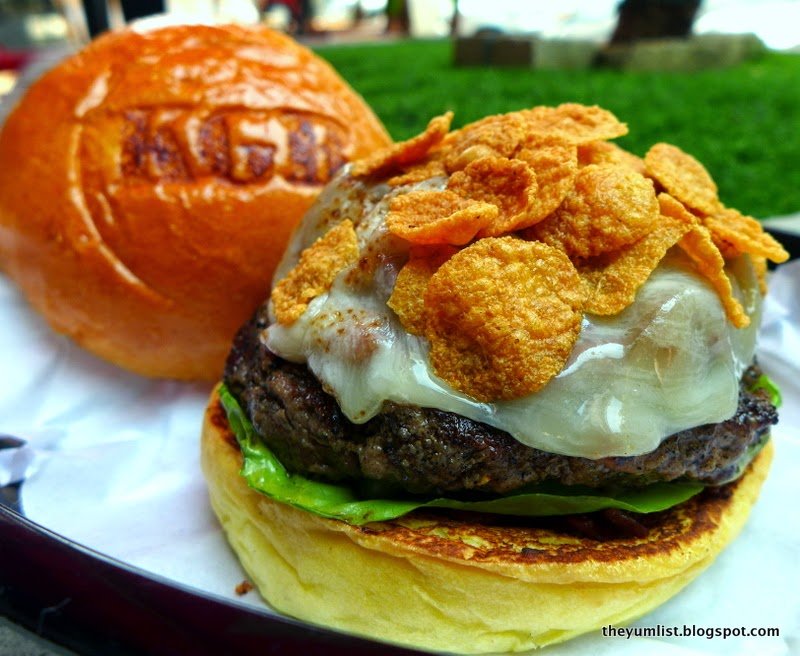 Bash Gourmet Burger (RM18.90)
For the mushroom aficionado, the Truffe'd Swiss Mushroom takes you to fungus paradise. Consisting of grilled grass-fed beef, Swiss brown mushrooms, Swiss cheese, truffle infused and herbed ranch dressing, the Swiss mushroom sandwich was mouthwatering and tasteful. The juicy, medium-rare meat melded perfectly with the mushrooms and melted cheese, all the while jammed together by a superbly yeasty bun.
Truffled Swiss Mushroom Gourmet Burger (RM20.90)
Exceptionally satisfied with the beef patties, we were ready to experiment with the chicken sandwiches. First up was the Bobcat. Squeezed in between the buns lay a piece of grilled chicken, roasted green chili, provolone cheese and jalapeños. A spicy tangy burst filled our mouths and the bite was just as juicy as the beef patty.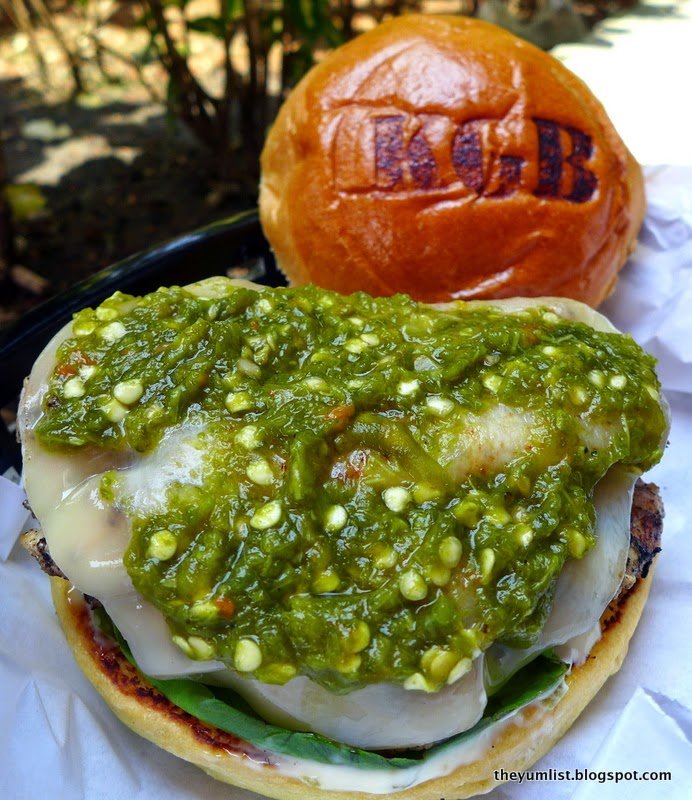 Bobcat (Chicken) Burger (RM15.90)
Next came the Hot Mess. This is the perfect name for a sandwich with a mix of different fixings. Parmesan crusted chicken, hot wing skin, egg salad and buffalo wing aioli combine together creating a very distinct savor. After so many delicious burgers, this one was our least favorite. It has been however loved by local diners, turning it into one of the most popular chicken choices on KGB's menu.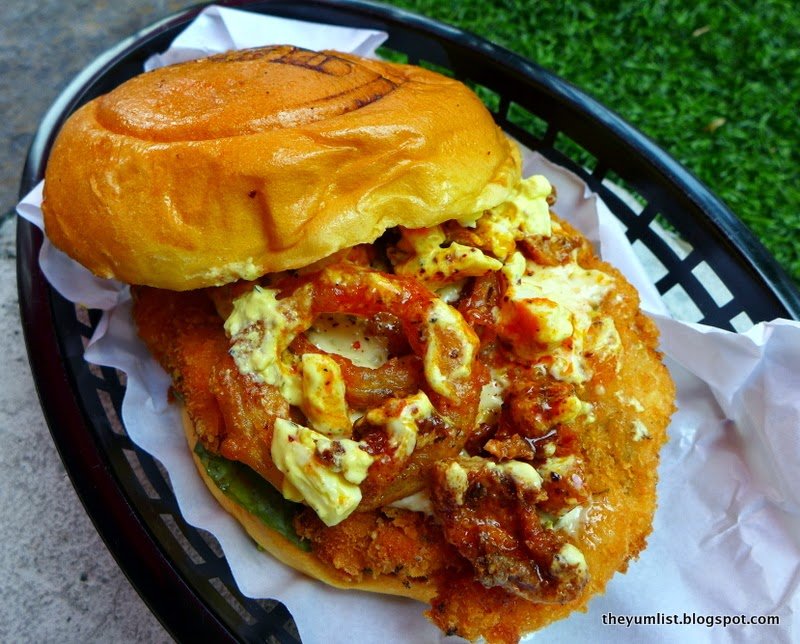 Hot Mess Burger (RM15.90)
With only two vegetarian options we sampled the most delightful, the Bella Bomb. AND, it was the bomb! Twice the serving of portabello mushrooms, triple cheese and shack sauce, this sandwich will not disappoint. With so much cheese and mushroom in this burger, our faces were be buried in it with out a single feeling of regret.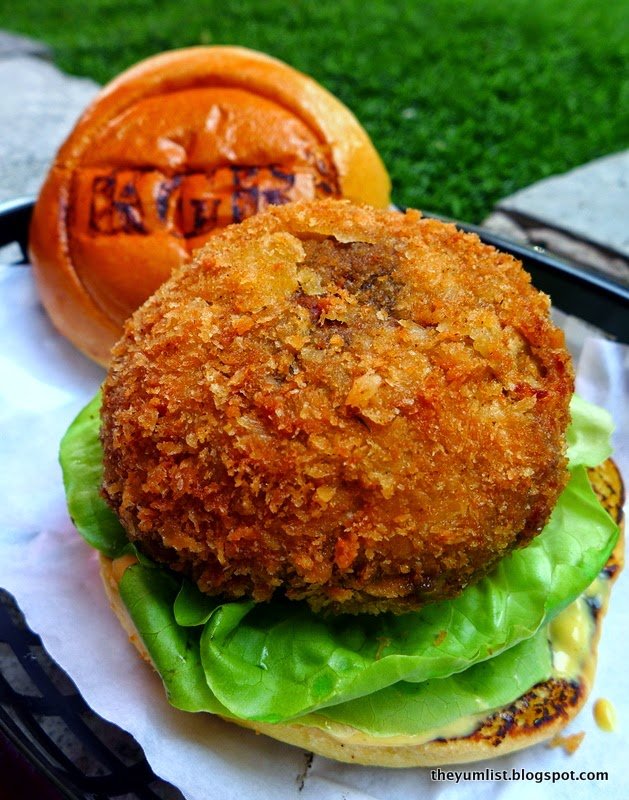 Bella Bomb Vegetarian Burger (RM15.90)
I'm not sure about you, but I can't have a burger without onion rings or French fries. KGB offers sides such as these and a few specialty toppings. The Yum List team sampled the Kimchi Fries Fully Loaded and the Texas Jalapeno Cheese Fries. The team enjoyed both sets, each made with fresh cut thin slivers and loaded with zesty unique ingredients. Of course my favorite was the Texas Jalapeño Cheese Fries – a true definition of Texan cuisine: spicy, cheesy and delicious.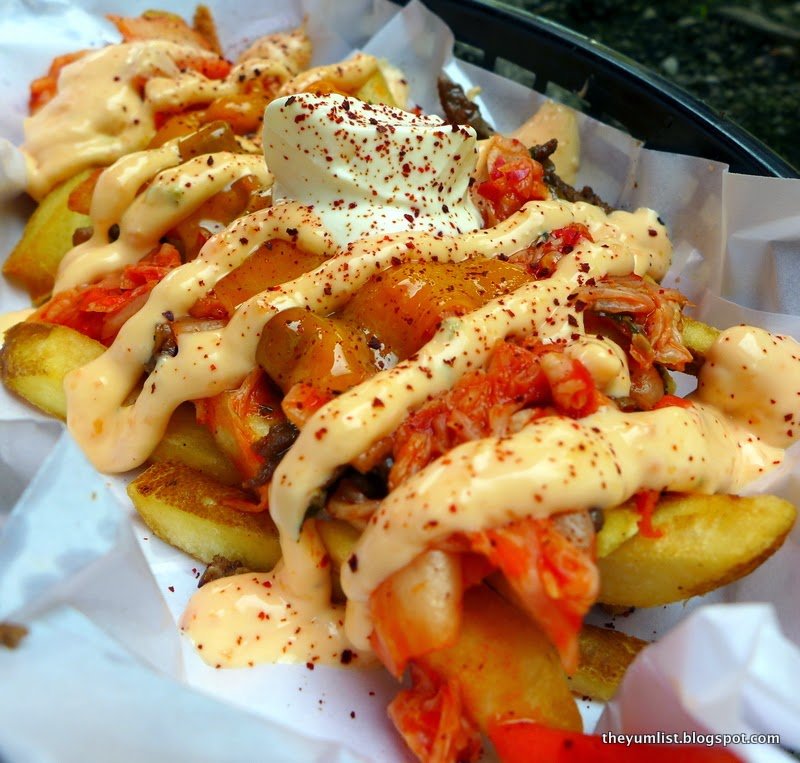 Kimchi Fries Fully Loaded (RM16.90)
KGB wins The Yum List vote for a delectable and succulent burger. All items appear uptown, but each burger has a homemade flair to it. Juices, napkins and a feel-good- American bite – I have one last thing to say, "YEE-HAW!"
Reasons to visit: grass-fed beef and some vegetarian options; specialty burgers – we particularly enjoyed the Bash, Bobcat, KGB Spiked and Vegetarian Bella Bomb.
KGB Killer Gourmet Burgers
23 Jalan Telawi 2
Bangsar Baru
Kuala Lumpur
Malasyia
+6 03 220 11 220
www.facebook.com/kgbbangsar
View KGB Killer Gourmet Burgers in a larger map