"While at Raffles, why not visit Singapore?"
Mention Singapore and the name Raffles won't be far behind it. Or it is the other way around? An icon on the island, Raffles has a reputation as being one of the world's finest hotels.
Over 125 years of experience has maintained Raffles at the top of the stay list in the bustling business of Singapore. Honoured as a National Monument by the Singaporean government in 1987, the property soon after closed for a complete restoration and redevelopment, reopening in 1991. It has since continued to attract luxury globetrotters from around the world, who would consider a visit to Singapore incomplete without a sojourn at Raffles. As such, The Yum List feels it imperative that we pay homage to this tradition and have booked a weekend to experience Raffles' hospitality for ourselves.
Limousine Transfer
The most suitable means of arrival from the airport is via a limousine transfer arranged by the hotel. A host with our name board graciously awaits our arrival and escorts us to the curb. Our Mercedes-Benz E-Class 200 magically pulls up as we reach the exit, supporting a seamless transfer as we walk directly into its open door. Leather seats, chilled water, a Singlish phrasebook, Wi-Fi and, an iPad displaying videos of things to see in Singapore, ease us into the mind frame of luxury, leaving thoughts of the crowded airport and busy workweek far behind.
Twenty minutes later as we glide into the lobby of the hotel, we breathe in its majestic appeal and begin to get an inkling of why the property has been branded "an oasis of colonial style, calm and charm in the heart of modern Singapore."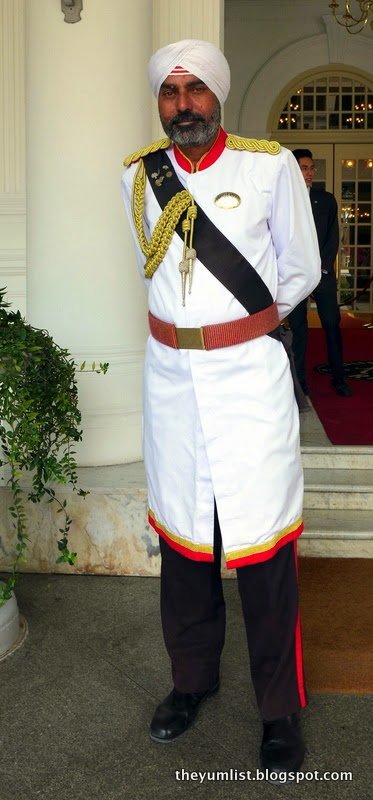 Liveried Sikh Doorman
Old World Charm
Lush green frangipanis and skinny fan palms contrast the pristine white heritage facade. A golden glow emanates from arched windows and French doors as we arrive early evening. A curved porch roof with wrought iron adornment protects the liveried Sikh doorman who smiles broadly as he ushers in guests.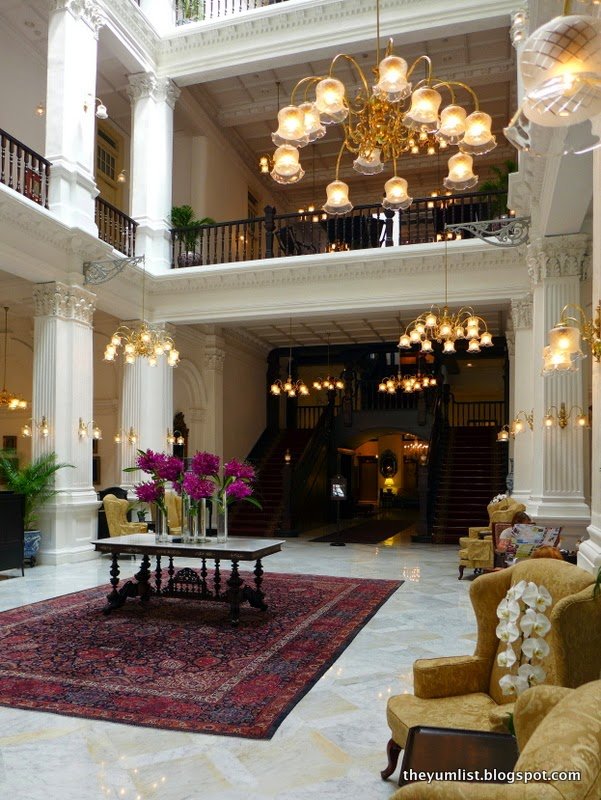 The Lobby
Our bags disappear just as swiftly as we're greeted and led inside the resplendent property. Polished white marble floors reflect a flaxen glimmer from chandeliers hung from above on the towering columns in the grand lobby. Dark wooden furniture based with hand woven oriental rugs and, wing back armchairs upholstered in a sandy gilt, contrast the pale walls, floors and ceilings.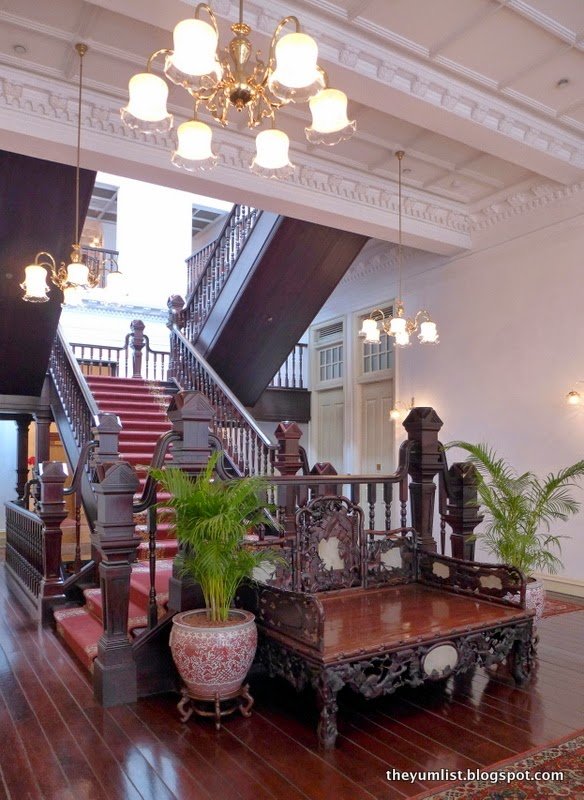 Antique Furniture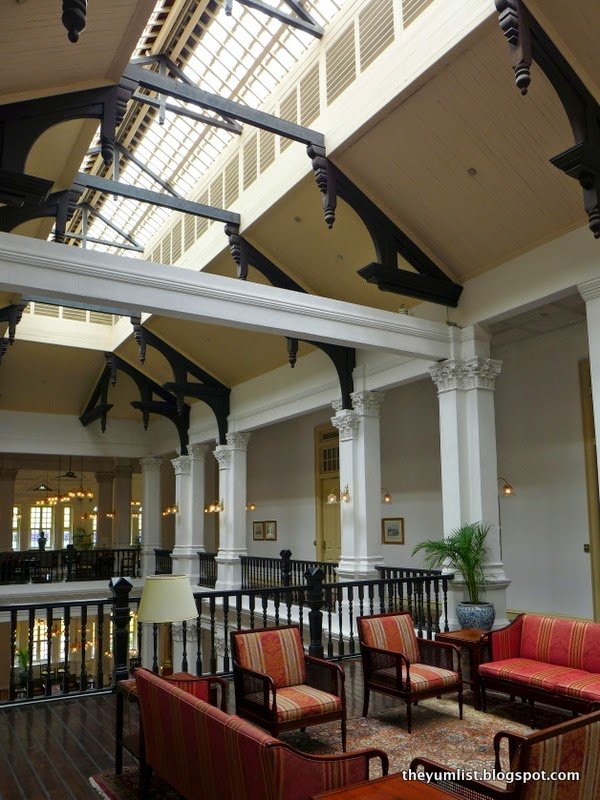 Atrium Lets in Natural Light
The scent of freshly cut flowers tickle our noses and, grand bouquets delight our eyes. A grandfather clock strikes a melodic thrum. Our host catches our curiosity in the antique and informs us that it is manually wound daily. Later we spy other period pieces of interest, including a beautifully preserved upright music box with numerous original giant music discs stored in a drop-down drawer at the front of the box.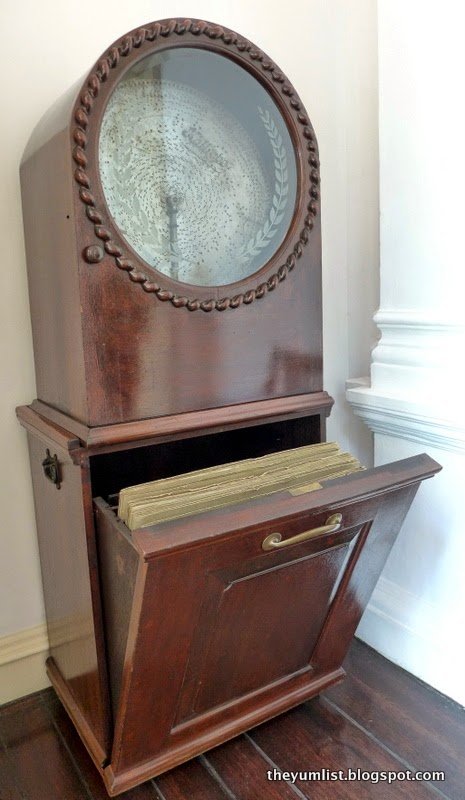 Antique Music Player
A dark wooden staircase is split in two and winds up three stories to residents' only areas. With just over 100 rooms, a stay here is much sought after and advance reservations are well recommended. A red carpet forms a path under the arch of the stairs and leads us to our Courtyard Suite.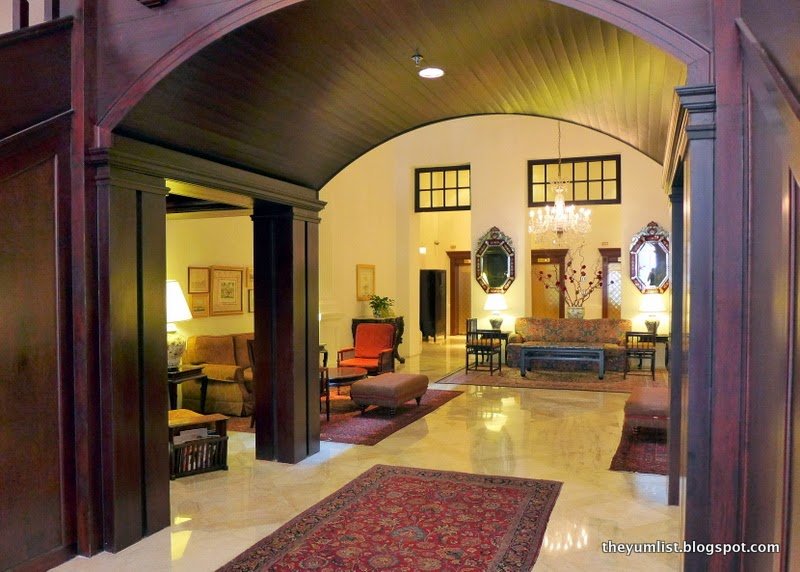 Residents Only
Courtyard Suite
A stroll down an open hallway soon sees us to our lodgings. Located on the inner grounds of the building with views of the lush gardens, these chambers treat guests to unrivalled tranquility in the bustling city.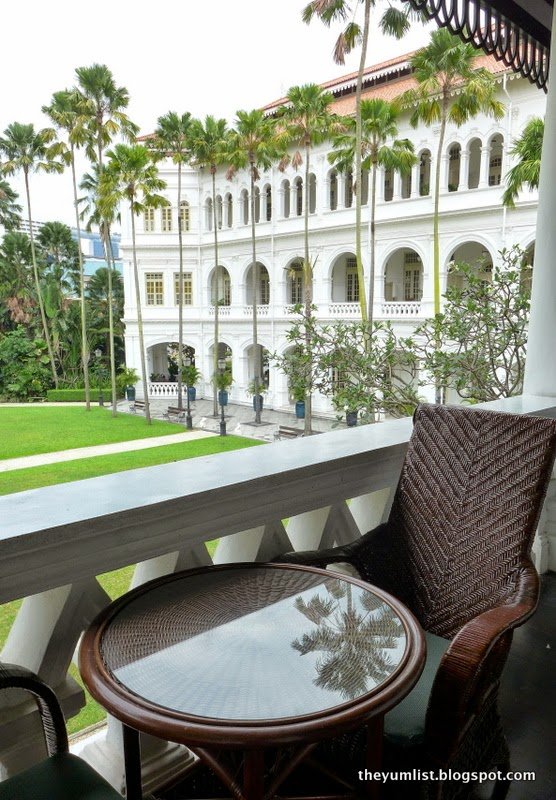 Great Spot for Coffee
Fourteen-foot ceilings give an immediate sense of luxury of space, which is further enhanced by the division of the quarters into four areas. A drawing room and dining area precede a bedroom, dressing area and en-suite bathroom.
Polished teakwood flooring is warmed by oriental carpets and furnished with tasteful period appointments. All fittings are top-notch and, the marble-tiled bathroom with twin washbasins and separate shower and bathtub is a model of premium quality. Plush terry robes and spa toiletries complete the set up.
Heritage design is complemented by modern amenities in the form of an electronic safe, individually controlled air-conditioning units, ceiling fans, high speed Internet, DVD player and mini-bar. Not long after our luggage is stored, in-room check-ing complete and we've been bid a pleasant stay, hubby is testing out the comfort of the bed, the liquor display and, the channels on the TV. Satisfied with all, I see he's decided it's time to take a rest and settles into a leisurely position – whisky in one hand and remote control in the other.
I scope out a suitable nook to occupy and find the large working desk a gracious spot to write. The rattan chairs on the shared verandah overlooking the gardens, however, offer a peaceful commune with nature and a quiet distance from hubby's television hum. I decide it a fine spot to sip a beverage and attempt to capture the beauty of Raffles into the written word.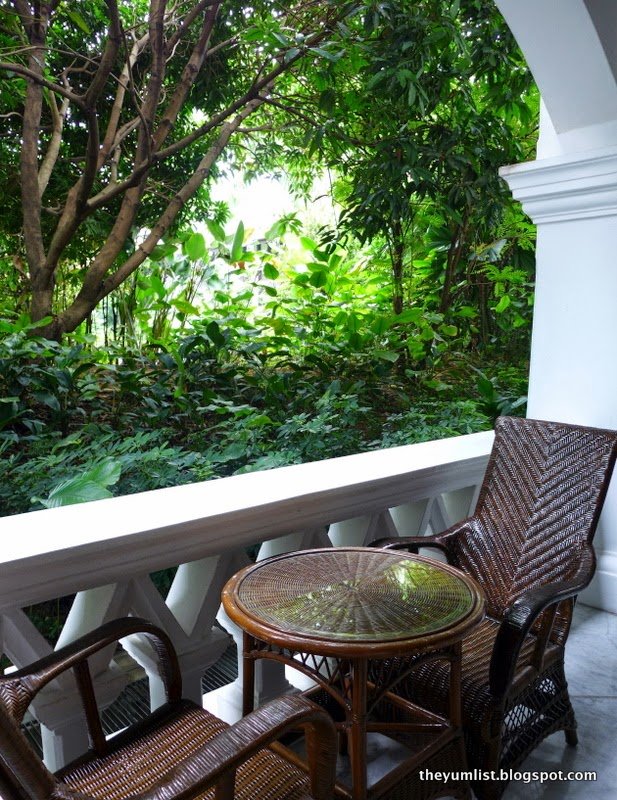 Table for Two
It's not long though before the peace is disturbed (in the most pleasant way possible), as hubby is making use of our personal butler who is on-call 24 hours. He's soon requesting DVD's and buckets of ice, shoe polishing and, in general just someone to quiz about Singapore, the weather, sports and whatever else comes to mind. Needless to say, we (hubby) find ourselves never in need of anything that our butler cannot deliver. (PS. There are no tea or coffee making amenities in the room because your butler does it for you!)
Food and Beverage
Breakfast is included in many packages and is taken in the Tiffin Room. Tables are elegantly dressed with hand embroidered napkins and placemats, a single orchid adornment and, Gainsborough England silverware. Fresh pink and white orchids hang from tall slender glasses and warm illumination glows from shell and leaf forged chandeliers, which hang from the lofty ceilings and ornate pillars.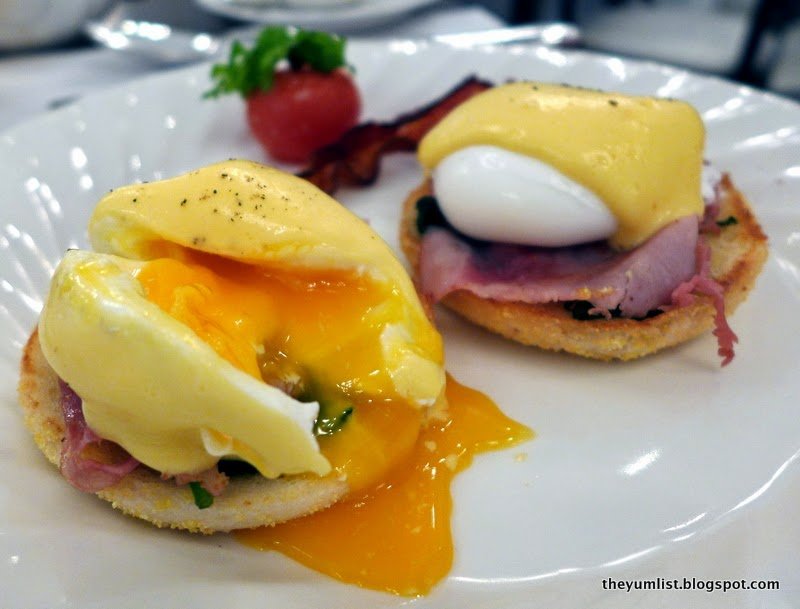 Eggs Benedict
Raffles' breakfast is one of the best we've experienced in our travels. A continental spread supports an a la carte compilation of both Western and Asian favourites. Fruit is not just your regular, all too common in Asia, melon. The rainbow array sports juicy pineapple, sweet papaya, pink and orange grapefruits, plump ripe strawberries, blueberries and raspberries. There are macadamias, pistachios, almonds and pecans. Cheeses, cold cuts and gorgeously mouth-watering pastries continue with the display of high quality and insistence on only supplying prime produce. Hubby is tickled by the inclusion of just-made smoothies and declares them, "exquisitisimo!" (very very delicious).
Hubby predictably orders the Eggs Benedict and Pancakes, both leaving him  with a content grin. I'm grateful for the healthier options and delight in having choices such as skim milk, whole grains and super fresh produce.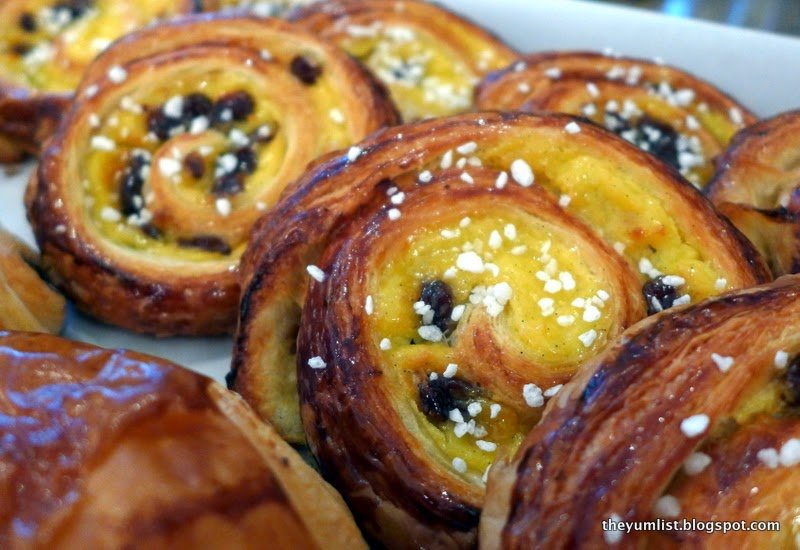 Freshly Baked Pastries
We're dazzled by the service throughout our stay and, breakfast is a fine example of Raffles' hospitality – perfect English and gracious smiles all around – nothing is ever a problem. The waiter enquires into my desired doneness of my eggs – soft, medium or well done? None of my requests cause even a slight brow furrow: decaf coffee with skim milk on the side – no problem; Eggs Paysan with spinach substituted for the bacon, mushrooms on the side and not too much oil used to cook the potato roesti base – can do. They're even patient with hubby's indecisiveness as he toddles back and forth (back and forth, back and forth) with the selection of banana or plain pancakes. Our attendant patiently out-waits him with a serene calm (I wish I could pinch a bit of that – the patience that is). Later the waiter returns to top-up hubby's tea. He asks first, if he's ready for some more, and then checks if he'd also like milk – skim that is already on the
table for my coffee, or whole?
I observe with good spirits, the table across from us who 
are just arriving. Mum and dad are seated and the waiter is ever so gently 
putting their little one into a highchair. He straps her in and plays with her as  
doing so. In a short while he returns to entertain the infant and, again after 
to collect a toy she's thrown on the floor. It's the little details that stick 
in our minds. Such obvious care for guests leaves a lasting impression – one we 
won't soon forget.
Lunch and dinner at the Tiffin Room are arranged as a popular curry buffet, while in between the afternoon tea is well attended. It's essential to reserve a table in advance in this highly sought after space. Both experiences are hot agenda items for tourists and locals alike. We tried the lunch line-up and were particularly impressed with service and ambience, but also very much appreciated the generous vegetarian offerings.
You
can read about and see pictures of the episode here
.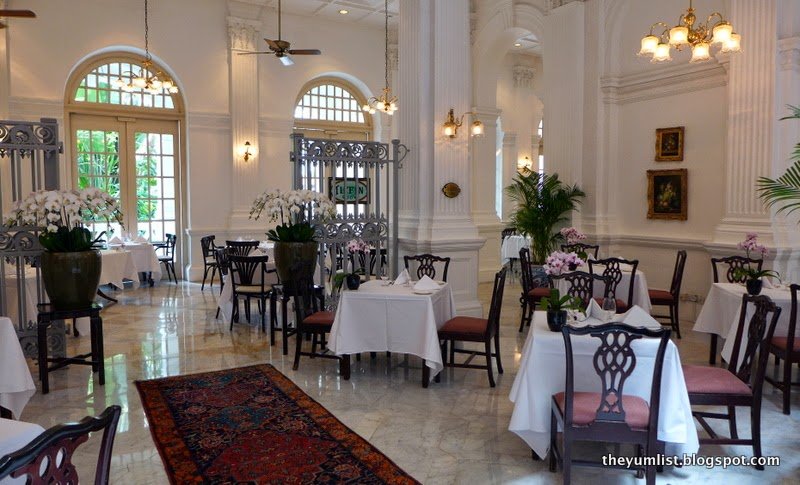 Tiffin Room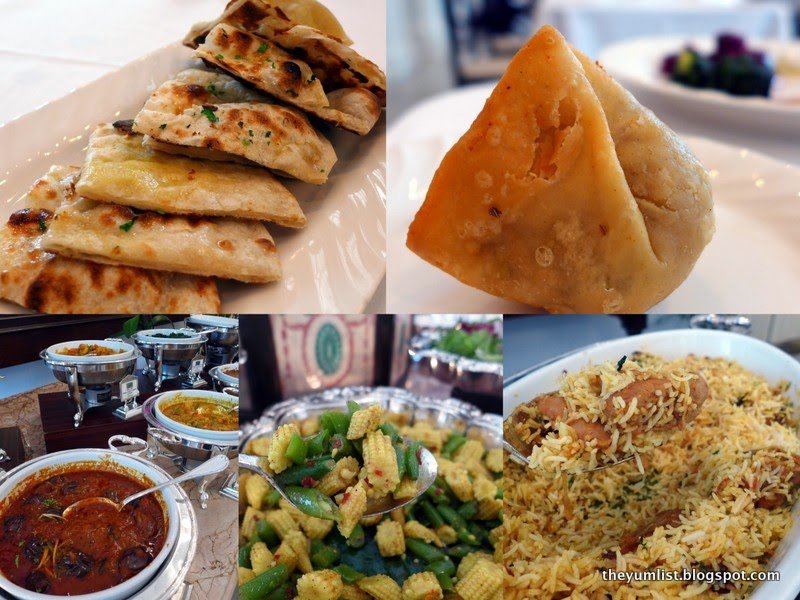 Curry Buffet at Tiffin Room
Another almost compulsory thing to do when in Singapore, whether staying at Raffles or not, is to refresh yourself with a quintessential Singapore Sling in its very birthplace, the Long Bar at Raffles. Made from gin, cherry Heering, Cointreau, Benedictine, pineapple and lime juices, Grenadine and bitters, legend has it that this cocktail was originally created as a way for women to secretly consume alcohol. Back in the day when female drinking was shunned, Raffles bartender Ngiam Tong Boon, designed this drink so it would appear that the ladies were merely partaking in a pretty glass of juice (three cheers to a feminist way ahead of his time!). Today however, it has reached such iconic levels that Raffles claims to sell over 1000 glasses per day!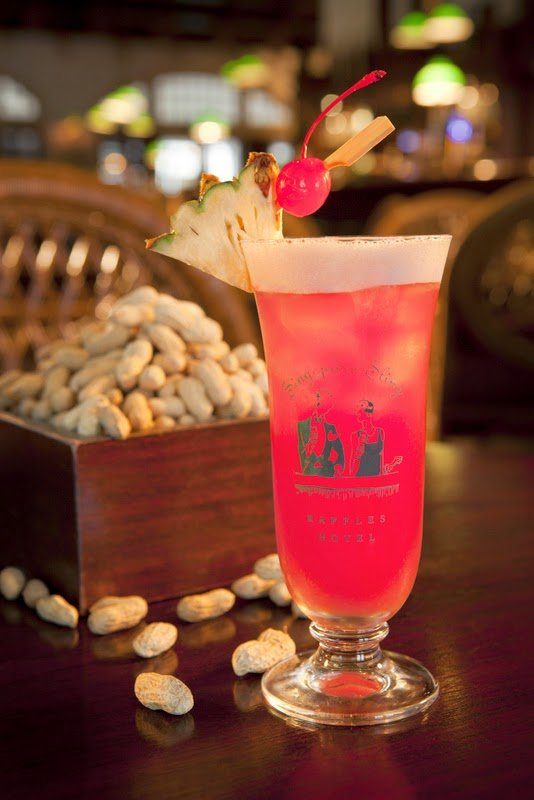 Singapore Sling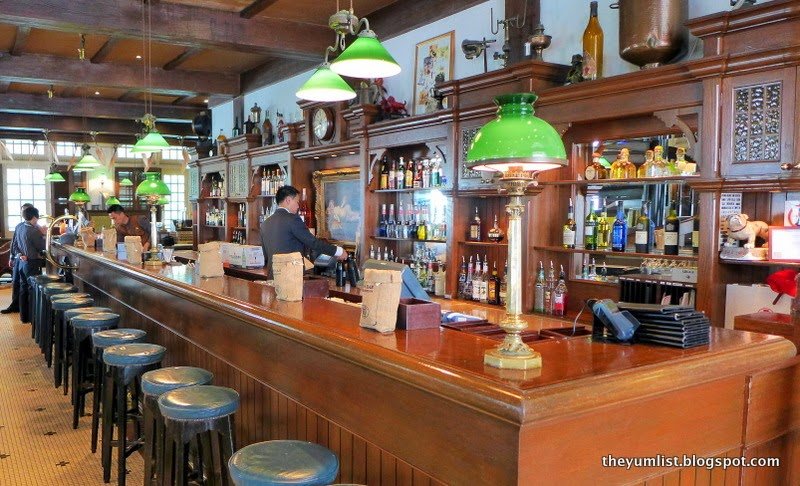 The Long Bar
Apart from these extremely popular food and beverage experiences, Raffles Singapore hosts an assortment of other outlets too. From buffets, to bars, to fine dining, it would take a week of constant consumption to sample them all.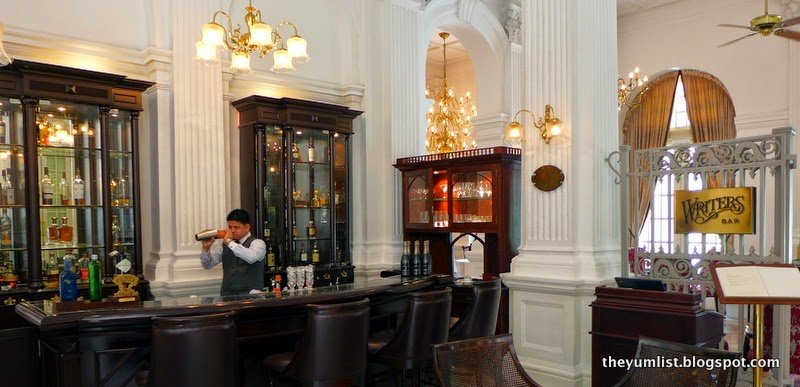 Writer's Bar
Facilities
The gymnasium is compact but complete with well-functioning cardio and weight equipment. I have no trouble as an early riser in avoiding the crowd, hubby (who awakes long after the sun is up) however has to switch his routine and do some strength work prior to cardio in order to use a treadmill.
I do convince hubby on our second morning though that a run around the coast and bay would be a fantastic start to the day. Singapore tourist maps highlight a number of running trails and we take the F1 route (a strong point in influencing hubby that an early run is a great idea), which goes right by the hotel. There's also a Marina Bay and river trail, which we ran last weekend when staying at
TheFullerton
. All make wonderful paths to see the city on foot.
You're bound to break a sweat in Singapore and the rooftop pool at Raffles is a welcoming retreat at anytime of day. Tropical gardens surround the classic rectangular shaped pool, and striped umbrellas and padded deck chairs line it. A bar offers poolside drink service and a short snack menu too.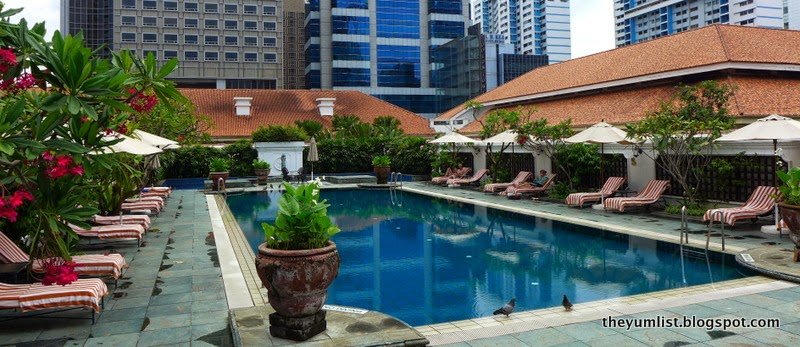 Rooftop Pool
A further appreciation of the outdoors and wonderful climate can be found in the beautifully landscaped gardens, which take up a quarter of the property. Various courtyards, lawns and gardens wind between man-made structures supplying a natural oasis of verdant calm. It's amongst these gardens that the famed Travelers Palm thrives. Named because it was said to once save the lives of wanderers by shading them with its palm shaped leaves, protecting them from the harsh sun, but also said to bear directions with its foliage pointing from East to West.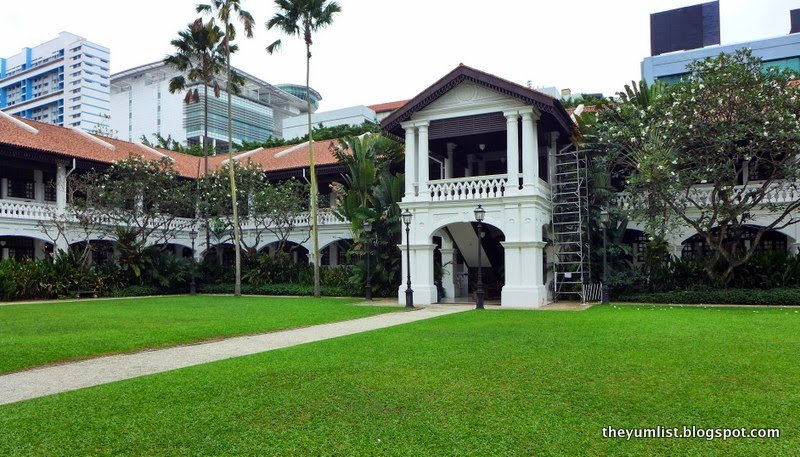 Plenty of Green
If the dramatic arts are more your style, the Victorian themed theatre, Jubilee Hall, is often host to film screenings and performances. Some might find the hall, gardens, shopping arcade and 15 restaurants that Raffles contains more than enough to occupy a weekend. For those who want more, Orchard Road shopping strip is a mere two minute MRT ride away. The International Convention and Exhibition Centre – Suntec, and the Esplanade – Theatres on the Bay, are both within walking distance. Other sights such as Marina Bay, Boat Quay and various art houses and museums are comfortable strolls away too. If you ever choose to leave this piece of history, the location could not be better.
We've experienced a superb weekend at Raffles Singapore and are reminded of a quote on their website, which describes the stay as "exclusive, historic and one of a kind." We couldn't agree more.
Reasons to visit: an unrivalled iconic experience in Singapore; colonial charm and a peaceful haven in the centre of a lively city; don't miss imbibing on a Singapore sling
in the Long Bar and a curry buffet and/ or afternoon tea in the Tiffin Room.
Raffles Singapore
1 Beach Road
Singapore 189673
+800 1 723 3537
+65 6337 1886