To encounter an elegant slice of Singapore's colonial heritage, Tiffin Room at Raffles should be on your "essential to-visit" list. Well noted for its fine service, graceful ambience and a generous spread of Asian and international cuisines, it's fashionable amongst tourists and local society alike.
A grand white room is appointed with dark wood furnishings, neutral carpets and upholstery and, floor to ceiling French doors. Tables are classically dressed with ivory linens, silverware and fine China. Vases of freshly cut flowers brighten the space and antique chandeliers and fans drop down from the high ceiling. Gracious wait staff, dressed in collarless suits,
complete the historic tenor.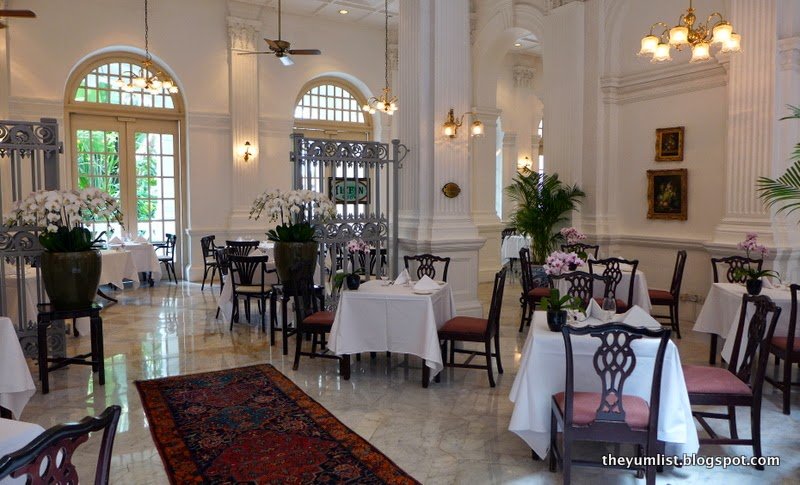 Tiffin Room
Finding afternoon tea fully booked on the weekend of our arrival, we choose to sample the lunch curry buffet instead. Northern India has a clear influence on the offerings and I'm particularly happy to find abundant vegetarian dishes in the line-up too. The spread is divided into salads, condiments, soup, hot appetizers, main courses, vegetarian curries, rice and, hot, cold and dry desserts.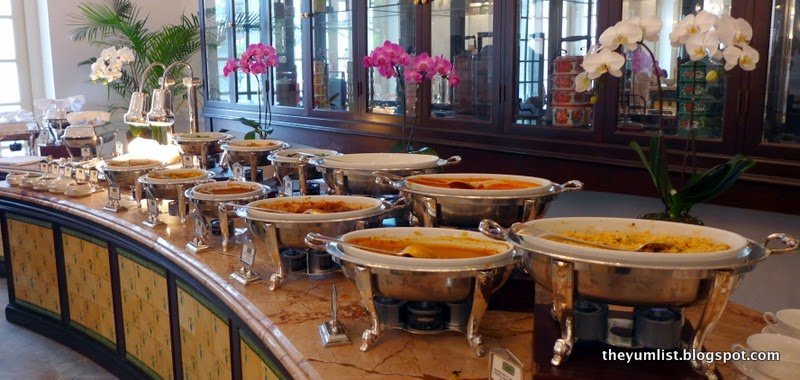 Curry Buffet
From the salads sections, I can't resist the Beetroot Coconut Ka Salad. Shredded coconut is mixed with petite chunks of beetroot and seasoned with curry leaves. The Aloo Channa Salad with potatoes and chickpeas is a lightly spicy mix that's just as pleasing.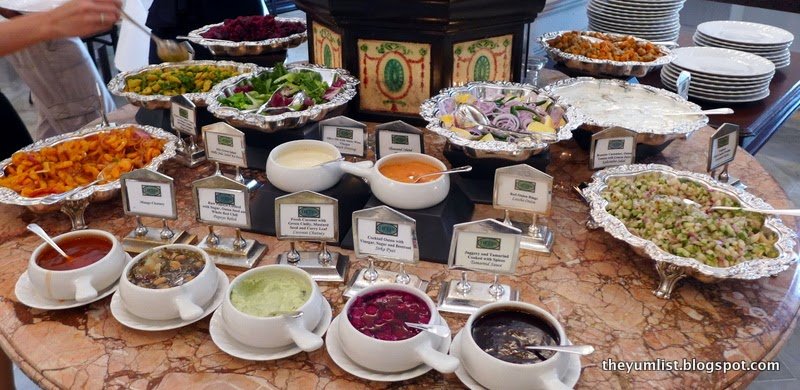 Salads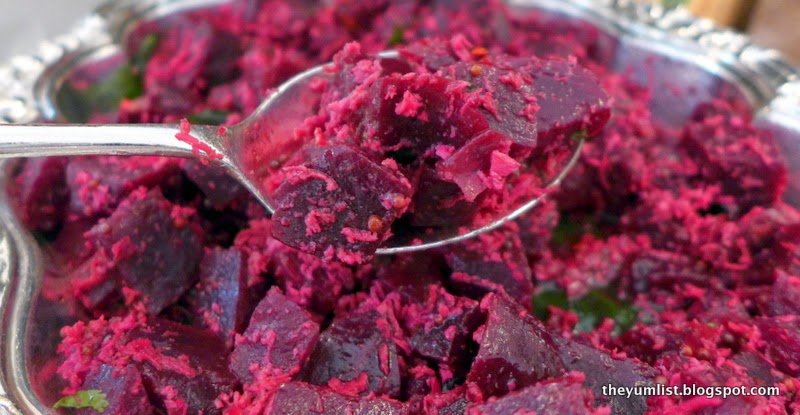 Beetroot Coconut Ka Salad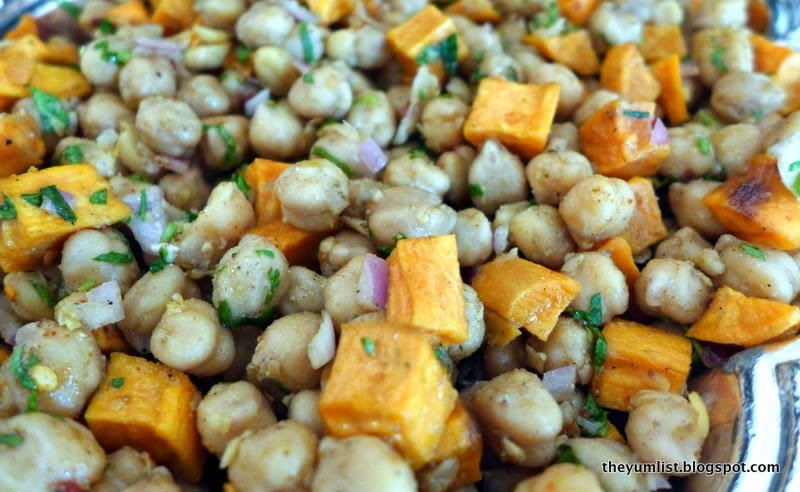 Sweet Potato with Chickpeas and Spices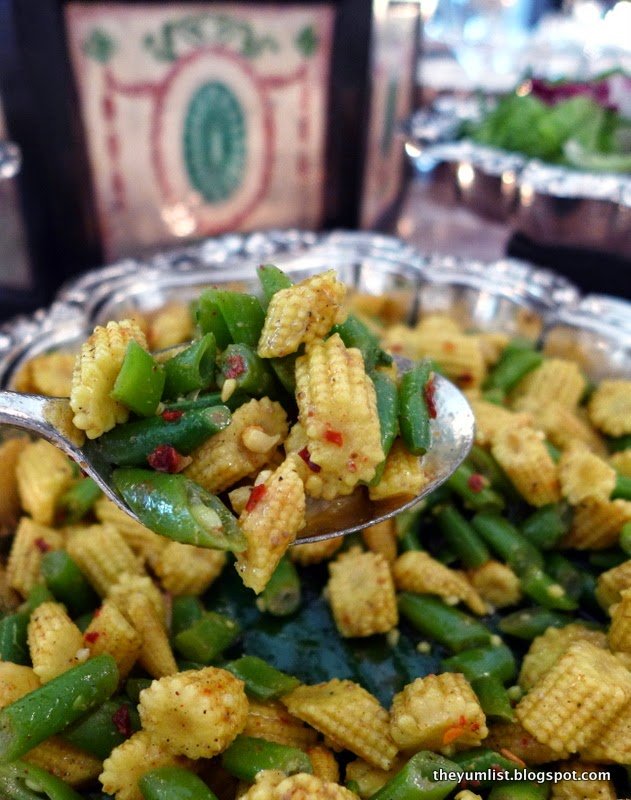 Beans Aur Bhutey Ka Salad
Colourful condiments perk up the buffet like small tubs of paint. Mango Dressing is my first pick made from mango puree, mustard, pink peppercorns and olive oil.  The Tamarind Sauce mixed with jaggery and spices, and the Coconut Chutney is given heat with green chilli, mustard seeds and curry leaves, are hits too.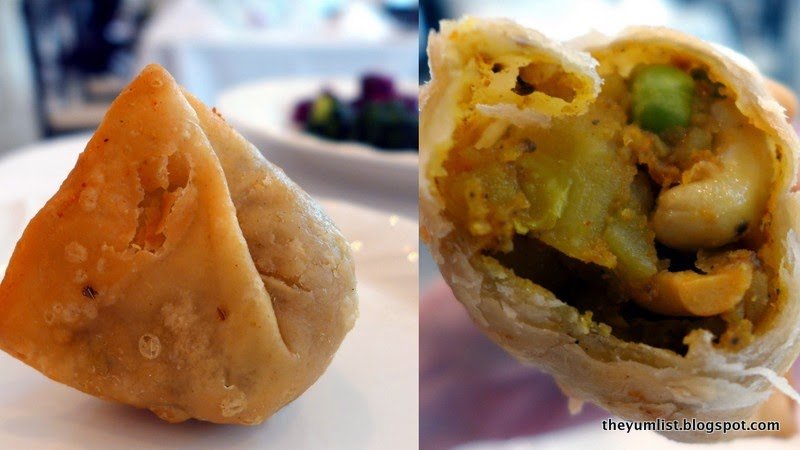 Deep Fried Potato Puffs
The soup of the day is Mulligatawny featuring yellow lentils with curry leaves. Coconut gives it a creamy finish and balances out the spices, while the lentils thicken the broth a touch.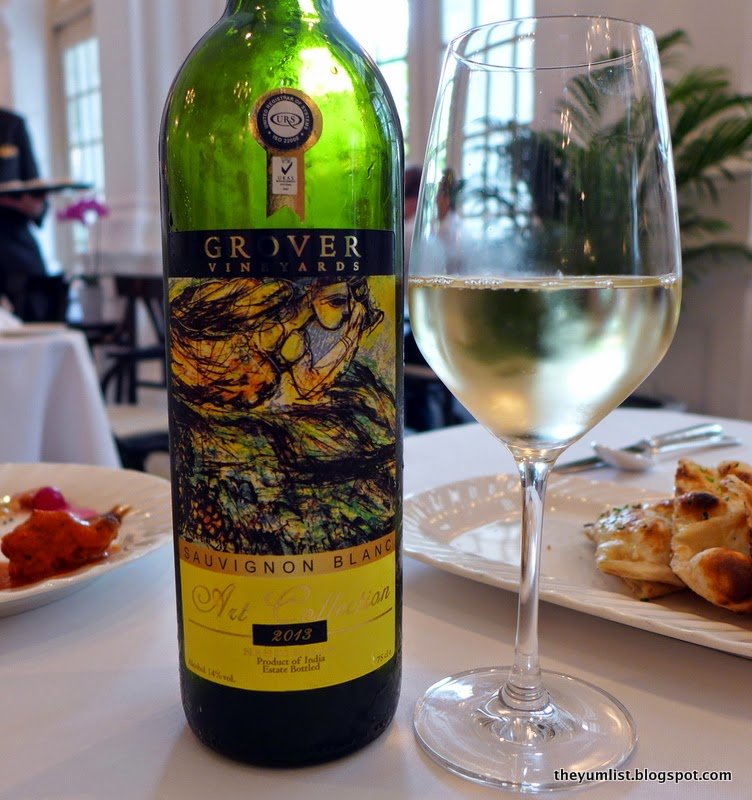 Indian Wine – Grover Vineyards Sauvignon Blanc – a pleasant surprise!
Hubby gaily grabs the Afgani Murgh Tikka from the hot appetizer section. Tandoori chicken is coated in cumin, yoghurt and a blend of seasonings. It's moist within and the flavours prove a delicate balance.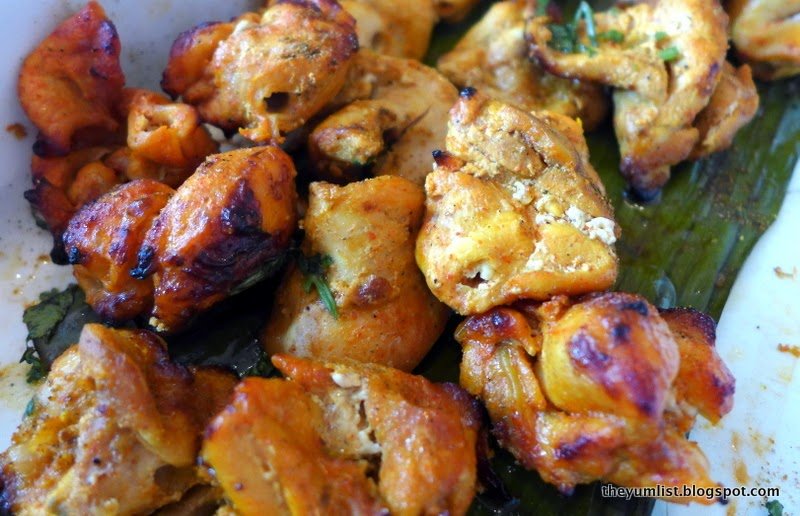 Afgani Murgh Tikka – Tandoori cooked chicken with royal cumin, yoghurt and spices
The main courses see chicken, lamb, fish and prawns soaked in a variety of curries. Hubby piles his plate with the Chicken Makhanwala. The poultry is juicy and tender and the red sauce coating it a rich blend of tomato, butter and fenugreek. I agree it's worthy of seconds and particularly well-suited to lapping up with the hot naan bread that arrives at our table direct from the tandoor oven.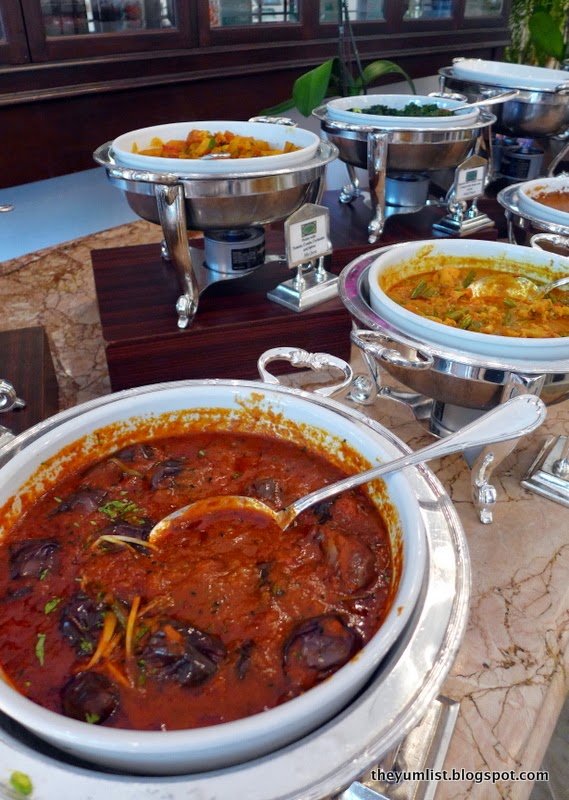 Vegetarian Curries
I'm making a conscious effort however to eat less meat so am highly enthused by the six different vegetarian curries on the buffet. Palak Paneer has been a long time favourite so a giant spoonful of spinach and cottage cheese cooked with onion and garlic is the first to hit my plate. I'm unfamiliar with Dal Makhani but am intrigued by the black lentils simmered with tomato, butter and cream and so that is scooped up too. Khate Methe Baigan sounds delightful with its eggplant base seasoned with onions and a tamarind sauce. I'm not disappointed and too return for seconds.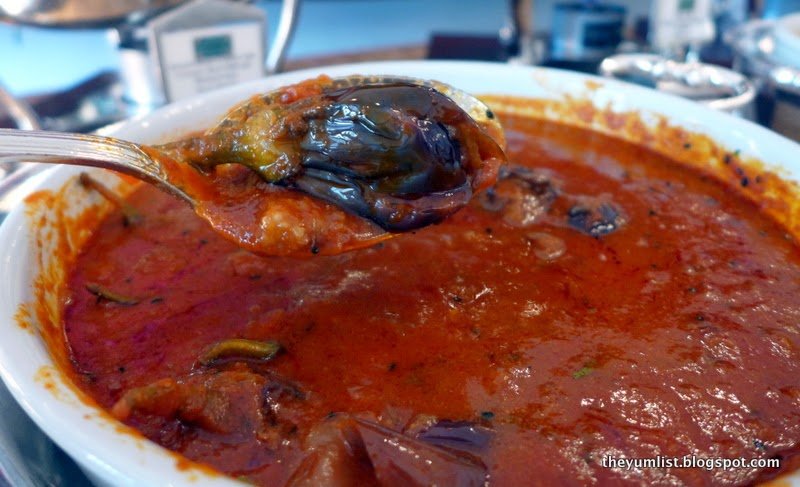 Eggplant with Onion and Tamarind Sauce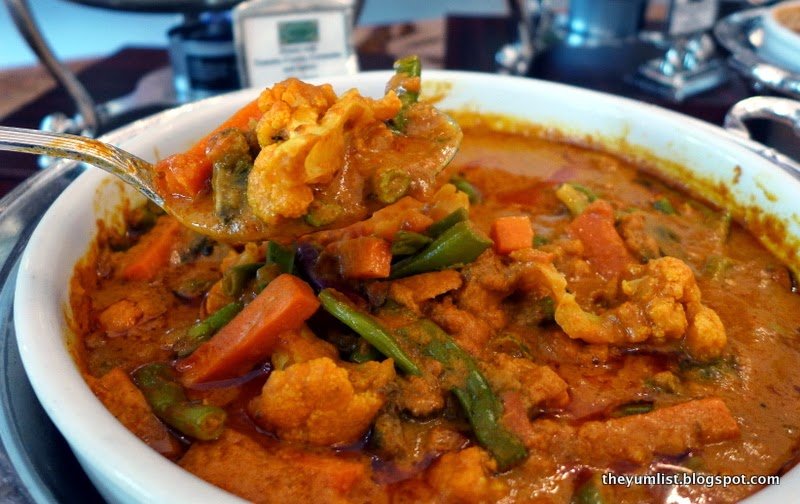 Mixed Vegetable Curry
Rice or naan is available for soaking up wonderful gravies. Steamed rice might be the healthier option but I enjoy the Saffron Pulao featuring Indian Basmati rice with saffron, while hubby continues on his meat spree and takes the Ghost Biryani sprinkled with lamb and mint.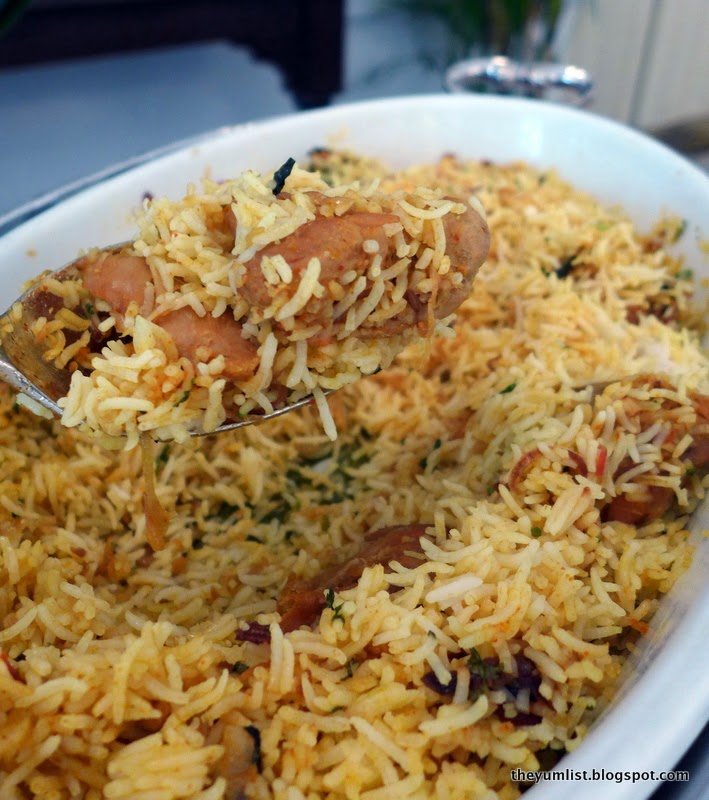 Basmati Rice and Chicken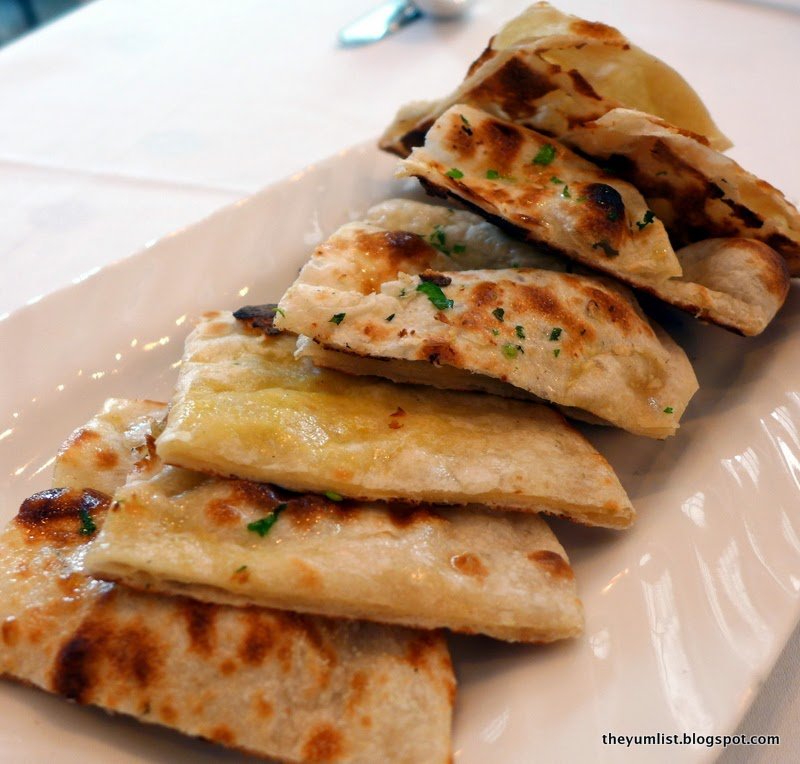 Naan – served to the table
Even though we're pleasantly stuffed there's always room for a sweet ending. I predict hubby's choices before he has even visited the buffet. Gulab Jamun (fried milk dumpling with saffron sugar syrup), Chawal Ka Kheer (rice pudding) and Sahi Tukra (bread pudding with reduced milk). All three leave him smiling from ear to ear. For me, it's the Kaju Burfee (cashew nut candy) and the Milk Peda (dense milky confectionary) that provide a sweet finish.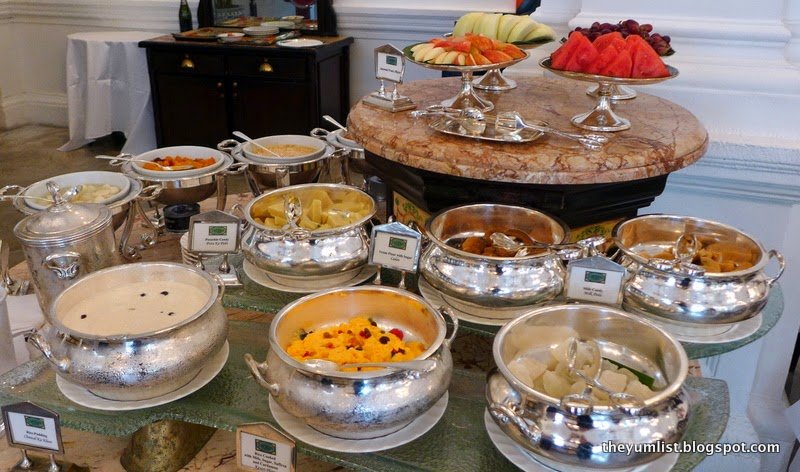 Dessert Table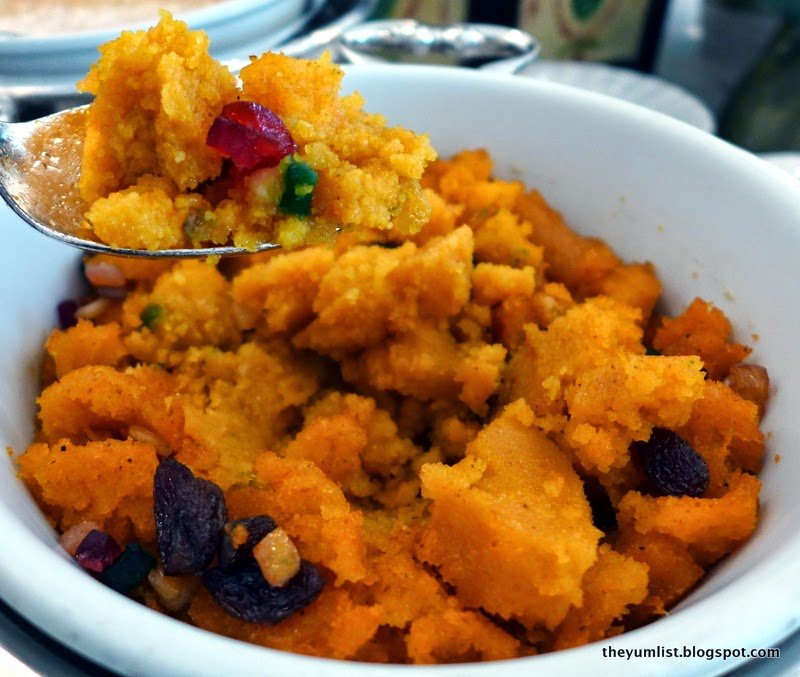 Karachi Halwa – Corn Flour with Almonds, Sugar and Dried Fruits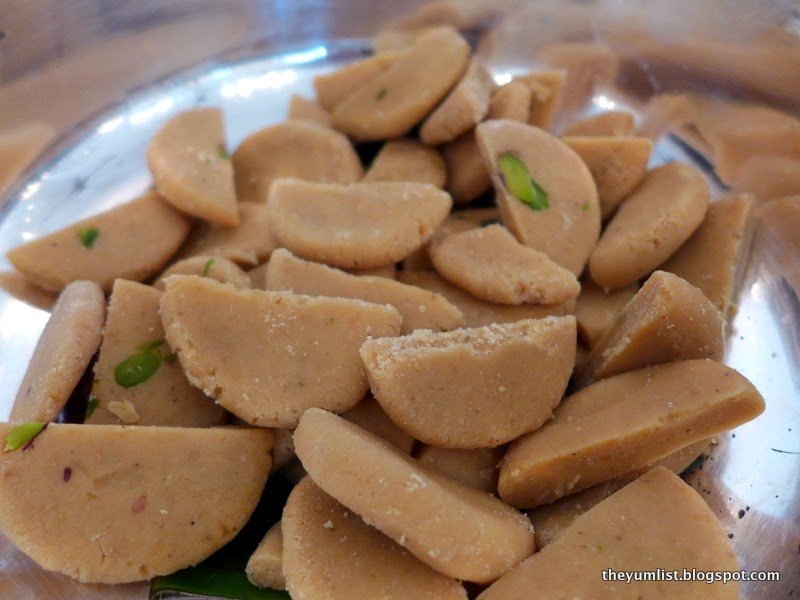 Kaju Burfee – Cashew Nut Candy
Service is infallible, ambience elegant and food excellent. We'd both delight in a return visit.
The curry buffet lunch is priced at SGD60++ for adults and SGD35++ for children.
Reasons to visit: delightfully charming colonial setting; pleasant service; quality selection of Northern Indian cuisine; don't miss the Beetroot Coconut Ka Salad and, Chicken Makhanwala.
Tiffin Room
Raffles Singapore
1 Beach Road
Singapore 189673
+65 6412 1816
Northern Indian buffet, afternoon teas and international breakfast
Dress Code: Smart casual – gentlemen should wear collared shirts, long trousers and covered shoes. Appropriate attire for ladies are dresses, skirts, dress shorts or trousers with closed shoes or sandals.
Breakfast: 6:30am – 10:30am
Buffet Lunch: 12 noon – 2pm
High Tea: 3pm to 5:30pm (reservations essential)
Buffet Dinner: 7pm – 10pm