Words: Kirsten Durward
Photos: Monica Tindall
*** La Scala is no longer open.
La Scala is aptly named, for a delightful sensation of understated theatricality pervades from the moment you step out of the glistening black elevator. Make your grand entrance between the sweeping curved walls, stepping down into the spacious dining area, feeling like a star of stage or screen.  Attention to detail imbues the pristine surroundings, resplendent in tones of silver, stone and slate. The cool elegant interior is delightfully foiled by the traditional warmth of a true Italian welcome. Tonight we are greeted by effervescent owner Nilou and the ubiquitous Dinesh, one of Monica's favourite sommeliers.
And it's a perfect greeting with a classic Bellini, made with a dry Prosecco, something we hear that happy hour drinkers enjoy sipping on La Terraza, having escaped the city traffic to this quiet nook behind Avenue K.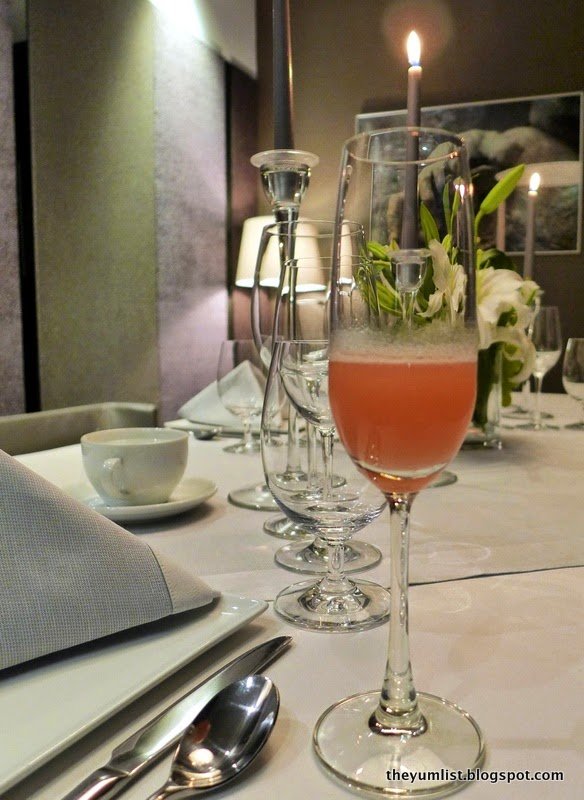 Bellini
We peruse the new dinner menu and are entertained by Chef Lucio explaining the concept of his kitchen; to present a journey around Italy. He invites us to 'travel around our country, enjoy our country,' explaining that Italians leave Italy but they still bring it with them in their hearts. 'In the whole country there is a huge difference from the south to North and the food is one of the ways that you express that, everywhere you go you find their own kind of food, their own recipes, I want to show that!' As travellers and food lovers, how could we not be entranced?
A side plate of home made breads is brandished, with some very original and tasty offerings with which to soak up plenty of tomato and wine based sauces throughout the meal. We love the denseness of the potato focaccia, the salty crunch of the olive bread stick and the colourful softness of beetroot bread.
Parmigiana di Melanzane (RM48, V) is made, we are assured in the traditional Neapolitan style.  Eggplant is floured, egged and lightly fried, layered with mozzarella and then baked with Parmesan. Both Monica and I are lusting after the latticed cheese garnish, which sits atop the dish like a golden sail. A salty Parmesan crust is delicious and this oozily firm dish masters cheesiness to perfection. Drizzled fresh tomato sauce with basil adds a hint of elegance to this very characterful dish. A big yum for our vegetarian friends.
Chef is obviously proud of Interpretazione di Baccala (RM 58 ++), which he describes as 'Four ways of doing it in Italy.' Four different textures and flavours representing four regions of Italy are offered in one quartet of cod tastings. Cod Tiramisu is inspired by a Venetian Mousse. I find the light texture smooth and delightful and Monica concurs that the toasted almond is fabulous. The Piemonte region shows up in the form of golden fried cod with hand cut potato chips and capsicum. For such a small piece of fish, it's pulled off well, a salty crispy outer; white flakes within. Cod salad with celery and onion hails from the Umbria – Abruzzi region in the centre of the country. We are refreshed by the pickled style vegetable salad. And a classic from Southern Italy provides a depth of Mediterranean flavour with tomatoes capers and olives. The amount of bread being dipped to mop up the rich red sauce is testament to its strong taste notes.
Our golden yellow glass of Collio Sauvignon 2011 Marco Felluga has been selected to complement the sashimi, and tiramisu. Savoury hints of sage and pepper combine with notes of elderberry for a clear intensity. A pleasantly bright wine which is crisp and clean, a wonderful choice for fish.
Nilou insists we try one of her favourite dishes, Risotto al Radicchio (RM48, V). Chef explains that this contains very traditional Northern Italian flavours including regional vinegar butter made with shallots.  The fat rice is lightly under-cooked 'al donde' and sticky with "Taleggio" cheese, making this a deliciously firm risotto, not like some of the soupier specimens you might have tried. The tartness of the radicchio spikes the flavour and adds freshness to the dish. It's one to try if you like stronger tasting rustic style food.
Our current tipple of Querceto Vernaccia Di San Gimignano 2012 is a great pairing for this rustic wholesome dish. A dry medium bodied wine with a good acidic balance, notes of lemon peel, floral tones and a discreet vanilla trace. The refreshing long finish sits well with the tart flavour of the radicchio and the slight acidity of the vinegar butter.
Puttanesca sauce is just about my favourite pasta sauce so I'm excited when a mound of handmade pasta arrives in the Tonnarelli alla Puttanesca (RM48, V)  so fresh that steam is still rising from it. Like everything on the table at La Scala, only the best will do so the remachinata semolina flour is sourced directly from Italy, and the eggs used in pasta making are certified organic. The sauce is scrumptious, every flavour standing out, yet coming together in a classic blend of "Pantelleria" capers, "Taggiasca" olives, fresh chilli and cherry tomato.
Dinesh is teasing us asking us to guess the wine. Hmm it's slightly more floral than the glass before but a similar acidic balance on the back of the throat, complementing the chilli warmth of the pasta sauce. He laughingly explains that it's the same wine but served at a different temperature, which changes the taste a little.
When gnocchi is mentioned, Caning remarks that he would drive a long way or even take a flight to taste this fresh dish. No need as Gnocchi Pistacchio e Gorgonzola (RM44, V)) appears right here in front of him. An intriguing light rose in colour from the beetroot that is tinged through each soft mouthful. We ooh over the fulsome flavour of fondue style gorgonzola enhanced by a texture-adding crunch of pistachio.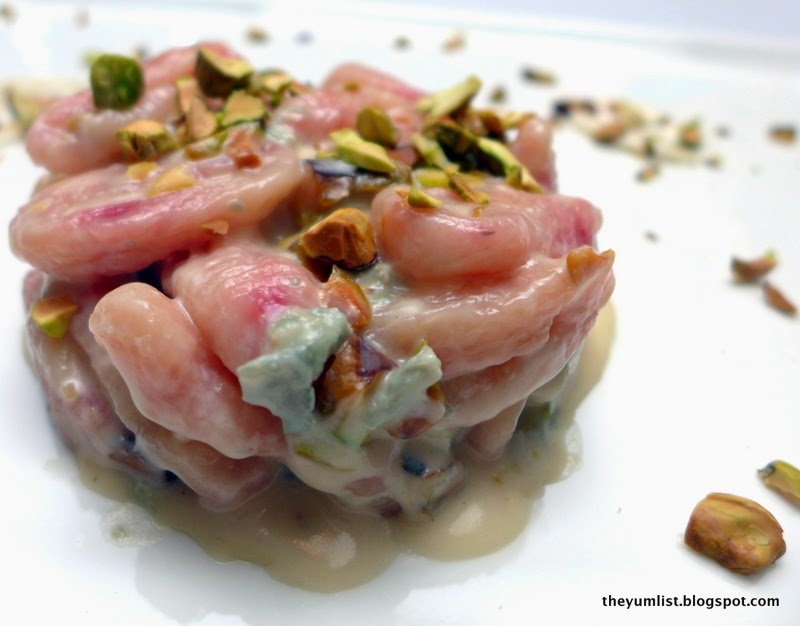 Gnocchi Pistacchio e Gorgonzola (RM44)
With the gnocchi we're served a particular treat. Something new for the jaded palate. It's sneaky for sure, a sweet full wine foiled with a bitter taste in counterpoint. None of us call it. Moscato with quinine! Who would have thought it? Dinesh surely has a creative touch.
Ossobuco di Vitello con Polenta Gialla (RM110) smells simply divine. This classic Piemontese dish is layered onto roasted polenta primate, very white and pearly with a crusty edge. The fennel-stewed meat is cooked gently for four to five hours and only a few portions are made daily to preserve freshness, so be sure to order early and don't miss out. As I fork in, the flesh falls apart. The fennel taste is definitive and the balsamic reduction complements the heavier sauce and dense polenta very well indeed. I love Lucio's interpretation of this Italian favourite.
We linger over a glass of 2011 Saint Aix Coteaux D'Aix en Provence, Vin de Provence, palest pink Grenache; a wine so light and fresh it could fool you, but beware – it actually carries 13% alcohol, which is high for wine! It's a beautifully balanced bright fruity rose, a slight floral edge and a clean long finish. Yum! I wouldn't say 'no' to another glass but I know our sommelier has some other treats in store.
Chef's plainly proud of his next dish too, telling us 'I have been in England for five years and I enjoy the sauces that they make with the beef, this is a kind of sandwich.' Um, yes, a fairly grand sandwich then – two slices of beef fillet with a shitake mushroom centre, in a Barolo wine sauce topped with a tangle of slender fried leeks. We all love it. Slender striands of soft fat melting into the tenderness of the beef give extreme moisture boosted by the rich red wine sauce, sweet caramelisation, earthy mushroom and crispy leeks, robust and intense flavours throughout given an intense boost from natural sea salt.   MMMMMM!
Our red wine for the beef is Querceto Chianti, which I find medium bodied and slightly dry. A fairly tannic wine with dusty mineral notes which sits against the fullness of the Barolo in the dish. Caning eschews the red and is offered a Kir 'Royale', with a beautiful Sanfeletto Prosecco and Cartron Crème de Cassis. We are each allowed a sip and acknowledge approval. Another one for the terrace happy hour for sure!
Although we've munched away at several hearty dishes we are still pressed to try some pretty smidgeons of desserts. 'Just a taster.' Oh go on then! Apple crumble is served with vanilla cream and a fresh rosemary ice cream. I love the biscuity textured sugary buttery crumble and the spicy apple still has a definitive bite. The custard is light and foamy, a delicate interpretation.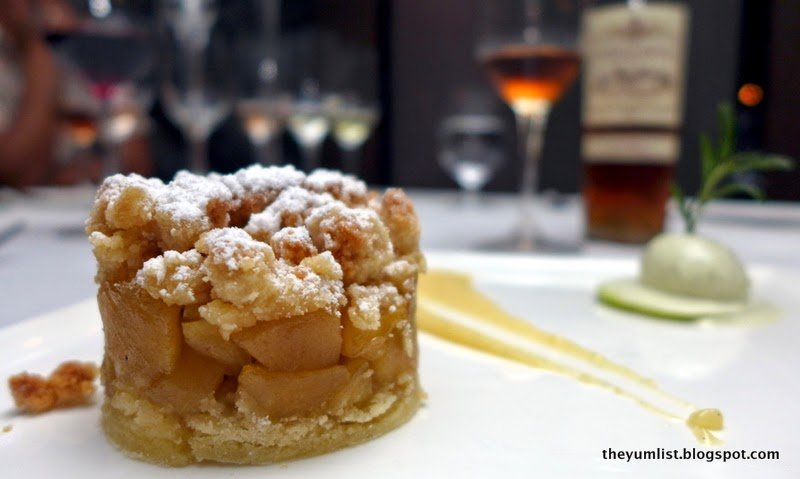 Sbriciolata di Mele (RM26)
La Scala's website says that the restaurant is the place for an unforgettable food and wine experience. Is it? I'd have to say 'Yes!'  It was well worth braving rain and traffic for the hours of fun and delightful tastes we've experienced!
183 Jalan Mayang (off Jalan Yap Kwan Seng)
Kuala Lumpur 50450
Malaysia
+6 03 2161 2291
Lunch:  Monday to Friday 12noon – 2:30pm
Dinner: Monday to Saturday 6:30pm – 10:30pm
Pork free
Parking is on site with the entrance either via Jalan Mayang or Jalan Yap Kwan Seng. La Scala is also walking distance from KLCC and Avenue K.