View from The Lighthouse Bar, The Fullerton Hotel, Singapore
The Lighthouse Restaurant and Bar, The Fullerton Hotel
Singapore
You'd expect a lighthouse to boast some of the best water
vistas on an island and that is exactly what you find at The Lighthouse
Restaurant and Bar at The Fullerton Hotel Singapore. Located on the exact spot
where a beacon formerly guided mariners to the protection of Singapore's port
in the eighteenth century, it's a delightful perch to pass an evening.
Overlooking the Marina Bay waterfront with dreamy views of the dazzling skyline,
it's an exclusive and much sought after location for the city's spectacular New
Year's Eve fireworks, but also nightly for the Marina Bay Light Show.
A cozy dining room offers an intimate atmosphere for dining
on authentic Southern Italian cuisine. Featuring specialties from Campania,
Sardinia and Sicily expect to see lots of fresh regional produce put together
simply in a celebration of the flavours and textures that individual components
bring to each dish.
With the blessing of fine weather however, the rooftop bar directly
above the restaurant, is a laudable location for an aperitif or sundowner
before dinner. We start with a signature cocktail, the Heritage ($26 SGD).
Composed of Martini Bianco, topped up with prosecco and flavoured with an
Amarena cherry, it's a fizzy pink concoction and gently sweet, making a jolly
beginning.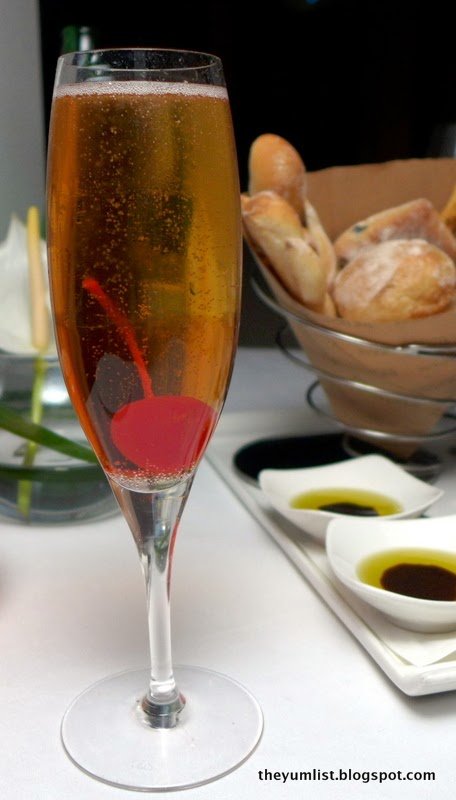 Heritage Cocktail
From our roost we see the sun setting over Singapore city,
but too enjoy vistas of the magnificent Marina Bay with its futuristic
constructions in direct contrast to the heritage building of The Fullerton
Hotel. Hunger pangs twang so we head downstairs to our white clothed table for
a sumptuous Italian five-course menu.
A brown paper cone filled with freshly baked breads arrives
to our table. Plain and olive chewy ciabatta, crunchy grissini sticks and, plaits
of white rolls dotted with anchovies, round the cone. The bread by itself has a
salty finish, which balances well with the dip of olive oil and balsamic
vinegar.
An amuse bouche of tartare of tuna with caviar and capers is
delivered in a petite bowl. A skinny crisp bread base supplies just the right
amount of crunch to support the creamy mix of fish and eggs.
Amuse Bouche
La Tunella Sauvignon Blanc 2012, Conti Attems, Friuli
Venezia Giulia DOC ($98 SGD bottle) is the pairing for our first plate. Its
honeysuckle aromas and crisp finish serve our antipasti well.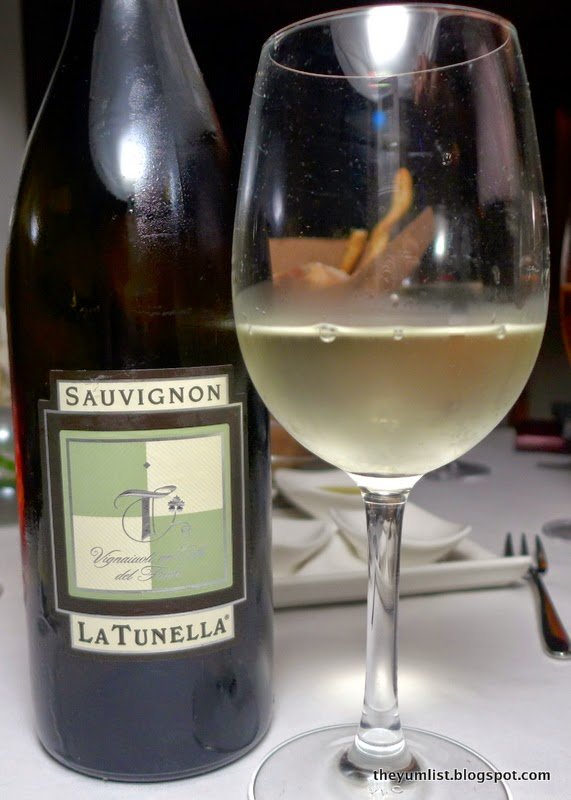 La Tunella Sauvignon Blanc 2012
The Lighthouse Signature Antipasti Platter ($29SGD) brings a
selection of small bites.
The plate is centered with three fried pieces of mixed
seafood, which are coated with a fine crumb made from breadsticks and a touch
of digestive biscuit. Smoked pepper sauce has a hint of chili, which lingers on
the tongue long after swallowing.
Boston Lobster, dressed with two-coloured pepper sauce,
proves firm to the bite and later melts in the mouth. The red and yellow
capsicum accompaniment is roasted, adding a touch of sweetness, while micro-greens
provide a sharp ending. The sauvignon blanc is made even better with this
crustacean.
A tangle of bitter rocket serves as a verdant bed for Creamy
Burrata Cheese. A light drizzle of oil provides a hint of lubrication bridging
the two ingredients.
A trio of colours makes up the Heirloom Tomato Salad. Ripe
tomatoes are dressed with olive oil and sweet basil. For hubby it's a mild
dish, but I appreciate the subtle difference in flavours between the yellow,
rose red and deep crimson tomatoes.
Eggplant preserved with extra virgin olive oil, conveys a
taste of spring. Super soft 18 month-aged Langhirano ham with grilled smoked scamorza
cheese completes the trio producing a delicious appetizer. If ordering the
platter, be sure to eat this one first as the melted cheese is best when hot
and leaves a gorgeous smokiness in the palate. The sauvignon blanc elevates the
flavours of this magnificent mouthful.
While my favourite is the eggplant, ham and scamorza, hubby
adores the Wagyu Beef Carpaccio. Arranged with a drizzle of truffle oil, shaved
aged Reggiano cheese, rocket leaves, and meaty mushrooms, it's a wallop of
taste, filling the middle of the mouth, leaving a touch of sweetness on the
roof, and a hint of tang on the sides of the tongue.
Pinot Grigio 2012, Mongris, Marco Felluga, Friuli DOC ($28 SGD
per glass) readies us for the next plate. A light flower petal aroma tickles my
nose and I feel a hint of pear and an inkling of metals on the tongue. It's a
clean finish, partnering nicely with our next pasta dish.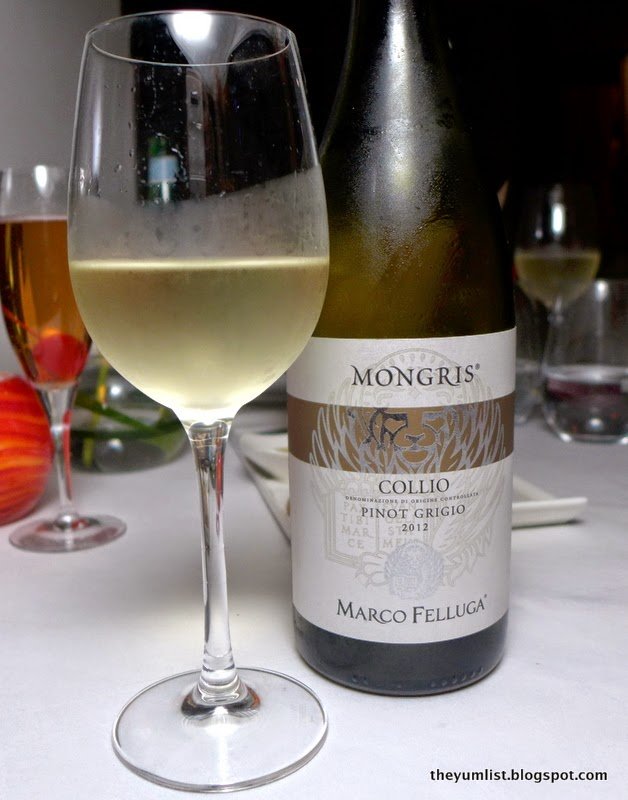 Mongris Pinot Grigio 2012
An oval boat holds Taglionlini al Limone ($28 SGD), which is
housemade pasta with Amalfi lemon sauce and lightly spiced prawns. A raveled
mesh of string thin pasta in a delicate cream sauce bases the firm salty
crustaceans. Each strand of pasta is detected on the tongue, I believe as a
result of the lemon sauce forcing the textures to be individual rather than
blend together with the cream. The legs of the shrimp are fried crisp, adding
texture to the dish if you choose to indulge. This turns out to be our most-liked
course of the evening.
Taglionlini al Limone
A change in wines signifies the next course and we take a
few minutes to admire the traditional, yet thoughtful food and wine pairings.
Each drop has increased in flavour and body, along with the meal. Chardonnay, La
Fuga, Donnafugata, Sicily DOC 2012 ($SGD
28) brings a mineral aroma to the nose and a distinct taste of pineapple and
banana to the palate for our next seafood match.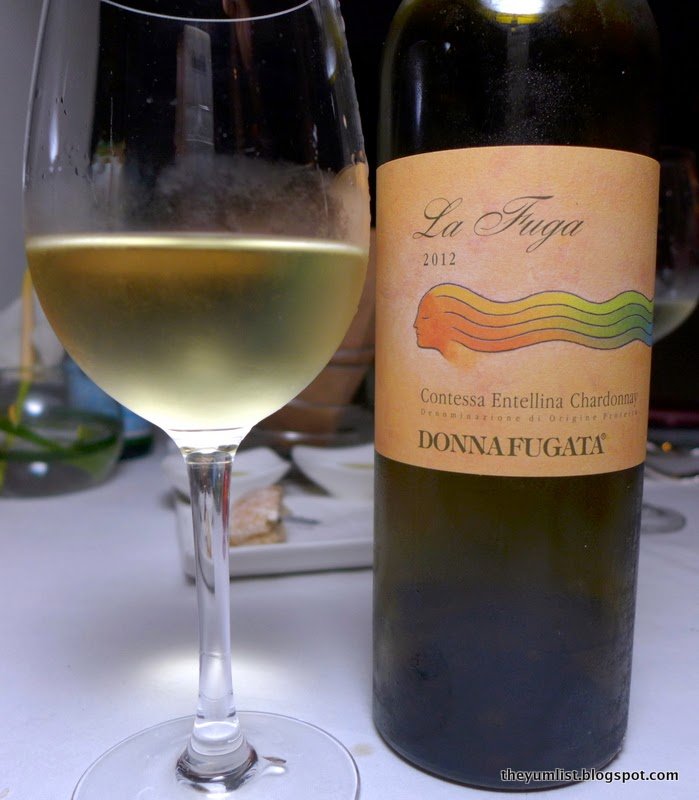 Chardonnay, La Fuga, Donnafugata 2012
A long rectangle plate carries Tonno in Salsa Finta
($48SGD). A lightly seared round of tuna coated with black and white sesame
seeds is the centrepiece. A modern vegetable caponata grounds the fish, while
mint scented calamari sides it. A petite jumble of greens adds garden
crispness. Fresh herbs enhance the ocean's catch and the sauce is a rich
intense accompaniment. I think it's worthy of a reorder even though I have no
tummy capacity left to finish the last bite. Hubby in opposition, cleans his
plate but is undecided of its repeat appeal.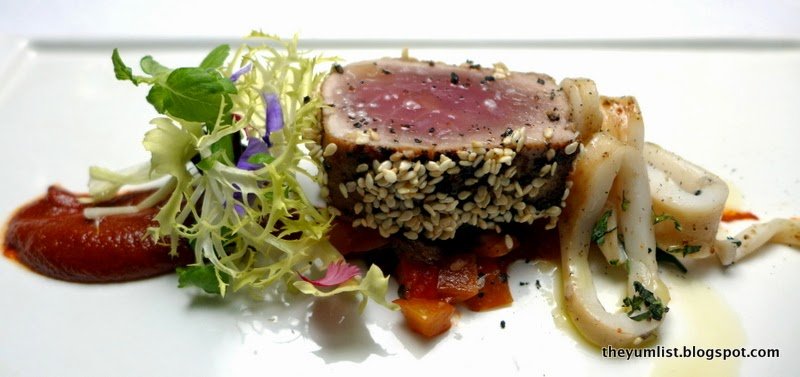 Tonno in Salsa Finta
A Col di Sasso, Sangiovese and Cabernet Sauvignon, Castello Banfi,
Toscana DOCG 2013 ($28SGD) indicates a switch to red meat. Classified as a
super Tuscan wine, its strength is in the nose, which grows stronger with
airing. This standard drop with long sexy legs has a medium body with ripe
stone fruit and mild tannins detected in the mouth.
An olive crusted rack of lamb, fatty and full flavoured, is
our main course, Agnello Alle Olive ($56 SGD). The richness of the meat is
sliced through with the mildly tart black olives. A slim section of potato acts
as a cushion and, deep fried artichokes and grape mustard add appeal in the
flanks. A zig-zag of balsamic stripes the plate and, tender pink lamb is
implanted in the memory as the last delicious bite.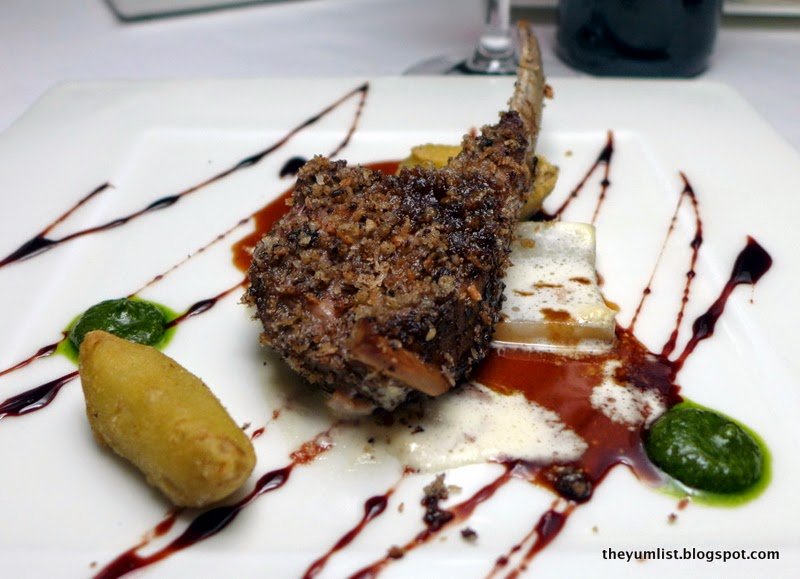 Agnello Alle Olive
Dessert is upon us and we're excited to see a platter of three
tasters. I smell the sweet rich aroma of chocolate as the plate is set down. Tortino
al Cioccolato is a classic for many restaurants, however we've only discovered
a few that execute the lava cake expertly. This is one such case and, upon
breaking, a steady stream of velvety rich cacao sauce flows out. Even hubby,
who is not traditionally a chocolate lover, licks up the sauce with satisfied
groans. Cassata brings an icy coolness to the offering and proves
slightly sticky with a generous portion of raisins mixed in. Zabaione, a traditional
dessert from Naples, is the last on the plate. I'm taken more however with the
accompanying marinated strawberries. Sugar, limoncello and marsala wine enhance
the berries' flavour and juiciness. I could eat a plate of these on their own.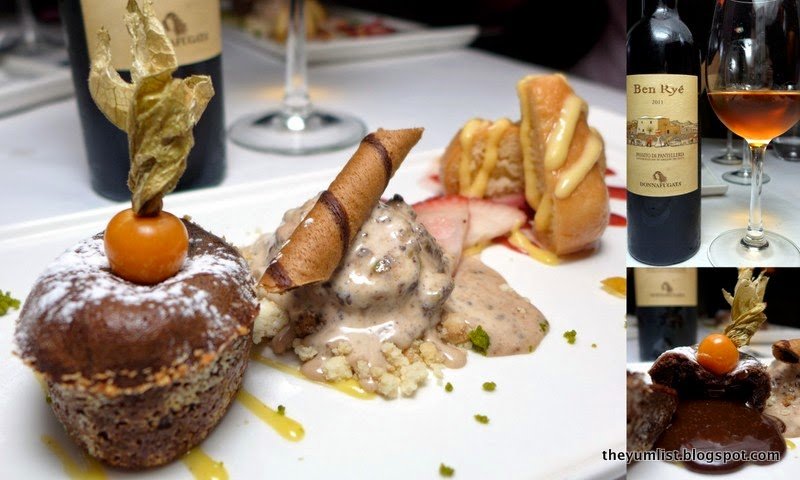 Trio of Desserts
Our final pairing of Passito, Ben Rye 2011,Donnafugata ($30 SGD
per glass) substantiates a syrupy finish. If we weren't so full we might insist
on finishing the bottle.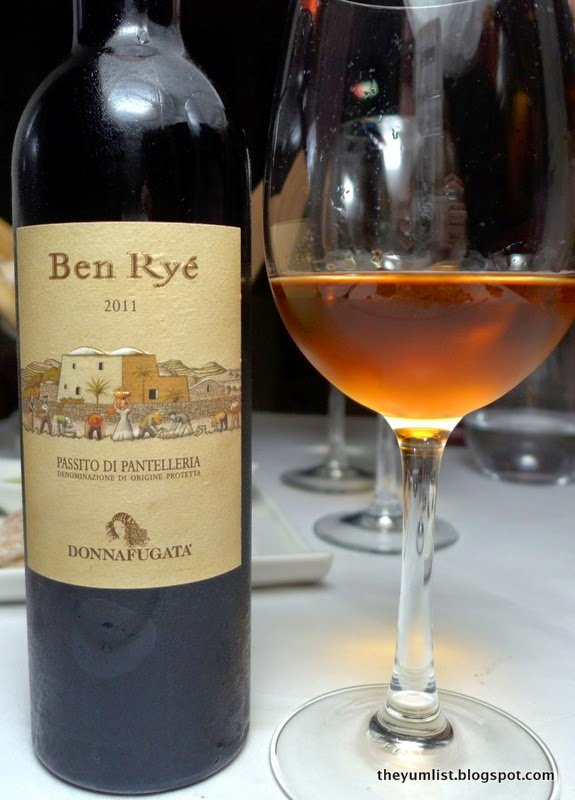 Passito, Ben Rye 2011
Not wanting to leave this magical setting, we return to The
Lighthouse Bar to conclude the evening with a sense of exclusivity and feeling
that the bay is for our enjoyment alone. A cocktail, the Beacon, is suggested
by Jay, the mixologist, who declares it a bestseller. Vodka, green apple syrup
and cucumber syrup are shaken with pineapple juice to produce a refreshing
concoction. Taken from the highest point of the hotel, The Beacon serves its
home well, with tropical appeal and colonial refinement.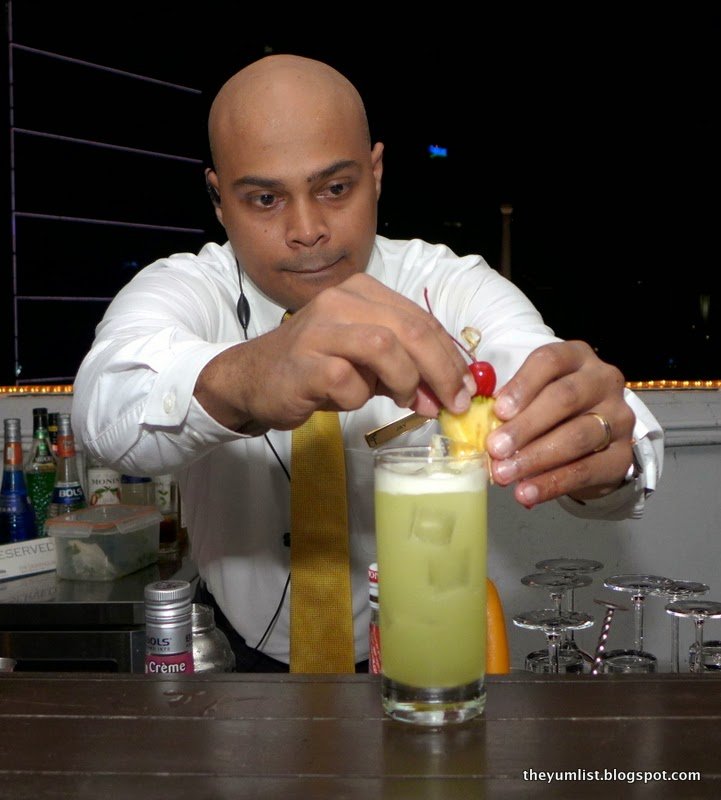 Mixologist Jay Preparing One of His Signature Cocktails

Night View from The Lighthouse Bar
Reasons to visit: spectacular
views; friendly yet professional service; expertly paired wine dinners;
traditional Italian cuisine.
The Lighthouse
Restaurant and Bar
The Fullerton Hotel
Singapore
1 Fullerton Square
Singapore 049178
+65 6877 8933
Weekdays: Lunch: 12pm – 2:30pm
Daily Dinner: 6:30pm – 10:30pm