Eight Ounce Coffee Co.
Monica Tindall
Grumbling unproductively about the lack of excellent coffee choices in general in KLCC, a friend informed me that a new spot had opened up this year that just might satisfy my fussy-coffee-snob taste buds. And then, about a week later, another buddy asked if I'd yet tried the latest café in Suria KLCC. After a quick recon mission, sampling a latte and millefeuille, we determined Eight Ounce Coffee Co. worthy of further patronage and returned again to taste a wider assortment from the menu.
The café's story began when three mates decided to put their passion for coffee into something concrete. All having an international education and overseas work experience, the boys took their positive outlook on the coffee scene in places such as Australia and the UK as a natural extension of their beloved Kopitiam childhood memories and formed Eight Ounces Coffee Co.
The trendy café is located on the first floor of KLCC, the same end as Selangor Pewter. Emanating a polished rusticity, a palette of natural woods is complemented with warm lighting, an occasional wing back chair and, petite white flowerpot table decorations. An array of exposed filament light bulbs hang from the ceiling clumped together to create a naive chandelier at one end of the coffee bar and, an assortment of small tables and a larger communal table provide the seating.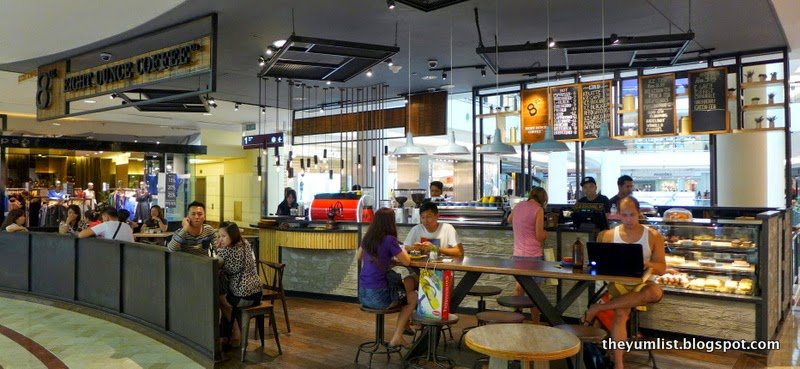 Eight Ounce Coffee Co. KLCC
Coffee is advertised as the number one reason to visit, but we soon find there are a number of other delights to entice a return too. A mix of Arabica beans from Brazil, Colombia, Guatemala and Indonesia make up the house blend, which proves a well-balanced medium roast. Double shot ristretto is the standard base for milk coffees and, most will find the outcome to be smooth and chocolaty with a touch of citrus in the finish.
We're super happy with the service – smiley staff and water on our table without delay – both are much appreciated. Also, when I ask for something that's not on the menu, a flat white, with low-fat milk, the barista doesn't bat an eyelid and… the request is delivered as asked. (Forgive the surprise – I've experienced too many misunderstandings and blank looks in the newly developing coffee culture in Malaysia – I'm always happily startled when communication is without barriers.)
My Flat White (RM12) is done just the way I like it with a double ristretto and thick velvety milk. In general, I find the beverage even and well-rounded in the mouth right until the very end when it exits on a mildly sour note. Hubby enjoys an Earl Grey tea (RM9) served in a pot and allowed to seep to his preferred strength as an alternative to coffee.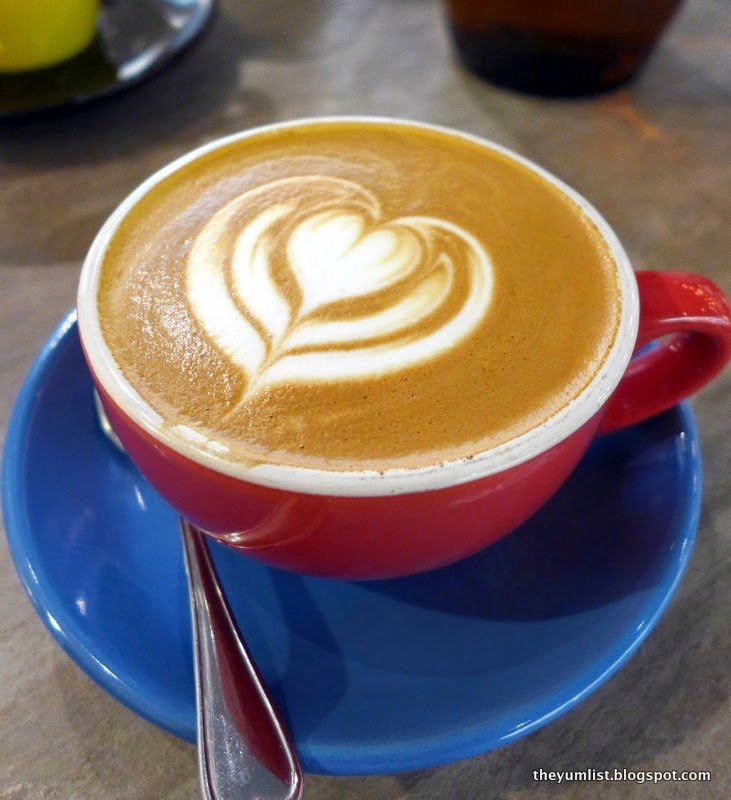 Flat White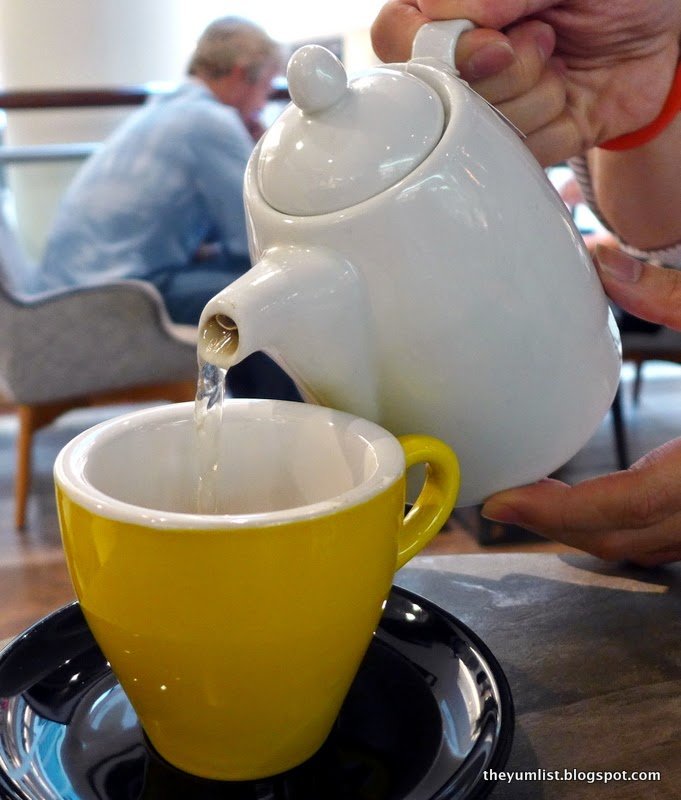 Earl Grey Tea
Besides coffee, sweets are a definite highlight at Eight Ounce Coffee Co. Sourced locally from home-bakers, the offerings are original and a welcome variation from the standard red velvet and carrot cake options.
Hubby is immediately taken with the no-fuss Original Crepe Cake (RM10.90). Fifteen or more layers of slender crepes are interwoven with equally slim films of cream. It's a celebration of simplicity and pairs perfectly with a hot beverage.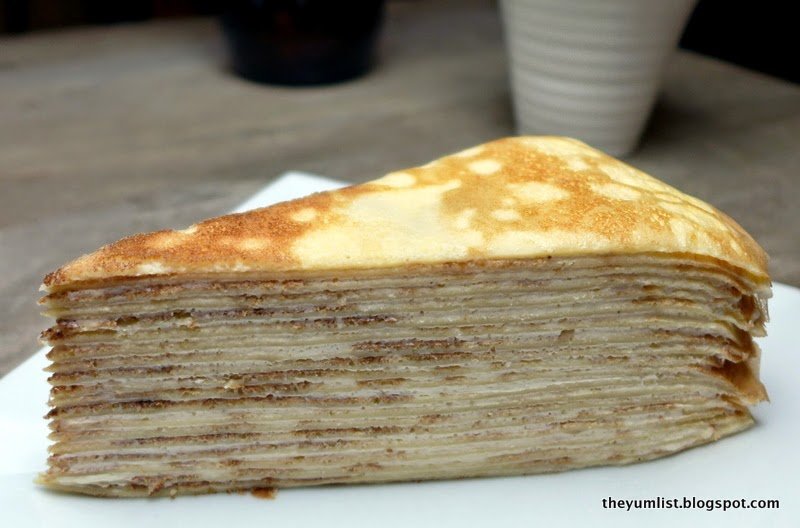 Original Crepe Cake Crepe cakes, or millefeuille, at Eight Ounce Coffee come in a variety of flavours and we try both the Double Chocolate Crepe Cake (RM11.90) brandishing a mild chocolate flavour with a heavy cream dominance and, the Hazelnut Crepe Cake (RM11.90), sporting a hardened hazelnut cream topping. Both are good and we guess personal taste preferences will decide your final favourite as the texture is uniformly delicate in all three.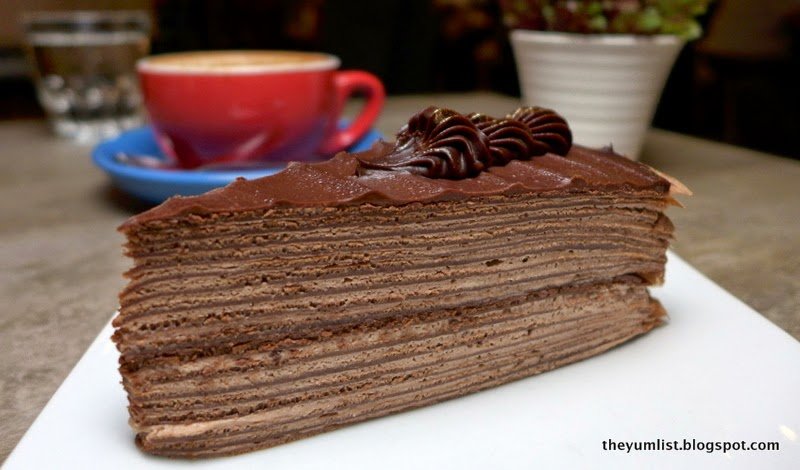 Double Chocolate Crepe Cake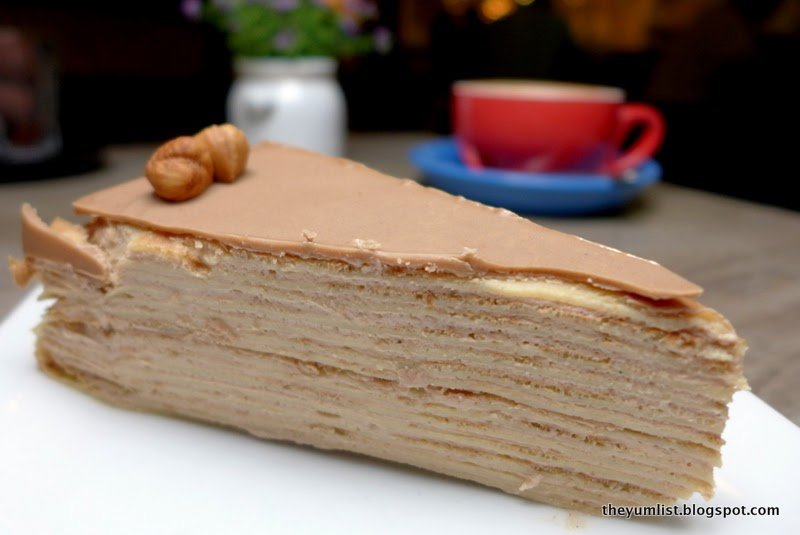 Hazelnut Crepe Cake
Besides crepe cakes, Eight Ounce Coffee Co. serves up some decadent, calorie-laden, mouth-watering desserts. The humble name Choco Bar (RM15) gives no indication as to the outrageousness of this sweet. "Wow!" is my ruling thought from start to finish.  A flaky crunch in the base supports a dense rich orgasmic-ly thick wedge of silky dark chocolate. It's topped with powdered cocoa and spiked with broken slivers of chocolate. Save me! Divinity.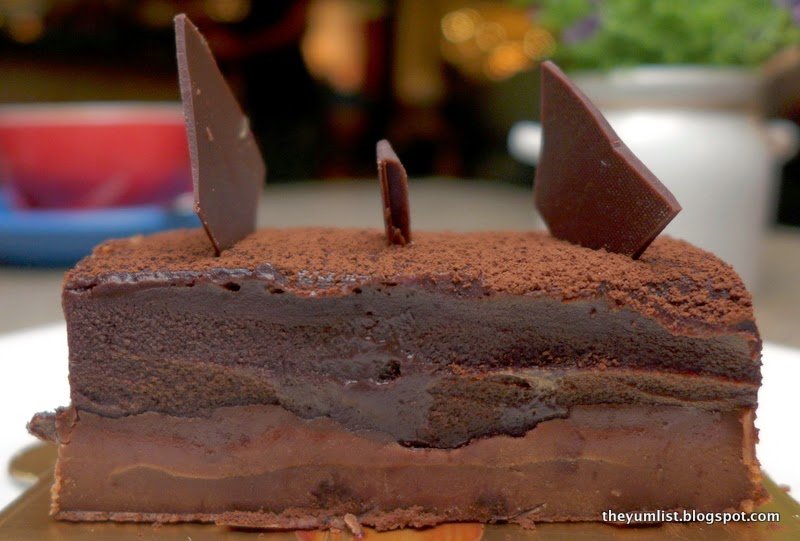 Choco Bar at Eight Ounce Coffee
Chocolate Passionfruit (RM16) is a layered log of spongy chocolate cake, milk chocolate mousse and passionfruit cream, repeated and spread with a final sheet of shiny soft chocolate. I can see its appeal, but I'm still recovering from the Choco Bar, which has implanted itself firmly in my limbic system and is sure to make all other desserts pale in comparison… That is until I meet the next temptation…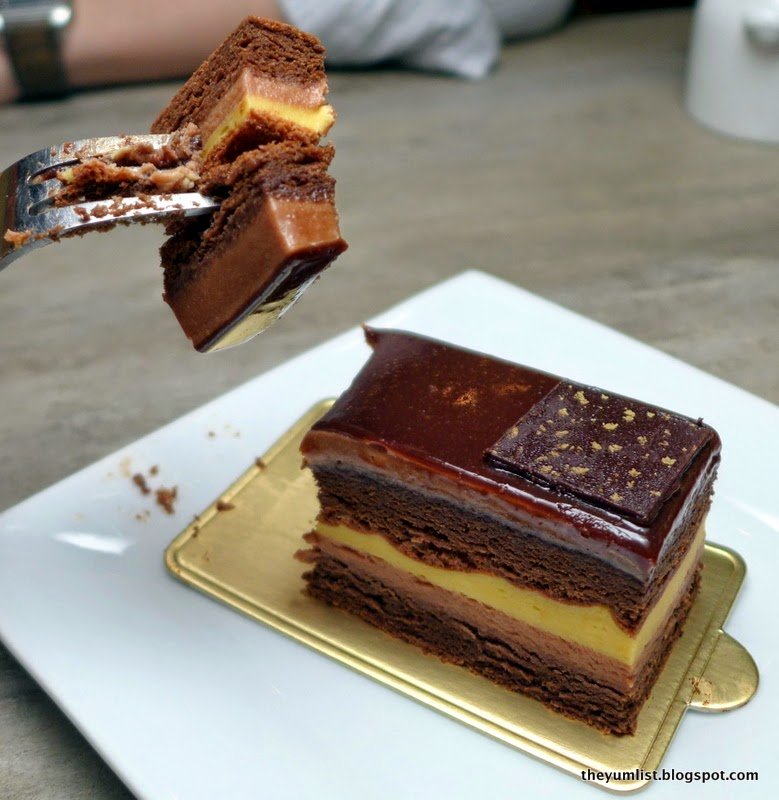 Passionfruit and Chocolate
Just when I thought things couldn't get better, I pop a Salted Caramel Truffle (RM5.50 each) into my mouth. A dark chocolate shell breaks way to a sticky salted caramel filling. You only need one (but I might take some home for later ;-). It's rich, intense and an ideal partner to a strong coffee.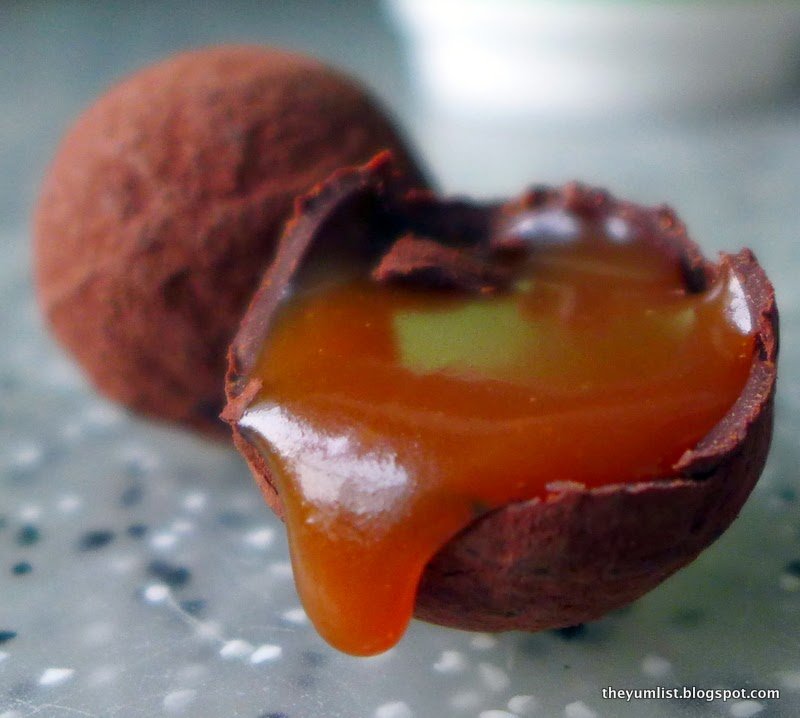 Salted Caramel Truffles
I think I'm done at Eight Ounce Coffee, but wait… there's an Affogato (RM15) on the menu with SALTED CARAMEL ICE CREAM!!! I have to have it. It arrives appearing luscious and I know it's going to be good just by looking at it.  White pools the bottom of the glass and a warm café au lait stripes the middle. A mound of ivory ice cream pokes through the surface and a delicious lick of chocolate sauce zig-zags the top. Salted caramel ice cream provides the magic ingredient turning a regular affogato into a mind-blowing event.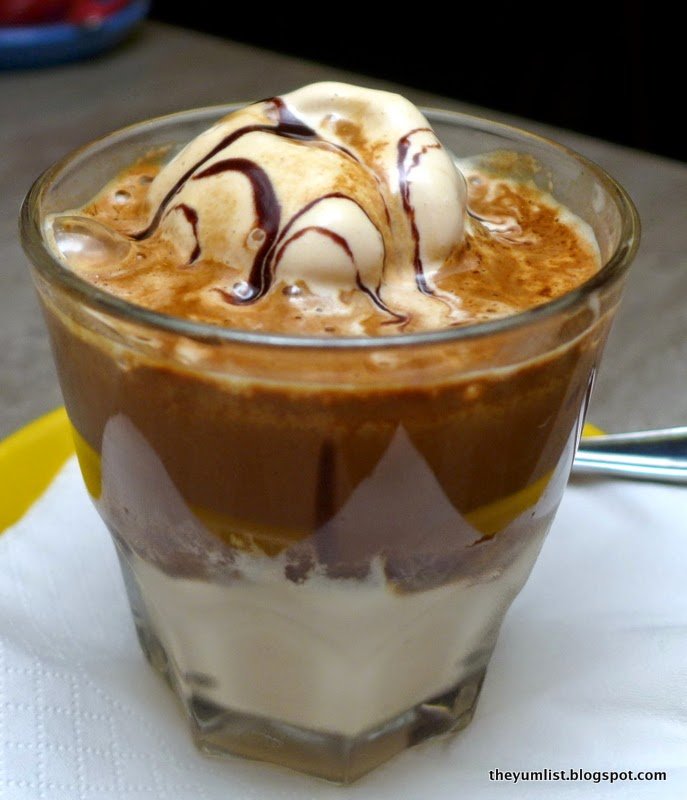 Affogato with Salted Caramel Ice Cream!!!
For excellent coffee and jaw-dropping desserts – Eight Ounce Coffee Co. has you covered.
Reasons to visit Eight Ounce Coffee: great coffee; yummy sweets; don't miss the Choco Bar, Salted Caramel Truffles and Affogato with Salted Caramel Ice Cream.
Eight Ounce Coffee Co.
Lot K13B, Level 1
Suria KLCC
50088 Kuala Lumpur
Malaysia
www.8ouncecoffee.com
+6 012 630 5100
+6 03 2856 9353
Eight Ounce Coffee Opening Hours
Daily 7:30am – 10pm
Halal