Breakfast at CasCades restaurant Viceroy Bali is a real treat. Bequeathed with breathtaking valley vistas viewed from the open-walled pavilion, fresh crisp air rising from the ravine and, a delicious menu of a mostly Western essence, the stage is set for a fantastic start to the day.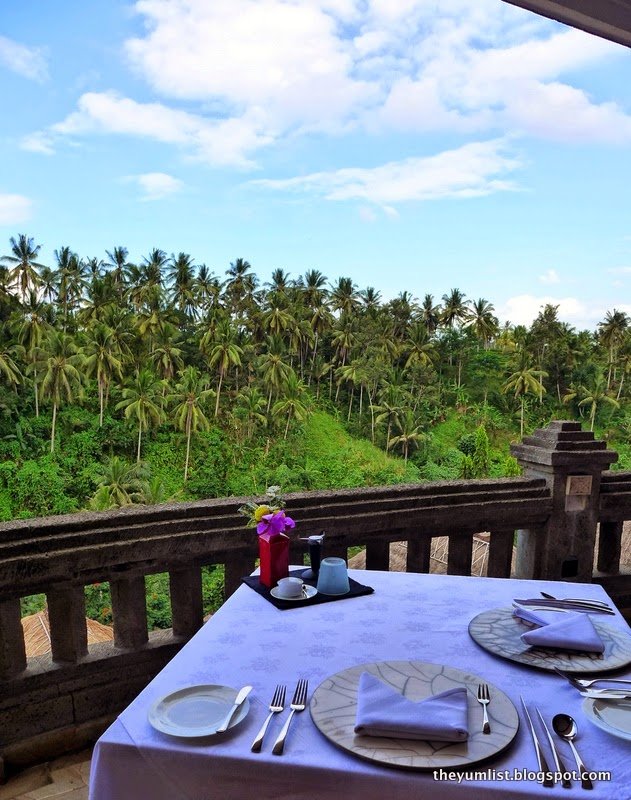 CasCades, Viceroy Bali
I delight in the smell of freshly brewed coffee and aroma of pastries hot out of the oven and, CasCades restaurant at Viceroy Bali gifts me with both. Illy espresso based drinks are my kick-start of choice, so a flat white with skim milk is my first order. Hubby's pretending not to take caffeine but is fooling no one with his pot of extra strong black tea ensured by double tea bags.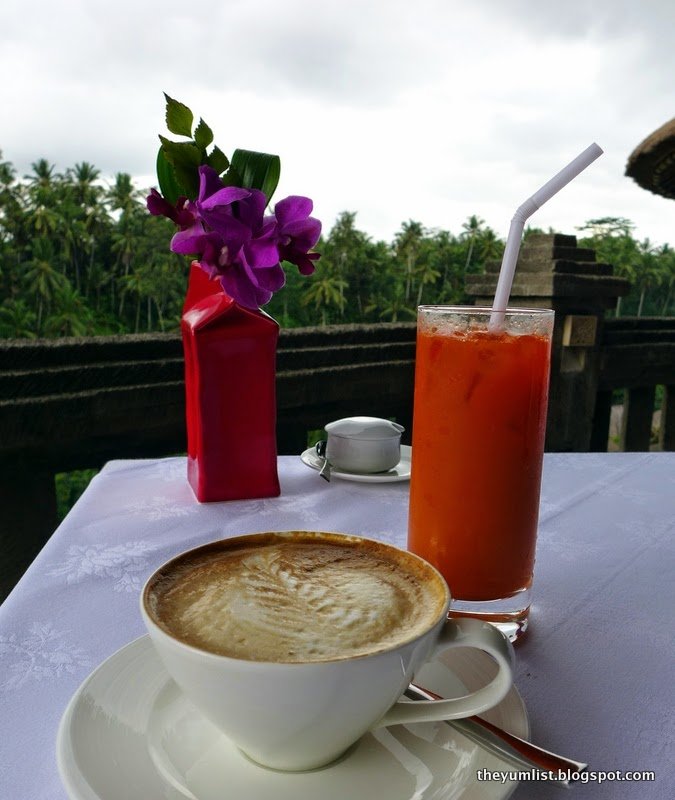 Flat White and Carrot and Ginger Juice
Juices are squeezed fresh. Carrot and Ginger tickles my fancy and hubby loves the Beetroot and Apple which reminds him of a Venezuelan childhood favourite, tres en uno, which also features the deep purple root vegetable. There are many others for the choosing and you can create your own combo from the fruits and veggies listed on the menu.
I toy between the idea of a seasonal Balinese fruit platter or the fruit salad. The latter wins out in the end with the addition of ginger and star anise promising to contribute a twang of wake-me-up flavour. A shot glass of the dressing on the side allows me to adjust the amount of condiment to my own taste. Overjoyed to see the Mango Trifle remain on the menu, it's ordered too. Whipped layers of yoghurt and mango puree are topped with rolled oats and a minted cream yoghurt. Fluffy light and toothsome, hubby takes a spoon of mine and soon makes an order of his own.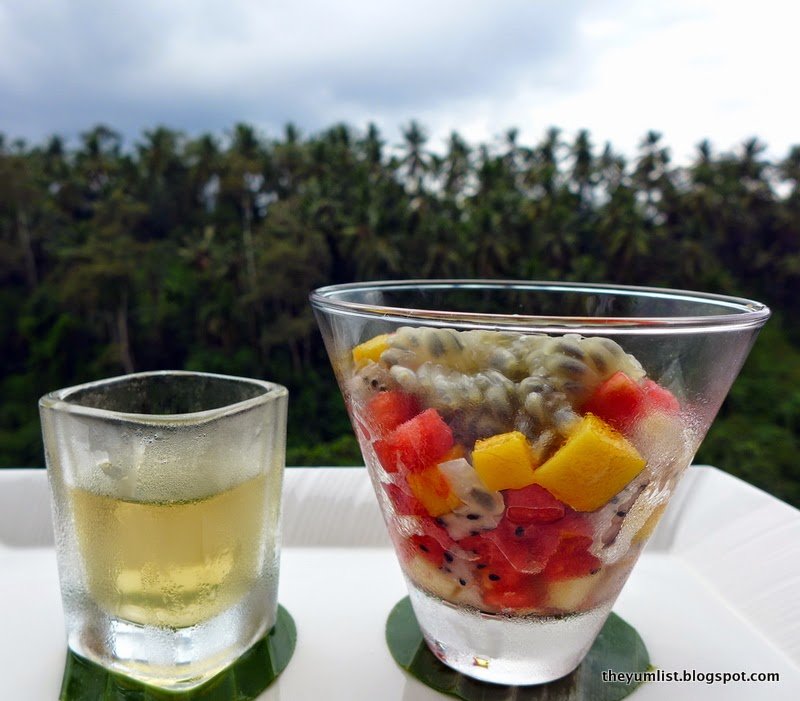 Local Fruit Salad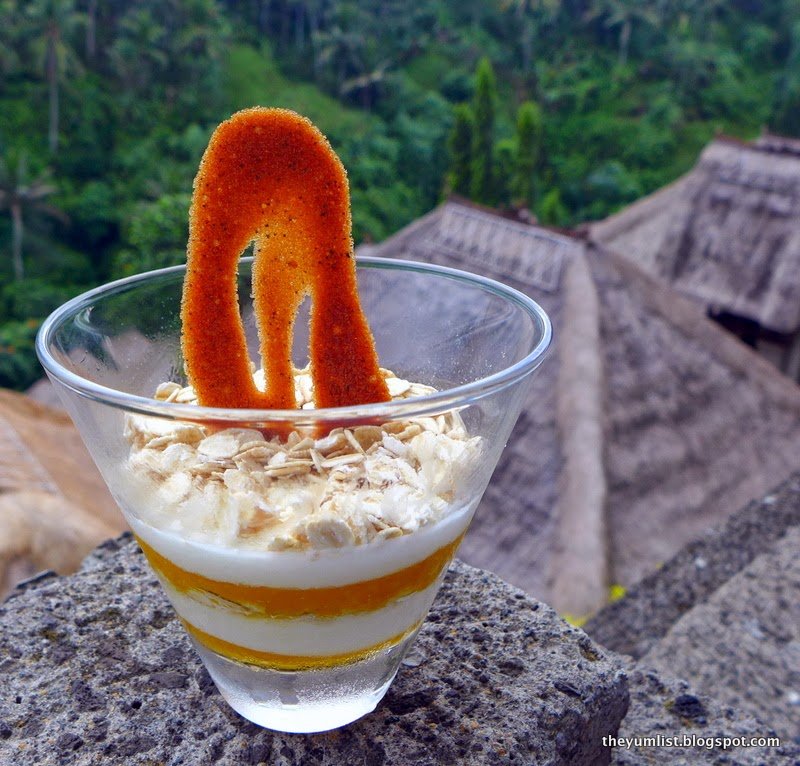 Mango Trifle
The Baker's Basket holds a selection of house baked pastries: a buttery croissant; a cinnamon scroll; a star shaped Danish with a fresh strawberry centre; and a delicious mini muffin. These are European style recipes with good bite to each, plenty of butter and, a tasty flakiness. Despite a generous portion served, they all disappear, not a taste of a crumb remaining.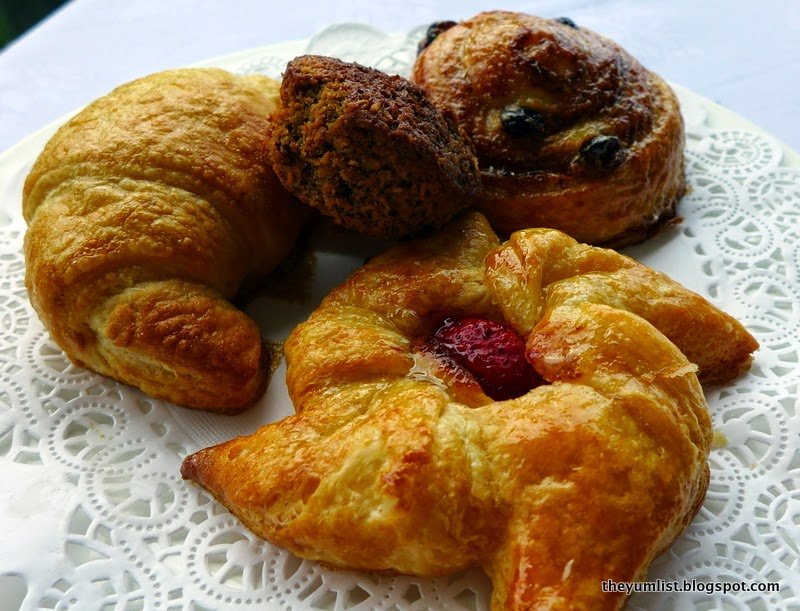 Pastry Basket
Hubby is forced to order the Balinese Benedict as it's one of those dishes that Kirsten and I have raved about for the past year. Poached eggs sit atop yellow rice pancakes and are coated with a Balinese spiced Hollandaise sauce and, finally crowned with dried Javanese beef. The grin on his face suggests it was a good order.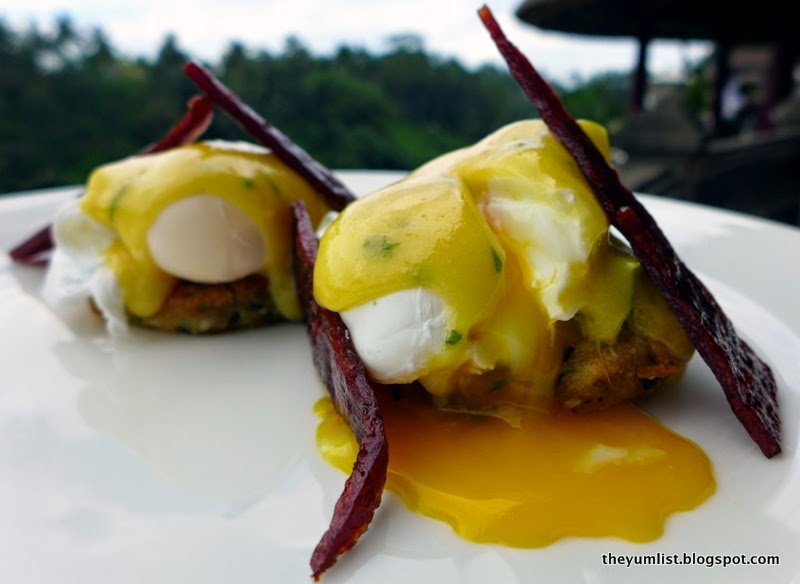 Balinese Benedict
My main, Mediterranean Eggs presents steamed eggs on organic eggplant, zucchini, bell pepper and Italian plum tomato ratatouille with arugula pesto. Two strips of green sauce mark the sides and in between sit two round servings. Each is topped with crispy thin whirls of potato fries, which hubby reaches over and polishes off knowing that I'm unlikely to finish the chips.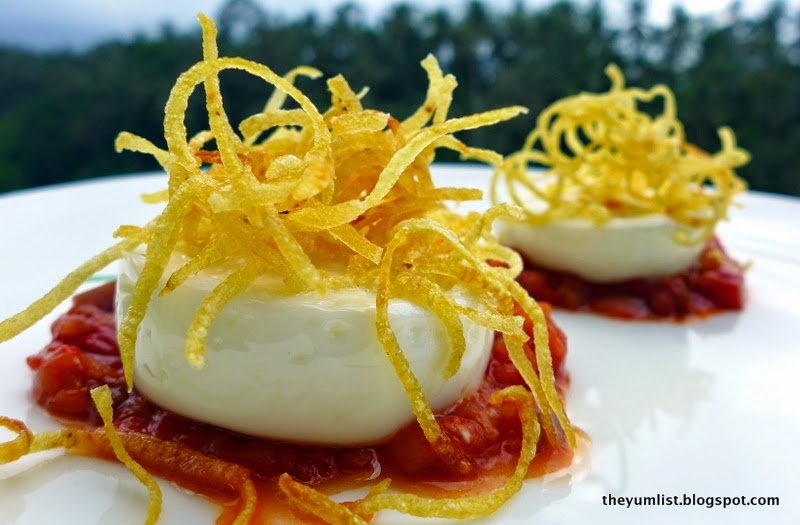 Mediterranean Eggs
Yes, we ate that all in one sitting. I'm not particularly fond of buffets but do like the option of trying a number of things on the menu, so unlimited a la carte options offered by CasCades is a perfect solution. The rest of stay we repeat orders of that divine Mango Trifle, but try some new dishes too.
Hubby reports the pancakes with cream, maple syrup and fruit coulis as a fine rendition of a classic. "Que rico," he continues as he adds another scoop of whipped cream on top, then with one final murmur of satisfaction wipes the last drops of syrup from the serving glass with the remaining piece of pancake ending with a declaration of, "Fantastico!" He too tries the Citrus Crepes that have been infused with orange zest and filled with caramelized strawberries and bananas, topped with whipped cream and drizzled with chocolate.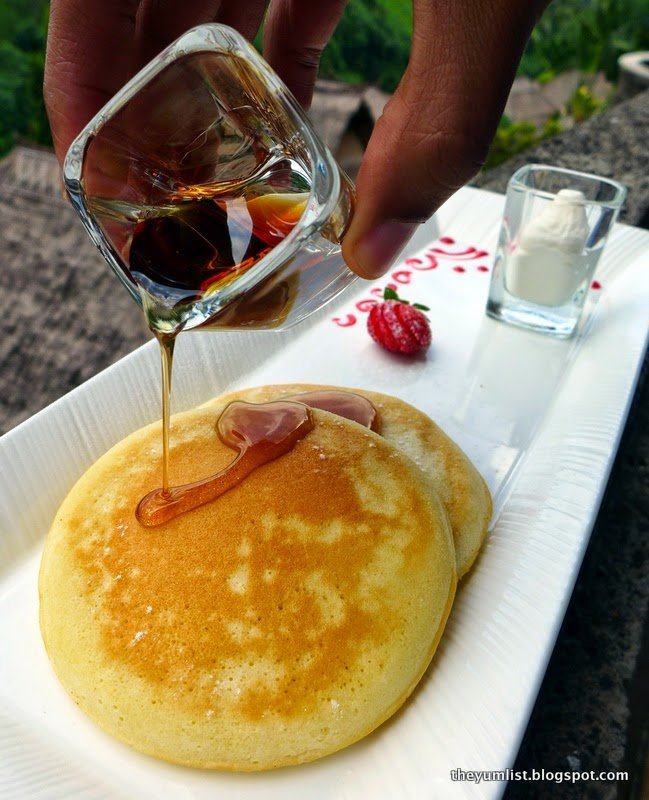 Pancakes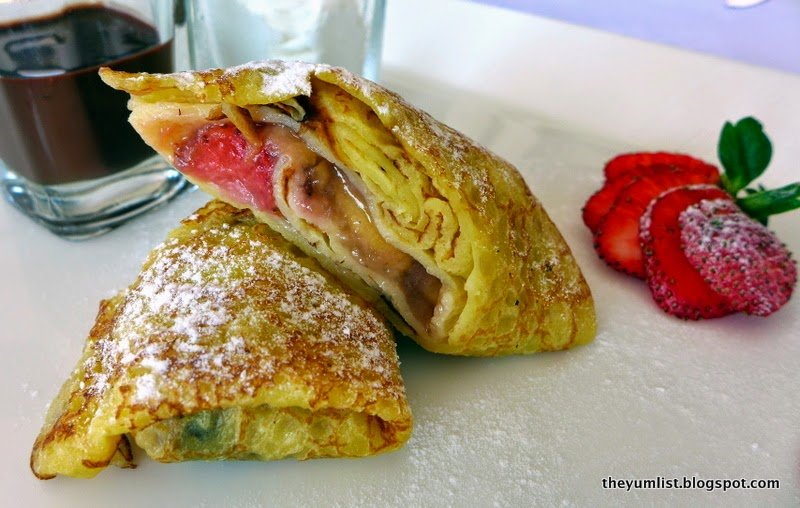 Citrus Crepes
From the eggs section we try the Salmon Scramble topped with chives and served in a filo pastry shell with deep fried pickled ginger and smoked salmon. We decide it a terrific twist on the traditional recipe. Cascades Omelette baked with Camembert cheese, ham and shallots, and sided with a dob of cranberry jam, is just as satisfying.
We think we've sampled all that grabs our fancy until hubby spies the Coconut Rice Pudding with vanilla and cinnamon at the very bottom of the menu. In hubby's words, "The only way to make rice pudding better is with coconut milk!" My final taste is of Toasted Muesli with coconut, nuts and yoghurt. It's a lightly sweetened mouthful of crunch combining well with creamy yoghurt.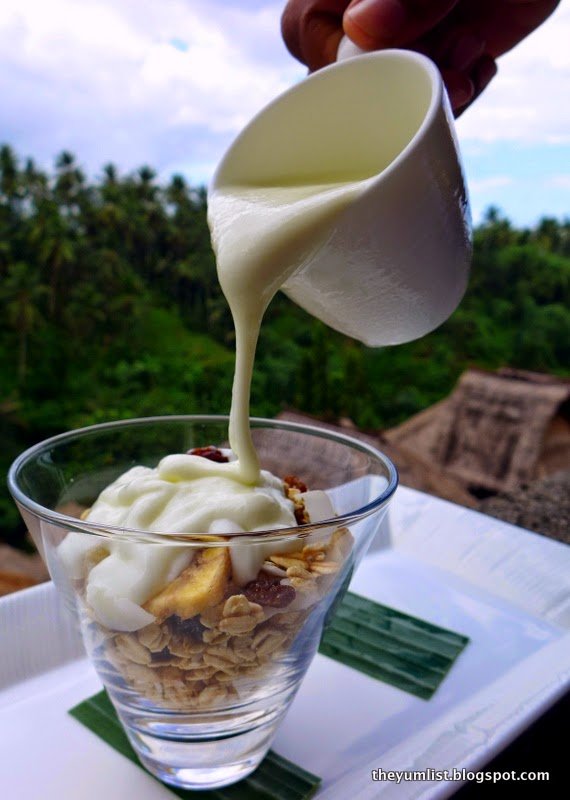 Toasted Muesli and Yoghurt
With a great selection of scrummy foods and an unbeatably peaceful and natural setting, CasCades restaurant at Viceroy Bali is a choice place to start the day.
Reasons to visit: stunning views; Mango Trifle; Balinese Benedict.
Cascades Viceroy Bali
Jalan Lanyahan
Br Nagi, Ubud
Bali 80571
Indonesia
+62 361 971 777