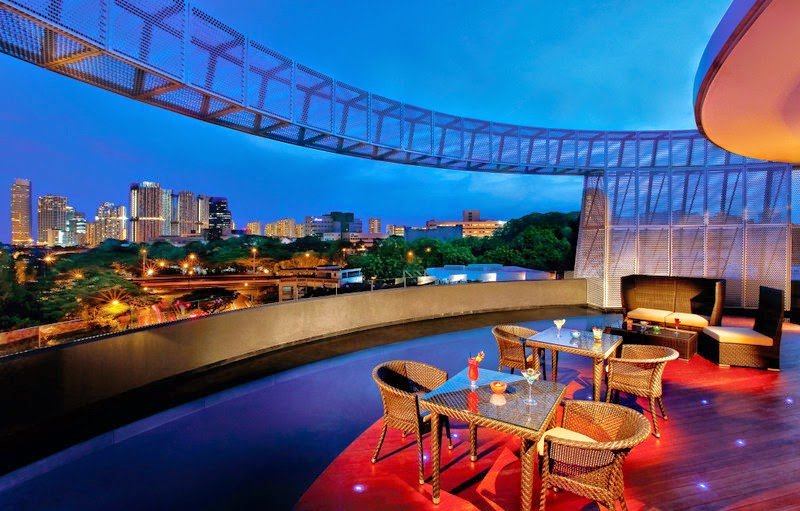 Halo Rooftop Lounge
Halo Rooftop Lounge, WANGZ Hotel, Singapore
Sunset is the perfect time to head up to Halo Rooftop Lounge, WANGZ Hotel's casual bar. Weekend live music, paired with cityscape views, make it a chilled locale for relaxation and enjoyment of the area's hip vibe. Daily drink specials and grilled tapas further assemble an agreeable spot for whiling the evening away.
We arrive on a Friday night and are greeted by the energetic buzz of a full house. Single seaters at the bar, couples at tables, small groups of friends and one large party crowd fill the open space. A duo sings popular tunes accompanied by acoustic guitar. All in, it's a lively scene.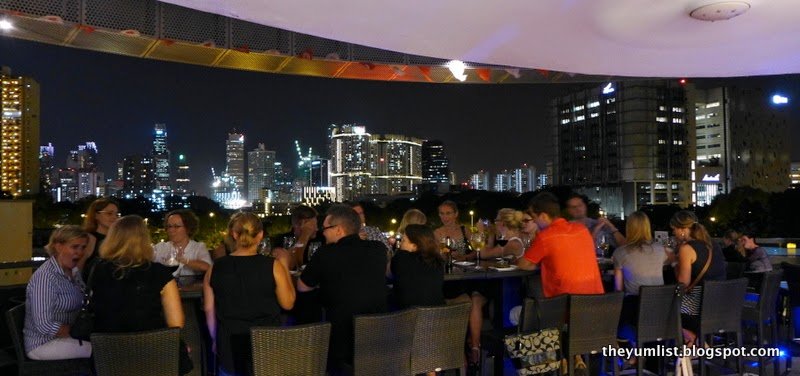 Crowd on a Friday Night
A fortuitous spot by the open balcony grabs our attention where we're just far enough away from the band to engage in comfortable conversation, and too, benefit from the cooler night air and vistas across the treetops and city.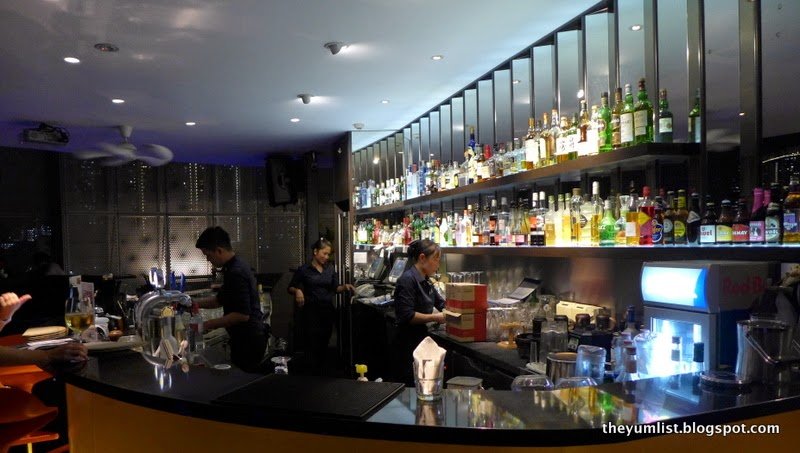 Bar
Ravished, after a long drive from Kuala Lumpur, we start with the grilled tapas menu. Marinated Chicken Skewers ($11) are tender chunks of breast marinated with Asian condiments, patterned with onions and bell peppers. They immediately fill a hungry hole with the moist flesh and roasted veggies.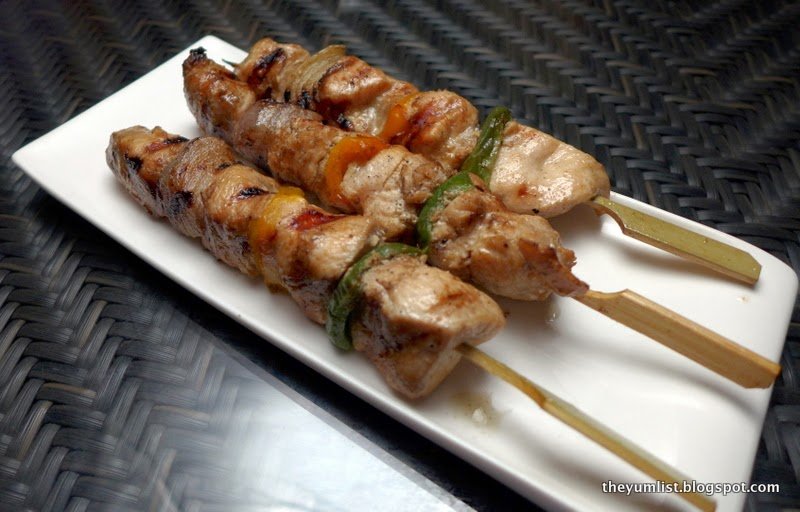 Marinated Chicken Skewers
Lamb Cutlets ($14) showcase premium Australian lamb rack with natural jus and a mint sauce on the side. The sauce is great, but the meat is flavourful all on its own. Hubby makes a second order. Even though worthy of the repeat, Hubby's favourite turns out to be the Beef Tenderloin with Caramelised Onions ($14). A scaloppini of marinated steak is folded over the sweet onions with a few leaves of salad greens lightening the density.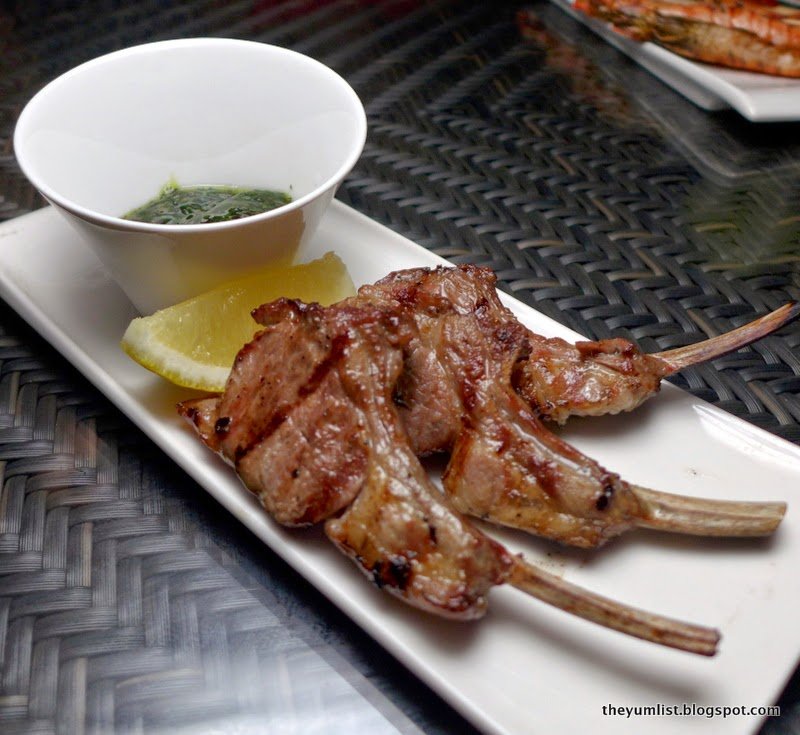 Lamb Cutlets

Beef Tenderloin with Caramelised Onions
Lined up in a coral coloured display, the Grilled Tiger Prawns ($15) are charred just enough to imbue the smoky grill throughout. Continuing with seafood, the Crab Cakes ($10) is another plate that has both hubby and I crooning. Fresh shreds of crustacean are mixed with Arborio rice and bell peppers forming an almost risotto-textured filling, which is then deep-fried and served with an almond aioli. The result is a crisp exterior and pillow like interior. Good stuff.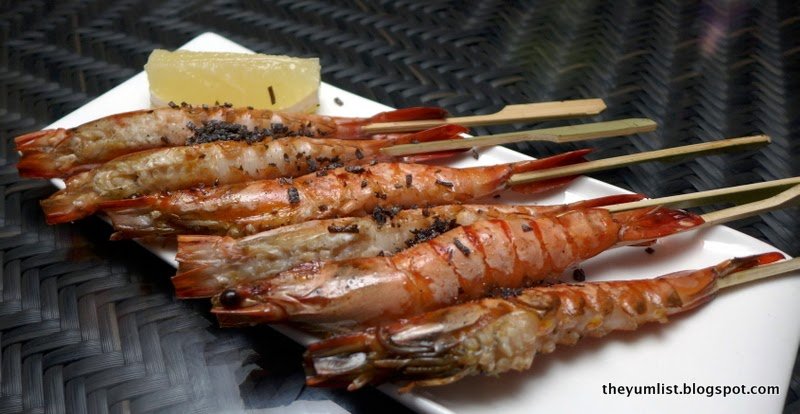 Grilled Tiger Prawns
Crab Cakes
We know we shouldn't, but the grill section has been highly satisfying so we venture onto some things from the fried section. Fried Mozzarella Cheese Rolls ($8) with homemade tomato sauce, are encased in a crisp filo pastry, which breaks way to a hot stringy centre. Kernel's Corn Chips ($8) are served warm with guacamole and cheesy dipping sauces. Although not house made, the chips are of good quality, and served at this temperature, with yummy dips, they too are consumed in their entirety.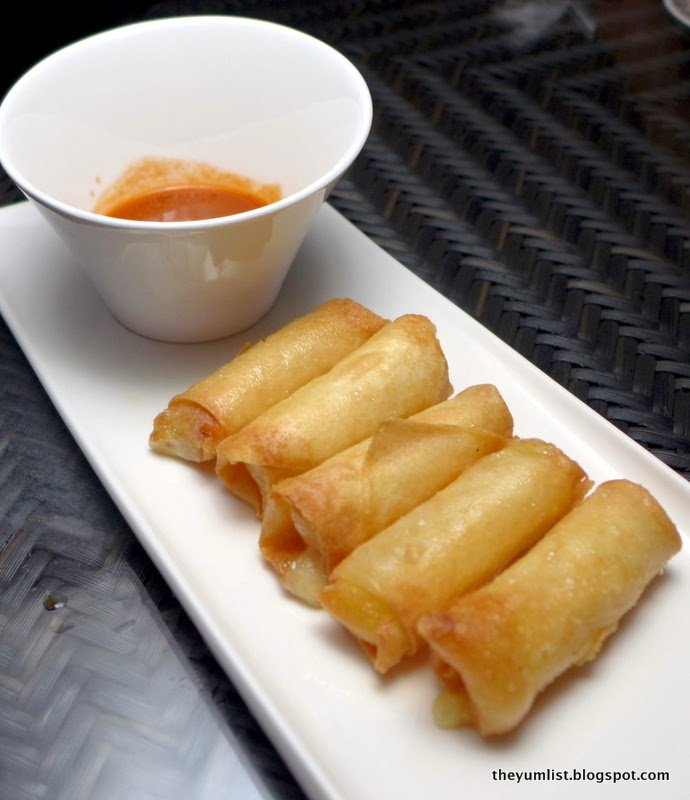 Fried Mozzarella Cheese Rolls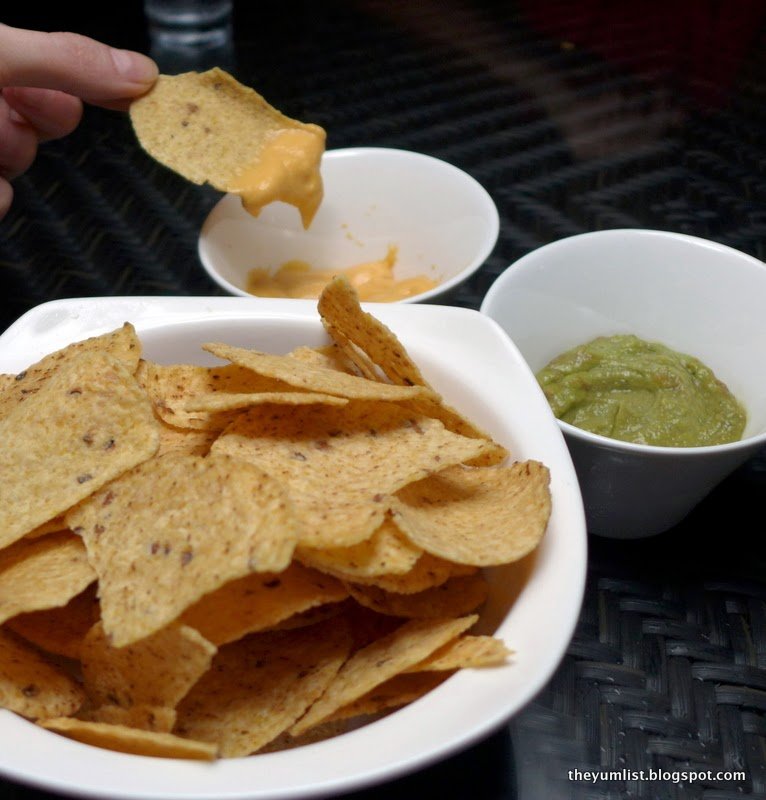 Kernel's Corn Chips
A good selection of drinks is another crowd pleaser. Creative cocktails unique to Halo, more than a handful of boutique beers, and an interesting range of spirits and wines make spoilt-for-choice offerings.
Hubby tries two craft beers, each with its own distinctive character. Belhaven Twisted Thistle (500ml $16) is a stunning Indian Pale Ale, which promises to  "tingle taste buds with pleasure after a sip or two of its golden nectar." Apparently the description is rather accurate, as I have to be swift to get a taste in before the last drop disappears through my partner's lips.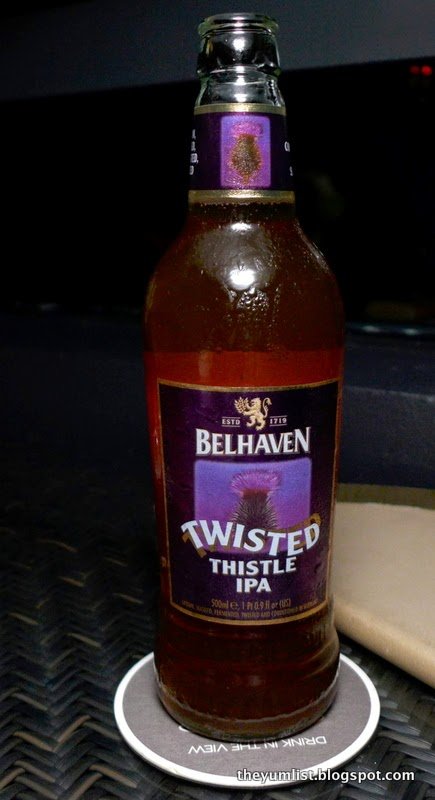 Belhaven Twisted Thistle IPA
The second, Kwak (330ml $16), is bright amber in hue with a textured creamy head. Fruit and malt aromas waft to our nostrils with a hint of spice mixed in. Easy drinking, yet full flavoured, we get caramelized fruit in our palate and a lightly bitter ending. Presentation is special too. Coming with its own curvaceous glass and wooden stand, it's certain that this beer has been lovingly brewed.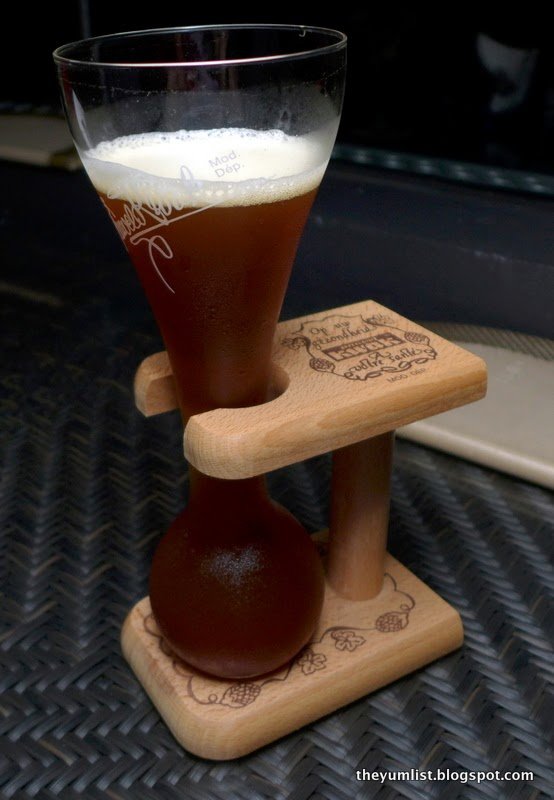 Kwak
I like the look of their "Especial" cocktail list with a bundle of specialties created solely for Halo. Hawaii on the Roof ($18) seems appropriate for the location and I'm pleased with the half coconut shell delivery. Chilled with floating ice cubes, Angostura rum, Mango Tropic, Malibu coconut rum, orange juice and cranberry make a refreshing mix. Pineapple, orange, strawberry and a maraschino cherry garnish the rim.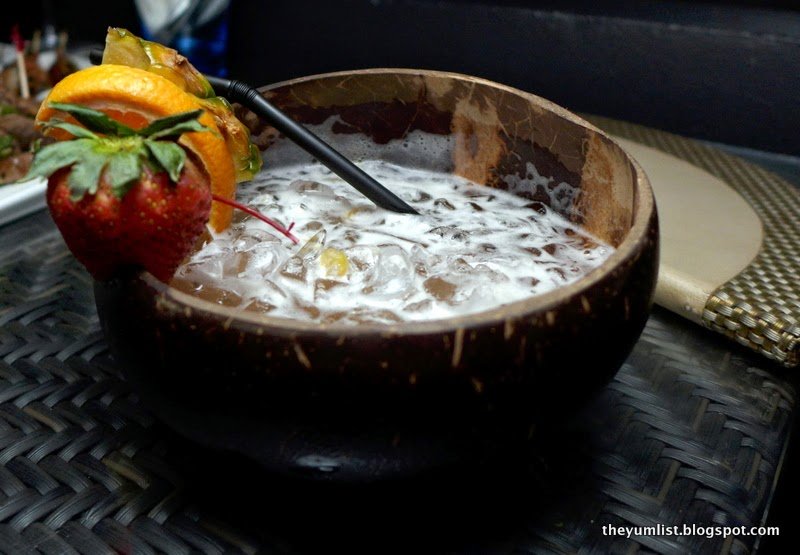 Hawaii on the Roof
The Dragonfruit Martini ($18) both looks and tastes great! Lemon-infused vodka, Vanille de Madagascar, fresh dragonfruit and agave nectar are shaken together to form this thirst quencher. It's sour and vanilla-y, and gently sweet and fruity, all at the same time – a rather unique blend of flavours that I'm glad to have tried.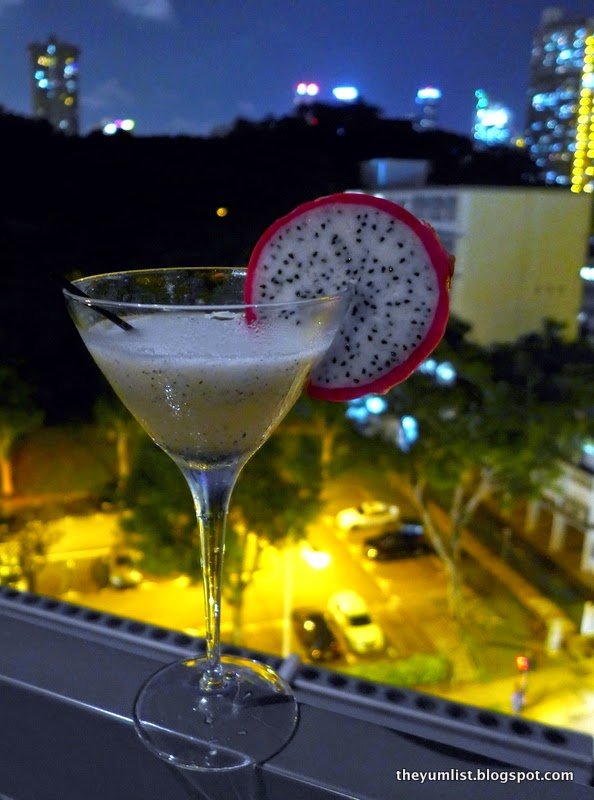 Dragonfruit Martini
Our dining buddy, who's a little more sensible than us, orders a mocktail, the Minty Fresh ($10).  Served in a tall cocktail glass, this slushy style drink puffs up to a tower of icy deliciousness. A fresh lychee and sprig of mint garnishes the beverage with lime juice, mint syrup, lychee syrup and soda topping up the glass.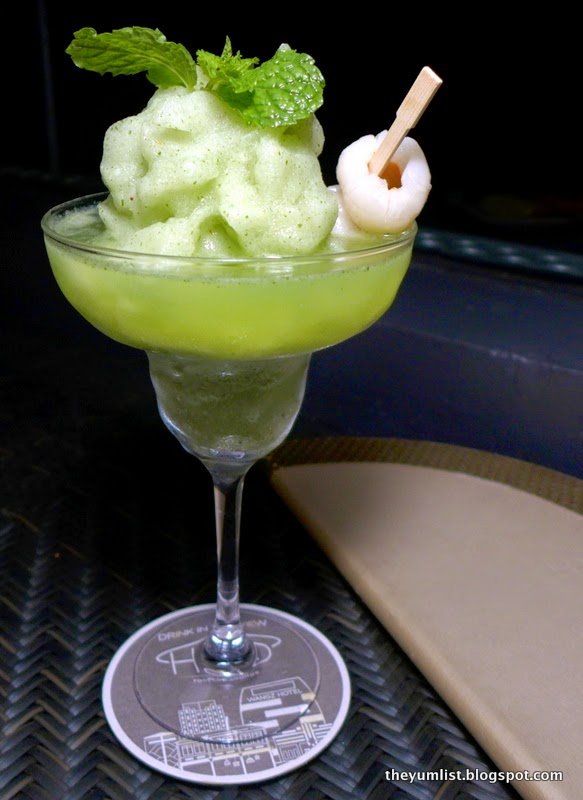 Minty Fresh
Cool night breezes, live music, grilled tummy fillers, craft beers and creative cocktails – Halo Rooftop Lounge is a top spot to spend a few hours.
Reasons to visit: creative cocktails; boutique beers; grilled tapas menu; rooftop breezes.
Halo Rooftop Lounge
WANGZ Hotel
231 Outram Road
Singapore 169040
+65 6595 1388