Sungeeta Singh and Monica Tindall
G3 Kitchen & Bar is a cozy cafe and pleasant find in the heart of Bangsar. With a menu filled with predominately Western style dishes, but distinctive Asian influence, we found ourselves reminiscing about some of the modern Australian and New Zealand cafes back in our part of the world.
Parking nearby is easy in the basement of one of the Bangsar Villages (I & II) or the lot next door under the police station. Seating in the cafe is cool and offers views of the restaurant-length pantry of products used in the kitchen which double as wall adornment. (Sorry folks, it truly is a pantry though and these items are not for sale). The few tables outside allow smoking and a place to watch the world go by. Both the bar and kitchen are open spaces and it's pleasing to see how pristinely clean they both are.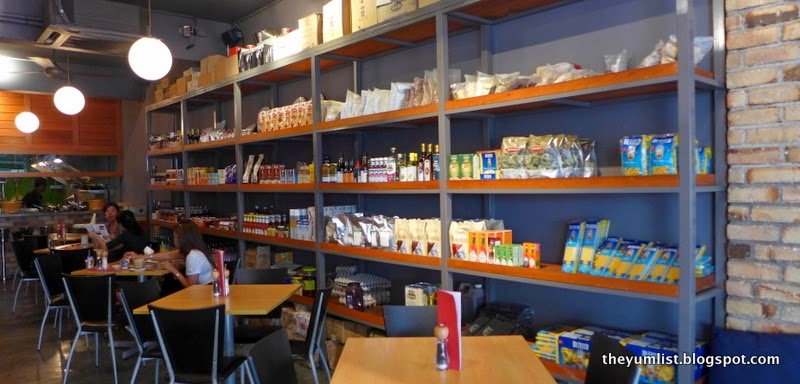 G3 Kitchen and Bar
We chat for a while with the manager and discover that the chef/owner, together with another two chefs, make just about everything from scratch in-house, including their own bread for sandwiches and a mouthwatering array of cakes and desserts (which are a clear drool point in the glass café-front display).
We take our time choosing from the impressive drinks list that includes: healthy drinks; smoothies; hot and cold teas and coffees; gourmet sodas; beer; and wine. A compact selection of wines from around the world is found on a separate menu and we're already warming up to the idea of a glass or more as we note the house wine and wine of the month are very reasonably priced at RM20++ and RM18++ respectively.
Over the course of our meal we fall in love with a number of beverages. Caning oohs over the Chai Tea Latte (RM10++). Monica's happy to see that low fat milk is available and I'm charmed with the aromatic chai spices of this hot drink. We find the Ginger, Orange, Lime, Lemon and Honey Drink (RM12++) healthy and refreshing with a wonderful, yet not overpowering, zap of ginger. The Banana and Fig Smoothie (RM13++) is fresh, thick and wholesome. It could easily be breakfast in a glass!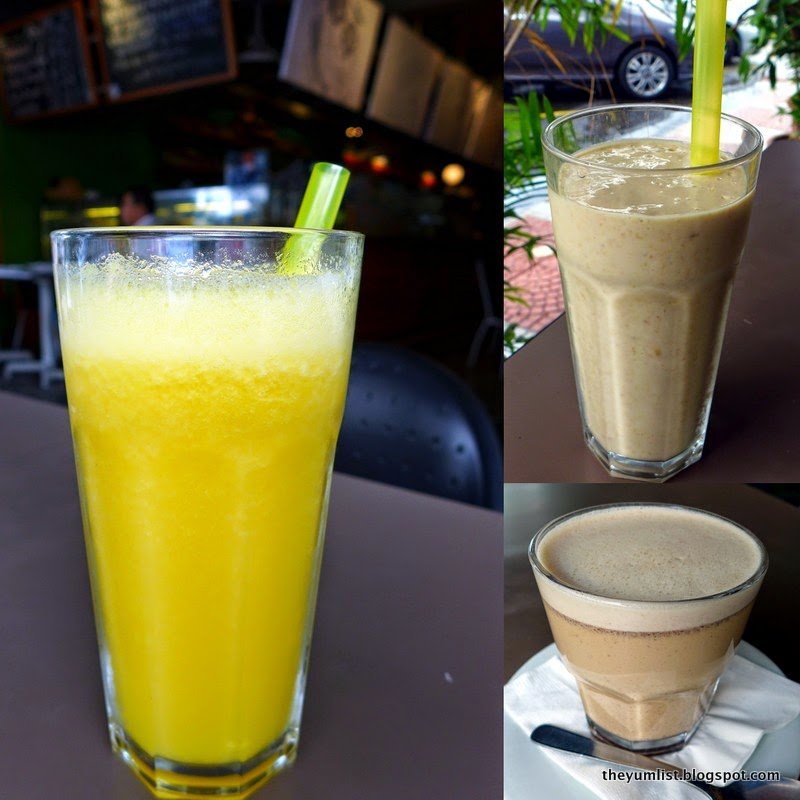 Fresh Juice, Smooth and Chai Latte
El Circo Malabarista (The Circus Juggler) Macabeo 2013 is our chosen drop from Spain. Showing off light minerals and lime on the nose, with tropical fruits elegant in the mouth, it's easy drinking on
this warm afternoon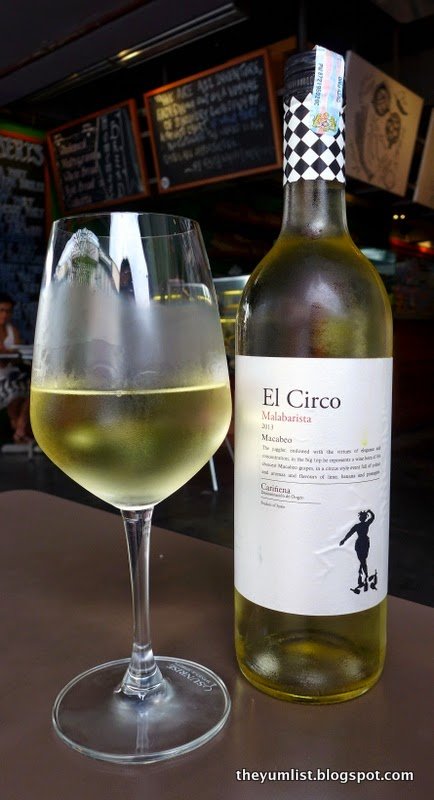 Wine of the Month – El Circo
We begin with some lighter dishes and work our way steadily (and happily) through the menu. Strawberry Salad with Smoked Duck (RM23++) is served with a muddle of fresh rocket leaves and I find it a wonderful surprise of flavours. The subtle dressing of balsamic vinegar and apple cider perfectly enhances the flavours, and while this salad is only available on the dinner menu, I'd love to convince chef to make it a lunchtime number.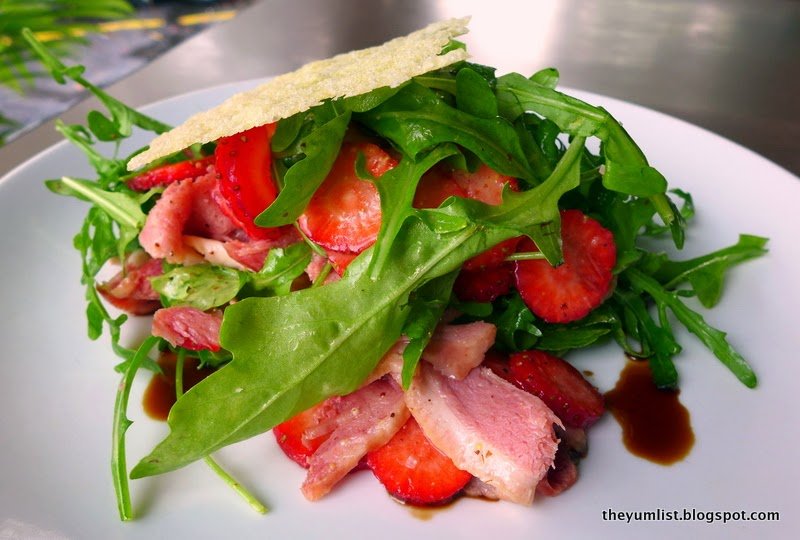 Strawberry and Smoked Duck Salad
Spinach and Beef Bacon Quiche (RM18++) might just be one of the best I have eaten! The crust is not traditional – it's light and biscuit-like, and the filling flavoursome. Served with a side of fries and garden leaves, it's a great lunch choice.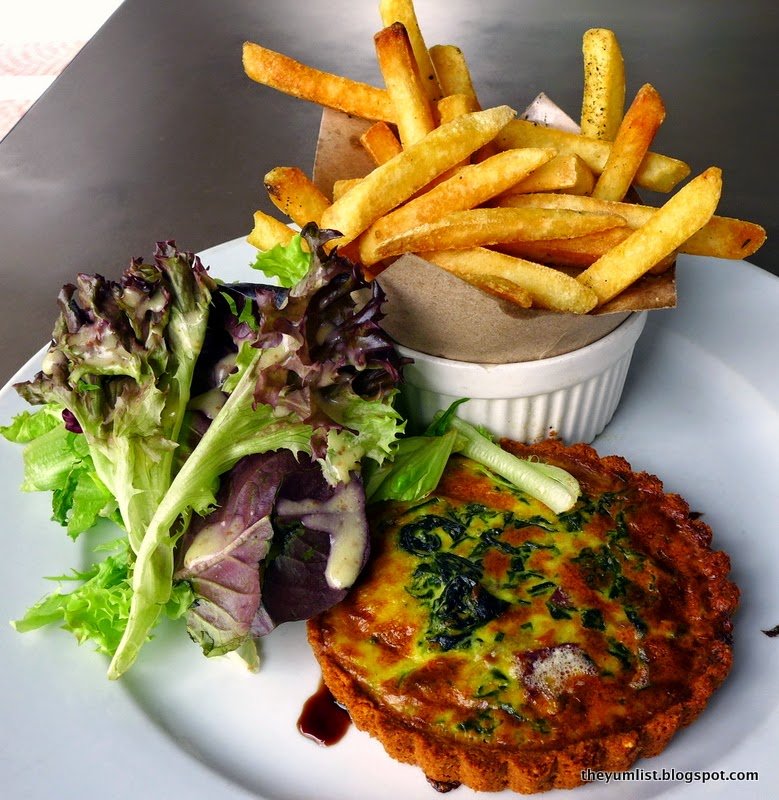 Spinach and Beef Ham Quiche
Pizza Diavola with Grilled Chicken and Beef Sausage (RM26++) cannot be imagined from the menu description alone. The wonderful savour of grilled chicken, large chunks of beef sausage and loads of cheese on a thin pizza base, are all enhanced and brought to full attention with pieces of jalapeños mixed in. A generous 12-inch round is more than enough for sharing between two to four friends. Over a handful of pizzas is available ranging in price from RM22-33++ depending on topping.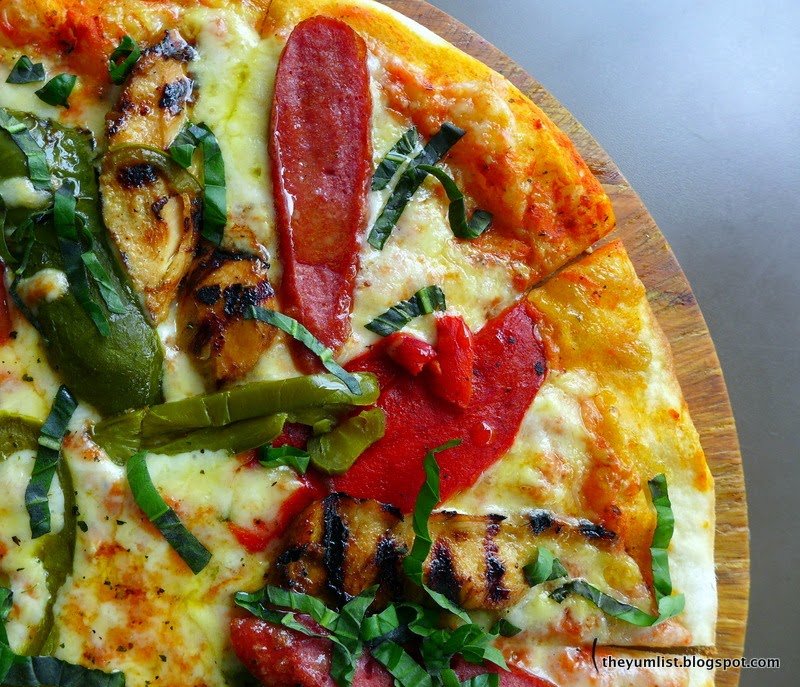 Pizza Diavola
One of my favourite dishes is the Spiced Lamb Burger (RM23++). (Although, it must be noted that with the presentation of each subsequent dish I keep finding a newly endeared.) A fat home made spiced lamb patty is served with a mildly tangy mustard mayonnaise and a richly filled tzatziki sauce atop a fluffy white bun. It doesn't stop there either! A pile of fresh watercress and mint on the side provides an incredible boost to the overall taste and texture profile as well as contributing to an inviting presentation.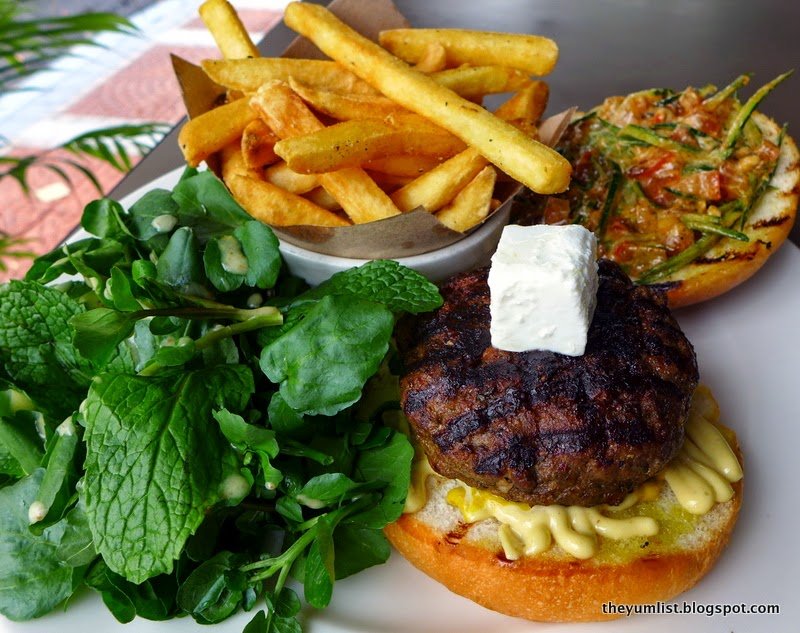 Spiced Lamb Burger
A huge bowl of Pesto Chicken Penne (RM26++) is guaranteed to keep big appetites satisfied. Al dente pasta tubes are drenched in a creamy sun-dried tomato sauce and pieces of grilled chicken provide something to bite into, making the dish even more gratifying.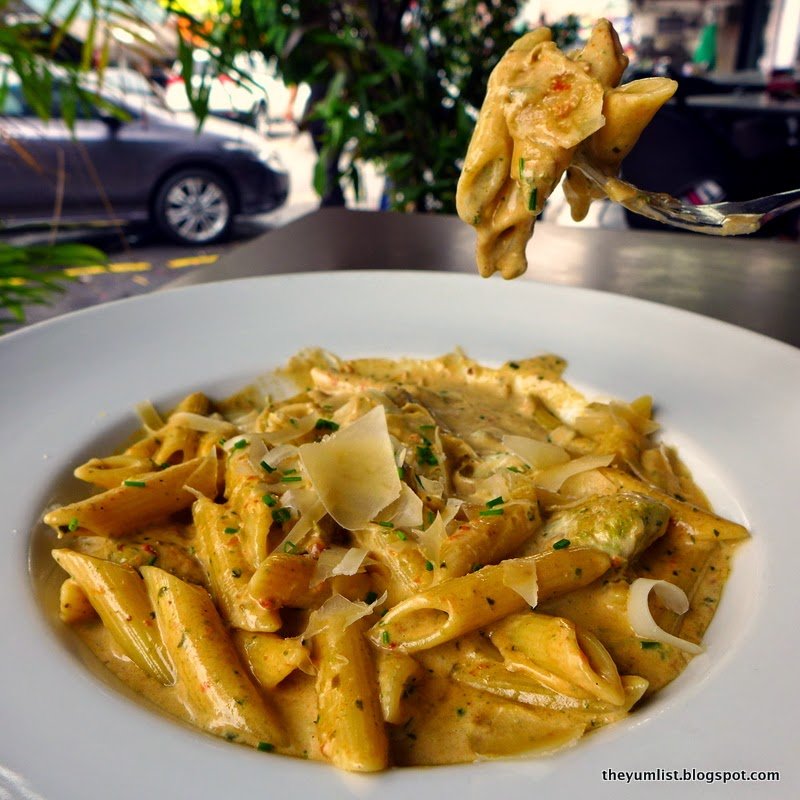 Pesto Chicken Penne
Chicken Tikka Marsala (RM30++) has become a signature dish due to its overwhelming popularity. It's another generous portion of half a chicken, served with brown rice, tomato salsa and mint yogurt sauce. The chicken is tender and moist – the result of the marinade of Indian spices. It is definitely on our reorder list.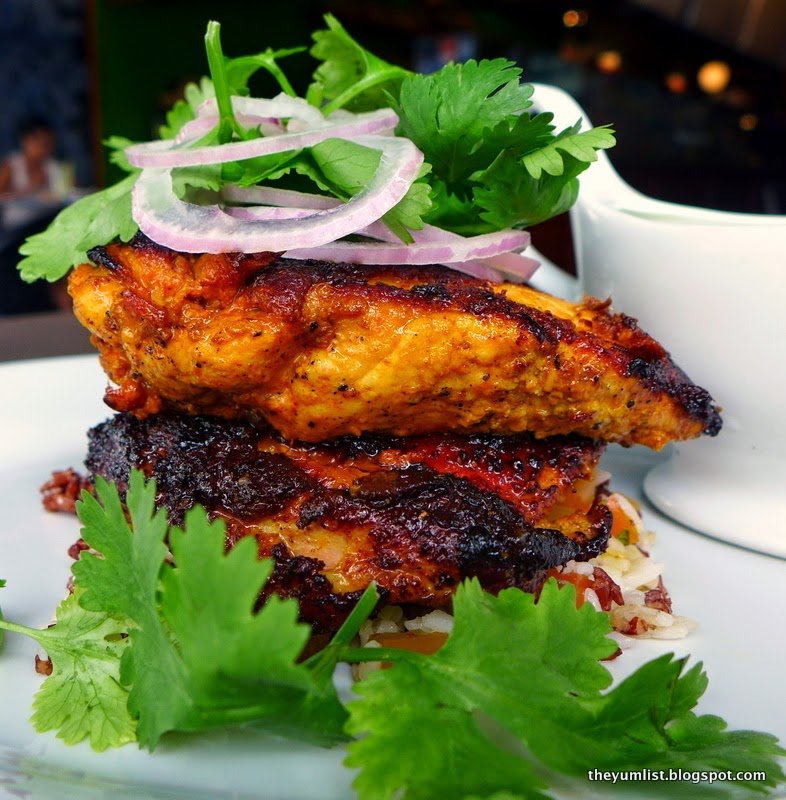 Chicken Tikka Marsala
Crispy Skin Salmon (RM33++), served with interlocking circles of seafood béarnaise, is a treat for seafood lovers. The grilled flesh is pink and succulent within, while the skin is crisped to perfection. A base of shredded white cabbage has a mild taste of sauerkraut assisting to slice through the natural oiliness of the fish, and small pieces of beef bacon give an added boost of flavour.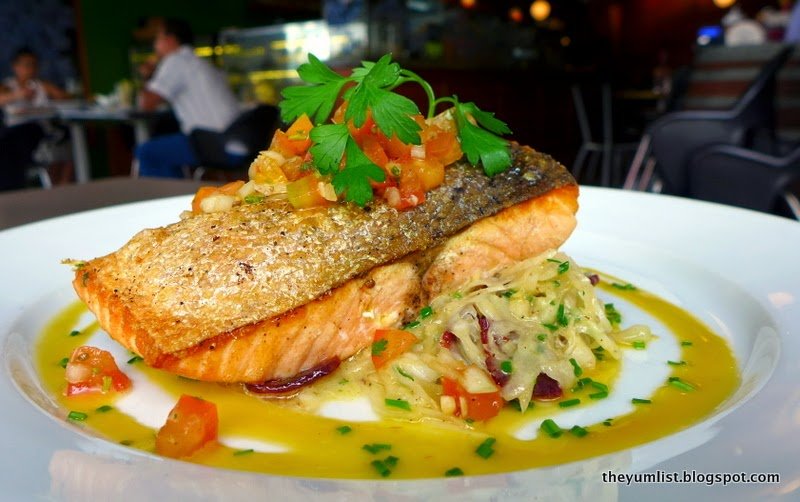 Crispy Skin Salmon
Time for dessert! The Pumpkin and Chocolate Cake (RM7++), as with the others on the menu, is baked on site. It's moist, dense, and not too sweet. The condensed texture and gooey rich chocolate icing prove it easily shared.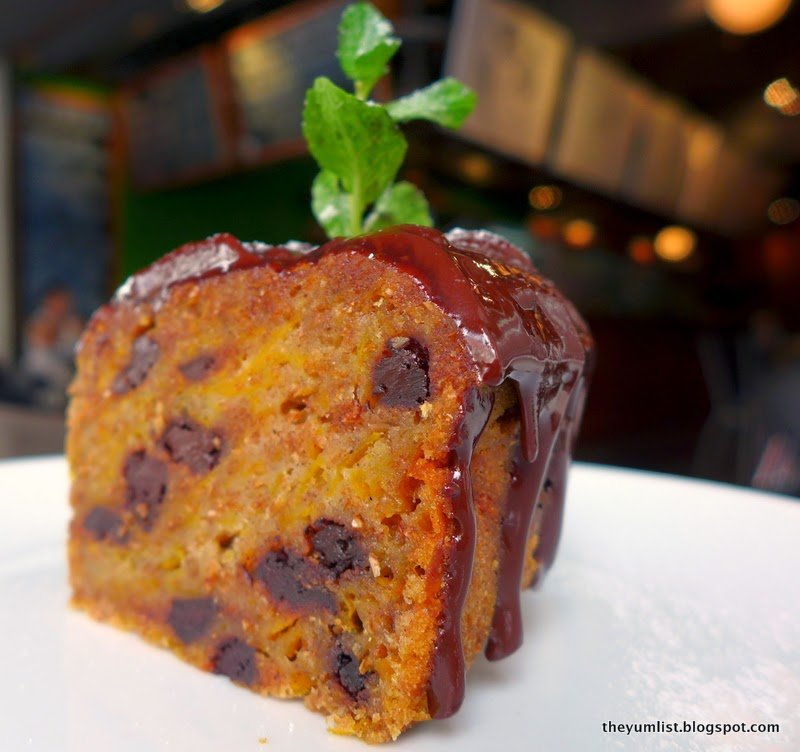 Pumpkin Choc Chip Cake
The Rhubarb Tart (RM9++) is held together with a delicious pastry, a gently sweet filling, and a wonderful crumbly top. Served warm, an indulgent addition is a creamy scoop of vanilla ice cream, making a very pleasurable end.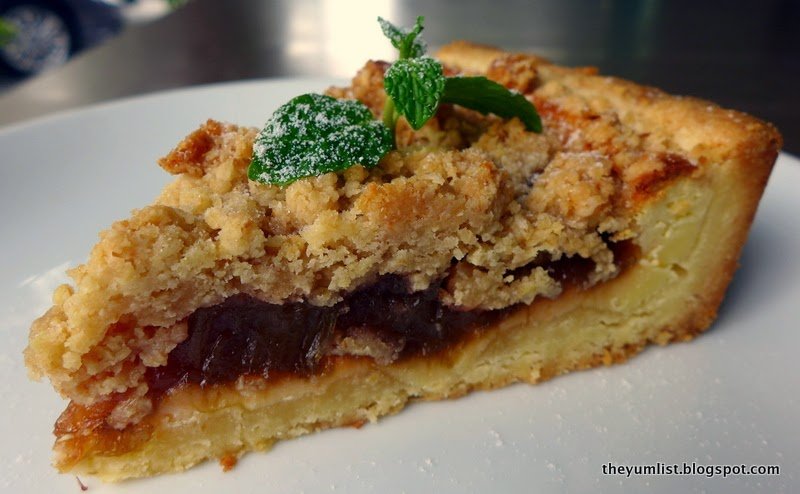 Rhubarb Pie
G3 Kitchen and Bar is proud to claim that none of their food is pre-cooked. Everything is made fresh, on-the-spot daily. The result is creative dishes with a great combination of flavours. Overall this café offers good-sized portions, well presented, flavoursome food at affordable prices.
Reasons to visit: Banana and Fig Smoothie; good value wine; Strawberry Salad with Smoked Duck; Spinach and Beef Bacon Quiche; Spiced Lamb Burger; Chicken Tikka Marsala; big portions at reasonable prices.
G3 Kitchen and Bar
19 Jalan Telawi 3
Bangsar Baru
Kuala Lumpur 591000
Malaysia
+6 03 2282 9019