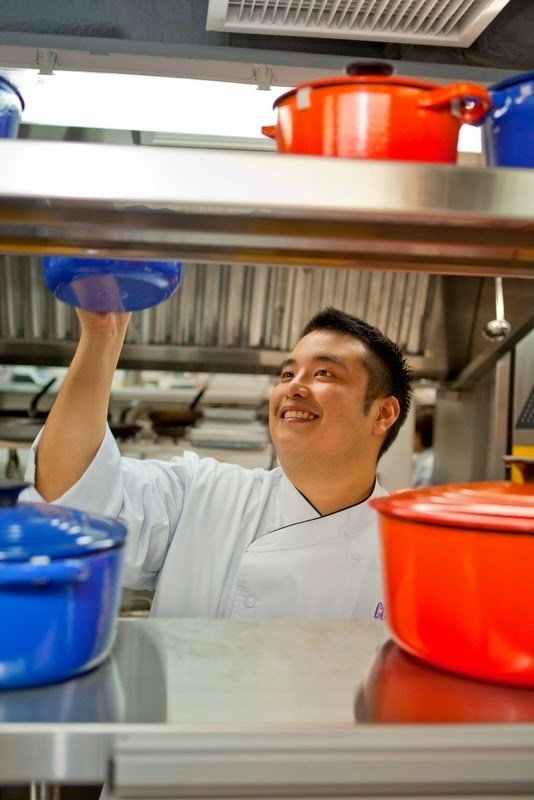 Anthony Yeo, Head Chef of Cocotte
Interview with Anthony Yeo, Head Chef of Cocotte, Wanderlust Hotel, Singapore
What do you do and how did you get into the industry?
I'm Head Chef at Cocotte. I flirted with the idea of becoming a chef for a long time, doing freelance jobs for friends' parties and such until I decided to throw it all in the hat and went to culinary school.
Share with us an interesting story from behind the scenes.
Our kitchen has some singers who tend to burst into song like they're on the set of Glee. More than once they've been caught by guests staring into the very open kitchen wondering where the wailing is coming from.
What's the best/ worst part of your job?
The best and worst it the creative freedom and autonomy I have to run Cocotte. It's what every chef dreams of in a job, but it also comes with it a lot more effort and responsibility.
Tell us a story about one of the dishes/cocktails you prepare…
The Pork Collar in a creamy mustard sauce is was one of the dishes I cooked for my interview for this gig. I remember our boss, Loh Lik Peng, probably expecting a plated dish, and I came out with a cast iron cocotte with the pork in it and a few bowls of roasted veg. It was just very rustic, unexpected but at the same time sincerely what I cook and I remember his eyes widening and saying "THIS is interesting." The rest is history.
What's one of the craziest things you've seen behind the scenes?
There was one time where we had just opened and were doing crazy numbers, in particular for our roast chickens which had taken off unexpectedly. Because we brown the chickens at such a high heat at some point the grease on the walls of the oven caught fire. We looked in through the door and it was literally flaming chickens. This, in the middle of getting slammed for dinner, had us freaking out for a second but we just sprayed it down and went back to work after that. Hopefully no one saw us dousing the chickens on a flaming tray coming out of the oven.
The perfect day off would be… where no one calls me.
A life in the day of a chef is… unpredictable, tiring but fulfilling.
What do you do for fun?
Sleep in!!
What's something you'd like guests to know about the cuisine prepared at Cocotte?
We prepare almost everything we can in-house, including now our bread, charcuterie, sauces, stocks etc. It's a lot of work but we know exactly what we're serving to our guests and there's a certain pride that comes with it that not all restaurants can lay claim to.
How do you select your ingredients and why?
Seasonality is important, but also to a degree somewhat irrelevant in Singapore where we import everything. You can pick whatever season you want and order it from there. Provenance, knowing where the ingredients we use comes from, is important in an age where people tend to mess around or take shortcuts with produce we're one of the final lines before it gets served to the consumer.
What's your view on the Singapore restaurant/ bar scene?
It's very crowded, trend driven and at its peak, more so than it's ever been. Which is both a good and bad thing as people jump very quickly onto the next bandwagon, but it also attracts more people to the industry who are hopefully passionate about the work and is great for business and Singapore's profile. It'll be very telling in the next five years who's still around and whether we've managed to turn this boom into something lasting and impactful for the industry and mature it into its own unique landscape the way cities like London, Paris, San Francisco and New York all have very mature and defining traits to their food culture,
What can guests look forward to in the upcoming months?
We've launched a brunch menu, that hopefully will get bigger and better. We also have an ongoing organic farm project with aim to eventually have all our vegetables come from a farm just eight hours away in Cameron Highlands rather than flown in from thousands of miles and days away. Sustainable, less of a carbon footprint and fresher and cheaper for us and our guests. As we head into the next couple of months these vegetables will become more and more of a feature on the menu.
In July we tied up with the Singapore Dance Theatre to produce these amazing all-inclusive wicker picnic baskets filled with a gourmet dinner for their Ballet Under The Stars event. So keep your eye on our website for more events like that.