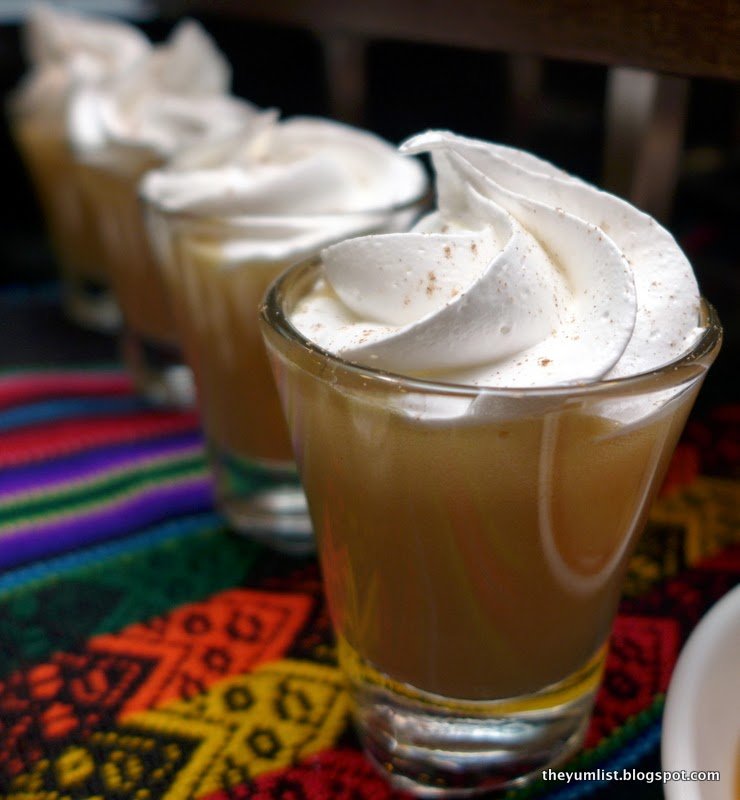 Peruvian Sweets at the the Gastronomic Showcase, Ritz-Carlton
Peruvian Gastronomic Week, Cesars, Ritz-Carlton
Words by Kirsten Durward
Photos by The Yum List (Monica Tindall)
KL continues to astound me with opportunities for eating, drinking and generally enjoying oneself. The cultural diversity is startling, and more than any other place I have lived, embassies and consulates seem to vie to outdo each other in hosting food events that feature their national culture, which is one way to land straight at this international food hunter's heart. I know we're not supposed to have favourites, but lets face it, everyone does. And the Peruvian Gastronomic Week in KL is definitively one of mine.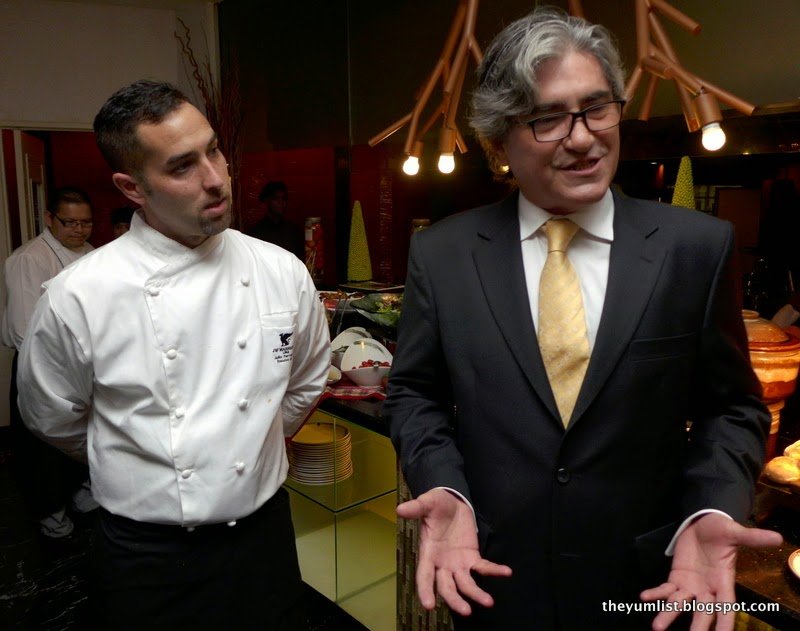 Chef and Ambassador
I first discovered the scrumptious splendours of Peruvian cuisine back in the echelons of 1996, when I rambled that great country, tasting and guzzling at will. Of course this event at the Ritz Carlton is far more salubrious than that wide eyed backpacker would ever have dreamed of, but three things remain constant:
1. Friendly, charming hospitality. This is true, the first year, I came here, on my own non Yum Listing, I had great chats with both the deputy ambassador and the visiting chef. Lovely people the Peruvians.
2. Mellow depth of flavours, wonderful diversity of food… more on that later
3. Pisco, and lots of it!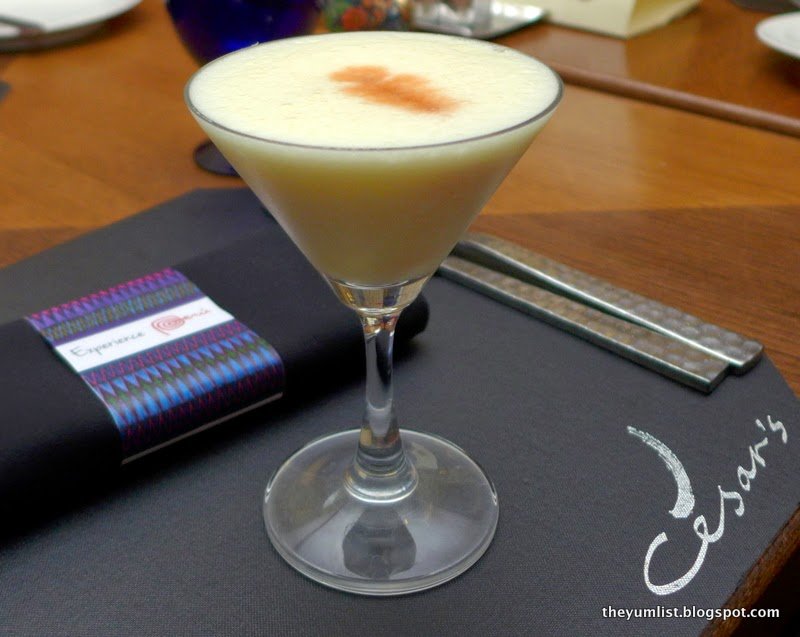 Passionfruit Pisco Sour
Like so many countries, the Peruvians consider food an extremely important expression of culture. Distinctly different agricultural areas and an abundance of ocean ensures that the range of fresh ingredients is frankly beyond belief. With a culinary history that dates back to pre-Incan times, and since then has been influenced not only by the Spanish 'conquistadores' and pacific coast migration, but African, Chinese, Japanese and a multiple of European influences. Truly one of the great international cuisines of the world!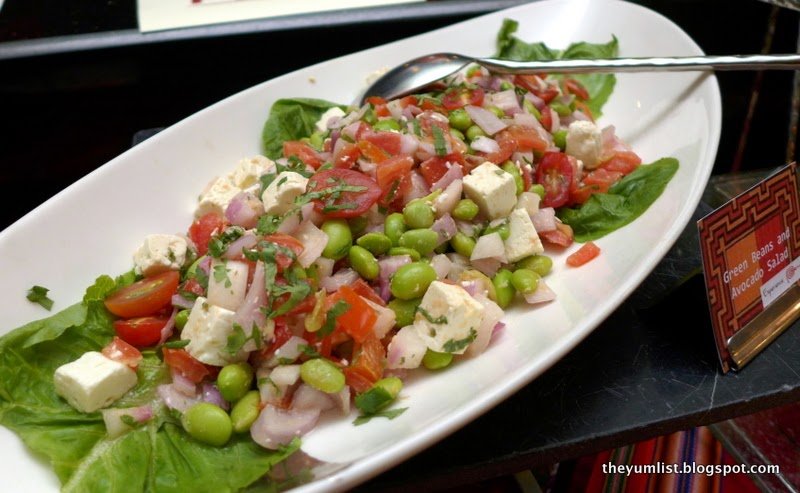 Peruvian Salad
So what is on the menu at this event? Well after you have sipped your distinctive foamy Pisco sour, you can start with a plate of freshly prepared Ceviche. Shrimp, octopus, squid and several kinds of fish are tossed in lime juice with a little chilli and handed to you with a smile. Ceviche is one of my favourite tastes, and to have a freshly made plateful is a mid week treat indeed.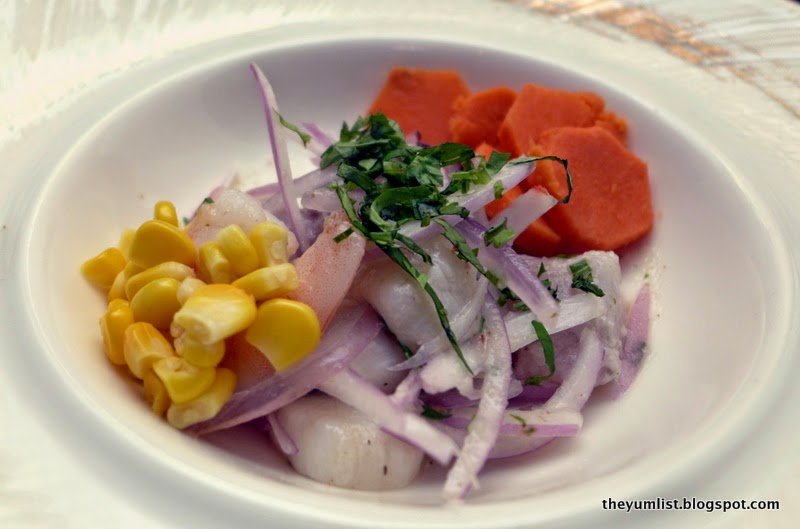 Ceviche
Wandering the cold buffet reveals all sorts of treats, salads, ceviche with yellow sauce, several of Peru's famed range of potato varieties prepared in traditional ways. Taking spoonfuls of each ensures I have a marvellous blend of mellow flavours on my plate, each with just a tiny zing to it. I try a creamy shrimp soup, which has the slightest slight chilli aftertaste, only a small taste though as the bowl of seafood is brimmingly generous and I don't want to fill up just yet.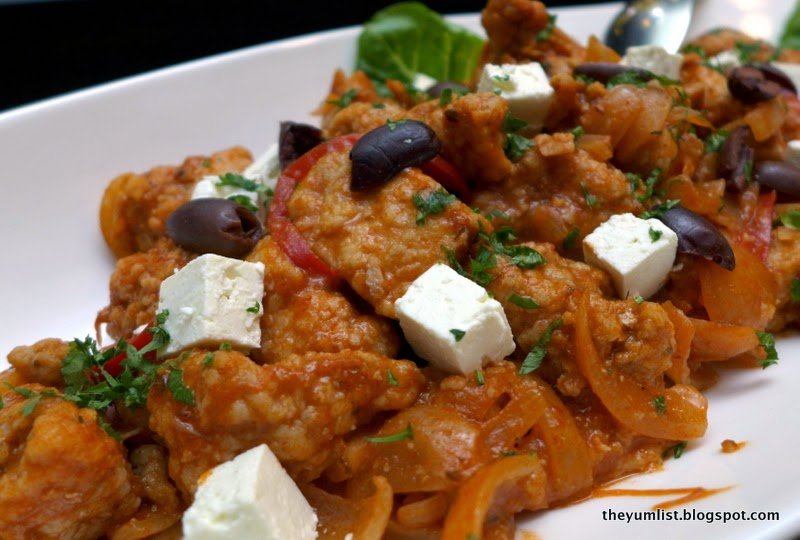 Peruvian Chicken
It won't matter if your tastes gear towards fish, beans, beef or chicken, you'll find plenty to tempt your tastebuds in the hot trays here. My two favourites and top tips are the steamed beef which is soft tender and slightly salty, and the shredded chicken in yellow sauce. That one had me going back for more. The food has been described by the chef as homestyle, and all I'll say is that if this is home, then I am happy to be here.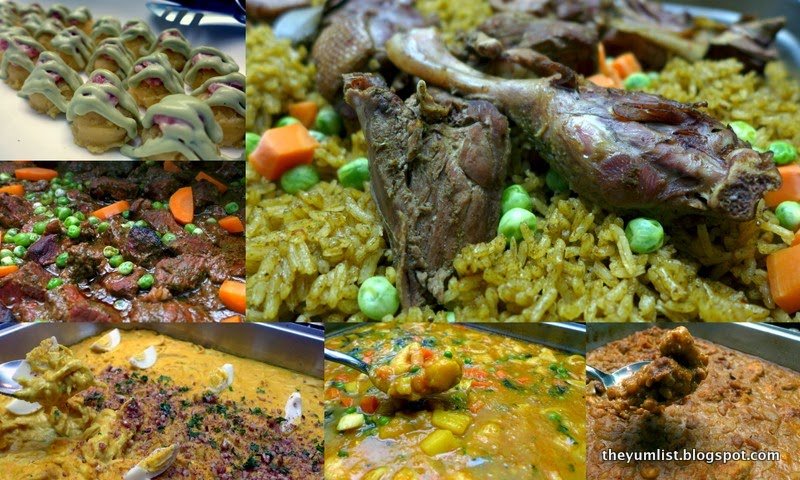 Peruvian Buffet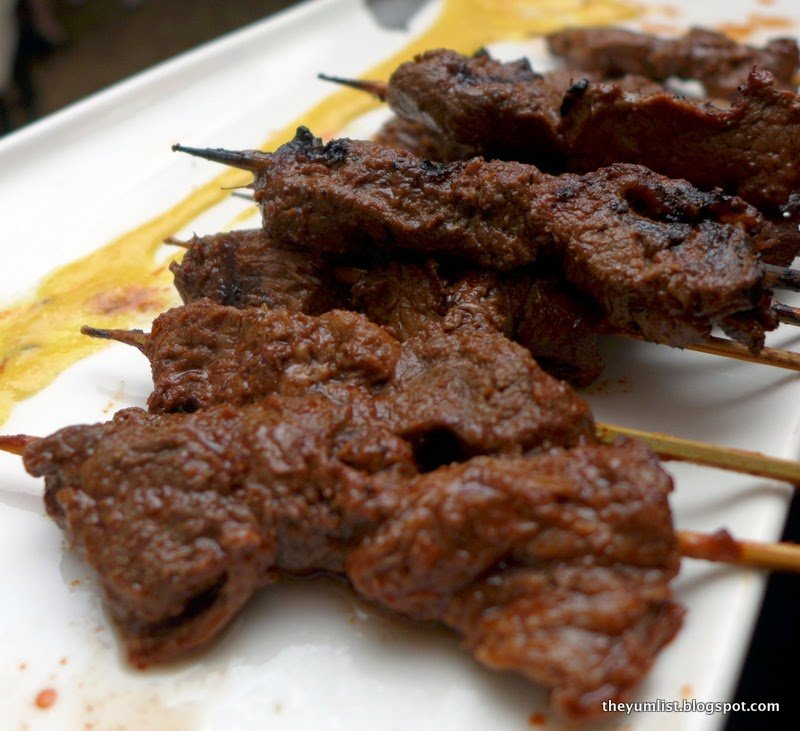 Beef Skewers
Mini desserts confound us as to what they are exactly, a purple corn jelly is smooth and fresh, what seems to be a cinnamon flavoured whipped dulce de leche is going down a treat with Caning, while Monica and I are some what intrigued by a whipped creamy slightly soured concoction that somehow defies our taste recognition capabilities.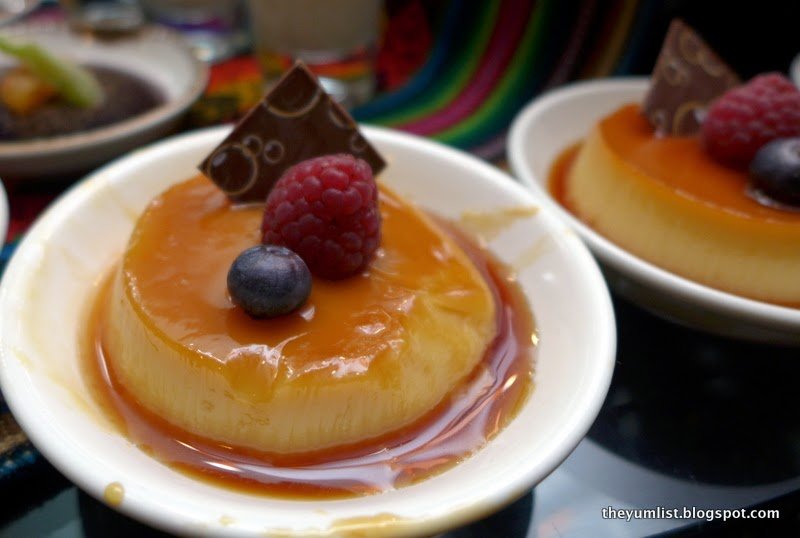 Flan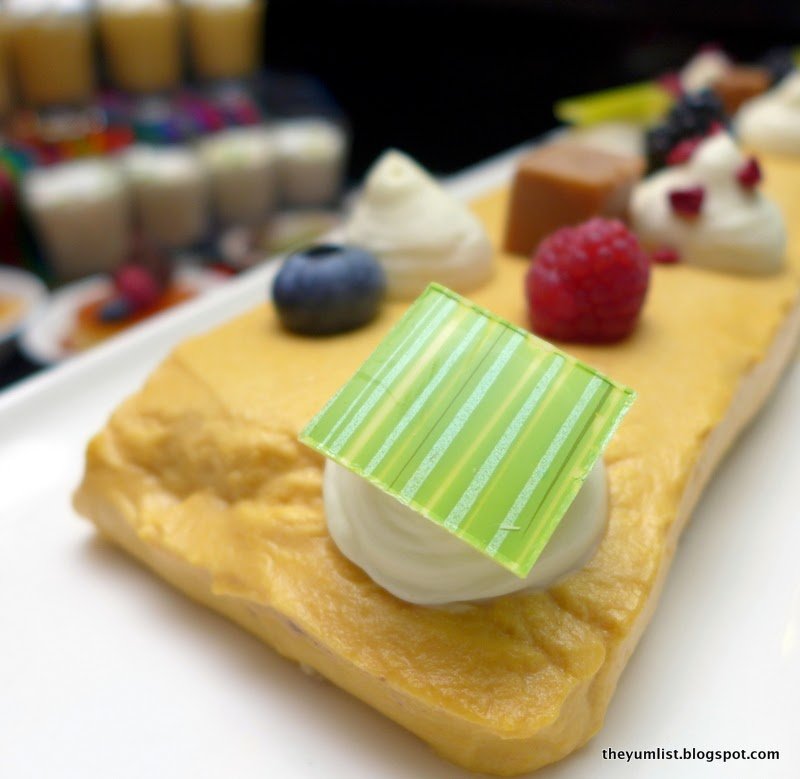 Peruvian Dessert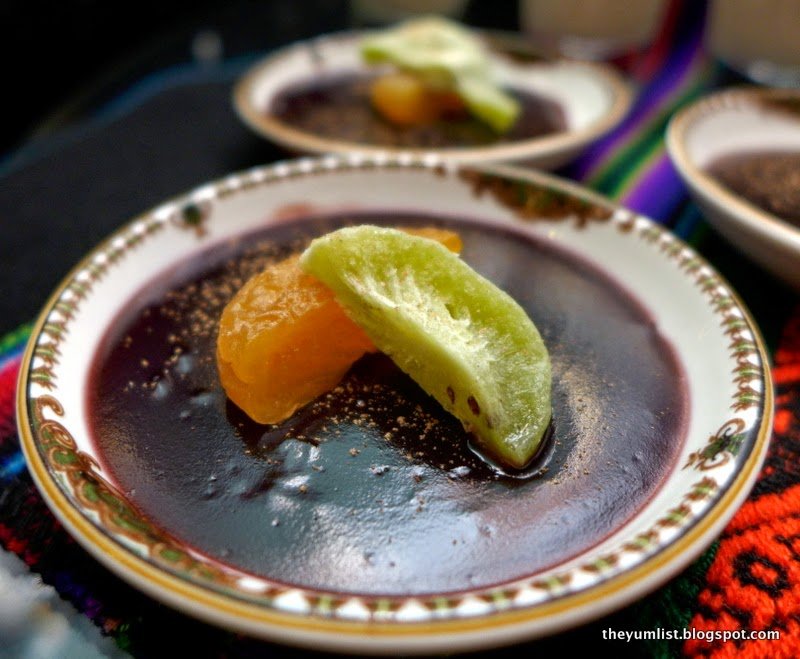 Dessert
All in all I'm exceedingly grateful to the Ritz Carlton, the Embassy of Peru and all the event sponsors for making this possible on an annual basis. It's a truly special taste of a country and I encourage you to wend your way with plenty of space in your tums. Beginning Friday August 29, the Peruvian Gastronomic 'Week' actually runs until September 5 and you can find these delights at Cesar's on the first floor of the Ritz. Enjoy!
The nightly buffet is priced at RM118++ per person which includes two glasses of Pisco Sour. This Sunday, August 31st there is also a special Sunday lunch priced at RM168++ per person.
Peruvian Gastronomic Week
Cesar's
The Ritz-Carlton, Kuala Lumpur
Level One
165 Jalan Imbi
55100, Kuala Lumpur
Malaysia
+6 03 2142 8000