Cascades restaurant sets standards high in Ubud for elegant dining combined with stunning views and gentle humble service. Lovingly lodged in the boutique villa resort of Viceroy Bali, the thatched roof pavilion benefits from a lush lookdown over the verdant Petanu Valley. Belgian Chef Nic Vanderbeeken commands the kitchen and, warm Balinese staff lay out clichéd, yet very much welcomed, friendly service.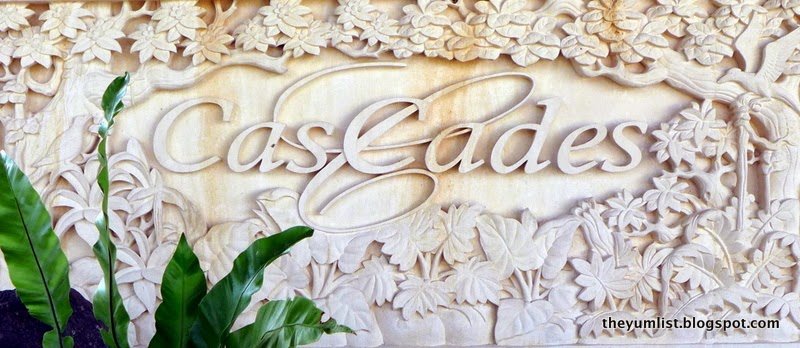 An open-walled Balinese bale unlatches panoramas, with a straw roofscape in the immediate foreground, profuse tropical foliage of the ravine in the middle, and the misty tree line backed by ever-changing skies as the ultimate backdrop. It's truly spectacular scenery and worth arriving a little before dusk to experience the ambience before the night devours it.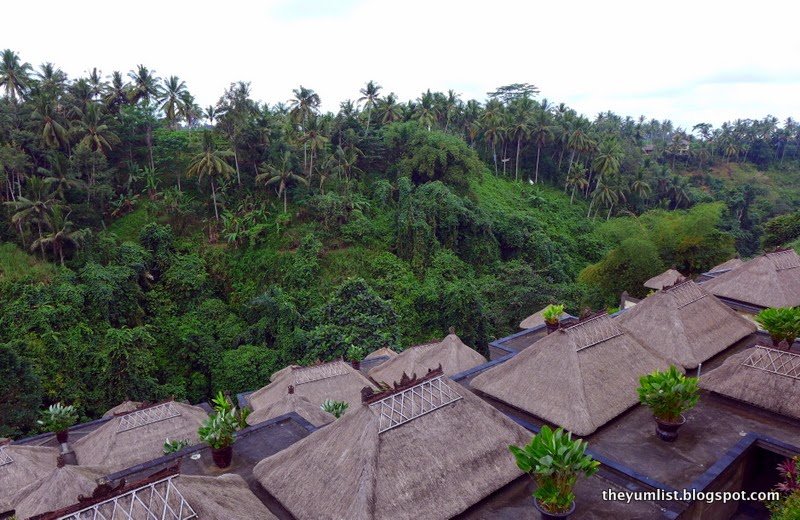 Roofscape
As the sun fades, the restaurant is illuminated with warm ambient lighting and candles. With attention no longer distracted by the view, the trickling sound of water from the pond feature comes to the forefront. Red ceramic vases hold floral arrangements of native orchids and folded leaves. The air is cool. There's no need for any form of air-conditioning and, in fact, some ladies may even appreciate a shawl.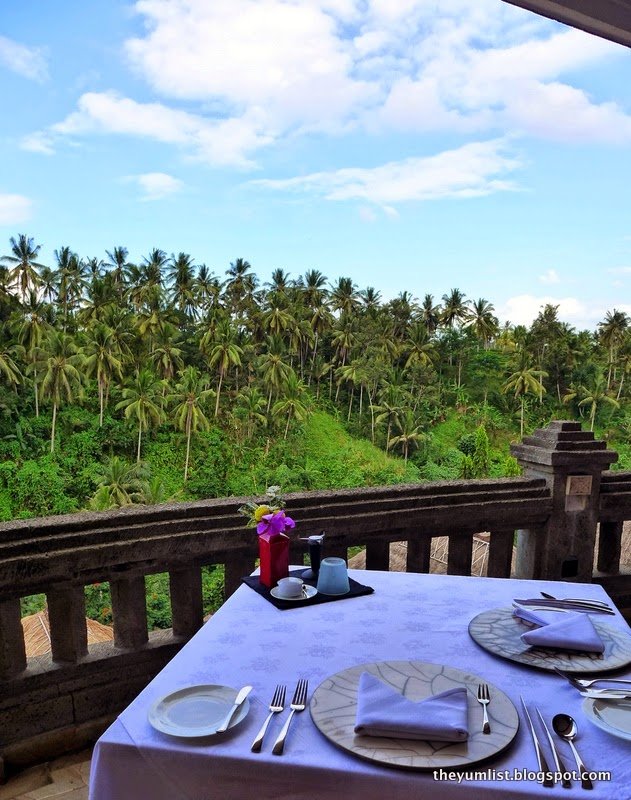 Table with a View
Described as fusion, the menu is engineered with French technique, a modern flare and an assertive focus on using the highest quality of ingredients, many of which are organic and found locally on the island. Specialty items such as Canadian lobster are imported live and, in the case of this crustacean, stored in Cascades' own holding tank.
We're here for dinner and have requested some of Cascades' signature dishes in a six course tasting menu. Bread, amuse bouche and petite fours are all further inclusions. Soon after our water glasses are filled, warm bread is served with a selection of brown rolls, white baguettes, grissini, and crunchy flatbread sticks with black sesame seeds, for the choosing. We both take a wholemeal bun finding it soft throughout and munch on the crunchy grissini also.
The amuse bouche is a small bite of a signature dish that seems a treasured favourite, never to be removed, Beef Tartare. It's gently seasoned with a splash of Asia with teriyaki, coriander and sesame seeds. A crisp black rice wafer, of a similar texture to a thin prawn cracker, holds the raw beef. It's a precise, quality entrance to the meal.
Marinated Scallops are again softly seasoned serving to bring out the natural flavour of the shellfish rather than overpowering it. A fine roll of dried tomato, black caviar, edible flowers, and small pieces of black crackers adorn the top, assisting with both interest in texture and adding subtle tones of sweet, salty and bitter. Underneath there's a tangle of seaweed marinated with sesame seed oil, pepper and garlic. The overall feel is clean and fresh.
A dome cover keeps the Oxtail Consommé perfectly hot from the moment it leaves the kitchen until it's unveiled on the table. A long shaving of carrot wraps around finely chopped meat, tiny pieces of carrot, onion and chives, forming a petite orange roll in the centre of an almost clear pond of broth. Upon breaking, the vegetable wrapper unleashes its contents into the consommé. A defined smokiness carries through from start to finish. It's another elegant dish.
The next plate is an eye-catching artwork and we soon learn that this is the direction of the new menu. A rectangle of mahogany hued slate is the canvas for a stripe of diced dehydrated mango dividing the plate down the middle. It's dotted to the sides with tiny mounds of chopped sautéed seasoned red grapes and petite ponds of grape coulis. Red edible flower petals and a chunk of mango chutney add a splash of colour, but the protagonist of this show is the large fat disc of Hungarian foie gras terrine. The rich smooth wad of liver is wedged between bubbled beige wafers of filo pastry, standing proudly upright in the middle of the plate. Side components, no matter how small are not solely adornments but work to balance the intensity of taste and consistency of the terrine. Crunchy pastry jumbles up the mouthfeel, while the sweet fruit lightens the principle ingredient. It's a must order.
The main course of veal is befriended with sweetbread, artichoke mashed with truffle, a baby carrot, and spinach. A cube of potato soaked in a demi-glace is a bite of flavoursome contentment and pretty yellow flowers brighten the fringe. Glistening in its own juices with a drizzle of red wine reduction, the meat is lightly caramelized around the edges and a rosy pink in the middle. I can't imagine a more well executed dish.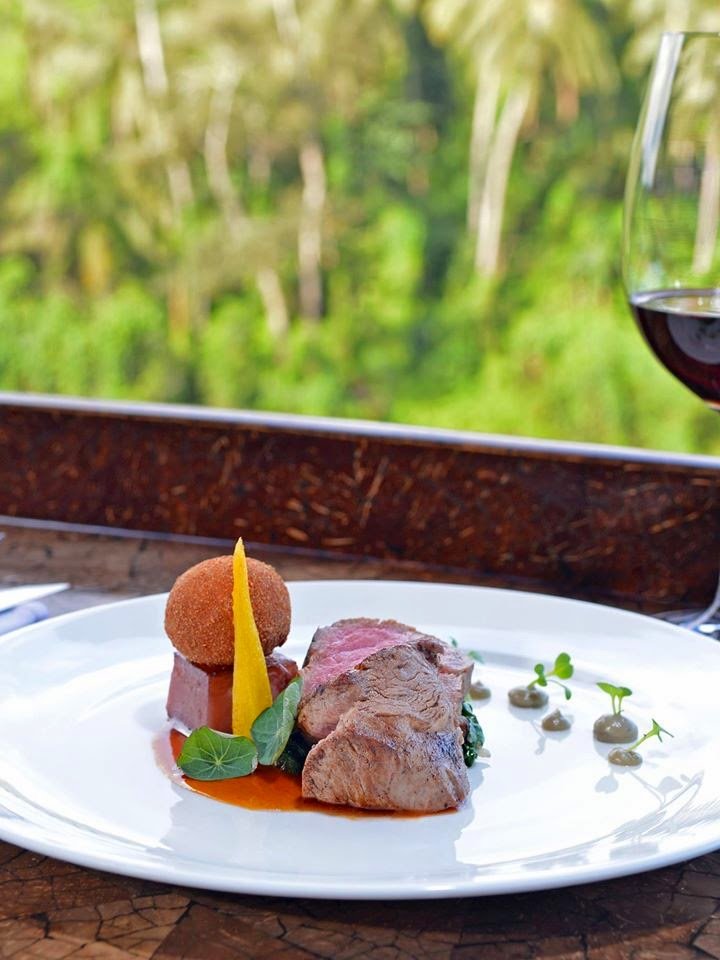 Veal
Following European convention a Cheese Plate follows our main. This is no ordinary rendition however. A sharp creamy Brie, parceled in a fine layer of pastry, sits warm atop of a bundle of caramelized walnuts. A mesh of shredded leaves and micro greens make a bitter integrant and, strawberry crumbs form an attractive side sprinkle. Hubby sums it up simply, "Wow."
Caramel Crunch arrives as dessert and sees whippy mounds of mousse stuck with thins of dark chocolate, strips of soft brownie, honeycomb crumbs and tiny meringues with a few drops of caramel sauce encircling it all. It's rich and only a small amount is needed to satisfy, but it doesn't stop me (nor hubby!) from scraping the bowl clean. Honeycomb sticks in the teeth reminding us of the wonderful finish. Yum!
But it's not quite over until the Banana Fritter with Caramel is served. CasCades signature finish promises a paper cone holding the sweet fried fruit with a touch of coconut and cinnamon. Hubby is groaning, giving away his verdict before I've even had a bite. We slide our finger up the sides of the paper holder where the salted caramel topping has dribbled down, licking up every last drop. "Mmmmm," hubby continues, banana fritters being one of his all time most-endeared desserts.
We're 100% satisfied. Not over stuffed. Not wanting a single drop of anything more and so very happy. Thank you chef Nic and the CasCades team for a deliciously enchanting evening.
Reasons to visit: beautiful scenery; hospitable service; Beef Tartare; Hungarian Foie Gras; Cheese Plate; Caramel Crunch.
Cascades Viceroy Bali
Jalan Lanyahan
Br Nagi, Ubud
Bali 80571
Indonesia
+62 361 971 777