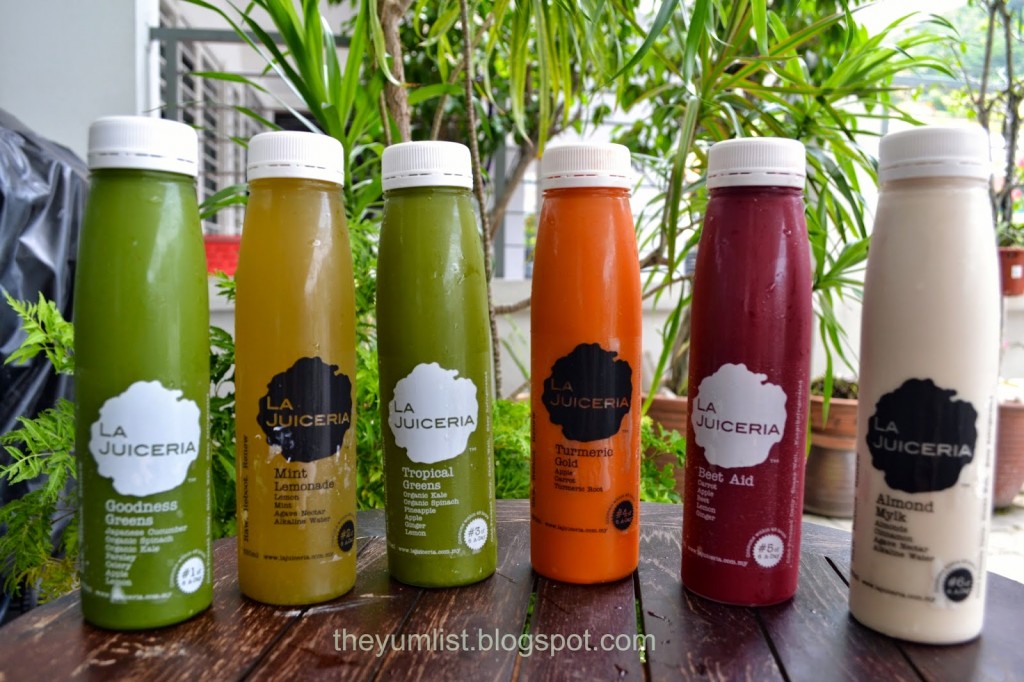 La Juiceria Juices – fresh, tasty and a wonderful blend of carefully chosen ingredients
La Juiceria
By Sarah Ross Jones
La Juiceria is one of a kind here in Kuala Lumpur, offering fresh, cold-pressed, raw juices and juice cleanses. There are options for every kind of healthy living, whether you want to order your favorite juices or go through a personalized cleanse or make your own juice at home, La Juiceria has it all!
One of the greatest aspects of La Juiceria is the option of delivery. With a newborn at home, getting the juice pack delivered to my house was not only convenient, but essential. I had 12 juices delivered, with some healthy nut snacks, all in a small cooler- so it arrived cold and ready to enjoy.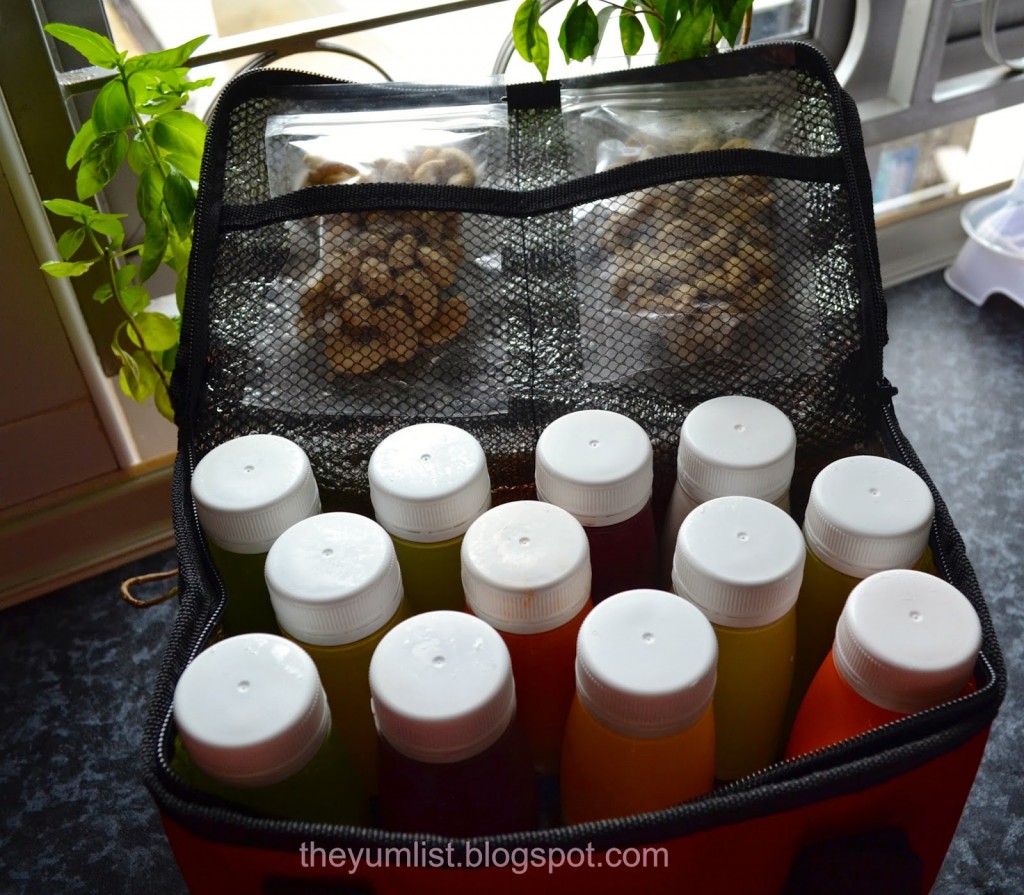 La Juiceria
In addition to the juices, cooler, and nuts, I received a convenient cleanse checklist with guidelines to monitor the cleanse as well as information about the health benefits of each juice. Instead of doing the two day cleanse, I chose to enjoy the 12 difference juices over many days and and share them with my husband. If you do choose to do the various cleanses the information provided is clear and concise – guiding you with the order in which you should enjoy the juices and healthy snacking to help along the way.
More Juice Blends
I often find that fresh juices can be too sweet, or they go to the other extreme and taste like the earth from which the fruits and veggies are grown. However, the juices from La Juiceria were neither too sweet nor tasted like dirt!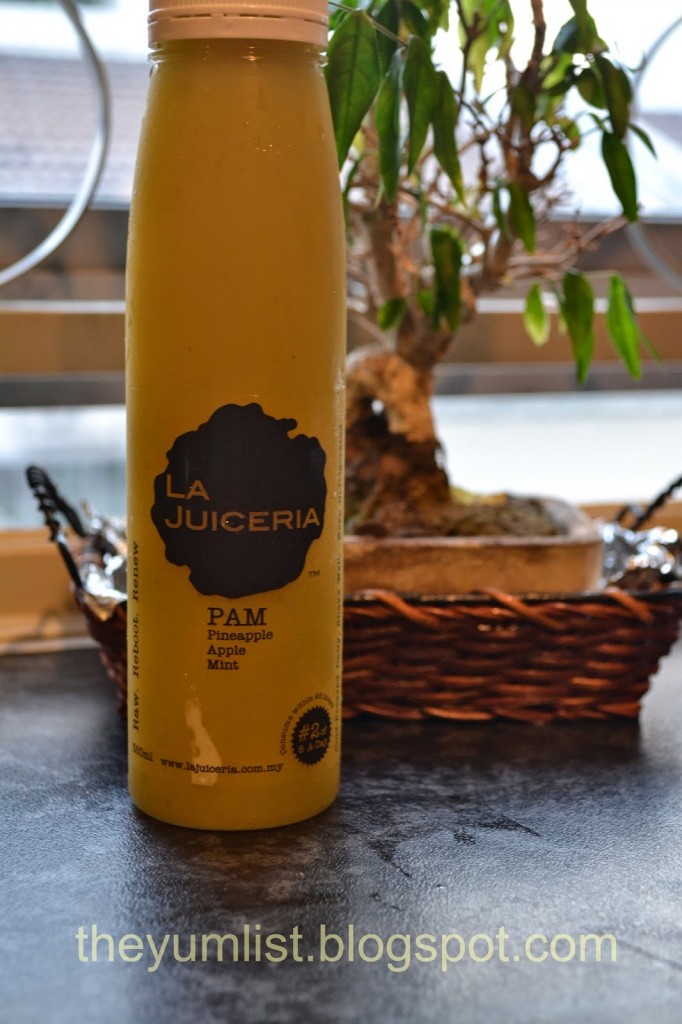 PAM – Pineapple, Apple, Mint
My favorite fruit juice was the PAM- pineapple, apple, and mint. The naturally sweet, tropical pineapple paired with the mint made for a refreshing afternoon beverage that is rich in antioxidants and helps with digestion. If you like mint, the other juice for you is the Mint Lemonade. Made with lemons, mint, water, and agave nectar this lemonade is great for the KL heat while not being too sour or too sweet, and bonus – it helps with your digestion and immune system too.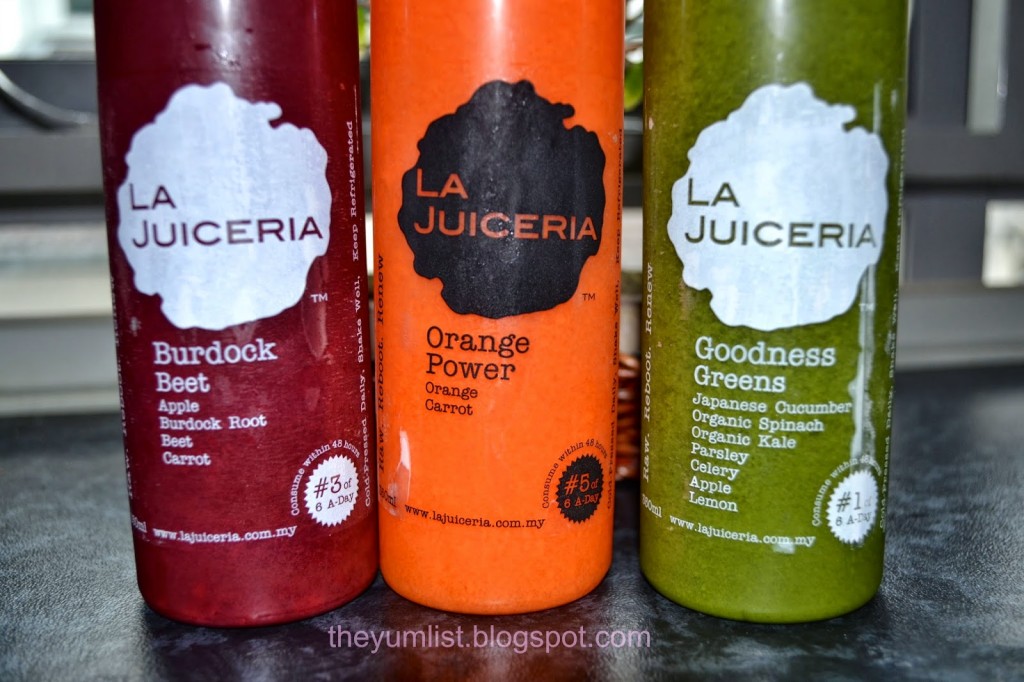 Burdock Beet, Orange Power, Goodness Greens
If you are a fan of beets, then both the Beet Aid and Burdock Beet will be your favorites! The Beet Aid is just the right balance of beet, carrot, lemon, apple, and ginger. Not only does it improve blood flow and help with relaxation, but the flavor of the ginger makes this juice unique and tasty. Burdock Beet, also great for your blood, is a combination of beet, apple, carrot, and burdock root. This juice has benefits for your eyesight too!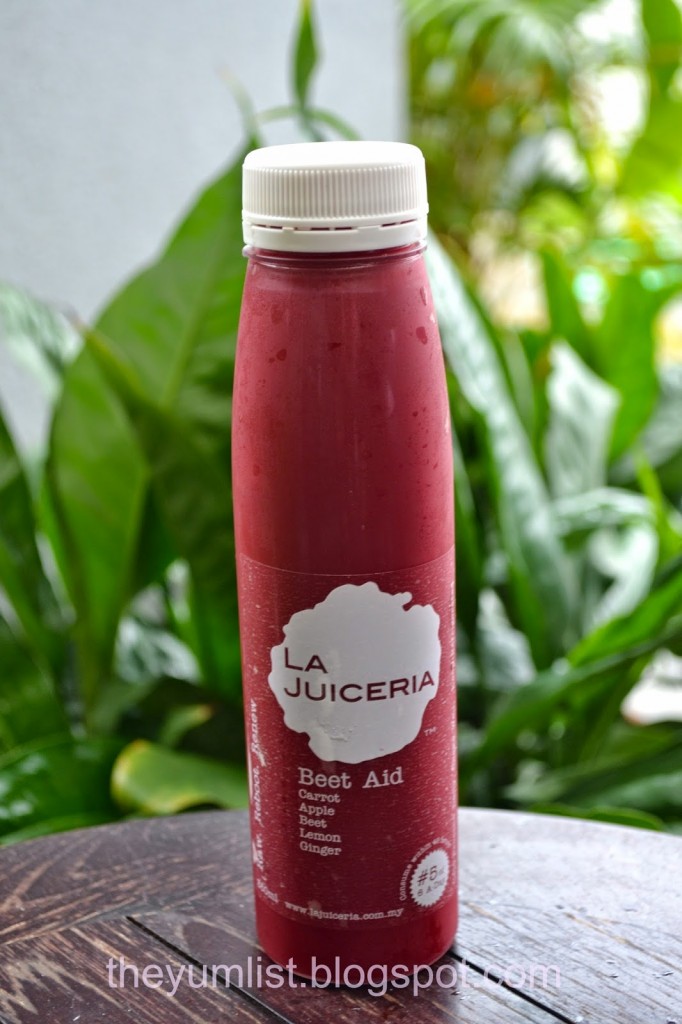 Beet Aid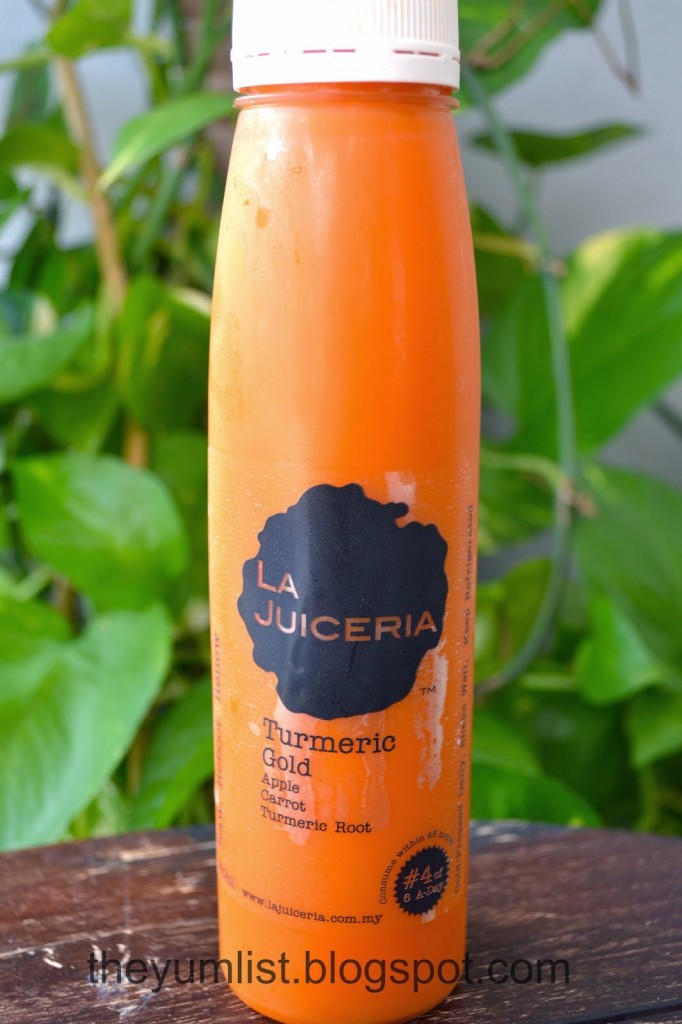 Turmeric Gold
I am a huge fan of orange and carrot juice, so the Orange Power was right up my alley. This juice helps hydrate the skin, relieves congestion, and keeps your gums healthy. Sometimes orange and carrot juice has a grainy texture due to the carrots, but not from La Juiceria. This juice was smooth and just the right blend of the two flavors. Turmeric Gold might have been the most unusual juice I tried because I had no idea that turmeric could be used for juices. I also enjoy apple and carrot juice, so there is no surprise that when these two are mixed with turmeric root, they are just as tasty. With a boost to metabolism and a remedy for cold and flu symptoms, this juice is a sure winner!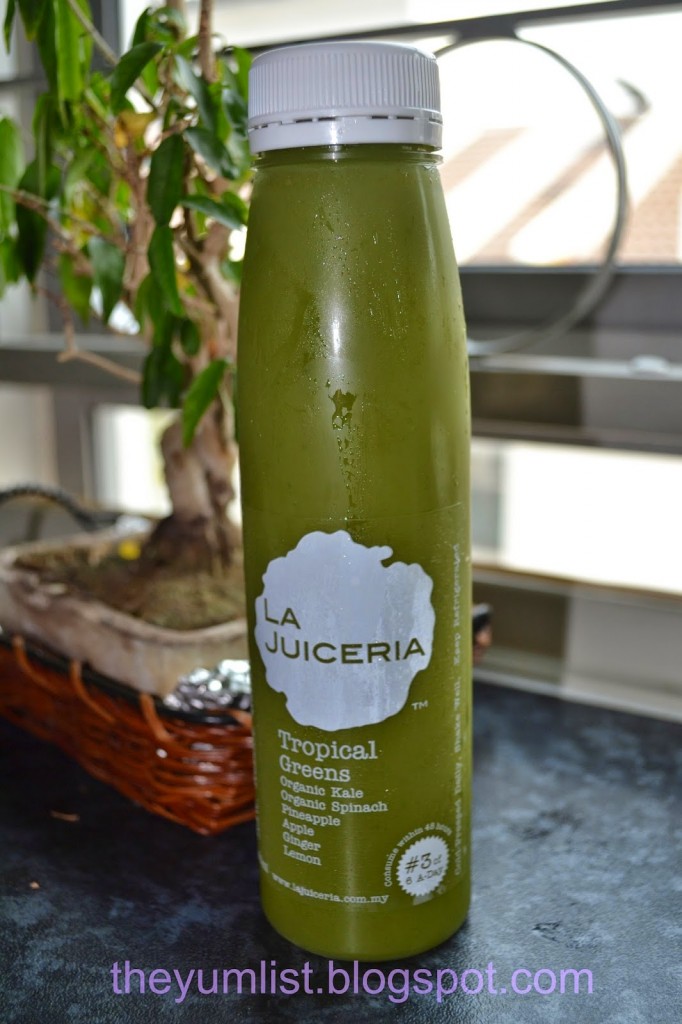 Tropical Greens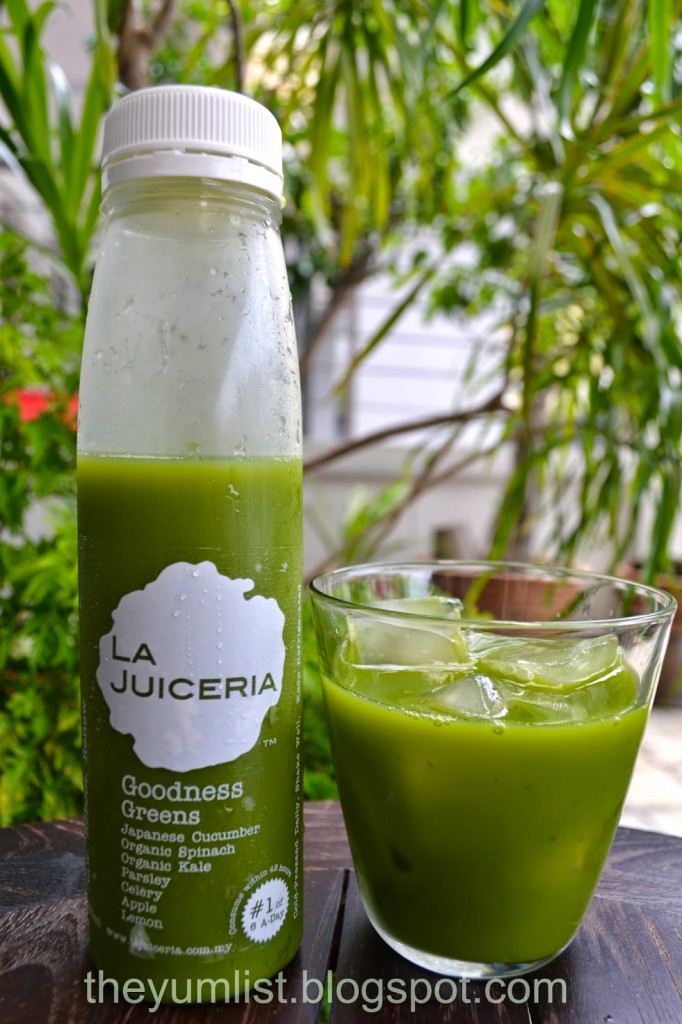 Goodness Greens
Often times when I see green juices I think- "YUCK! If I had wanted a salad, I would have ordered one." That being said, the Goodness Greens, Cilantro Celery Punch, and Tropical Greens juices were not like that at all. My favorite of the three juices was the Goodness Greens. This juice takes organic kale, organic spinach, parsley, celery, and cucumber and blends it with lemon and apple. The sour nature of the lemon and sweetness from the apple, combines nicely with the greens to have a nutrient-dense juice, rich in calcium and iron. My husband's favorite juice of these three was the Tropical Greens. Slightly sweeter, this juice blends organic kale, organic spinach, pineapple, apple, ginger, and lemon. It is enzyme-rich, helps build your immune system, strengthens your bones, and the lemon-ginger combo adds a little zing to the flavors. If you are looking for a juice to lower that bad cholesterol then the Cilantro Celery Punch is the juice for you. Cilantro, celery, cucumber, apple, lemon, and ginger are in this heavy-metal detoxifier juice- giving you that little punch you need to kick start your day.
As in any good meal, often times the dessert is the best and usually saved for last! Both the Chocolate Almond Mylk and Almond Mylk juices were our favorites overall. It is hard to say which of the two we liked better. Both of these treats are lactose free and improve your skin. The Almond Mylk takes almonds, cinnamon, salt, agave nectar, and water to make a creamy, drinkable dessert or healthy afternoon snack that helps build strong bones and teeth. The Chocolate Almond Mylk takes the same ingredients and adds organic cocoa to create a guiltless, chocolate treat that helps with alleviating stress (as I think all chocolate does), keeps blood pressure at normal levels, and improves skin. Do you need any other reasons to enjoy such a healthy dessert?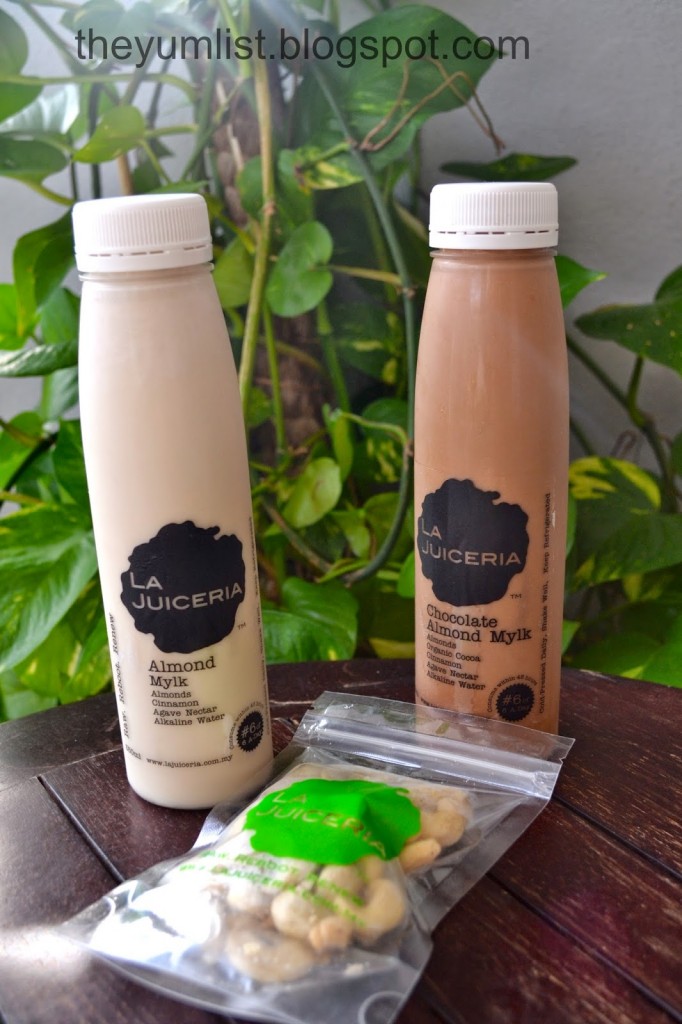 Almond Mylk, Chocolate Almond Mylk, Raw Cashew Nuts
La Juiceria uses all fresh ingredients, many of them organic, to create healthy, refreshing juices that keep you going all day long. One of the best aspects of La Juiceria is that you can create your own package based on the outcomes you want or the flavors you would like to try. You can go to their website,
www.lajuiceria.com.my
, to see the various options you can pursue. La Juiceria truly embraces their moto- RAW, REBOOT, RENEW with juices and cleansing.
Reasons to try: fresh, raw, organic, an opportunity to cleanse yourself, refreshing, and unique; delivered to your doorstep hassle free!