Kirsten Durward and Monica Tindall
Hidden behind discreet tall gates and up through a bamboo tunnel lies one of Phuket's best kept dining secrets. Resident guests at The Pavilions enjoy the glorious views and attentive service at The Plantation Club all day through. But so can savvy food lovers seeking out delicious, fresh and beautifully presented Thai and International cuisine. If you're bored with what your hotel has to offer, or want a change from tasty but greasy street food, then this is a great, fresh option with a lively and creative kitchen. Come for lunch, dinner or even breakfast and congratulate yourself on your choice to be enveloped in the relaxed charm of The Pavilions.  Executive chef Belinda Tuckwell is humbly understated when it comes to her food, but bubbly and chatty as she circulates the room checking in on guests particular tastes and needs. Ask her for a recommendation; she hasn't failed to please us yet. Tonight, our last on the island, we're happy to be directed to some unique Thai dishes.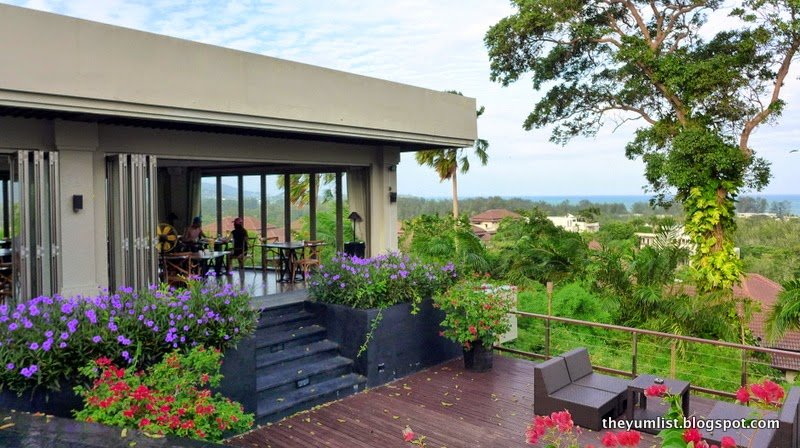 The Plantation Club
The clear skies are beginning to streak with gold as we gaze across the trees to the ocean beyond. The big sky around me, and the breeze in my hair, the sense of space and natural ambience connive to give a real expansive feeling to the beginning of our evening.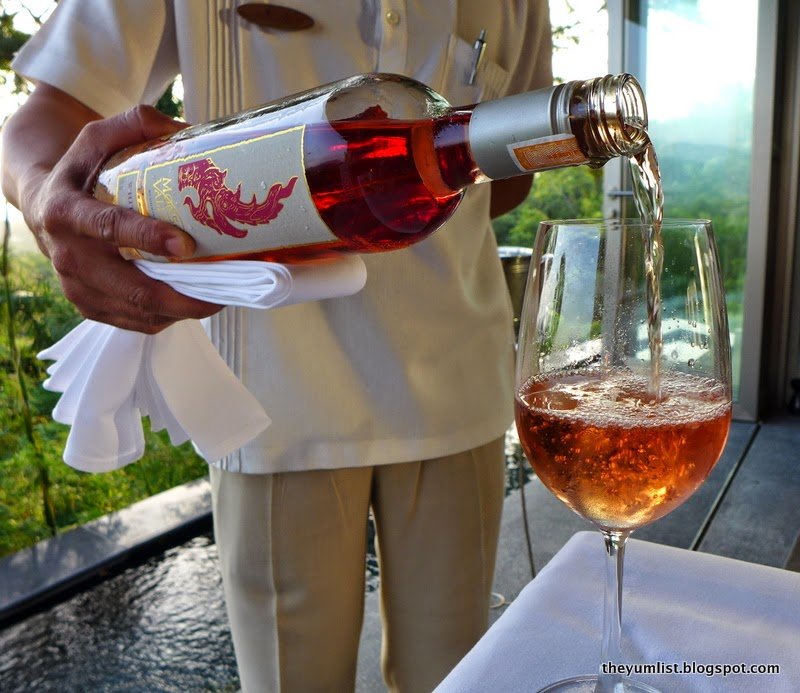 Monsoon Valley White Shiraz
We've previously tasted a rather nice locally produced Chenin Blanc from the Siam Winery in the Hua Hin Hills, so when Food and Beverage Manager Eric muses that the Monsoon Valley White Shiraz, 2012 (THB 1750) from the same winemaker matches well with spicy food, we're happy to follow his suggestion. The colour is gorgeous reflecting the evening sky. But we're here to taste not visualize. On first sip it comes over as quite floral and stays at the front of the mouth. The berry flavours come out more and it grows in character as we eat the meal. I would certainly drink it again with delicately spiced Thai food.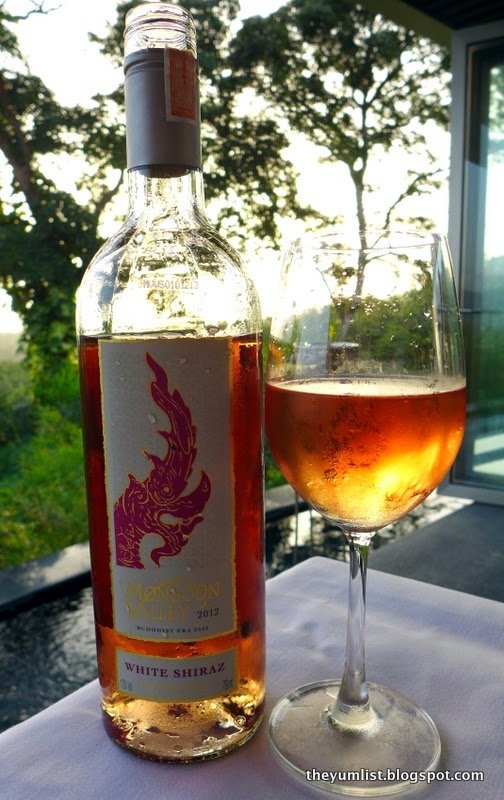 Monsoon Valley White Shiraz
I've always loved Thai food from the first moment of tasting it but my palate has been provoked in a different direction during this visit. Fifteen days in Thailand, and not a Tom Yum Soup or Green Curry in sight! Tonight we start with an amazing Larb Gai, one of the local specialities The Pavilions offers during personalized Thai cooking classes. Finely minced chicken has been quickly fried in some of our favourite Thai flavours; lemongrass, lime, chili, garlic, ginger, all seep through in this delightful dish. The soft delicacy of the subtly spiced meet is contrasted with a crunchy, herby salad with mint, basil and coriander leaves, roughly chopped and each sporting its particular pungent flavour. This is a surprising sensation that keeps us reaching for more, and compliments fly as we name it our dish of the day.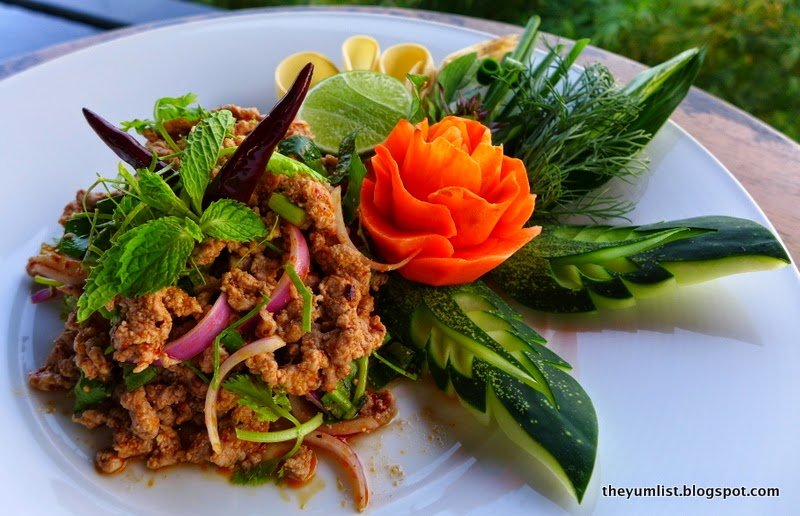 Larb Gai
Three generous filets of fresh steamed grouper lie in a light silky sauce that bursts with flavour. Keang Choo Chee is a fragrant red curry with coconut and lime leaf. It typifies the best of Thai flavours and despite my natural aversion to fish curry in general, I thoroughly enjoy this chunky white fish and literally scrape the bottom of the plate in search of more sauce. Keang Choo Chee is on The Plantation Club's menu with lobster, which I am sure is awesome, but they'll be happy to offer fresh fish if you ask for it too.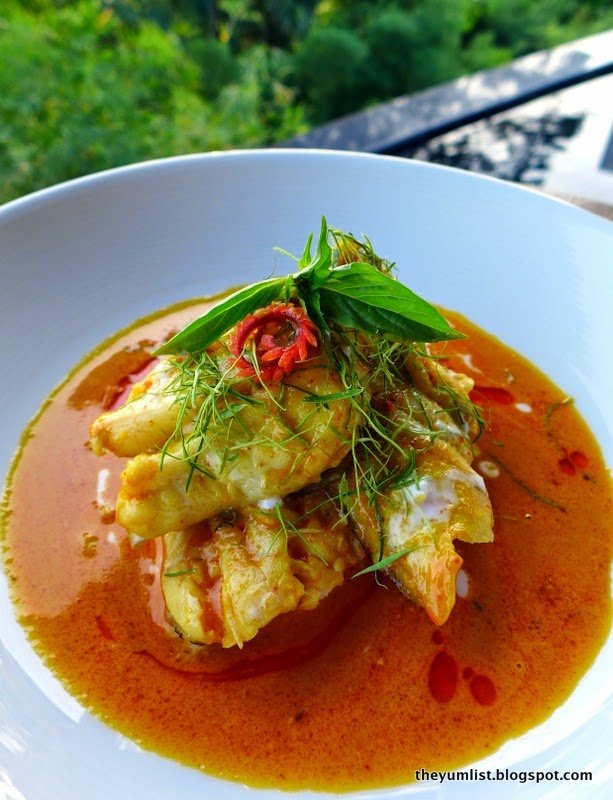 Keang Choo Chee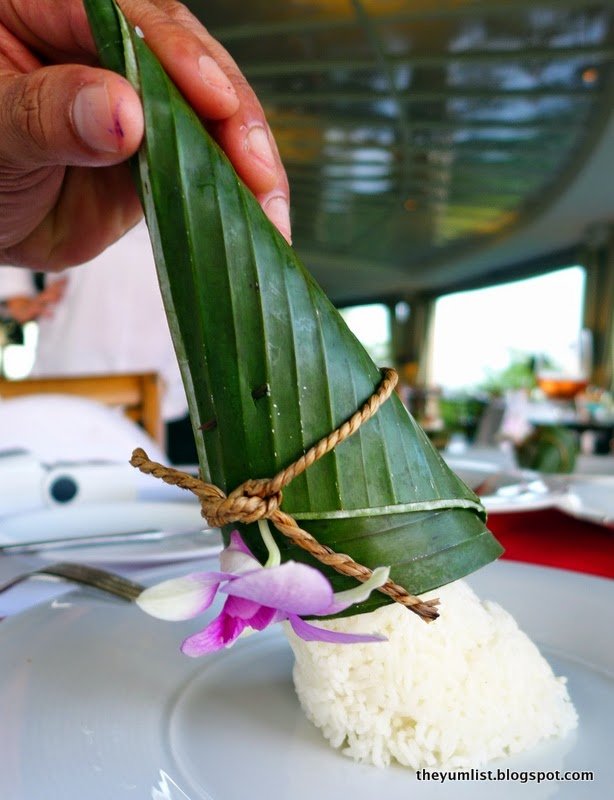 Pretty Rice Presentation
The most brilliantly presented dish is Thai style seafood custard laced with red curry and lime, freshly steamed in banana leaves. Hor Mok is not dissimilar in texture to chawanmushi, so if you're a fan of that Japanese delicacy and don't mind a little extra spice, this specialty is completely recommended. The custard is hot and just set, melting on the tongue. Plentiful pieces of seafood are hidden within the steamy spicy morass, but the real surprise is when you dig right down to the bottom of the bundle. Suddenly there is a sharp fresh burst of Thai Basil and the taste notes cleverly change. Yummy.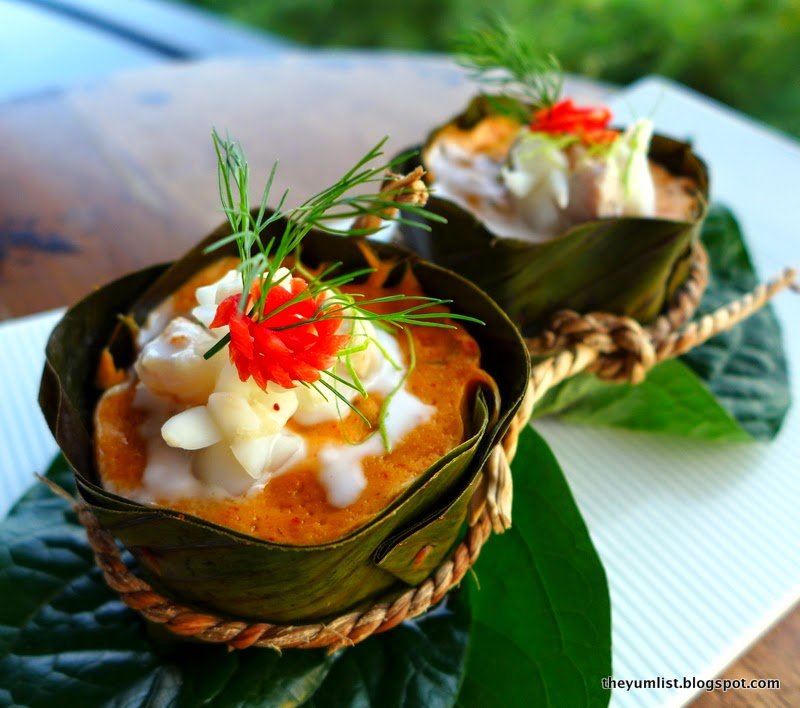 Hor Mok
A different take on a prawn salad is this light and crunchy sensation, with wing beans, banana flowers and more. Zingy notes of lime, fresh herbs and a touch of chili combine. I'm also delighted to see my new favourite edible flower, a violet butterfly pea. We've enjoyed the delicacy and balanced flavours of the salads during our in-villa barbecue and, this is another exemplary offering.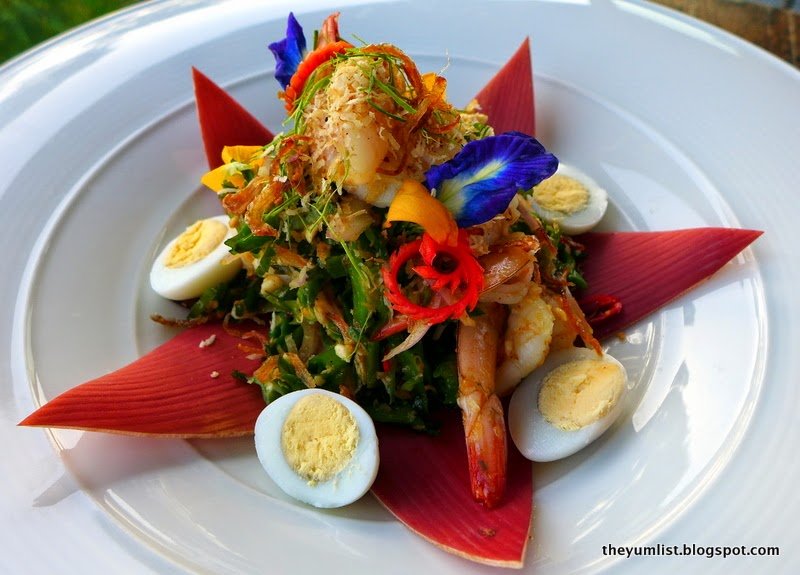 Wing Bean Salad
A tumble of locally sourced mushrooms is our final savoury of the night. I count no fewer than four varieties tangled in the bowl. Lightly stir fried in garlic and oyster sauce, their delicate decadence certainly keeps veggie loving Monica happy and filling her fork with more.
Mixed Mushrooms
Our pretty dessert has been patiently waiting for us. Delightfully served in flower adorned young coconut shells, this is a typically Thai style dessert. Soft tapioca pearls lie within the sweet warm milk. Their light elastic texture is soft on the tongue and easily melts away.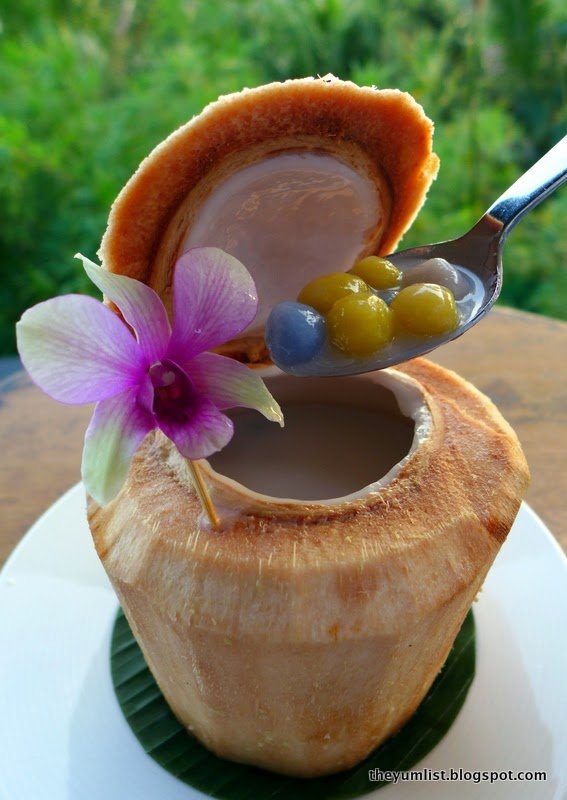 Thai Coconut Dessert
Although the property is new, it still evokes the romantic feel of the old rubber plantation days. We couldn't have found a more perfect place for our last evening in Phuket
Reasons to visit:  True relaxed hospitality in a beautiful natural location. Flavourful food served with creative twists. Attention to detail.
The Plantation Club
The Pavilions
31/1 Moo 6
Cherngtalay
Thalang, Phuket
Thailand
+66 7631 7600