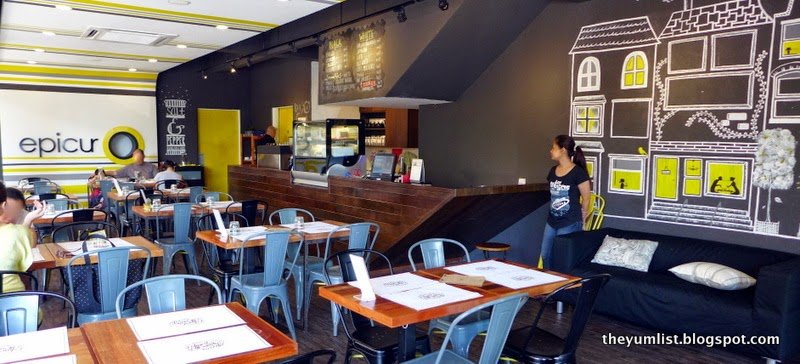 Epicuro, Damansara Uptown
Epicuro, Damansara Utama
Words by Kristin Cosgrove
Photos by The Yum List (Monica Tindall)
"When you love to do something, it doesn't feel like work," says Epicuro owner, Lee Yugin. Though the Damansar Utama-area outlet is Yugin's first F & B venture, the role of restaurateur suits him well. After training and practicing as an engineer for several years in Germany, Yugin decided to follow his passion and open a restaurant in his home neighborhood in Kuala Lumpur.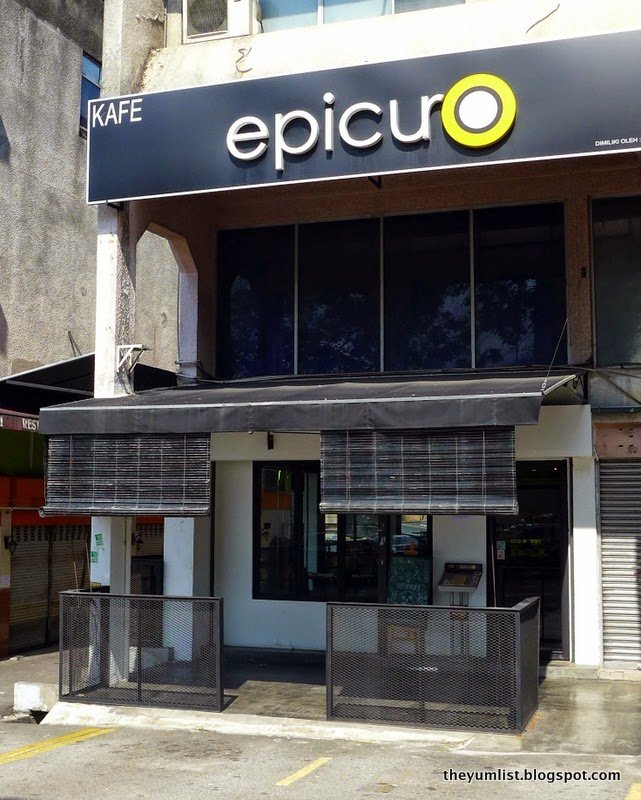 Epicuro, Damansara Uptown
Epicuro is a sunny café serving lunch and dinner with a happy vibe, friendly service and really good comfort food with a twist. "We started with the fundamentals of a menu and then did what we could to make those dishes more interesting," says Yugin. The very reasonably priced menu (which includes pork) packs even more value for money when we find the prices are net. The menu currently includes salads, sides n' snacks, pasta, mains and desserts. There are several vegetarian options to choose from and the kitchen is happy to accept substitutions and special requests too, a rare find in Malaysia!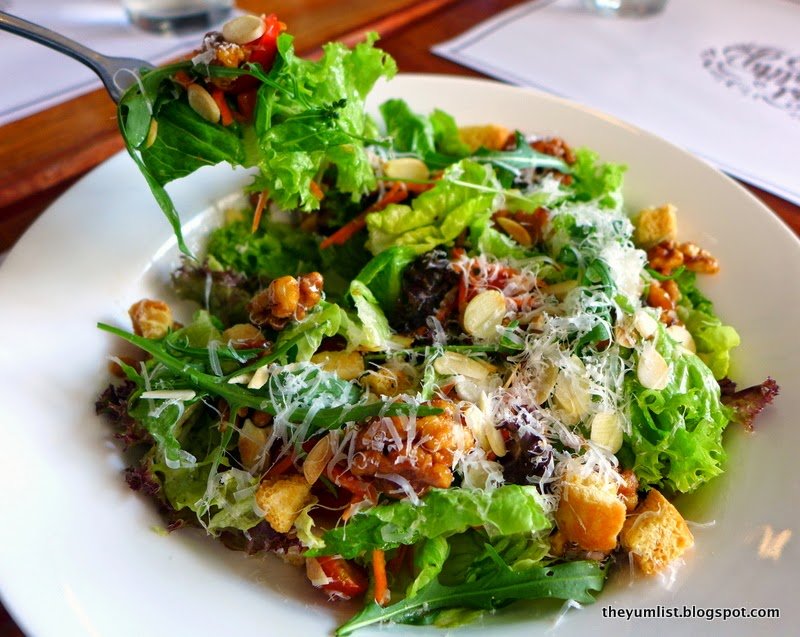 Walnut and Almond Salad – one of the vegetarian options
Brazilian Santos coffee beans provide enjoyable espresso drinks and many teas are also available. Tiger beer can be had for RM9 per can, and customers are welcome to bring their own wine with NO corkage fee!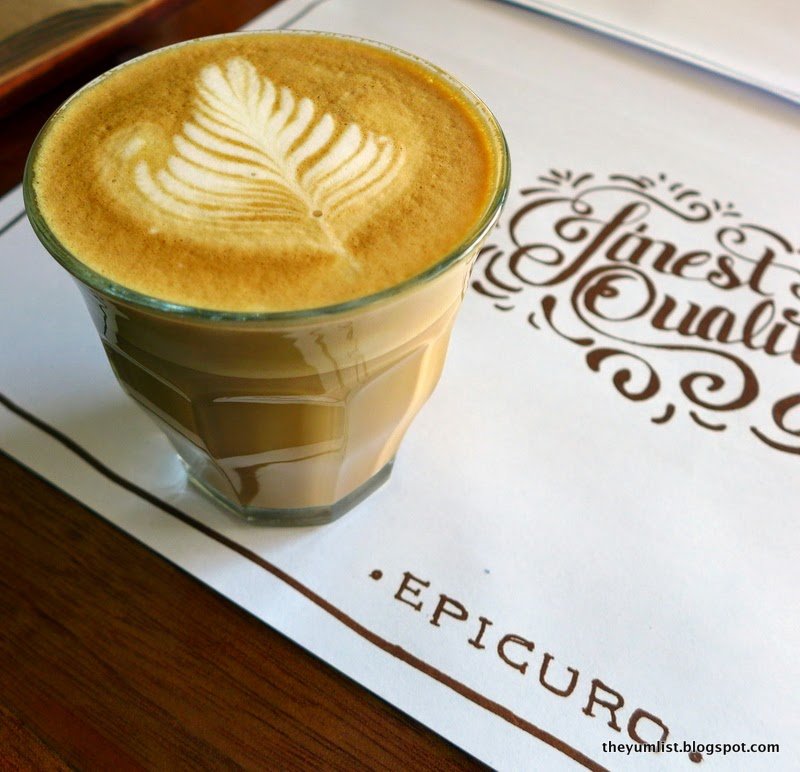 Latte – choose single or double shot
Flat White
We start our brunch with the Big Breakfast (RM21.90), which is indeed big, and includes all the traditional fare. What makes this dish special is the pork sausage and bacon, as well as the mixed cherry tomatoes and chanterelle mushrooms. There is also a nice dollop of pesto for spreading on toast or dipping eggs. Delicious! The sausage is especially good, smoky and juicy — porky-good.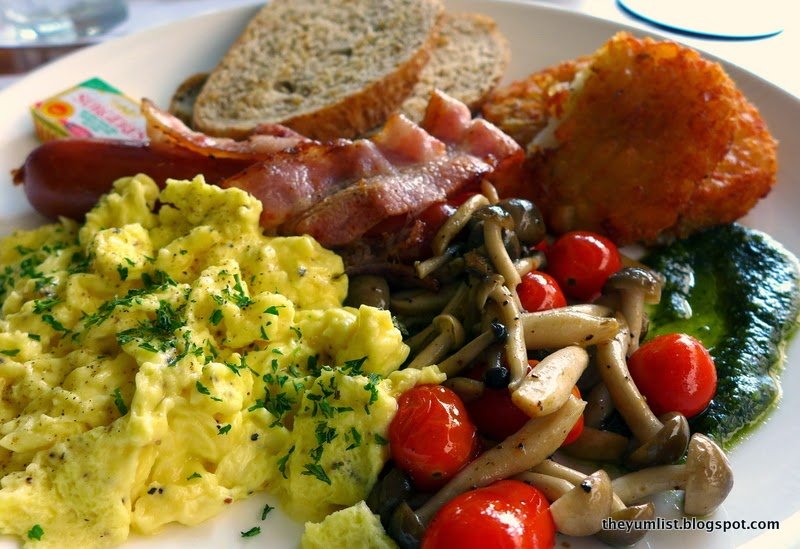 Big Breakfast
Fall-off-the-bone-tender Lamb Shank (RM 39.90) makes our mouths water. Carrots adorn the top, and underneath is cauliflower puree whipped so smooth you'd never know it wasn't potatoes. The cauliflower is first pressure cooked, caramelizing it from the inside out to lock in the flavor, before being whipped. The flavor pairs well with the braised lamb, making for a hearty and satisfying dish.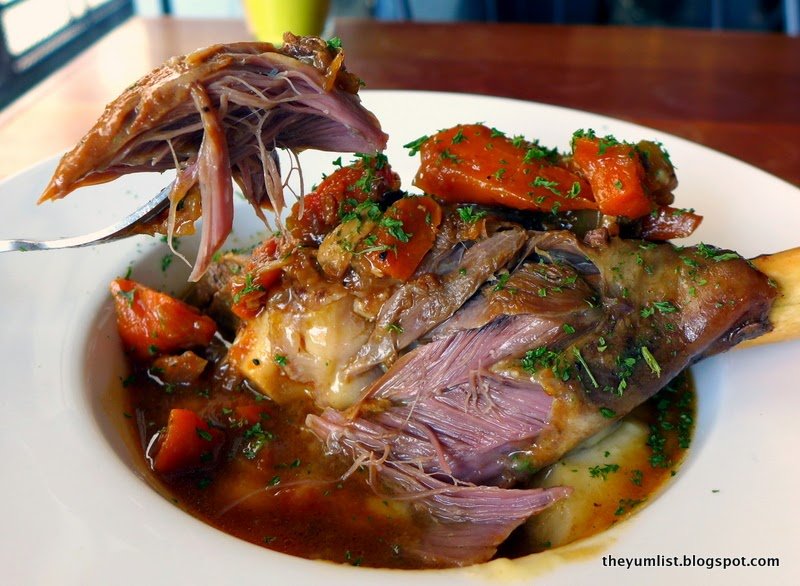 Lamb Shank
I'm already craving another Pulled Pork Sandwich (RM15.90, topped with egg RM16.90) – it was really truly outstanding. The pork was sweet with a spicy kick and the coleslaw added a crunch. The egg was a unique and tasty addition – highly recommended!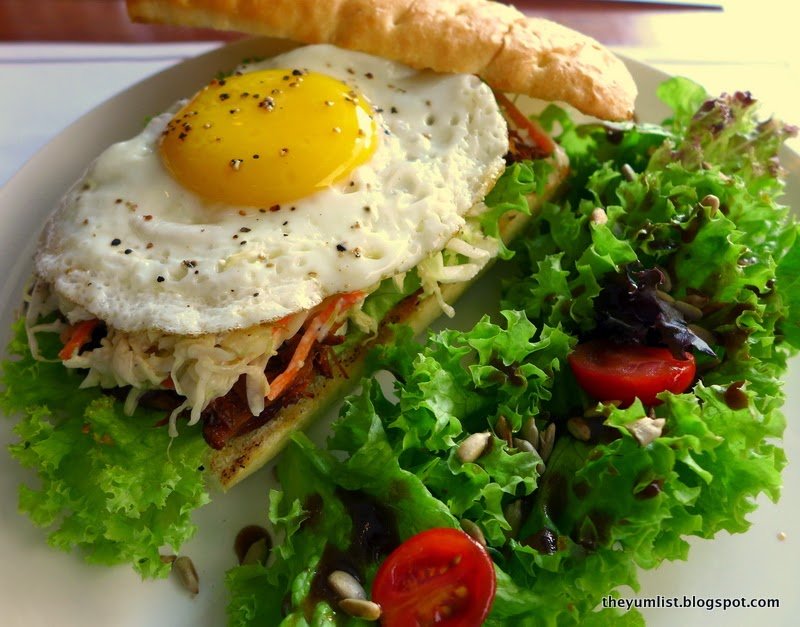 Pulled Pork Sandwich
The two pasta dishes sampled are well thought-out. Spinach Conchiglie with Spinach Cream (RM19.90) has spinach as the main flavor, with punches of salty bacon and finally, bits of crunchy sunflower seeds.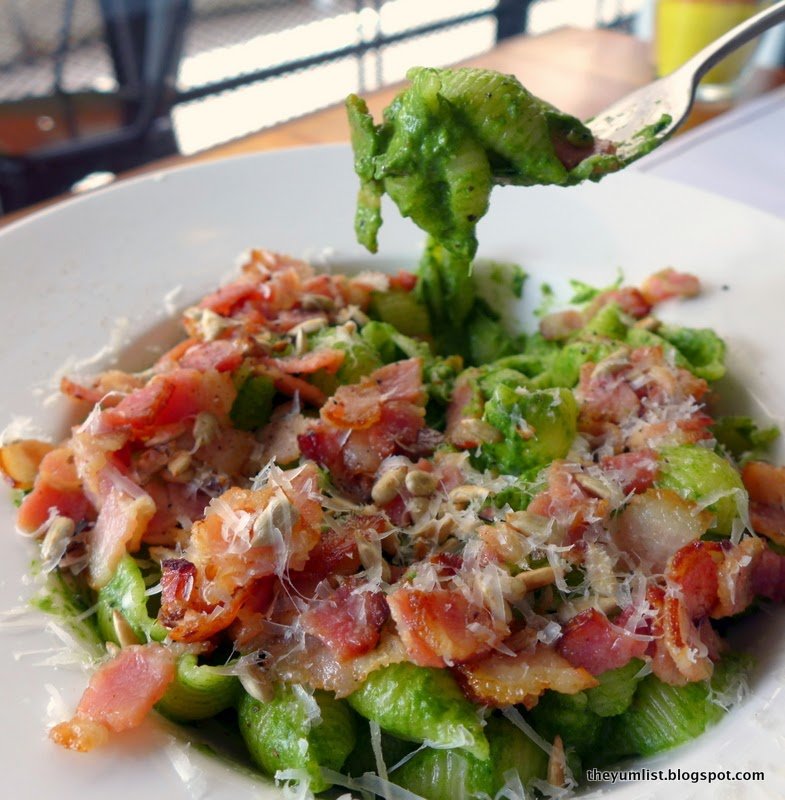 Spinach Conchiglie with Spinach Cream
Equally enjoyable, if not even more so, is the Spaghetti Carbonara (RM18.90). A poached egg is cooked to perfection so that the yolk and whites are of equal consistency and then placed atop the noodles; we stir the egg into the already creamy dish and "ooh" and "ahh" over the creaminess and the bacon.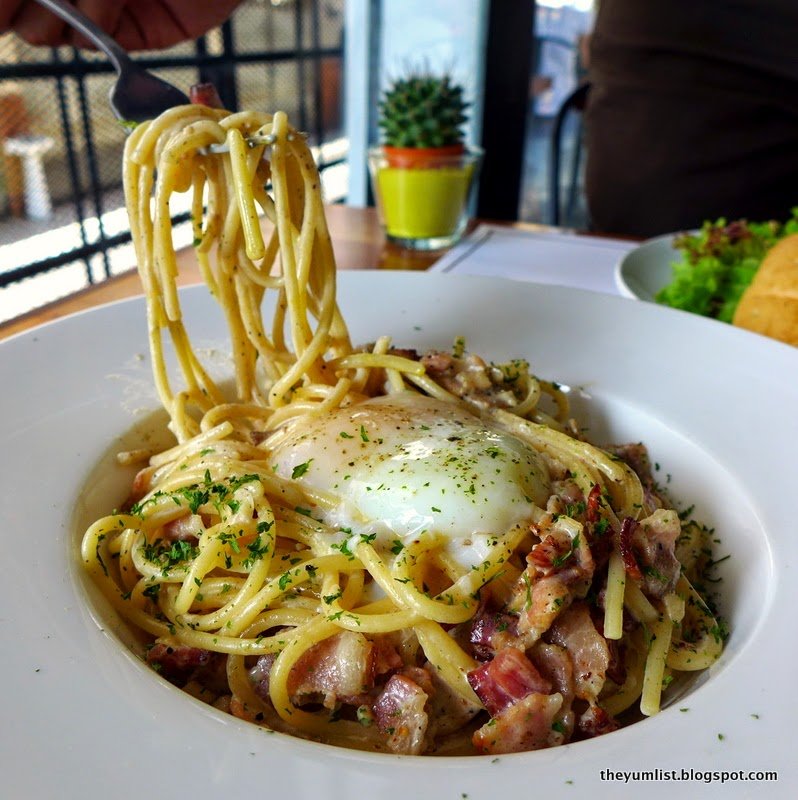 Spaghetti Carbonara
Homemade dulce de leche ice cream is the star of the Brownies with Ice Cream (RM13.90). The ice cream is more icy than creamy, which I love, and goes extremely well with the salty caramel sauce drizzled over the plate and the rich, chewy brownies.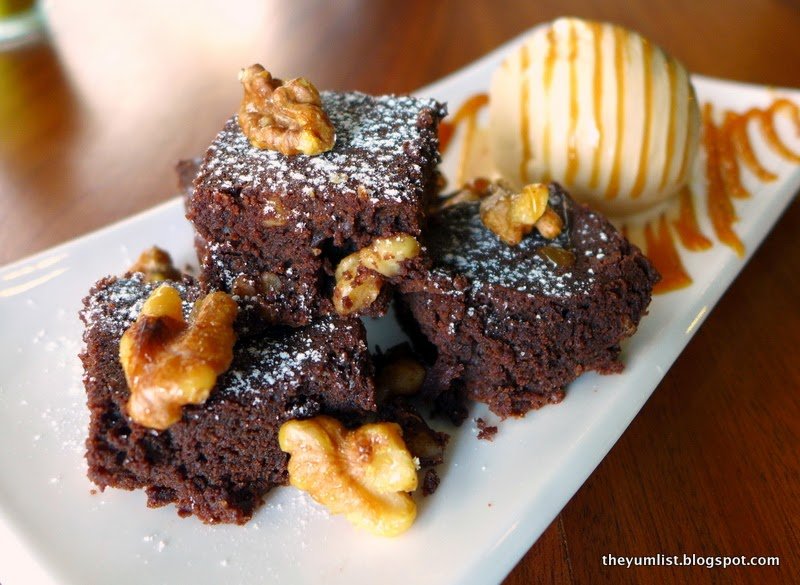 Warm Brownies and Dulce de Leche Ice Cream
The Tiramisu (RM13.90) is billed on the menu as having "copious amounts of alcohol). It lives up to its promise with lots of boozy goodness.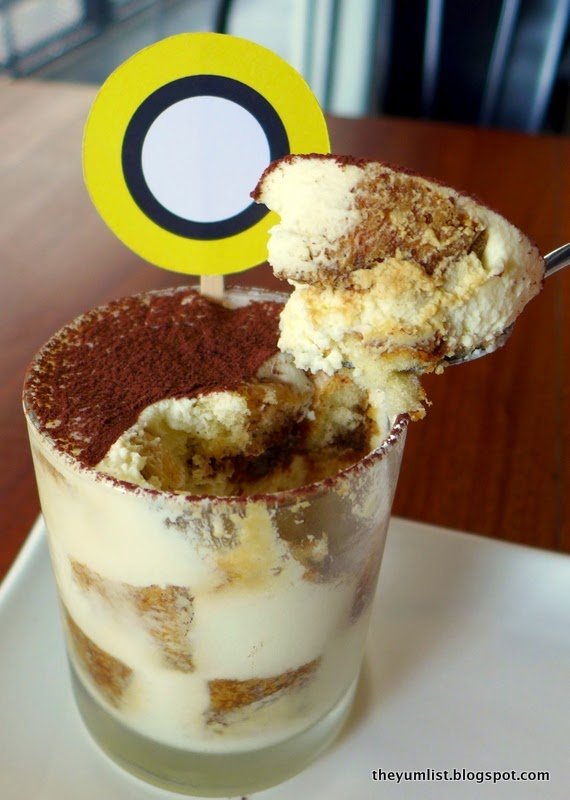 Tiramisu
Yugin tells us Epicuro will soon be getting some bar tables and more outdoor seating as well as some homey additions to the interior, which is already bright and welcoming with a yellow and black color palette. He is also considering adding more alcohol to the menu.
While some establishments may experience growing pains, we see no signs of that here. For a newbie to F & B, Yugin is taking it all in stride. We look forward to revisiting Epicuro again soon!
Reasons to Visit: Good service and value for money; full flavoured porky meals; nice weekend brunch spot, pulled pork sandwich; lamb shank.
Hours:
Tuesday – Friday: 11am – 11pm
Saturday and Sunday: 10am – 11pm. Kitchen closed 3pm – 6pm.
Epicuro
20 Jalan SS 21/35
Damansara Utama
47400 Petaling Jaya, Selangor
Kuala Lumpur, Malaysia
+6 037733 3110