Kirsten Durward and Monica Tindall
The Pavilions spacious secluded villas are just perfect for a romantic getaway, but also tempting for an afternoon spa visit. In the low season, lucky visitors have the potential to spoil themselves with a just a few hours of luxuriating in this seductive ambiance. You know that Monica and I thoroughly relish a good pampering, so when The Pavilions' General Manager JC insists that we test out the full range of their In Villa Spa Pleasures, we're certainly not going to argue.  Who can resist a top to toe treatment session with attentive therapists beside their private pool?  Not me, that's for sure.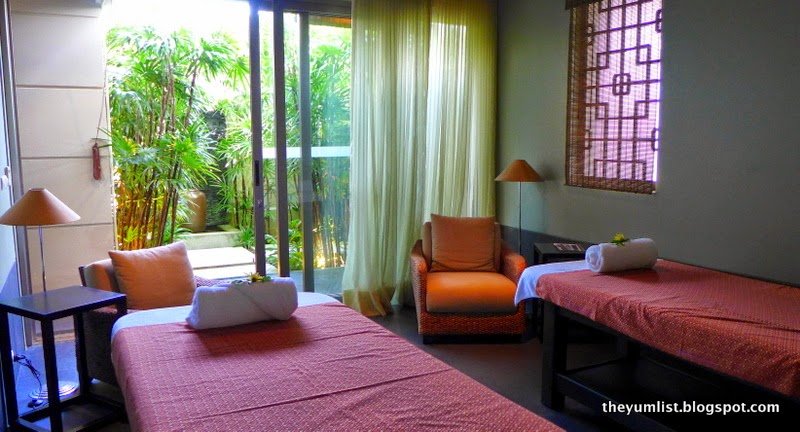 In Villa Spa Room
Despite 90 minutes of transit across the island from our previous resort, we don't feel it is quite justified to try the incredible sounding Jet Lag Relief, and opt instead for two simple massages on our arrival afternoon.  No sooner have we unpacked than two lovely angels appear to attend us. Swiftly and silently they set up their spaces. I'm impressed at how quickly they put everything into place and are calling us for our feet to be gently washed.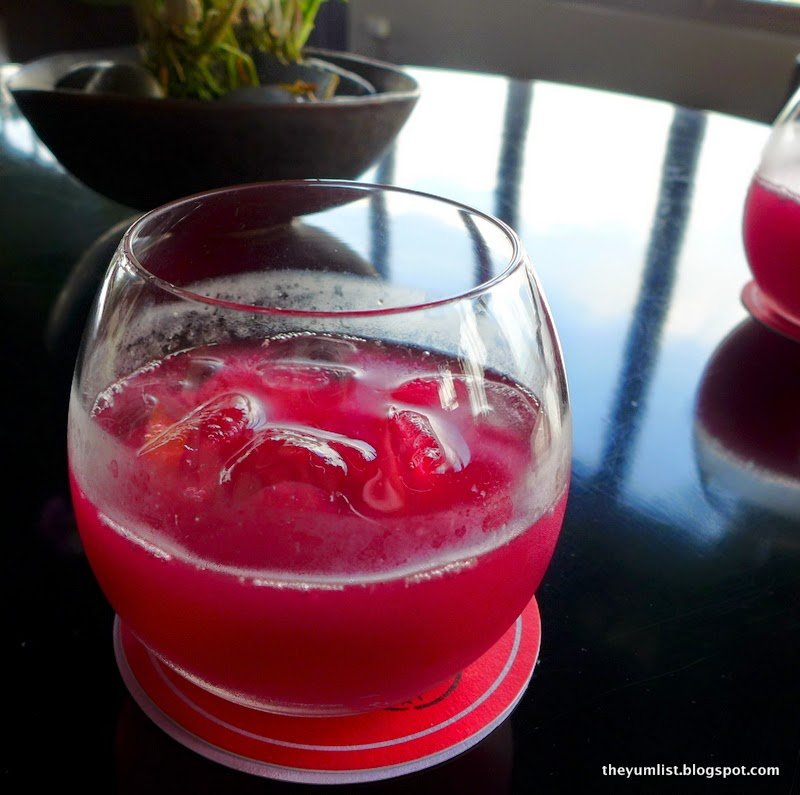 Pre-Treatment Refreshment
Monica's pleasure is The Pavilions Essential Oil Massage, which she describes as 'unbelievable – like nothing I've ever experienced before.' Long luxurious strokes moving rhythmically from toe to fingertip bliss her out completely. The house blend of grapefruit, rosewater, lavender and geranium oil pervades the villa air and gentle music lulls from the dual surround sound system. Using the palm and heel of the hand only, the professional therapist melts away all travel tensions, leaving a very chilled out Yum Lady indeed.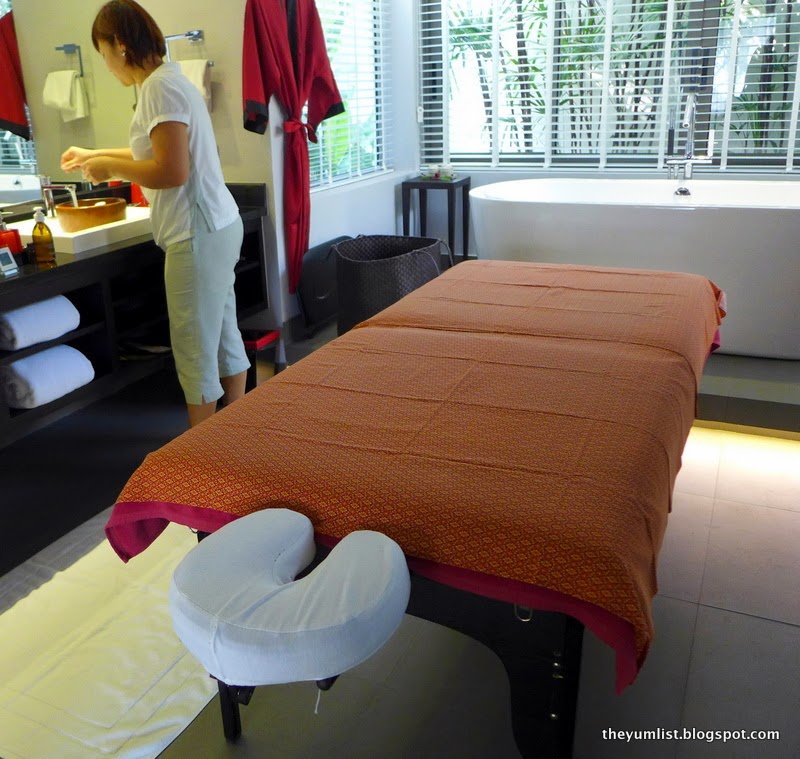 Massage Bed set up temporarily in the Ocean View Villa
The De Stress Muscle Release is a stronger, deeper oil massage that promises relief for sore muscles. It starts very gently, in the way that I love, with a deep inhalation of the therapy oil. I feel pressure pushing on my back and muse briefly how these tiny, delicate looking girls are actually so strong and capable. But no more time for thinking as my back is being transformed from a stiff board into the flexible and sinuous body part that it should be. Thumbs, fingers, palms and heels all combine to untwist knots and lumps. Glorious! I promise you, butter could not be softer than I am by the time she has finished.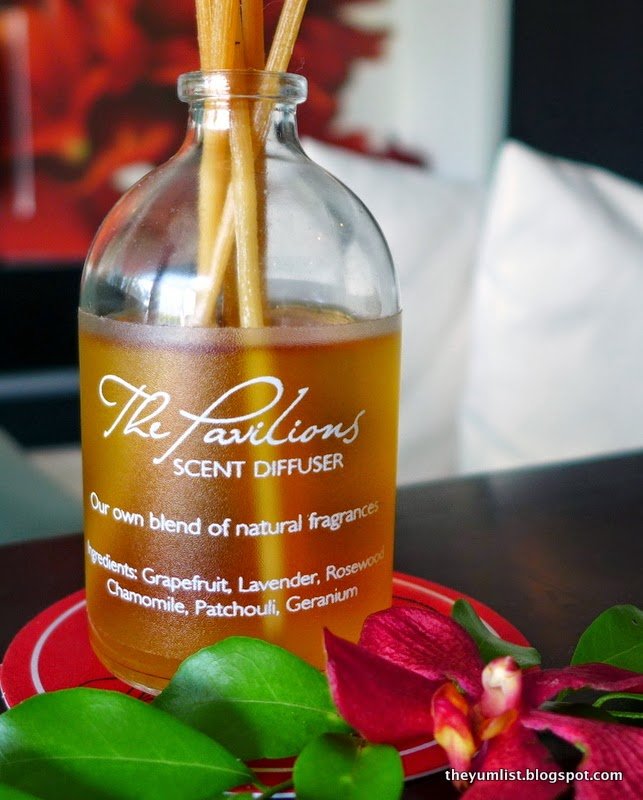 Signature Scent
To finish, a cool damp towel is pressed lightly on my face, then my feet, before I am helped up and into my rather glamorous red silk robe. Both of us are impressed by the quiet professionalism of our therapists who move gently and quietly through the rooms. Leaving as quickly as they came, we wouldn't know they had ever visited, if it weren't for simply how much better we are feeling. It is the perfect way to begin a break, and I'm going to always look for a treatment on arrival from now on!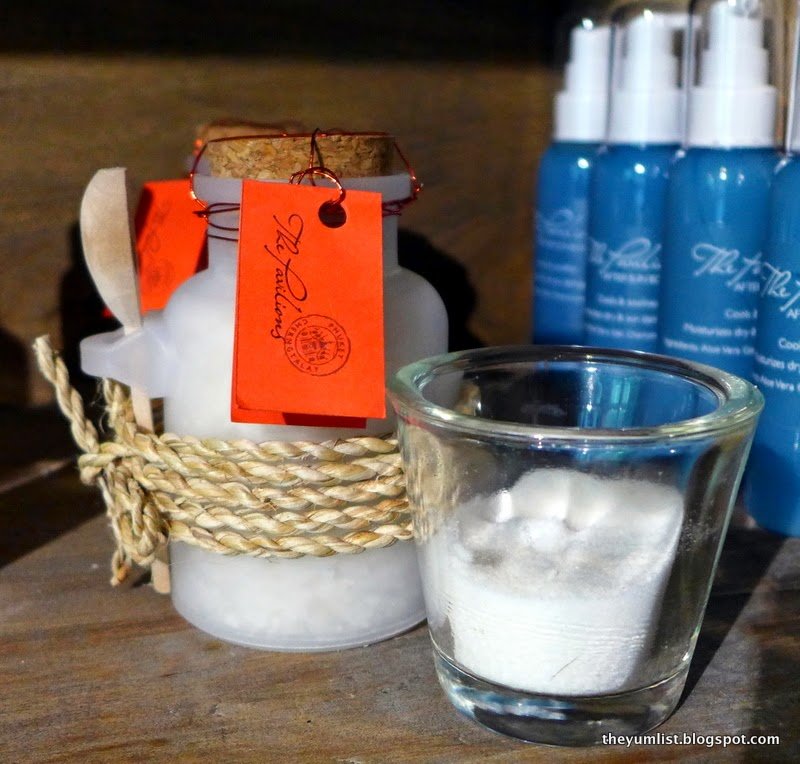 Body Scrub
On our last day we make the most of our private pamper paradise with four hours of absolutely amazing treatments. Romancing the Stone is my choice of 'signature pleasure' treatment. I love hot stone massage. I love the way that the heat seeps into your body, and I love the weight of the stones on my skin. I sigh as I sink into the massage bed, knowing that for the next two hours I don't have to think at all. The gentle heat of the stones enhances the aromatic oil, and makes its slippery consistency even more sensual. The warm weight adds a different dimension to the massage as the handheld stones weave and slide across the body and everything fades away. Once melted into a slumbering ease, I'm gently turned over and treated to therapeutic foot reflexology. This is such heaven! I really do not want to go home tomorrow!
Scentsual Passions tempts Monica with a golden honey and black sesame seed body scrub and indulgent soft flowing massage movements. She emerges from the shower cooing over her silky soft skin, before eagerly lying down again for a 90 minute massage A rich macadamia coconut oil with scents of geranium, ylang ylang and vanilla is slathered over her willing body, and then there is silence until she emerges again, claiming to be in a state of absolute bliss. 'That was just incredible!' she says to her smiling therapist as we are handed a cup of warm tea.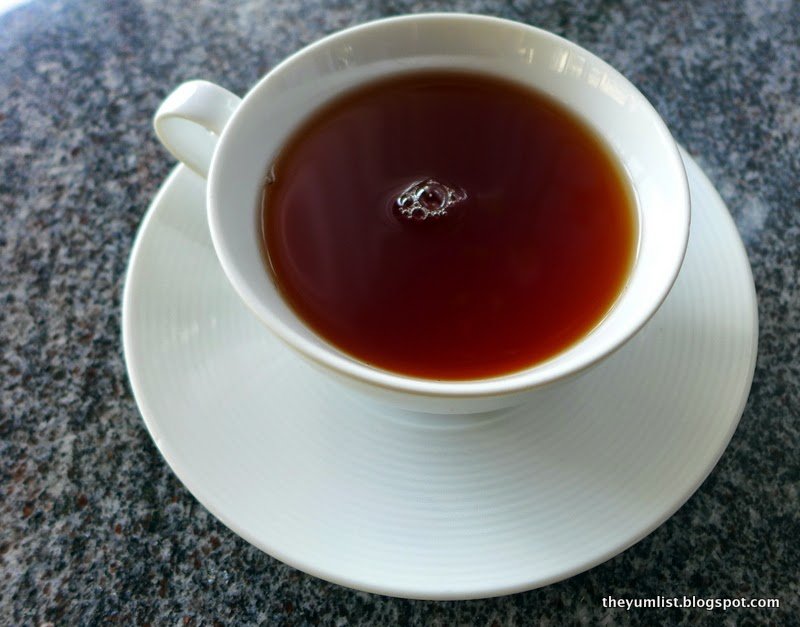 Post Treatment Tea
It's time for a change of therapy team, two leave and two enter. We enjoy a careful and precise spa manicure complete with delightful hand massage, before being painted in pretty OPI colours. I'm propped up on about 20 cushions, but Monica is practically prone position on the enormous sofa with an attentive therapist perched beside her. I feel like quite the A list star with all this coddling!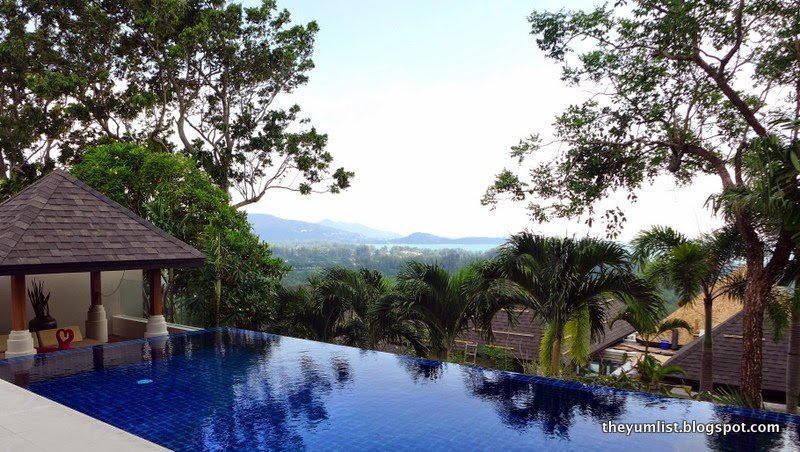 Ocean View Pool Villa
The Spa Pedicure is even more delicious. My feet are still buzzing from their reflexology so I'm sure they're wondering what they've done to deserve quite so much attention this morning! Now they are being wrapped up in film and soft towels to allow the softening OPI foot mask to soak in thoroughly. My beach rough heels will be city smooth again by the time I leave. We chatter happily, enjoying the complete cosseting.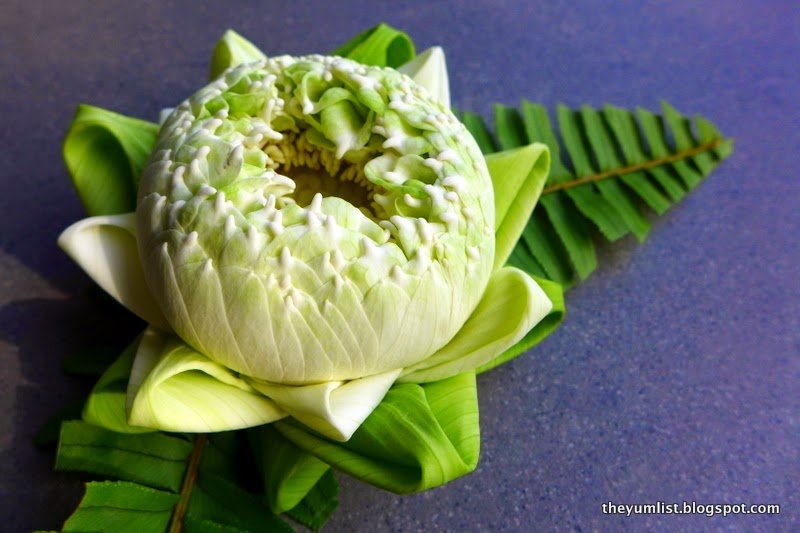 Lotus Flower
Finally our time is over. My pretty pink tootsies twinkle up at me and I have a wide smile as I walk all of 5 meters to float in the pool. It is claimed that a good pedicure not only does wonders for your feet but helps you walk that just a little bit taller. Well today we went one better than that, after all of this we are completely floating on air!
I absolutely adore visiting a really good spa, but there is nothing as opulent as made to measure massage where you don't have to move or dress for hours afterwards. We're already in one of the most luscious locations on the island, so why move, why leave the gates? In Villa Spa Pleasures include head to toe signature treatments, healing therapies, specialist facials and more. Their unique and specialized hand blended essential oils are just divine! Luxuriate in paradise and release your inner god or goddess. After your relaxing spa therapy, take full advantage of your time in this secluded secret hideaway. What better way could there be to end your afternoon than a light lunch at the Plantation Restaurant or a delightful sunset cocktail at 360?

The Pavilions Phuket
Reasons to visit: Indulgent therapies in your private pool villa. How can you resist?
Spa Pleasures The Pavilions
31/1 Moo 6
Cherngtalay
Thalang, Phuket
Thailand
+66 7631 7600
In house guests can benefit from spa treatments all year long. Day visitors however have the chance to try out the spa treatments during the low season.