Located between the party scene of Legian and the more refined shopping and entertainment district of Seminyak, guests of TS Suites Leisure are a few minutes from either. The busiest shopping street in hip Seminyak is within walking distance, and endless dining and partying options await, so pack lightly and plan to fill your stay with an abundance of fun.
Booking a room here is made easy with your choice of technology. An old fashioned phone call or website reservation of course is common, but at TS Suites Leisure, an instant message or email will suffice too.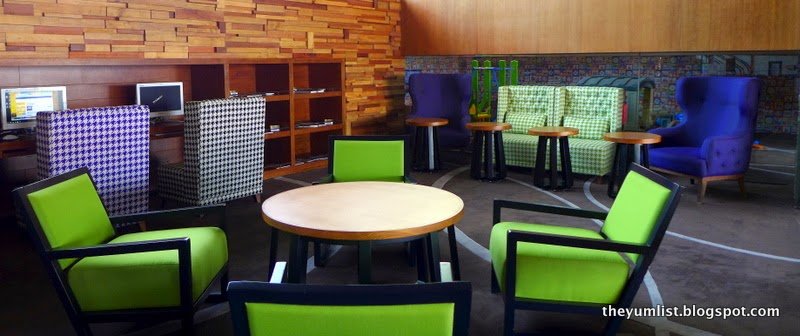 Library
The feature of early check-in and late checkout sure is appreciated by international travelers, with the standard departure time here at 2pm!  With not much control over flight schedules it's a huge selling point to have a hotel that will take care of you from the moment you arrive to the moment you leave.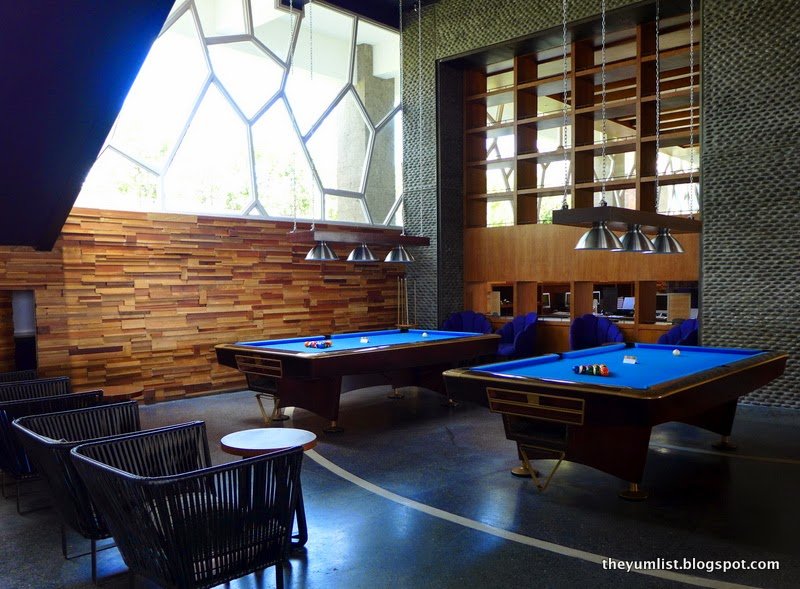 Games Room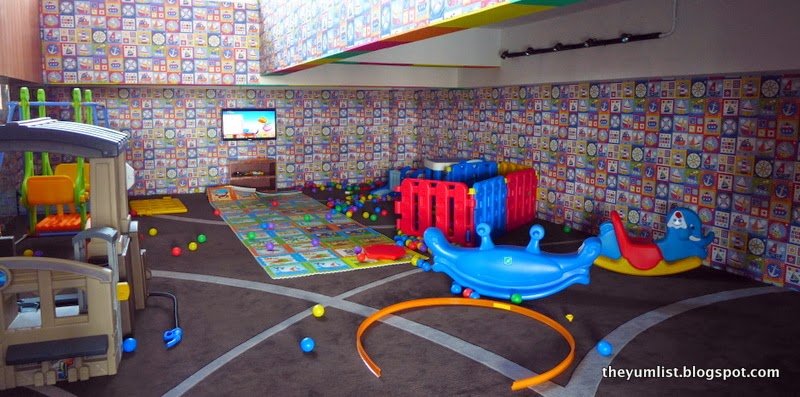 Toddler Playroom
Common areas are inspirational pieces of modern design intertwined with natural materials. The reception lobby features high ceilings where not a space has been left untextured. All surfaces offer subtle changes in materials such as wood, tiles and bricks, keeping the design interesting, while the use of a mix of earthen and ocean hues maintains a calming effect.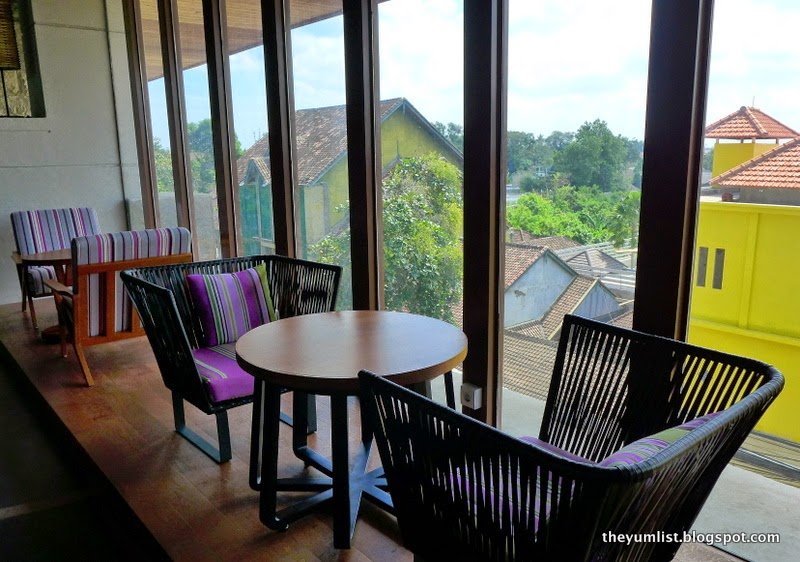 Leisure Club
Twelve outlets are featured in the massive courtyard dining area, each with unique design. Once you've marveled at the maze of options, then you have to choose what to dine on. Local, western, Spanish? Cocktail, wine? Being a brand new hotel (6 months old when we visit) not all outlets are yet fully operational but all are expected to be on the way very soon. TS Leisure Suites is also home to Jenja Day and Night Club, where in house guests are treated to complimentary priority access.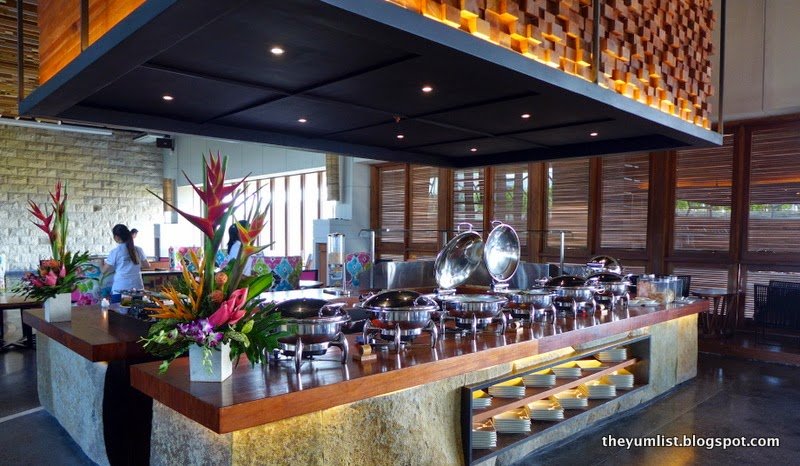 Buffet at the Leisure Club
All day breakfast at Leisure Club is surely a winner with the party crowd and late sleepers (hubby!). Breakfast, which is included in the room rate can be taken at any time of day. This allows hubby his sleep in and me to get a good workout in before brekkie without having to beat the sun up.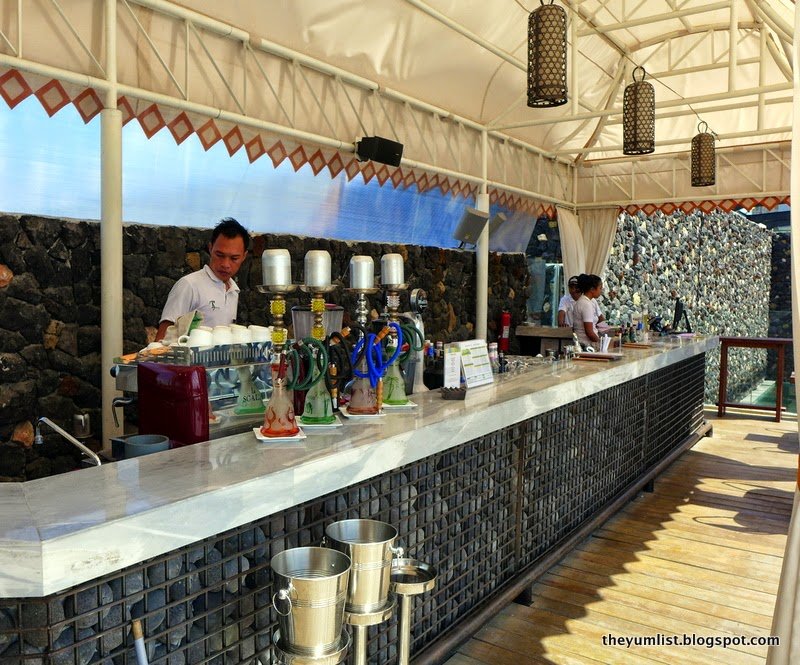 Rooftop Bar
The skyward 50m infinity pool is a contemporary footprint on the roof of the hotel. A wave like canopy shades dining tables, but sun chairs plumped in the water itself are the most popular place to loll. Early morning it's a serene oasis of calm. In the evenings however the scene heats up with music, cocktails and events drawing the crowds. And… it doesn't close at 9pm, it's a 24 hour round the clock pool allowing guests to truly work with their own chronometer.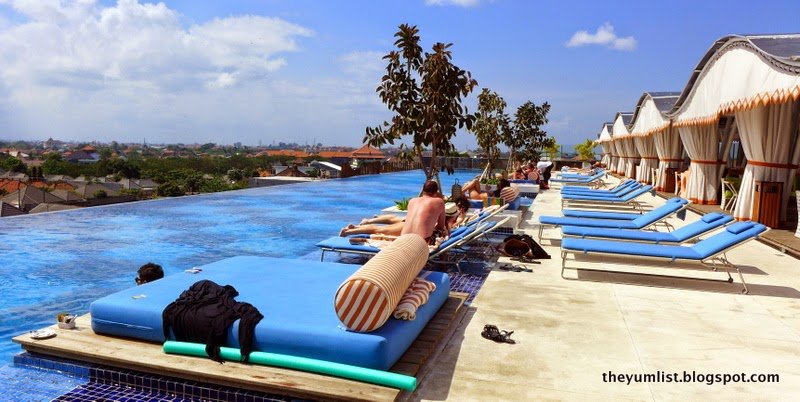 Rooftop Pool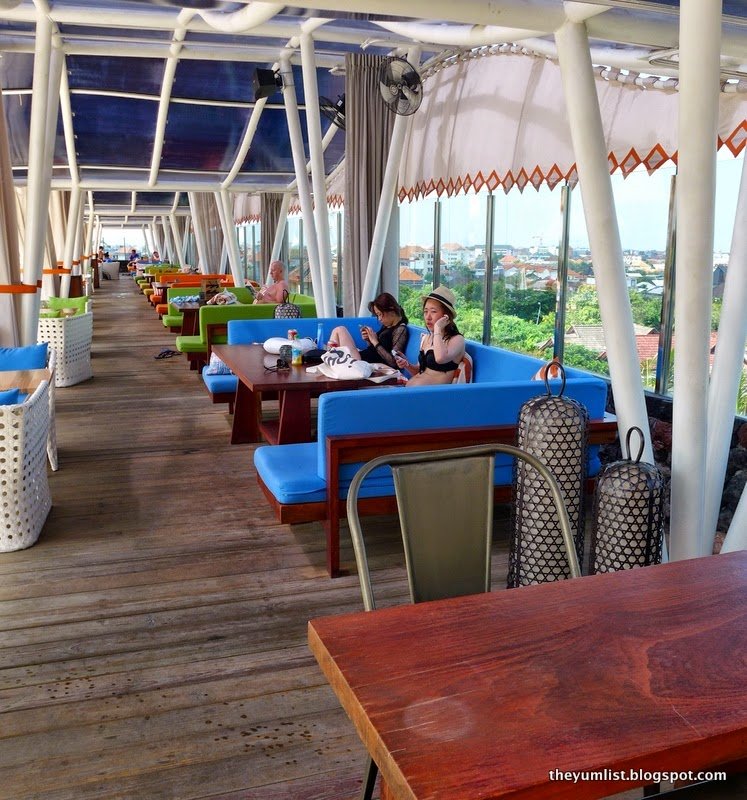 Rooftop Lounging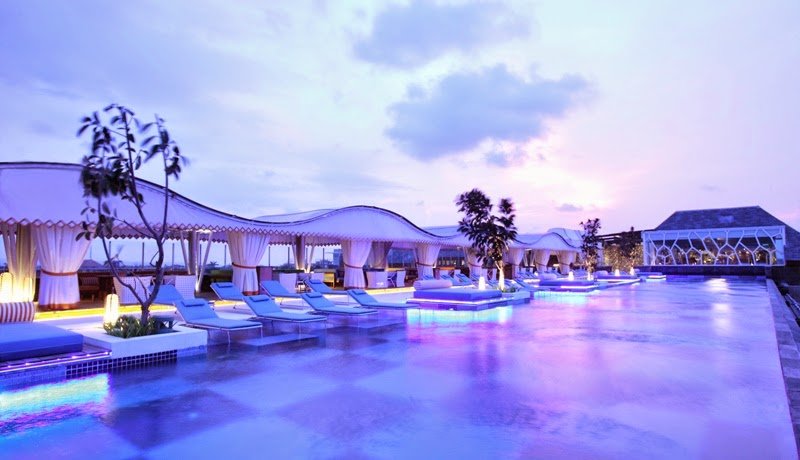 Rooftop Pool
For those who'd like to splash in water with sand between their toes, Double Six Beach is accessed via a complimentary shuttle. A fully equipped gymnasium, overlooking the rooftop pool is immense in floor space and encourages guests to stay looking their best too.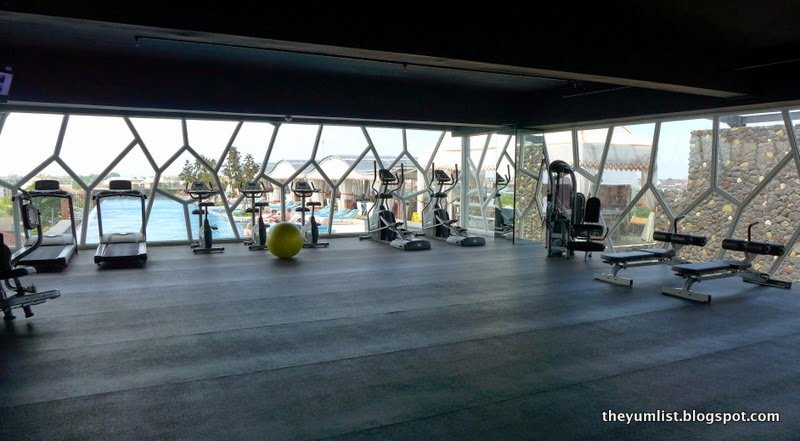 Gymnasium
TS Suites Leisure really do make it easy to stay in the hotel for the whole time. A regular art market and cultural performances are brought to your doorstep. A complete entertainment program sees presentations by local artists, cultural performances and Balinese dance all on the calendar.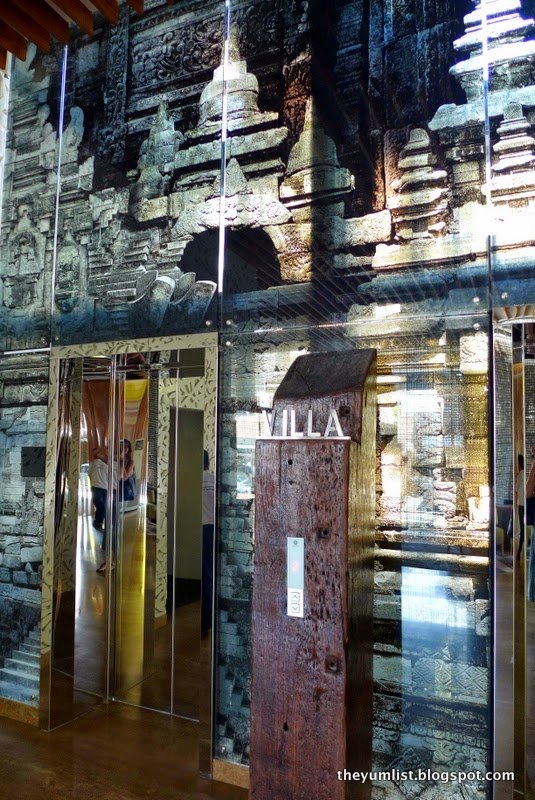 Interesting Lift Patterns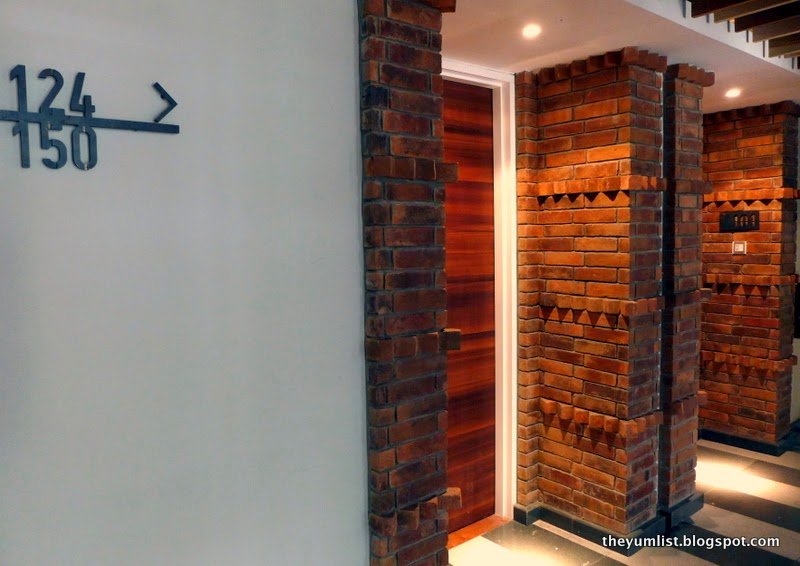 Room Entrance
This boutique hotel consists of 90 rooms and 53 suites rooms ranging from 45m2 to 90m2 with an additional 12 roof top villas. The most affordable is the TShell Room with 45 square metres of compact, but well organized, space. Being brand new all amenities offer the latest in technologies. A flat-screen TV keeps hubby happy and free Wi-Fi is a necessity for me these days. A complimentary mini-bar sure is a nice touch. Those extraordinarily expensive temptations found in most hotels just seem so outdated. Replenished daily, ours contains a few drinks and snacks, sufficient for in-between-meals refreshment.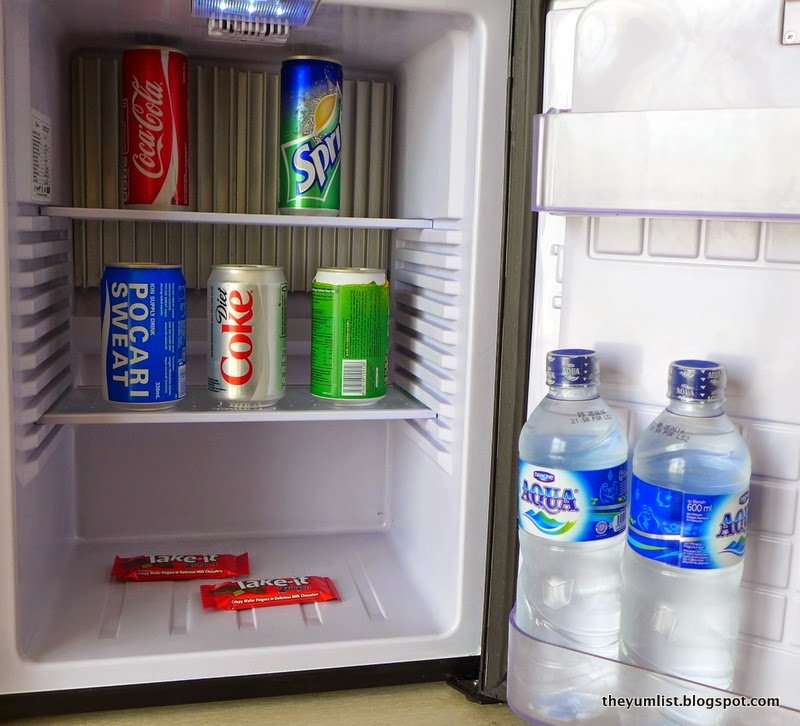 Complimentary Mini-Bar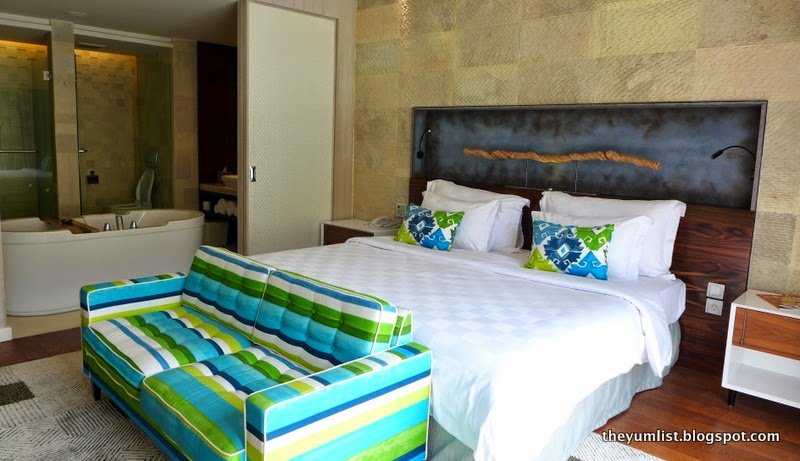 Standard Room
Wood paneled floors and pale tones gift the room with a tranquil ambience. Down lighting however, modern patterned rugs and brightly striped cushions, bring a stylish appeal to the clean space. A free-standing bathtub is the highlight of the bathroom, with a rain shower running a close second. Lush toiletries stand out over standard hotel supplies, as do thongs instead of slippers.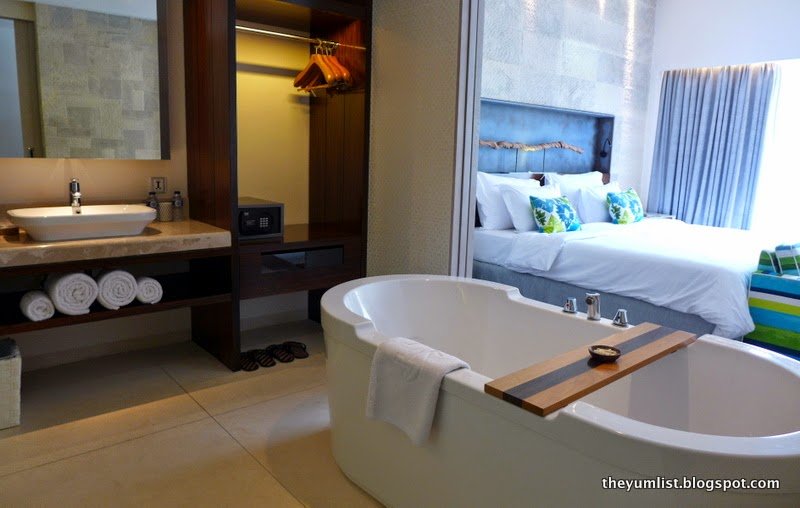 Bathroom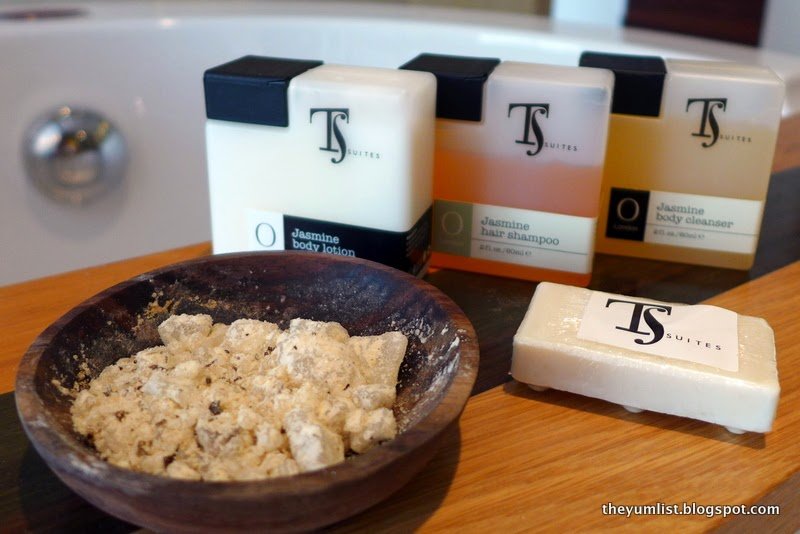 Bathroom Products
From all day breakfast and a club that parties day and night, to a pool that's open around the clock and late checkout, TS Suites Leisure really does support guests keeping their own time. No restrictions, no limits. Life is yours. Grab it at TS Suites Leisure.
Reasons to visit: hip new property in Seminyak; late check out; all day breakfast; trendsetting design.
TS Suites Leisure,  Seminyak Bali
Jalan Nakula No. 18
Seminyak Bali
Indonesia
+62 362 846 9222