Monica Tindall
For a very short time KLites are invited to partake in a refined Austrian stimulation of the senses at The Restaurant, The Club Saujana Resort. Internationally renowned Austrian chef Gottfried Prantl is in town for only four days and has a line up of northern European fare ready to delight the taste buds of his guests.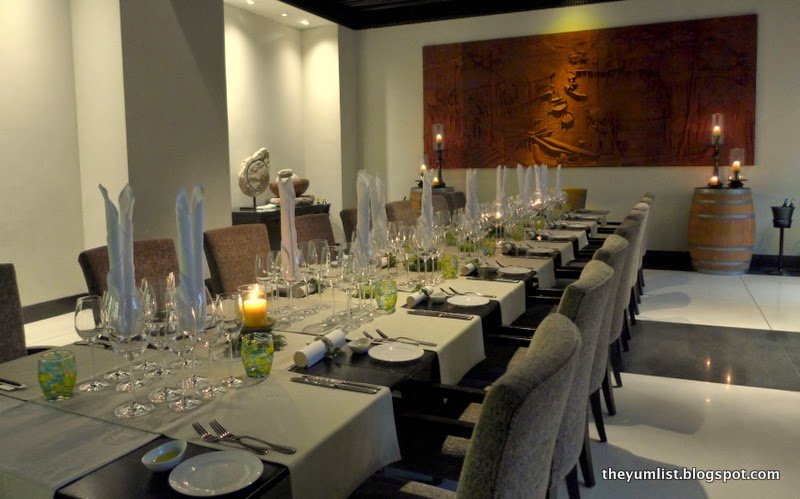 Private Dining Room
Chef Prantl is truly an expert in his field. Travels around the world saw him in kitchens in France, Switzerland and the USA in his formative years. Later returning to his homeland, he has been the Chef de Cuisine at
Das Central in Tyrol
for the past 25 years. Dedication to perfection and play with high quality ingredients has seen his culinary genius awarded many accolades including the prestigious "Toque d'Honneur" by Gault Millau.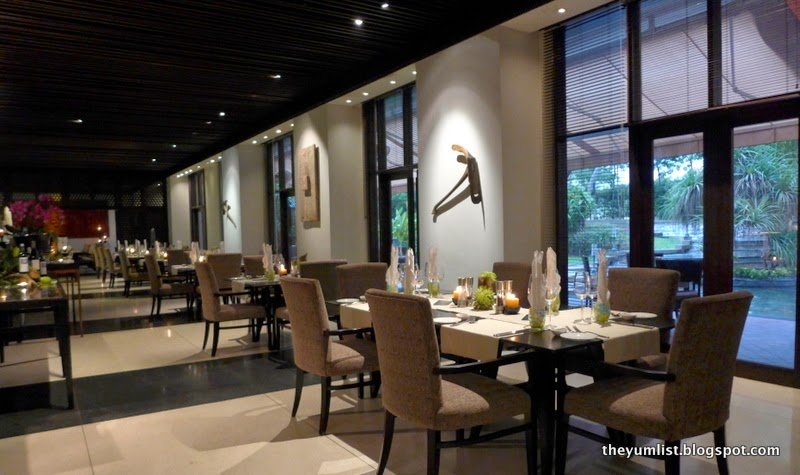 The Restaurant, The Club, Saujana Resort
The Restaurant at the The Club Saujana Resort plays the perfect setting to experience the fine cuisine of the Alps here in Malaysia. Clean lines, earth tones and lots of glass seamlessly play together to form a sophisticated atmosphere. An adjoining terrace with manicured gardens and water views opens up the scene with the refreshing surrounds of nature. Gracious service and a discerning clientele complete the arena.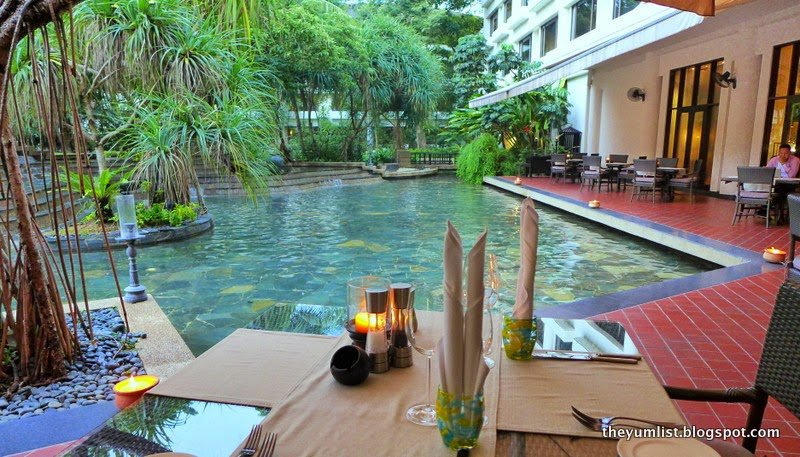 The Restaurant, The Club, Saujana Resort – Outdoor Seating
Wine lovers are particularly fortuitous if partaking in the Austrian Affair. Fifteen different wineries from the region have provided their specialties to accompany the food. These are family run vineyards, meaning small production, gifting guests with a boutique wine experience. And… that's not all! On hand is a professional sommelier too, who just happens to be resident chef Alexander Waschl's brother and General Manager of Das Central, who assists guests in choosing varietals to suit their personal palates and ingredients in each dish.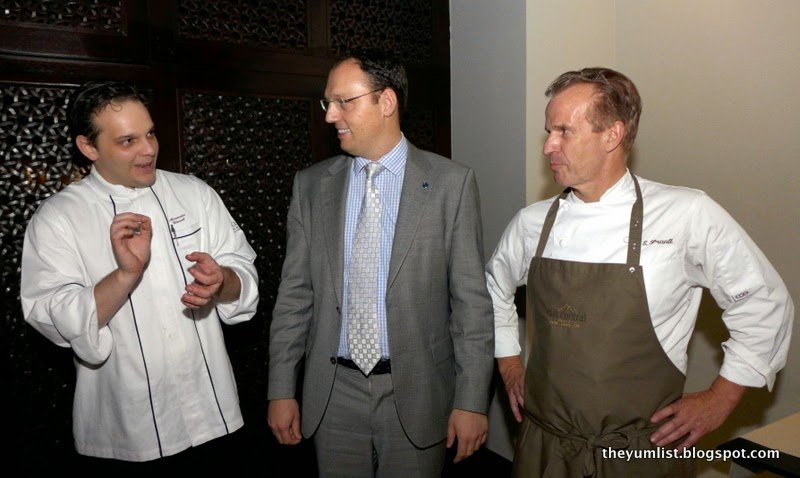 The Austrian Team
Both lunch and dinner menus are available until September 27th.  We engage in the evening event.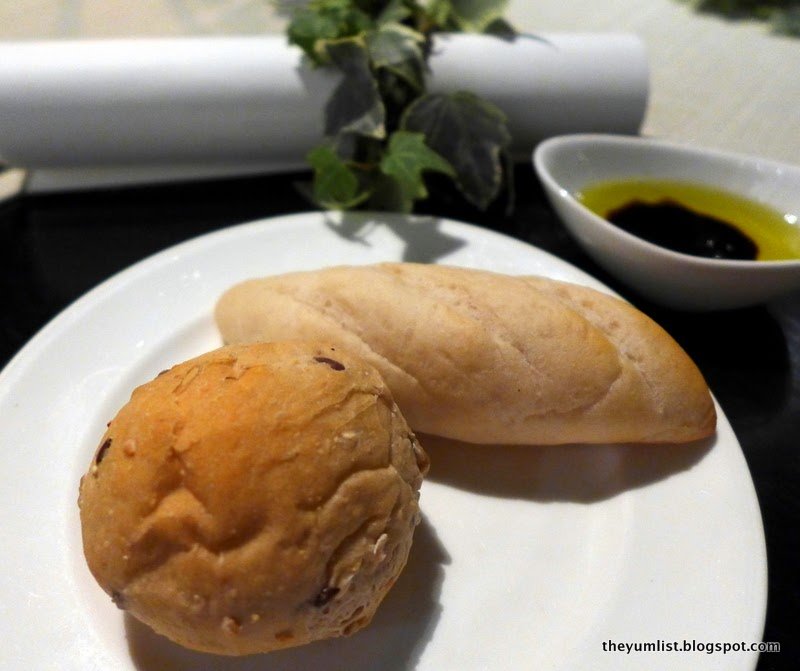 Warm Bread
First out is a trio of small bites, featuring the goods of the earth and the waterways in one dish. A warm ball of Polenta stuffed with Venison Praline sits in a small puddle of juice. The grainy texture of the sphere leaves a taste of countryside on the roof of the mouth. Dry-Aged Beef, topped with shaved Parmesan, is given some zap with bitter rocket and pickled mini red onions. A wonderfully Smoky Trout is rolled in paper-thin wafers of garden crisp cucumber, and the contrast between the two is only heightened by the addition of red fish roe and a sprig of dill on top.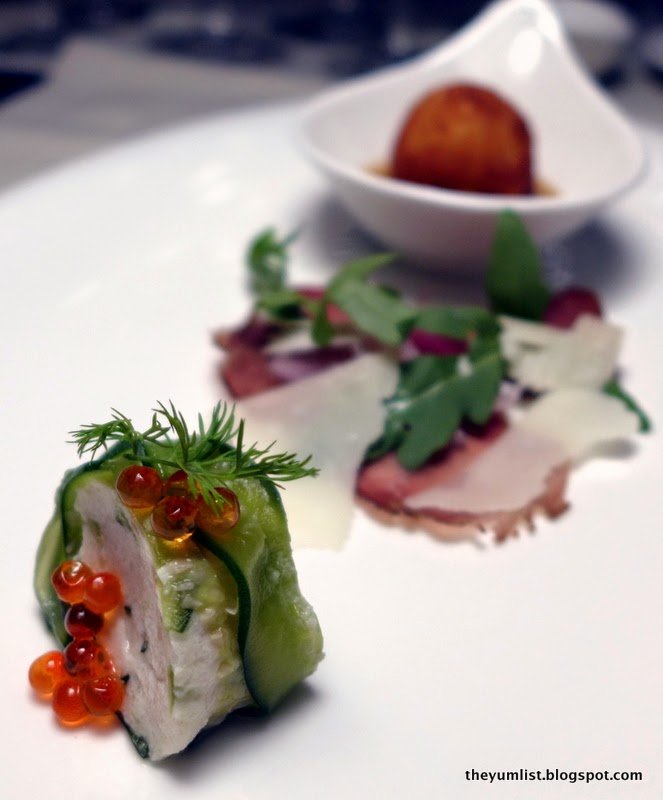 Amuse Bouche
Kremstal dac Gottweiger Berg 2013, Gruner Veltliner tests our tongue twisting ability immediately. This pale yellow drop has nuances of tobacco in the nose and crisp apple in the mouth. It's a lighter style of wine that does better with food than on its own.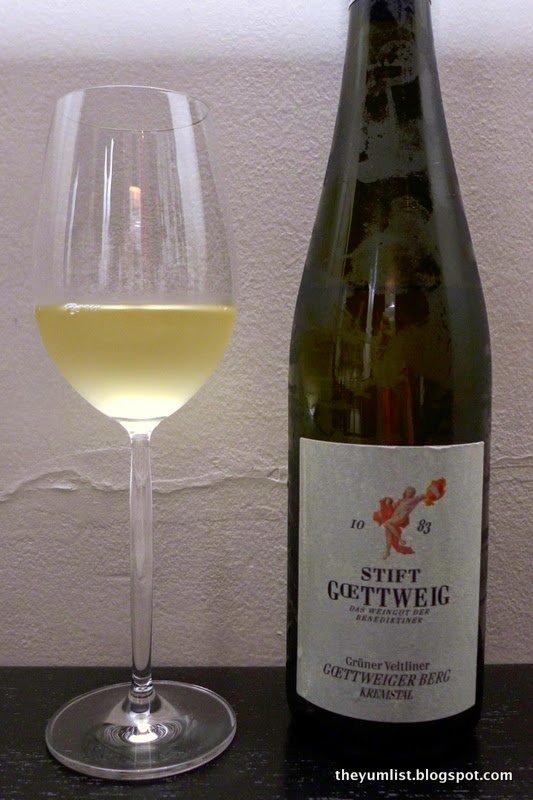 Kremstal dac Gottweiger Berg 2013, Gruner Veltliner
Free Range Duck is served cold and warm with wild broccoli and deep fried cep mushrooms. Crisp skin and a wedge of fat pink flesh compose the warm version, whereas the cooled item accents meaty pieces of poultry compacted together into a rectangular prism. Just the right amount of natural jus drizzles the top and the addition of sliced walnuts in brine adds interest to the eyes but also to the taste buds in the form of a mild sweetness and firm texture. Soft ruby hued in the glass, a Paul Achs 2012 Pinot Noir is the mate for the duck. Berries on the nose and cherries in the mouth, alongside smooth tannins in the finish, this red accessorizes well with the poultry.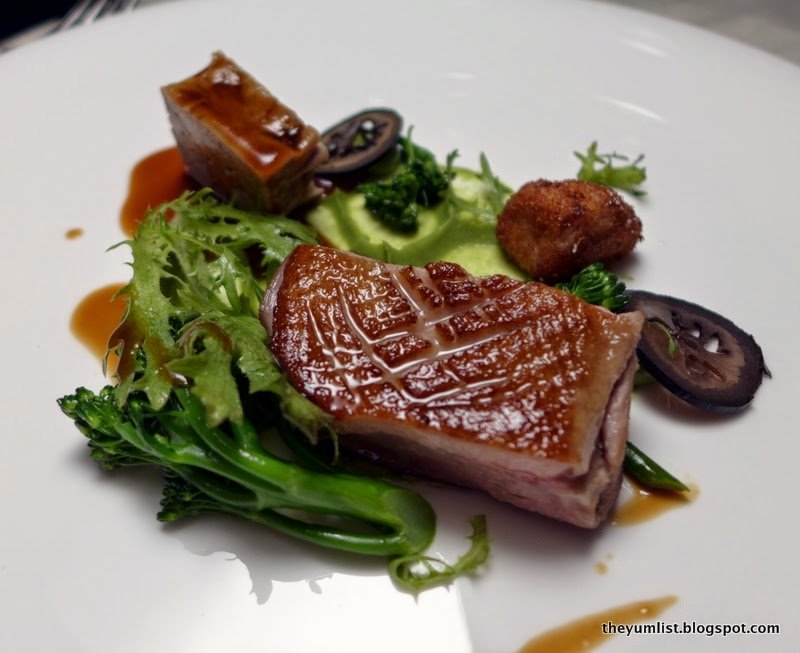 Free Range Duck Served Warm and Cold
Arctic Char (a cold water fish related to salmon and trout), Lovage (a herb oft used in Europe in salads and broths), Beetroot and Celery showcases how simplicity of presentation and quality ingredients combined formulate a stunning dish. The coral pink flesh is extremely soft and moist and the yellow sauce in which it sits a perfect complement.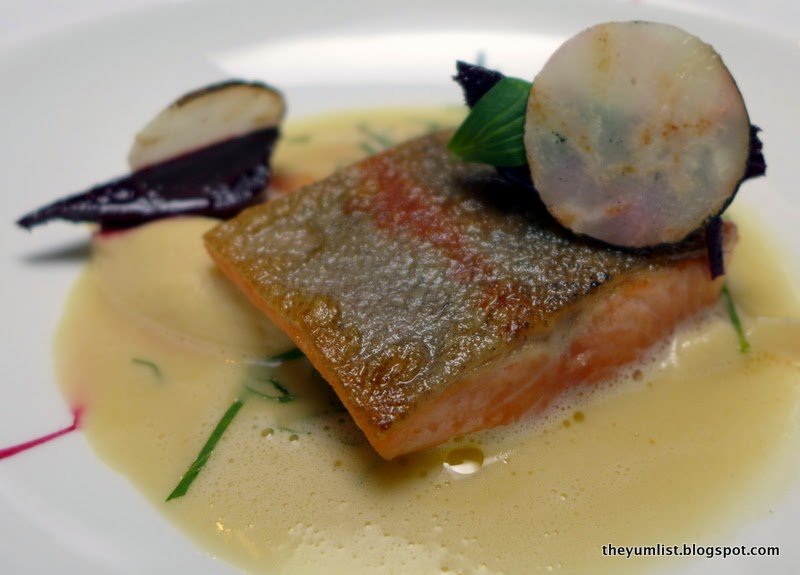 Arctic Char
The Rittstever Lehmgruber 2011, Chardonnay is the pairing for this dish. Delicious on its own, but after a bite and a sip, the wine opens up beautifully. While all the wines over the evening are exceptional, this turns out to be my personal favourite.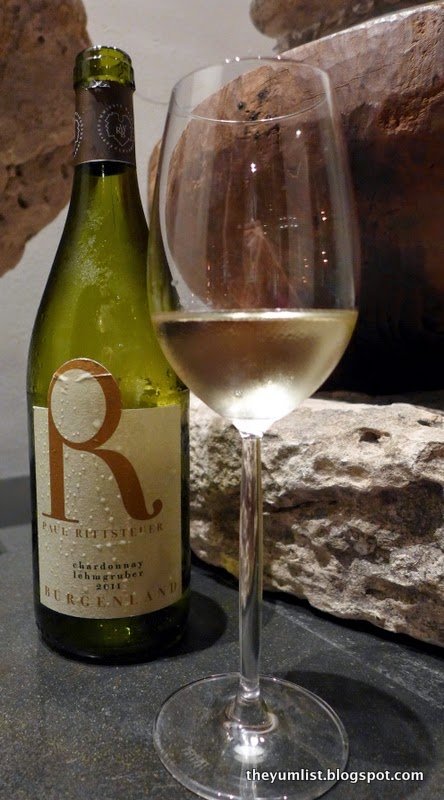 Rittstever Lehmgruber 2011, Chardonnay
Austrian Style Ravioli is a surprise dish thrown in by the chef at the last minute. Thin half moon shaped parcels are stuffed with juicy greens and flavoured with a savoury Alp cheese, which spills from the insides upon first bite. With the pasta envelopes coated in a brown butter, the tomato salsa that bases the dish is a welcome inclusion of freshness.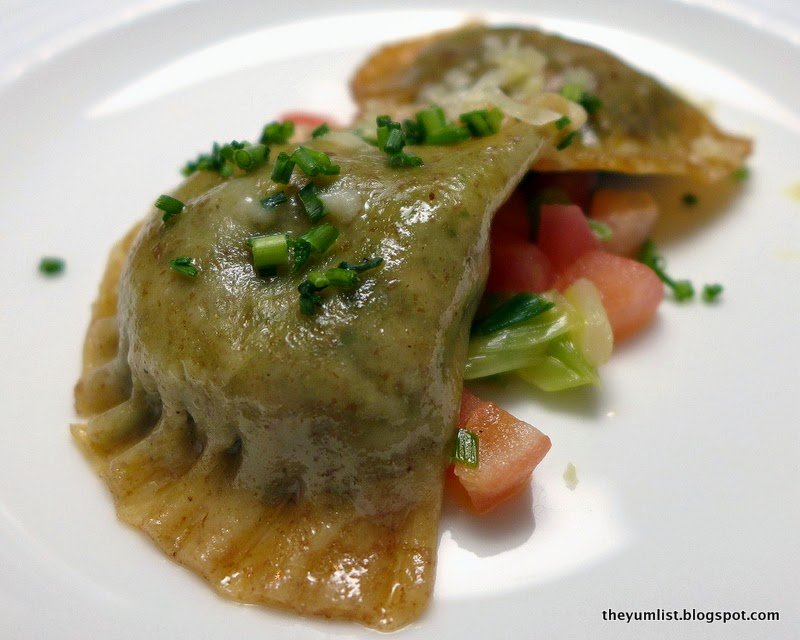 Austrian Style Ravioli
Another Chardonnay follows, a Kollwentz Tatschler 2012, which I find highly enjoyable too. Being a little on the young side, its crispness slices through some of the butter in the ravioli. We hear this one is worth waiting a couple of years for it to reach its peak for ultimate drinking pleasure.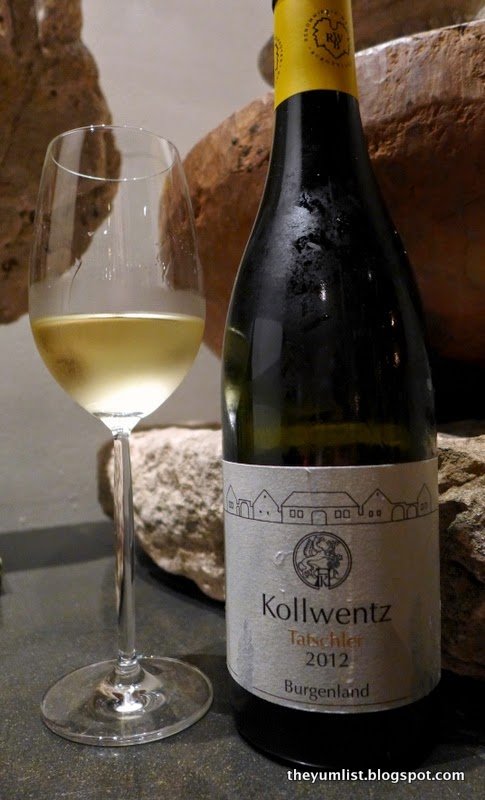 Kollwentz Tatschler 2012, Chardonnay
Lamb is our main presented as two cuts – a medium roasted saddle and a slow braised neck. The saddle is a lean sensuous pink that must be eaten hot, while the neck contains more fat and is equally luscious. Both pieces are incredibly tender, and the assorted beans, creamy potato mash and goulash prove consummate plate fellows.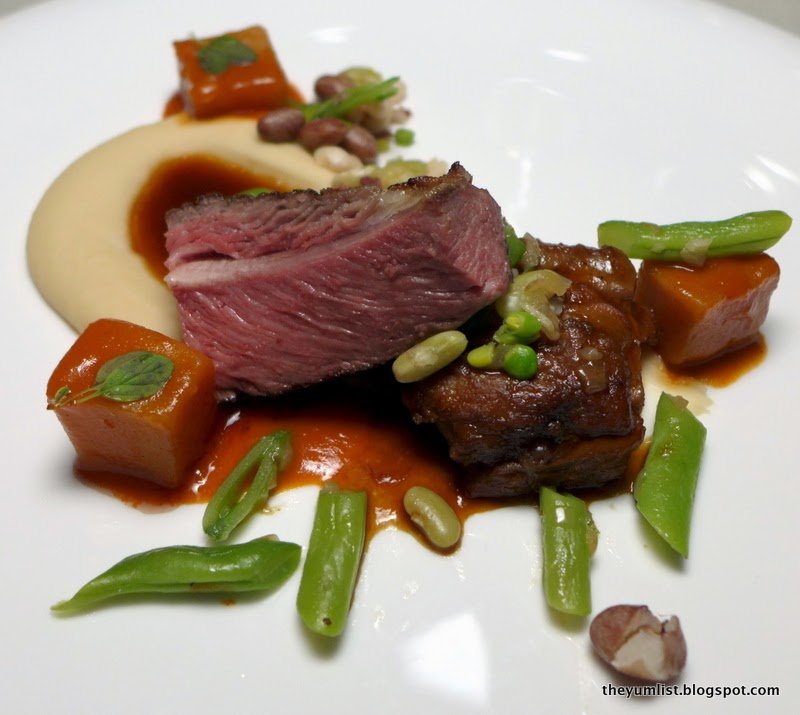 Medium Roasted Lamb Saddle, Slow Braised Neck, Assorted Beans, Potato, Goulash
We're lucky to sample two reds with the meat. Krutzler Reserve 2011, Blaufrankish, and Marco Polo's 2009 blend of Syrah, Merlot and Cabernet. The first displays a very fine character and immediately gains admiration from our fellow diners. The latter is also well balanced and strongly matches the lamb. Either makes a first-rate pairing.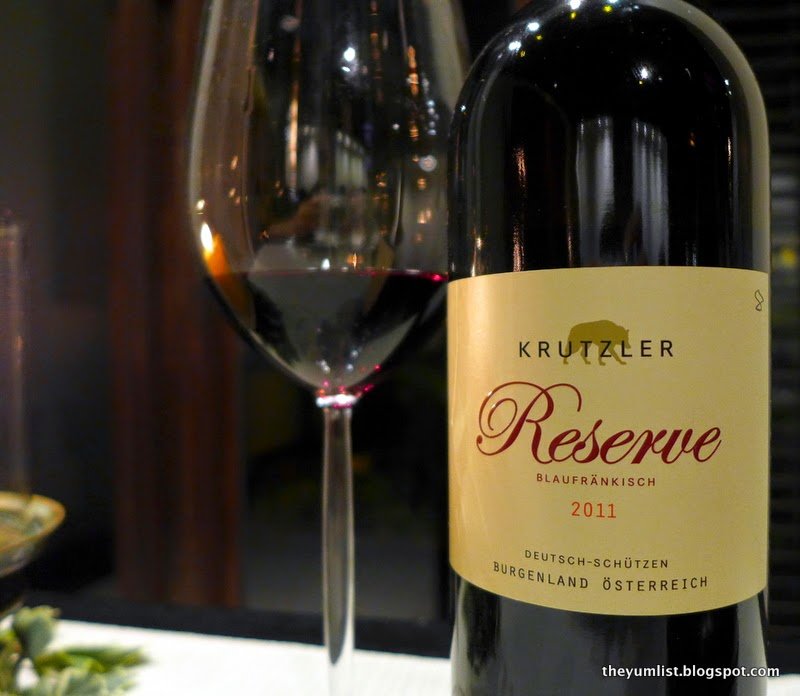 Krutzler Reserve 2011, Blaufrankish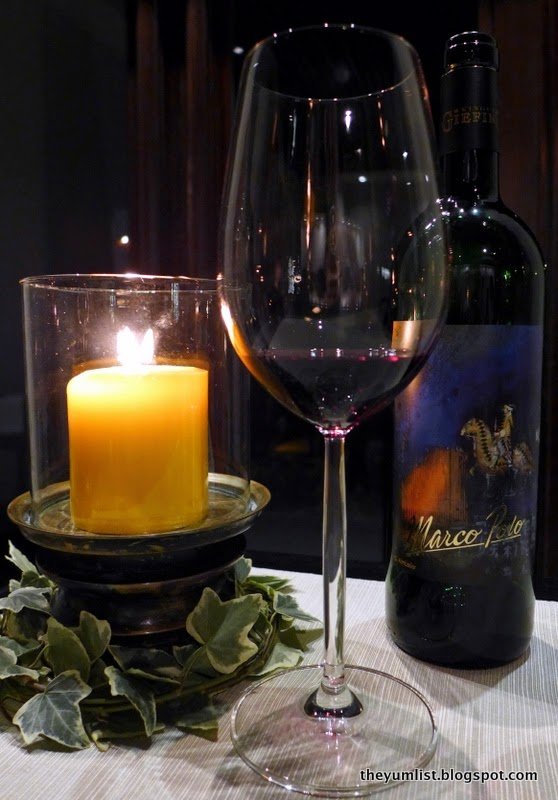 Marco Polo 2009, Syrah, Merlot, Cabernet Blend
A duo of desserts complete the meal with a classic Sacher Souffle, Chocolate Souffle with Apricot and Obers Ice Cream making the sweet tooths at our table very happy. A nectarous dessert wine, Ruster Ausbruch 2008, Pinot Cuvee has a hint of vanilla but otherwise feels like we're drinking chilled melted honey. Yum!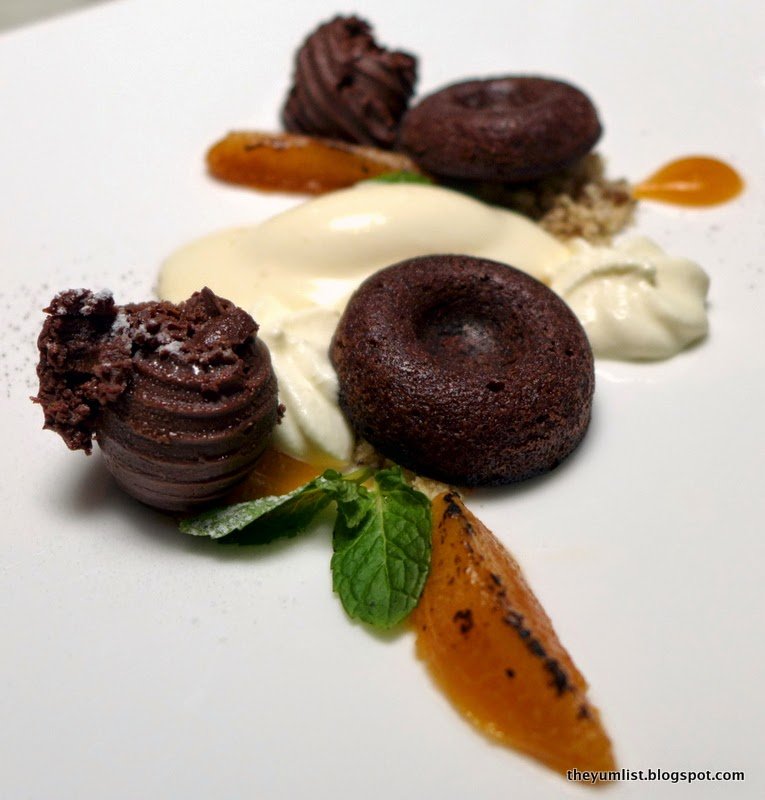 Deconstructed Sacher Torte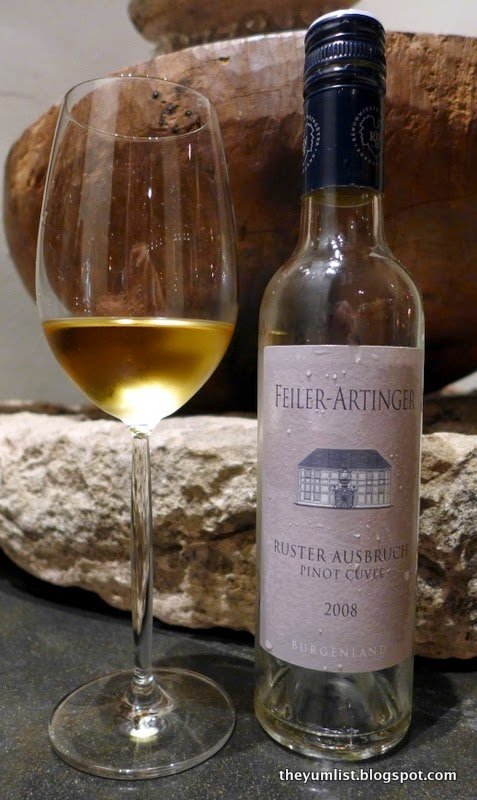 Ruster Ausbruch 2008, Pinot Cuvee
Arolla Pine and Cranberries, Cranberry Panna Cotta, Arolla Pine Sorbet and Austrian Sparkling Wine is a refreshing finish. Perfect in its light effervescence and sharp tang, it cleanses the palate and leaves us with a feeling of satisfied completion.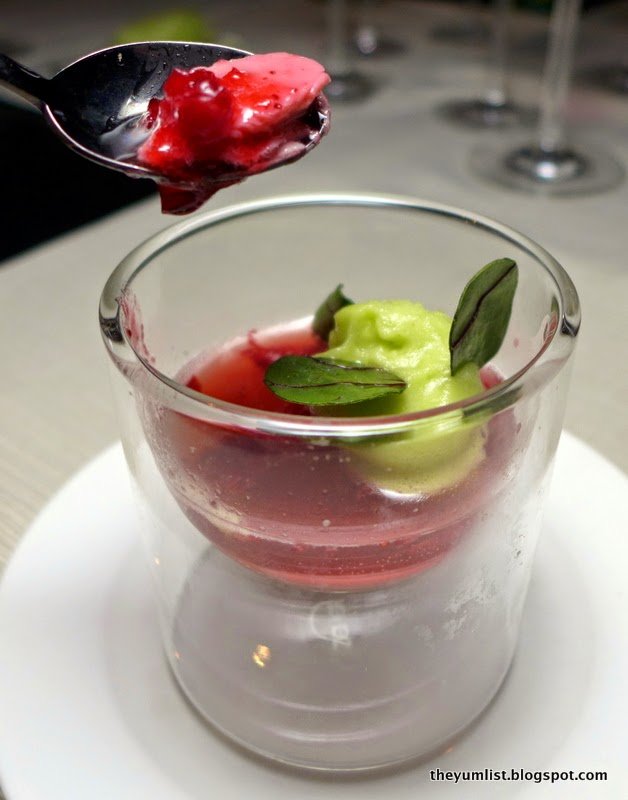 Arolla Pine and Cranberry Dessert
The Austrian Affair with Chef Gottfried Prantl runs from September 24th – 27th, 2014.  The three
course lunch set is priced at RM125 nett per person, while the four course dinner is going for RM240nett per person and both include Austrian wine pairing by a professional sommelier. CIMB cardholders receive 15 – 20% off their food bill. Visit
www.shr.my
for more details.
Reasons to visit: a very short time to try some fine Austrian cuisine right here in Kuala Lumpur; 15 different Austrian wines available and paired by an expert sommelier; lovely setting and service of The Club.
The Restaurant
The Club Saujana Resort
Jalan Lapangan Terbang SAAS
40150 Shah Alam
Selangor Darul Ehsan
Malaysia
6:30am – 11:30pm
+6 03 7806 7000