Seminyak is one of Bali's most fashionable beach locations and Anantara Resort and Spa makes the most of its proximity to restaurants, bars, spas and chic boutiques by providing luxurious contemporary accommodations to match the happening surrounds. Located only 20 minutes from the Denpasar International Airport and minutes' walk to the commercial strip, it makes an adept playground for those not wanting to lose a second of their time on the Island of the Gods.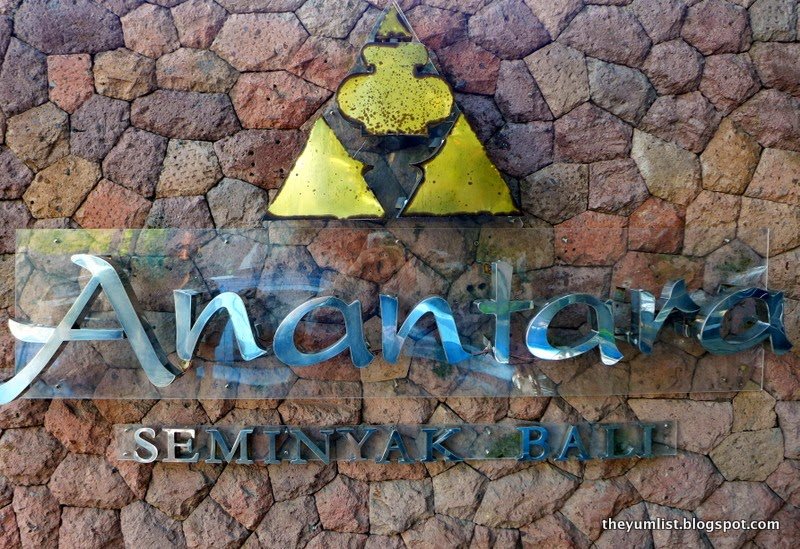 Anantara Seminyak Resort and Spa, Bali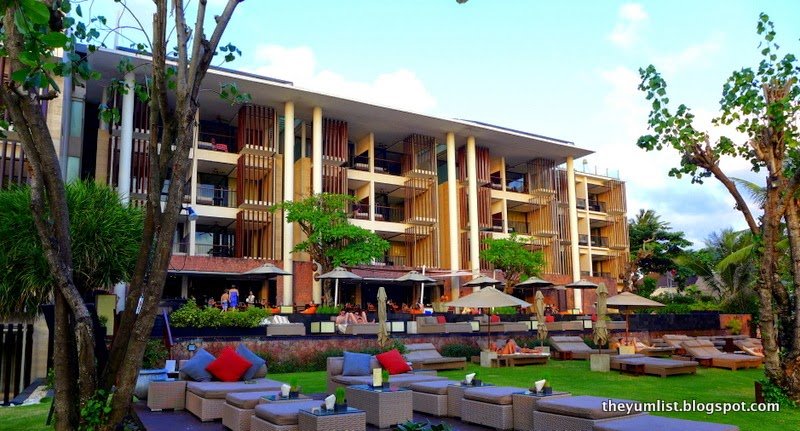 Anantara Seminyak Resort and Spa, Bali
Anantara Resort and Spa takes the customary hospitable Balinese welcome up a notch with a gourmet beverage, coconut pancake and magically expanding cold towel. Unwinding in the lounge, while our documents are processed, eases us into the relaxed ambience and sets the tone for the rest of our stay.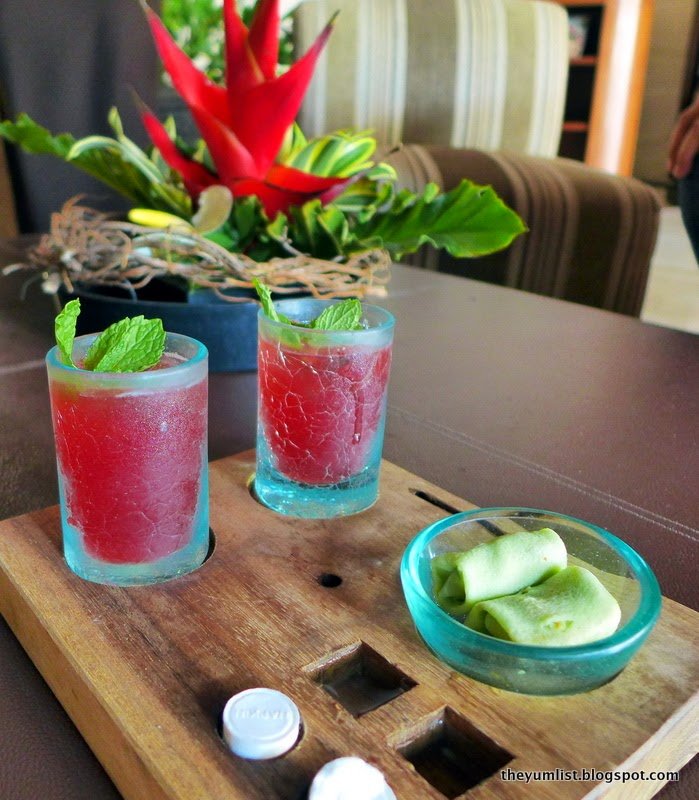 Welcome Drink
Although the bustling scene of Seminyak is just behind us, we are lulled into a state of calm with the open, clean lines of the property and inspiring seascape before us. Silvery grey sand makes a gentle incline down to a rolling wave-edged shore and leads our gaze further out to a cobalt blue horizon. Sunsets here are some of the most spectacular on the island so we mentally note to confirm our plans to be outdoors to catch the transition from day to night.
All Suites
All 59 rooms at Anantara Resort and Spa are 80sqm suites with double sized Jacuzzi, the latest in services and many with ocean views. A fusion of upscale architecture and indigenous influences compose the living quarters, with dark teak wood paneling the floors and walls and, streamlined functionally designed furniture blending in with the space. Silk cushions and patterned rugs add warm notes of colour, while natural light illuminates through ceiling to floor glass sliding doors during the day, and ambient lighting washes the room with a gentle glow at night.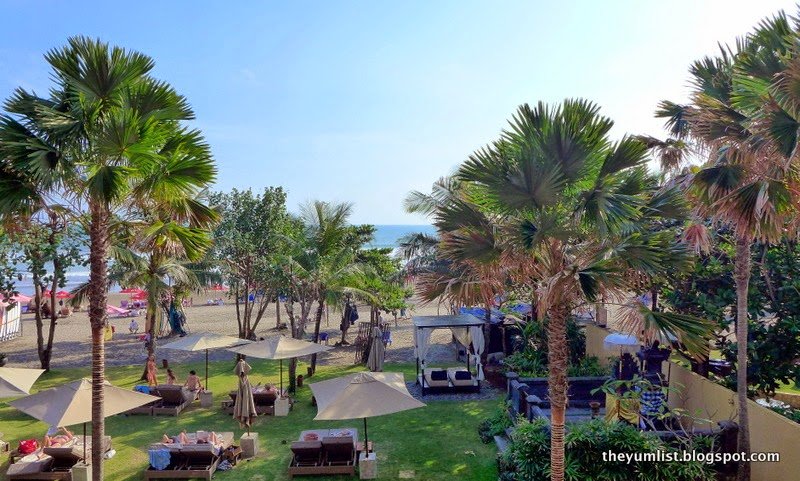 View from Ocean View Suite
Pale travertine marble, plenty of glass and mirrors give a polished feel to the bathroom. Double sinks allow us our own readying space and, luscious bath products have us smelling so lovely that occasionally we catch a whiff of our skin or hair throughout the day and take in an extra deep breathe of the scent. The rainmaker shower is a piece of machinery to be admired. An oval of jets cover the ceiling and with an adjustment of a handle a light drizzle is converted to a pelting downpour. More water therapy is urged in the jumbo bathtub that's equipped with bubble bath, salts, incense, candles and reading material.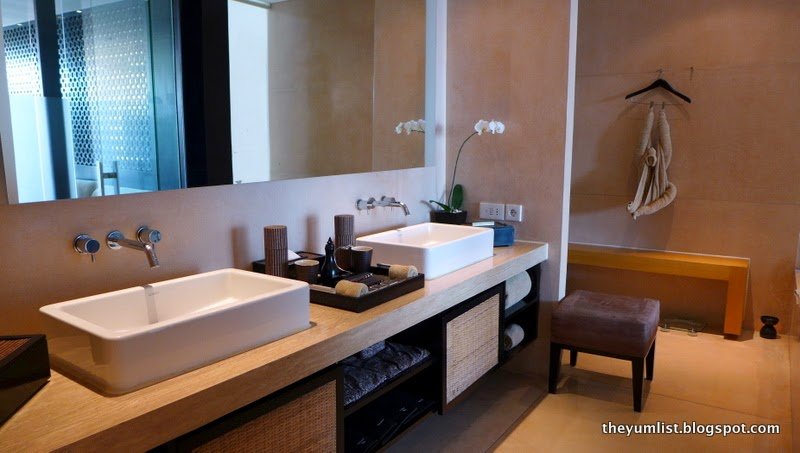 Bathroom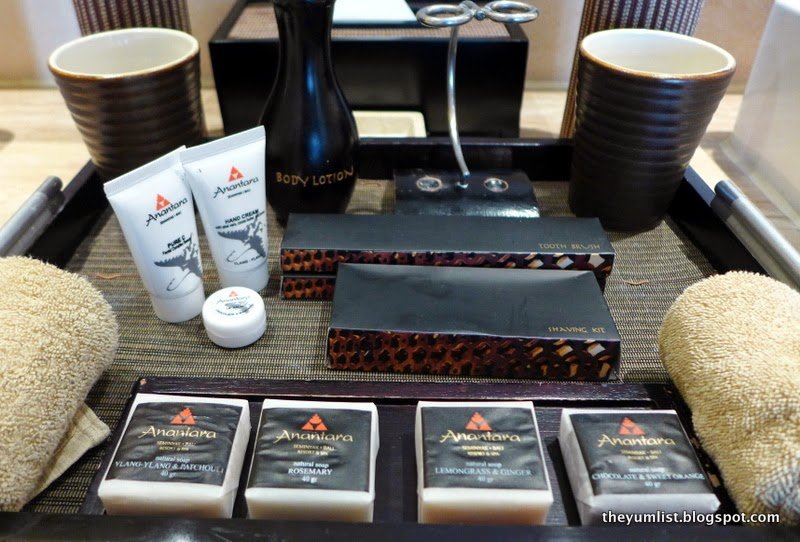 Lush Bath Products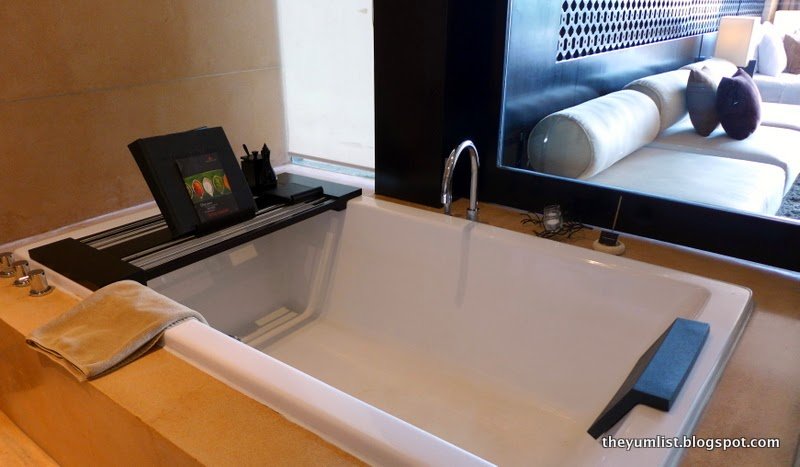 Bathtub
A plasma TV with satellite channels, Bose DVD player, Wi-Fi, iPod docking station and electronic safe are all up with the times. I'm pleased to see the espresso machine and hubby is already making himself a cup of tea as I'm photographing the interior. It's the meticulously thought out extras though that have us 100% smitten.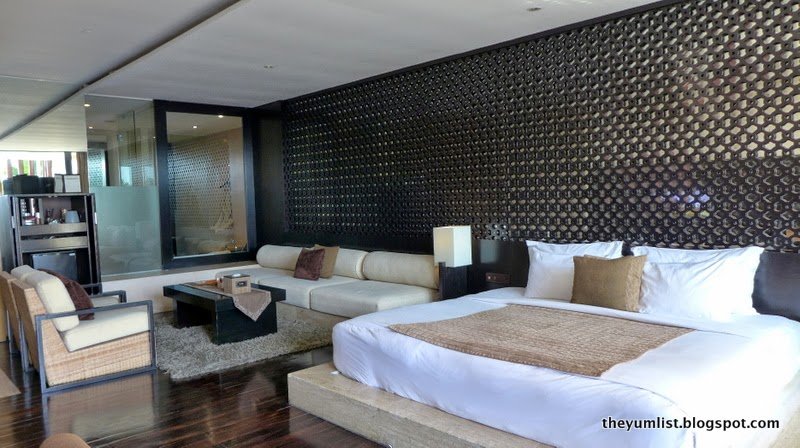 Ocean View Suite
Congklak, a traditional Balinese toy, waterproof in its stone materials sits by the outdoor Jacuzzi. Boxes of things to discover: DVDs; Jengo; gourmet snacks and crayons are placed around the room with inviting labels on the exteriors. A large sketchpad and journal entice us to record our stay in an artistic format or just draw from the inspiration of the creative surrounds into sparking our innovations. A towel folded in the shape of an orangutan, hand made local raw chocolate at turn down service, both indoor and outdoor slippers – we continue stumbling across subtle, finer considerations throughout our stay.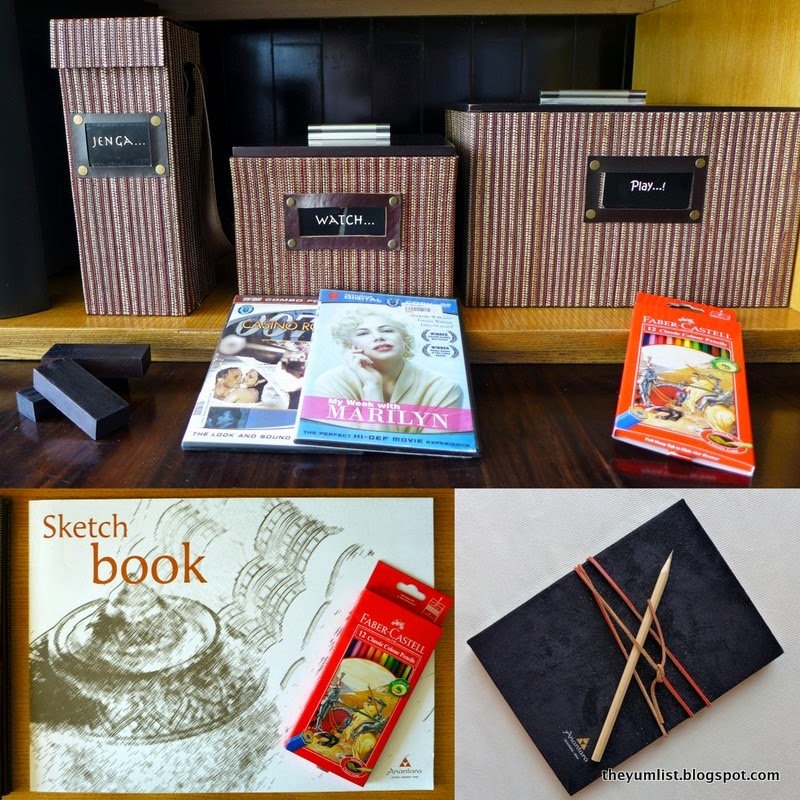 Entertainment Ideas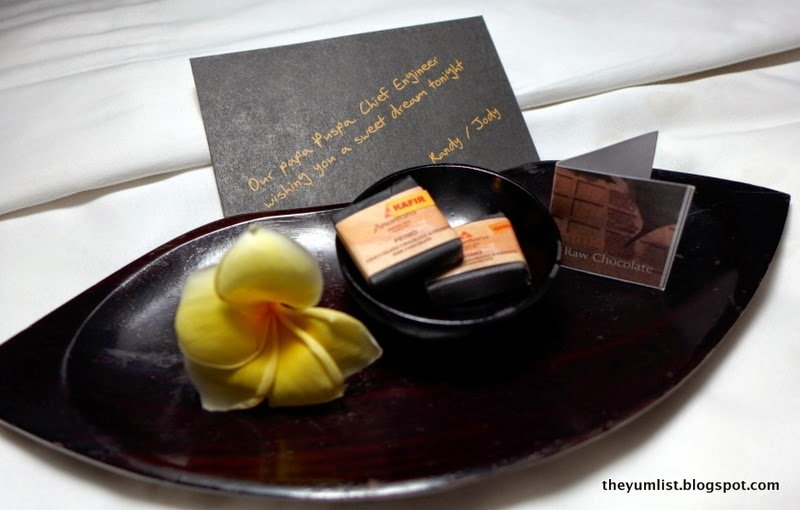 Turn Down Service – Boutique Raw Chocolate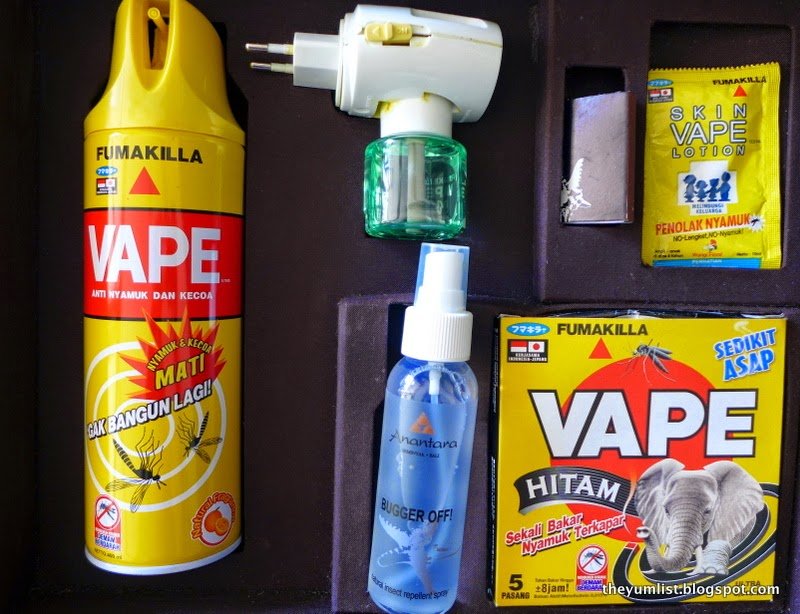 Armoury Against Mosquitoes
A generous floor area allows space for a king size bed, daybed, couch, coffee table and desk. It's on the outdoor patio however where we spend most of our time. When we're not in the deep terrazzo tub for two, we're on the lounger lapping up the freeing views and ocean melodies while we can.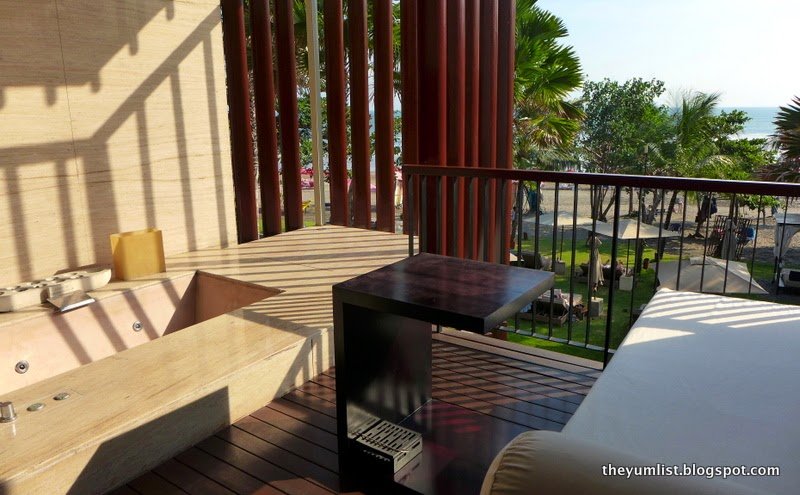 Bath and Day Bed on Balcony
The suites are tiered in pricing starting with the Anantara Suite, which proffers a private balcony with courtyard pool views. A dip in the pool is made possible with The Anantara Pool Access Suite's balcony leading directly out to the water, but the most sought after, The Anantara Ocean Suite, is marginally pricier for its uplifting water vistas.
Suites Looking Over Pool
Dining with a View
Both of Anantara Resort and Spa's dining outlets are designed to capture the magic of their seaside location. Wild Orchid is the all day dining restaurant and it is here we discover one of the best hotel breakfasts we've ever noshed on. An epicurean feast, comprising a compact buffet of international and Asian bites supported by an a la carte menu, is the stuff brekkie lover's dreams are made of. Everything sounds so tempting it's hard to know where to start. Lucky we have three days here so we make a concerted attempt at trying it all.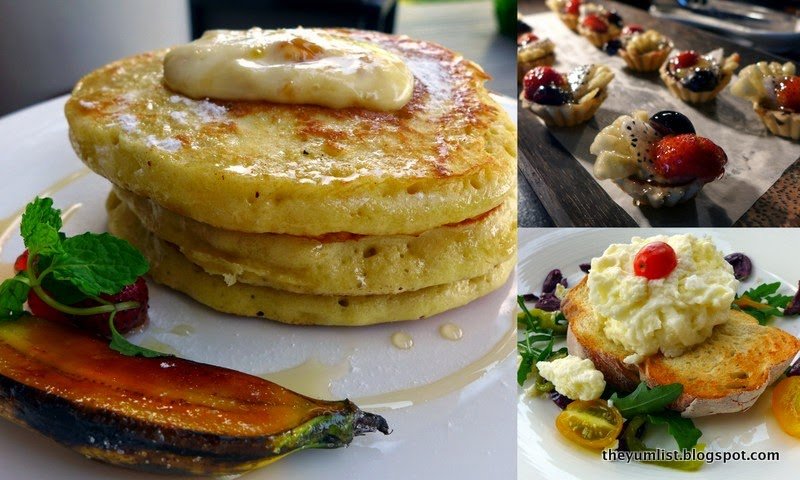 Some of the Many Breakfast Options
The buffet has a wonderful cheese selection. There's not a strip of plastic Gouda or overly processed cheddar in sight. The same goes for the cold cuts and smoked meats display, which changes seasonally. Healthy fare is found in a showcase of fresh and dried fruits, yoghurts, cereals and a variety of milk options: soy; skim; yoghurt; and full cream; but the pastry section is assured to test your willpower. Freshly baked croissants, Danishes, muffins and fruit tarts have even the most nutritiously minded ogling the oven-baked parade. Some local delights, both sweet and savoury, round up the assortment. And… that's just the mini-buffet.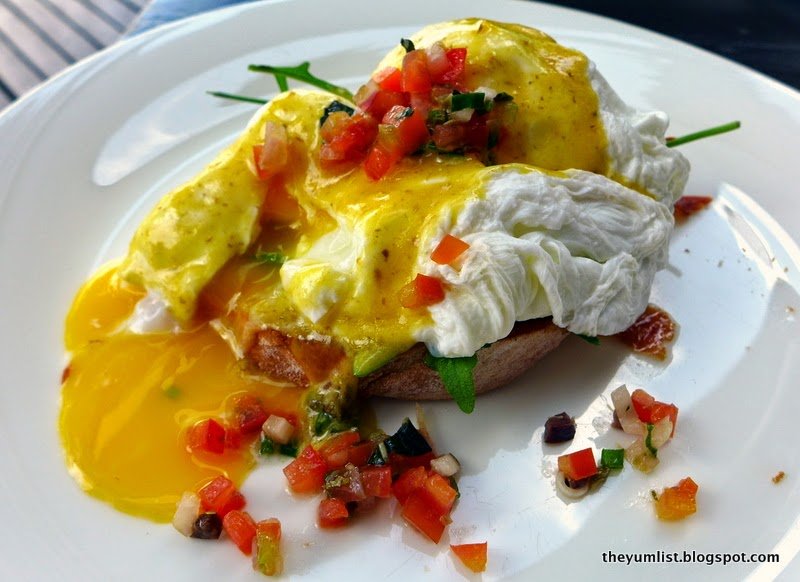 Anantara Eggs Benedict
The a la carte menu has our heads spinning. How to choose? We make a sincere attempt at appreciating it all. Antantara eggs benedict; egg white omelette with rocket and olives; fluffy banana pancakes with honeycomb and mascarpone; cassava hotcakes with tamarind butter… It's all so scrumptious. Besides the location and wonderful boutique attention to detail, breakfast alone is reason enough to check-in to Anantara Resort and Spa.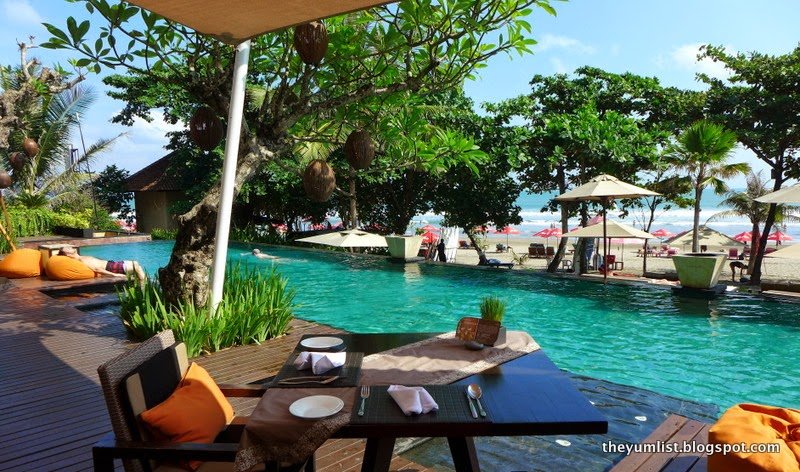 Wild Orchid Poolside Restaurant
An assortment of local fare, world flavours and some healthy options too are made to order for the rest of the day up until 11pm. Views are entertaining on either side of the restaurant with open kitchens granting a peek into the work behind the scenes on one end and, bewitching sunsets and the grandness of the Indian Ocean contemplated from the other. We sample tuna tacos and a chicken and pomelo salad and find both mouthwateringly fresh and offering just enough of a twist on each of the original versions to keep us intrigued and wanting to try more. So try more we did!
Read about our recommendations here.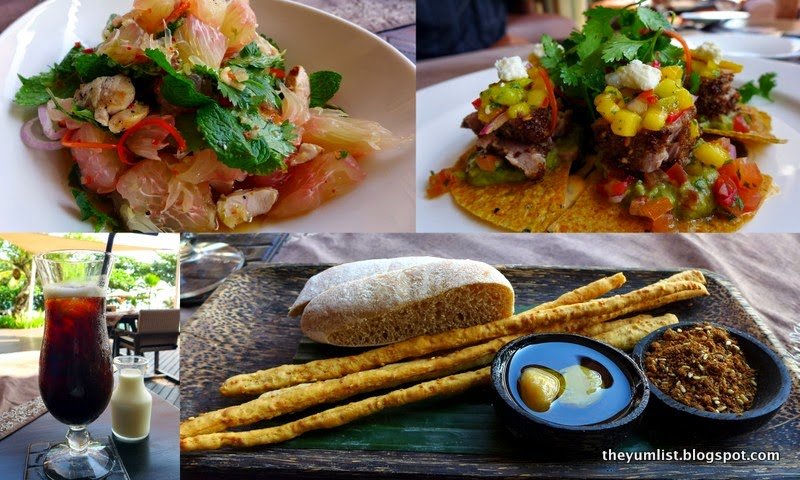 Light Fresh Bites from Wild Orchid Restaurant
SOS Supper Club claims a grand space on the rooftop. Designed with late afternoons and evenings in mind, the lounge and bar is furnished with a mix of daybeds for gazing at the dreamy sunset, cocktail in hand, and dinner tables for dining on grilled meat, seafood and Spanish tapas. As the night's darkness deepens a DJ sizzles up the mixer with chilled out beats and funky grooves.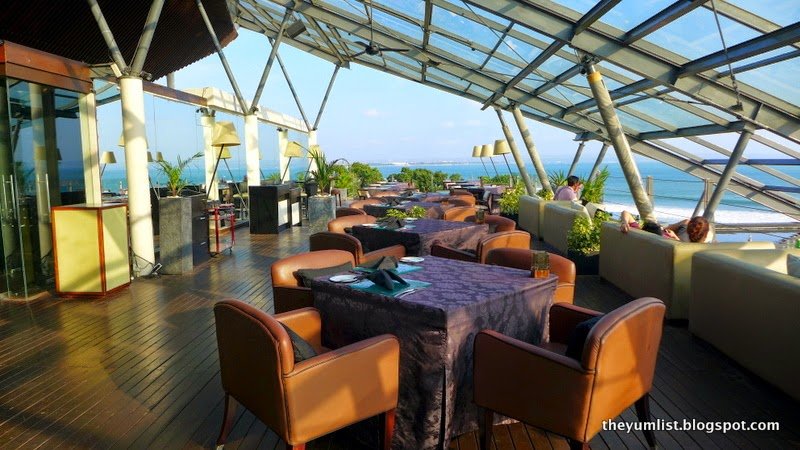 Rooftop Restaurant and Bar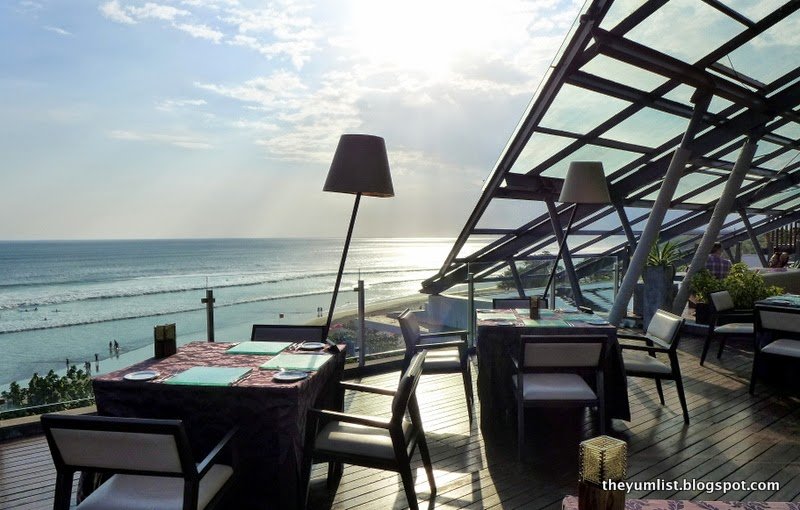 SOS Supper Club Just Before Sunset
Staying Active
To balance out those beverages and meals a good workout is in order and while a run along the lengthy beach out front is my preferred cardio, there are a host of activities and facilities within the resort itself.
Trainers are stationed in the fitness centre offering personalized services to those who'd like to maximize their physical sessions. Cardio and strength training equipment are supported by free weights providing a well-rounded set up.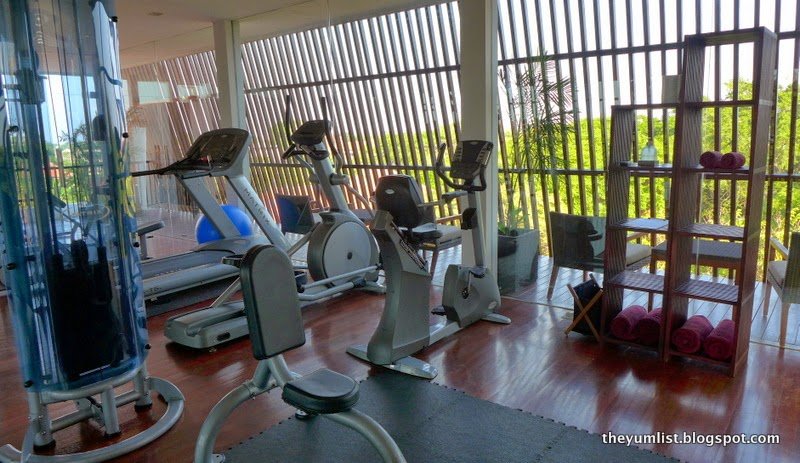 Gymnasium
Yoga classes, surfing instruction, kite flying, bicycle tours, Balinese offerings such as cooking classes and, beachminton too are available, some complimentary, some available with a fee and prior booking.
Anantara's infinity edged swimming pool is long enough to do laps in but is ever so popular for just lounging in or around. Bubbly water jets stream out at various intervals making some water therapy a highly diverting undertaking, especially during dusk as the sun fades and the sky produces its show of colours.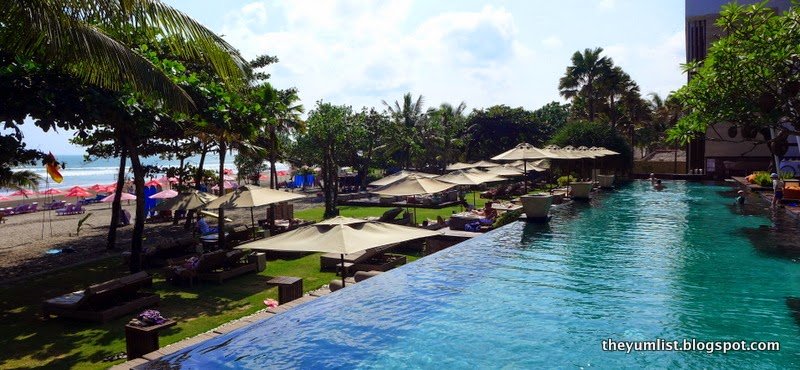 Main Pool
Corporate Social ResponsibilityThe team at Anantara Seminyak Bali encourage community minded and environmental best practices internally and with guests. One of their major pledges of support is to raise money for their charity partner Sole Men and improve awareness of various social challenges found within the local community. Helping cases of individual suffering, fits in well with the hotel's boutique and personalized service. They've had much success with raising money and changing the lives of their selected benefactors. Besides raising funds and community visits, staff at Anantara Seminyak Bali participate in regular blood donations, tree planting and other collaborative practices for the benefit of their shared environment.
Signaling our last moments, we're left with a letter and a goodbye gift on the eve of our final day. The note not only wishes us well, but too reminds us of some things that make our departure travels go smoothly: airport tax; taxi fare; time of travel to airport. A stone, inscribed with the character signifying love, leaves us with words that embrace our experience at Anantara Resort and Spa Seminyak and proves a mantra worth living by, "Love: an inspired form of giving, love breathes life into the heart and brings grace to the soul."

Reasons to visit: centrally located in the shopping, dining and party district of Seminyak; Green Globe certified; positioned right on the beach; pretty sunsets; extraordinary attention to detail and service that epitomizes just how exceptional a boutique hotel experience can be; excellent breakfasts.
Anantara Resort and Spa
Jalan Abimanyu (Dhyana Pura)
Seminyak, Bali
Indonesia
[email protected]
[email protected]
anantara.com