The Clifford Pier, Fullerton Bay Hotel, Singapore
The recently launched (May 2014) destination restaurant, The Clifford Pier, is also one of the city's oldest landmarks. Built in 1933 as the jetty for arriving ships it was originally surrounded by a sense of exploration and pioneering spirit. Hawkers would vend their food from sampans to the newcomers and, later a car park next to the pier was converted into a hawker centre. It's with this spirit that the menu of The Clifford Pier is designed.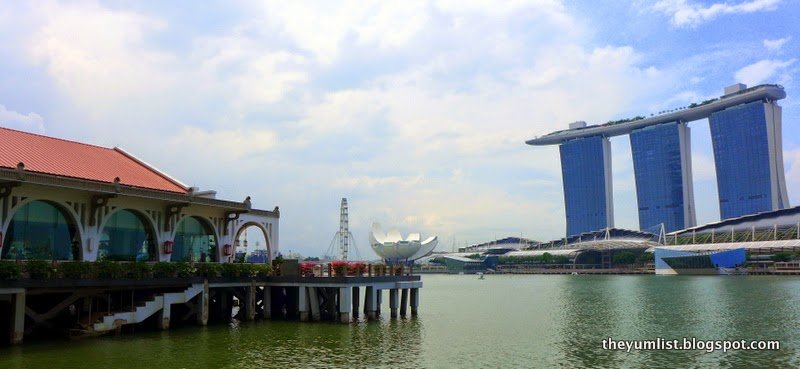 Clifford Pier as Viewed from Outside
Singaporean classics and reinterpretations of dishes introduced by immigrants from both the region and western cuisine can be found on the extensive menu. Although the food is inspired by hearty street fair, the setting couldn't be any further from that of a hawker's stall.
Fabulous harbour panoramas viewed through enormous arched windows are probably the closest connection to the original scene there are. A grand interior showcases lofty ceilings, giant pillars, and marble topped tables fringed with chairs upholstered in neutral shades. Vases of fresh flowers furnish the dining hall with bursts of colour, and a pianist plays and croons sultry lounge music. Good natured and professional staff top off the colonial feel with charm and grace.

Harbour Views

More Views
The drinks menu is our first introduction to how local flavours are used at Clifford Pier. We can't resist a cocktail or two of these original combinations. Hubby chooses the St. John's Island ($22). Made with gin, bitters, pineapple juice, lychee, galangal, cinnamon and fresh raspberries, it's easy sipping. As you may know, I do love my rum, so the Kumquat Mojito ($23) takes my fancy. This traditional rum based beverage is given a good dose of local with Thai mint, brown sugar, calamansi, kumquat and kaffir lime. Two halves of a mini kumquat bob around the top giving this likeable concoction a sweet citrus smack.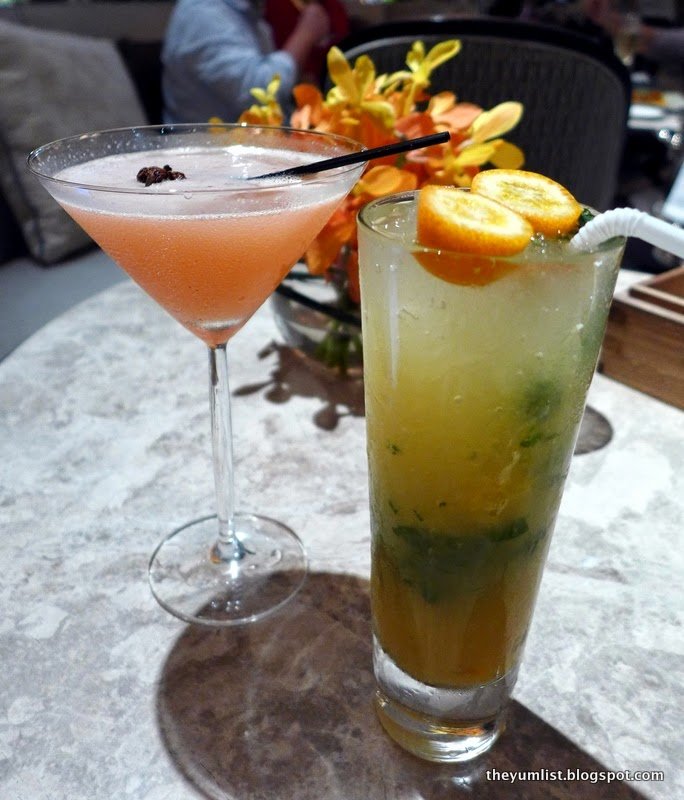 St. John's Island and Kumquat Mojito
Asian Crisps take the place of bread on the table: fish; rempeyek; and belinjo crackers. Tamarind and chili sambals are best added with frugality to avoid overpowering the distinctive tastes of the trio of chips.
Kueh Pie Tee, also known as 'top hats,' come as a brittle shell stuffed with shredded fragrant turnips, Ubin's prawns, fresh herbs and half a quail egg. They are mouthfuls of deliciousness on their own, but chili sauce and sticky dark sweet sauce do add a zip of their own.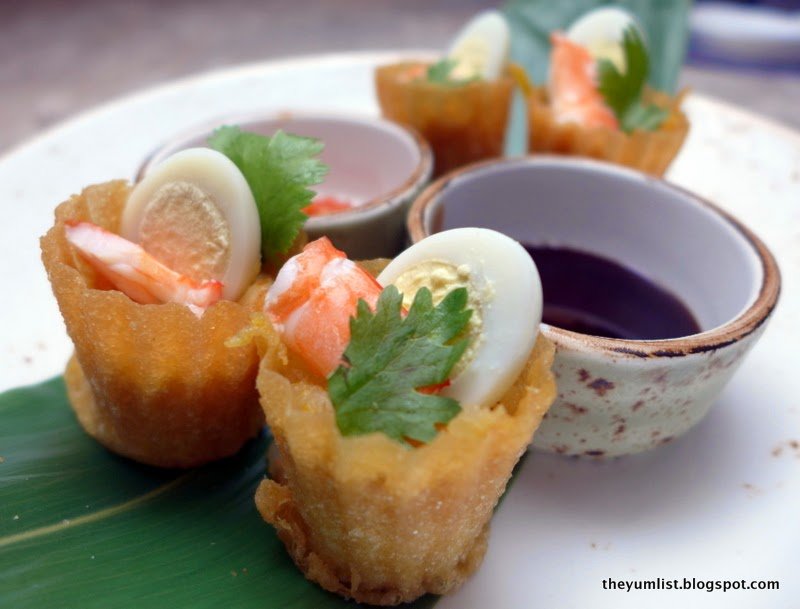 Kueh Pie Tee
Kambing Mutton Soup is cooked in accordance with chef's secret recipe. Gently seasoned with traditional spices, fried shallots and scallions, the broth is full flavoured, coating the entire mouth with its richness but leaving a tiny tingle on the insides of the lips after swallowing. While it's just as flavoursome as the street variety, the pieces of meat are more refined as opposed to the commonly used larger chunks. Too, the oft used local fluffy sweet bun is replaced with baguette, which allows us to soak up the remaining drops of liquid in the bread.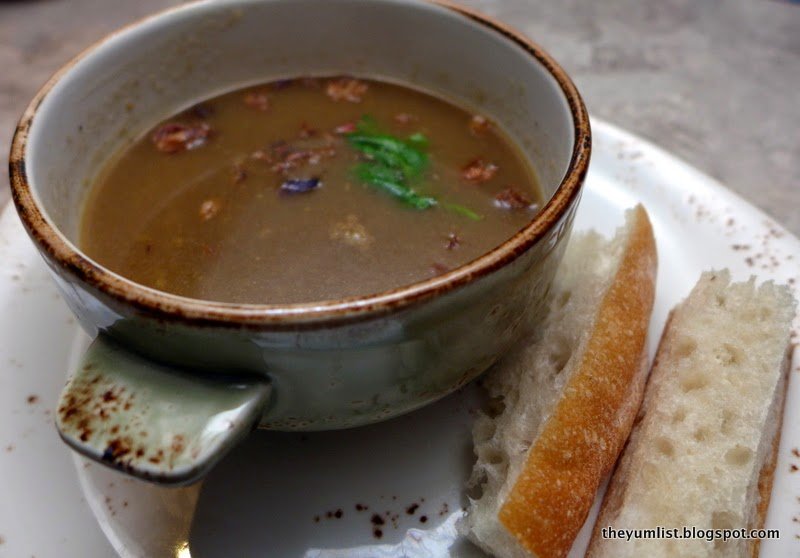 Kambing Mutton Soup
A careful balance of ingredients in the marinade and precise cooking time are needed to get just the right texture for the filling of Kong Bak Bao. These fat white soft buns stick to the roof of my mouth and the sweet slabs of soy braised Iberico pork belly are lifted with a hint of chilli and cilantro. Lucky there are three portions, otherwise I think hubby would have demolished half of my mine before I even had time to chew. He whimpers with happiness as he polishes off the late bite.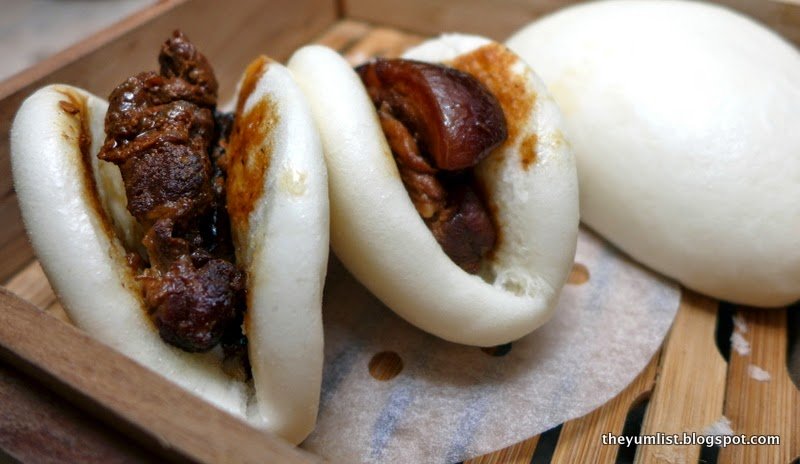 Kong Bak Bao
The next dish is a lively combination of freshness, Uni Glass Noodles. The noodles are near transparent, thick and springy. Enriched with salted egg, shaved truffles, fish roe and sea urchin, the mound is dressed with a clean lime sauce.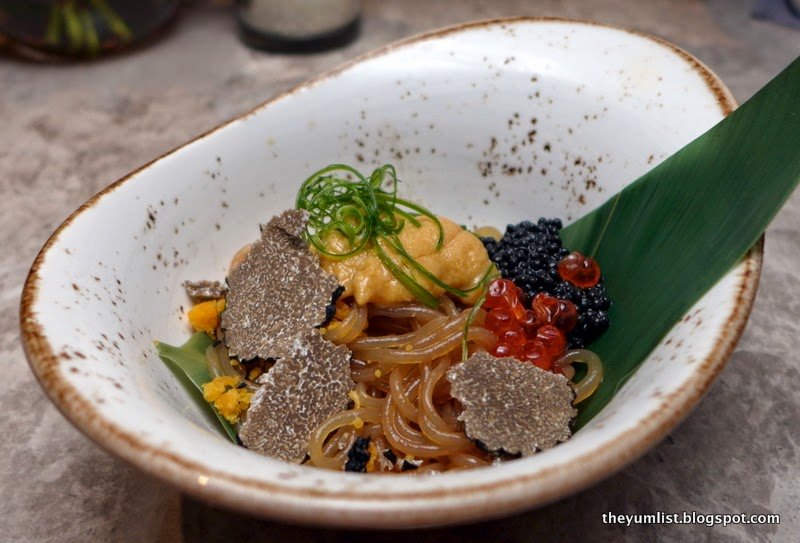 Uni Glass Noodles
The Singaporean method of preparing Fried Carrot Cake proves sweeter and darker in colour than the Malaysian versions I've tried. Large prawns, egg and scallions, are tossed through the dense cubes of turnip cake (of similar texture to gnocchi). It's rich and intense, perfect to share as it quickly satiates.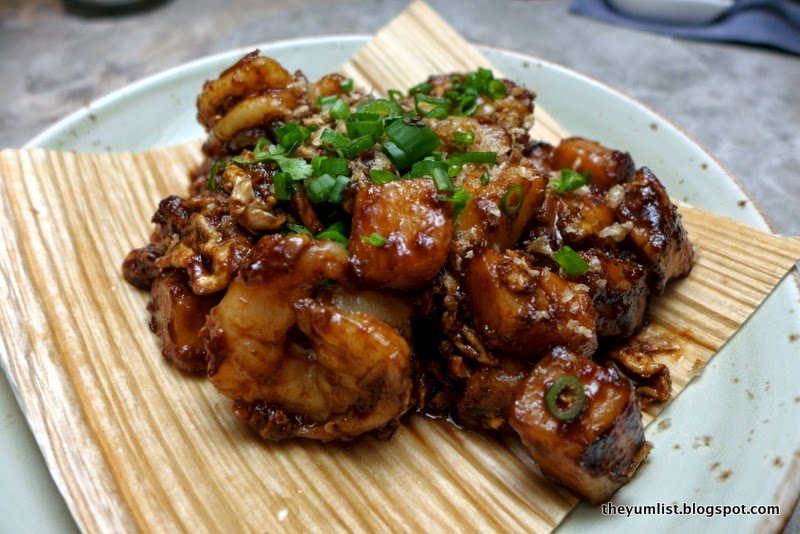 Fried Carrot Cake
A single giant green leaf bases a square plate holding a hump of white rice, cubes of meat coated in a rich gravy, and a bowl of traditional achar, in the main dish, Wagyu Beef Rendang. The meat has been well marinated as the flavours are infused evenly throughout the flesh, even though they are rather large chunks. We get hints of lemongrass, turmeric, coconut and galangal. Chili is left tickling the tips of our tongues, but it's not overly spicy. The pickled vegetables are mildly sweet and serve to lift the heaviness of the beef.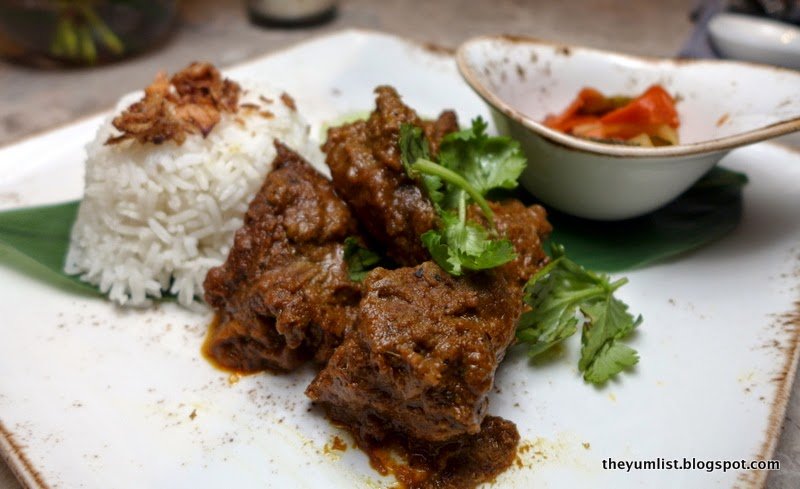 Wagyu Beef Rendang
An unexpected pocket of luxury arrives next to our table, The Pier Lobster Roll. Chunks of butter-poached lobster are rosy and milky white atop a toasted hotdog bun. A light mayonnaise adds a creamy coating, and garden greens and chives a deceptive splash of health. At this stage of feasting, we avoid the bread, but can't help but pluck out every single piece of crustacean. The texture is incredibly succulent. Fries side the dish in a paper cone and are sprinkled with chef's secret blend of Asian herbs.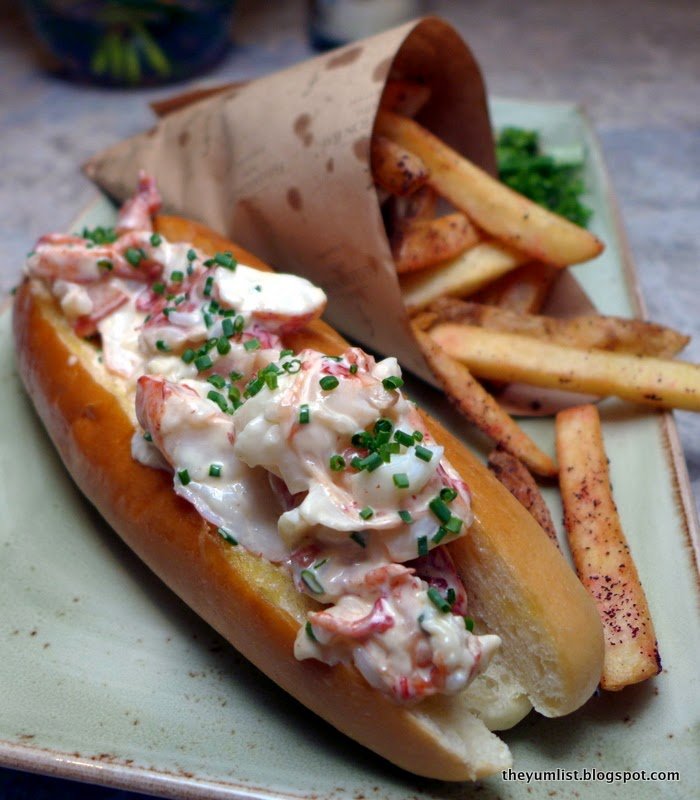 Pier Lobster Roll
Two Generations of Rickshaw Noodles are served side by side in our final savoury plate. Stewed yellow Hokkien noodles bath in a pork broth with traditional condiments. Noodles are bouncy and the broth is meek in direct contrast to the powerful punch of spice offered in the handmade dry noodles. These resemble fettuccine in shape and are strewn with simmered pork belly and crowned with a soft boiled egg. The egg should be broken first and mixed in, making the noodles look glossy and soft.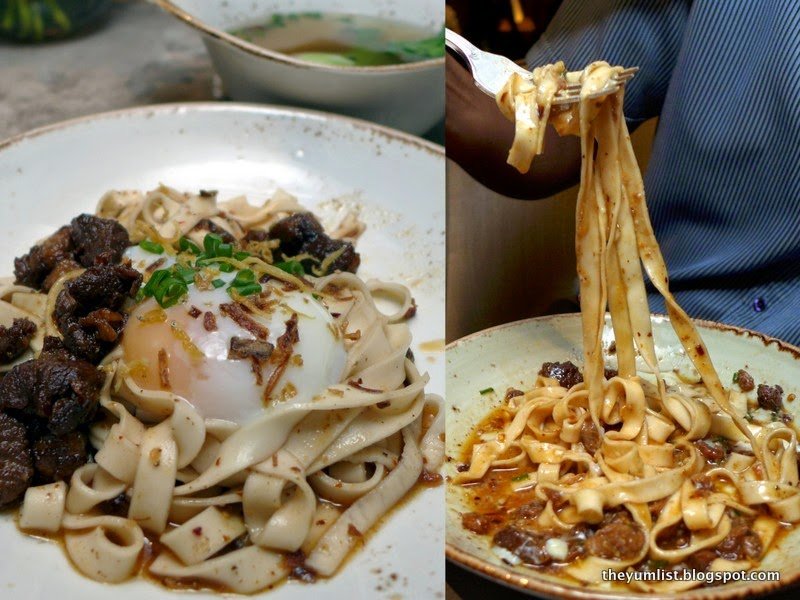 Two Generations of Rickshaw Noodles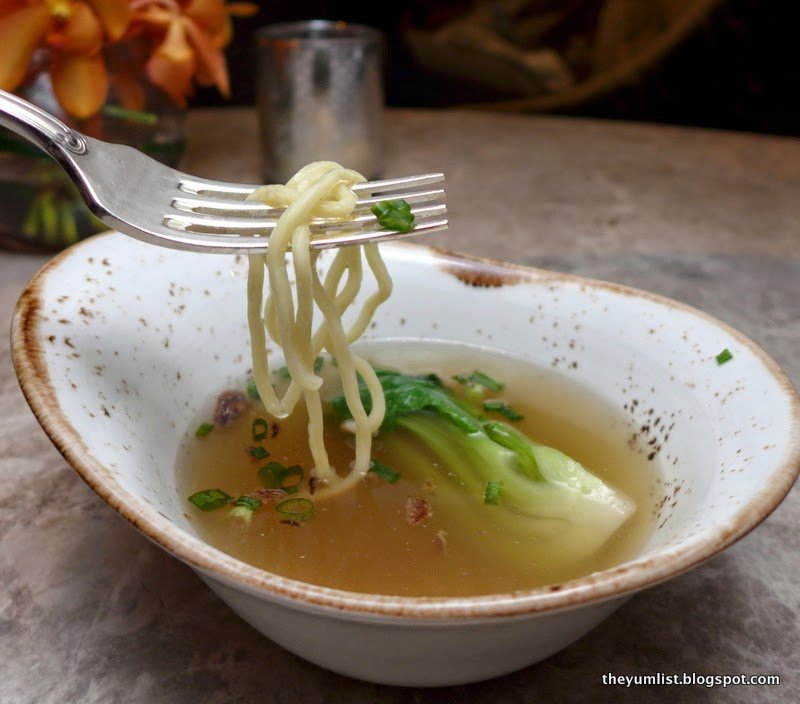 Two Generations of Rickshaw Noodles
Dessert concludes our sumptuous repast with a lick of a local herb, in the Pandan Ice Cream. A pale green block of creamy ice cream is encased between two layers of soft pandan sponge. A crisp pandan wafer is rolled on top and filled with whipped coconut cream. Crumbled pandan biscuits speck the sides alongside four cubes of coconut jelly. It's green, primarily creamy, with an unmistakable taste of pandan infused through it all. The textures are fab, so if you hold a fondness for the herby florally (hard to describe) taste of pandan, this is the dish for you.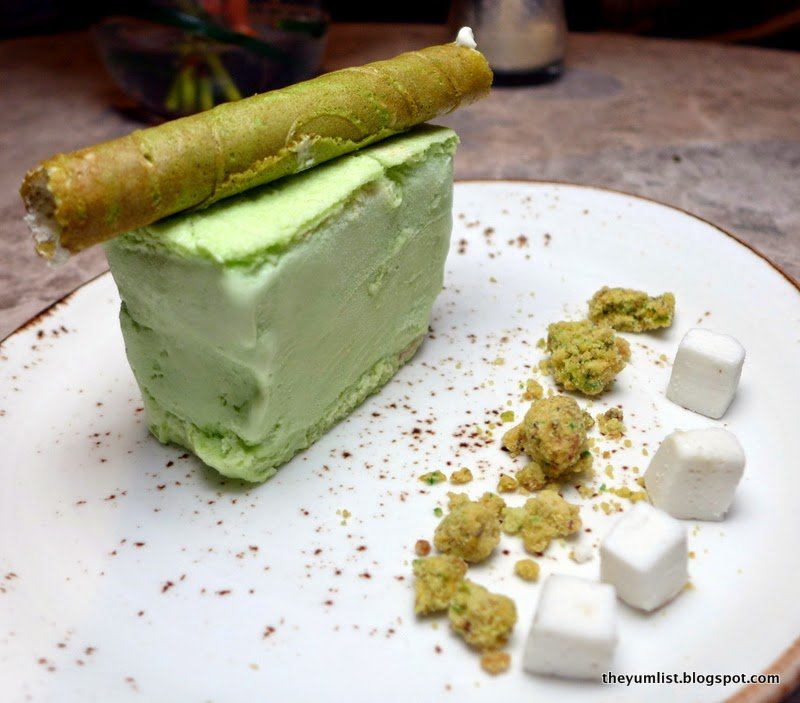 Pandan Ice Cream
Reasons to visit: elegant ambience; harbour views; excellent service; a taste of traditional Singapore.
The Clifford Pier The Fullerton Bay Hotel Singapore
80 Collyer Quay
Singapore 049326
+65 6222