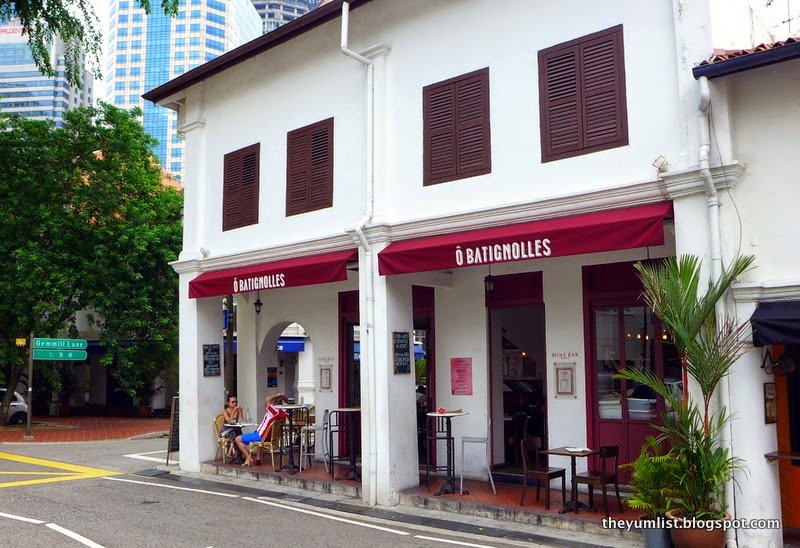 O'Batignolles, Wine Bar & Bistrot, Singapore
O Batignolles Wine Bar and French Bistrot
Comforting and unpretentious, this quintessential Parisian style bistro is an inviting locale at any time of day. Stopping in for a hearty meal, or just for a drink rewards guests with a little piece of France just off the popular Club St. in Singapore.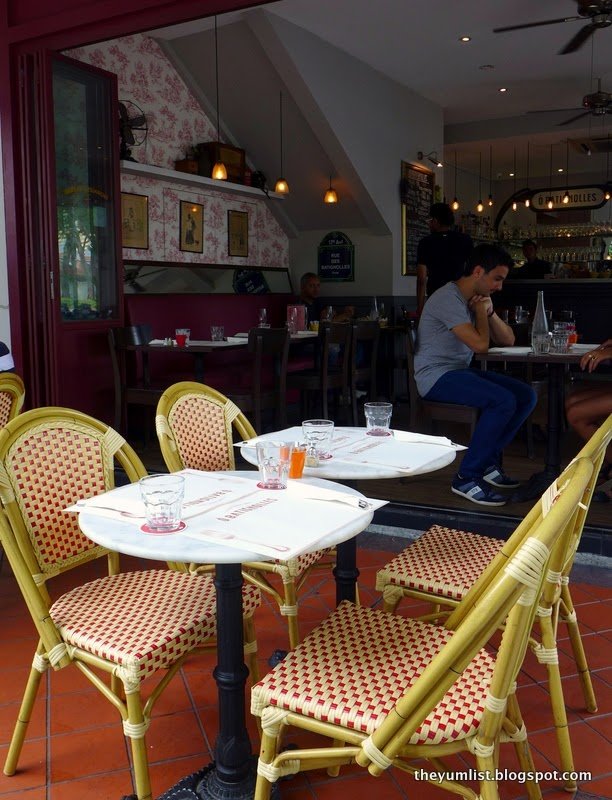 Outdoor Seating
The corner lot's walls are opened during business hours and tables set on the patio, mimicking the dreamy French habit of eating on the sidewalk and taking pleasure in a spot of crowd watching. Inside dark wood and claret-red upholstery contrast white walls, while drop-down silver lamps and ceiling fans hang from above. Adornment is sufficient in the form of shelves of wine and blackboards with daily specials chalked on them.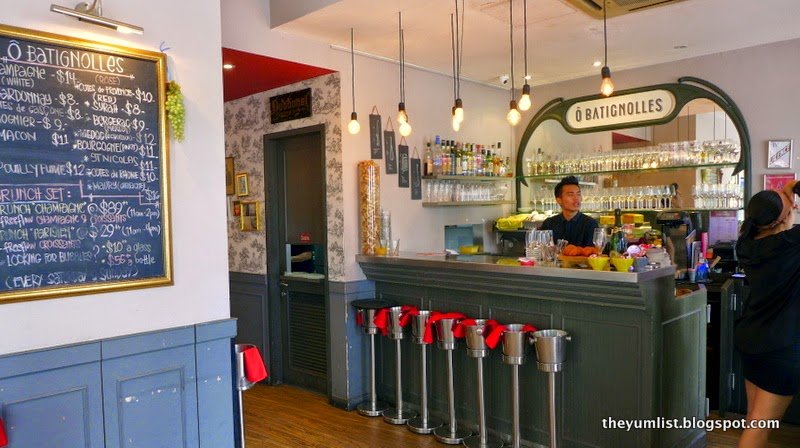 Bar and Chalkboard Menu
As we enter, the nasal sing-song of French language greets us. It's not from the staff. There are a number of tables of French speakers here. We take it as testimony to the authenticity of this little bistro.
The wine list is impressive, with an extensive selection available by glass and many of them exclusively found at O Batignolles (it helps when one of the owners is a wine importer). We're here for the special weekend Champagne brunch menu and so have a flute of Yveline Prat Brut Tradition in our hands within minutes of arrival. Light floral and green apple aromas tickle my nose. It tastes clean with a light fruitiness in the middle and a hint of honey at the end – lovely. With prices starting from $41 SGD for a bottle of wine, we'd happily fill an afternoon here immersing ourselves in their cellar collection or continuing with the free flow Champagne deal.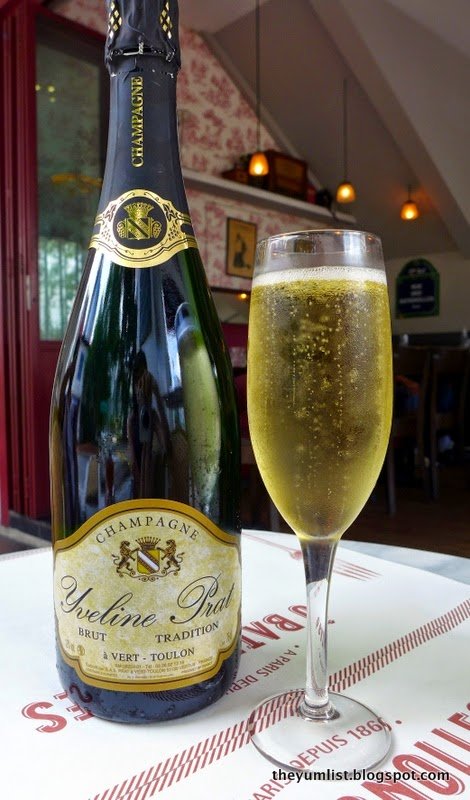 Yveline Prat Brut Tradition
On the a la carte menu we find simple classics including Croque Monsieur and cheese platters for starters, and more complex cuisine such as Duck Parmentier as mains. Of course there are desserts too, and living up to their stereotypical rich reputation, they are ideal for sharing.
As mentioned earlier however, we're here for the Brunch Menu. Available only on weekends between 11am and 4pm it is a steal for Singaporean standards! Twenty nine dollars buys you a free flow of croissants, choice of hot beverage (coffee or tea), fresh orange juice, choice of breads and eggs. Top up the payment to $89 and receive a free flow of Champagne! Truly, that has to be one of the best value deals in the city.
If you prefer to order a la carte, a wonderful range of brunchy style dishes await such as French Toast, Tartine Rustique, Cheese and Cold Cuts Platters, Salade "Le Parisienne" and even a kids menu. Ranging between $9 and $29, the items on the a la carte menu continue to be surprisingly well priced. What's more, bubbles can be added on for $10 a glass or $55 a bottle.
Brunch Set
When we break apart the first of a free flow of Croissants, hubby murmurs, "Mmm, this is a real croissant." Flaky, light and buttery there's no need for the petite pot of Bonne Maman Strawberry Preserve that comes along with it in the basket.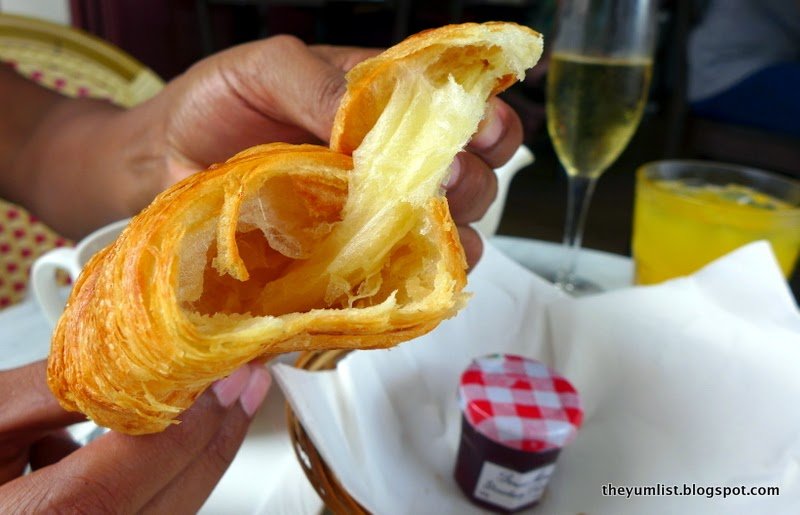 Croissant
Four choices of Gryphon Tea (a Singaporean brand of specially chosen gourmet leaves) are available. I go with the green Pearl of the Orient and find it less bitter than many other green teas, with lovely floral notes that linger in the mouth for minutes after sipping. Coffee too is an option and the orange juice is fresh – a good complement for the brunch.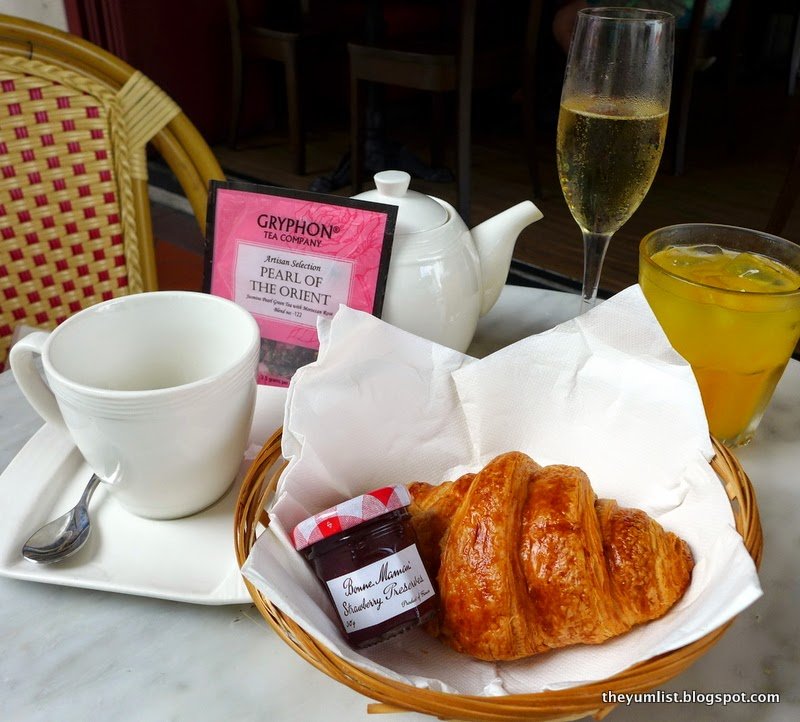 Free Flow Croissants, Gryphon Tea, Champagne and Orange Juice
French Toast with berry coulis is four slices of good quality bread toasted until golden brown. A jumble of mixed berries brightens the top, and thick gorgeous maple syrup and a blob of whipped cream make friendly accompaniments.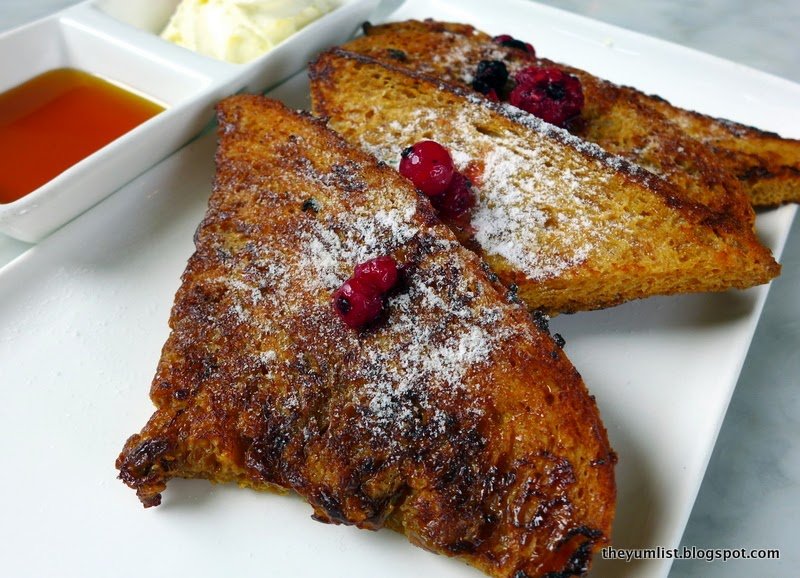 French Toast
Eggs Benedict with Swiss Coppa are served on an English muffin and shaved prosciutto, and doused with a homemade Hollandaise sauce. A salad of crisp romaine lettuce leaves and halved cherry tomatoes embellish the side. The muffin is European in style – something to bite into and a sturdy base for soaking up the soft runny egg and tangy sauce.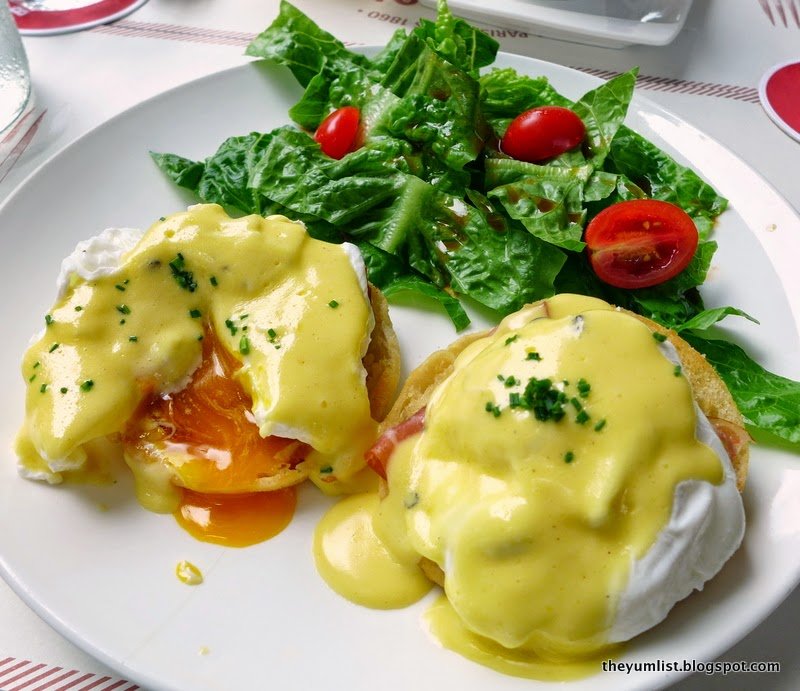 Eggs Benedict
Eggs Cocotte with bacon and cream are individually baked in a small ramekin and arrive with toasted triangles of white bread as chaperones. Salt, pepper and a sprinkling of chives flavour the top. It looks small, but is surprisingly filling. Made even richer with the bacon and cream, the intensity of the dish means that one petite bowl is just the right amount.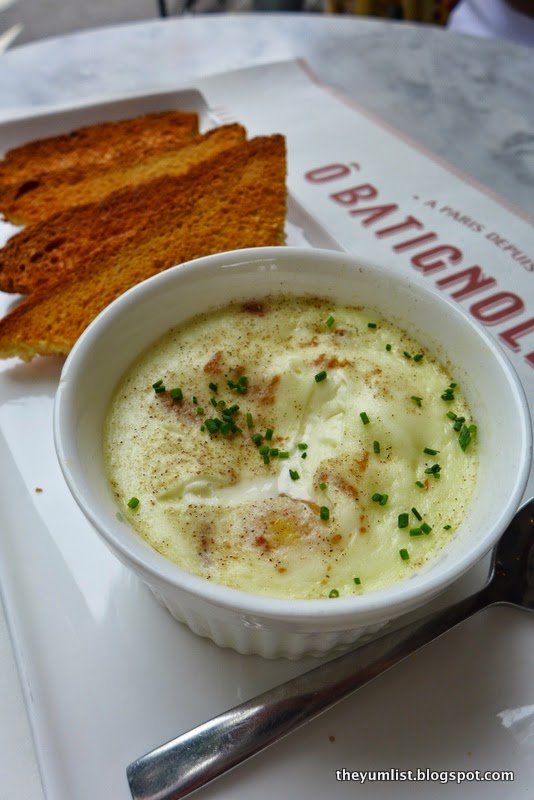 Eggs Cocotte
A la Carte Menu
The dishes have been fab so far, so even though tummies are filling, we can't resist trying a couple of items from the a la carte menu. Croque "Monsieur" ($16) is hubby's idea of happiness.  Fat slices of toasted bread, encasing thinly sliced ham, béchamel sauce and Emmental cheese, is a generous portion served on a hot plate with extra melted cheese and chopped chives adorning the top. The bread is buttery and decadent, but the salad cuts through a little of the grease lightening the dish to a perfect balance.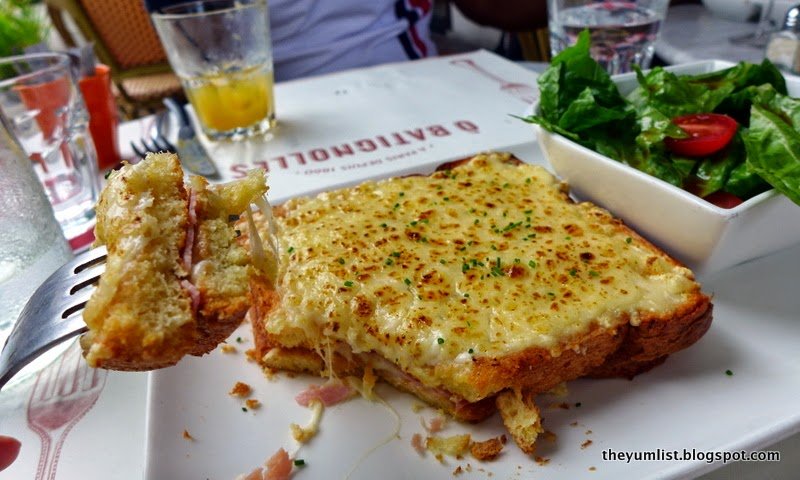 Croque Monsieur
Salade "La Batignolles" ($16) is too a large quota that could easily be shared if ordering another dish. Rounds of goat's cheese crown sliced baguette which seems to have been soaked in honey. They're shameless stars of indulgence, and bacon, cherry tomatoes and lettuce tossed in Balsamic vinegar dressing support their greatness.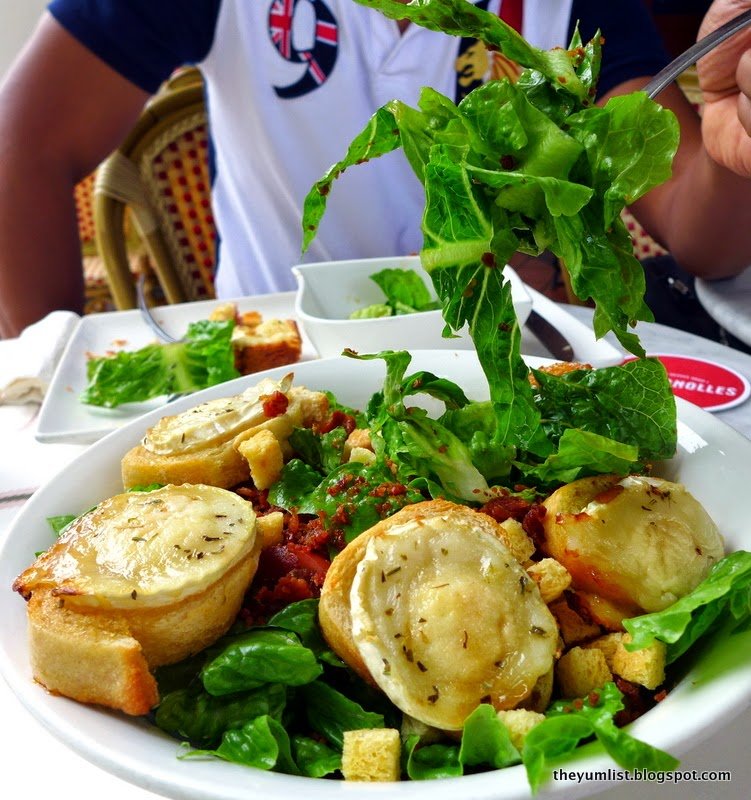 Salade "O'Batignolles"
We leave O Batignolles Wine Bar and French Bistrot in fine humour. Our appetites have been satiated and our pockets not too roughly beaten. Our only regret is that we have to leave. For our next weekend away to Singapore, we make plans to visit on a Saturday, so we can spend the whole afternoon relishing in the fun this friendly bistro has to offer.
Reasons to visit: good value and exclusive wine list; great deal on the weekend brunch.
* Prices above are quoted in Singapore Dollars.
O Batignolles Wine Bar and French Bistrot
2 Gemmil Lane
069247 Singapore
+65 6438 3913
Open:
Monday – Friday: 12:00 – 00:00
Saturday: 11:00 – 00:00
Sunday: 11:00 – 21:00