A modern take on the Balinese night market is found at Pasar Senggol. The open amphitheatre at the centre of the resort of Grand Hyatt Bali hosts a tribute to Bali through a marvellous showcase of food, handicrafts and cultural performances.
Seating is tiered, terrace style, with a circular stage at the base and a stone pathway, split leveled, leading to the top terrace where the smorgasbord spread is set up. Giant trees shelter the area and shine in their majestic beauty at night with the aid of gentle up-lighting.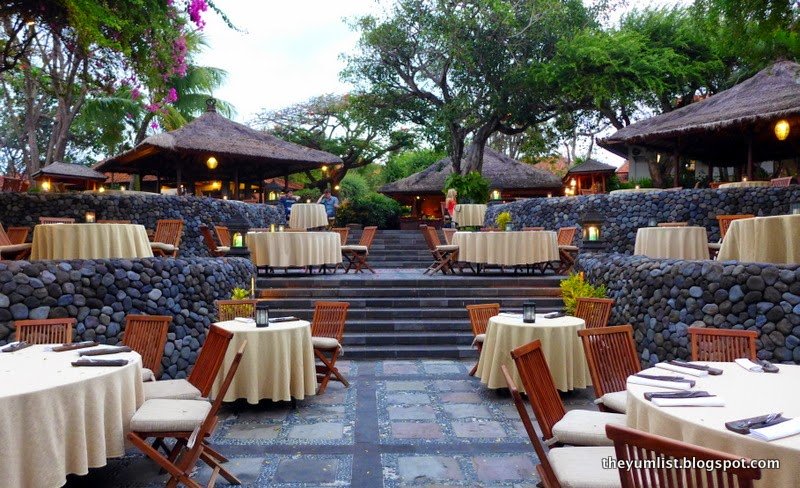 Tables
A vibrant scene of artisans, skillfully exhibiting their talents, provides entertainment from the moment we arrive. We admire the care with which an artist expertly carves a chunk of wood into a cheeky smiling monkey, and consider the brightly coloured and intricately patterned textiles that have been made into sarongs, bags and accessories before taking our seats for dinner,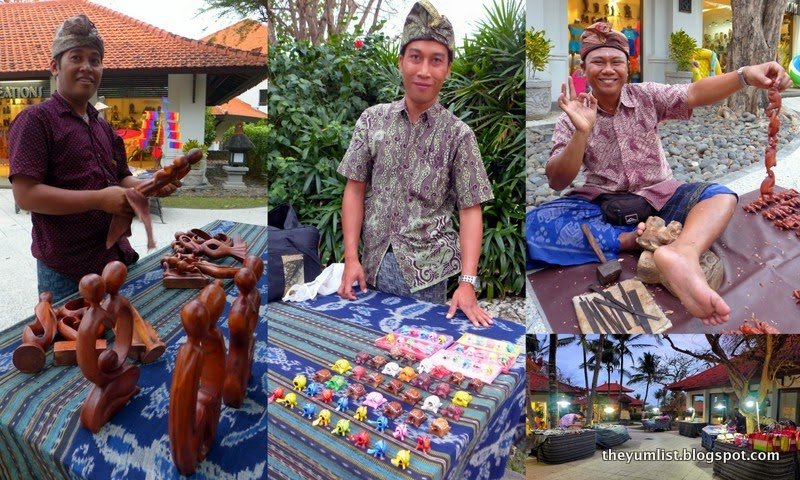 Local Vendors
Further diversion is found in the collection of stalls displaying traditional Balinese and Indonesian cuisine. Live cooking stations showcase the finesse of chefs preparing various dishes and, an array of colours and aromas rouse our appetites and thrill our minds with choice.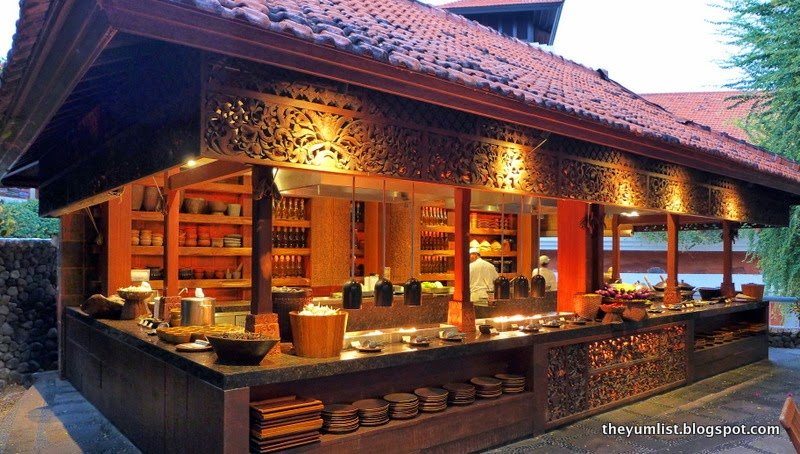 One of the Many Food Stations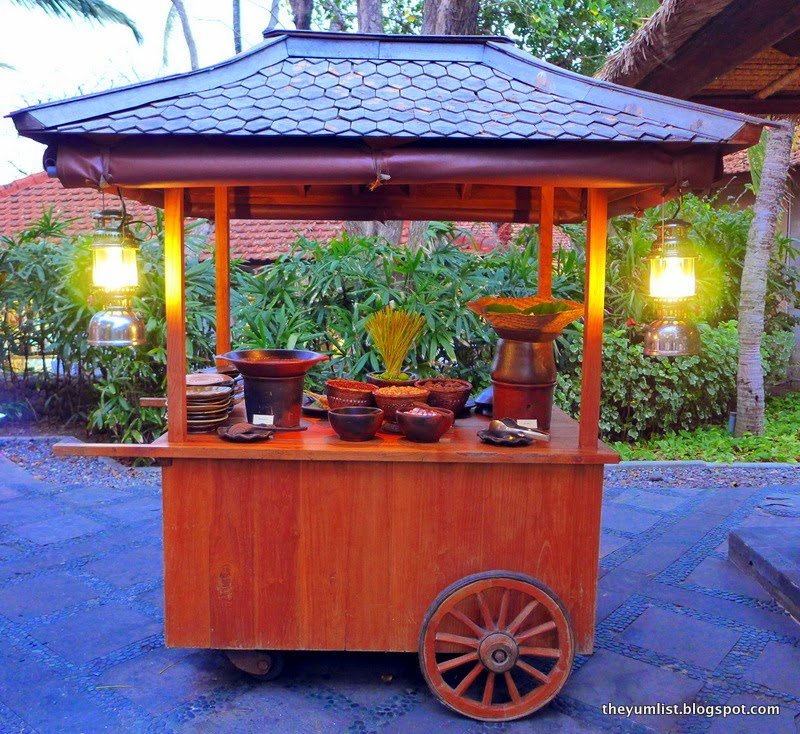 Food Cart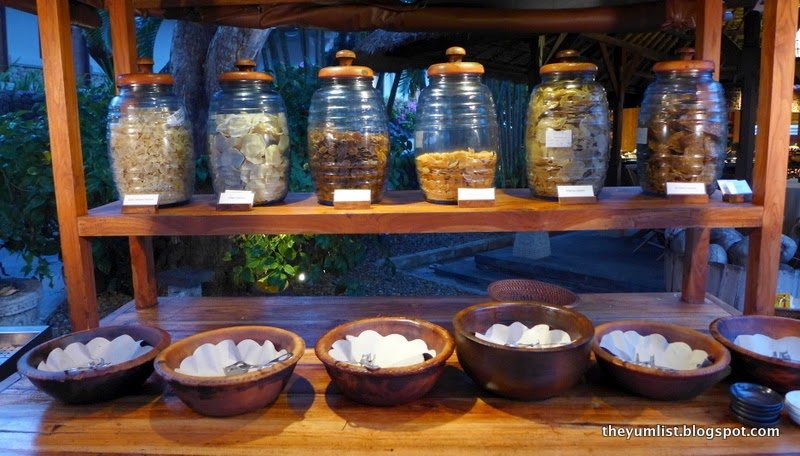 Crackers
Starting at the salad station we take a rainbow of vegetables and salad greens and also try some local dressings. Gado Gado ends up being my favoured combo, mixing spinach, cucumber, cabbage, bean sprouts, beans, potato, egg, tofu and emping chips, and smothering them with a mildly sweet peanut sauce. The Lawar Kelungah is good too full of finely chopped long beans and tiny pieces of pork for flavouring.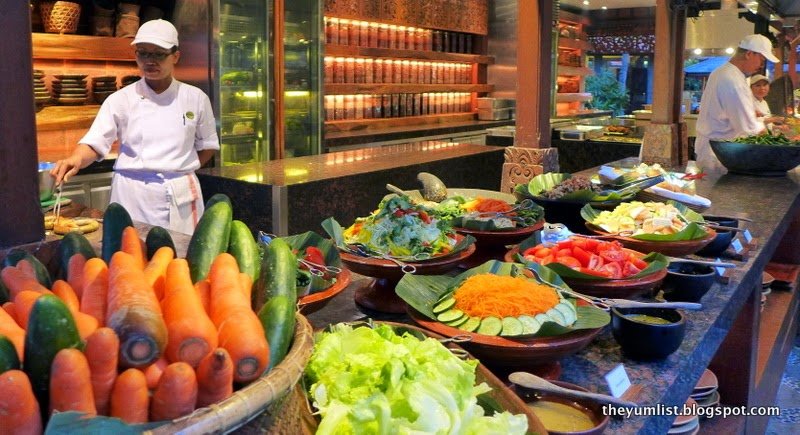 Salads
A mixture of seafood, including both fish and crustaceans, are on ice waiting to be barbecued. Hubby chooses a pile of king prawns and marinated squid and reports both to his liking. Smoke from the satay grill is kept at bay with a large straw fan and chicken, beef and lamb are for the choosing. The peanut sauce is thick and delicious. I pile more of this dressing on my vegetables and rice cakes that accompany the grilled skewers.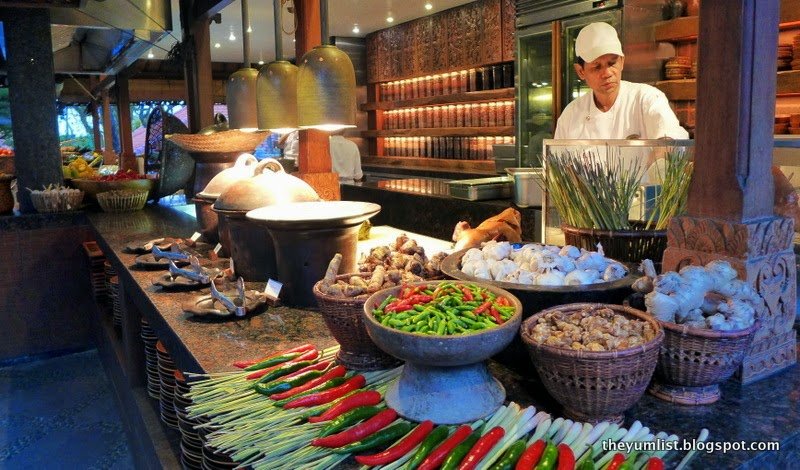 Buffet Spread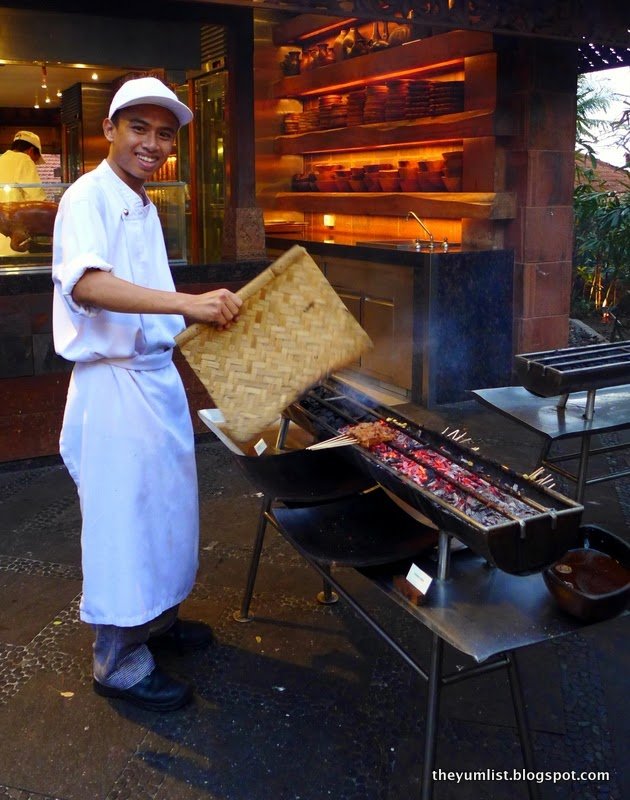 Satay Station
Roasted meats neighbor the grill and the three we try are succulent and bursting with robust savour: Babi Guling, suckling pig; Ayam Betutu, chicken wrapped in banana leaves; and Bebek Betutu roasted duck wrapped in banana leaves.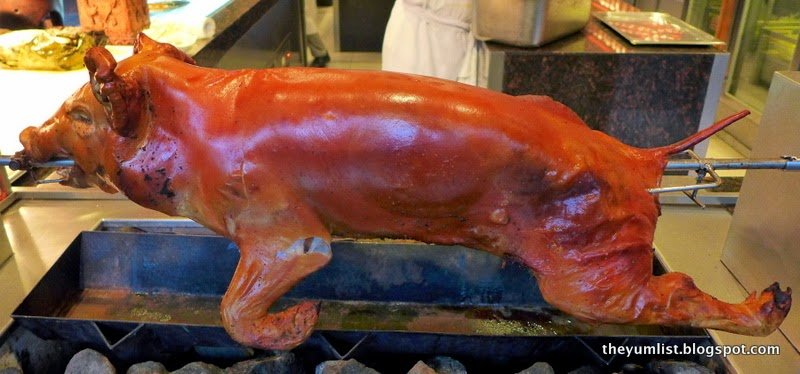 Suckling Pig
From the wok and savoury section I find myself slurping up the yellow sauce of the eggplant curry, and filling my tummy with steamed banana and fried cassava. There is an enormous bowl of Nasi Goreng, filled with fried rice, shrimps, chicken, egg and pickled vegetables, that continuously disappears just as quickly as it is refilled. Another hot item is the Mie Goreng – fried egg noodles with shrimp, eggs, chicken and vegetables.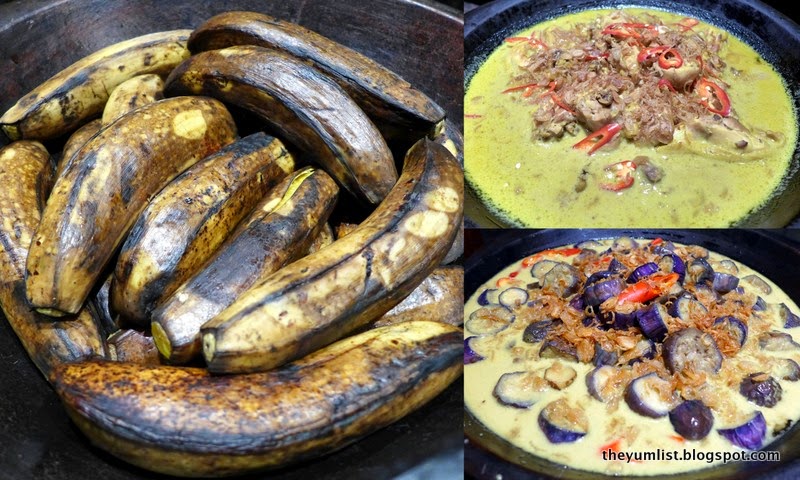 Wok Station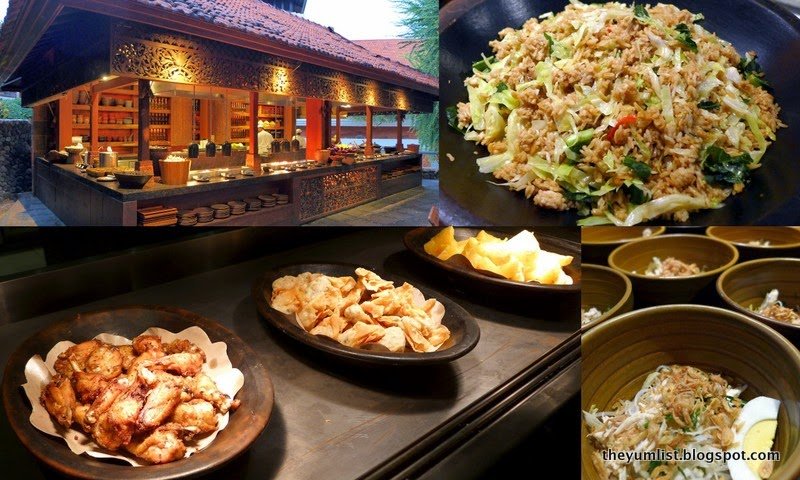 Wok Station
An entire pavilion is dedicated to dessert. Fresh tropical fruits with snake fruit, mango, pineapple and melon form a parade of colours. Sticky and sweet local treats must be tried. Hubby takes a pile of Pisang Goreng, banana fritters, and I sample the Kue Dadar, crepes with coconut filling.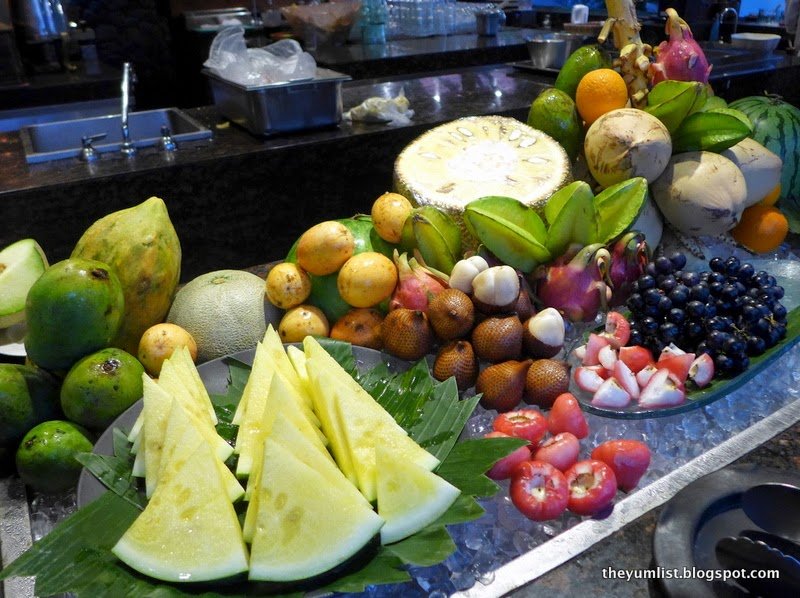 Tropical Fruits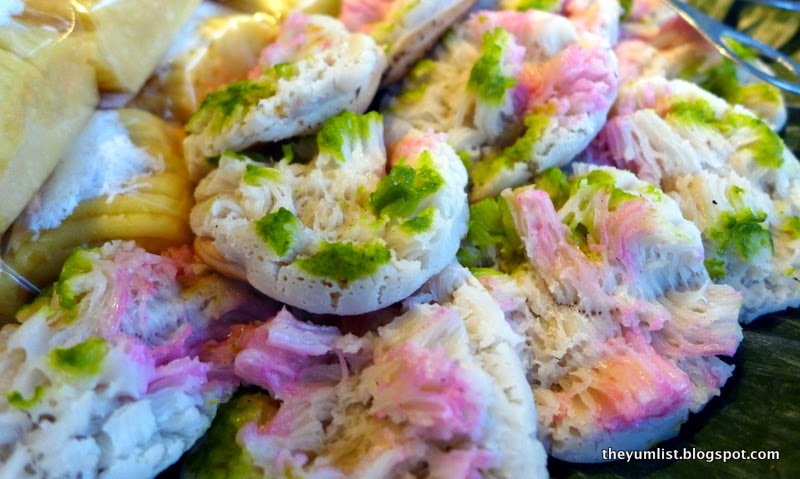 Indonesian Desserts
By the time we've finished dessert the Cultural Show is starting and we're able to dedicate full attention to the talented performers. Dance shows change nightly highlighting different presentations and local groups from the area. Dancers are dressed in elaborate costumes and accompanied by a group of gamelan musicians. The production is vibrant and lively and we appreciate the opportunity to view it right here from the comfort of the lush surrounds of the Grand Hyatt Bali.

Balinese Dance Performance
Reasons to visit: a taste of Bali's handicrafts, culture and food all in one stunning location.
Pasar Senggol Grand Hyatt Bali
Kawasan Wisata Nusa Dua BTDC
Nusa Dua, Bali, Indonesia, 80363
+62 361 77 1234
bali.grand.hyatt.com/en/hotel/home.html
Dinner: 7- 10:30pm
Cultural show: 8pm