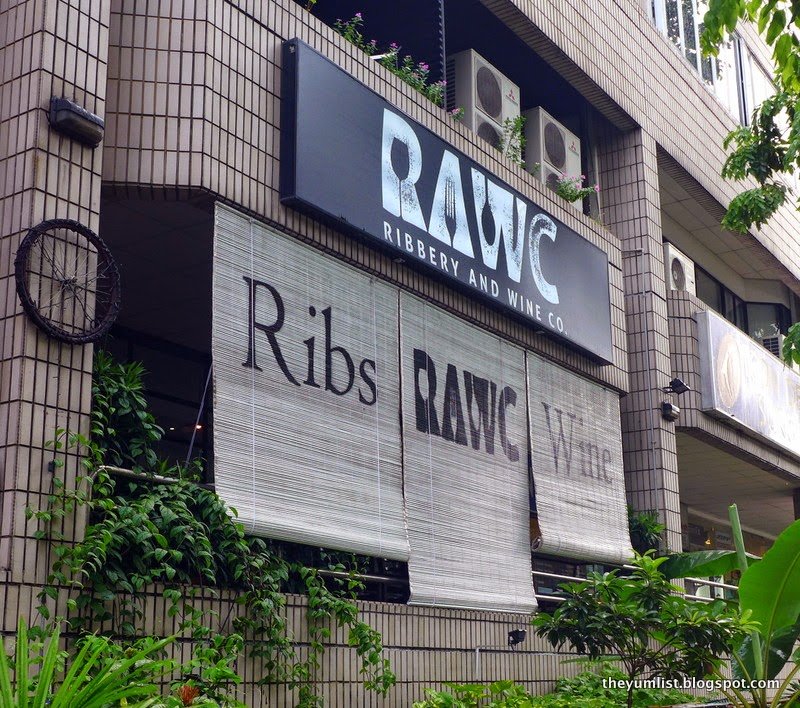 RAWC – Ribbery and Wine Co.
RAWC, Ribbery and Wine Co.
Ribs and wine! Wine and ribs! RAWC in Singapore's jazzy Bukit Timah area is making pork-loving tummies grumble and wine craving taste buds croon with their streamlined offerings. At least a dozen different types of ribs, including pork, beef and lamb, and a diverse selection of wines sold at retail prices are enticing hungry crowds to the neighbourhood.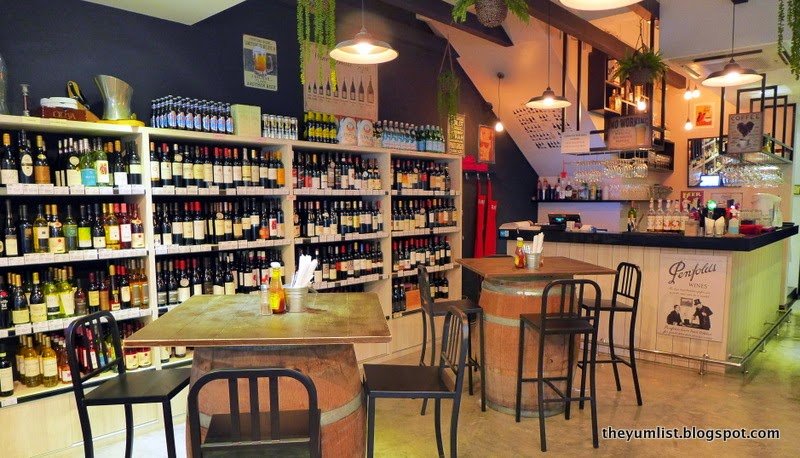 RAWC's Bar Area
Contemporary design is spread over two floors, which are composed of comfortable air-conditioned dining areas, a 10-seater bar that faces out onto the street, and an eye-catching wall of wines for browsing pre, during or post meal. Contrasting use of black, white and grey bestows a sleek, clean image, where distractions are minimal and the spotlight is shone on the gastronomic experience that keeps seats warm in this relatively new restaurant.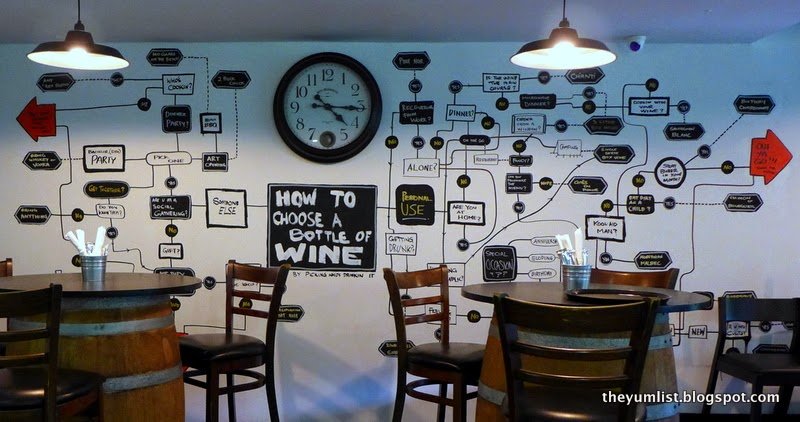 Some Humorous Tips for Choosing a Bottle of Wine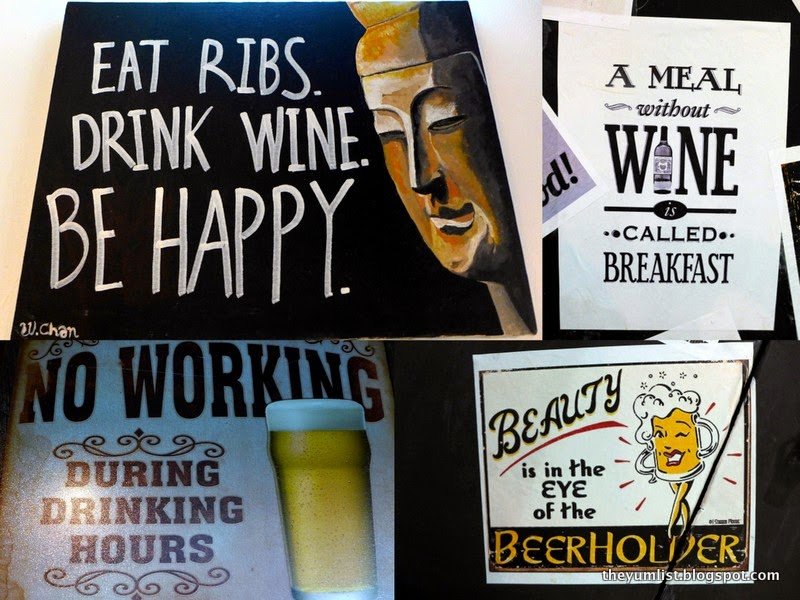 Some Sound Advice
We start with a golden amber drop from the Bang for Your Buck wine menu. Villa M Moscato d'Asti NV from Italy ($41 per bottle) is lightly effervescent and richly fruity, with a long saliva-inducing finish. It's a great start, drinkable on its own but too makes a good mate for some of the spice and sweetness we see in the starters.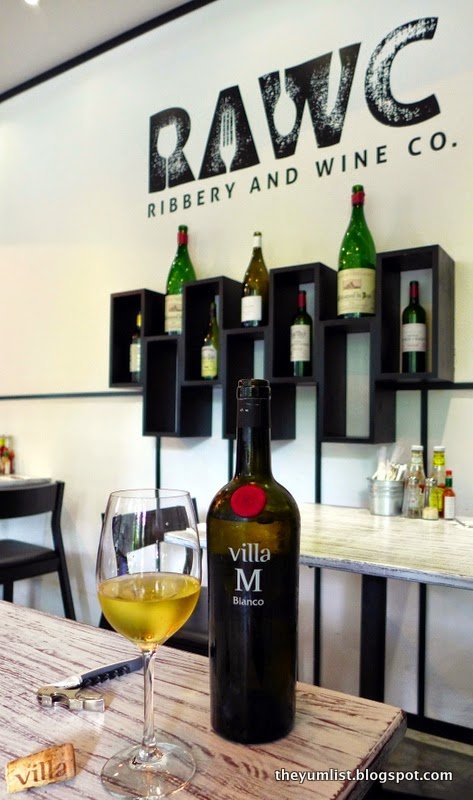 Villa M Moscato
Hubby drool as the Louisiana Hot Wings (6 pieces $10) arrive. They taste just as fantastic as they look. With a double dipping of batter and crispily deep-fried, the crust could not have more crunch. The insides however, are wonderfully succulent. The homemade hot sauce on the side is just as good. Now hubby's drivel is matched with mmms and aaahs and slurps as he licks his fingers unashamedly.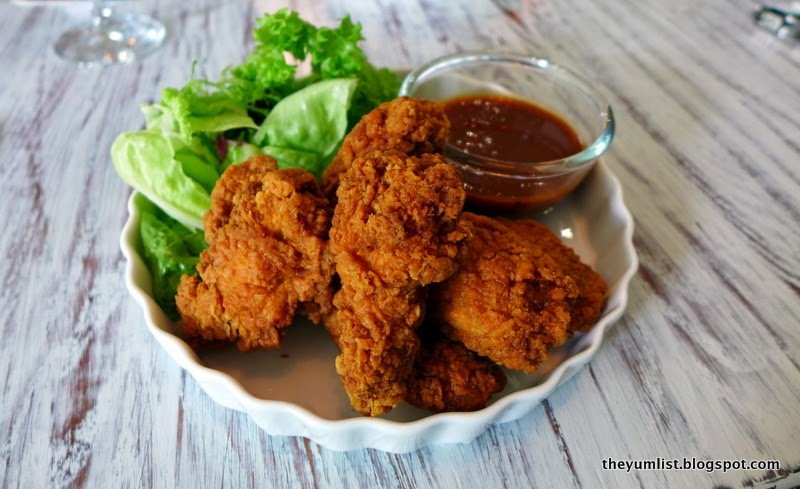 Louisiana Hot Wings
Triple Truffled Tatties ($15) sprinkled with truffle salt, misted with truffle oil and sprinkled with fresh herbs have even my calorie-conscious fingers diving back for more. A truffle mayonnaise on the side begs to be scraped up, but is not necessary as the fries are superb solo.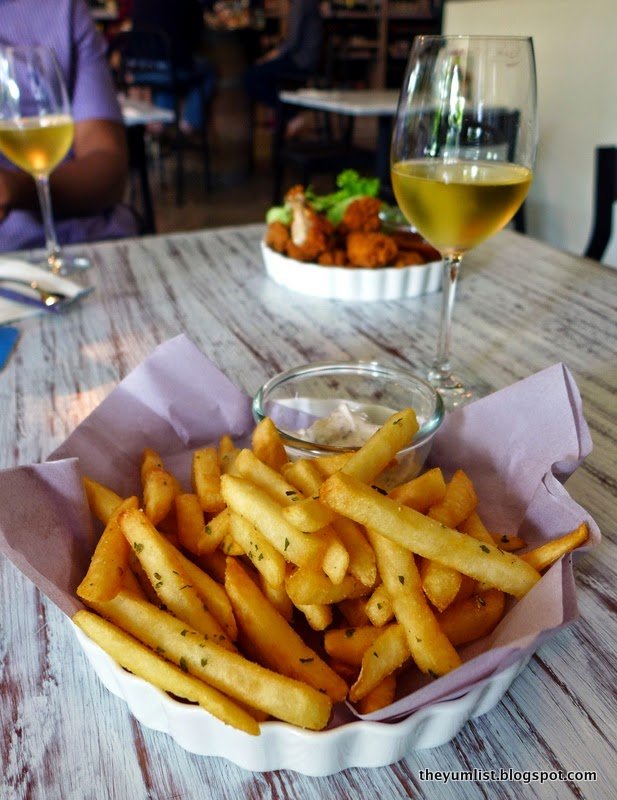 Triple Truffled Tatties
Pan-Toasted BBQ Pork Quesadillas ($12) disappear fast, even though we've been warned to, "Leave space for the ribs!"  Pulled pork and cheddar cheese are rich and moist between toasted tortillas and the filling oozes from the edges as we bite in. A sour cream and onion dip is just a cheeky dare – how far will you go?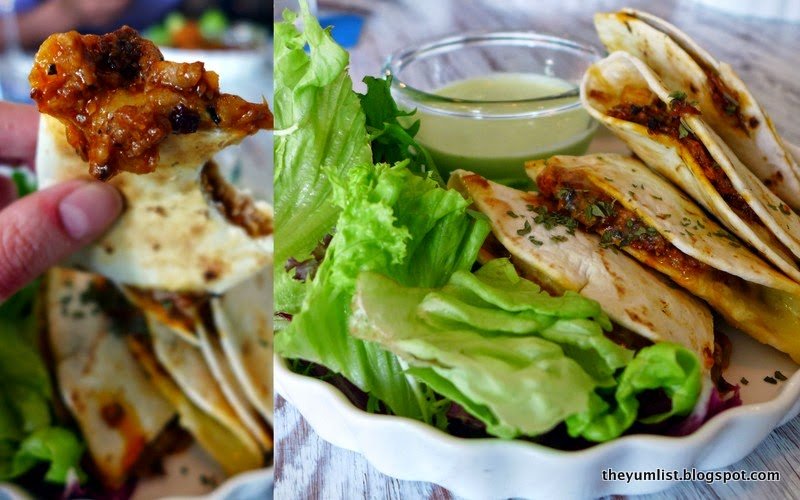 Pan-Toasted BBQ Pork Quesadillas
When the ribs arrive we move onto the Getting Serious wine menu. Guigal Chateauneuf Du Pape 2006 from France ($124), blended from five different grapes, is a long-legged beauty. Ripe fruit aromas rise from the rim as we swirl the sensuous liquid around our glasses. It's multi-layered, complex and rich and we uncover more fruit and traces of nut in our mouths as we slowly and deliciously contemplate its form. This artistry is easily a sole companion, but too a powerful match for the full-flavoured ribs about to come.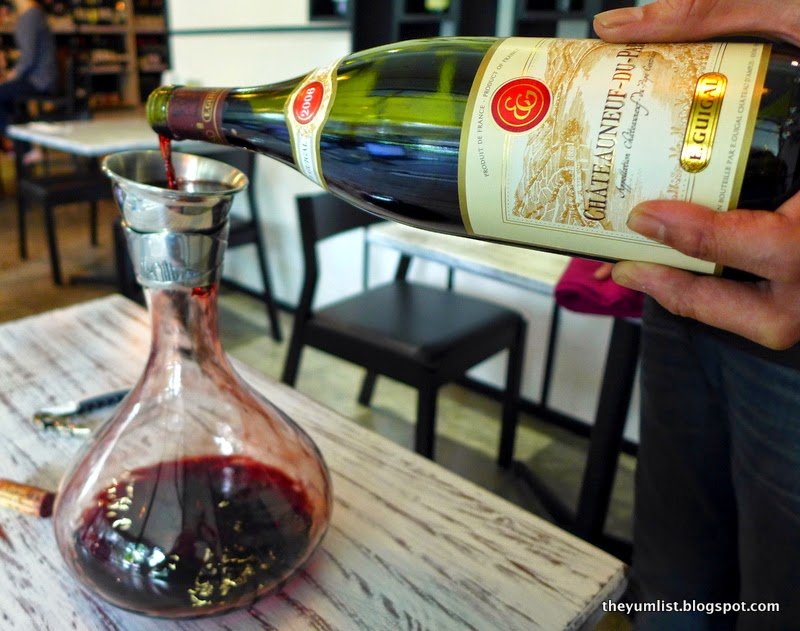 Guigal Chateauneuf Du Pape 2006
We're lucky diners this afternoon as chef Wayne has allowed us the privilege of a tasting platter (usually ribs must be purchased as the full set). The Original BBQ Pork Ribs ($22) we learn are many traditionalists' favourites.  The Hickory ($22) BBQ pork ribs are infused with a distinctively smoky flavour, while the Guinness and Palm Sugar Pork Ribs ($24) are sweet and sticky. The Honey Mustard and Rosemary ($22) version brandish a touch of Dijon mustard, which breaks up the herby sweetness with a flicker of spice and hint of sharpness.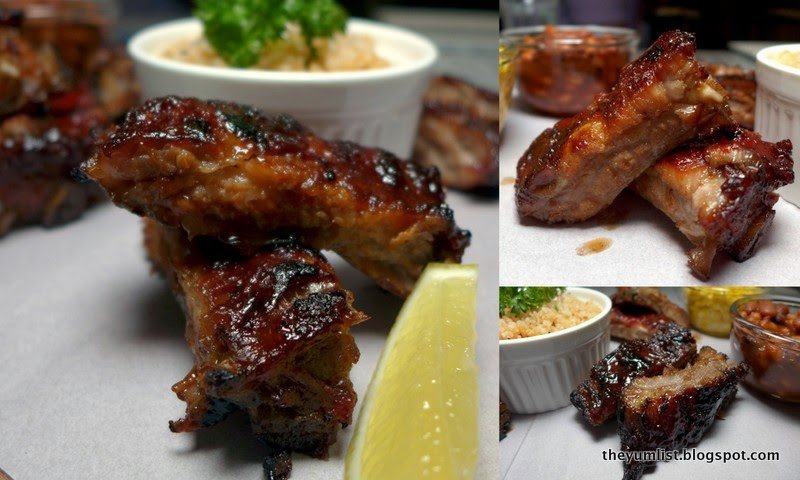 Assorted Pork Ribs
Bibs and wet napkins allow us to really dig in. Finger sucking is expected and there are definitely no raised brows from the waiters who seem to take more pleasure than repulse from our enthusiastic slurping, gnawing and moaning.
While the pork ribs are prime clichés of melt-in-the-mouth pleasure, disappearing like softened sticks of butter, the beef ribs, while equally tender, wield an additional meatiness in texture and size.
Shiraz Braised Beef Short Ribs ($32) are slowly braised for over four hours in wine and mirepoix until the flesh falls off the bone. Chef tells us it's a very simple procedure, but time consuming. The result however is a thick rich sauce, coating and steeping into the meat and bone – well worth the effort we think.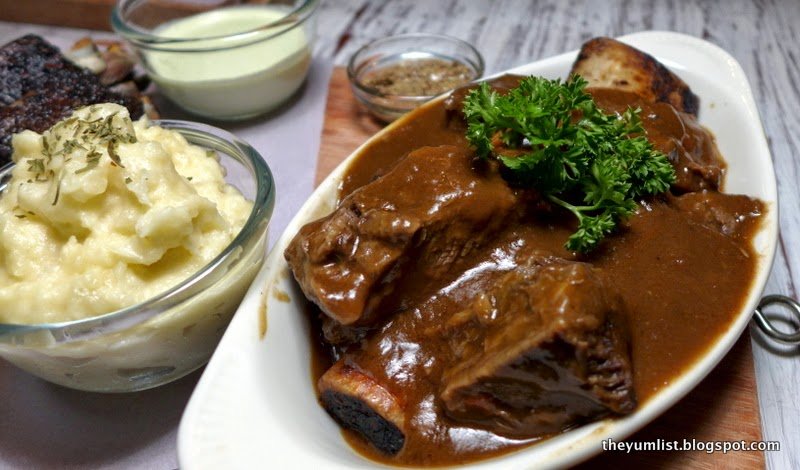 Shiraz Braised Beef Short Ribs
The RAWC Dry Rub Lamb Ribs ($32) are marinated and roasted with a house-blend of five spice herb mix. These are the most delicate of the three types we try, yet hold equally flavourful meat, and are the least sauced version of the trio.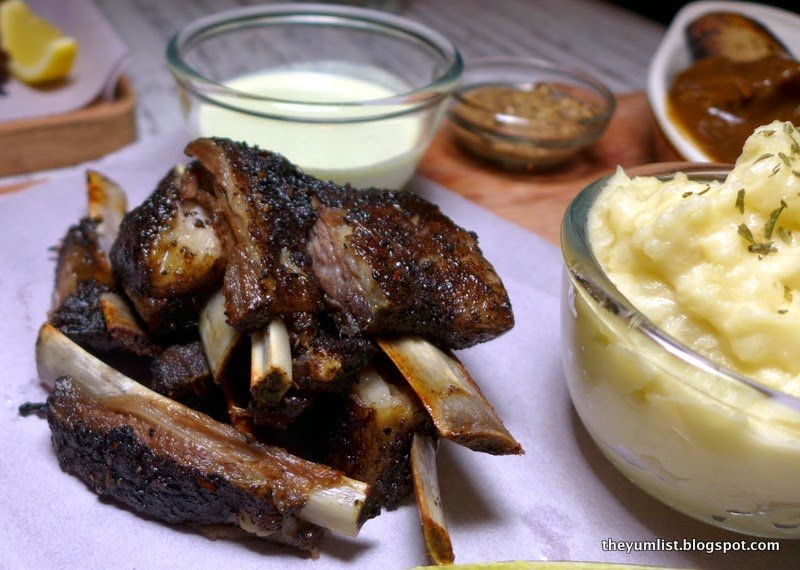 Dry Rub Lamb Ribs
Mustard, lime and lemon wedges, and sour cream and onion dips, are options for variance on the side. None of the ribs in any way need these additions, but it is fun to break up the rich flavours with a little of their tang.
Each order of ribs comes with a choice of two sides. Fork Mashed Potatoes still have chunks between the creaminess, bequeathing them with a certain level of rusticity that we love. Buttered Corn, in my opinion, is always an unbeatable side, and the Mixed Baked Beans, homemade, are a trio of soy, black and red kidney beans. Jambalaya Rice completes the four that we try, leading me to think that a veggie lover (such as myself) might be quite content in this meat focused restaurant with just a mixed order of sides.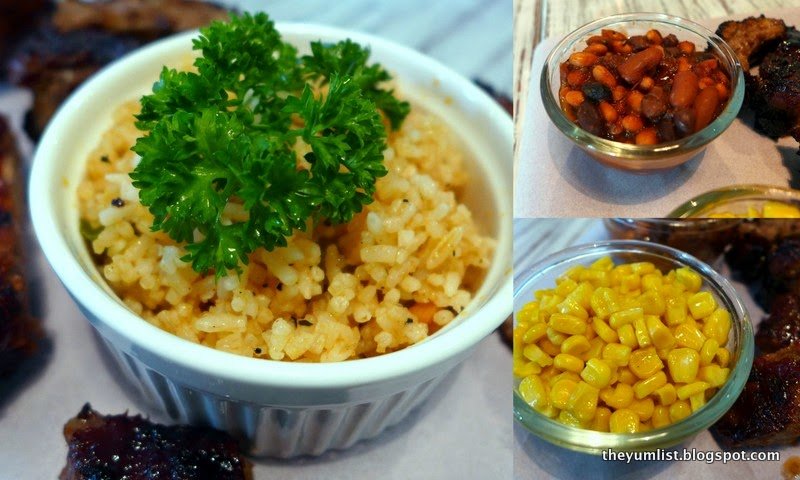 Mixed Sides: Rice, Beans, Corn
Hard to believe, but we make it through to dessert and the Sticky Date Brownie ($10) follows its forerunners with a giant-sized portion. Iranian dates make it extra chewy and sticky. A creamy ball of vanilla ice cream slowly melts on the top, while dried fruit and nut granola sprinkled across the top provides a beautiful crunchy contrast to the dense chocolaty cake.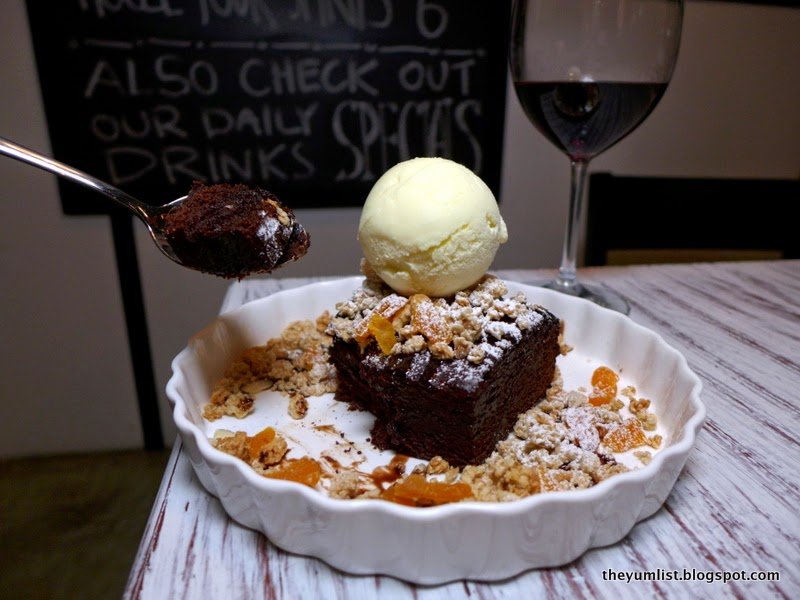 Sticky Date Brownie
We are happily stuffed.
Reasons to visit: ribs and wine!
RAWC, Ribbery and Wine Co.
80 Bukit Timah Road #01-04
Sixth Avenue Centre
Singapore 279883
+65 6463 2830
Open:
Tuesday to Thursday: 3pm – 12 midnight
Friday to Sunday: 12 noon to 12 midnight
* RAWC's Set Lunch Menu's are excellent value offering three courses for a tiny $15.90. Daily promotions see various beverages at affordable prices too, such as Tuesday evenings when half-pints of beer and house wines are only $6++ a glass.