The serenity of Japanese design embodies the scene at Nampu Japanese Restaurant. Integrating clean lines and the restorative effects of nature, the ambience breathes calm and tranquility.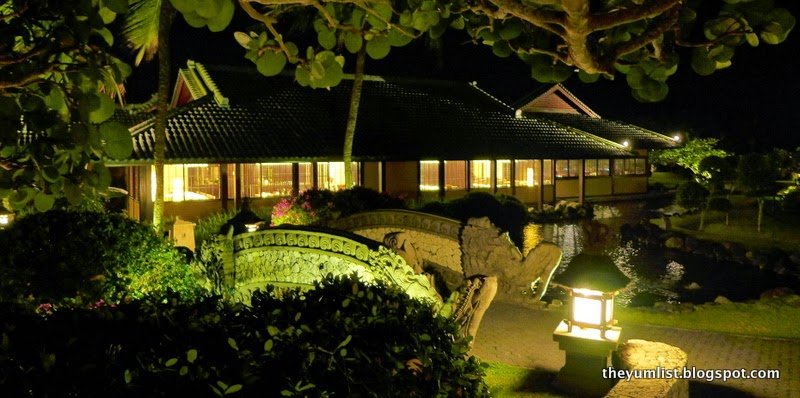 Nampu Japanese Restaurant, Grand Hyatt Bali
A rustic, country inn ambience pervades the space with exposed beam ceilings and roughly finished woods framing the floors and furniture. Ceramics in shades of olive and weathered sage provide the palettes for meticulously prepared Japanese dishes.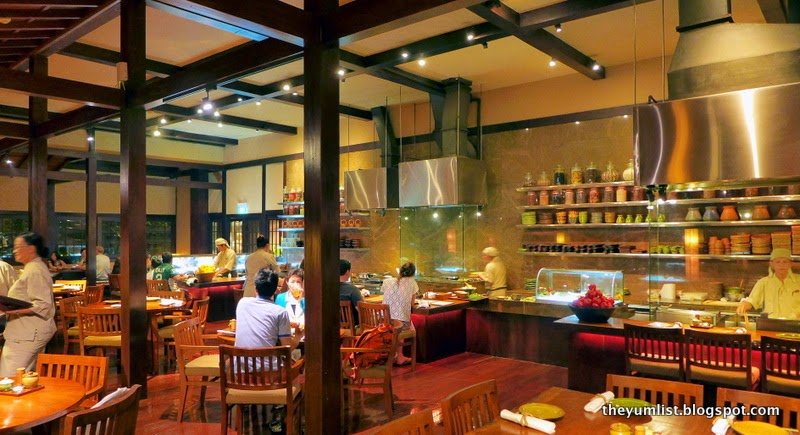 Nampu Japanese Restaurant
A semi-outdoor terrace, bordered by a pond with reeds sprouting the edges, is a popular dining location for those wishing to continue soaking up the splendid outdoors. Tatami seating is the order of the day in Nampu's private dining room where family festivities are often celebrated in a more intimate environment.
Composed of a sushi bar, teppanyaki section and open kitchen, the preparation of food is unveiled for all to see. Watching the precision and care by which each dish is constructed highlights the quality of cuisine we're about to indulge in and, too provides light entertainment while we muse the menu.
Refreshed with an oshibori (wet towel) we settle into the evening with some Japanese potations. Hubby is still exhausted from his two hours of tennis this morning so requests an "icy cold" Sapporo beer (Rp. 96 000). A carafe of Kubota Senju (Rp. 250 000) grabs my attention and our waitress recommends it served chilled. I find it feisty, full flavoured, a little on the dry side, but with a smooth round finish.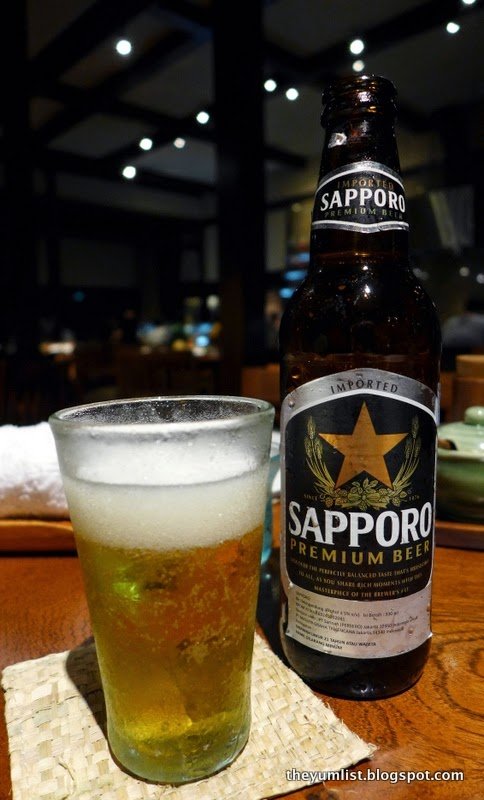 Sapporo Beer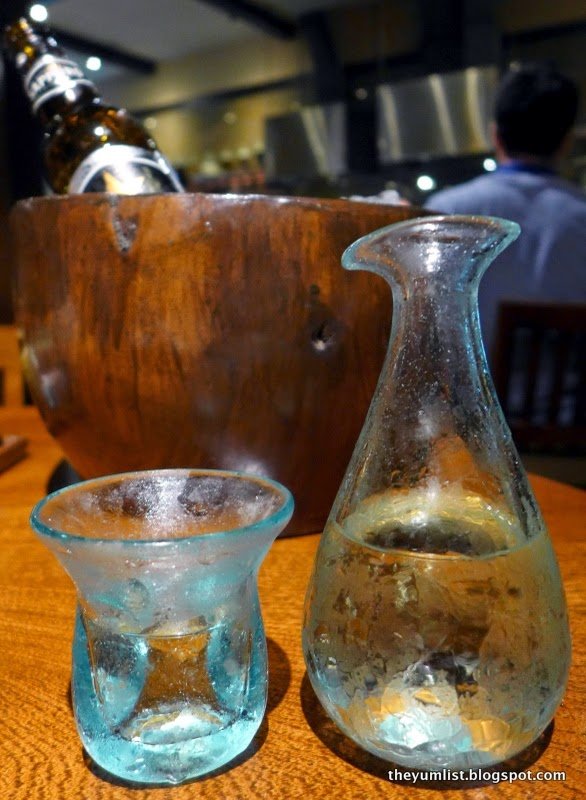 Sake
The menu offers a good variety of appetizers, soups, sushi, sashimi, items from the charcoal grill, deep fried numbers, noodles and rice. At first thought we consider ordering an item from each section but soon find that we have enough food for ten, so refine our requests somewhat.
Starters
To begin, Wafu Karupaccho (Rp. 123 000), six pieces (two each of three varieties) of sliced raw fish with soya and olive dressing, demonstrates from the outset the freshness and quality of produce used at Nampu.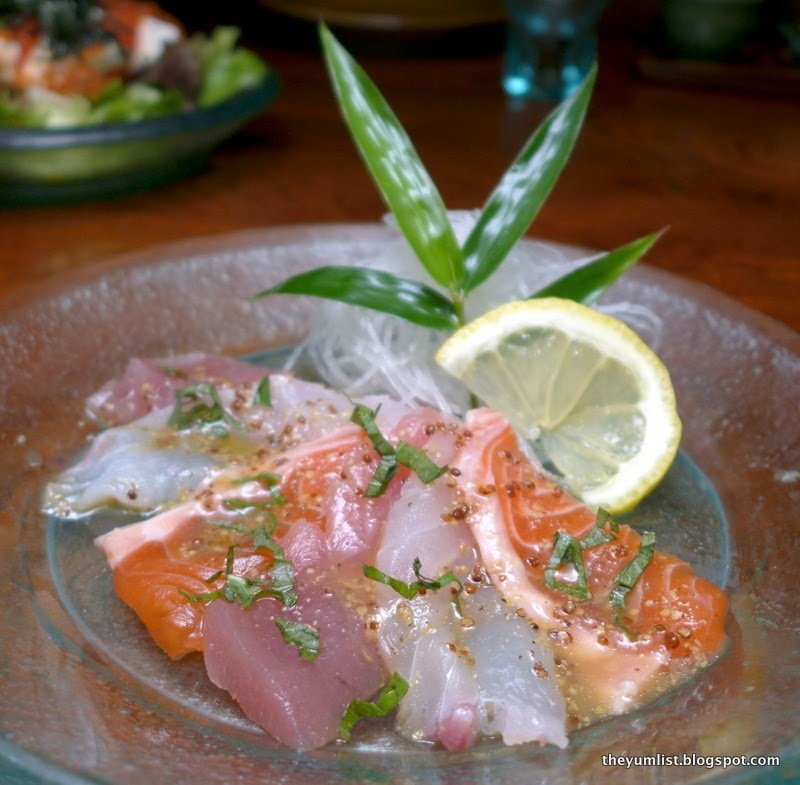 Wafu Karupaccho
Tofu Salad (Rp. 80 000) sees an assortment of crisp lettuce leaves, topped with rich red slices of tomato and soft silky pieces of chilled tofu. The semisweet, spicy sesame dressing is terrific, and strips of dried seaweed caps it all off by adding a touch of saltiness.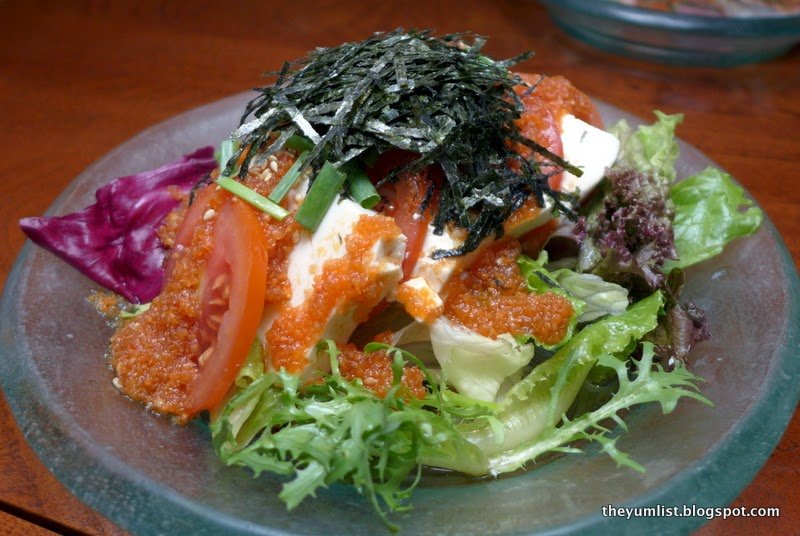 Tofu Salad
Miso Shiru (Rp. 64 000), Japanese soybean soup, presents fresh thin strips of mushroom, cubes of tofu, flat wide pieces of seaweed and a perfectly seasoned broth. The light saltiness left in the mouth is smoothed over nicely with the round finish of the sake.
Sashimi Moriawase (Rp. 235 000 for 18 slices) assorted sliced fresh raw fish is served atop a mound of crushed ice. Simple adornment in the form of shaved radish and carrot and some bright green leaves are all that is needed, as the brightly hued fish offer their own pizzazz. Hubby is so besotted with this dish that he starts talking of getting a shirt that says, "I (love heart symbol) Grand Hyatt."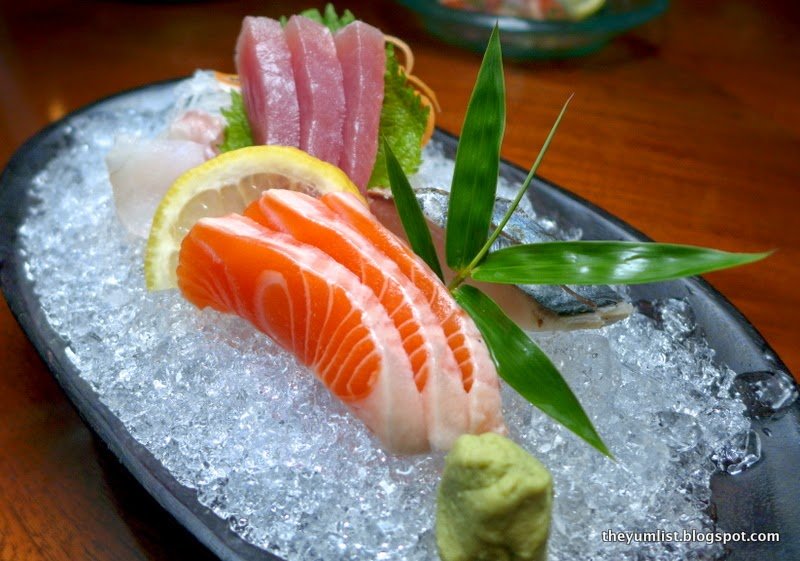 Assorted Sashimi
Mains
Ordering all of our mains from the Charcoal Grill, we smell the Tomorokoshi (Rp. 57 000) as it's arriving. Rich buttery aromas waft to our nose and the charred yellow kernels of grilled corn almost beg to be ripped off their cob.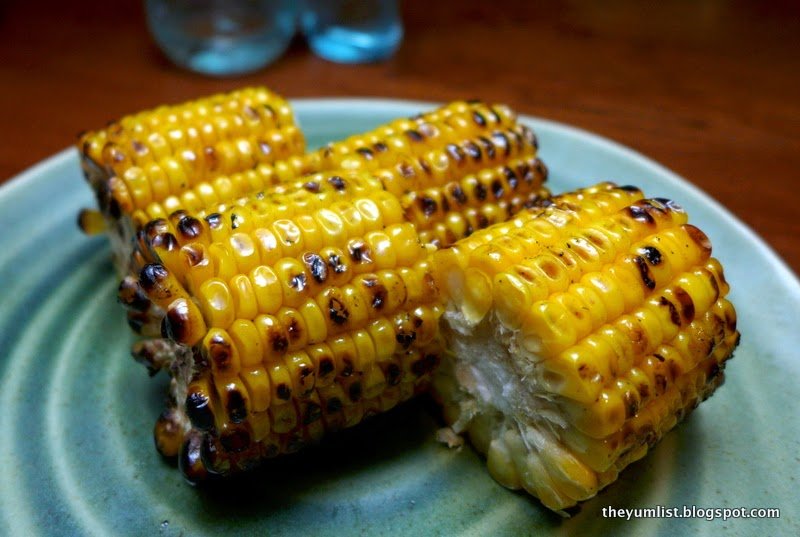 Tomorokoshi
Gindara Teriyaki (Rp. 130 000), grilled cod, is flaky, oily and a model example of the fish cooked well. It sits in a puddle of teriyaki sauce which serves to slice through a little of the natural oiliness of this fish.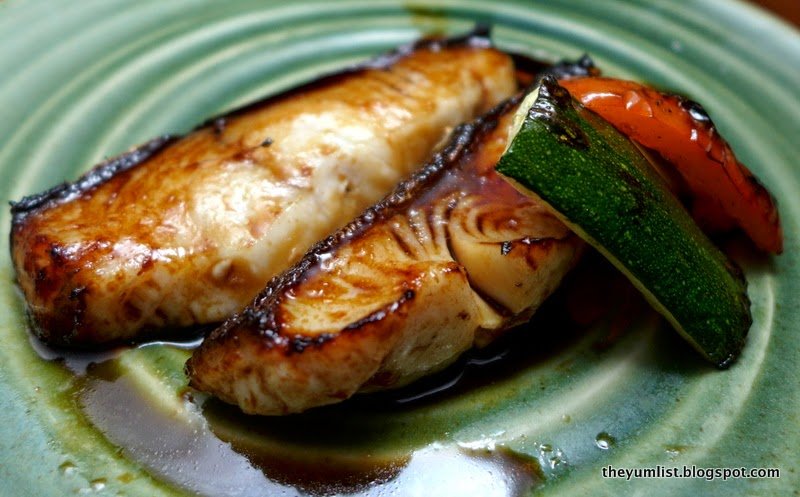 Gindara Teriyaki
The high fat content of the Karubi Beef (Rp. 120 000) makes it super tender and a power punch of savour. These short ribs are grilled with garlic. The sauces however are stunning! A ginger and garlic mush and a homemade red smooth miso sauce are divine.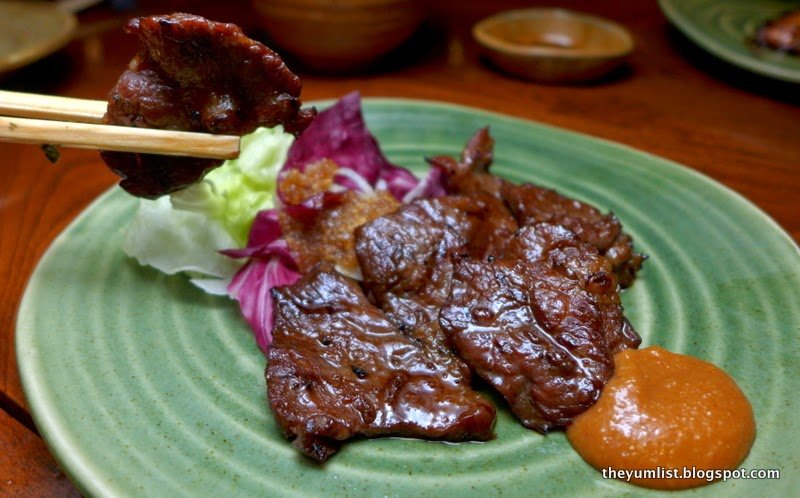 Karubi Beef
Desserts
Dessert is next and the creations are awesome! Blending European technique with Japanese flavours proves a victorious manouevre. These are the most unique desserts I've eaten in a Japanese restaurant. Far removed from the standard green tea ice cream, red beans and mochi, these sweets deliver an appealing divergence from the norm.
Lemon Grass and Lime Crème Brûlée (Rp. 60 000) is decadently creamy and infused with a hint of herb and citrus. Two fresh lychees decorate but also add a gorgeous burst of juiciness to the pudding. House made coconut gelato comes in a separate dish with a black and white sesame caramelized wafer. The whole combination has an amazing synergy and this time it's hubby who needs to watch his spoon for the speed of mine.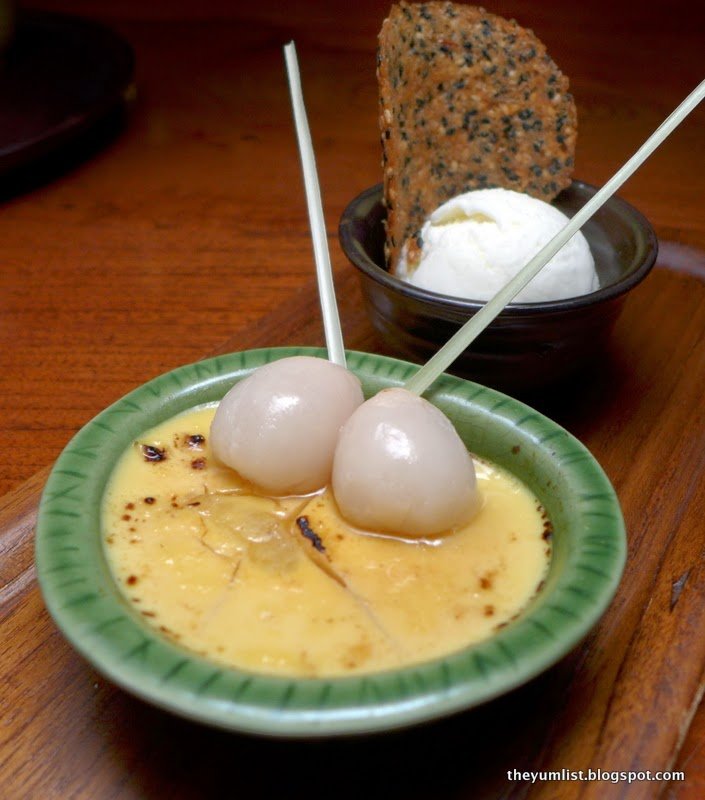 Lemon Grass and Lime Crème Brûlée
Japanese Tofu Cheesecake (Rp. 60 000) is our waiter's preferred sweet so I follow his suggestion. A snow hued cone of velvety tofu cheese is mounted on a slim biscuit base. Three glass jars hold condiments that can be added (or not) to each spoonful. Peeled mandarin segments and slices of melon are fresh toppings, but the maple coffee sauce is an indulgent drizzle of heaven.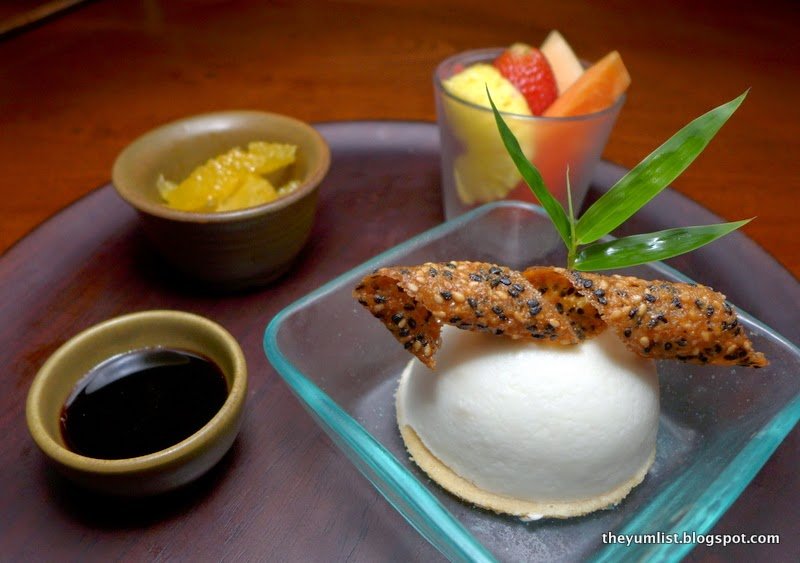 Tofu Cheesecake
Wrapped by our a la carte dinner at Nampu, we reserve seats at the teppanyaki table for the next evening.
Teppanyaki
Teppanyaki can usually be counted on to pledge not only fresh uncomplicated cuisine, but also some light entertainment too. Our chef has a twinkle in his eye and we sense the evening will be full of merriment before we've even begun.
Going with the cheery ambience, I order a Japanese cocktail, the Sake Politan (Rp. 100 000), which features sake, triple sec, cranberry juice and lime juice. Pretty in the glass, it's easy drinking.
There are four set menus ranging in price from Rp. 518 000 to 675 000. The Sango (Rp. 594 000) grabs our attention featuring vegetables and seafood. We're warmed up with a Kaiso Salad of garden greens, seaweed and an onion dressing, and Zensai Mori ensues with Chef Yoshioka's selection of appetizers.

Appetizers
A tray of four sauces arrives for additional seasoning: tomato; barbecued onion; ponzu; and tartar. They're recommended as accompaniments to different dishes. The tomato and onion is suggested for vegetables, while the ponzu and tartar are most suited to fish. My preferred of the four is the ponzu, made with a small Japanese citrus fruit and soy sauce.
Before our humble chef starts cooking he opens a window. Our waitress comes to assist and soon two opposing windows are agape. The sea breeze streams through. It's fresh and we smell the ocean. It's a barbecue with an ocean draft – what could be better?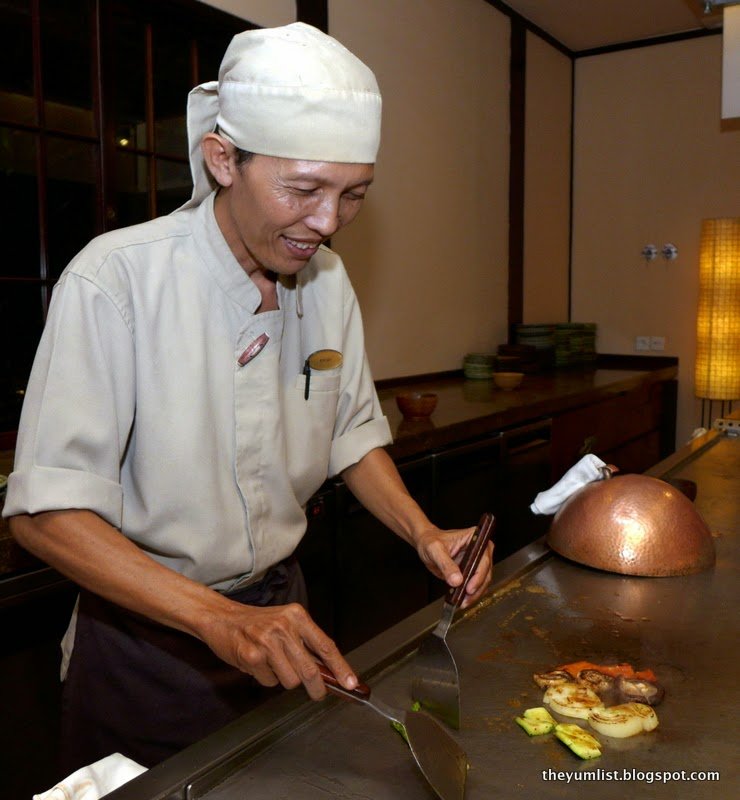 Heating up the Teppan
Yaki Yasai marks
the beginning of the work on the grill with some clever chopping and flipping of mixed vegetables in a shoyu butter sauce and, after a Tofu Steak Mentaiko completes the introduction with fresh bean curd and cod fish roe. Gorgeous! With food this good, it's very easy to imagine being vegan full time.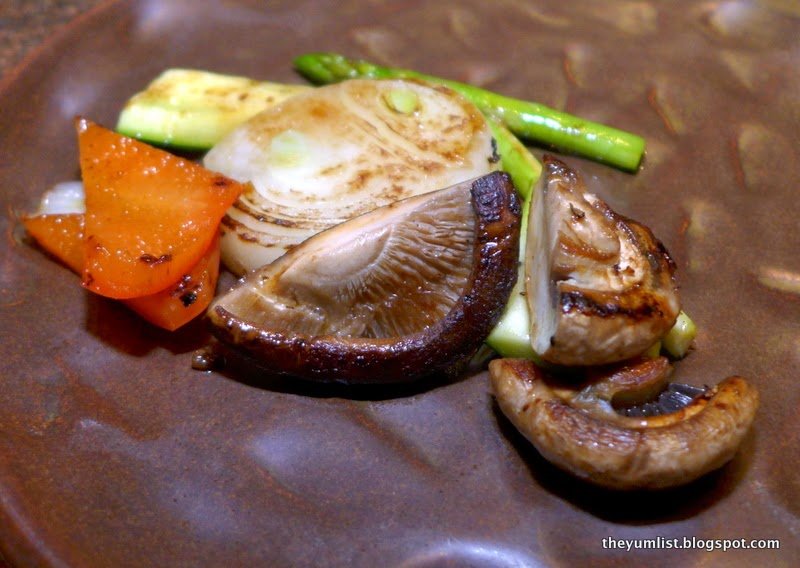 Vegetables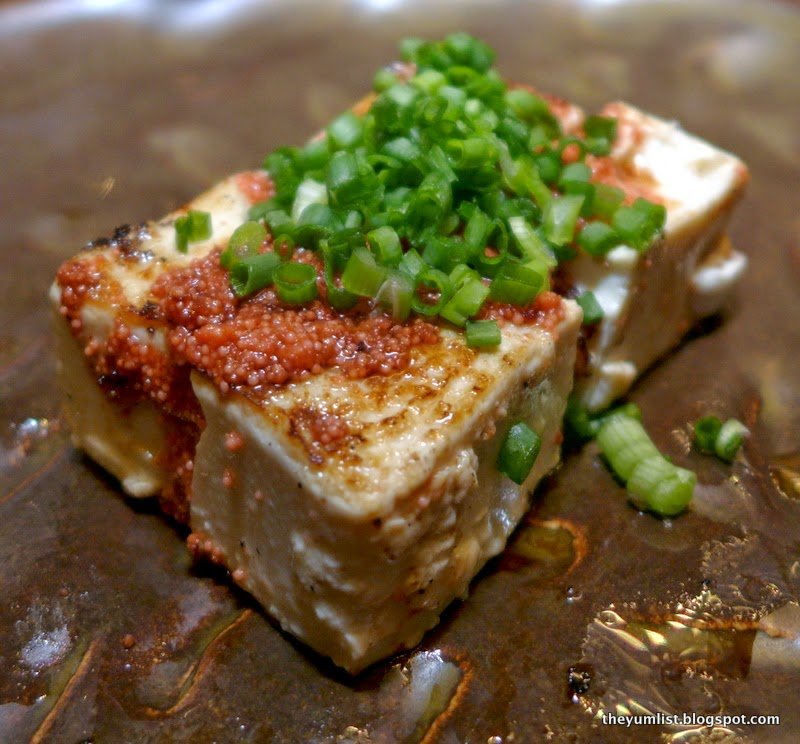 Tofu
The seafood however is next and we have a choice of king prawns or scallops, and salmon or half lobster. We choose the shellfish and big crustacean. Plump fat molluscs could not have been cooked better. They are so delectably juicy and lightly seared they don't need any of the sauces. The lobster is removed of its shell before being barbecued and then replaced back in its home before serving. Another not only wonderfully prepared dish, but superb example of fine ingredients. Chef shares with us that many of the ocean creatures come from Balinese waters with only a few needing to be imported.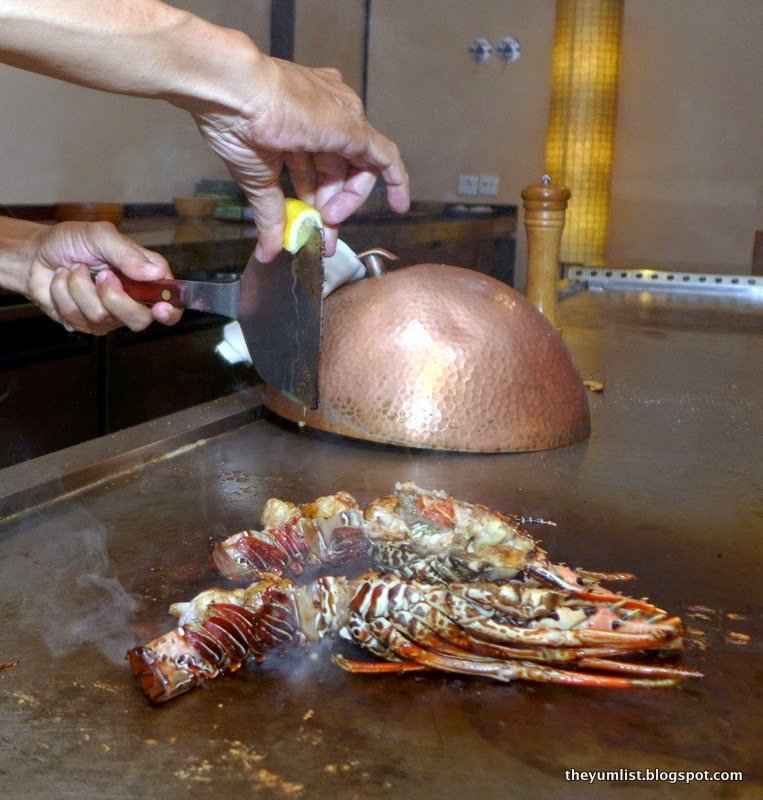 Adding the final touches to the lobster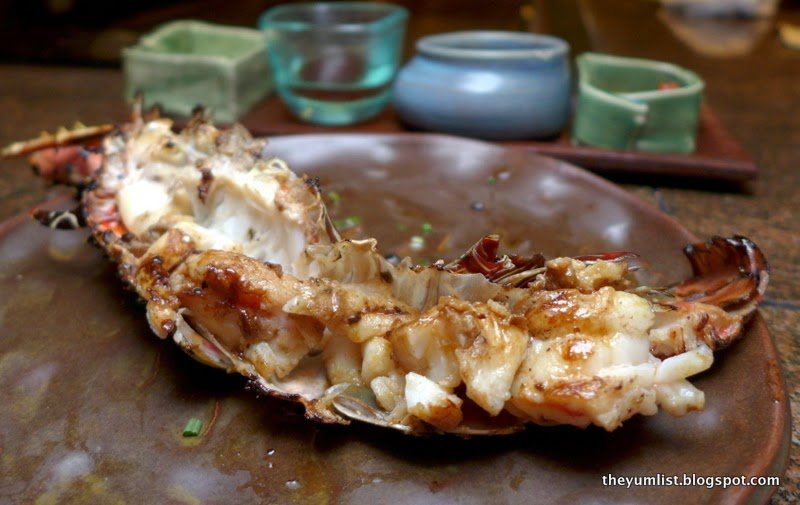 Lobster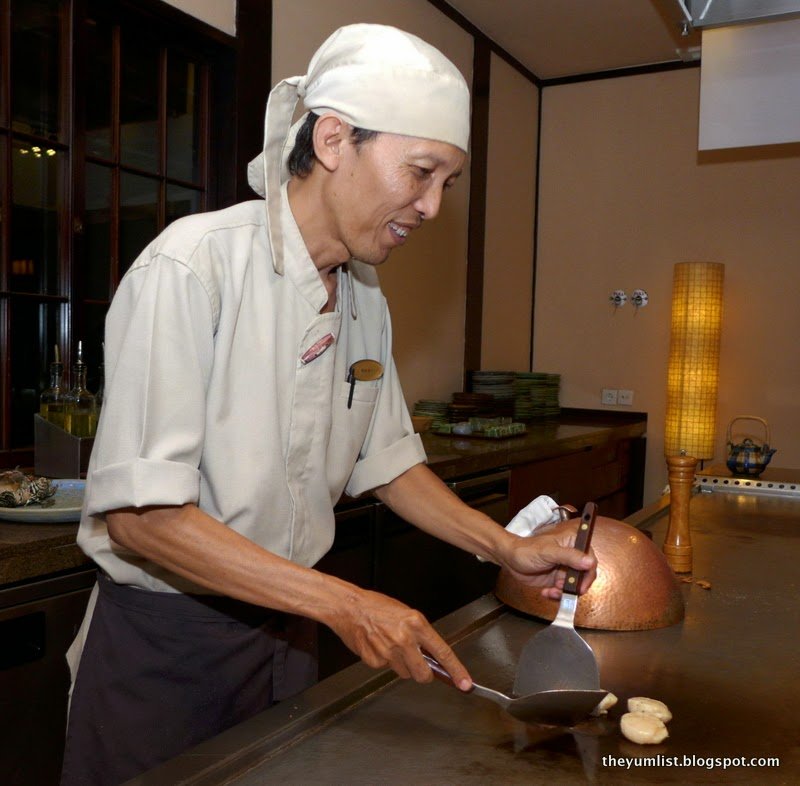 Here come the scallops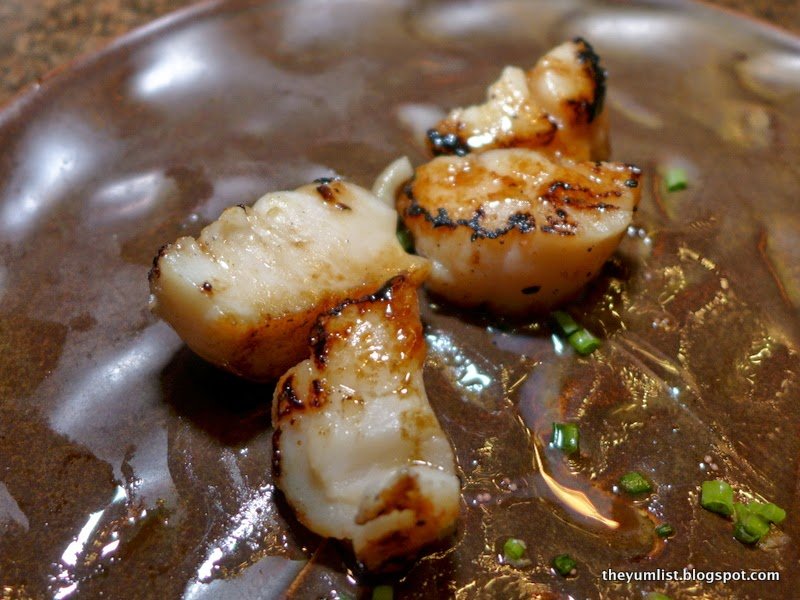 Scallops
We're enchanted by chef Budi. He's humble and sweet. He shares with us his family life as we ask and is interested in our own stories from home too. He's clearly passionate about his work and speaks proudly of the training he's had with a Japanese chef who has now returned to his home nation.
Miso Soup, and Yakimeshi, vegetable fried rice, egg and mushrooms are the final pieces of entertainment before the meal ending. The short fat grains of rice are so well balanced with the seasonings that even though we're full already, we polish off the bowl to the very last grain.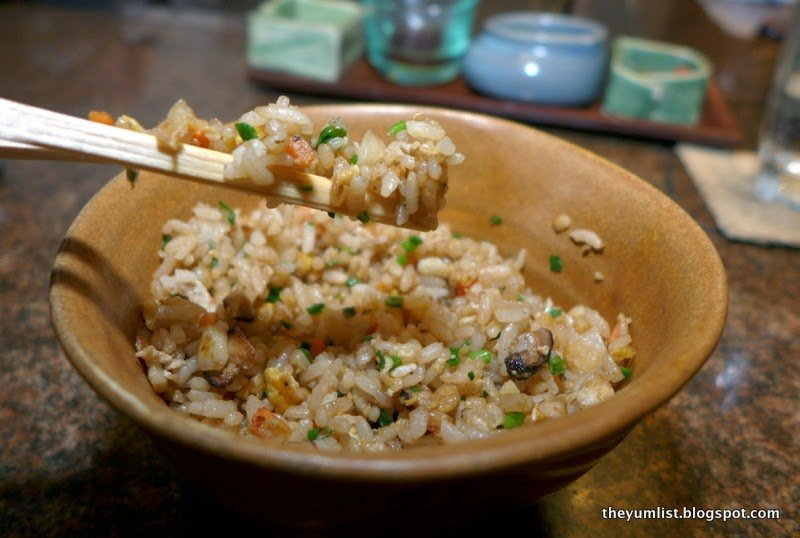 Fried Rice
Hubby and chef have been prattling dive talk and in particular about the creatures found in Balinese waters. We discover that yellow fin tuna belly is one of chef's favourite items on the menu and as a special treat we get a sampler of a few slices. Delicious.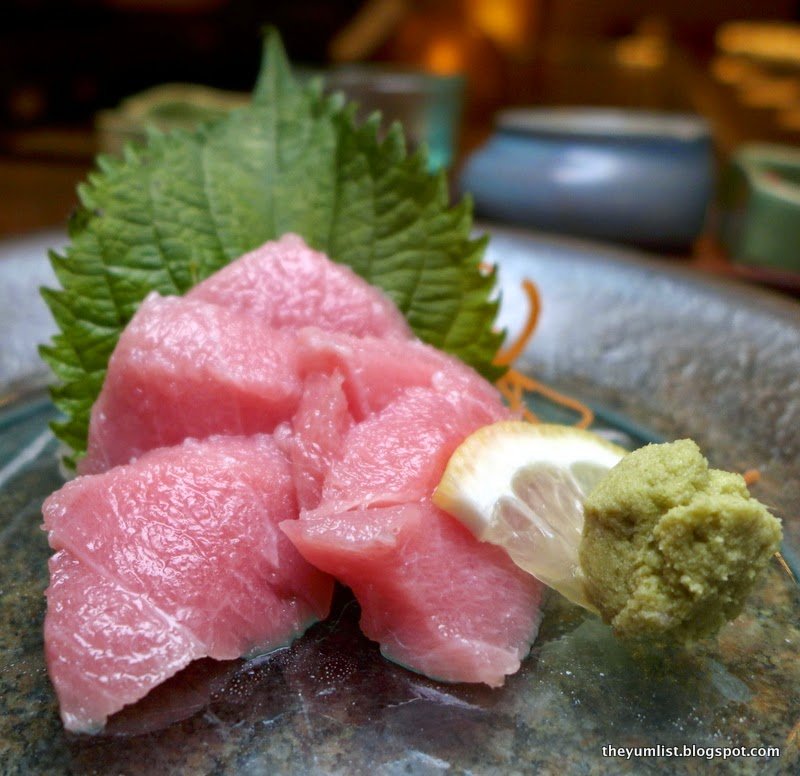 Yellow Fin Tuna Belly
Peanut Butter Mousse finishes the meal with a distinctively Western taste. Two slices of caramelized banana start the plate on the left. The middle is a rich creamy mound of peanut butter mousse based with a chocolate round and covered with a thick varnish of smooth chocolate. The third dish is a deliciously intense peanut butter sauce. I recommend smothering the whipped mousse in the sauce and forgetting calories until tomorrow. It's similar to a Reese's Peanut Butter cup only 100 times better! What a spectacular finish!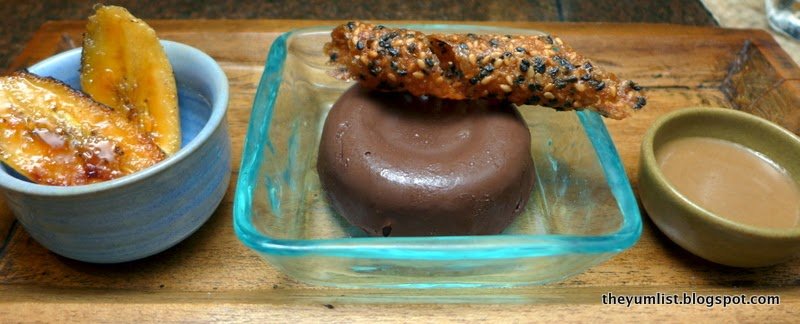 Peanut Butter Mousse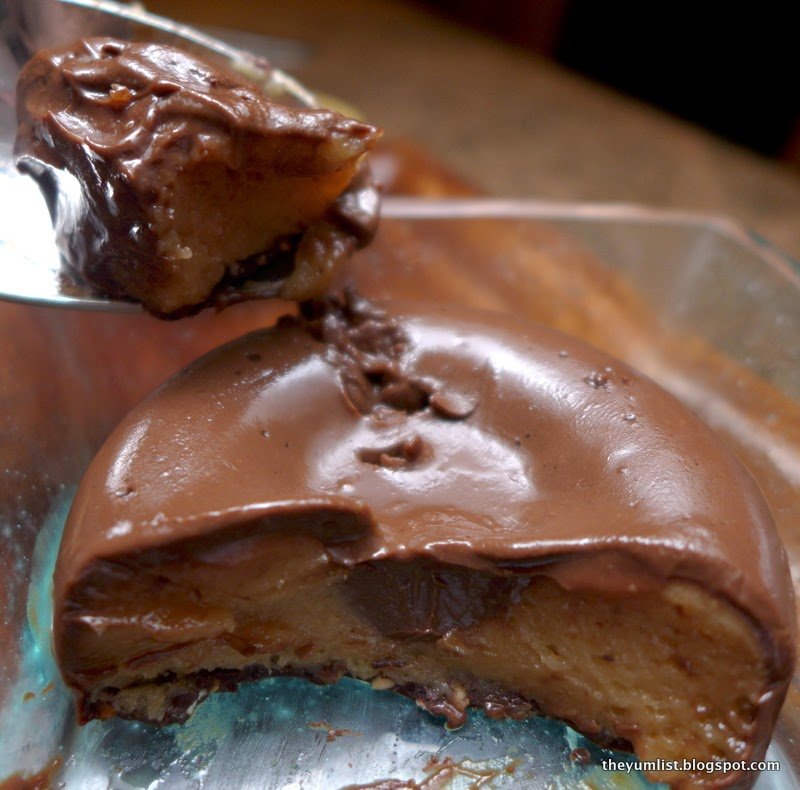 Peanut Butter Mousse
Reasons to visit: freshest of produce; sashimi; anything from the charcoal grill; wonderful fusion desserts.
Nampu Japanese Restaurant Grand Hyatt Bali
Kawasan Wisata Nusa Dua BTDC
Nusa Dua, Bali, Indonesia, 80363
+62 361 77 1234
bali.grand.hyatt.com/en/hotel/home.html
Open for dinner only: 6 – 11pm nightly.
All prices are subject to 21% government surcharge and tax.