The Andaman on Datai Bay is home to one of only a few quality Japanese restaurants in Langakawi. Occupying the ground floor of the resort, the simply named, The Japanese Restaurant, is an uncomplicated setting, and the menu is mostly a traditional selection taking advantage of the fresh bounty of the Andaman Sea.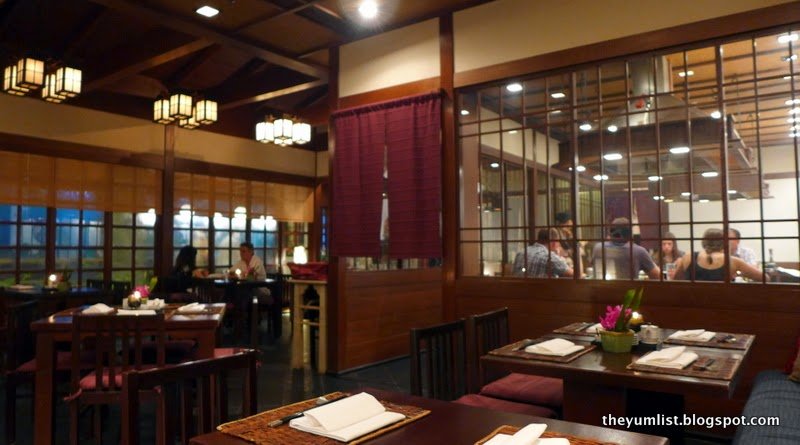 The Japanese Restaurant
Tatami rooms, teppanyaki counters and regular dining tables are housed in a classic Japanese style interior. Grey slate tiles the floor. Textured cement and wooden panels cover the walls, and rectangular lanterns hang from the ceiling furnishing a warm glow. Japanese folk music jingles in the background.
While the beverage assortment is wide, including an array of wines from around the world, spirits, beers, cocktails and liqueurs, we think a traditional beginning is the way to go. Hot Sake (RM30 150ml), from the Nihonsakari brewery is the recommended start. It sports that distinctive fermented rice aroma, is round in the mouth with a medium finish. Later on we note that it is at its best when hot. Once let reach room temperature it's not as enticing as it is with a higher heat.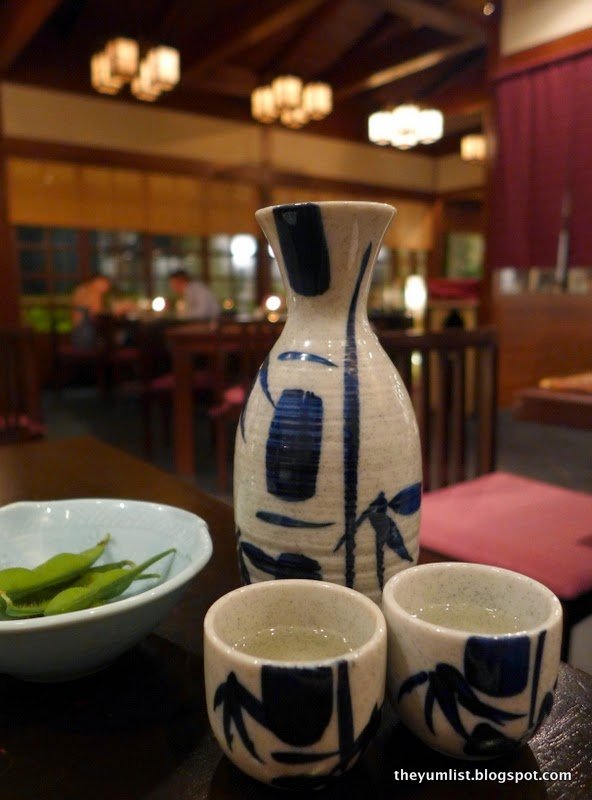 Hot Sake
Many pages make up the menu and I'm delighted to find, at the very end, a Healthy set meal (RM75) option, which is basically five courses of vegetarian Japanese cuisine. Hubby orders separately from the a la carte menu, but our waitress is smart is encouraging him to order the same number of dishes as myself and has them served simultaneously.
Ocean Vegetable Salad and crispy beetroot noodles with miso dressing starts my nutritious line-up. There aren't really any noodles. Instead the vegetables are very finely shredded into long strings resembling their namesake. Mixed garden greens fill the bowl and the dressing is delicious. It's a pure, crisp start – most welcome.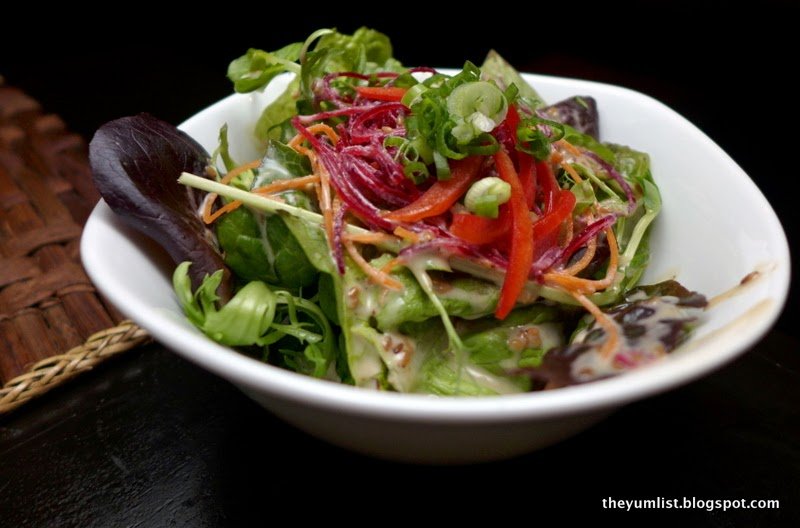 Ocean Vegetable Salad
From the Langkawi Sashimi Treasures selection hubby has ordered the Tuba Island Barracuda (4 pieces RM29), and from the Premium Chilled Seafood Sashimi section, the Chilled Norwegian Salmon (4 pieces, RM25). Both are extremely fresh – the pink fillet slightly buttery and the white fish clean and soft.
Tuba Island Barracuda Sashimi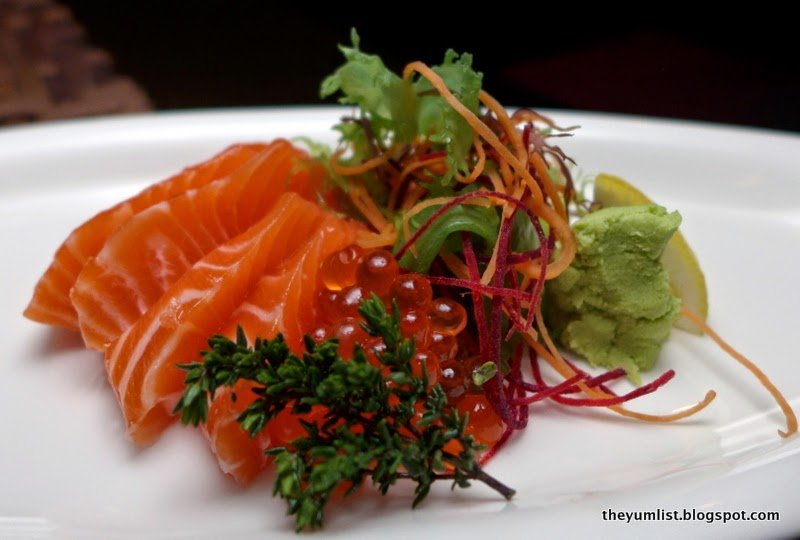 Chilled Norwegian Salmon Sashimi
Ricotta, avocado and smoked heirloom tomato rolled sushi are three pieces of vegetarian rice rolls. There's a miso dressing drawn around the plate, which adds to presentation but also provides an extra oomph of flavour. Avocado and ricotta are rich and creamy in the middle and the dried tomato strips on top add a hint of savoury. A tiny drop of wasabi enhances the bites into something truly memorable.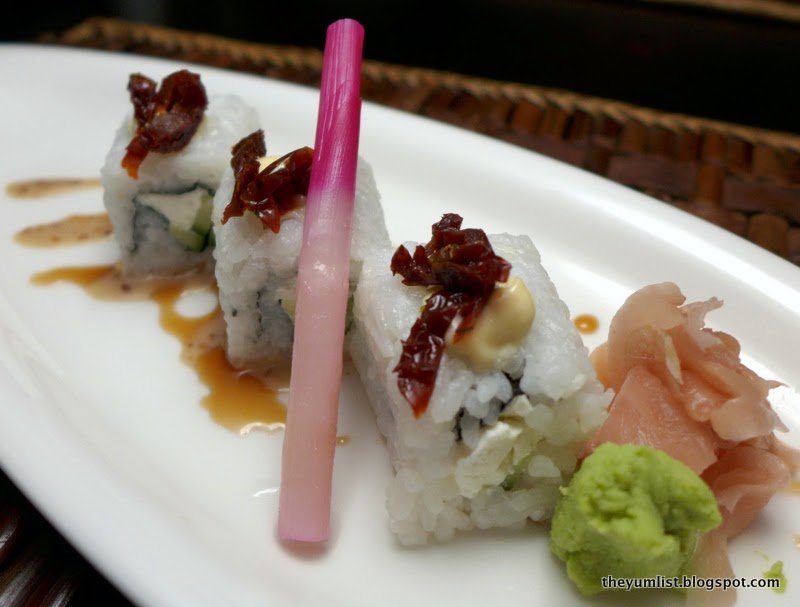 Vegetarian Sushi
Hubby's Samurai Maki Sushi (6 pieces RM40) is rolled with deep-fried soft-shelled crab and drizzled with a sweet soy sauce. It has obviously been just rolled, as the crab is crisp and the rice moist. The lightly sweet sauce plays an important part in balancing the flavours. Hubby is happy.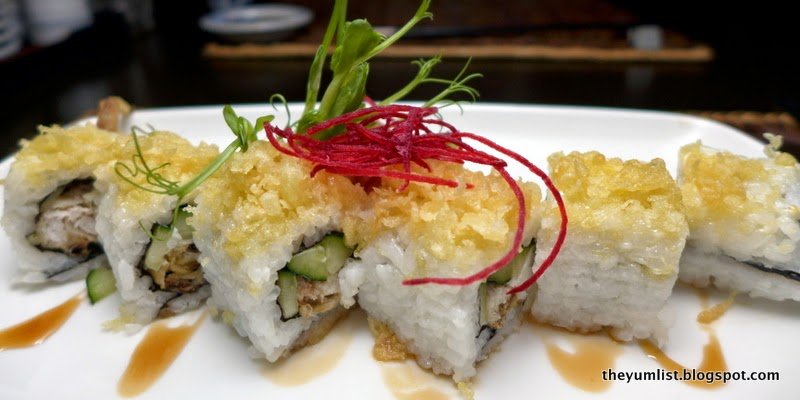 Samurai Maki Sushi
Zaru Somen are often eaten in the summer in Japan and so match the warm climate here perfectly. Thin white wheat noodles are so soft and slippery they slide through my chopsticks. The dashi sake dipping broth is light, sweet and refreshing.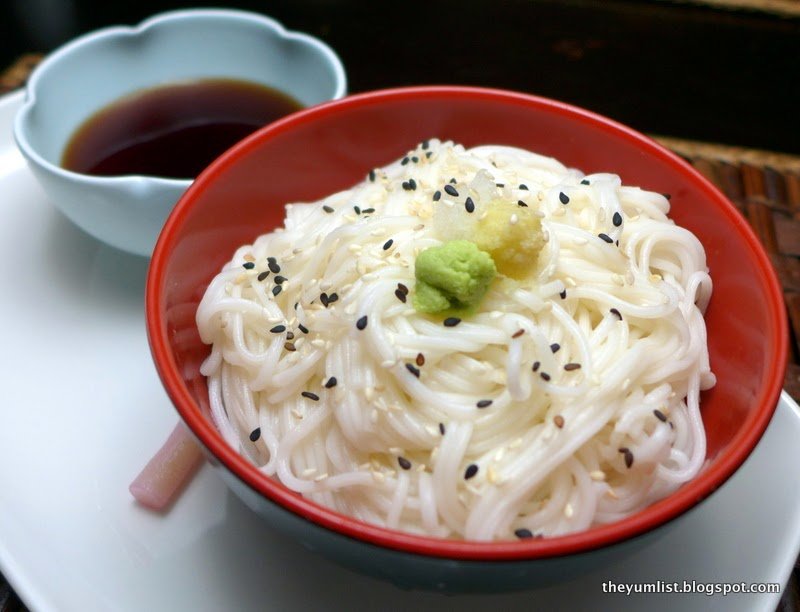 Zaru Somen
Hubby's hot appetizer, Tenderloin Toban Yaki (RM38), is served with smoked miso eggplant and amazu yuzu. The meat is divinely tender, and the seasoning a harmony of salty and sweet. A halved bell shaped eggplant is criss-cross cut allowing us to pull cubes out one at a time. A dense miso paste is zig-zagged across the top and is suitably toothsome.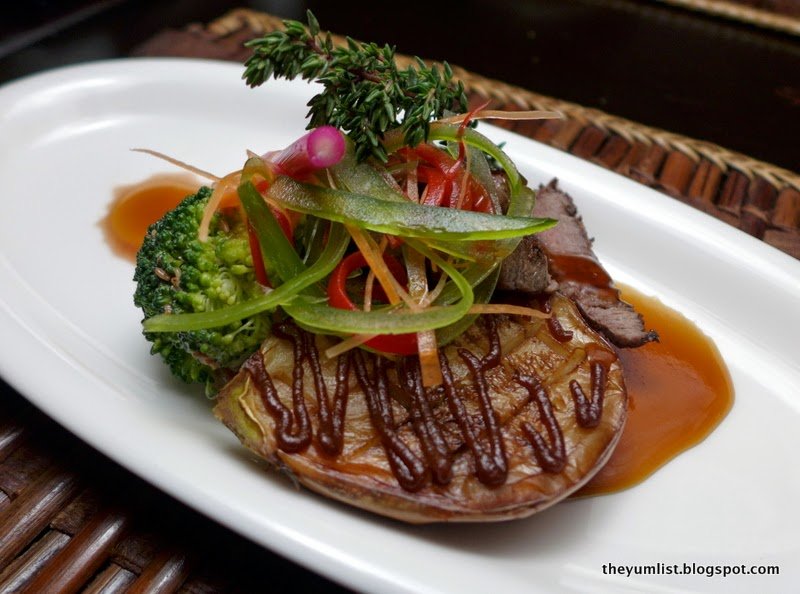 Tenderloin Toban Yaki
My main is Teppanyaki Silken Tofu with an Asian Green Garden. It seems the mound of veggies that base the dish have been done on the teppan grill, but the four rectangles of tofu that crown the top have been prepared tempura style. They're tasty, but not what I was expecting from the healthy menu. Vegetarian yes. Healthy maybe. That said, it doesn't change the fact that it is indeed a flavourful dish.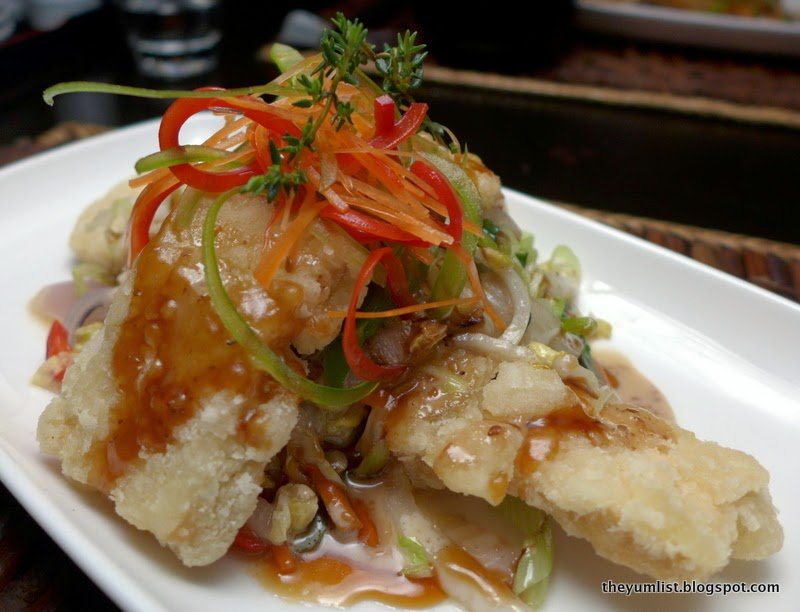 Teppanyaki Silken Tofu
Pan-fried Snapper with herb butter and soya sauce (RM40) is hubby's main. It's flaky, moist and the sauce is luscious. In hubby's words, "It's fresh and tasty," and he enjoyed it with a good squeeze of lime on top.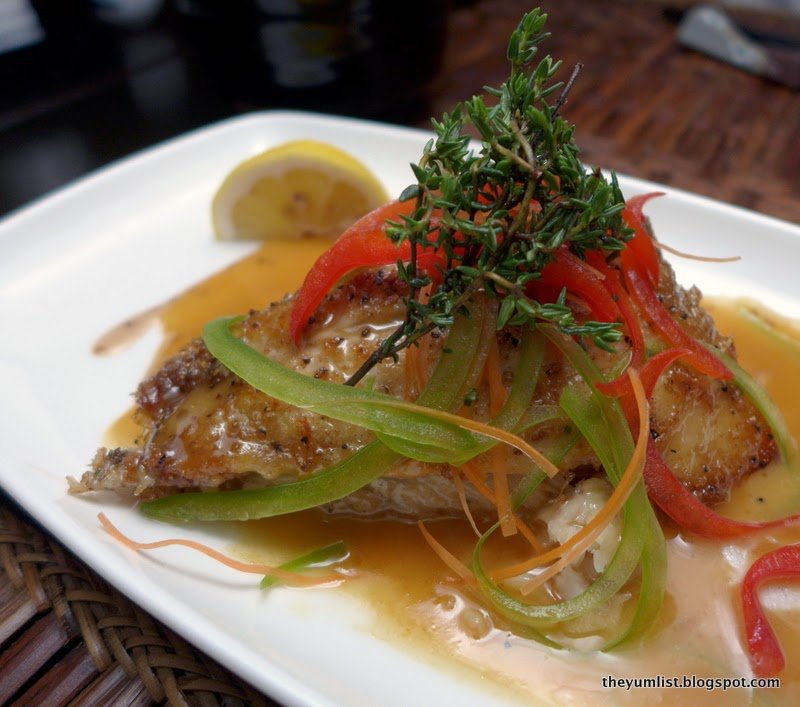 Pan-fried Snapper
The vegetarian set comes with Yokan, chilled red bean jelly with coconut ice cream, for dessert. I'm not fond of jelly so switch it with a Yuzu Sherbet. The Japanese citrus fruit forms a refreshing sorbet. I'm glad I was able to swap, as it's a tart clean ending.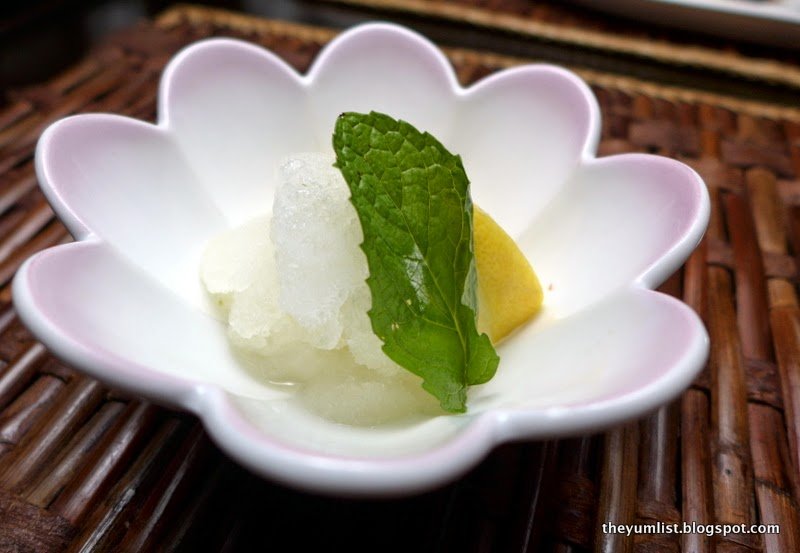 Yuzu Sherbet
Hubby has ordered the Shiratama Zenzai (RM12), which is pumpkin mochi (glutinous rice dumplings) and sweet adzuki (red bean) paste. Green tea ice cream adds another layer of texture and a chilled change of temperature. Yum.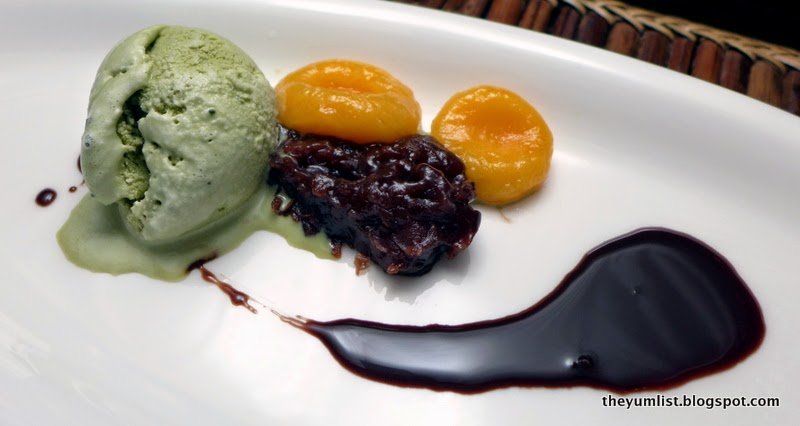 Shiratama Zenzai
Food has been great, service amiable, and the environment relaxed. Would we return? Yes!
Reasons to visit: friendly service; super fresh ingredients; a good variety of options; extensive drinks list; Pan Fried Snapper; Tenderloin Toban Yaki; Tuba Island Barracuda Sashimi; Vegetarian Sushi.
The Japanese Restaurant
The Andaman
A Luxury Collection Resort Langkawi
Jalan Teluk Datai
Langkawi
07000 Malaysia
+6 04 959 1088
Open 7pm -11pm