The tip of Telaga Harbour is home to the beautiful Danna. Majestic colonial architecture stands proud and milky white between verdant tropical slopes and the unblemished foreshore. While the structures are characteristic of the British colonies before independence, the vibe is Mediterranean thanks to the harbour and seaside location.
Beach at the Danna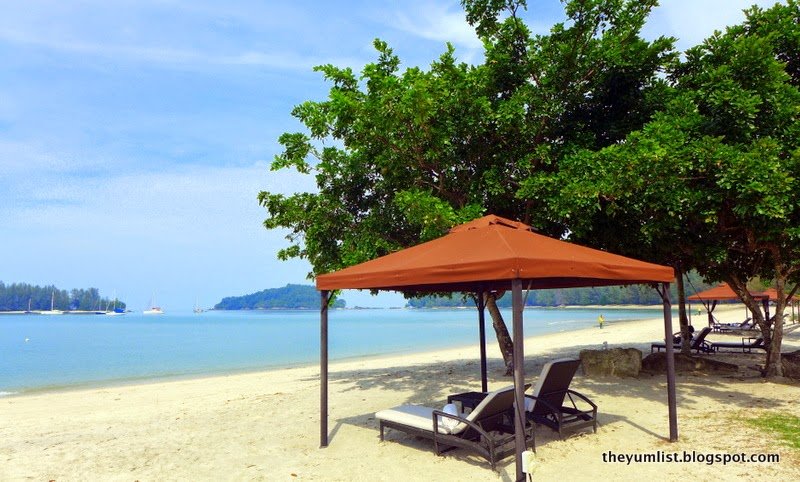 Shaded Seating at the Beach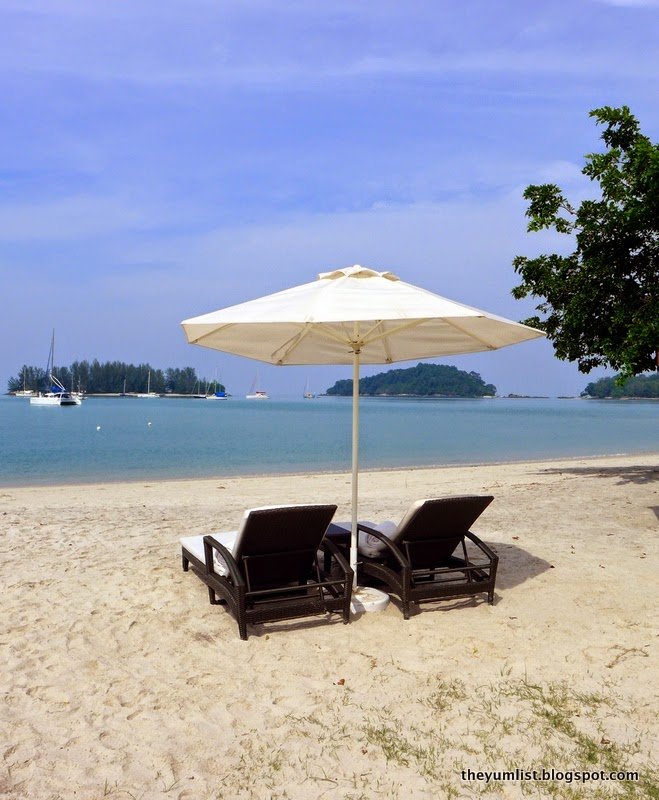 Beach Chairs
A marina town in the French Riviera inspired the design of Telaga Harbour. Lined with cafes, restaurants and art stores on one side, and souvenir shops, a bank, a fast food outlet and a bakery on the other, guests of The Danna have quick admittance to a range of facilities outside of the hotel if they so desire. Just over 10 kilometres from the international airport and main tourist beach Pantai Cenang, The Danna Langkawi is close enough to the hive of activity to be conveniently accessible, yet far enough removed, constructing a haven of calm and luxury on one of Malaysia's most popular islands.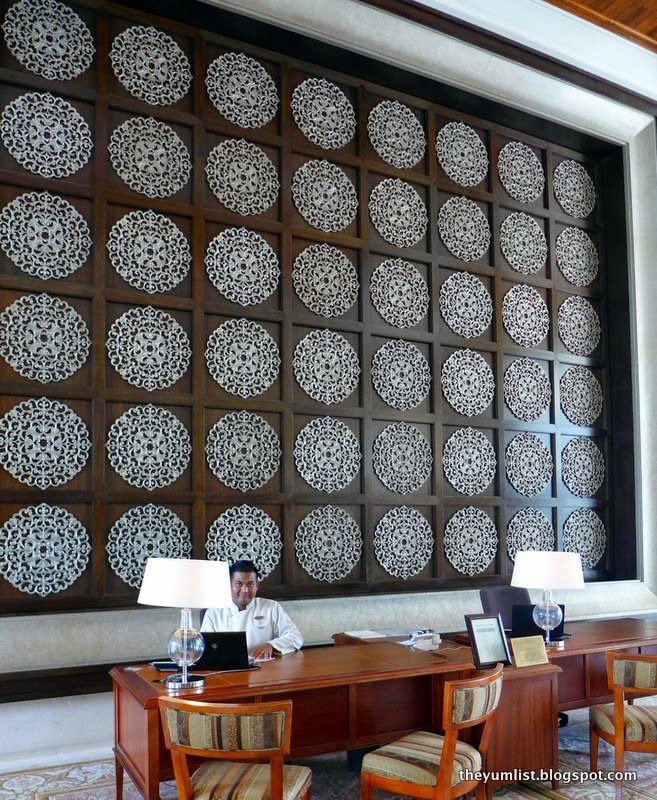 Lobby
Whatever your desires, romance, recreation or relaxation, The Danna Langkawi summons guests to luxuriate in their chosen pleasures, while cared for and lodged in the arms of the beautiful property.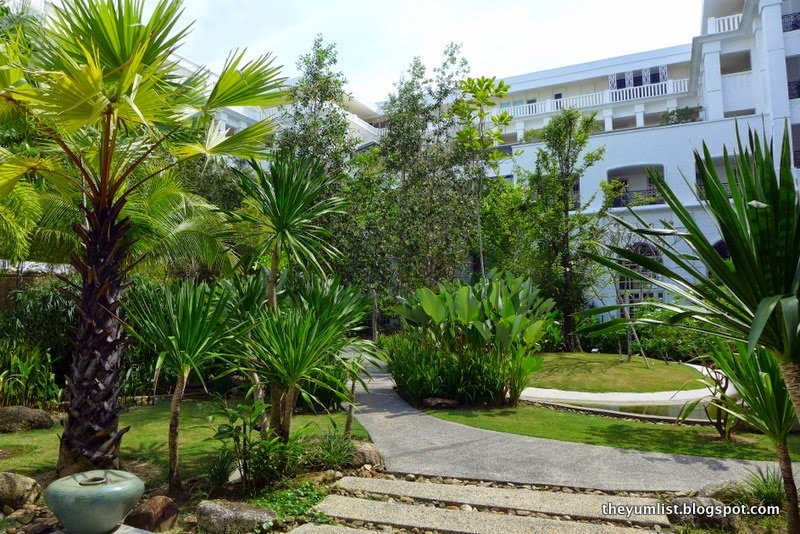 Courtyard
A VIP transfer, stocked with scented refresher towels and bottled water, from the airport is a smooth start. Lime, clove and apple juice as a welcome drink, and a mini neck and shoulder massage, further ease us into island life. We've only just arrived and we already feel cared for.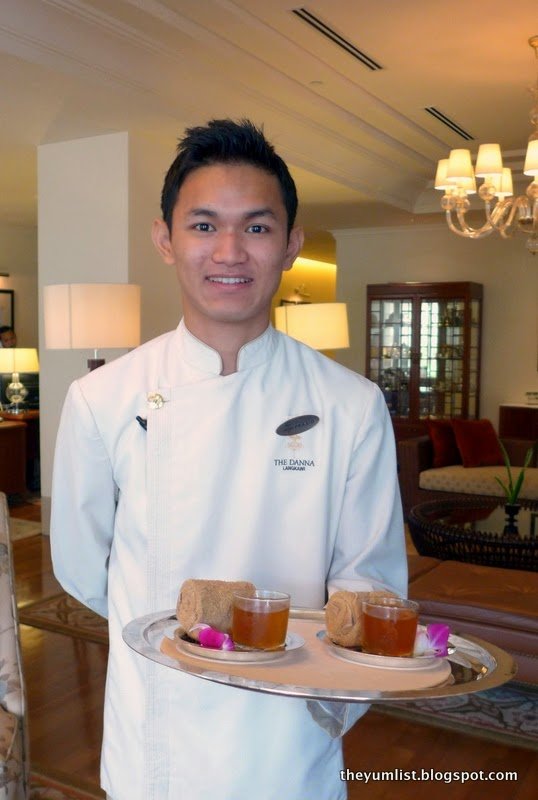 A Warm Welcome
The first thing that strikes us as we're escorted to our room is the grandness of the building. Wide hallways, double story ceilings in common areas enclosed with glass panels, and grand arches gift a princely lavishness. It's distinctively colonial in design, but the space seems bolder, bigger, more palatial, than other properties assembling the same theme.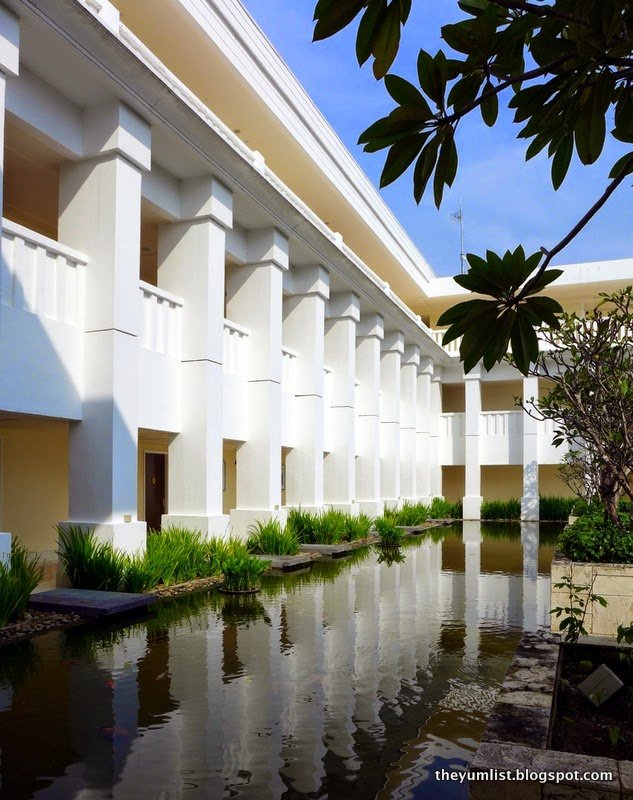 Hallway to Rooms
Rooms
Just a little larger than a boutique hotel with 125 rooms, The Danna provides personalized service and an intimate island retreat. All lodgings take full advantage of the magical tropics and seaside location with floor-to-ceiling glass panels and a private balcony in each.
Expected amenities of a five star hotel are all provided: mini bar; tea and coffee making facilities; safe; LCD television; DVD player; premium toiletries; powerful hair dryer and complimentary Wi-Fi. The choice really is in the size of the room and the view you desire. Ranging from 60sqm to 110sqm of living area, vistas of the hillside, courtyard, marina and sea are all options, with ocean panoramas predictably being the most popular.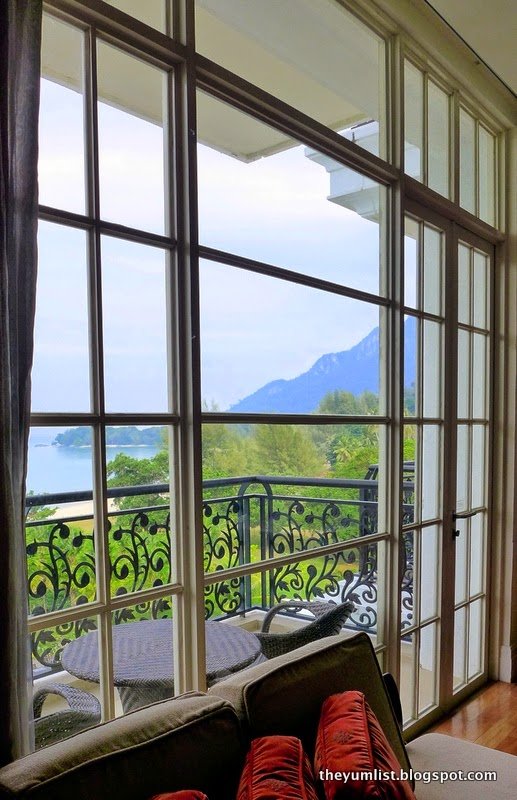 From the Our Daybed in the Viceroy Seaview Room
Our Viceroy Seaview Room ensures a restful sleep with custom-designed pillow-top mattress on the four-poster king-size bed, and oversized pillows and duvet. It can also be made up into two single beds. Lush fabrics upholster the daybed and curtains, and cushions in deep maroons add rich colour to the fairly neutral base.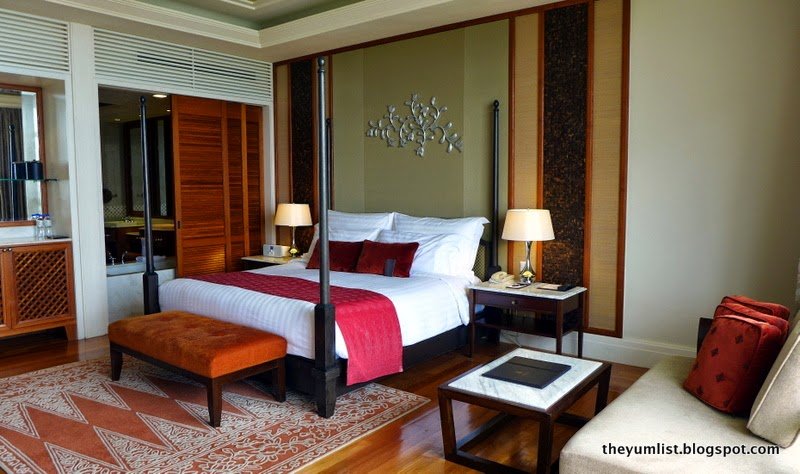 Viceroy Seaview Room
Twin sinks with old school taps, rainfall shower and bathtub compose the bathroom, which can be opened up giving the appearance of more space or closed creating privacy. Marble walls, floors and vanities are finished with rich warm woods continuing the British colonial theme.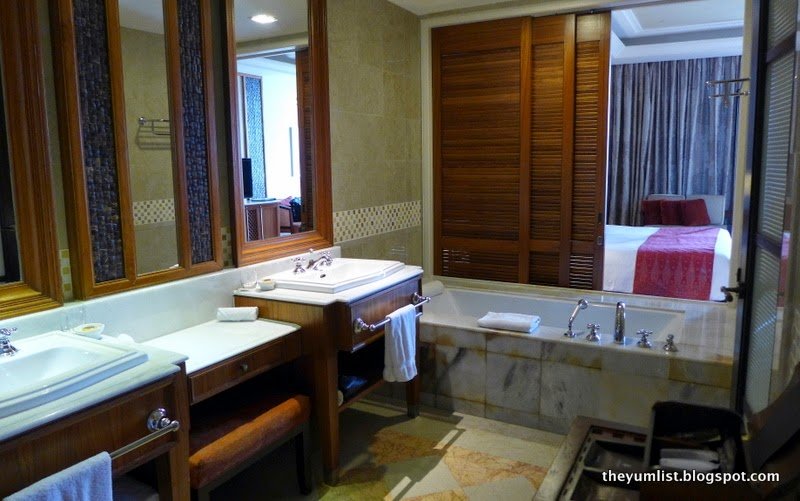 Bathroom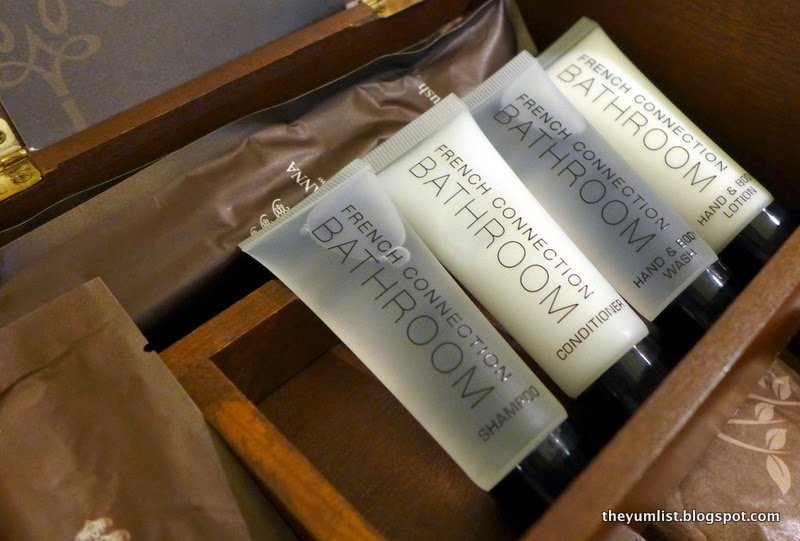 French Connection Bath Products
It's the balcony however, upon which we spend most of our time. The 180 degree postcard-perfect canvas is filled with a sumptuous array of blues of greens. With sliding doors open, we capture ocean drafts and rely on the natural air circulated by the ceiling fan rather than that of the artificial air conditioning. It's such a pleasant change from the city.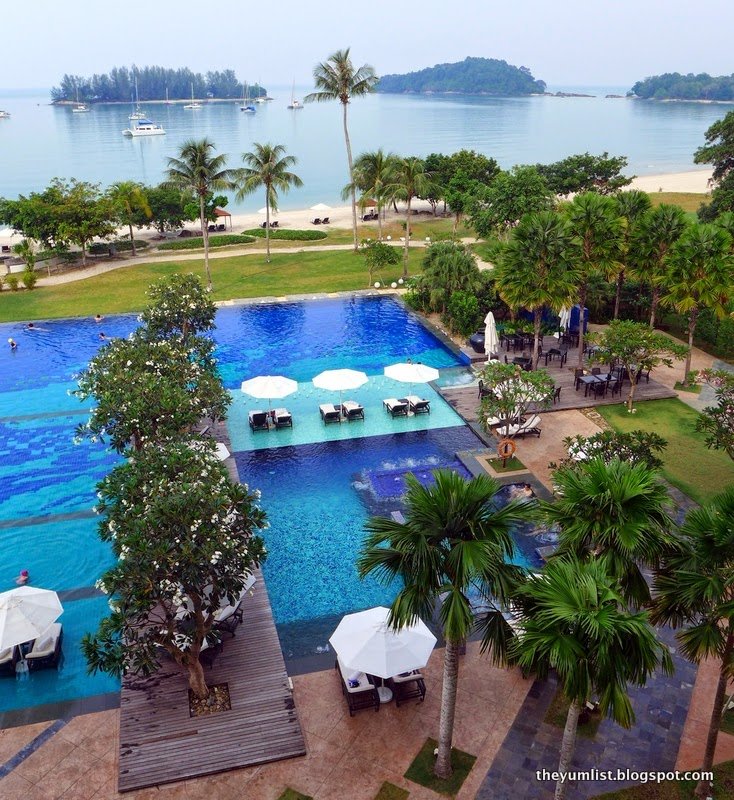 Seaview Room View
Food and Beverage
Two restaurants and two bars provide sufficient all day dining options for both in-house and visiting guests. As mentioned earlier, those staying for longer periods wanting more variety need only walk next door the marina to find Russian, Spanish, Chinese, Malay and a host of other alternatives.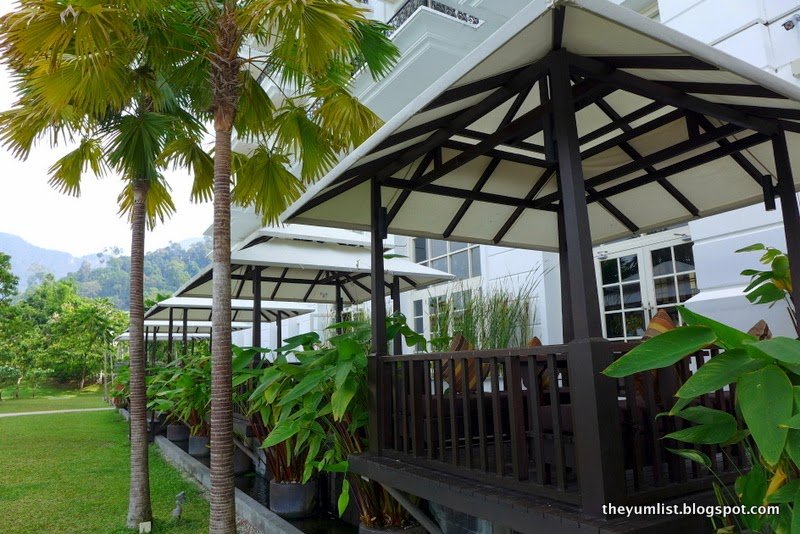 Shady Outdoor Seating
Colonialism is clearly seen in the design of the The Planter's with its pale walls, tall ceilings, contrasting dark wooden furniture and white linened tables. With an outlook over the swimming pool and further beyond to the sea, this outlet serves a variety of European, Mediterranean and local cuisine in both air-conditioned comfort or al fresco dining. This is where breakfast is taken, which we declare of good standard.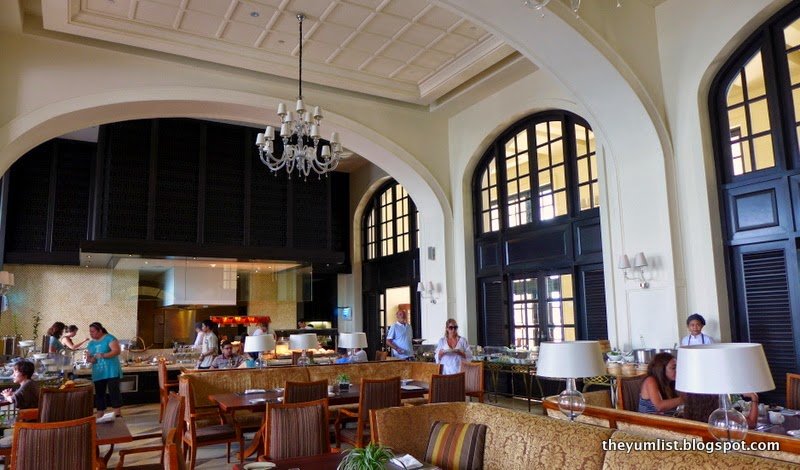 The Planter's
A buffet of local and international favourites is supported by an a la carte menu. Hubby's happy with the pancakes and orders them both mornings. The staff are only too happy to oblige my requests and I get poached eggs with spinach, mushrooms and grilled tomatoes atop wholegrain bread just as ordered. For those who like to luxuriate in a morning tipple on holidays, there's even sparkling wine to get the day off to a truly bubbly start.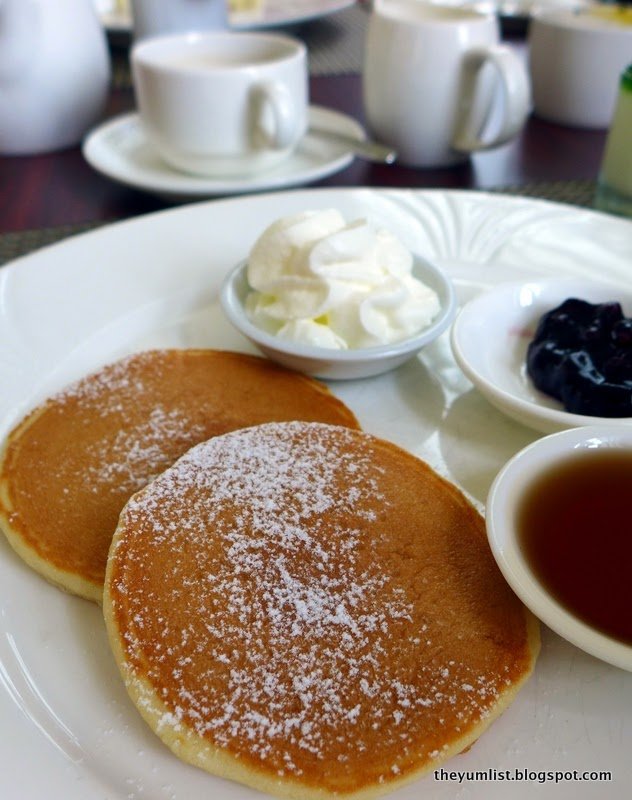 Breakfast
Private dining escapades, such as a romantic fine dinner on the beach or exclusive barbecue can be arranged through The Planter's with a day's notice. We spend an idyllic evening with our toes in the sand, sipping bubbly and being served by our personal butler. Read about it here.Tiffin Dinner is another signature moment proposed by The Danna and too can you find our account of the journey via this link.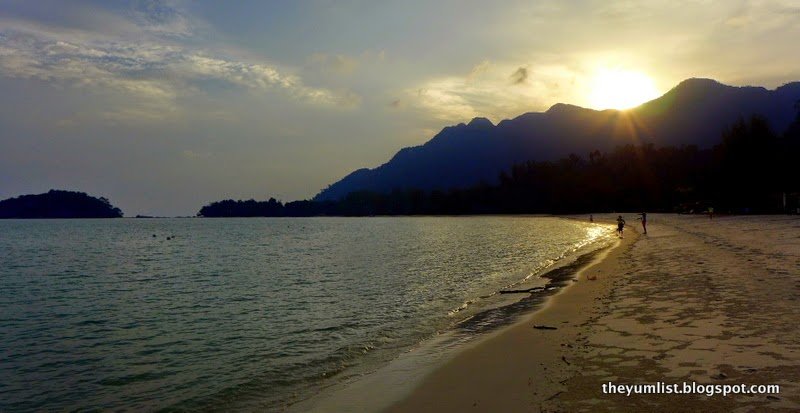 Sunset Beach Dinner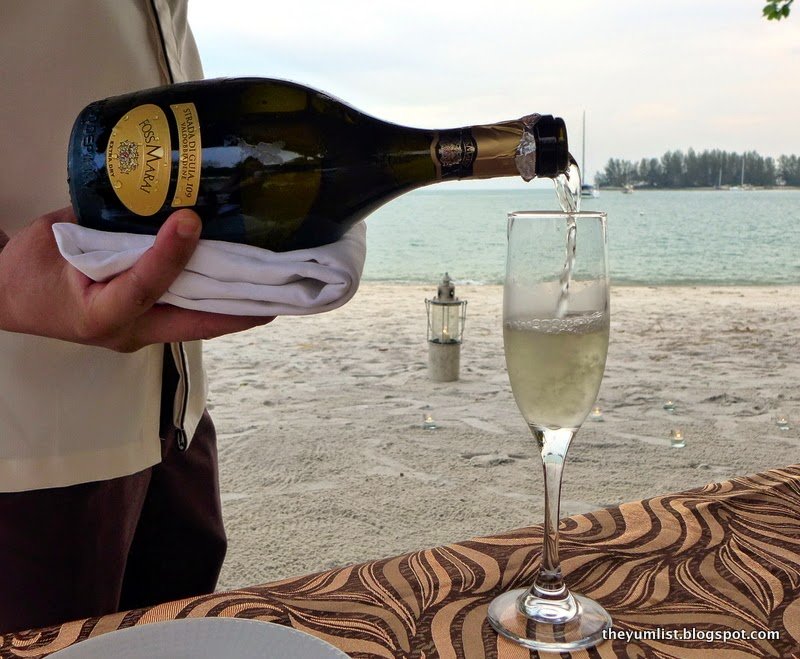 Bubbly Sunset Private Beach Dinner
Also overlooking the pool and sharing some of the colonial interior design of The Planter's, Straits and Co. offers British-Malayan cuisine, with the tradition of afternoon tea being an island favourite. Peranakan floor tiles and ceramic vases remind of times long past, but professional and graceful service has been carried over to the present. We partake in the afternoon ritual and enjoy a couple of lunches here too. Read about our experience via this link.
The Verandah lounge is a distinguished spot for pre or post dinner beverages. Towering windows with long luxurious drapes to match, lofty ceilings, giant pillars and grand chandeliers embrace the space with a stately air. Studded leather lounges and armchairs are fitting locations for a whiskey or fine cigar. Live music entertains guests six nights a week.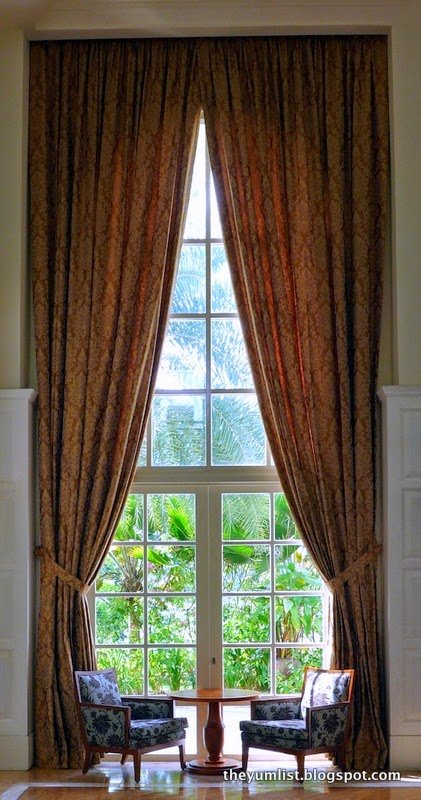 Table for Two – The Verandah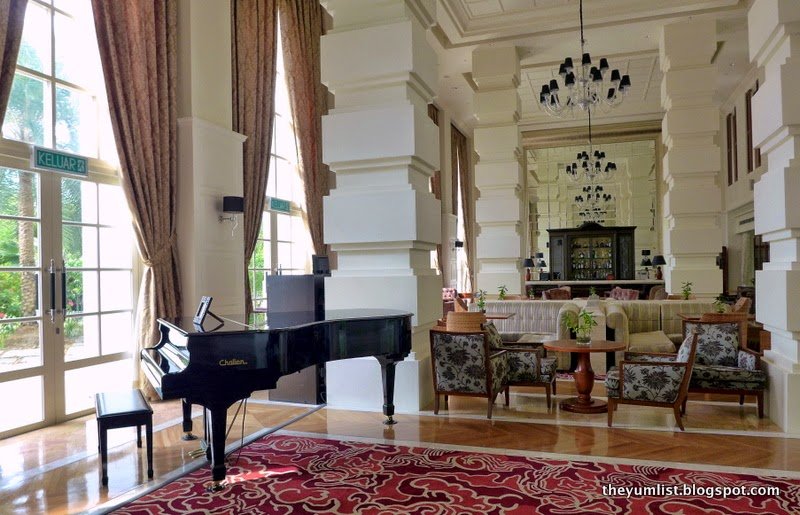 The Verandah
Making the most of the warm island weather and gentle ocean breezes, Pool Café offers both local and European snacks and drinks at the beach and around the pool. Sunset is a great time to arrive to benefit from the Happy Hour specials from 5 – 7pm.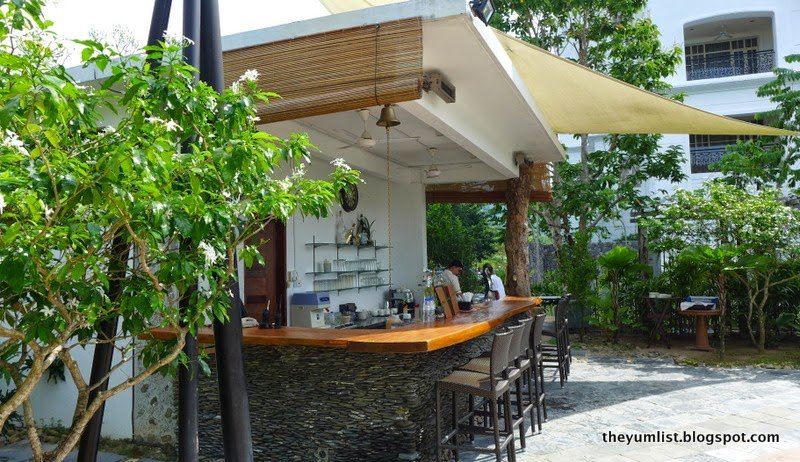 Pool Bar and Cafe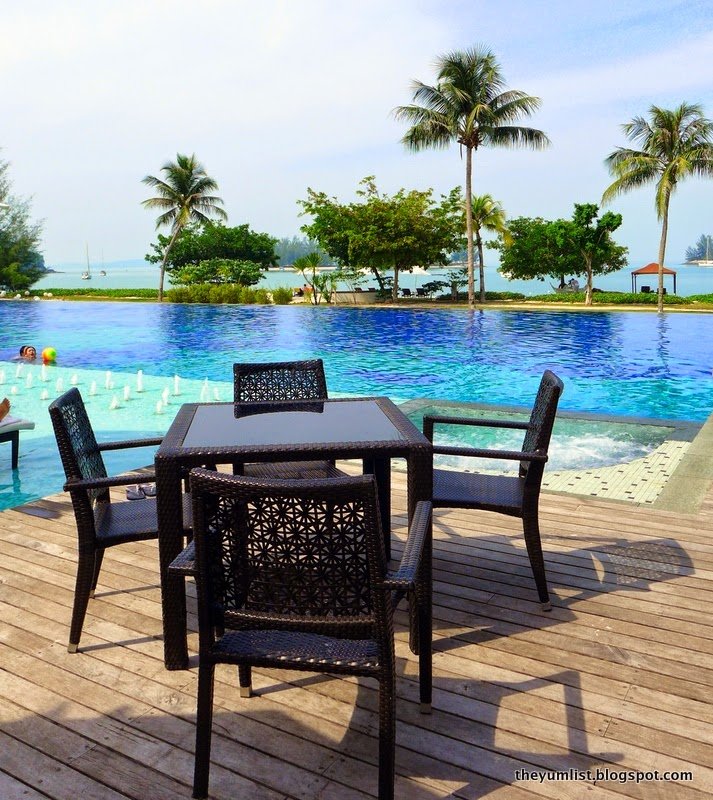 Poolside Table
Facilities
An enormous (in fact it's said to be the biggest on the island), three tiered, infinity-edged pool is the highlight of the common area. Boasting a huge 51.2 x 15m area, it's a spectacular bond between hotel and shore. A seat in or by the water promises an outlook over the beach and ocean. Dotted with deckchairs and white umbrellas, it's a popular place to lounge, cocktail in hand, soaking up Langkawi's sultry rays. A bubbly back massage in the Jacuzzi siding the main pond is one of our favoured activities, as is a splash in the children's pool for the few youngsters at the resort.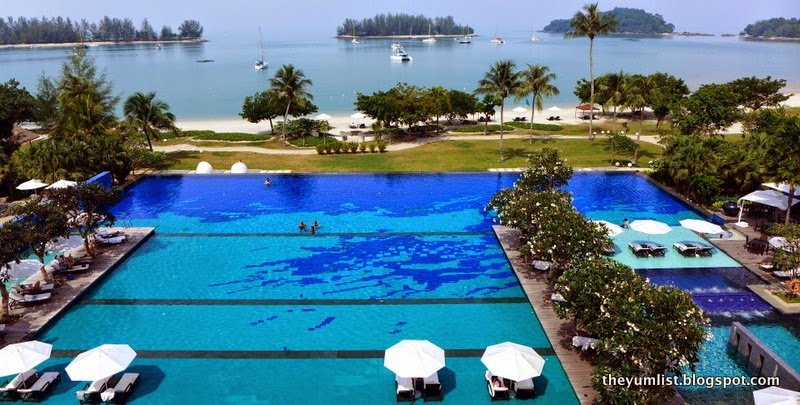 One of the Biggest Pools in Langkawi
The Danna fitness centre keeps bikini and board short bodies in shape with a solid range of cardio machines and free weights. Bordered by three glass walls the views are inspiring, motivating even the least energetic to work up a sweat. Towels, water and fruit show the attention to detail that goes along with the rest of the resort.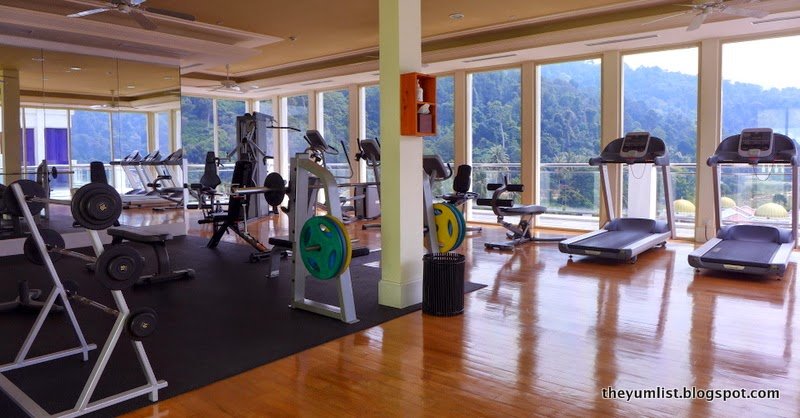 Gymnasium
For more indoor fun, especially useful in the hotter midday hours, the Games Room is a good backup. Furnished with an 8-foot snooker table and a collection of popular board games, it serves as adept entertainment in inclement weather. The Library saves a bit of baggage allowance with a shelf of books and local newspapers, and has a dream worthy spot at the front with tall windows overlooking the pool and sea.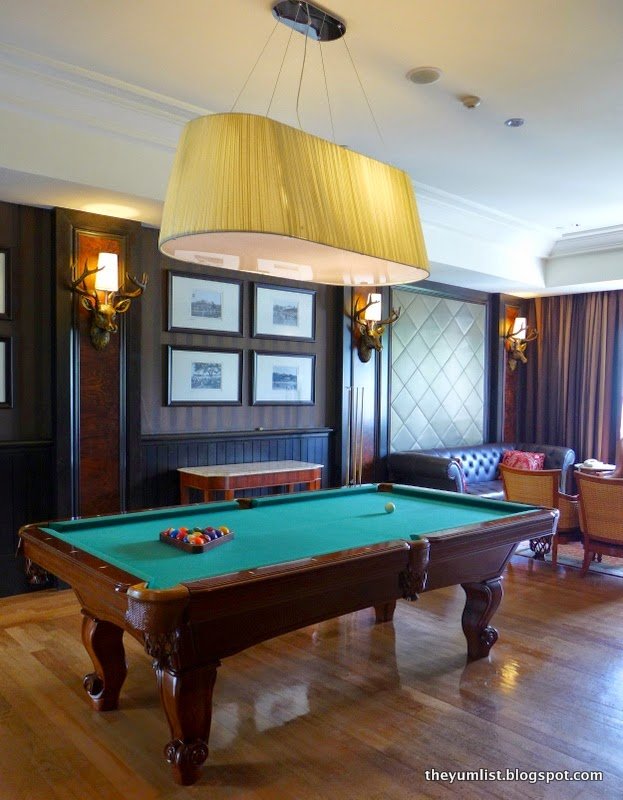 Games Room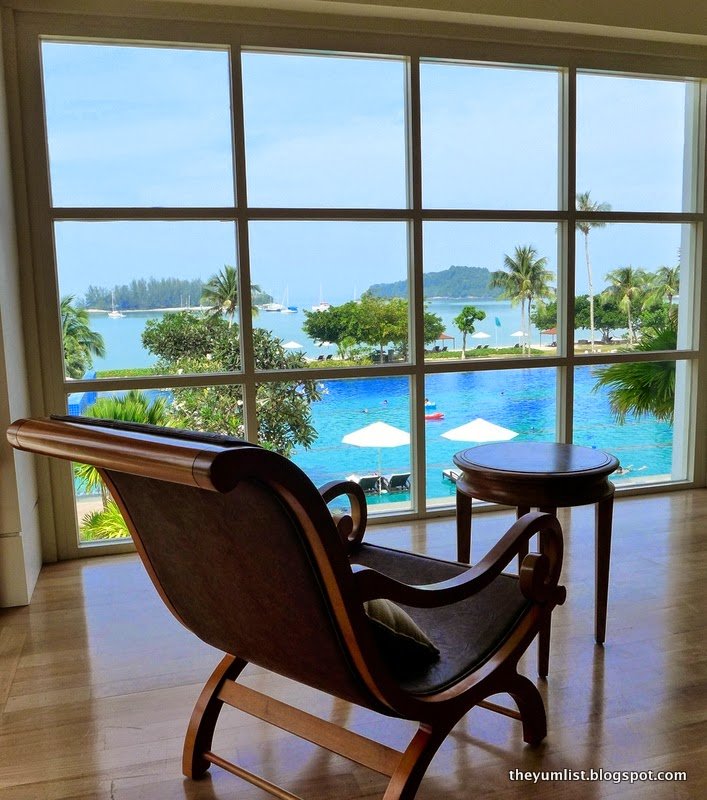 The Library
Giving parents a break and children some amusement, The Danna Kids Club provides supervision in a play room, games room and movie room from midday until 8pm. What's more, it's free for children aged between four and twelve years.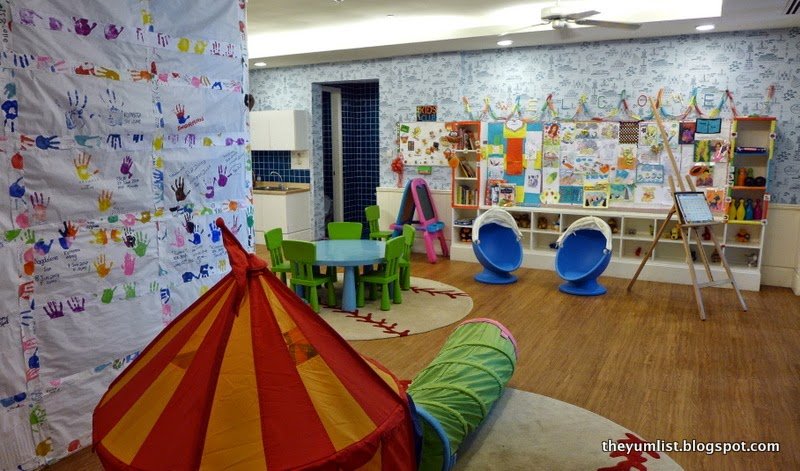 Kids' Club
The Danna Spa benefits from its elevation on the top floor, gifting visitors with views of the marina and lush green hills. Reservations are a must for the seven single and two couples rooms. We indulge in a few treatments. Read about what we recommend here.
As is often the case with wonderful experiences, time passes too quickly and before we know it, it's time to say goodbye.
Reasons to visit: stunning location; warm hearted service; good food and beverage options; not far from the airport; easy access to Telaga Harbour shops, dining and entertainment; beautiful ocean views.
The Danna, Langkawi
Telaga Harbour Park Pantai Kok
07000 Langkawi
Malaysia
+6 04 959 3288