Colonialism is clearly seen in the design of the The Planter's with its pale walls, tall ceilings, contrasting dark wooden furniture and white linened tables. With an outlook over the swimming pool and further beyond to the sea, this outlet serves a variety of European, Mediterranean and local cuisine in both air-conditioned comfort and in an al fresco setting.
Daytime the environment is light with a smart casual garden vibe. Evenings see a little romance infuse itself into the mood. Live piano music tinkles the background with songs of a similar style as, Somewhere Over the Rainbow. In between sets soft ballads croon from the speakers. Warm lamps radiate a soft glow and tea lights flicker on tables.
The menu is wide, but we've heard the Tiffin Sets are something to purr about so we embark on this tradition for two. A choice of Malay, Indian or Thai cuisines are served in tiered metal pots historically used as a type of lunchbox. Aiming for a taste of local we order the Malay Set for Two (RM180).
Soto Ayam, chicken soup, is a nourishing beginning. A clear broth holds shredded chicken, rice cakes, peanuts, grated cucumber, fine glass noodles and chopped spring onions. The nuts seem to have been added at the last instant as they provide a lovely crunch. Hubby names it a "loaded soup," and I see what he means. The petite bowl is almost bulging with the fillings. I like mine best with a good squeeze of the lime adding some tart citrus to the broth, while hubby tips in the small dish of soya sauce providing a salty boost.
Fresh vegetables (cucumber, tomato and steamed eggplant), a chili dipping sauce, and a silver bowl of steamed rice accompany the tiffin carrier of four tiers.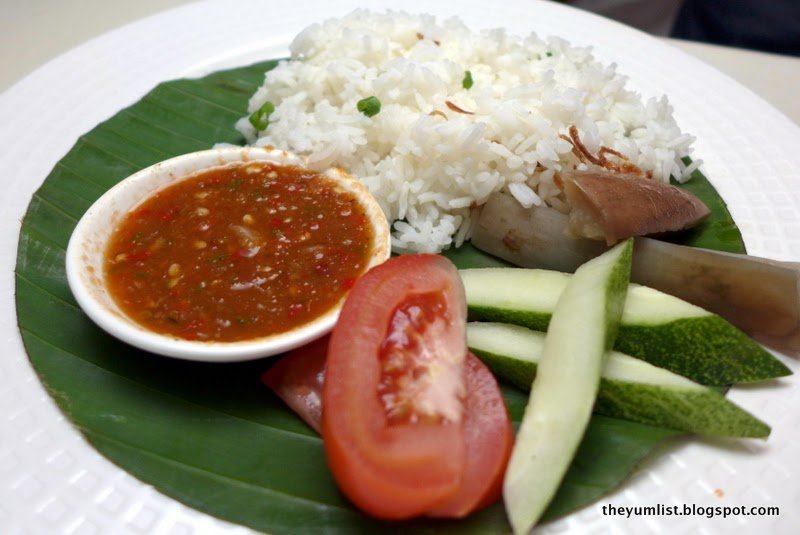 Rice, Chili Sauce, Veggies
Kari Ayam Dengan Kentang, chicken curry with potato, is covered with a thin creamy sauce. The spice isn't immediately evident. It's not until the final chew that it spreads across the tongue, but then quickly disappears. The chicken might be a tad dry on its own but the sauce compensates with its molten texture. The potatoes are thoroughly cooked while still maintaining their firmness, which I quite like.
Udang Masam Manis, sweet and sour prawns, bring king-size specimens. They've been deep fried in their shells. I imagine you're supposed to eat the casing however, I still pull mine apart in the hope of avoiding a few excess calories. The sweet and sour sauce is in perfect balance, not overly sweet as I found some can be. It leaves the tip of the tongue tingling. "Delicious," declares the hubster.
Daging Masak Lemak Chili Padi, braised beef with chili and coconut milk, has my taste buds in a whirl with the rich creamy coconut milk. It too has a good kick, but the spice is smoothed over lightly with the richness of the milk. The beef is tender and sliced thinly, but it's the sauce that I keep spooning up and pouring over my rice.
Sayur Goreng Dengan Udang Kering, fried vegetables with dried shrimp, is filled with just cooked broccoli, cauliflower, carrot and mushrooms. It's exactly how I like my veggies prepared – still maintaining a light crispness with the raw edge discarded.
The meal has been flavoursome and the portion more than gratifying for two diners. The ambience has continued to be elegant yet relaxed. Service has been of high quality and staff are gracious, softly spoken yet confident in their English. Even with the absence of wine we've had a fab evening and would not complain one little bit if the evening were to repeat.
Reasons to visit: romantic location in the evenings; Malay tiffin set; superb service.