Long stretches of pristine coastline, some of the best wine regions in Australia, an awe-inspiring local foodie scene, and a happening arts culture, is what we've come to discover in Adelaide, South Australia. And… our apartment at
270 Degrees Liberty Towers
, found on
stayz.com.au
, is an ideal location and contemporary property from which to explore it all.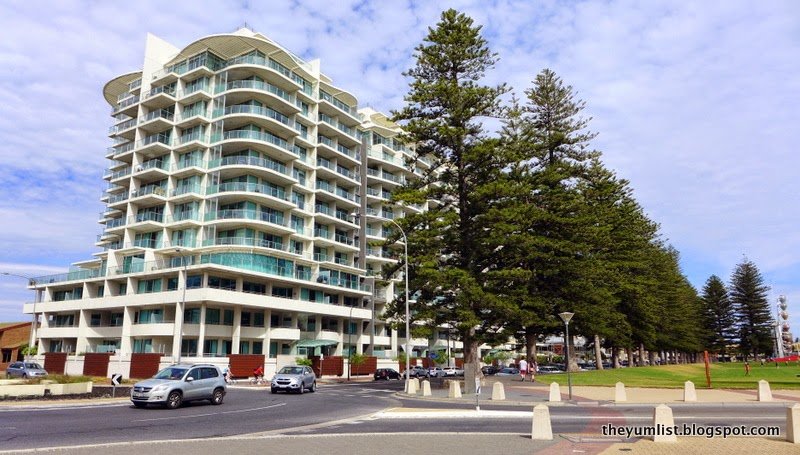 270 Degrees Liberty Towers, Glenelg, South Australia
Location
270 Degrees Liberty Apartments are in the heart of Glenelg, a mere 100 metres to the beach, marina, tram station and lively bundle of shops, cafes and pubs. We arrive on a Saturday afternoon to beautiful blue skies and a gentle sea breeze. As the night slowly falls, we discover this area is one of the best from which to view the spectacular sunset. The beach, parks and streets are teaming with folk of all ages looking to take in a little weekend leisure.

Glenelg Beach

Sunset Glenelg Jetty
Restaurants on the Marina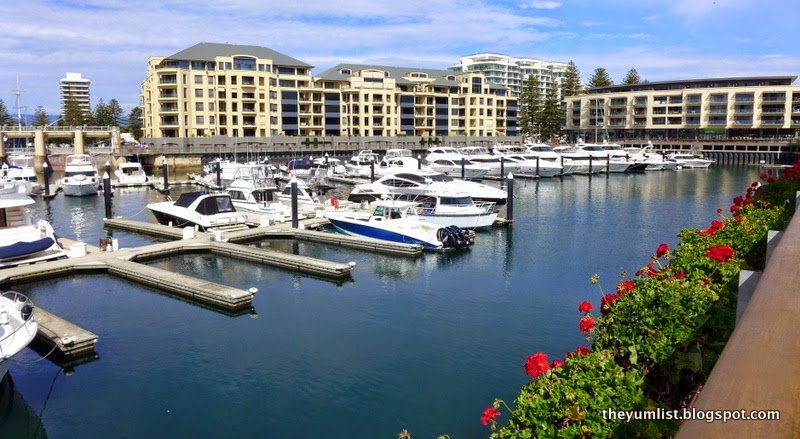 Marina
A children's playground with water slides, a Ferris wheel, and other amusements such as mini-golf are right at our front door. Glenelg Heritage Walks begin minutes from our doorstep, and we're only 15 minutes from the airport too. It's all so easy and convenient to access.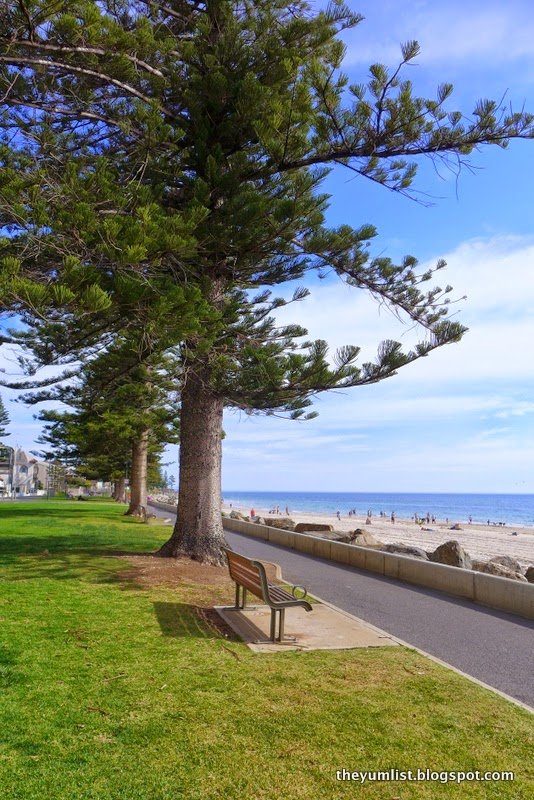 Seaside Glenelg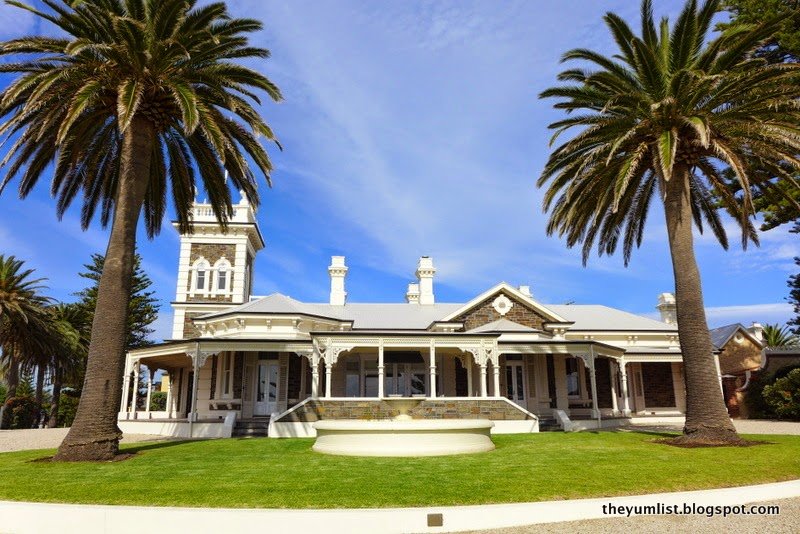 Old Architecture Viewed on Heritage Walks
Checking In
Official time to collect keys is not until 2pm, but I receive an email the day before, saying the current guests should be out early so the apartment could be ready as early as 11:30am if we'd like.
It's small touches like these that make us feel as though we're dealing with 'real' people, not a hotel and they continue throughout our stay. A fresh bottle of milk is left in the fridge for us, alongside a bowl of fruit, and tea and coffee in the cupboard. There's even a delicious block of raw chocolate from a local café and a free coffee card.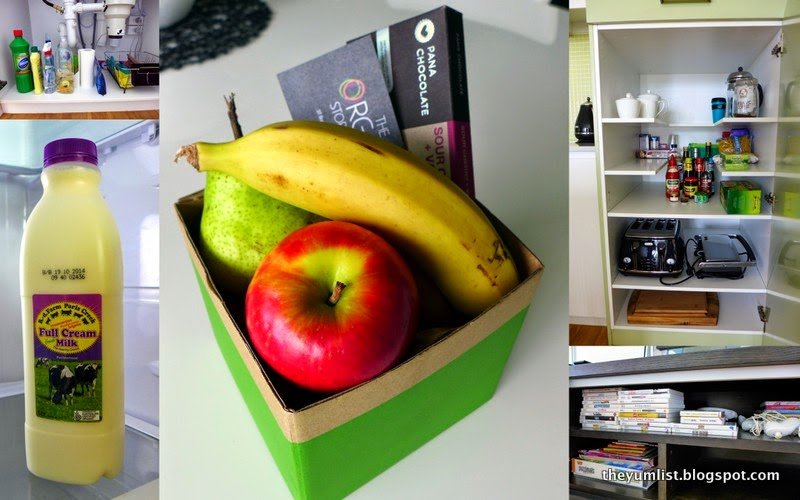 Feels Like Home
The laundry and kitchen are fully stocked with cleaning products. Beds are with linens, bathrooms with towels, and there is even a set of beach towels in the cupboards too. Hangers, reusable shopping bags, and an almond and vanilla scented shower gel, welcome us, as if into the home of a relative or good friend.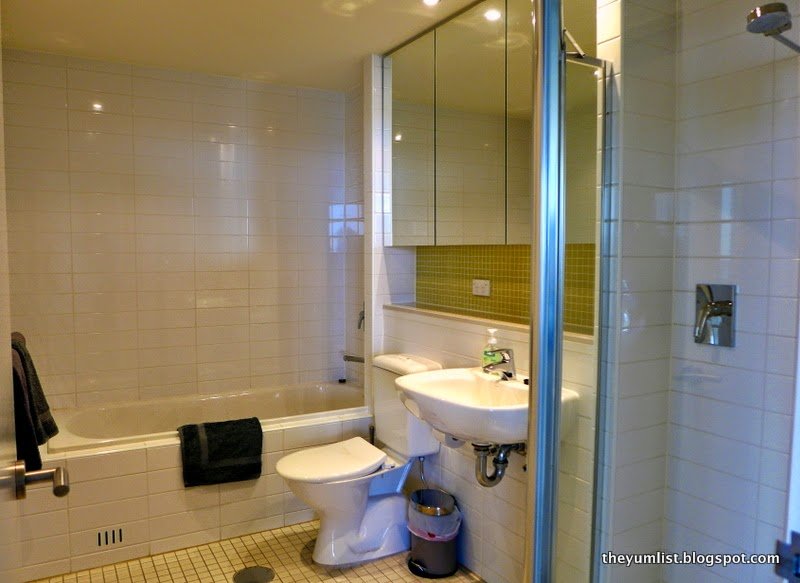 Bathroom
The building, the lift and all contained facilities can only be accessed with a security pass card. We have locked underground parking and a dedicated spot, so finding a park is never a problem. Our car stays underground too. We're walking distance to everything so rarely take it out from below.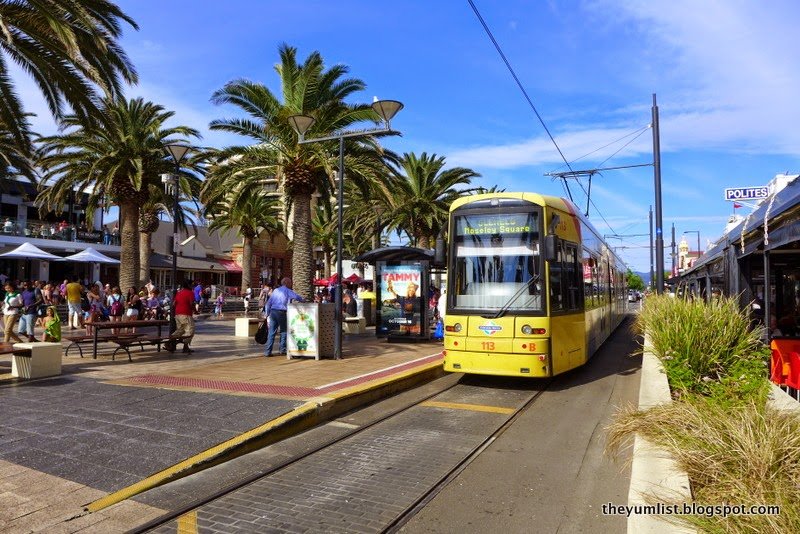 Tram
The Apartment
The first impression is a sense of spaciousness and luxury. The eleventh floor apartment, corner walled with glass, opens up to wonderfully blue Aussie skies, that truly, after living overseas for so long, are a real magnet to come home again. Coastal, city and hill views are all taken in from one of three balconies, the lounge room, kitchen and both bedrooms.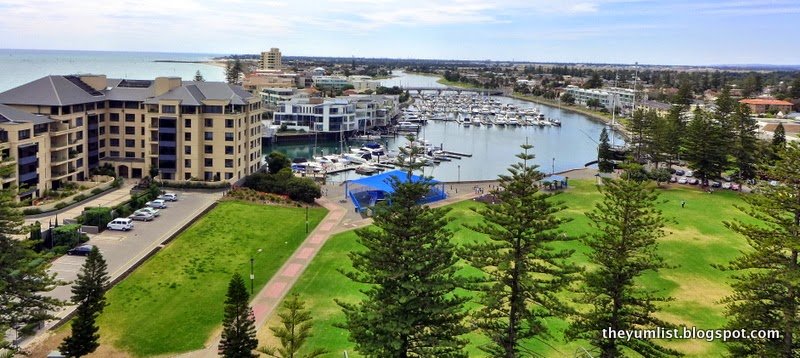 Views from the Balcony
The corner balconies overlook the marina winding around in a curvaceous slither from the river to the sea. Below is a verdant green parkscape lined with Norfolk pines. Furnishings for two beg to be laid with a pot of freshly brewed coffee in the morning and a cheese platter and wine in the later evening. The gas barbecue on the patio has hubby planning delightful evenings with fresh Aussie produce, and a number of local ales.
The living area is comfortable with two black double seater couches, textured cushions and a rug breaking up the wooden floors. A six seater dining table, and closeable TV room further furnish the space.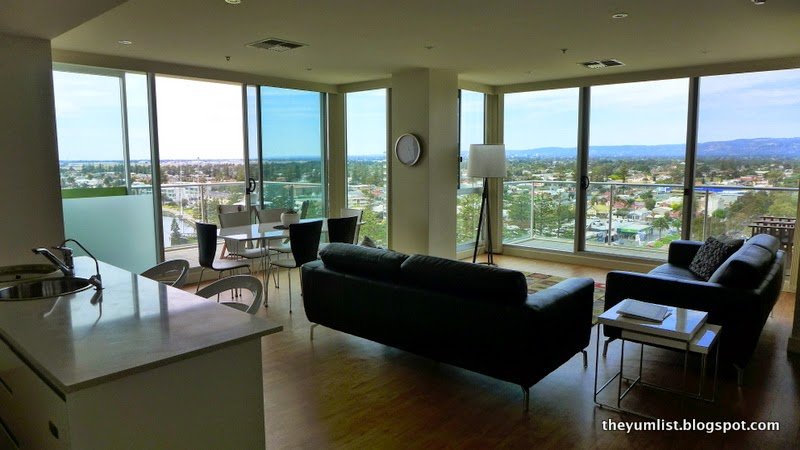 Living Room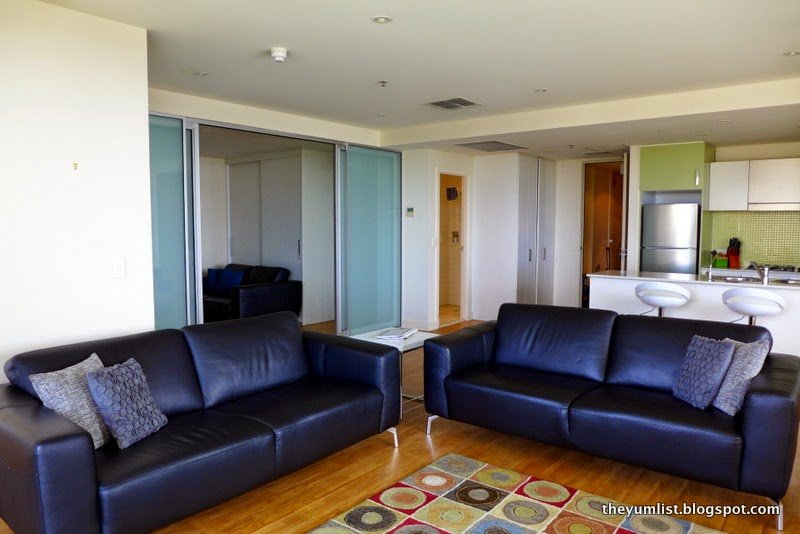 Contemporary Furnishings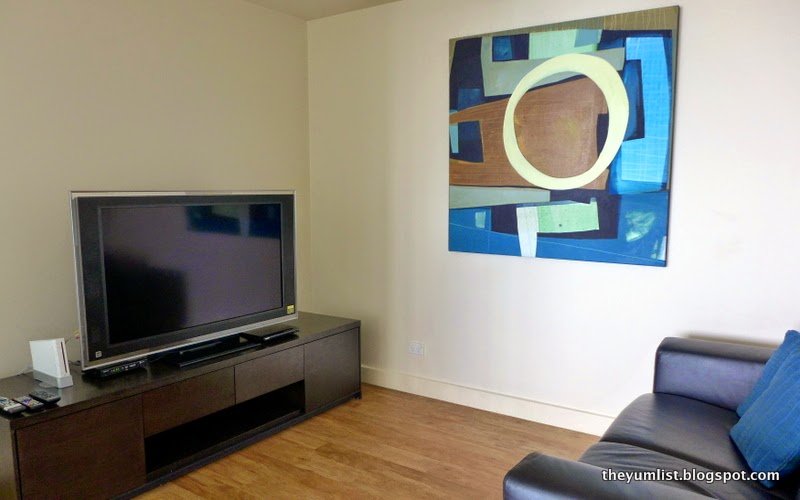 TV and Games Room
A breakfast bar with two stools divides the kitchen from the living area. A full size refrigerator, oven, microwave, gas stove top, and dishwasher supply modern conveniences. Crockery and cutlery are of good quality and more than enough for our visit. Toaster, sandwich iron, French press and a number of other appliances make our stay very agreeable.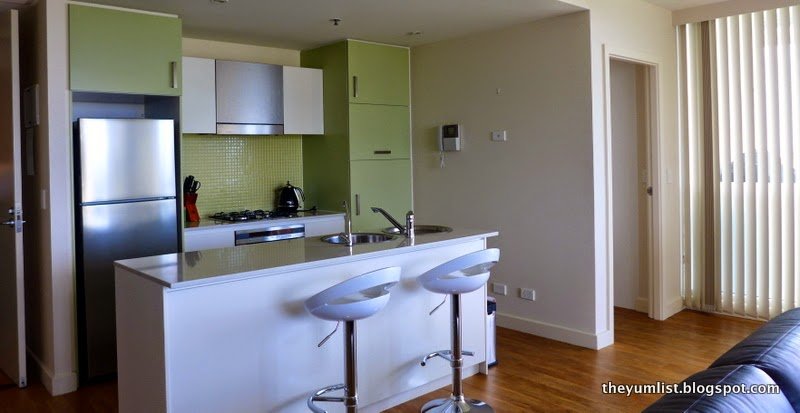 Kitchen
The laundry is closed off into a hallway cupboard and is fully equipped with sink, washer and dryer. It's such a wonderful change to a hotel, enabling us to limit what we pack and stock up on delicious Adelaide goodies to take home with us instead of an excess of clothing.
Two bedrooms offer their own private balcony with floor to ceiling glass sliding doors. Furnishings are simple, yet stylish and modern, adding just enough adornment for pleasant decoration but leaving the pretty views to shine in the spotlight. Abstract art adds a splash of colour to the white walls, but again doesn't overwhelm us with too much busy-ness. Two bathrooms are tiled with clean white ceramics. Both have separate showers and the main one has a bathtub also.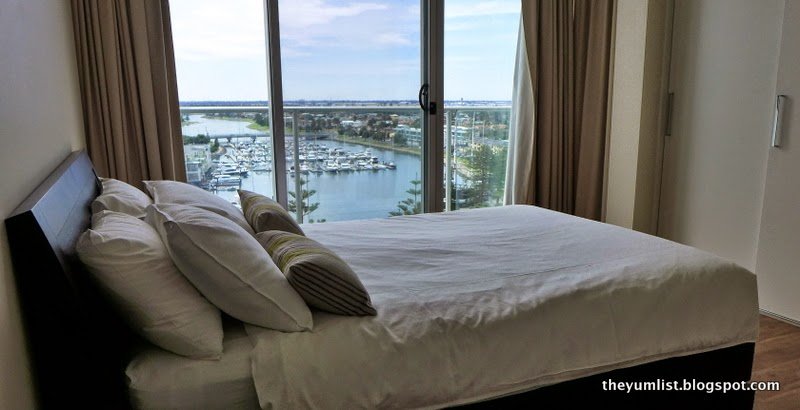 Views from Main Bedroom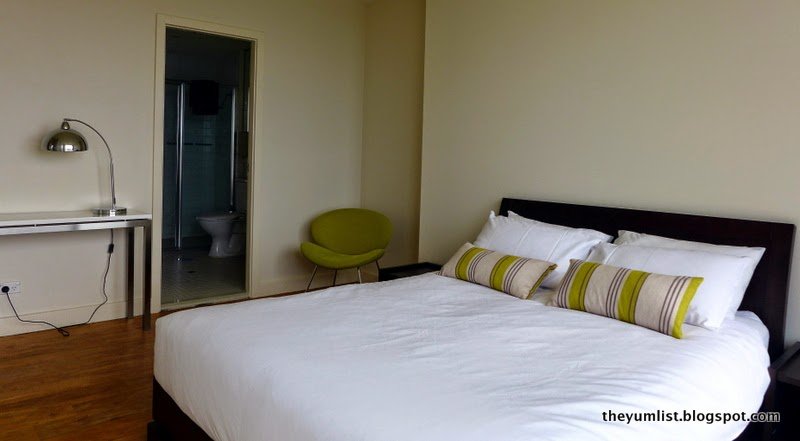 Master Bedroom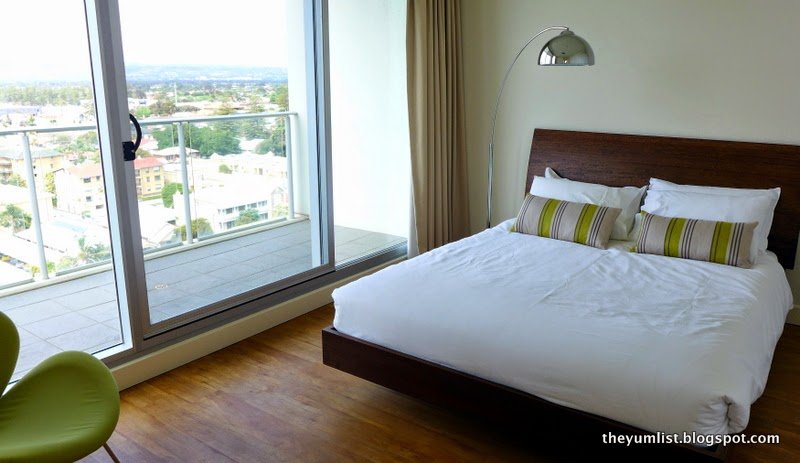 Second Bedroom
WiFi is not available within the apartment. A short stroll down the road however, and you're in the public plaza where WiFi is free to all.
Facilities
The stunning surrounds have us never wanting to spend a moment indoors. In the case of inclement weather however, the apartment has a number of facilities to keep us occupied. The first level contains a sauna, steam room, gymnasium, indoor pool and Jacuzzi. The apartment itself features a giant screened TV and a Wii device with a handful of programs promising hours of fun. A few board games support the entertainment.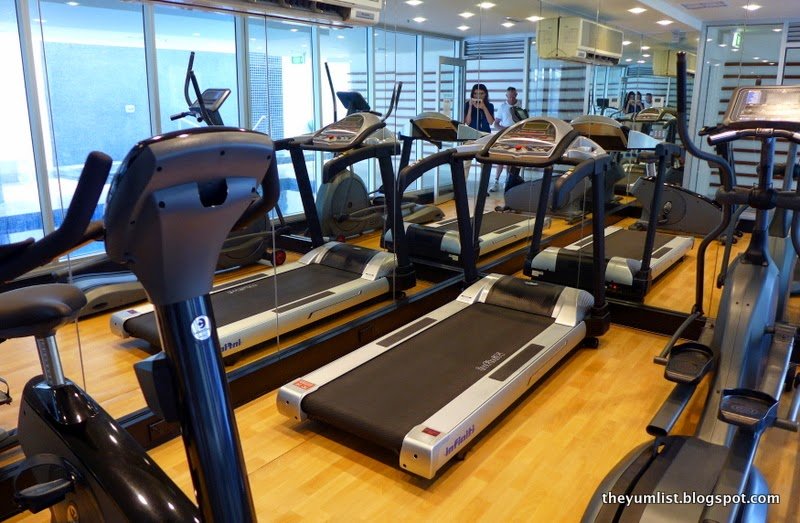 Gym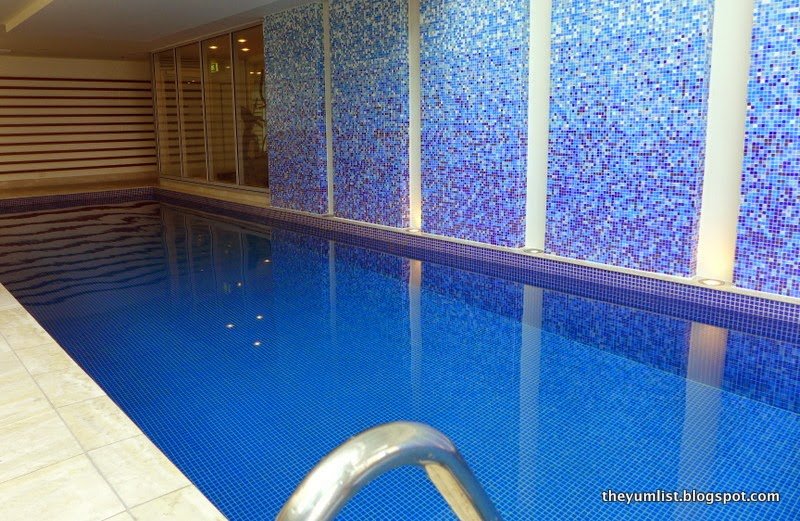 Indoor Pool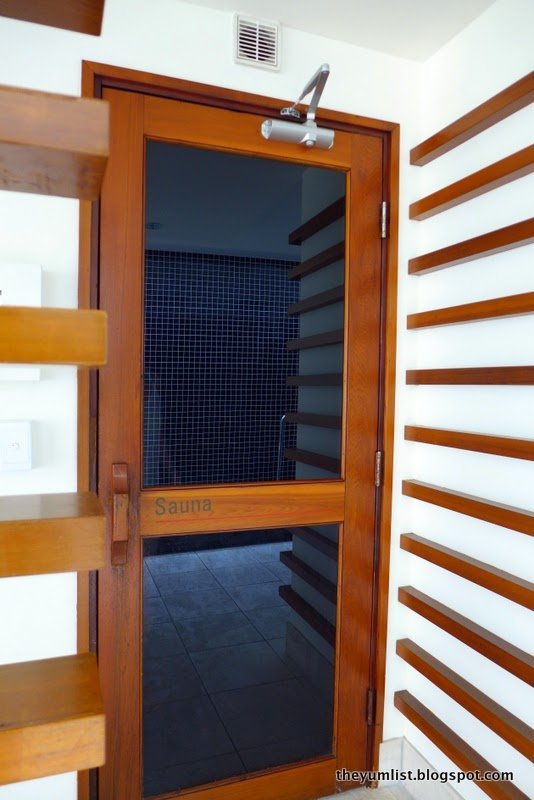 Sauna
This apartment building also has apartments managed by a hotel service. Even though we stayed as private guests, we were still able to use the front desk service and found the staff extremely helpful in giving recommendations, finding directions and supplying us with local maps. It also seemed to add a layer of security to our stay in the knowledge that there was always someone professional and friendly just an elevator's ride away.
Without a doubt we'd stay again at in this apartment at 270 Degrees Liberty Apartments in Glenelg. In fact, we've had such a positive experience with our accommodation and discovery of Adelaide, that we're already planning a second trip.
Reasons to stay: lovely light and airy apartment, beautiful hill and coastal views, excellent location in the popular beachside community of Glenelg, easy access to the city via the tram, comforting touches that only a personally managed property can provide.
270 Degrees Liberty Towers
Apartment 1127 Liberty Towers
29 Colley Terrace
Glenelg
South Australia
www.stayz.com.au/121920