Designed to resemble an underwater scene, the walls of Point Yamu by COMO's Thai Restaurant, Nahmyaa, are layered with half moon planks of wood mimicking fish scales. The entrance presents water views: first the pool and then further beyond to the ocean. Glass bulbs imitate water bubbles and giant goldfish cover the ceramic mosaic walls. Tables are wooden and round, and seated with cushioned chairs of an orange hue often found in Thai temples. It's here, at a table by the window that we taste what Nahmyaa has to offer.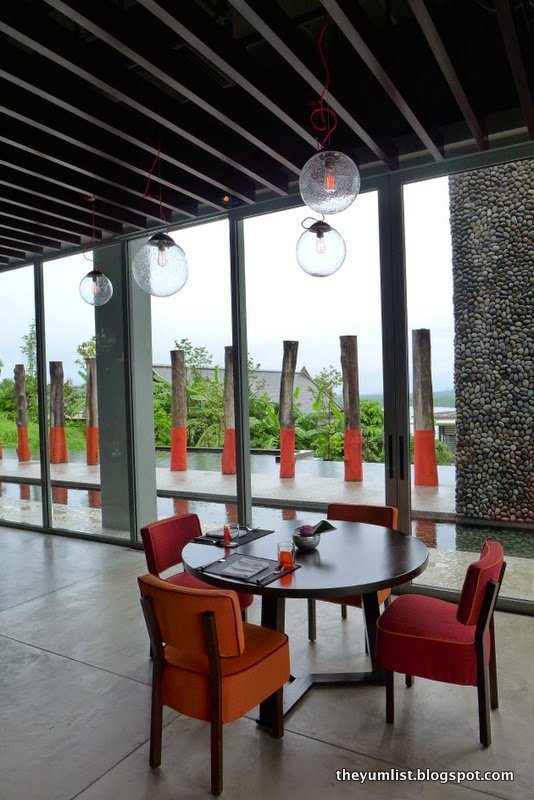 Nahmyaa
Drinks
 A signature cocktail, the Thai Chi is recommended as pairing nicely with the starters. Fresh mint and lychee are shaken with Chalong Bay rum, lime and a touch of sugar. Just the with a spray of Absinthe. It's fresh, but also provides a light coating on the tongue with the sweet lychee, and does indeed do well with the chili and other bite-y ingredients in the first plates.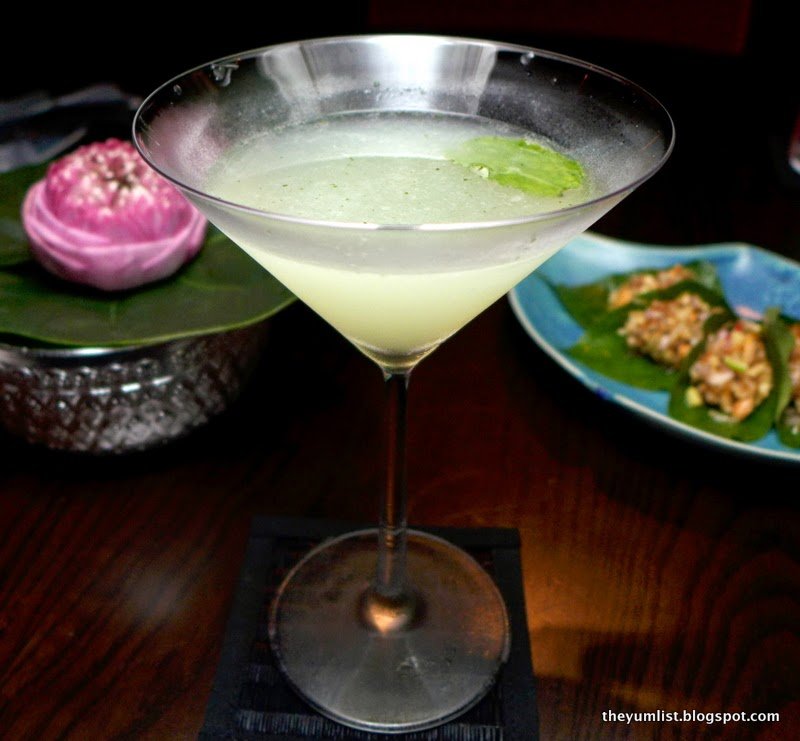 Thai Chi
Hubby thinks the Inner Sight is up his alley and it too proves a suitable partner for our spicy beginning. Fresh pineapple is muddled with homemade fennel seed syrup and orange bitters. This is then shaken together with Canario cachaca and Tio Pepe fine sherry and poured over ice in a tall glass. It's fruity and makes the hubster happy.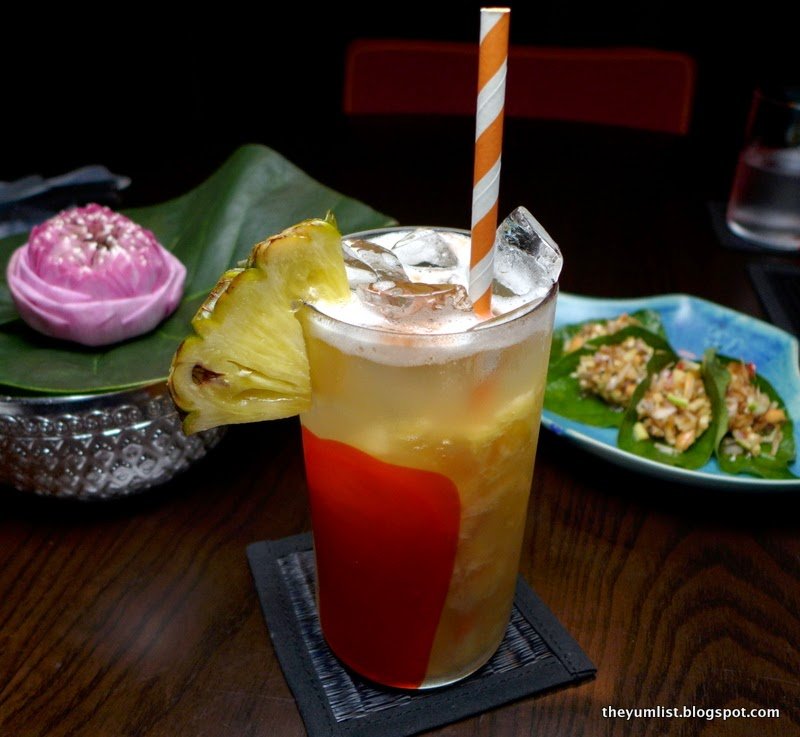 Inner Sight
Starters
One of my favourite Thai dishes, miang kham – Crispy Shrimp with Candied Coconut and Sour Fruit in Betel Leaves – commences our tasting. These dainty parcels are filled with finely chopped peanuts, tiny shrimp and lime. They're super fresh and a mouthful of texture and flavour. Spice hits the back of the throat, causing my eyes to water as I swallow, but then my palate is assuaged with the finish of coconut and I'm ready for another.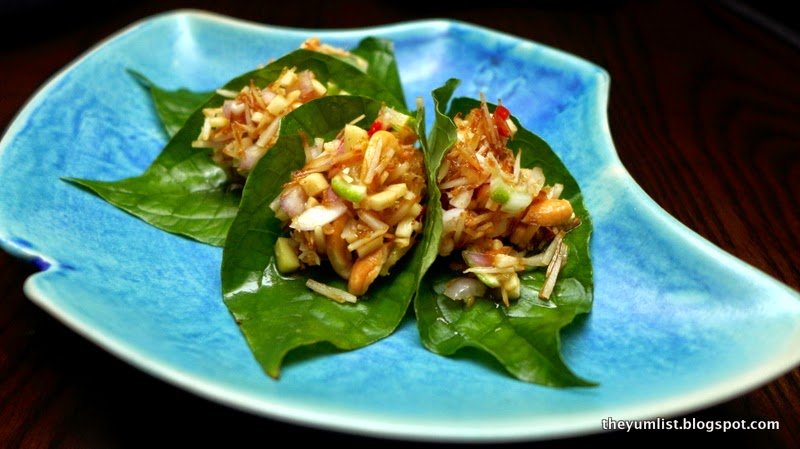 Crispy Shrimp with Candied Coconut and Sour Fruit in Betel Leaves
Spicy Kingfish Salad with lemongrass, mint and chili is very similar to our beloved ceviche. Raw fish is marinated in citrus and mixed with red onion and shredded kaffir lime leaves. It proves another very fresh starter: one with a kick that lingers on the tongue long after it disappears.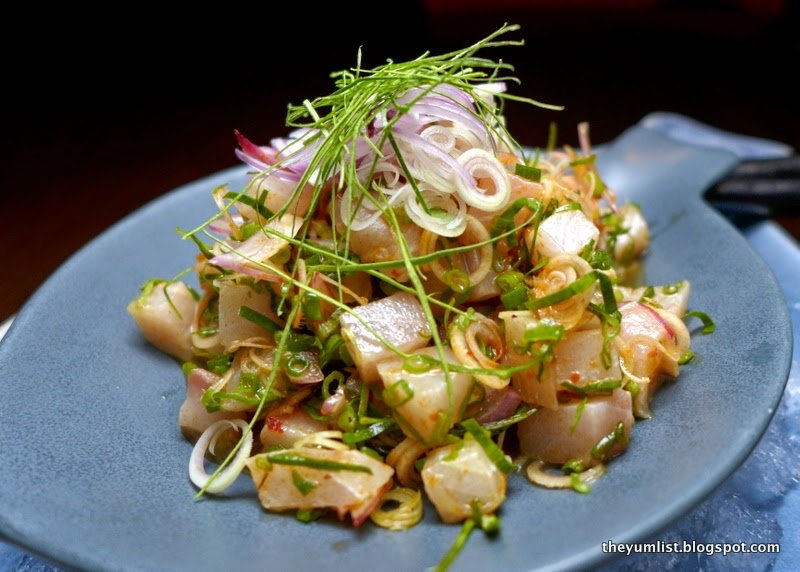 Spicy Kingfish Salad
We're glad we've left the Shelled Blue Crab with fern tips and wing beans in toasted coconut, as the last of the appetizers, as the coconut milk it sits in helps to temper some of the shock of the chili from the previous two dishes. Hubby declares, "Outstanding! Fantastic!" and looks for the waitress to confirm, "This one is delicious." Our gentle attendant confirms this is indeed a favourite amongst returning guests.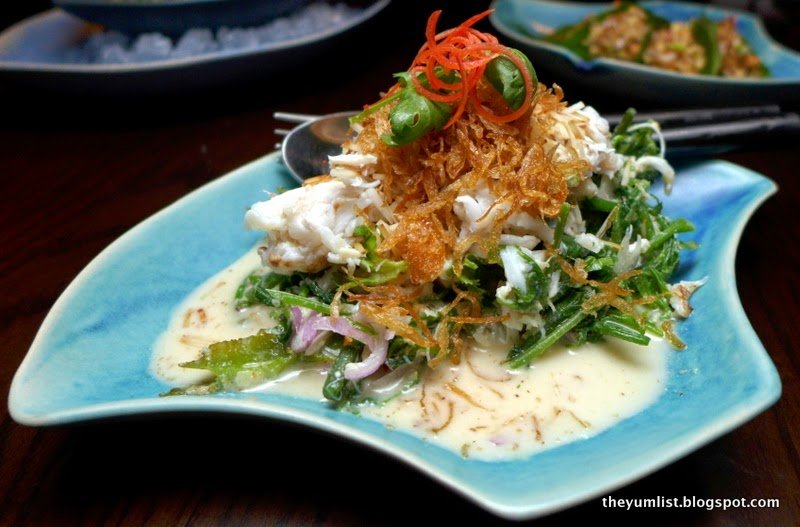 Shelled Blue Crab
Soup
Hot and Sour Snapper Soup with young coconut and grilled chili paste gives me warning in the first spoonful of the kick floating around in the broth. My nose clears, my eyes run and I dive in again. I find fat mushroom chunks, white flaky fish, halved cherry tomatoes, kaffir lime leaves, and plenty of red chili including the seeds. Hubby stops after he's picked out the fish and veggie pieces. I don't even make it half way through the broth before I give up. My lips are left tingling, but it's been a delicious beating.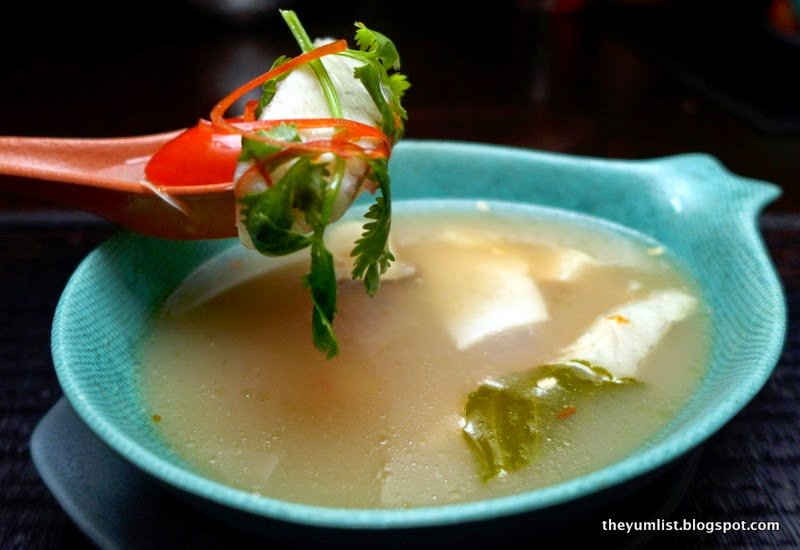 Hot and Sour Snapper Soup
More Cocktails
In anticipation of the mains we order more cocktails. Saw Sam Sai with its coconut cream base promises to go well with spicy dishes. Chili infused Tanqueray gin is foamed with lemon and lime juices, sugar and egg white. A tall glass carries the liquid and we find it fulfills its promise of mollifying the zap of the food.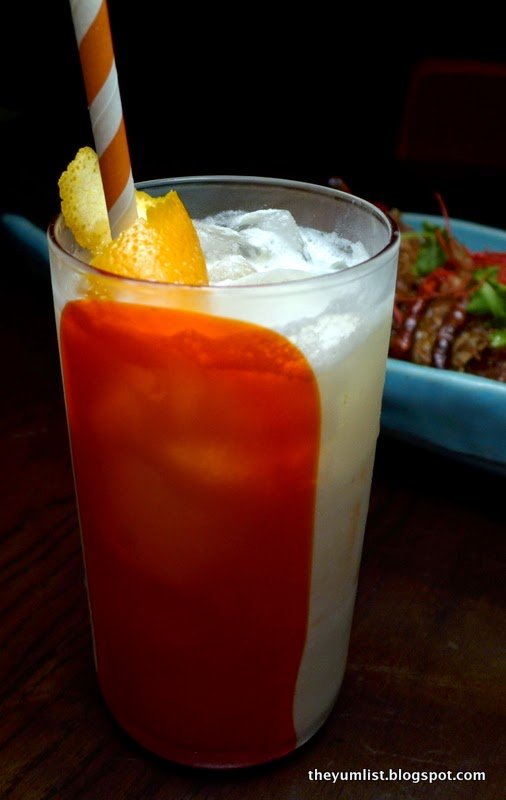 Saw Sam Sai
Third Date also grabs our attention with tamarind and vanilla shaken with Grand Marnier and Ketel One vodka. It's served on the rocks with an orange twist and is too swiftly slurped to completion.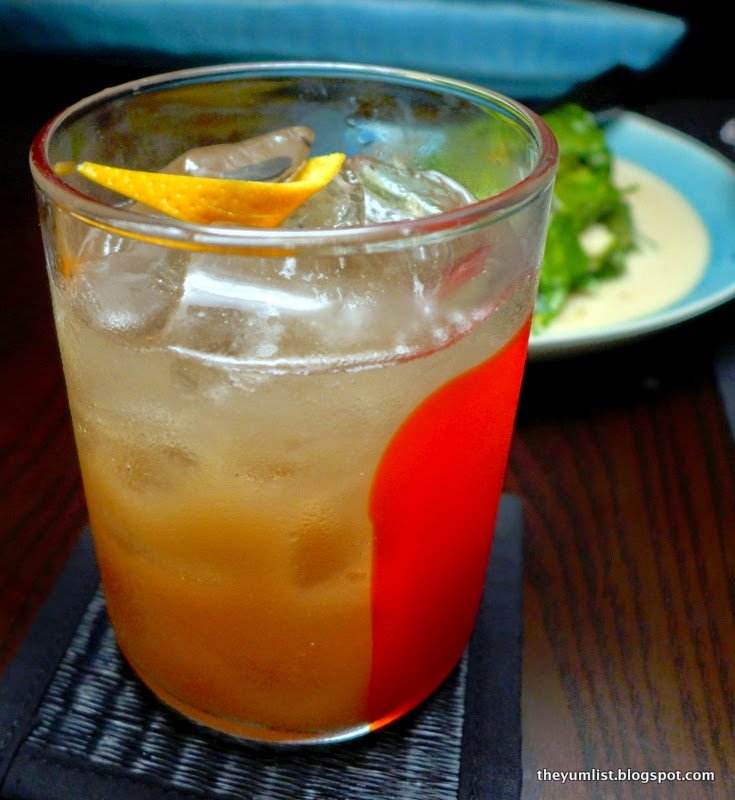 Third Date
Main Courses
A choice of brown or white steamed rice is offered from bamboo baskets. I appreciate the choice and jump at the sight of the plump chestnut grains. Not only does it provide a first-rate sponge for soaking up the sauces of our mains, but too adds a nutty texture and further flavour.
Choice of Brown or White Steamed Rice
A duo of hulking Charcoal Grilled Prawns lounge on the crest of green mango salad. It seems the Phuket version of this dish doesn't have the mild sweetness that I've become accustomed to from other places. It's healthy so I feel obliged to like it, but it doesn't quite hit the addiction button.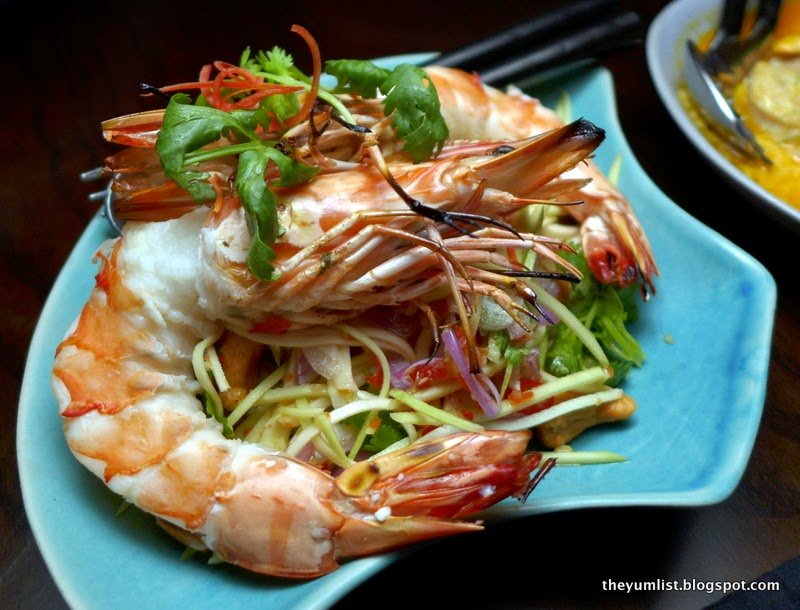 Charcoal Grilled Prawns
Crispy Fried Whole Grouper is doused in palm sugar, tamarind and lemongrass sauce. I have to be quick with this one, as even though it's an entire fish, hubby's fork keeps plummeting back in between moans of mmms and aahhs. The skin is brittle and sweet from the caramelized sugar, but provides a wonderful tart conclusion with the tangy fruit. Fetching in its entirety, it is though rather difficult to cut. But no problem… our waitress whisks it away and carves it for us, returning to us a plate that is bone, head and tail free.
Crispy Fried Whole Grouper
Rich Red Curry of Chicken and Coconut is given additional complexity with basil and cashews. The poultry is tender and there's an abundance of nuts. This, combined with the rich coconut cream, creates a winning union.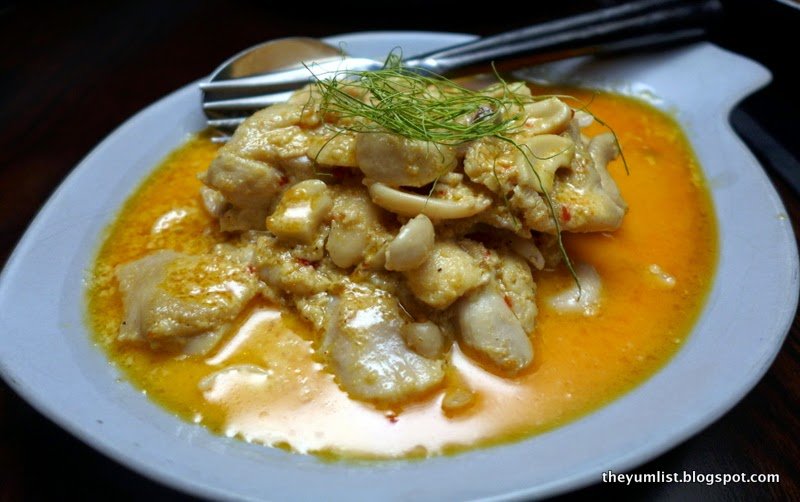 Rich Red Curry of Chicken and Coconut
A coconut and yellow bean sauce coats the Stir Fried Local Spinach. Sweet and smooth we lap it up by the spoonful. The greens are fresh but the sauce is heavenly. Liquid fills the mouth with each spoon, squishing out from between the leaves and leaves us beaming.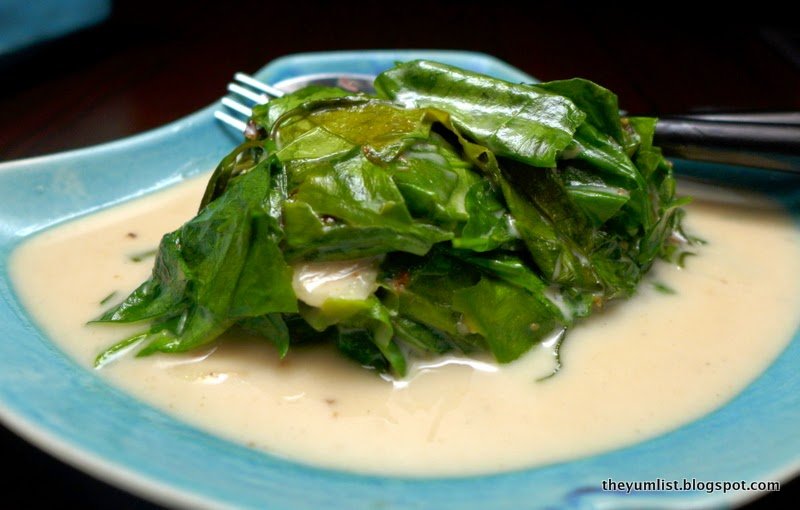 Stir Fried Local Spinach
Dessert
As dessert arrives hubby comments that we should have just asked for one to share. He quickly withdraws this statement however as the sweet coconut sauce washes his taste buds. Unchan Flower Noodles make a pretty ending with poached sweet tubers, fresh fruit and shaved ice filling the bowl.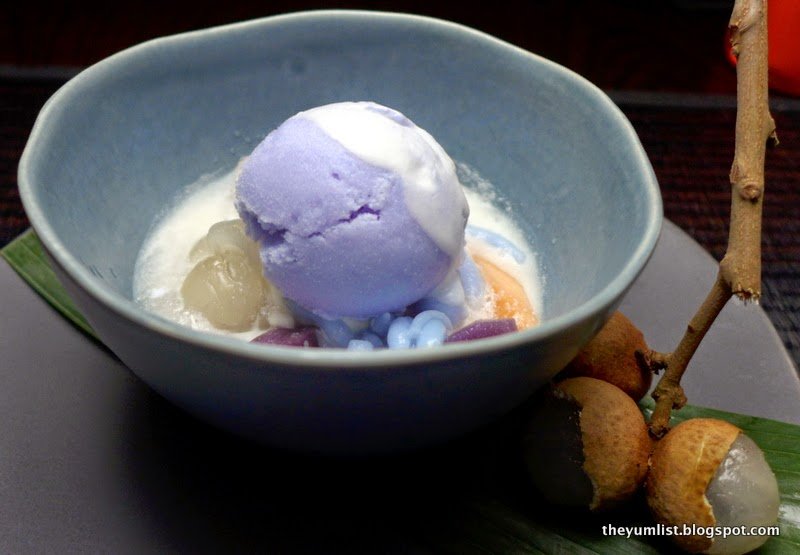 Unchan Flower Noodles
Green tea ends our meal and a surprise plate of petite fours finalizes the indulgence. Sticky egg cookies reminiscent of the filling in a salted egg bun only firmer, and jelly-toffee like tamarind sweets that are tangy and salty, expose us to treats we've never tried before. Our friendly waitress sees our intrigue and tells us her mum used to buy these for the family when she was young. They're traditional Thai candies. We think they're yum and a flawless conclusion.
Reasons to visit: Crispy Shrimp in Betal Leaf; Spicy Kingfish Salad; Shelled Blue Crab; Crispy Fried Whole Grouper; Stir Fried Local Spinach; Unchan Flower Noodles; Thai petite fours.