La Sirena Italian Restaurant is Point Yamu by COMO's all-day dining outlet. With a terrace overlooking the pool and Phang Nga Bay, it's a place where lingering longer is an attractive option. Tall ceilings, plenty of glass and a long rectangular dining hall give a freeing feeling of spaciousness. Giant black and white chessboard tiles form a simple mosaic on the floor and is complemented by aquamarine upholstery and tubular drop down lamps.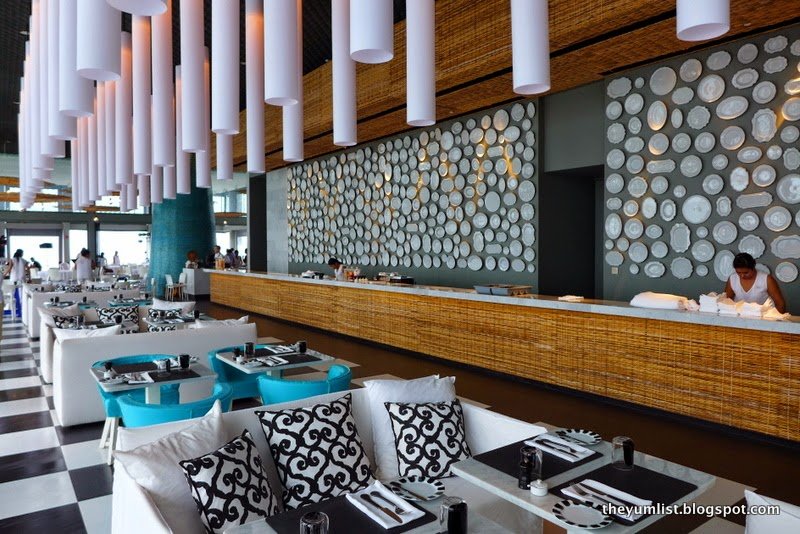 La Sirena
A buffet board runs the length of the restaurant making all the breakfast goodies easily visible to hungry guests. At first glance it's vibrant, filled with variety and packs in loads of healthy options. Read about our morning experience in tomorrow's article on Point Yamu by COMO.

View from La Sirena
The menu for the rest of the day is simple Italian fare featuring items such as pizza and seafood prepared in the wood-fired grill. Everything, where possible, is made from scratch – pastas, conserves, breads and even yoghurt.
The COMO Shambhala Healthy Alternatives menu is also available throughout the day. The selections on this menu adhere to the philosophies behind Living Food and Raw Food diets, which are rich in nutrients and high in living enzymes. This is definitely the menu that grabs my attention, so we spend an afternoon exploring the options.
A bag of bread arrives while we're considering the menu. Grissini sticks, crunchy lavish rectangles, and spongy sourdough with a good crispy crust are served warm with a small bowl of olive oil.
Therapeutic Wellness Juices
Juices are listed on the menu with their ingredients but also supposed health effects.  The Water Fall posits to relieve bloating and water retention, reduce weight and blood pressure and support kidney function. Sign me up! Cucumber, parsley, celery, fennel, pear and mint produce a vibrant green drink full of flavour and goodness.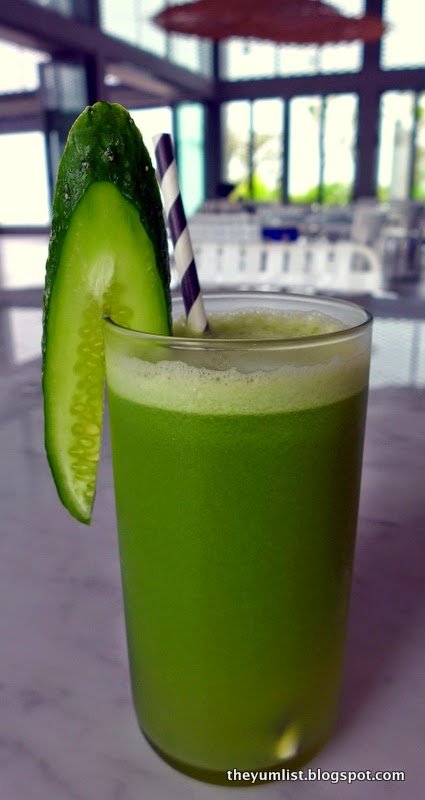 Water Fall
Hubby is rather fond of beetroot and so the Blood Builder is his order. Said to cleanse the blood, improve circulatory flow, and boost immunity and mood it too has appealing benefits. Beetroot, carrot, turmeric and celery colour the dish and provide a savoury base, while apple subdues it from being overly vegetable-y by adding a mildly sweet finish.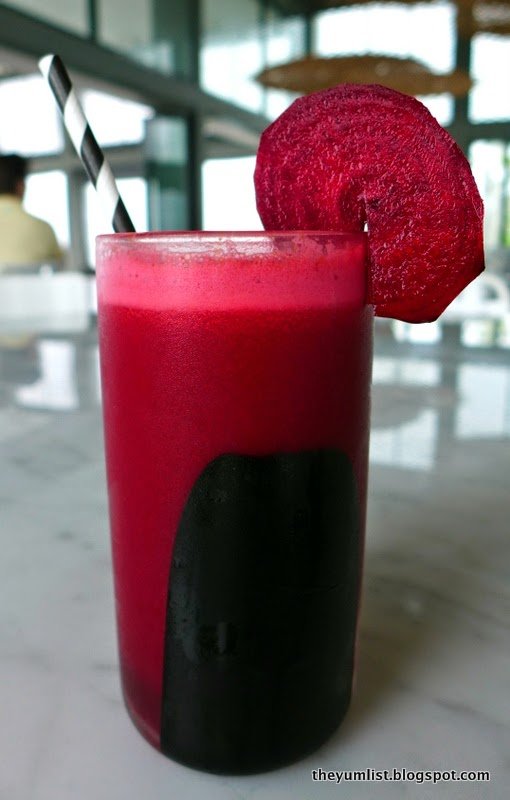 Blood Builder
Appetizers
Nut and Vegetable Maki Rolls with spiced tamarind dipping sauce (THB380) are presented beautifully. Four rounds sit at the front of the plate, while the two ends of the rolls rise from the back with the unchopped ends of veggies poking out. They're full of texture and super fresh. A great choice!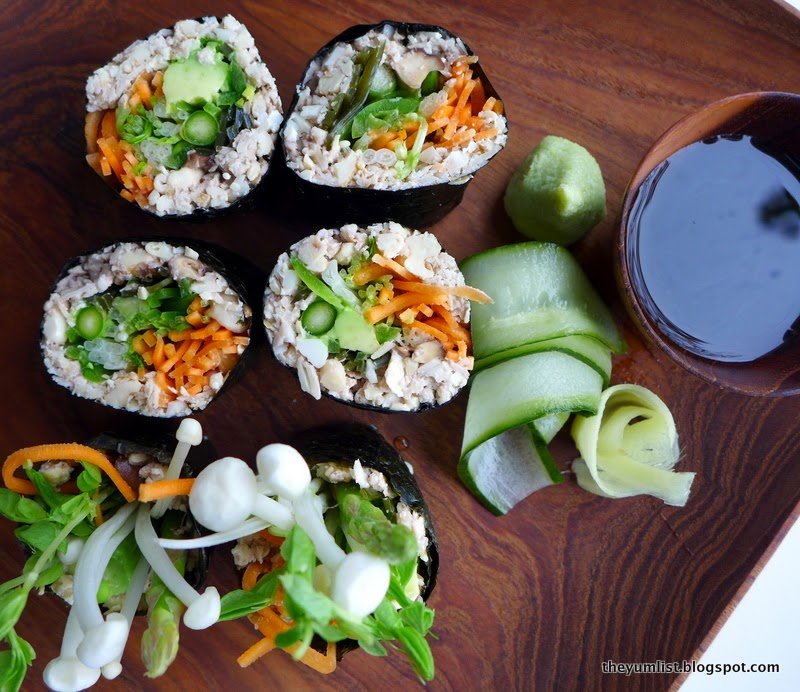 Nut and Vegetable Maki Rolls
Raw Tuna and Sea Vegetable Salad (THB580) is boosted with kale, avocado and alfalfa sprouts and drizzled with a pot of Japanese dressing for seasoning as you please. It's truly fabulous: fresh, textured, garden firm with a partially sweet and salty sauce. Small cubes of tuna are pink and could have been caught this very morning. Not only does it taste divine, we feel fabulous eating all of these greens.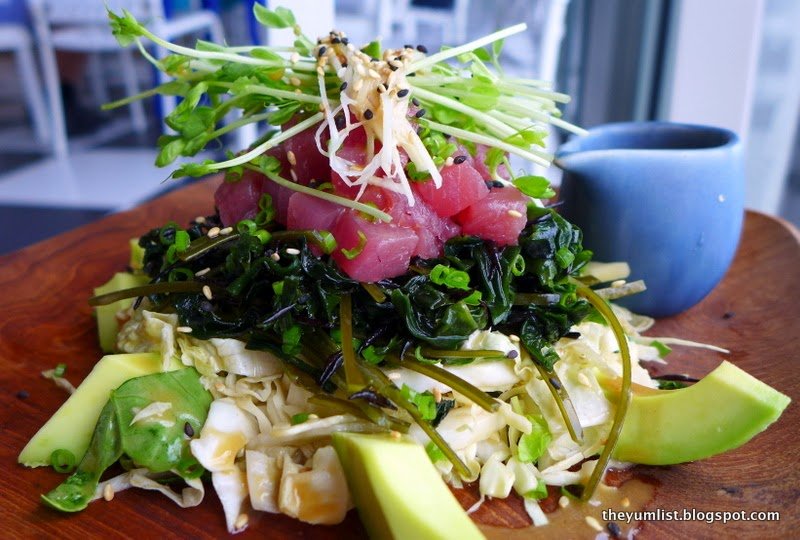 Raw Tuna and Sea Vegetable Salad
We're off to a feel-good start.
Main Courses
An avocado mash, sprouts and 'spa' slaw bulk up the Vegetable and 7 Grain Burger (THB520). A spicy tomato salsa yields a gratifying zap. Giant wedges of sweet potato have me salivating and the 'bun' of half an iceberg lettuce puts a smile on my face. It's delicious. The patty is soft within, yet holds together and is lightly toasted on the exterior. The lettuce bun is full of crunch and provides a very clean finish that won't leave me feeling sluggish, which would have happened with the usual carb-injected standard.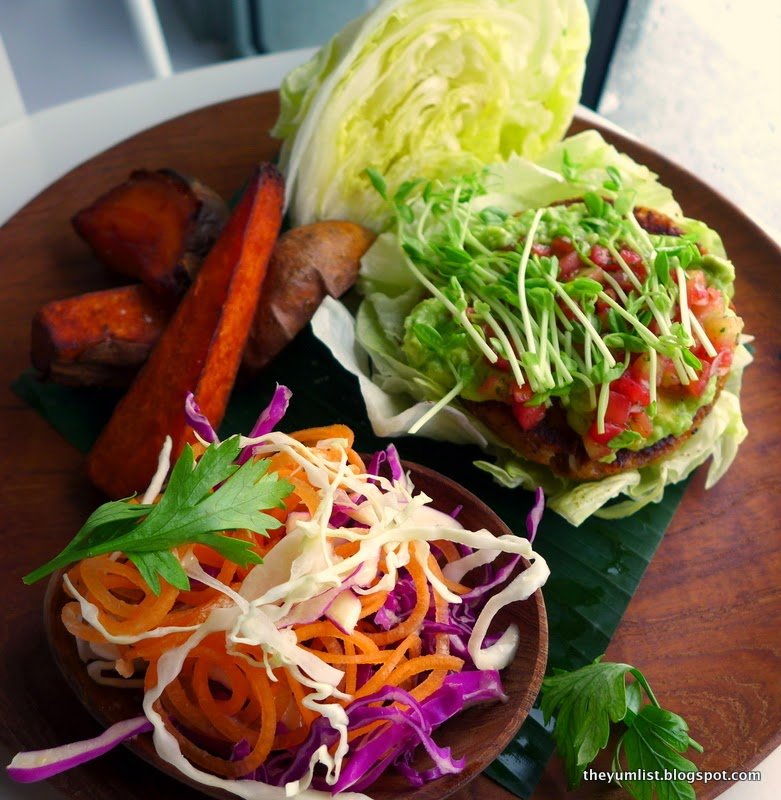 Vegetable and 7 Grain Burger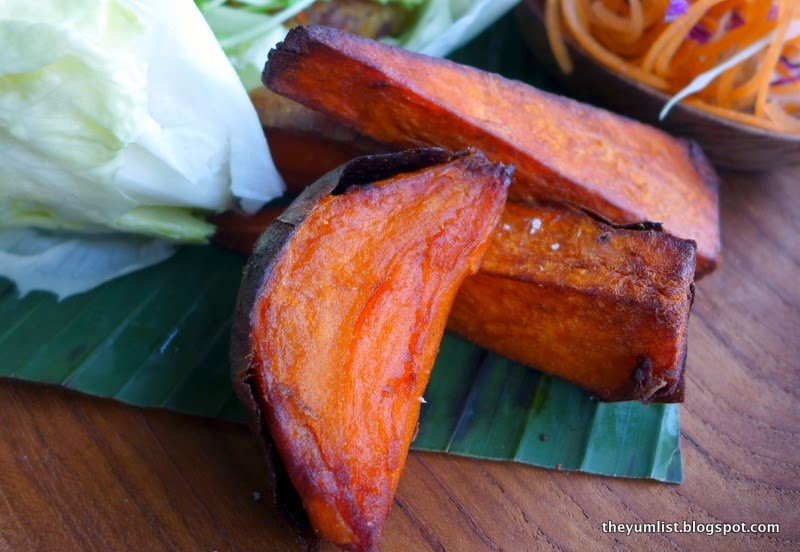 Sweet Potato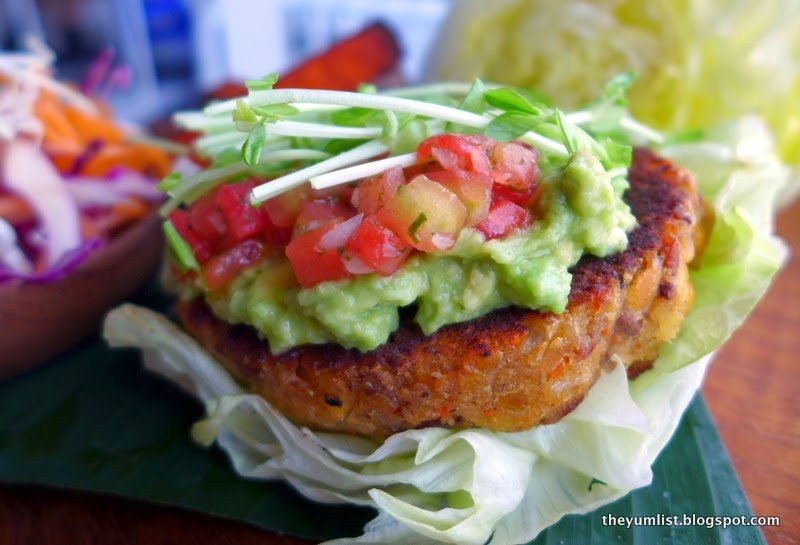 Up Close on the Veggie Burger
A quinoa 'cous cous' with dried fruits and nuts soaks up the sauce from the Moroccan Spiced Vegetable Curry (THB540). Black sesame seeds, figs, pine nuts, hazelnuts and raisins are strewn through the grain, and the curry is rich and packed with carrot, zucchini, French beans, cauliflower, cherry tomatoes and a large stalk of coriander. The peppery base leaves our tongues pleasantly tingling.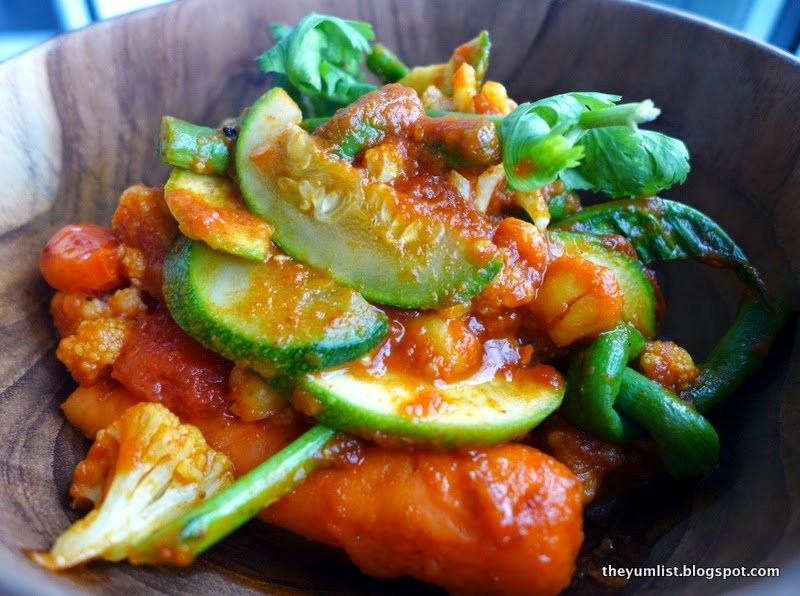 Moroccan Spiced Vegetable Curry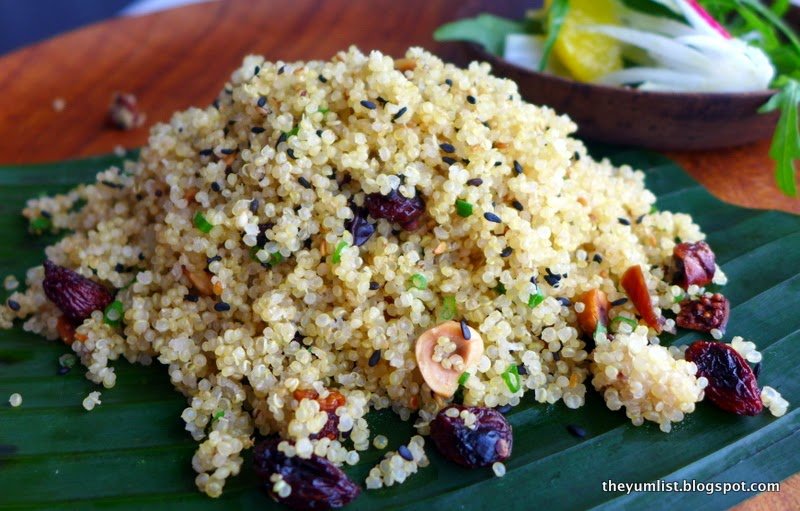 Quinoa Cous Cous
Local sea bass turns out to be the Steamed Fish of the Day (THB520). It has been coated with fragrant ginger, shiitake, spring onions, bok choy and tamari broth. A very generously sized bowl of brown rice delivers a healthy side.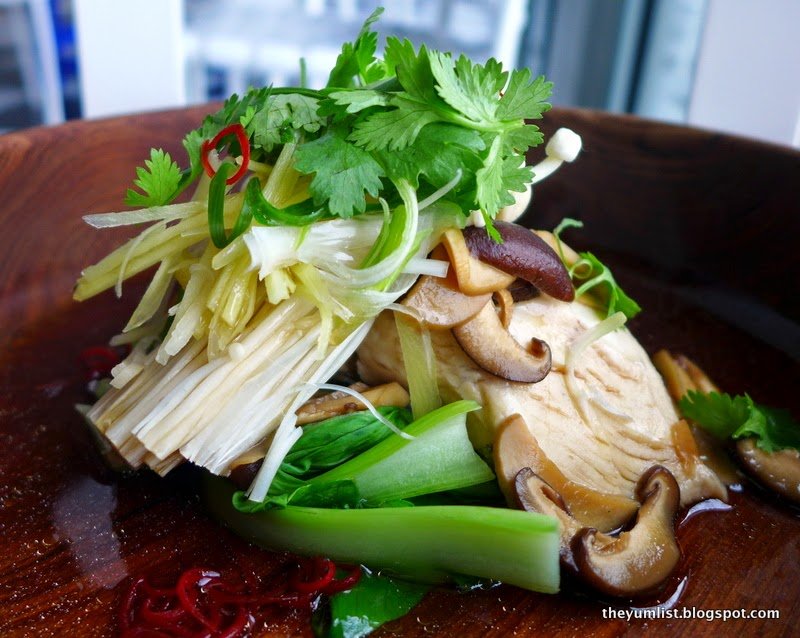 Steamed Fish of the Day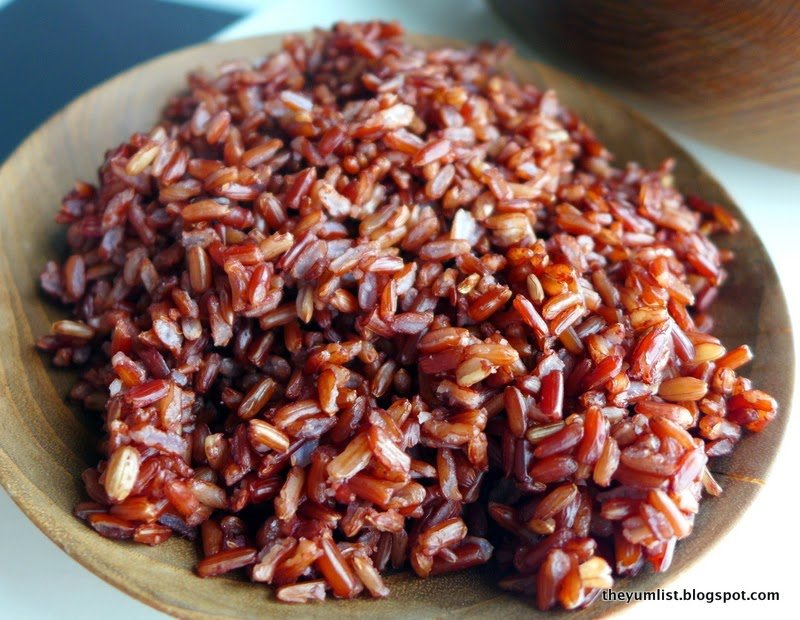 Brown Rice
I'm known for being a veggie and whole foods lover, so this type of food absolutely delights me. Even hubby though, is joining in on the praises. "Once you eat this you'll never go back," he says of the curry. "Mmm… Mmmm," he drools over the fish. His groans only get more emphatic as he bites into the veggie burger. "The sweet potato is really amazing. Wow."
Desserts
For me, a delicious dessert that is also guilt-free really tickles my fancy. Thanks to COMO Shambhala's spa food menu I can indulge without converting every spoon that passes my lips into a tally representing the number of kilometres I'll have to stride the next day to counteract my delinquency.
Cocoa and Cashew Cheesecake (THB320) with acai berry sorbet is a raw dessert. A crushed nut crust cradles the smooth and rich chocolaty filling, and fresh blackberries and raspberries brighten the plate. Agave syrup is drizzled on the side affixing another layer of sweetness. Its flavour is intense, and density deeply satisfying, making it a slice easily shared between two.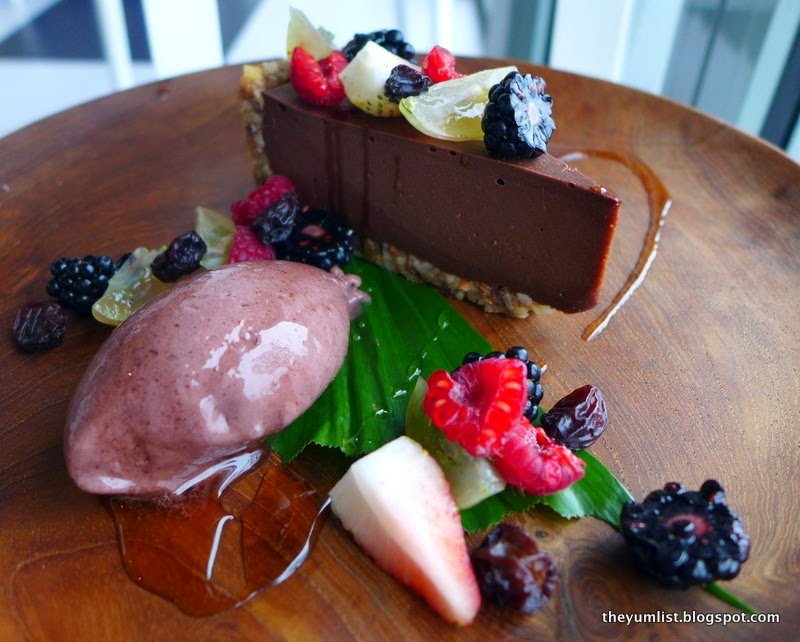 Cocoa and Cashew Cheesecake
Pineapple and Poached Aloe Vera Salad (THB320) is accompanied by basil leaves, basil seeds, and young coconut sorbet. Held in halved pineapples, the bright yellow flesh forms an edible bowl. This too is a bountiful portion, again sufficient for more than one person.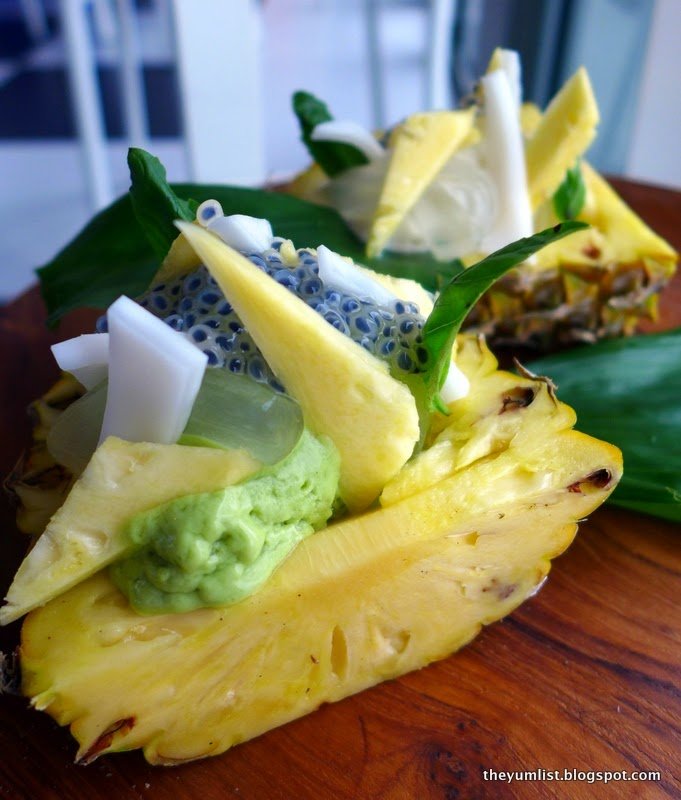 Pineapple and Poached Aloe Vera Salad
Even though we've had three courses with a drink and dessert, we feel great: the blessings of a wholesome meal
Reasons to visit: COMO Shambhala's spa food menu; Raw Tuna and Sea Vegetable Salad; Moroccan Spiced Vegetable Curry; Cocoa and Cashew Cheesecake.
La Sirena Italian Restaurant
Point Yamu by COMO
225 Moo 7
Paklok, Talang
Phuket 83110
Thailand
+66 (0) 76 360 100
[email protected]
www.comohotels.com/pointyamu
Open for breakfast, lunch and dinner