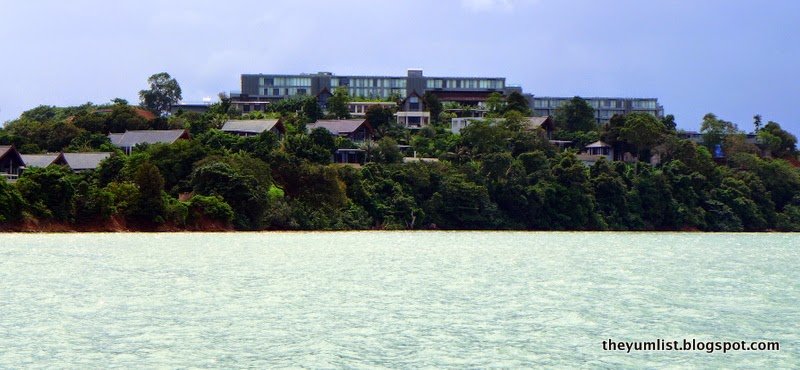 Point Yamu by COMO Viewed from the Sea
The latest luxury property creating a buzz on the island of Phuket is Point Yamu by COMO. Still in soft opening phase, the brand brings with it a strong reputation of style and serenity that as such, it was almost at full occupancy even when we visited in monsoon season, the supposed low period.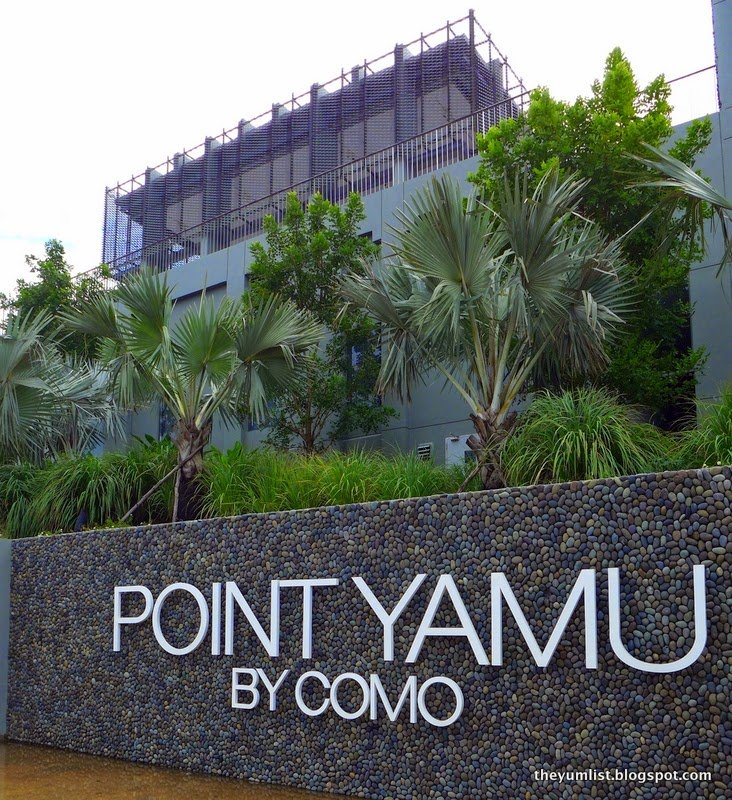 Point Yamu by COMO
Location
Stretches of aquamarine sea and the multitude of UNESCO-protected limestone outcrops of Phang Nga Bay are the playground for guests staying at Point Yamu by COMO. While the property itself does not have a beach, easy access to hundreds of forested, uninhabited islands surrounded by coral reefs – a destination popular for cruising, diving and exploration – more than makes up for lack of onsite sand.
Elevated and nested on the tip of Cape Yamu, the property benefits from near 360 Degree views of the ocean. Our room, the lobby, the gym, the pool, and food and beverages outlets, all profit from the splendid positioning. Being sole occupants of the tip means guests enjoy a secluded escape, free from vendors and the action often associated with other busier parts of the island.
Only a 25 minute drive from the international airport, a weekend at Point Yamu by COMO is an easy getaway.

View
Design
As we arrive our bags are whisked away by the bellboy and we're invited to take a seat in the lobby for check in. A welcome ginger tea and bracelet of jasmine flowers are admired while staff take care of the paperwork. It gives us time to survey the foyer.
The open-walled lobby expands out to the sea. At first glance, it seems minimalist in style. Upon closer inspection however, much thought has gone into the details and the building transforms into one of those quality artworks that might not be an instant hit, but grows on you over time, eventually developing into one of your most loved pieces. This is only possible with depth of meaning and layers of complexity that take more than a quick look to appreciate.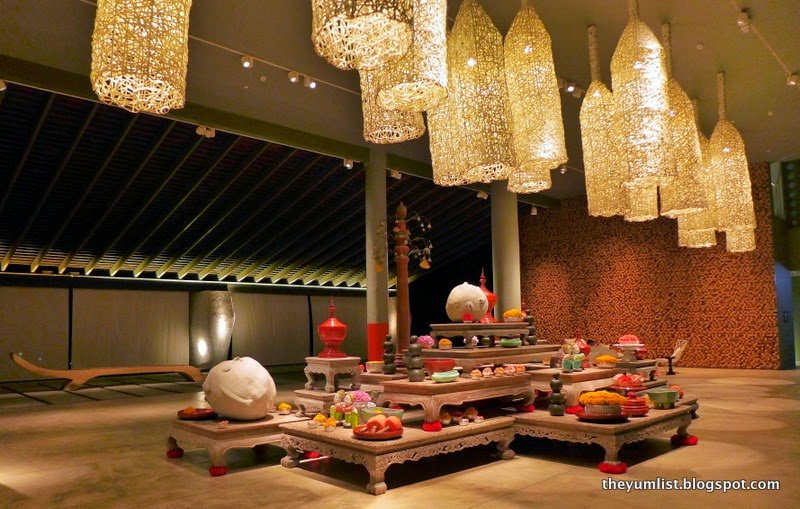 Lobby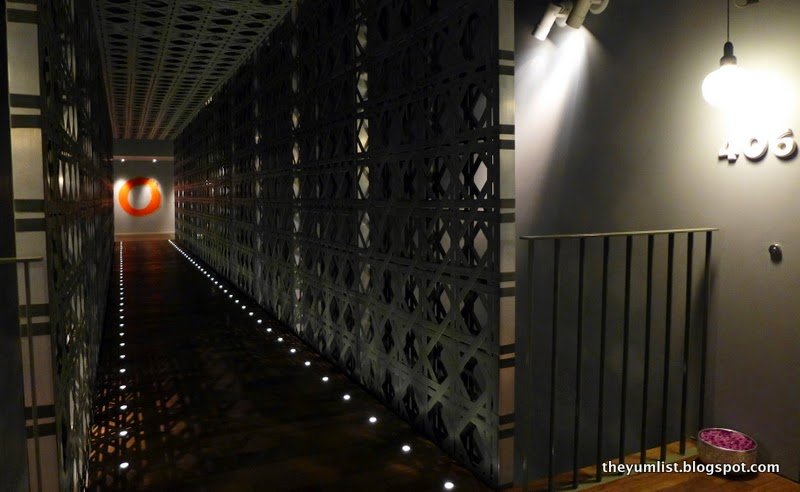 Another Hallway
Bedecked as a Thai living room, unvarnished wooden coffee tables are stacked in the middle forming an installation piece. Silver water bowls, filled with fresh flowers, cover the exposed tops and lead the eye upward as if ascending steps. Lobster traps hang from the ceiling illuminating a warm glow and project concentric circles on the floor in the evenings. Paying close attention we notice light has a playful role in the overall symphony of design. Each wing, every hallway, makes some clever use of light, shadow and reflection.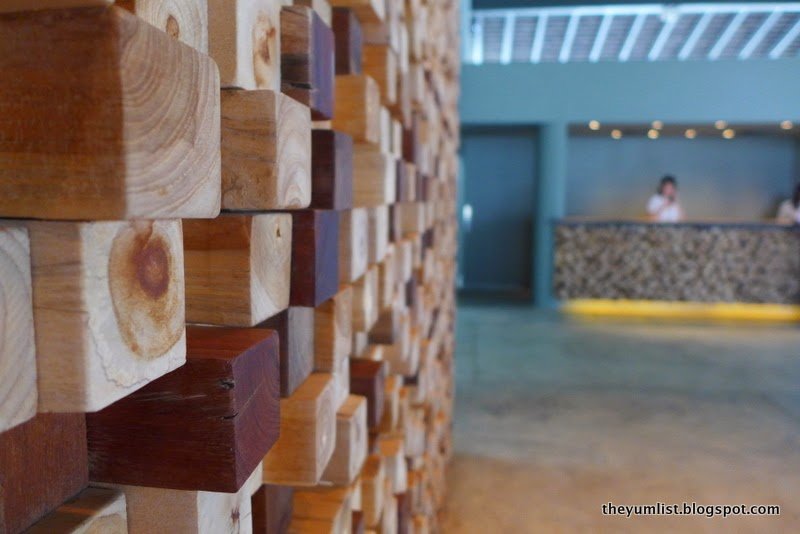 Lobby Wall
We continue our visual exploration of the lobby noticing changes of texture and line everywhere: water ripples atop a pebble based pond; broken white tiles form mosaics on distorted pillars; and walls are covered with small blocks of wood protruding at irregular intervals, forming a pixelated pattern at either end of the foyer.
Chair in Lobby
This aesthetic is carried through the rest of the building where we note a contemporary, vibrant style with both hints of the Mediterranean seen in washes of blue and white, but also local inspiration marked in floral arrangements, splashes of striking orange (similar to that found in Thai temples) and Thai artisanal techniques such as wood carving, metalwork and woven fabrics.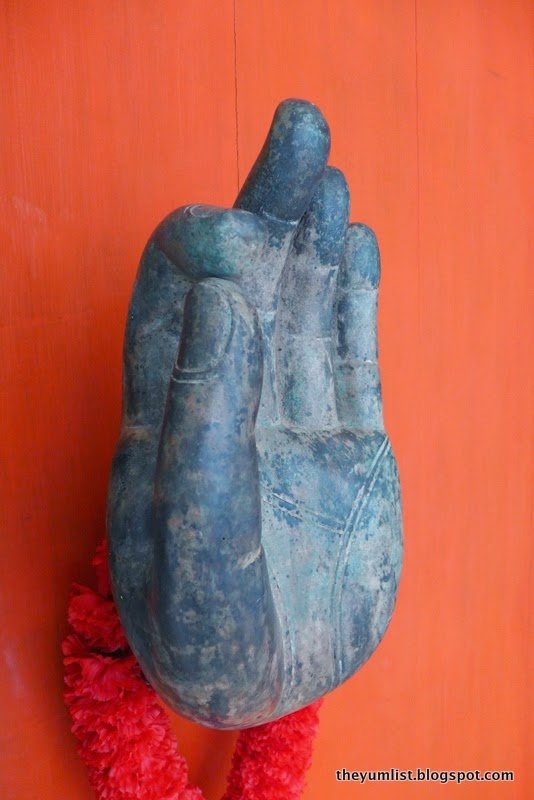 Door Handle to Private Dining Room
As we wonder around the property we catch ourselves
ooh
ing and
aah
ing over every detail. Each location makes a distinct use of light, line, form and colour, yet weave together to conceptualize an overarching theme.
The meticulous fashioning of this inspirational property is accredited to Paola Navone, an Italian designer who has now canvased two properties for the COMO group.RoomsAccommodations consist of 79 rooms and suites and 27 private villas (scheduled to be finished by the year's end).  From a hotel style Bay Room of 45sq m to an expansive 389sq m in a COMO Pool Villa, there's something for most desires. Our stay is in a Bay Suite, which is roughly 100 square metres of light-filled space. A separate living area, bedroom, bathroom and long balcony compose the area. Floor to ceiling glass sliding doors and a sizable balcony, not only let in natural light but too frame the serene backdrop of Phang Nga and Yamu Bay. We're captivated by the sight. It's hard to be distracted by gadgets, books or the TV for too long as we're constantly drawn to the mesmerizing rippling sheet of blue sea. An occasional yacht or sampan drifts into the picture, weaving paths between the multitudes of islands that jut from the Andaman Sea.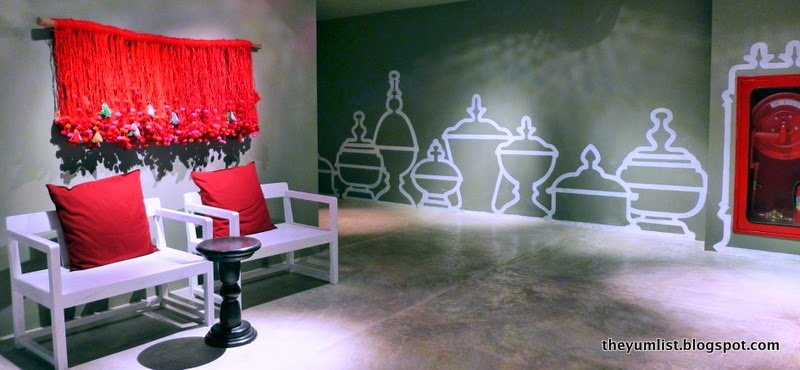 Hallway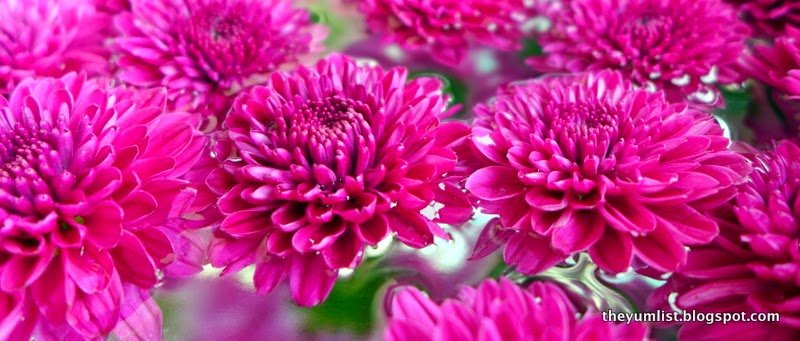 Fresh Flowers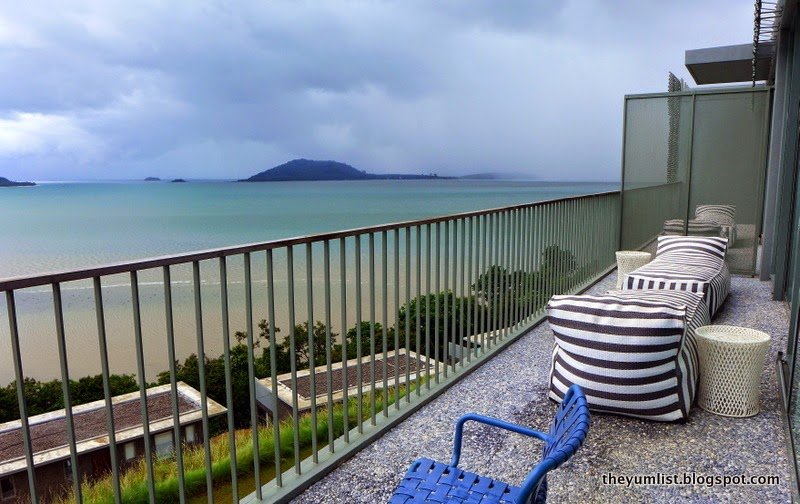 Our Room's Balcony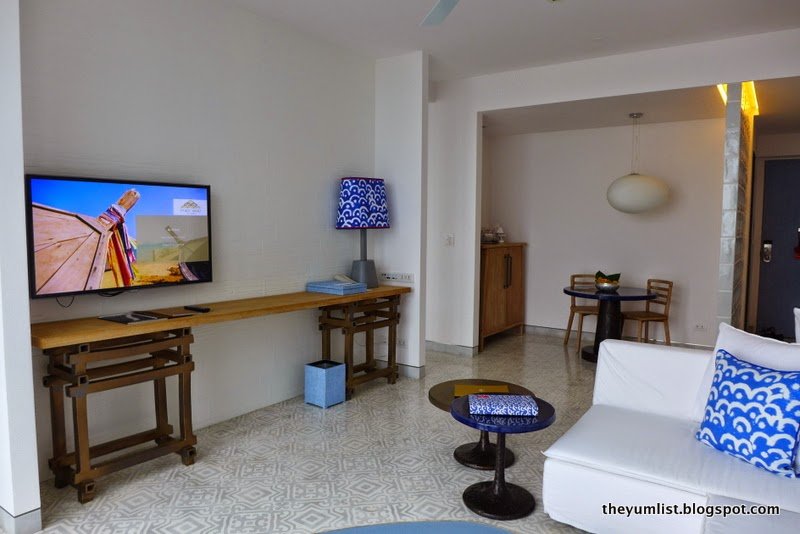 A white sofa with cotton upholstery and blue and white cushions is soft and comfortable atop Sino-Portuguese tiling in the living area. Whopping LCD screens with extremely clear pictures in both the bedroom and living room play satellite TV and also an up-to-date collection of movies. There's an abundance of plugs too for charging devices. We find them not only in our room, but conveniently positioned as pop-up sockets in the lobby, common areas and spa deck too.
House made treats such as cashews, durian chips and mangosteen candy stock the mini-bar. An espresso machine gets good use during our stay, and we enjoy sipping hot beverages from stylish aquamarine hued coffee cups. The semi separate dining table is quizzically lit with an egg shaped lamp. It's these small touches we find everywhere that continue to nourish our curiosity.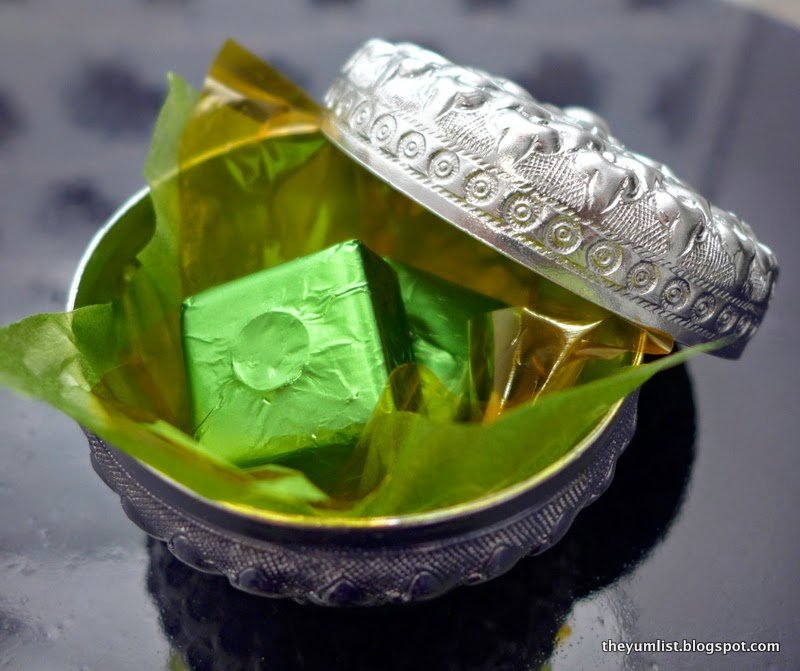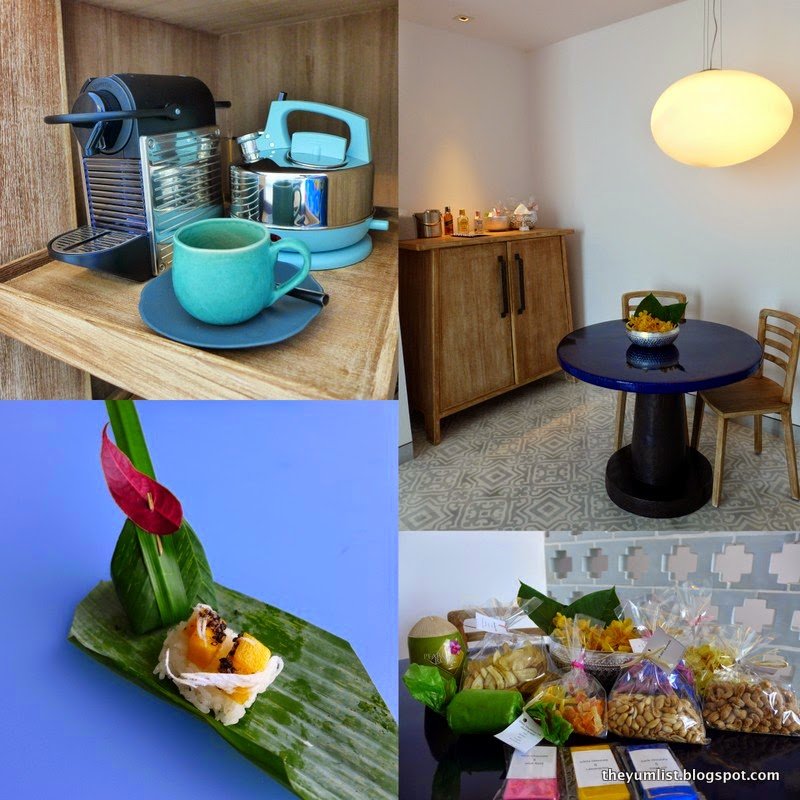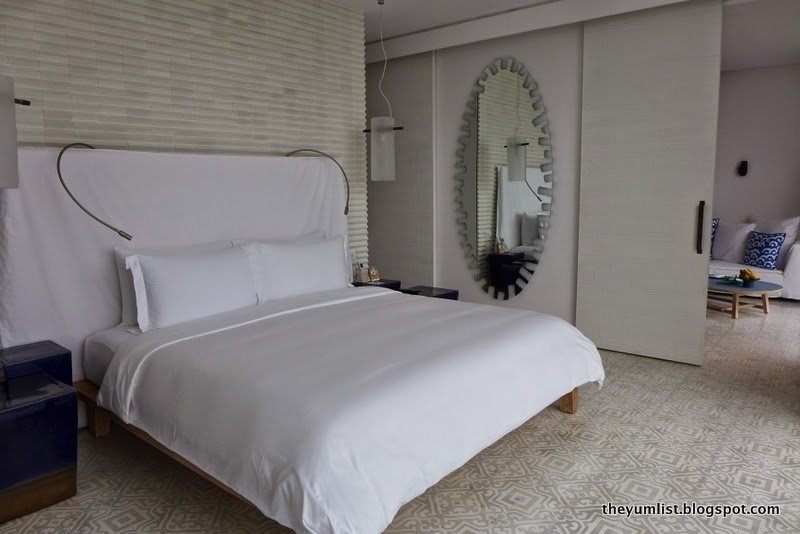 The fabulous vistas continue over to the bedroom, where glass doors open up to the terrace. It's a spectacular way to waken. Sunrise is viewed from our position, so for early risers leaving the blackout curtains open and rousing with the sunrise is a lovely prospect. A supportive mattress is dressed with high quality cotton sheets. Lamps, reading and night lights can be adjusted to preference.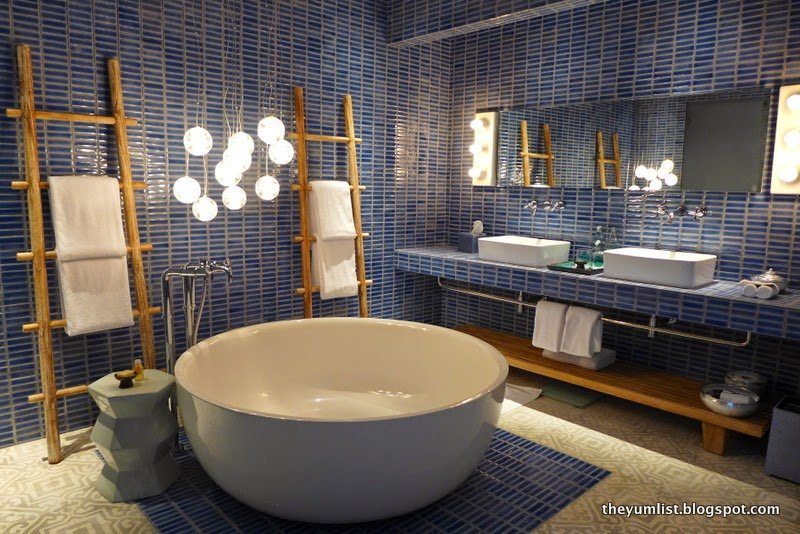 Besides the view, the highlight of the suite is, without doubt, the bathroom. Teal and white ceramics mimic the surrounding seascape and a smattering of Hollywood glamour embellishes the considerable space. A strip of exposed bulbs in columns border the mirrors and a chandelier of bubbles hangs low down above a large round bathtub. Already thoughts of wine, a good book andan extended soak in the tub are rolling around my head.  Double sinks, a rain shower, customized bath products and lush slippers and robes further ritz up the experience. Rooms are made up twice daily and we witness a thorough cleaning. Turn down service feels like mum has been in to tuck us in. Curtains are drawn, slippers are placed by our beds, the room has been refreshed, and water and a sweet treat (the first night chocolate pralines and the second a red bean local confection) are left on the nightstand.
Dragging ourselves away from the happiness of our room we discover some of Point Yamu by COMO's facilities.Wellness and ActivitiesCOMO Shambhala Wellness Retreat is composed of two double and five single treatment rooms, a beauty salon, four Thai massage alcoves, a yoga studio, Jacuzzi, steam and sauna facilities, relaxation room and well-equipped gymnasium.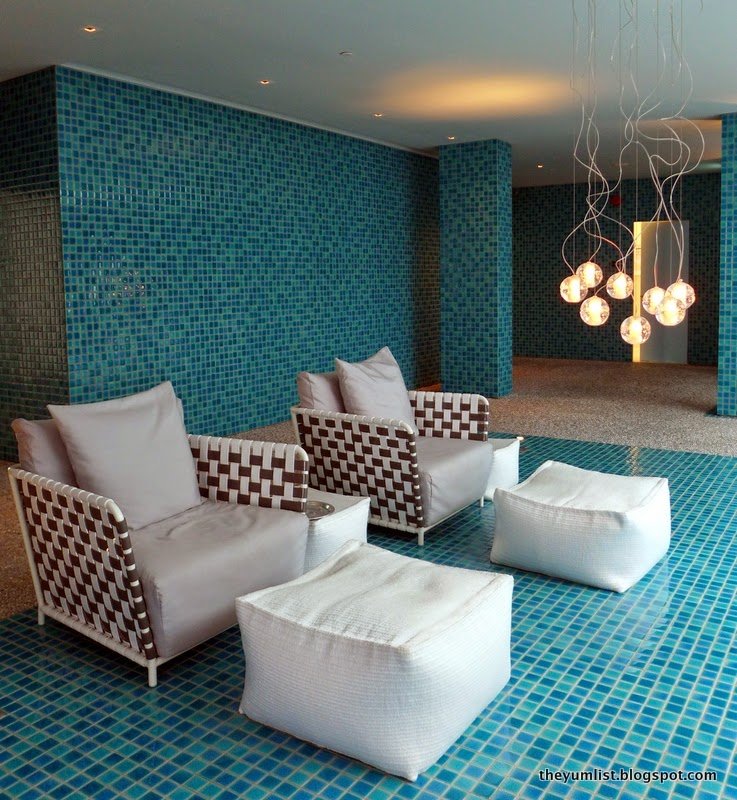 Spa Relaxation AreaDesign is modern, reflecting the blue and white palette we've encountered throughout the hotel. Most rooms offer views of the bay, and the relaxation area overlooks both a bubbling Jacuzzi and dipping pool before dropping off to the magnificent backdrop of the sea.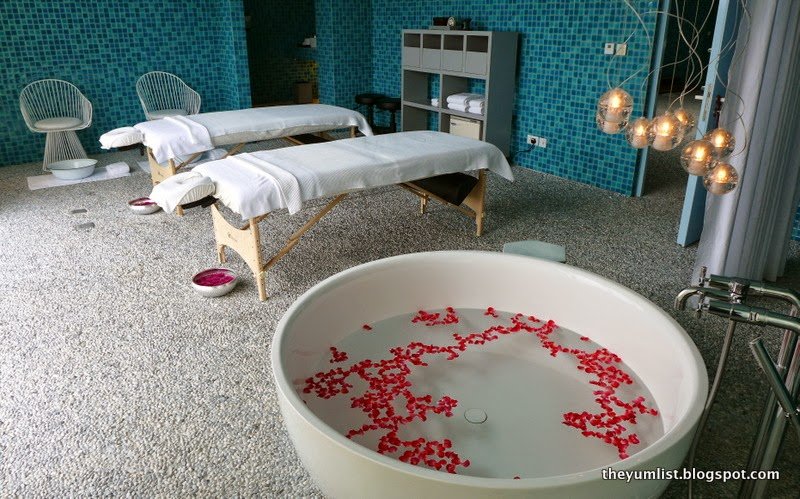 We indulge in the COMO Signature Shambhala Massage of 60 minutes. Using long strokes reaching from the toes, up the legs and back and down to the fingertips, the whole body is lulled into a state of peace. Light to medium pressure is used making this a truly relaxing experience. The smooth oil is gently wiped off with a warm moist towel before finalising the treatment.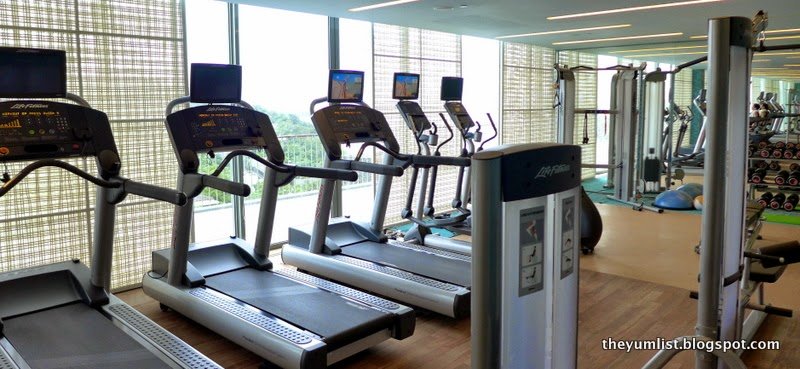 The gymnasium includes both strength training and cardio equipment. While views to the sea are the main attraction for me while working up a sweat, the cardio machines are all set up with well functioning screens and earphones that actually work. We've visited too many luxury resorts in dire need of maintenance in this area, so it's a pleasant surprise when every single item is in optimum working condition. Towels and water too of course are provided.
Lined with white umbrellas and luxury loungers, the 100m infinity pool is a popular roost to spend a leisurely few hours. Chilled water is passed around and food and drink service is available too.

Infinity Pool
A host of activities are scheduled into a regular program such as complimentary yoga, tai chi, and cultural classes. A courtesy boat ride departs twice daily to a private island only 15 minutes away, where the magic of secret coves and unfrequented beaches can be discovered via sea canoe, snorkeling or diving – all of which are arranged at the Activities Centre. A daily shuttle also transfers guests to the central shopping district, and renting a bicycle is another way to explore the area. Young ones are catered for with a Kids Club and Games Room including a pool table, table football, darts and a Playstation.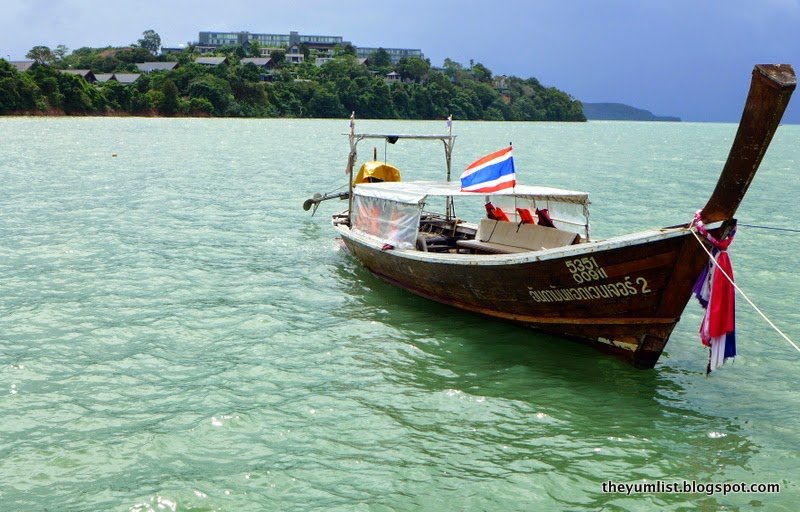 Boat to Private Island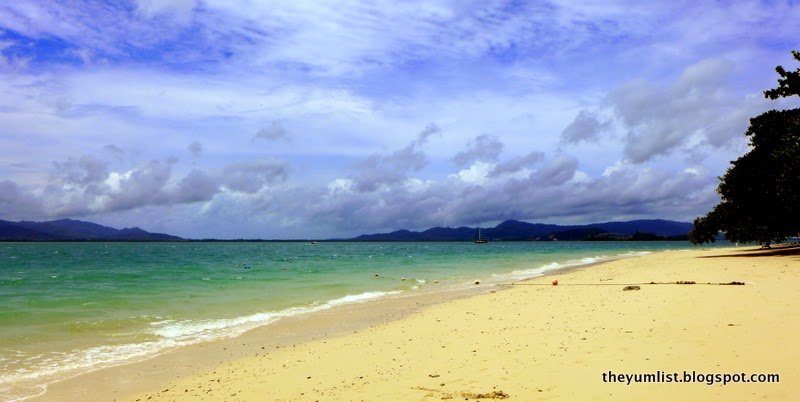 Private Island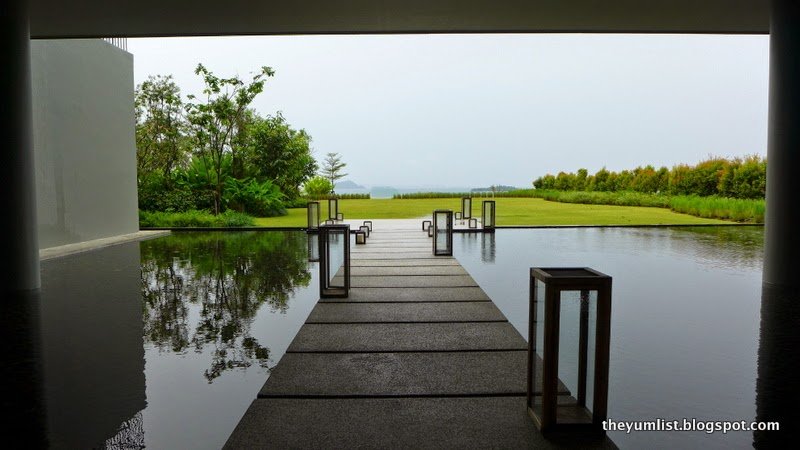 Food and Beverage
Two restaurants, Thai and Italian offer a variety of cuisine, but there's also a healthy menu inspired by the wellness centre available at both outlets and via the room service selection.Designed to resemble an underwater scene, the walls of Point Yamu by Como's Thai restaurant, Nahmyaa, are layered with half moon planks of wood mimicking fish scales. The entrance presents water views: first the pool and then further beyond to the ocean. Glass bulbs imitate water bubbles and giant goldfish cover the walls that are not made of glass. Tables are wooden and round, and seated with cushioned chairs of an orange hue often found in Thai ceremonies. It's here, at a table by the window, that we taste what Nahmyaa has to offer. Follow this link to find our recommendations.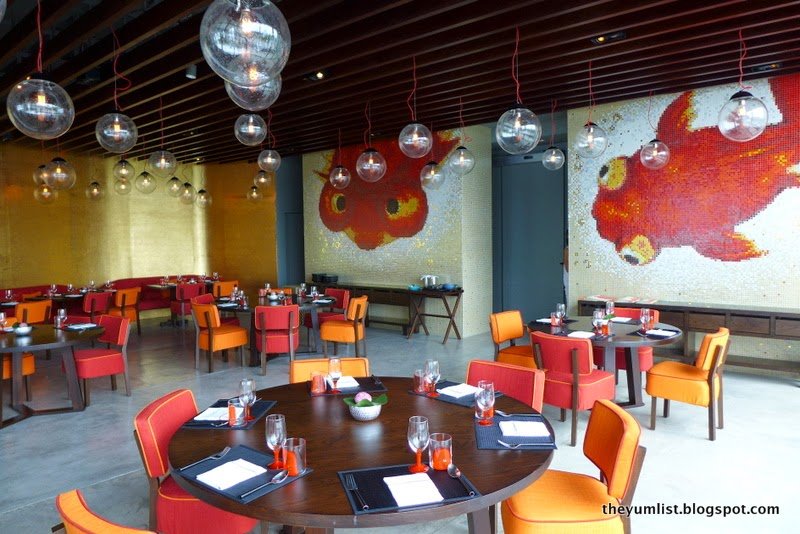 Nahmyaa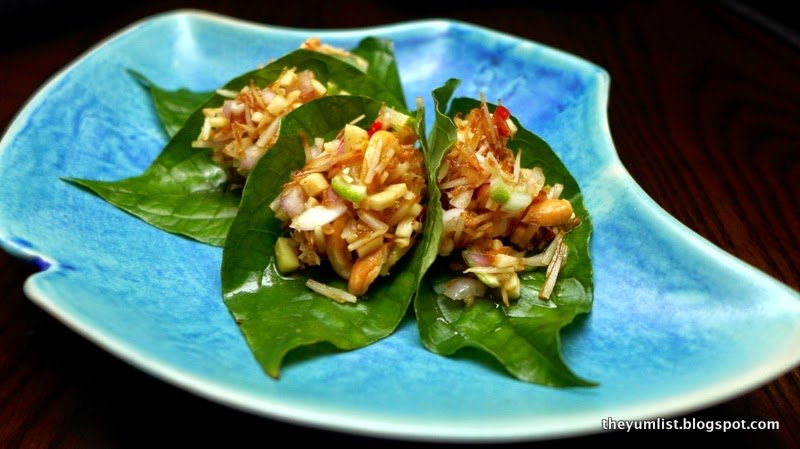 Nahmyaa
La Sirena Italian Restaurant is the all-day dining outlet. With a terrace overlooking Phang Nga Bay, it's a place where lingering longer is an attractive option. Tall ceilings, plenty of glass and a long rectangular dining hall give a freeing feeling of spaciousness. Giant black and white chessboard tiles form a simple mosaic on the floor, which is complemented by aquamarine upholstery and tubular drop down lamps.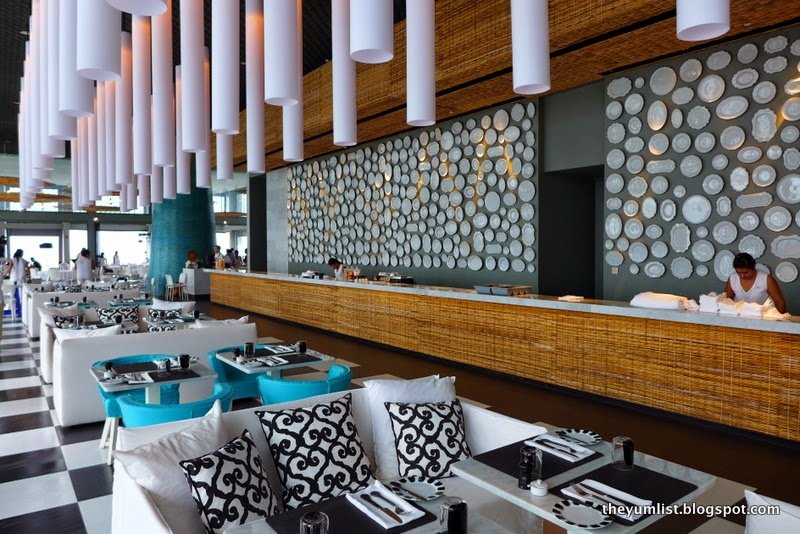 La Sirena Italian Restaurant
A buffet board runs the length of the restaurant making all the breakfast goodies easily visible to hungry guests. At first glance it's vibrant, filled with variety, and packs in loads of healthy options. Juice extracts, energizer blends and smoothies are a highlight. Wheatgrass shots, young coconut water and a beetroot juice blend are our favourites. A coffee station makes Illy brewed beverages to order alongside a selection of teas. I'm grateful that the milk options include full cream, skimmed milk, soy milk and rice milk.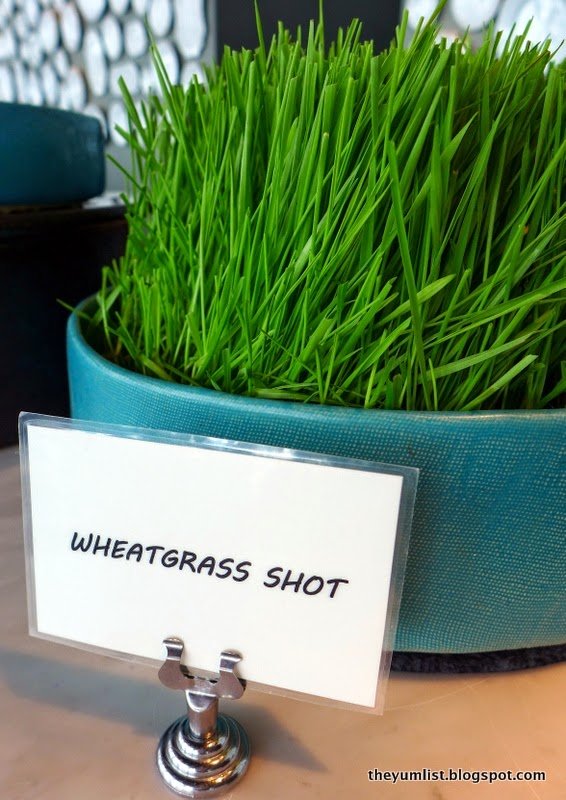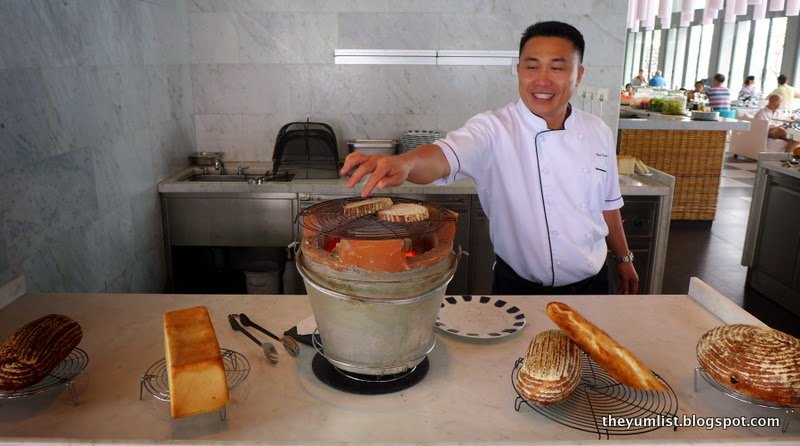 Tropical fruits are cut all morning gifting guests with fresh local goodness. Cereals, including muesli, granola and Bircher muesli with a miscellany of dried fruits, nuts and seeds are made on site. We assume the yoghurt is made in house too, as it's thick and creamy and not overly sweet. A bakery bench supplies pastries, cakes, muffins and a medley of breads that are sliced thickly and toasted over a charcoal grill. COMO preserves and local honey are well-liked additions. I'm particularly fond of the homemade peanut butter and passion fruit curd.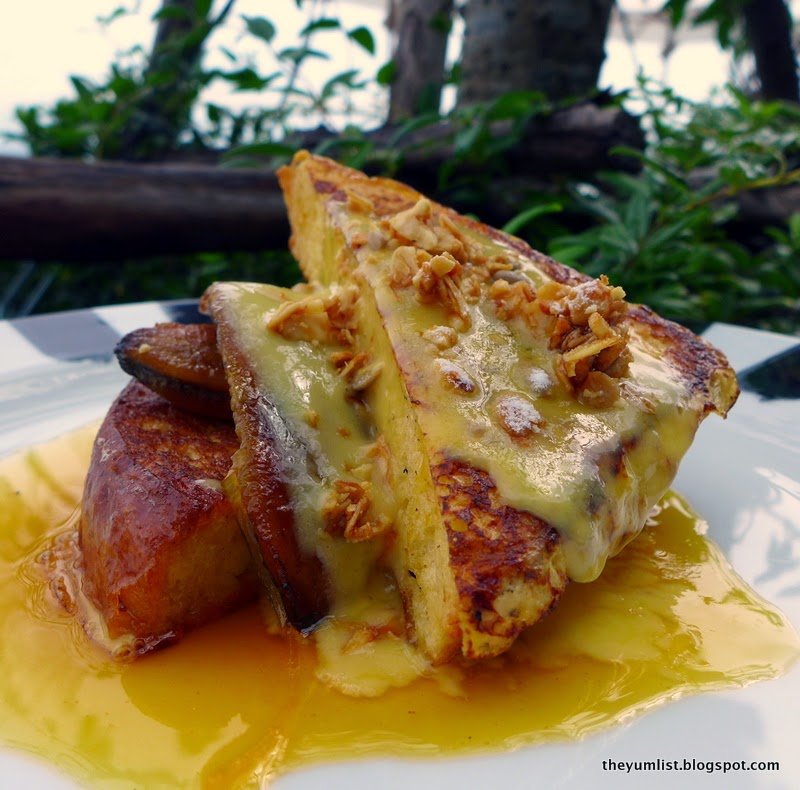 French Toast
Principal plates for breakfast are ordered a la carte and consist of the regular pancake, egg and waffle items, but are given a gourmet twist with local ingredients such as palm sugar, cashews, lime and coconut. Hubby is happy with his Omelette filled with mushrooms, leek and thyme, and topped with Gruyère cheese, asparagus and roasted tomatoes. I'm excited to see COMO Shambhala Healthy Alternatives such as: Quinoa Porridge; Egg White Omelette; and Real Toast with dehydrated nut, seed and vegetable bread spread with avocado crush, cucumber and tomato salad.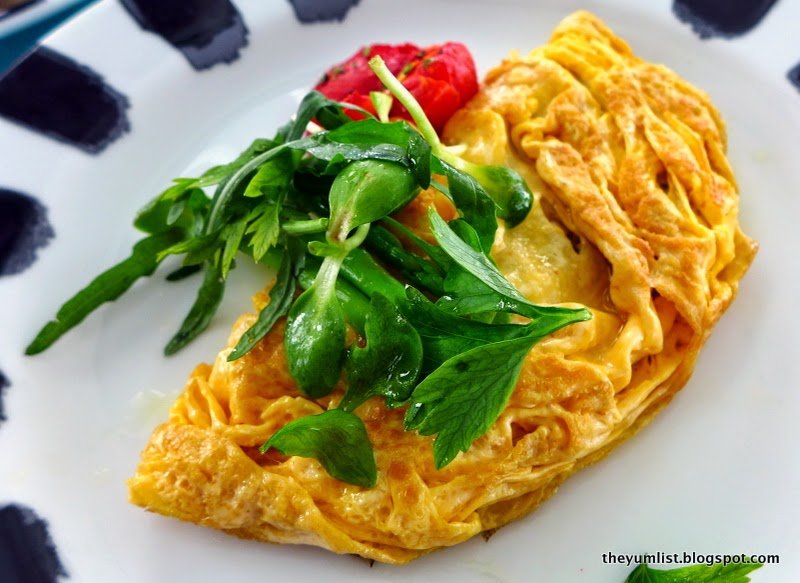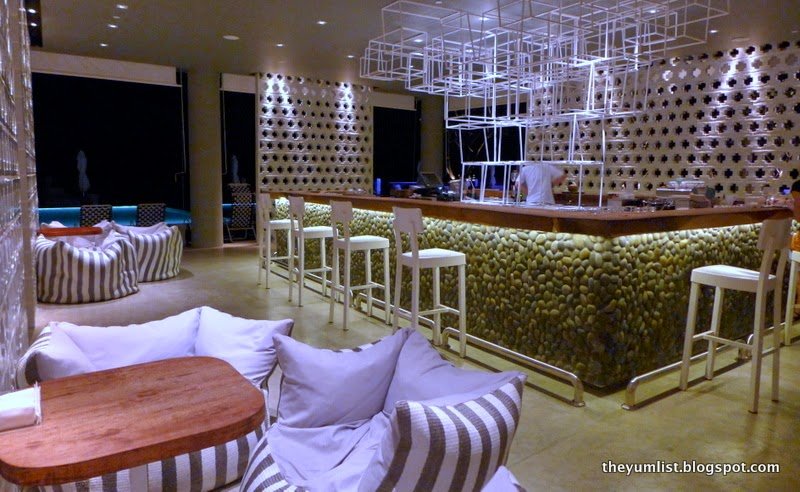 The menu for the rest of the day is simple Italian fare featuring items such as pizza and seafood prepared in the wood-fired grill. The COMO Shambhala Healthy Alternatives menu is too available throughout the day and we find some real treasures during our stay. Read about our recommendations here.Aqua Bar produces both toxifying and detoxifying beverages with its list of alcohol heavy cocktails and health-giving smoothies and juices. Covering the poolside, La Sirena and Nahmyaa restaurants, beverages can be brought to any location. We arrive for happy hour and can't resist imbibing in a couple of signatures.
Both are fresh with a lusty kick – just how we like them. The Lychee and Rose Mojito features a Tanqueray gin base combined with lychee, rose water, fresh mint, lime and sugar. It's served long and cool over crushed ice. Yamu's Watermelon Martini showcases local produce. Watermelon and ginger jam are shaken with fresh watermelon, Drambuie and Ketel One vodka. A drop of honey gives it a hint of sweet.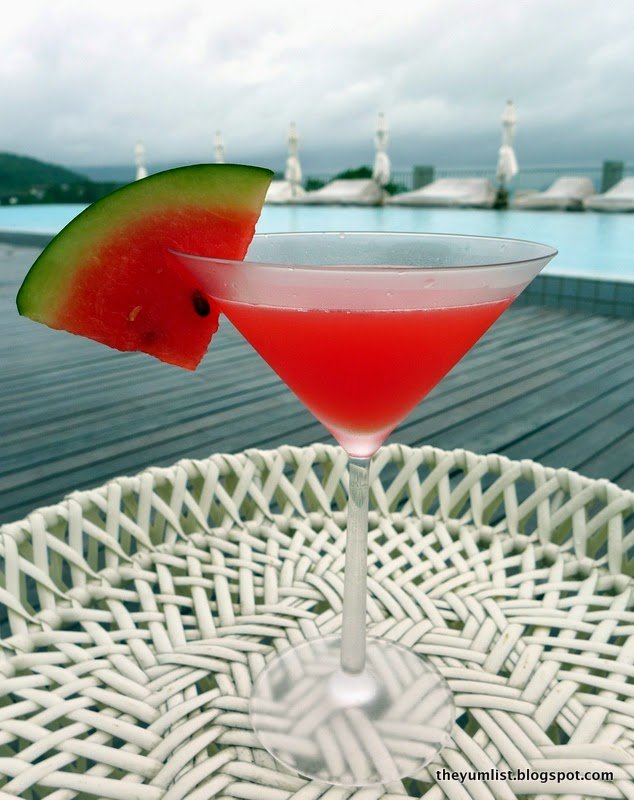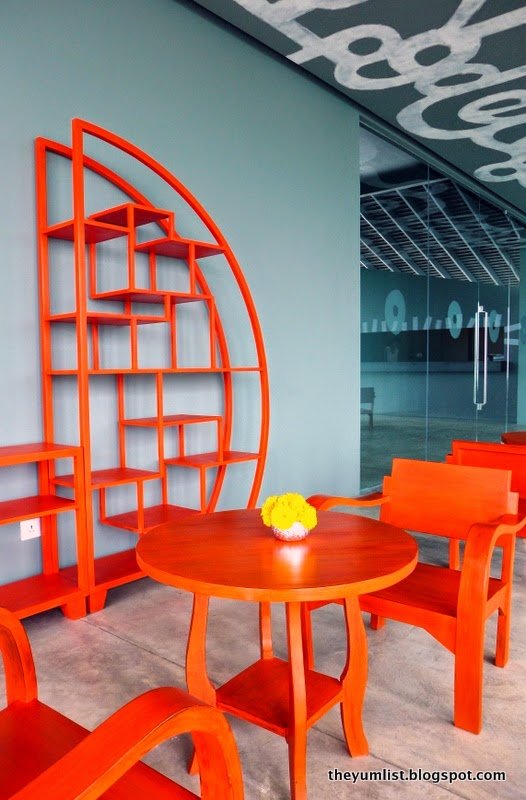 The Lobby Lounge, with its cheery interior and open walls overlooking the sea, is a popular meeting spot for guests and is often used as a perch to take a nightcap before settling in for the evening.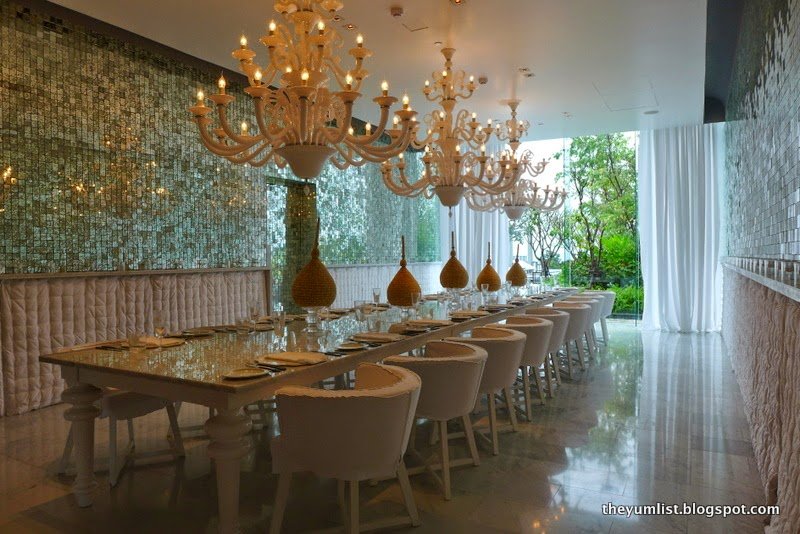 Corporate Social Responsibility
Such a beautiful location must be respected and Point Yamu by COMO's Corporate Social Responsibility practices reflect such care. There are a number of points of immediate note showcasing some of the CSR programs Point Yamu by COMO has in place. The standard request to reuse towels and sheets are in practice, but there are others too such as an appeal to sort waste into organic and non-compostable substances. Around 90% of ingredients in the restaurants are sourced locally, and are organic where possible. All drinking water is held is reusable glass bottles – no plastic here.  Enquiring further into the impact the hotel has on the local and greater community, James Low, General Manager of Point Yamu by COMO, tells more. "The Resort is also examining its supply chain in that we consciously procure sustainable seafood from local fish and prawn farms. Priority is also given to buy the island's produce, which ranges from free range poultry, eggs, organic vegetables and local fruits, thereby reducing the carbon footprint of importing produce from overseas and from the mainland. Recently our Executive Chef, Liam O'Brien, has just started cultivating the Resort's own organic herb garden, which is a wonderful way of educating and embracing his culinary team to embrace the green culture."
Point Yamu by COMO does indeed seem to offer it all: stunning location; stylish rooms; great food choices with plenty of healthful options; and a sustainability policy that values the gems of the natural surrounds. This property is a terrific choice of stay for a secluded and healthful getaway in a contemporary and inspirational setting.
Reasons to visit: stylish boutique property; secluded getaway; easy access to the UNESCO protected Phang Nga Bay; lots of healthy food choices, many of which are sourced locally.
Point Yamu by COMO
225 Moo 7 Paklok, Talang
Phuket 83110
Thailand
+66 (0) 76 360 100
[email protected]
www.comohotels.com/pointyamu