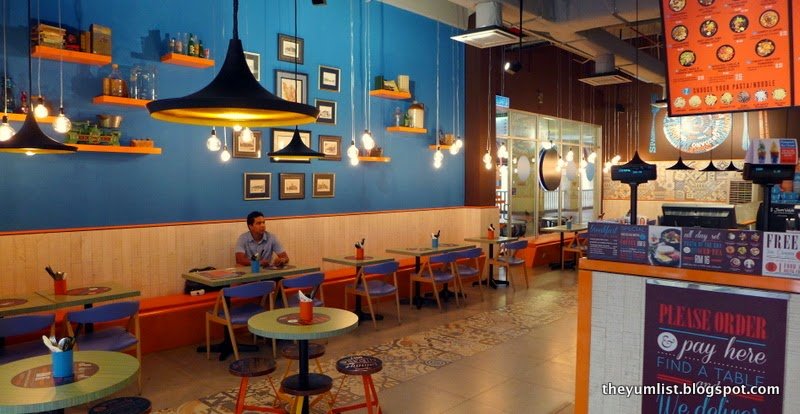 Simplyd, The Curve
Simplyd, The Curve
A groovy diner style outlet, Simplyd is the latest creation of the Delicious Group. Lower prices than the main brand, expect to find lots of specials, and be able to fill your tummy with less than RM20.
Beckoned to enter by a cheery waiter, we succumb to his smile and enthusiasm, and pop in for a quick meal after a spa treatment at The Curve. The design concept shows some upcycling for furniture and wall panels, and a palette of orange, blue and brown coats the room. A strip of Sino-Portuguese tiles run up the centre and rock n' roll tunes swing from the speakers. It has quite an upbeat ambience with a bit of a 50's feel.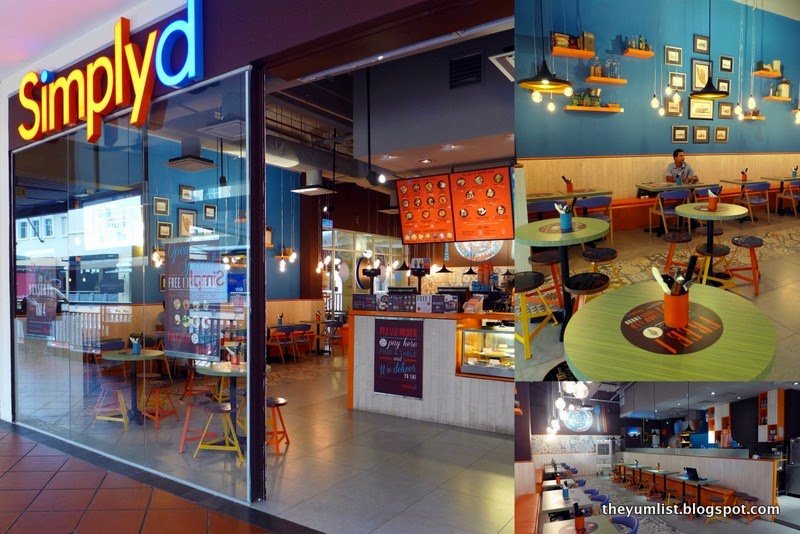 Simplyd, The Curve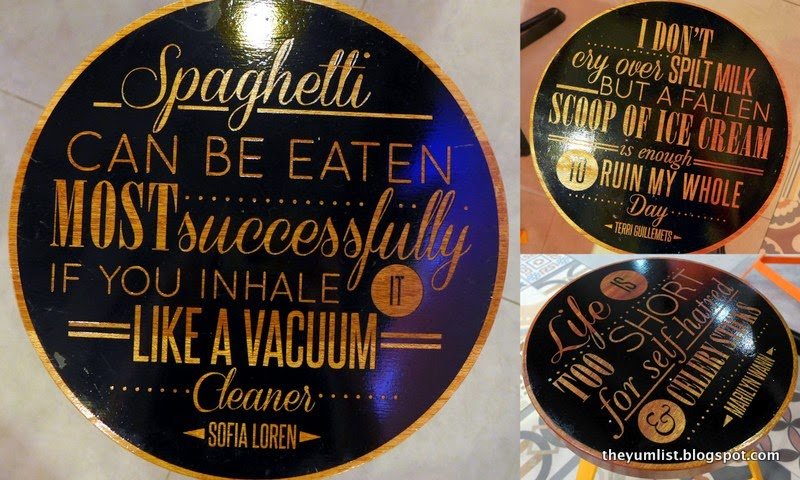 Uniquely Designed Stools
The waiter is quick to explain how the menu works and also the ordering system. Order and pay for your meal at the cash register, and then take a seat and the food is delivered to your table.
Focusing primarily on pasta and noodles, guests can customize their orders with two choices – choose your flavour and choose your noodle. I'm happy to see a good handful of vegetarian options: all can be topped up with a variety of meat proteins such as chicken, lamb and seafood.
I try the Sweet Basil and Cashew Nut Pesto (RM12) on fusilli pasta. It's a good-sized bowl for that small price. A Parmesan, breadcrumb and garlic topping provides a nice crunch, in direct contrast to the oily sauce.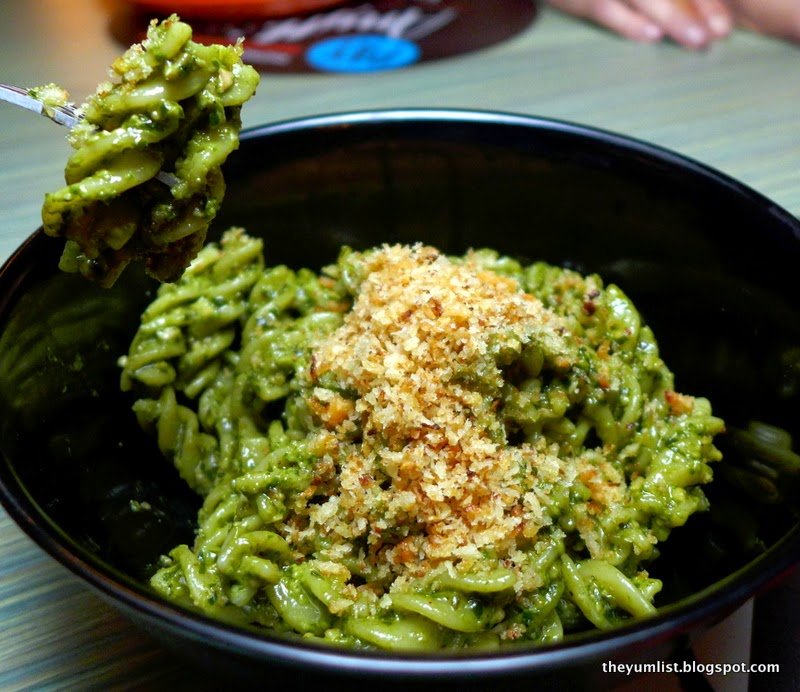 Sweet Basil Pesto and Cashew Pasta
The menu is supported by a concise list of salads and sandwiches. The Grilled Chicken (RM12.50) sandwich takes hubby's fancy. Served on a toasted brioche alongside turkey bacon, lettuce and tomato it's a fresh mouth filler. A small bowl of crispy coleslaw and a bowl of tapioca (nice touch) chips side it.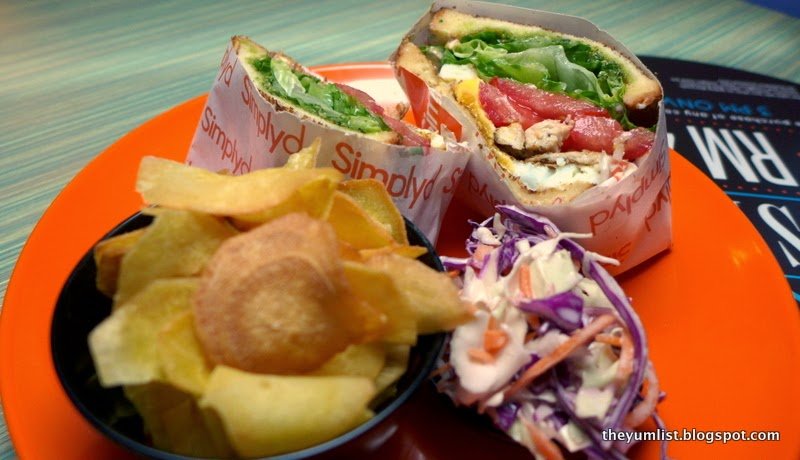 Grilled Chicken Sandwich
The same system applies to the drinks: choose your style, then choose your flavour.  Hubby chooses an Ice Blended Strawberry and Mango (RM12.50 large). It's thick, sweet and tastes like dessert.
I go for a Latte (RM9.50), which has a lovely layer of textured foam on top and good flavour from Colombian coffee beans. I go with the coffee and cake special as I've arrived after 3pm, and with a purchase of a 12oz coffee or hot chocolate I get a dessert for only RM4.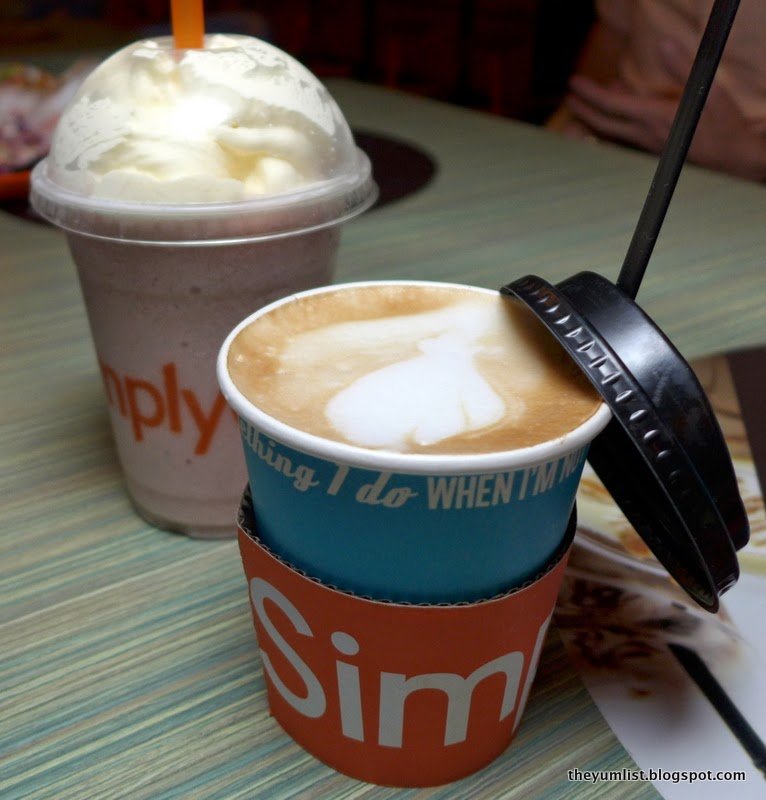 Ice Blended and Latte
We're teetering over dessert when Sandy, the operations manager, pipes in and informs us that, "Every now and then you have to be unhealthy otherwise the gyms would have no business." So we order a few more things.
A cupped dry meringue is the base of the Chocolate and Strawberry Pavlova (RM9). Overflowing with whipped cream, it's adorned with a few fresh strawberries and lychee slices, then drizzled with chocolate sauce.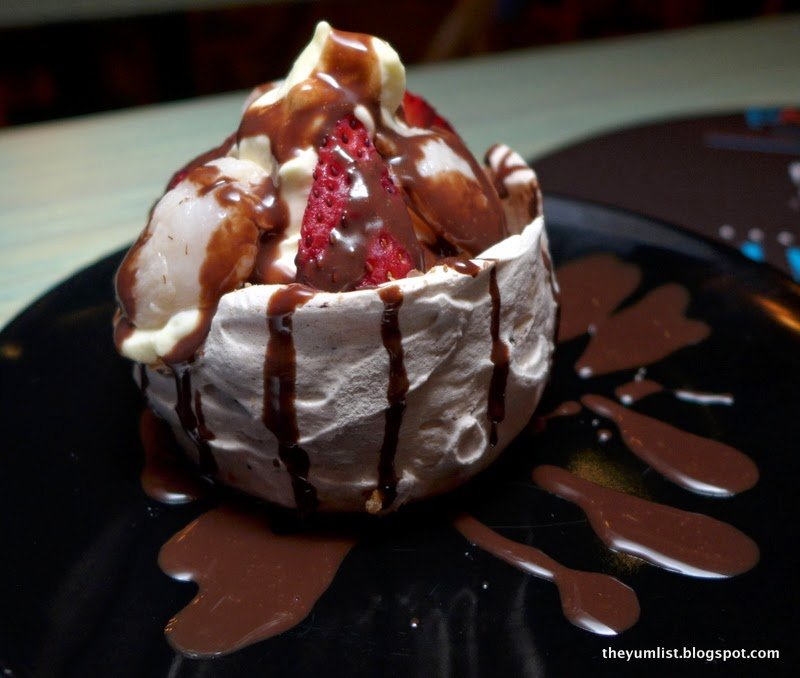 Chocolate and Strawberry Pavlova
Pandan Coconut Cake (RM8) is extremely light and spongy with a thin whippy layer of coconut cream icing, and topping of Hawaiian coconut shavings. Fresh pandan leaf extract colours the cake naturally.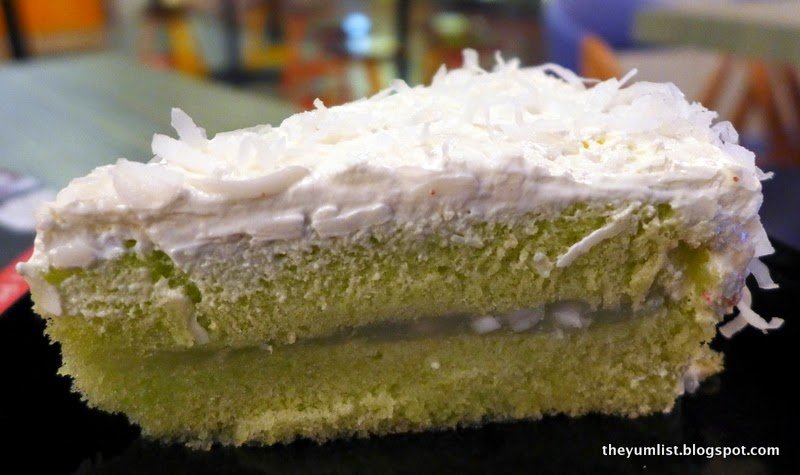 Pandan Coconut Cake
House made soft serve in a cup or a cone is a bargain at only RM3. Flavours change every few days. Today we have passion fruit and raspberry. They're great on their own, but tasty mixed together too.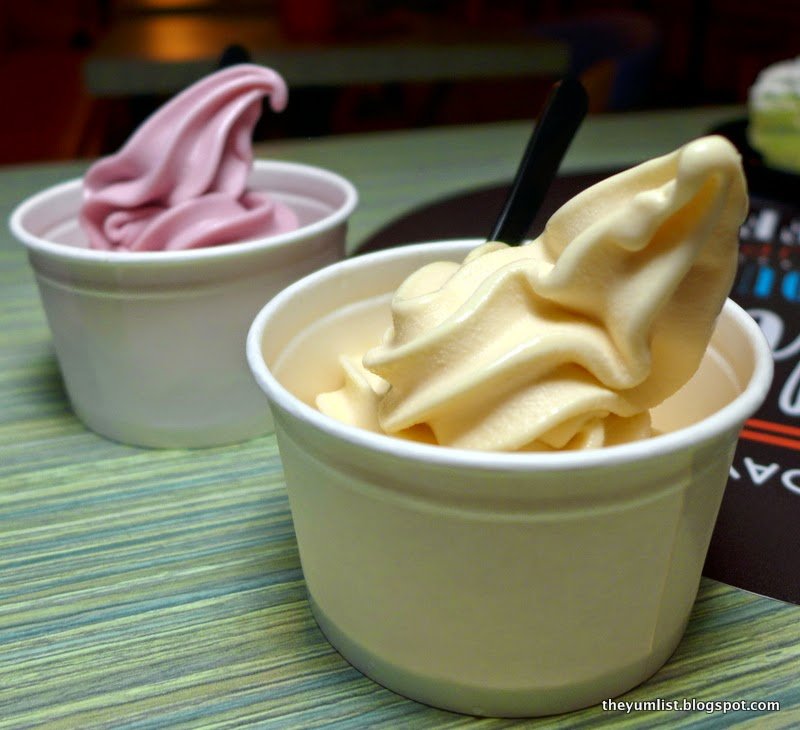 Soft Serve – Raspberry and Passion Fruit
Carrot, Walnut and Pineapple Cake (RM8) is superbly moist. Sometimes the layers of cream cheese in this popular treat are used to disguise a dry cake, but Simplyd's version is damp and dense. Even though we've just eaten three desserts between the two of us, plus two soft serve ice creams (!), hubby is declaring, how "Rico!" it is and that he must order a piece to take home.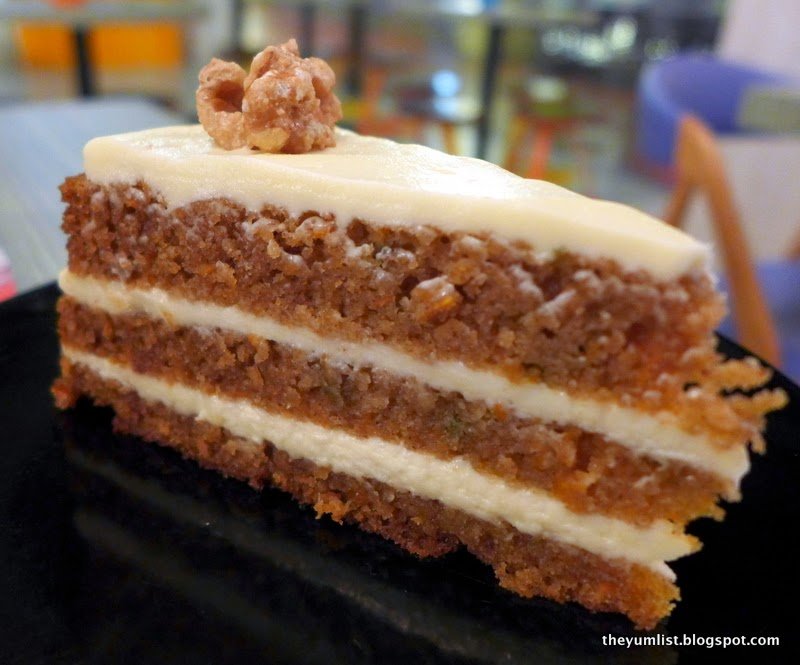 Superbly Moist Carrot, Walnut and Pineapple Cake
This pork-free restaurant offers good value food, customized to your liking in a cool diner setting. We'd grab a bite here again for sure.
Reasons to visit: good value food; customizable pasta, noodles and drinks; Carrot, Walnut and Pineapple Cake
Simplyd
Lot 158 First floor
The Curve
6 Jalan PJU 7/3
Mutiara Damansara
Malaysia
+6 03 7733 6256